Introduction
Palm Garden.
If there were 10 courses in West Malaysia we always wanted to play, this would definitely be there. Kota Permai, Mines, Saujana, Sungai Long and Bukit Jambul in the top 5. Clearwater, Templer's Park, Datai Bay, A Famosa would be the others.
Well, at least we've got 2 from that list.
Actually I've played in Palm Garden before and shot an 86 with 8 pars, one of the best rounds I've played. So I'm naturally excited to be back there after 3 years and as I remembered, the course is really forgiving. Undergoing some major swing changes, that forces me to fade on the good shots and push on the bad, a course like Palm Garden is a welcomed sight after playing OB happy courses like Nilai and Monterez. I have nearly eliminated by dreaded duck hook, but was still in the midst of the changes, which I hope would help me play more consistently. Hey, even hackers want to play some dignified golf you know.
Travel (3/5)
You can take a few ways to Putrajaya. Whatever the case is, whenever someone mentions Putrajaya or Cyberjaya, the natural reaction is a gag and subsequent fake death/fake vomit stunt. Everyone thinks it's located in the next galaxy which simply isn't true. I know, since I have the pleasure of driving to Cyberjaya every weekday for work. It's located 35.5 km away from where I stay in PJ, and it flows against the traffic so the drive is only about 30 minutes; same time as those poor souls who must brave the jam to go to KL. Hey, we're all in the same boat!
You can either take the LDP to Putrajaya, i.e passing through Puchong heading towards Cyberjaya. However, the best route is via the North South Highway, and turn off at our favourite interchange, Kajang. There we meet the famous forks: Right to Cyberjaya/Putrajaya; middle to Bangi, left to Kajang. Take the right this time and you'll be on the SPRINT highway. I think. Actually I have no idea what highway it is; I'm just guessing.
Anyways, keep going and you will soon see IOI Resort and take a left. They've got pretty good directions here:
http://www.palmgarden.com.my/directions.htm
Easy drive, good accessibility!
Price (4/5)
It's unfortunate that for most of the top tier golf courses, the price often sets them back early. I mean I guess you get what you pay for and for a good golf course like Palm Garden, you'd expect them to chop you up and leave you to dry, much like how we paid 350RM for Datai Bay. Darn, I could have bought a new second hand driver off ebay!
The pleasant surprise, which enabled me to organize two flights of AGN member and non AGN member, was that Palm Garden had a brilliant promotion of just RM100 all in for walk in. That's for weekdays but it's a ridiculously good price for such a course. With AGN, we paid about RM70, a heck of a deal. Sure it's weekday, but it doesn't get better than this. A top tier course for RM100!
First thoughts
Our first concern there was that we didn't hold up the queue. This was important. Playing in Palm Garden is like meeting Diane Lane in person. You want to leave a good impression with her so she gets to remember you when you bump into her again. Likewise, we're all a little more polite with our thank yous, a little more gracious with your pleases and a little more lower in our bowing. Palm Garden is like golf royalty, one of the top courses in the country, so respect must be given.
We broke up our AGN flight; and paired two beginners with the other two walk in beginners. We put that flight in front of us to ensure they don't get too pressured by strangers. Also, it's a little more fun playing with players within our standard; the wager becomes more fair, the game gets a little more exciting.
We teed up on the 10th and predictably pushed my tee shot to the right. Ah, Palm Garden, the sanctuary for recovery. Having a good shot over the trees, I shot an approach that stuck 4 feet from the pin. Birdie? Nope, missed, settled for a bad par and boom, we're off.
Service (3/5)
The registration took a little longer than it was supposed to. The lady was a little busy with too many requests and didn't seem to handle stress well. However, it was very sweet of her to provide us with 3 sleeves of balls for the walk ins and a bottle of water. Another good experience with the service was that on the 1st tee, when we made the turn, the marshal came up to us with face towels for a wipe down. This is strange to us, as we mainly experience marshals being mad at us instead. On the 9th hole, our last, we saw as many as 4 maintenance workers with mowers working on the course. The maintenance is absolutely tip top.
The only incidences we had was when our buggy broke down on the Par 3 5th. We had to let another group pass us and we called the club house.
When our replacement buggy didn't come, we had to pack our bags and two from our flight walked to the green. I called the clubhouse, urging them to hurry and that it has been 10 minutes since we called, and the lady on the other line snapped back, No, it's only 5 minutes, and its on the way!
Jeez, take it easy, you grinch.
She obviously is not a golfer. To a golfer, every minute is twice as long waiting. This is because we are waiting most of the time. Waiting to tee up; waiting for the green to clear; waiting for the other guy to putt; waiting for the darn buggy to be delivered. She was clearly correct; but the delivery was unnecessary. I'm here for a golf game, woman, not to pick a fight. It's your fault anyway the stupid buggy broke and we lost our flight slot. The correct response? "Yes sir, it's on the way. Sorry to keep you waiting." There's no need to argue with me that I was mistaken in the minutes. Customer is always right. Live with it, you strange woman on the other line.
Because of broken buggy and Grouchy Woman, Palm Garden loses a little in terms of service. Still it's a heck of a club.
Fairways (5/5)
As mentioned, the amount of mowers on the course was amazing. It seems like every hole was being manicured to perfection. The fairway was excellent condition. Ball sits up, divots taken we immediately replaced; and there was a harmonious co-existence between the golfers and nature, finally. The fairways were generally wide; but hookers and slicers as usual might find it a little tough. I was blasting the ball well though, and constantly had approach or pitching wedge into greens.
Greens (3/5)
Like Datai, the only let down in Palm were the greens. I suppose that is why they gave the RM100 promotion. Most of the greens had traces of sanding, although some already recovered. But definitely, the green was under maintenance and it showed and played that way. The sand made the roll a little inconsistent and wasn't soft enough to land on. Greens here are generally a joy to putt, aside from that. There's not much undulation and after some trials here and there, I managed to putt from the fringe and even on the fairway just off the green to save some pars.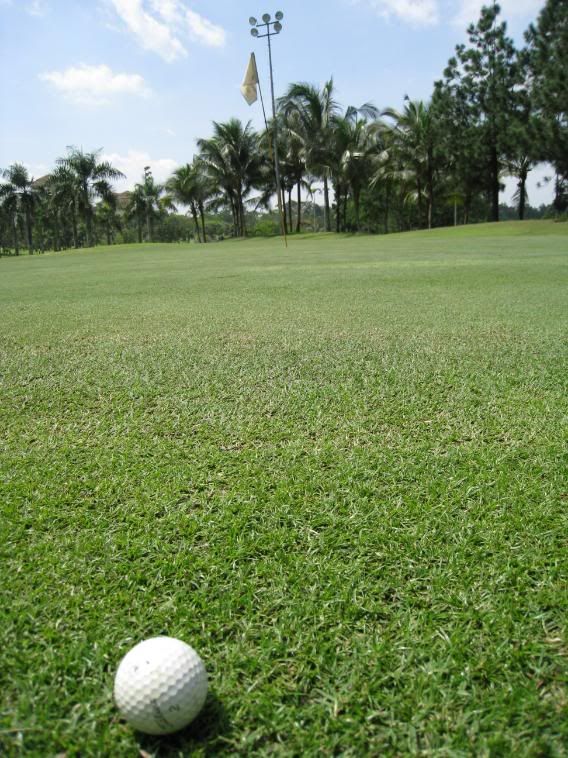 Rough (4/5)
I would like to proudly add that I hit 8 out of 14 fairways and 7 of 18 greens in regulation. The fairways I missed was just off in the primary cut so it sat up nicely. Only a few times I found myself in difficult positions, on the 1st, 6th and the 16th. All inside trees, sparse enough to recover but like the monkey I am I couldn't. I double bogeyed all of it, so it was quite challenging despite it's appearances. I like the rough here because it gives you a chance to play the risky shot; like on the Par 5 4th when another push cause me to hit my second on a root, squeezing between trees to the fairway. Unlike Nilai or Monterez, the rough here suggests recovery and persuades you to take the risk.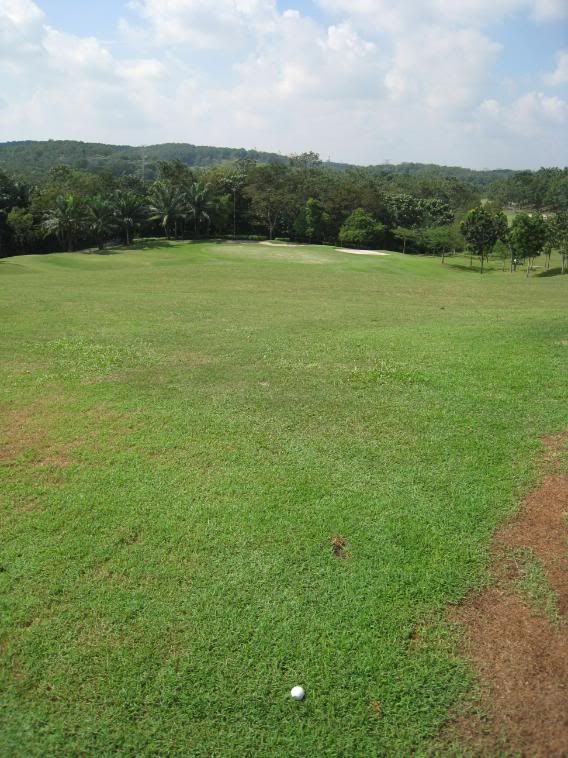 And the bunkers were top class. Despite the rain they still managed to make it that fluffy sandy condition that allows you to blast out with satisfaction.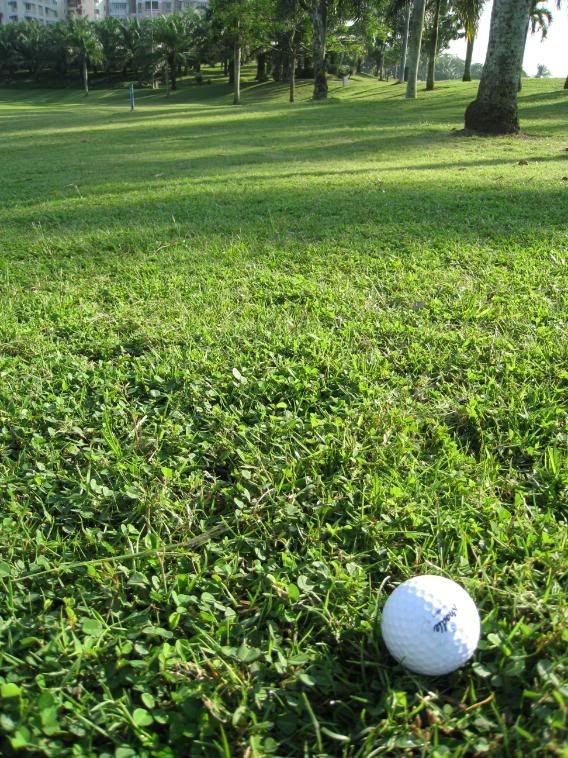 Aesthetics (4/5)
I'd like to have given it top score, but I'm afraid Palm Garden, while pretty, just isn't in the same class as Datai Bay. In fact, Impian looks slightly better too, simply due to the variety. Palm Garden offers brilliant elevation pictures, like the 9th, or 12th, with the signature bunker in the middle of the fairway. The par 4 16th offers a generous run of fairway. A guy from my group blasted the ball 270 m on that hole. The fairways generally rewards the drive that runs and draws. So for me, I played it longer since my drive tends to balloon high and fade.
The Par 3s have so many opportunities to look good but they generally play the same; a carry over water, all playing 150m and longer. Without hills or tropical forests; it would have been tough for Palm to score a 5 here, Impian does it; but Palm falls just short. It's still an awfully good looking course, but not exceptionally breath taking.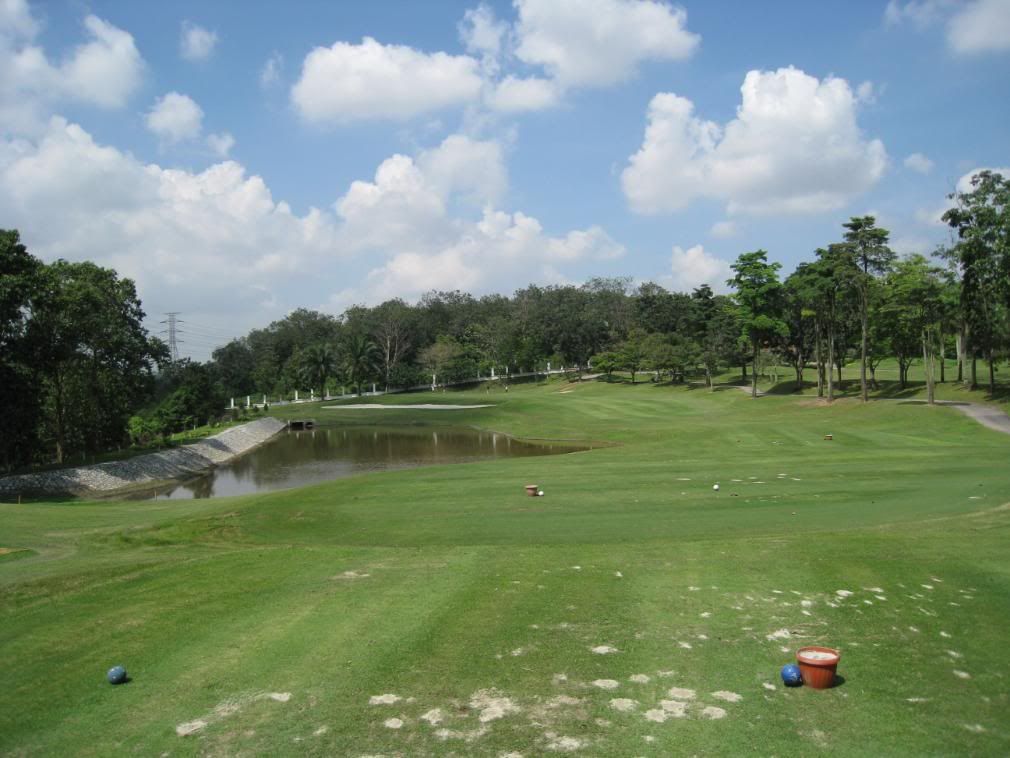 Fun Factor (5/5)
Here's the stats for the day in our flight.
24 pars between four of us; 10 coming from myself, a record of sorts. How can you not have fun on this course? On the 12th, the elevation was drastic from the fairway to the green. At 140 meters, I was hitting an approach wedge and still flew the green. The course demanded a lot of good precise shots, but allowed the recovery to happen as well. I know that the beginner group in front of us was also having a truckload of fun judging by the yells and laughter. I've had some agonizing putts shave the sides for par saves and birdie chances.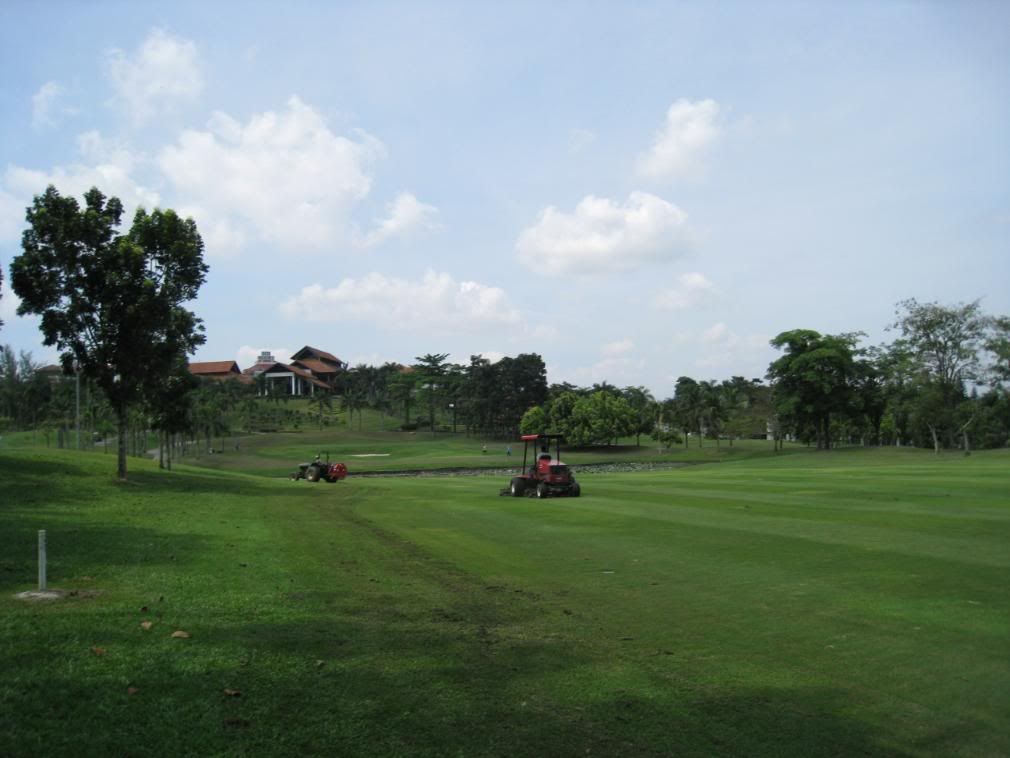 We played sixers, i.e partnership with everyone in the foursome; and we were just going back and forth like pros. I would par, and the other guy would par to square. I bogeyed, my partner parred, but the other group saved par. Par, par, par. They were just falling from the sky. At the end, our scores of 84,89,93 and 94 were probably the best foursome score I've had in ages.
At the clubhouse, everyone was raving about the club. Fun factor was just over the roof. An easy 5/5.
Conclusion
It's rare that we can get to play on a course as great as Palm Garden and for a price of a middle tier club. Face it, the promotion might not last, but we've got the pics, we've got the memories. It's not an extremely challenging course; neither do I think it is championship material, as suggested by the website. I think it's a nice, not too tough course, built for people who wants to have fun and who are hackers like me. It's excellent to bring your boss to, or business partners or customers for a nice, stress free round of golf, just make sure you don't get the grouch girl at the counter to spoil your day.
What a great end to 2007! Here's to a better 2008 filled with pars, birdies and eagles; and perhaps a sub 80 round!
The good: So many things, great course maintenance; easy accessibility next to the highway; superb promotion pricing; memorable holes and a guaranteed fun experience for all level of hackers.
The bad: Service of buggies not up to par; Grouchy Woman must be removed at all cost, preferably with a tranquilizer dart; sanded greens took some fun away
The skinny: 31 of 40 divots (77.5%). If you haven't played this course yet, with the current promotion, please stuff your 7 iron inside your nose as punishment. And if you have read this much without strapping on your bags and jumping over to your car to head out to Palm Garden, then that 7 iron should be stuffed up some place else. GO GO GO!!
Palm Garden Score Card
Palm Garden Information
Address:
IOI Resort Batu 7,
Jalan Kajang Puchong,
62502 Selangor.
Contact: +603-89487160
Fax: +603-89422844
Website: http://www.palmgarden.net.my/course.htm