Introduction
If there was a state I wish I had been born in aside from Selangor, it would be Malacca. It used to be Ipoh, but I decided that the golf courses there were too far apart; and Clearwater Sanctuary isn't such a great place after all. Which leaves us to Malacca, 2 states away, and quite far off to travel. But we know that the courses here were a lot better than say, Klang Valley. It seems the further south you go, the better the courses become, and once you hit Singapore, everything goes down hill. It's sort of like the food you know. Well, to be fair, Singapore does have nice courses, but the price itself sets to to -10 on the gilameter.
Anyways, back to Malacca. It has always been our plan to play the big 4 in Malacca, by no means meaning the nicest, but the ones that we know: A Famosa, Ayer Keroh, Tiara Melaka and Orna. Tiara quickly became one of our top courses because of the superb way she handled herself during one of the worst downpours in the history of Malaysia. We haven't played Famosa or Orna yet, so this time around, we head to Ayer Keroh, with its Par 5 18th stretching close to 600 meters, easily one of the longest hole in Malaysia. That's about 650 yards! There's another one at about 680 yards in Johor Palm Resort, but we wanted to see if we can slay this beast first. 650 yards! Seriously, the longest PGA tour hole is only 663 yards in Kapalua, Hawaii where they play the Mercedes Benz Championship to kick off the season. If we can slay this beast, then we are PGA tour ready!
Travel (2/5)
Traveling to Malacca will always, always be bad. There's no other way around it. I don't know who would find it fun to wake up at 5:30 am to catch am 8 am tee time. It's crazy. Only golfers would do such idiotic things, and unfortunately we are golfers, the definition of idiots. Traveling is important in a sense, you need to get a good travel partner. You get a punk who sleeps and wakes up only when you reach, you might as well commit suicide on the road. Unbelievably, there are actually people who thinks that when they don't drive and sit in front, they have the right to sleep. As long as you are in front, you exist for one single purpose in life: Keep the driver awake! Do whatever you can, feed him, tickle him, punch him…that's the rule. If you can't cut it, then stay home and play on your putting mat.
Thankfully, our group of golfers recognize the law and we had good conversation on the way there.
Take the north south highway (by now, please don't ask me how to do it, you should be doing that in your sleep). Head towards Johor. Pass Seremban and you will soon be in Malacca. On the way, you might want stop at the Nilai rest stop for nasi lemak, Malaysia's answer to pancakes, jam and bread and all the boring stuff you read in Enid Blyton's book. Sambal rocks!
You will hit the Ayer Keroh exit. Take that and travel a bit more into Ayer Keroh. Now keep left, because Malaysian signs are very very intelligent. They are put right at the place you are supposed to turn off. Not anywhere in front to preempt you. Right at the turning, there is a sign. And to make it worst, it will always be covered by trees. So look for the white sign that says ER ROH OLF RSE and turn left. From there, just follow the road and you will be greeted with a beautiful sign saying Ayer Keroh Golf Course. Welcome!
The best map I find consist of all Malacca Courses together:
Price (2/5)
Another thing to like about Malacca courses is that it's not that expensive. The green fees and buggy was only about 50RM on a weekday. The only issue is that Ayer Keroh is afflicted with what we call Force-Me-A-Caddy policy. This is where for no apparent reason, they make it mandatory for your flight to have a caddy, despite any protestations you might have. Air Keroh loses more points because not only do they force you one caddy, they force you two! The reasoning is that there should be one for each buggy. So we ended paying RM60, which is still plenty reasonable for a golf course that's quite good. Still, we don't like to be forced to do something, eventhough in the long run, we know its for our own good. I mean which child likes to eat their greens, right? We all hate asparagus even though we know (or at least our moms tell us) that it's good for health. Caddies are like our asparagus. We hate 'em, but we need 'em.
First thoughts
A wide fairway awaited us at the first tee. Unfortunately, it's right next to the buggy station. I'm serious. The first tee off will be observed by EVEYRONE waiting for their buggy. There was a loud mouthed tout in front hurrying us up and telling us we're not going to reach the green. I am usually reasonably confident heading to the first green, and I am quite confident that I can blast the ball pretty far. But upon his prodding, I stepped up.
I'd like to think it was the 2 hours drive and the lack of warm up. I'd like to think my muscles were tight in the early morning and stepping up to the tee without any stretching was probably not the best way to do it. Whatever the case was, I badly topped my ball about 30 meters in front of everyone, something I have not done before in a long, long, long time.
I made amends on my second, putting my hybrid close to the green, but completely skull my third into the pond, chipped my fifth and one putted for a double bogey start.
I usually recover reasonably after a bad start, but for some reason, this morning, it all went down hill.
Perhaps I'm just not cut out for golf long distance.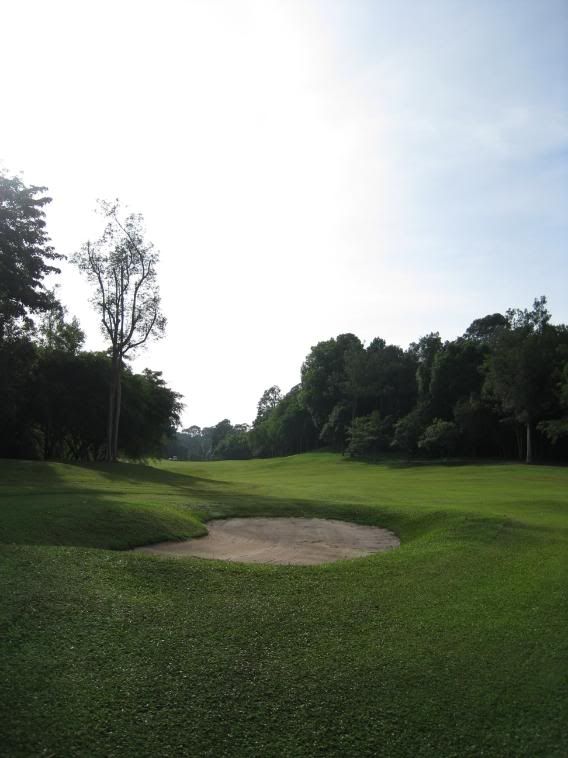 Service (3/5)
Ayer Keroh dodged a bullet here. While registration was quick and good, and the course conditions better than expected, they put a newbie caddy on my buggy. Now, we've already had an entrancing experience with lousy caddies in Seri Selangor and Impian, so we definitely do not need another experience here. Unfortunately, we seem to have a knack of attracting crappy (and not even remotely pleasant looking) caddies. This one was brand new out of Sumatra, just 3 weeks on the job and completely clueless on how to be a caddy. She couldn't find any balls, she didn't know when to get down, or who to help and we had to instruct her. Frankly, I suspect she just wanted to get some fresh air by hanging at the back of our buggy. My big mistake was telling her to make sure I had all my clubs after every hole and not missing anything. She ended up counting them almost every single time we looked at her. Come on! Look for balls! Another annoying thing was that she would declare the ball as gone or in the water but it hasn't actually gone in. She was just plain lazy to look for it. And everytime I asked her if there was a hazard in front or a bunker behind the green, she would give me the blank stare of death. You know, the way dead people will look…I haven't really seen it actually happening, but why don't dead people close their eyes when they die? Isn't it natural to close your eyes since your muscles are all loosen?
Anyways, as lousy as our caddy was, the other caddy in the other buggy gets the award for Greatest Caddy in Malaysia. His name is Nan. It stands for Adnan I guess. In anyways, we just started calling him Adnan, whether he liked it or not, since Nan reminded us too much of the cheese naan we hunger for halfway through our round and can't get. Next time you come to Ayer Keroh, ask for Nan as a caddy. You will never regret it. He dresses normally, a shirt and a cap and looks at me disdainfully when I asked him why wasn't he in the yellow and red uniforms of the other caddies.
"I made in Malaysia," he declares, implying that the MacDonald's outfit only applies to foreign caddies.
Nan proved to be invaluable in finding balls. I think he saved us like a hundred balls collectively. He was so good that he was handling all four of us like it was stroll in the park for him. We would be searching with the lousy caddy at one spot, and he would simply point from the fairway at a spot like 50 metres away, in the trees, under the bush and says, "Bola." Which means ball. From the fairway!!
Fu-yoh!!! How he knows??!?!
Yardage was perfect; and in the 16th par 3, I was out with my 6 iron and he shook his head, cigarette dangling from his mouth and said, 7 iron, front pin, back wind. I hit my 7 and landed 4 feet from the hole.
Fu-yoh!! How he knows??!!?
Trying to be smart and attempting to show that I can also play some golf, I disregarded his advice to putt for a left break and putted straight….and missed my birdie. Earlier I had also disregarded his advice and drove the par 5 6th instead of laying up. I nearly paid for it and escaped with a bogey but my other friend ended up in the hazard. If you don't listen to Nan, you're a dead man in Ayer Keroh.
He was also friendly, talked when spoken to, laughed at our jokes and basically wasn't so anal like the caddies at KGNS, or as prejudiced as the caddy at Impian or as lazy as the ones at Seri Selangor. He cleaned the course dutifully; filling the graves we dug on the fairway, smoothing the sand, fixing our pitchmarks. He gave good advice and never showed off…humbly mentioning that he played here and there and could kick our ass if he wanted to. Of course, he said it very politely and we felt privileged that he would mention our collective asses as illustrations.
I'd love to give Ayer Keroh a 5 because of the legendary Nan, but the other caddy just got on our nerves too much, so a 3 is in order.
Fairways (4/5)
Frankly, we didn't expect too much in terms of course conditions in Ayer Keroh. Someone mentioned it was a cow grass course, but I'm a little confused because it looks like semi Bermuda to me. I've played on cow grass courses before, and it ain't nothing like this. I don't know, maybe the Malacca cows are a different breed. In any case, it was a lot easier to hit than my old club at KRPM and the fairway was in fine condition. More than that, AKCC (that's Ayer Keroh Country Club for you) offers some of the most demonic holes in Malaysia. The elevated 6th, where a perfect drive will land you in the jungle, and of course, the famous 18th, a breath taking 600 meter hole, where a huge fairway beckons you.
Greens (3/5)
I'm not sure if it's just the weather but it seems that most of the courses we are playing currently have sandy greens. AKCC wasn't so bad, but it was still a little too sandy for my liking. However, after putting like a drunk hedgehog in Seri Selangor, having slower greens certainly helped. Like most of the features in AKCC, the conditions are good, without being excellent; but in a functional sense.
Rough (3/5)
There is a mention in their website going like this:
Ayer Keroh has its fair share of bunkers and other obstacles at strategic places, but the course is notorious for the jungle that lines both sides of almost every fairway and unmercifully punishes each and every wayward shot. In AKCC – " A ball lost IS indeed a ball lost".
I'd like to add to that part: "Unless you have Nan as a caddy." This guy found more lost balls in our flight than we have in our entire golfing career. There was one ball under a fallen tree. How in blue tarnation did he find it? He was starting to scare us. He must be an alien creature bred specifically to find lost balls. The rough didn't play as much part as we would think: the idea was to hit the fairways as much as possible and most of AKCC's fairways are nice and broad, without extreme elevation like Seri Selangor or Bukit Unggul. It plays fairly flat except for a few holes, and those that have doglegs provide plenty of landing space for wayward shots. Of course, if it does hit into the forest, you are dead. But hey, we're experienced golfers who have played Datai, Bukit Unggul and that nameless course in Seremban 3, and if we can negotiate that, we can this. At the end we still have Nan the Legend to bail us out.
Aesthetics (3/5)
I really think AKCC is a pretty course, just not as pretty as Palm Garden or Datai. It has a very open look to it, especially the magnificent 18th hole, a glorious ending hole, one of the best in Malaysia, simply for the length. The forests and tall trees give a sense of coolness which most Melaka courses have, and as we were walking down 11th, the breeze was blowing in our faces; we realize we don't get any of this wind back in Klang Valley. The close proximity to the sea, as well as being next to a river helped the overall aesthetics of AKCC. It's not drop dead gorgeous, but it's definitely worth the long drive down here.
Fun Factor (4/5)
I was far from playing my best game, I suppose I was a little pressured after the first nine of no pars. I was afraid that I came all the way here for another zero par experience like in Berjaya. I had a lot of chances, the obvious one on the 9th, where my drive nearly found the fronting the green and left me 90 metres in. I put it on but proceeded to 3 putt. The turn made no difference, as I nearly drove the 10th green, skulled my chip , two putted for bogey. I kinda recognize this wasn't going to be my day. The 11th was a great drive but my second shot hit a small tree and caromed into the jungle, for a triple bogey.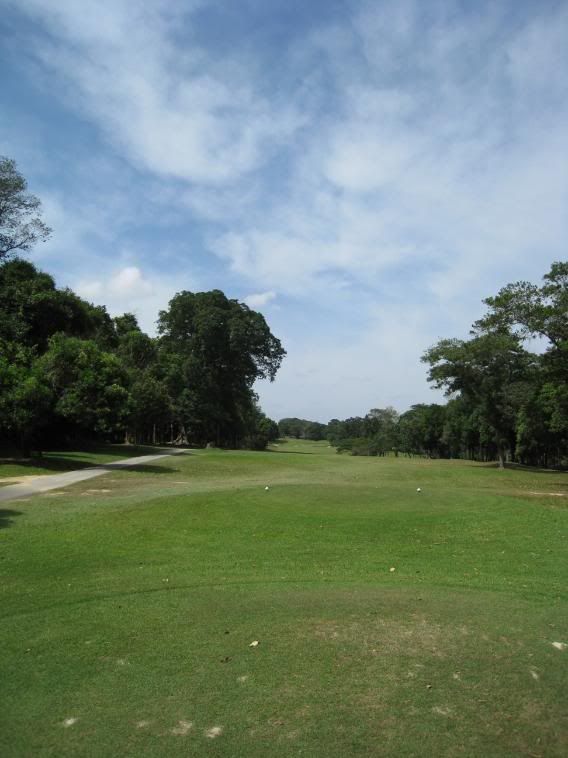 My first par came on the 16th, thanks to Nan's advice, another bogey and the last hole was where the fun was max. The 600 metre monster needs to be slayed. From the tee box you can just see a white speck in a distance. The flag.
A good drive set me up for a 3 wood. I hit it flush and you know what, I still had about 155 meters to the green! My 6 iron was fat but AKCC finally gave me a break as my ball carried the front bunker by inches and landed on the green. I two putted for a par on the monster hole, did my patented fist pump that Tiger always copies. I might not have slayed the 18th, but I certainly tamed it for now, and after a long, long day of missed greens and missed putts, it was the most positive thing to bring home for me.
Plus, Nan was pretty impressed with my par, having told me even the pros struggle to par this hole. Alright, I impressed Nan the Legendary Caddy!
Conclusion
AKCC is a great course to play at. The conditions are great, the course matured, lending a coolness to it, and some of the most memorable par 5s can be found here. It's also the longest course in Malaysia at 6400 m from the Blue; according to Asia Travel. I don't know how truthful is that, but they sound quite professional, so even if it states that papadam is the national food of Malaysia, I'll probably believe them.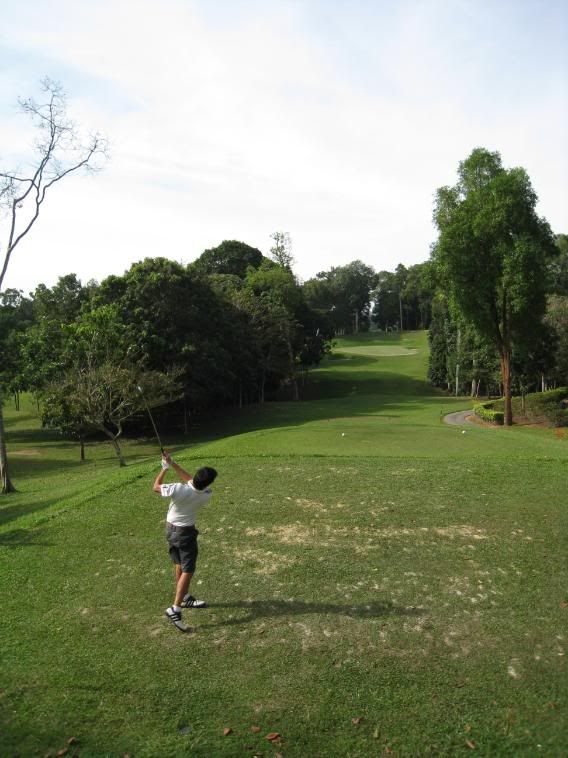 The good: Great pseudo cowgrass fairways; pristine jungle is what Bukit Unggul advertises to be but is not; cooling matured course; undulation typical of Ghafar Baba (the guy who did KRPM) design; great challenge to slay the 18th for bragging rights and the Legend of Nan the Caddy is found here.
The bad: The long trip down south from KL; crappy secondary caddy; loud mouthed starter; forcing us to get 2 caddies and paying for it.
The skinny: 24 of 40 divots (60%). A definite recommendation and Malacca courses are 2 for 2 (as opposed to 0 of 3 for highland courses). Beginners or pea shooters will find it a bit more difficult due to the length but for those who can whack it, they will find AKCC a driver's dream.
Ayer Keroh Score Card
Ayer Keroh Information
Address:
Km 14.5, Jalan Ayer Keroh
75750 Malacca
MALAYSIA
Contact: +606-2332000/2001
Fax: +606-2323578
Website: http://www.akcc.com.my/