Introduction
I remember when I first heard of  KGSAAS, one of my friends pronounced it as Kampung SAAS. In Malaysia, the typical short name for kampung is exactly that: Kg. We like to shorten a lot of words in this country, it makes life easier when we don't have to pronounce meaningful, whole names.
So for a while, idiocy was passed down and I, like an idiot, always associated KGSAAS as one of the backwater, piece of junk course we have in our country. After all, with a name like Kampung Saas, what sort of course are we actually looking at.
It wasn't until recently that I was corrected by my merciless golf mates that KGSAAS actually means Kelab Golf Sultan Abdul Aziz Shah, which I think is an even worse name to give a golf club. Seriously, nothing against the guy, but why is it that we have to name everything from airports to clubs to roads after a king whom nobody alive today even remembers how he looks like? Who is this guy? In fact, who's the guy who's on our Malaysia ringgit? Is he SAAS?
Note: I think I have to label a "CONTOH" whenever we publish a picture of money, but since this is a link to wikipedia, I'll let those wiki fellows handle it. I just found out that the king is Tuanku Abdul Rahman, our first king. He should obviously not be confused by Tunku Abdul Rahman, our first prime minister. Wow! I can just imagine the confusion of foreigners when they come: The only difference between our king and prime minister is the letter 'a'. Imagine the presents and gifts and golf bags that gets mixed up between them.
This similar naming is actually a serious issue. Our old airport was named after Sultan Abdul Aziz Shah and it wasn't until recently that we knew about it when a poor foreign pilot attempted to pronounced the name by going, "We are now in Seltan Abdul Azeeez Sah International Airport…" and by this time, we were already out of the plane, and in the airport. See ya, poor foreign pilot who is forced to pronounced the real name of our beloved "Subang Airport"! Ay Caramba!
So anyways, back to KGSAAS. Now that we are cleared about this naming issue, away we go!
Travel (3/5)
Ok, travel is slightly tricky.
As expected, the official website has absolutely no maps at all leading you to their website. The best bet is to either head to google maps and google the place or use a GPS, which seems to be in fashion this day, and which one day may render this section of our review blissfully irrelevant.
Anyways, to make it simple: Coming from the federal highway, head all the way pass subang and exit after the Batu Tiga Toll.  Take the next exit (which is the Subang Hi Tech exit, for all the techies who has been banished there one time or another during our techie careers). Take a right, and you will be on the road leading to Bukit Jelutong. It's called Jalan Subang (see, imagine the name Jalan Sultan Abdul Aziz Shah, and the amount of wasted metal and paint needed to create the signs!)
Head straight till you see a sign to say turn off left to the Stadium. It's the first left. You will enter into a road with the majestic (and largely useless) Shah Alam Stadium to your right. Just go along till you reach a round about, and take 3 o'clock. Just keep heading straight and look for the road Jalan Kelab Golf. I think it's like the 4th left turn or something. You will turn right into KGSAAS.
Price (1/5)
The problem with the "Big 3" is the pricing and the exclusivity. What's the big 3? These are the 3 subang courses, very well reviewed by many other sites, but which, in my humble opinion stinks a little, because they are largely inaccessible. KGNS is expensive. Glenmarie won't allow walk ins and they are expensive. KGSAAS, taking the cue from the other two more well known courses, decided to get into the 'slaughter-the-walkins' program.
We played on a weekday afternoon as walkins. It was RM150. We ended up paying RM30 for our caddie so, per person, I forked out RM165. Ouch. I mean, that has gotta hurt. And is it a special course? Well, to be real honest with you: Not really. It kinda reminded me of Bukit Kemuning for some reason.
First thoughts
Oops, I preempted myself. Yes, it's a little like Bukit Kemuning, in a good way. It's nice and broad. I like. It's awesome when you see a nice, generous fairway in front of you on the first hole.
Until, you proceed to push the ball so far right, it snaps a tree branch and drops like 70 metres in front of you.
For some strange reason, I've been playing like a blind baboon for the past few games. I either snap hook it or push it way right. In this case, I snapped hook my second shot to the fringe, pitched to 10 feet and brushed my par putt to the right. Started ok, but with a swing resembling Frankenstein on ecstasy, I knew I was in for a long day.
Service (2/5)
Ok, frankly, the caddie sucked. I hate to sound as if  I'm just finger pointing for shooting 95, but why do we pay for caddies? For them to lose balls for us? For the first five holes, I was actually doing reasonably well, thanks to some unworldly putting to overcome my embarrassing drives (which were ok, because of the wide fairways). I was +4, and then my entire game unraveled over one incident. I pushed my tee shot right to a clump of trees. Caddie says, "Can find!" and no, not really. She couldn't. In fact she didn't help me look. She just kinda hung around the shade, in the buggy, till I told her to come and look. By then the back flight was on us and I had to take a 2 stroke penalty, hit the green in 5 and two putted for my triple. Same thing in the next hole, where I had to discover the ball on my own.
Of course, it's really not entirely her fault that I was taking a beating from a relatively easy course, but you know at least, help find a few balls!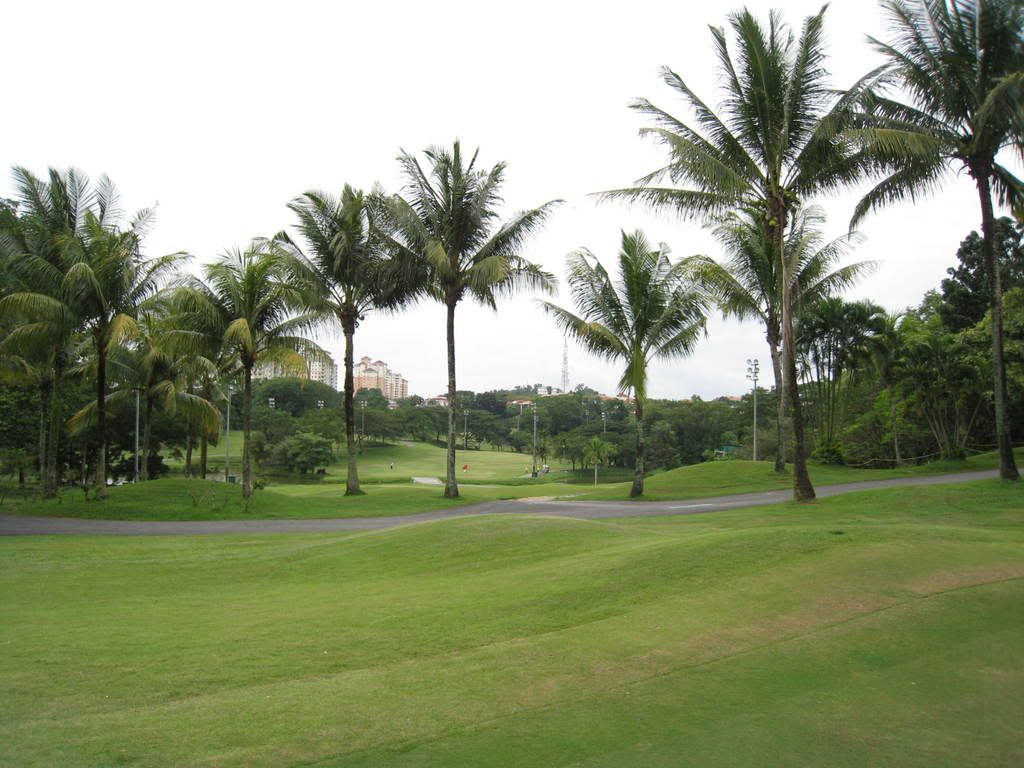 Fairways (4/5)
Ah, now we see what the fuss is about.
Bombers will have a rollicking time here. The fairways are inviting, broad and well manicured. Sure, it wasn't in the best of shapes, but still, most of the holes pretty much invited you with the driver and when you snap hooked it, you end up in the forest, OB. It's deceptive in that manner. I like the Par 5 12th, which you can reach in 2. A good drive pops you down to a generous hilly fairway and a 3 wood should end up making it.
Greens (4/5)
The greens played exceptionally well. We couldn't really read the speed right, but the one thing about KGSAAS was that they have huge greens. And table top on the first nine. We generally like table top greens as much as we like having our nose hair yanked out, so it's a pretty harrowing experience. I had a few instances where a decent ball from me (a decent ball now means a ball with a slight hook and not veering to the left and killing a mockingbird), landed on the slope at the side of the green and careened into the rough. In fact, I had a few decent 120-140metre shots that were so pretty good but bounded off the table tops. Other shots were pathetic, so it won't matter whether they were table top or bowl shape or whatever.
Rough (3/5)
Not so awesome.
I'm saying not because I spent my entire game hitting from the rough (I hit a total of 4 fairways!), I'm saying because it's unfair. I can't find my dang balls. True, I had a half blind, lazy caddie, but you know, it's frustrating when you know that it landed but then it's lost. And don't say I suck and don't deserve to find my balls. Everyone deserves a second chance, especially a duck hooking guy who struggles to bogeys most holes. The good bit was the bunkers were very well maintained…which goes a long way impressing us. (See our take on Kinrara and Bukit Unggul for bunker nightmares)
Aesthetics (3/5)
Perhaps I spent too much time looking for balls or playing from the rough, but I didn't really notice anything about KGSAAS that really stood up that made you go: WOOOW! It's more like, ok, here we go, get this thing on the fairway and move on. It's wide, open and not really hilly. Can't really place the characteristic of the course, but it's pleasant without being bewitching or too plain. It's like my Nissan Sentra, you know, pretty functional, lopsided to good looking, not great looking, and having a pretty good mileage on it.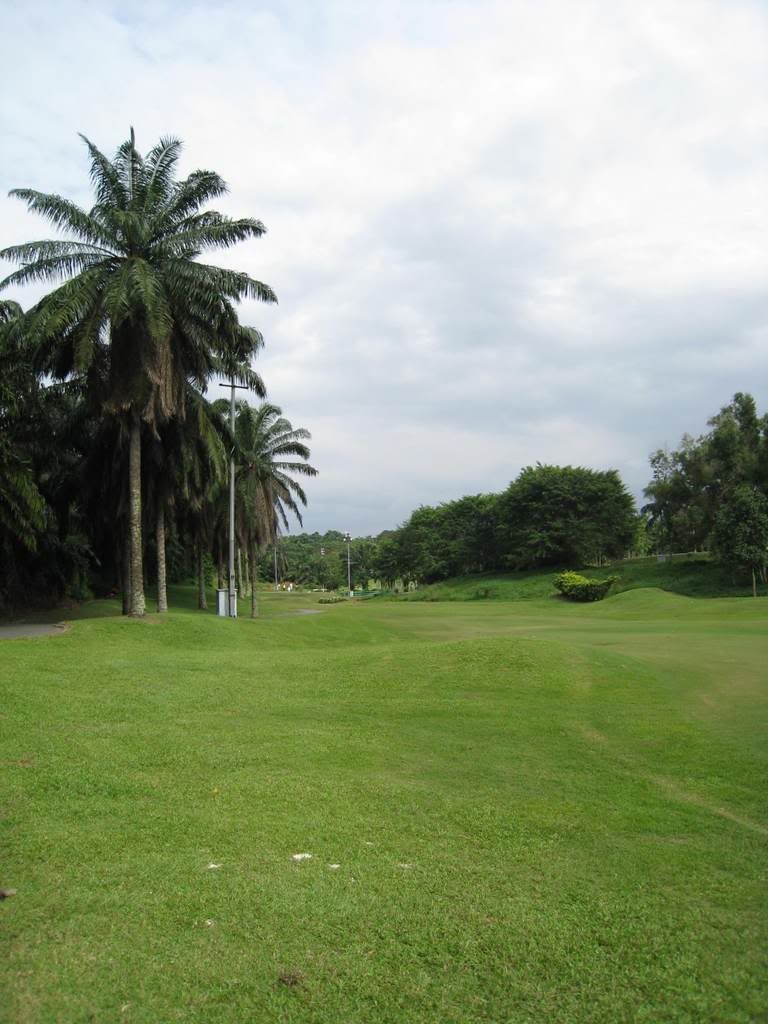 Fun Factor (3/5)
Ah, the most subjective part of our already subjective review. Did I have fun? Here's how I started: 4 bogeys and a par to start the game. Not bad right? I mean, here's a rusty swing.
Then the caddie fiasco occurred on hole 6 and here's how it went:
Triple-Double-Bogey-Double-Triple-Double.
+13 over 6 holes!
Yes, I'm whining.
Yes, I know the caddie probably had about 0.001% to do with my +13.
Yes, I know I am not getting popular by stating this.
But it's still partly her fault!
Managed to steady the boat in the final 4 holes with +1 over them. But the damage was done over that 6 hole stretch.
But a few other flight mates had good fun on some holes, including near miss birdies. It's a course where you definitely can have fun because once your drive is on fire, you can just take out this course like a sniper in a room full of buffaloes.
Conclusion
KGSAAS, despite of its unfortunate sounding name, is a course I'd like to play in again. It's a great, open course, and someone who can bomb drives will eat off his competitors like hyenas on a mother hippo (as you can see, my similes are deteriorating to a point of no return). The first obstacle needs to be crossed: that extreme price tag. Your options are really to:
1)      Get a membership here (which might work in the long run)
2)      Start betting big bucks and hope you win
3)      Sell your kidney or liver
Special Note: Lostangel kindly commented on the pricing below:
"Dude, they have the infamous 'Monday Special', for weekdays…its about RM80 plus per person I believe….I just played there 2 weeks ago."
So that gives us the fourth, which is probably the best option: PLAY ON MONDAY! You'll probably need to call in sick or utilise one of the 1001 excuses from the Lame-Excuse-For-Ponteng-Work book; but at RM80, it's a very good deal.
Thanks, Mr. Angel!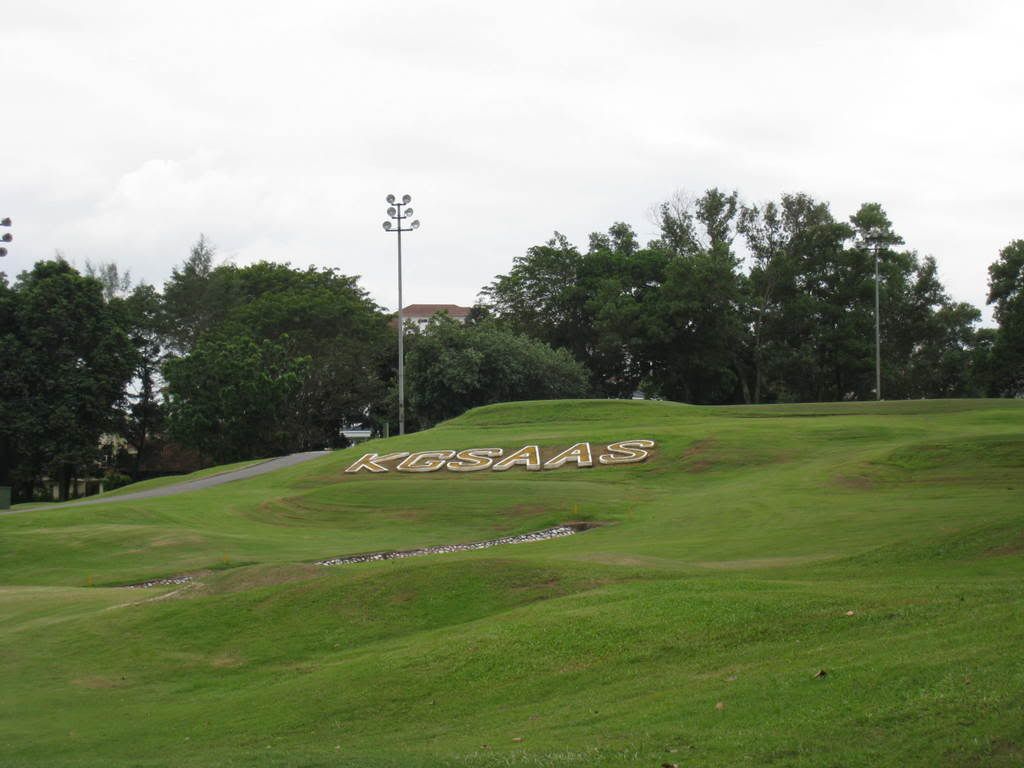 The good: Great, wide fairways; well manicured greens and good bunkers; challenging table top greens demands accurate approaches.
The bad: The price is borderline insanity…wait, no, it's officially insanity; caddies are next to useless if you get the bad ones; unfair rough; so-so looks.
The skinny: 23 of 40 divots (57.5%). If we can only get past the crazy pricing, this is a course to return to. It's also a great introduction to rich, wealthy beginners who can pay for the fee, because the wide fairways are heaven for those poor drivers like me. Wait, we can go to Bukit Kemuning for a lot cheaper. Onward Bukit Kemuning!
KGSAAS Scorecard
KGSAAS Information
Address:
Kelab Golf Sultan Abdul Aziz Shah
No.1, Rumah Kelab,
Jalan Kelab Golf 13/6,
40100 Shah Alam,
Selangor Darul Ehsan, Malaysia.
Contact: +603-55128853
Fax: +603-55105860
Email: fiza@kgsaas.com.my
Website:http://www.kgsaas.com.my