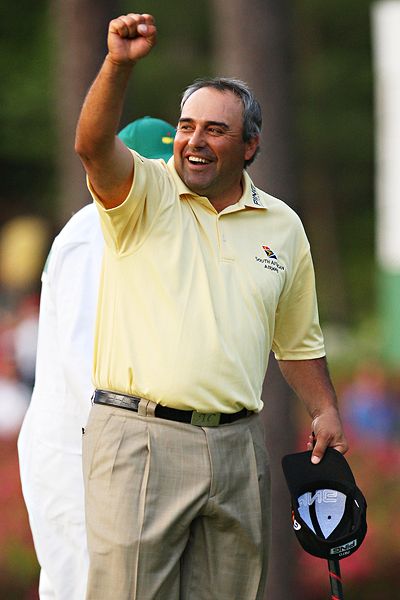 The duck won it. I think we need to relook at our GPE yet again, because the horse we bet on shot +1 and dropped from 4th to 10th. We'll never bet again on a horse with a loopy swing. Was the final day fun? You bet. I followed the Tiger-Phil circus all the way and at the 17th tee, they were -10 with good opportunities to go lower. What happened? Tiger choked on his drives in the last two hole and bogeyed both. Stupid driving, honestly. Phil, on the other hand also choked with a bogey on the last, but he hit some pretty darn amazing shots, so head to head, he beat Tiger flat.
Marshmallow man aka Chad Campbell actually played very well, to claw to -12 from -9 but the biggest choker had to be Kenny Perry. After stiffing it at 16, with a two shot lead, everyone was prepared to go home. They tailors were already stitching his size for the green jacket. Then, what a train wreck. Bogey 17 from a crap tee shot. Then crap tee shot on 18, pull hook like a 24 handicapper, hit the lousiest chip of his life, missed the 10 footer par, dropped 2 shots in 2 holes.
First playoff hole, El Pato is in the trees, and hit trees on his second, and still managed to stiff his 3rd and sink the putt. Meanwhile, the two fat americans played like clowns from prime spots on the fairway. KP finally hit a good chip and managed save par. Poor Marshmallow Man missed a 4 footer and you could just see him trying not to cry. Poor guy. I was really rooting for him because he reminded me of Charlie Brown, you know.

The second playoff hole was anti climatic. If you watched Mike Weir win it in 2003, it's exactly the same sequence. KP pulled his shot into the pine trees the same way Len Mattice did, and with it, goes immortality and his name, Kenny Perry will forever be blotted out from the histories of golf. Like, as if you know who the heck Len Mattice is right. Who is this guy?!?! So bye bye Kenny Perry, your loopy swing proves pretty crap under pressure, and now, an Argentinian duck has won the most prestigious golf major of them all.
Also, I noticed nobody really cheered when El Pato sank the last putt. I saw many onlookers just looking with their arms crossed. What the heck is wrong with these sore losers? I know this is American home ground, but if an American continually choke under pressure, it's not the Argentinian's fault, right?It's a pity, because it's pretty pathetic to see this fat Argentinian dancing his duck dance and doing his duck fist pumps and quacking in delight and the only happy person seems to be his caddy. It's sad, because nobody wanted him there.
Not even our tremendously flawed GPE.