Introduction
Glenmarie. We never thought Gilagolf would ever step into the sacred grounds of the top 3 golf courses around the Subang/Shah Alam territory: KGNS, KGSAAS and Glenmarie. But we were finally able to weasel our way into all of them, and here's a good look at Glenmarie Golf Club, and two of her fabled 18: The Valley and The Gardens.
We'll take a look at the more famed one, The Valley.
Travel (4/5)
Travel is a snap. As with all courses around this area, you wouldn't get lost even if you had 10 shots of JDs and someone pumped you full of valium. The only problem here is the jam. Subang area is notorious for jams. I mean, have you ever tried accessing subang via Federal Highway in peak hours? It's ridiculous. You can finish watching Avatar and still not reach home. I don't know how the Subang fellas do it. Having been through a few of it myself, I am already seeking therapy for suicidal tendencies.
Anyways, for Glenmarie, thankfully, you can access via the NKVE. Turnoff at Subang and head straight, keeping right. What you need to do is to make a U-turn right at the bottom of the road and come back up the other side.  Keep left and turn the first turning to the left. Then follow the road signs to lead you to Holiday Inn/Glenmarie Golf. You won't miss it. Turn right at the traffic light and go all the way in, pass the hotel and you'll arrive at Glenmarie Golf Club.
Price ( 1/5)
The price is always a giveaway for what is to come. If we pay through our nostrils, the experience better be darn good. If you're going to charge premium, hey, play premium, and don't play a course that turns out to be like any other course.
And for Glenmarie – Valley, here's the cruncher: RM181 for weekday for special discount rate. Because we were organizing a tournament there, my company was given that discount to play a practice round. OK. So what the he** is the discount here? What's the normal pricing, if already we're down RM181??
And later on, we'll explore, is this worth it? For now, let's just say, I rather spend that RM181 on taking my dog for his rabies injection and buying really expensive Danish Dog Cookies for him.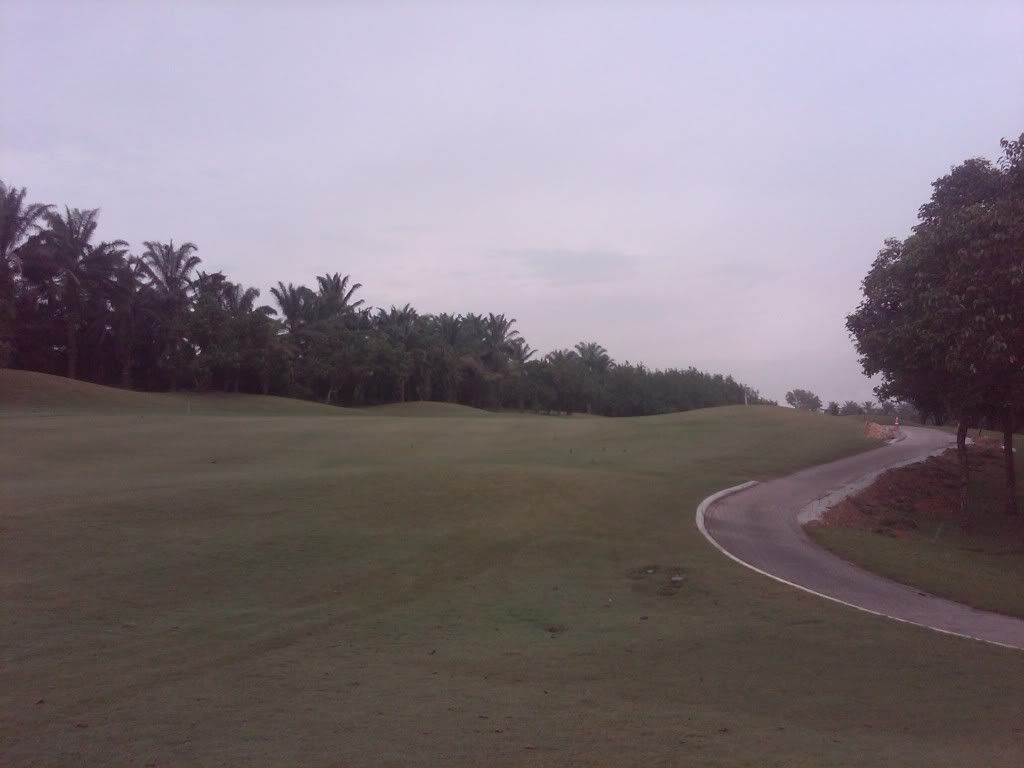 First thoughts
Glenmarie, you have to give them, has a pretty impressive clubhouse. Everything looks very professional, very well done, well organized. They have their trademark blue roof club house, a huge drive way, and the car park nearby.
Of the two 18s in Glenmarie, the Valley is generally considered the more difficult one, and considered the 'championship' material. I don't know who put that in the brochure, but that's the generally accepted theme. The course gives what Jawi gave, a general feeling of expanses, which to its credit, Glenmarie exploits very well, in terms of hole design and general aesthetics. It's not to say we like it, but these are first thoughts anyway. Until….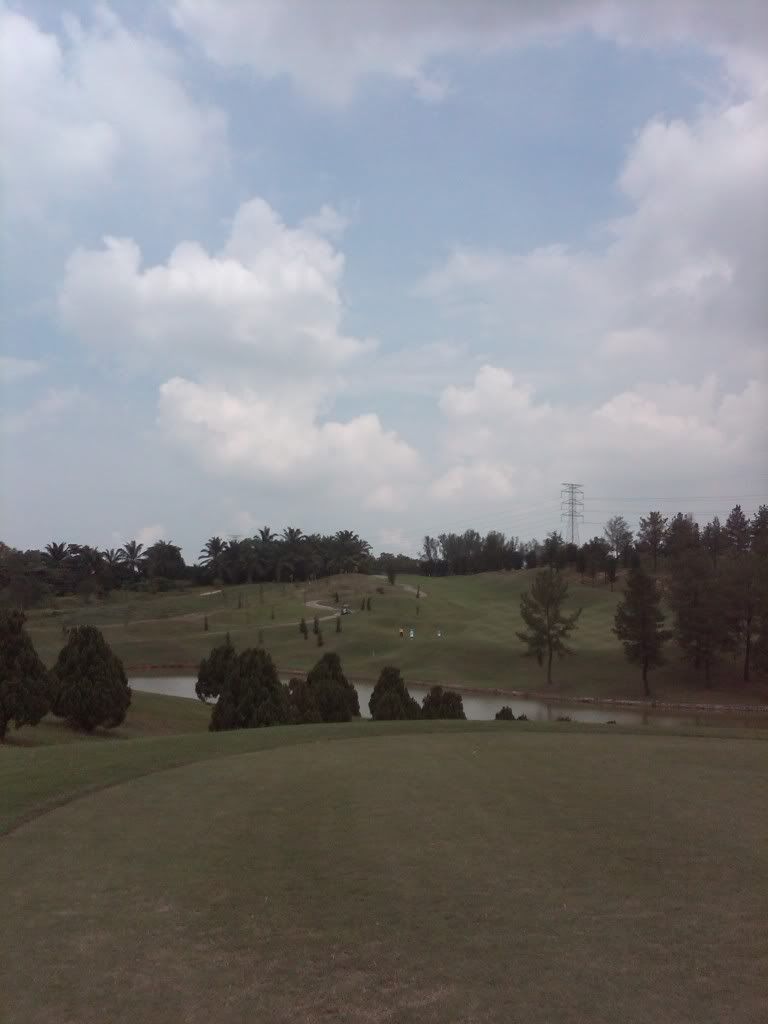 Service (-1/5)
It's official. Glenmarie Service SUCKS. You'd think a hotel-resort course would have top class people handling their service, but here it is:
1)      Dumping us into a different course
Having already booked and CONFIRMED an 8 am flight in Gardens, we were unceremoniously dumped into the Valley course by the reception, because there is a monthly tournament going on in the Garden. Ok, thanks. Now why on Jack Sparrow's beard did you agree that we could use the Garden on that day, and confirmed it the day before??? Why would I want to practice on the Valley when our tournament is in the Gardens? The reception said, yeah, the Garden is easier but Valley is more challenging. My response to him was, yes, and we all look like sadistic idiots bent on abusing our own self esteem by seeking tougher golf challenges. Bring it on!As it is, we can't even hit the darn ball straight! The point is, we booked Gardens, we play Gardens! And stop trying to convince us otherwise! It's like we booked a flight to the Bahamas and they send us to the Amazon instead, saying it's more challenging. The point is, we are packed for Bahamas, not bloody Amazon.
2)      No credit card machine
Ok, only for that day.  They did not accept credit cards, so they insisted on cash. Um, yeah, I carry wads of cash around me all the time, right? Wrong. They claimed the credit card machine was kaput. Do you know how inconvenient it is to get flight members to pitch in and pay in cash? Don't they know that golfers only carry limited cash with them, so when they lose a bet, they can say, "Aiyo, no money lah". So I had to pool money from the group, and two of them being customers. Thanks, Glenmarie, for embarrassing me in front of my customers. The least you could do, was to give some more discounts. Because of the broken machine, there was a long wait as well.
3)      Stupid Caddies
We absolutely, vehemently detest caddies that are forced on us (like in Jawi) and doesn't even know what the green speed is. We got two of the dumbest caddies in the world. One was so grumpy that I was half afraid she would revert back to her cannibal instincts and bite off our ears for losing so many balls. One even had the gall to scold us, when we plopped an extra ball in one of the holes to practice pitching. Nobody was behind us then, so we weren't holding up. Sure, she might have a point. Sure, it might be illegal. But, um, you are a caddy. Shut the heck up.
If I wanted someone to admonish me, I can get my mom to do it, not some strange looking person dressed in multi colored clown suit, whose primary job is to point out yardage, green details and hang on at the back of our buggies for dear life. One of them refused to take my putter for me when I putted out, instead, insisting the other caddy do it. And they even passed us wrong clubs in several instances, and give wrong breaks on greens. In fact I'm so pissed with them now, I'm reducing service to -1. This is the pinnacle of humiliation, for a so-called top rated golf club to have a -1 service, which is equivalent to the experience of having living cockroaches stuffed into your lunch sandwich.
Glenmarie Golf….your service and your caddies suck. Please improve or stop charging and pretending you are a good golf club.
Because of point 1), I didn't bring my normal GilaCam, and had to take pictures using my Blackberry. This is because I've already taken pictures in the Gardens, and since we were supposed to play in the Gardens to today, I didn't see the point of it. I didn't expect the extreme stupidity of Glenmarie to send us to the Amazon when we booked for the Bahamas.
Fairways (2 /5)
So after struggling through the reception, we finally trudged onto the first tee of the valley and…was pleasantly surprise. It was a very inviting tee shot, but I promptly pushed one way right. The first experience with the useless caddy was here, where they didn't mention there was OB on the right, thinking that we wouldn't be hitting there. Um, welcome to my world, where balls will fly to where they are not supposed to. I managed to recover for a double, but it set the tone for the day.
The fairways, surprisingly, was not as good as the Gardens. It might be due to the downpour the day before, but there was a general lack of maintenance, as was witnessed by bare or sandy patches, along with tyre marks of probably grass cutters and so on. But the grass was just not compact together, like the ones in Tropicana or Jawi. Glenmarie needs to understand: if you are going to charge an arm and leg for your green fees, your fairways better feel better than my Kingkoil bed. Because if it's anything short, you are going to get relegated into the dreaded Waste of Time and Money Category. What a douchebag of a course.
Greens ( 3/5)
The greens are slightly better, but again, compared to the Gardens, it's strangely sandier and less consistent. I don't know why. I thought The Valley is supposed to be the better course, but it's turning into some kind of nonsensical journey for Gilagolf, because the course is playing more like Kinrara, pretending to be a Tropicana. Most of the greens was a little sandy, some fast, some slower and there was just a nightmare figuring out the speed. The contours of the greens were also very challenging, which is why we are bumping it up to 3 (we like sadistic greens, for some reason), and large, so a regulation on might actually result in a three-putt, or in one case, a four-putt and a scream of anguish.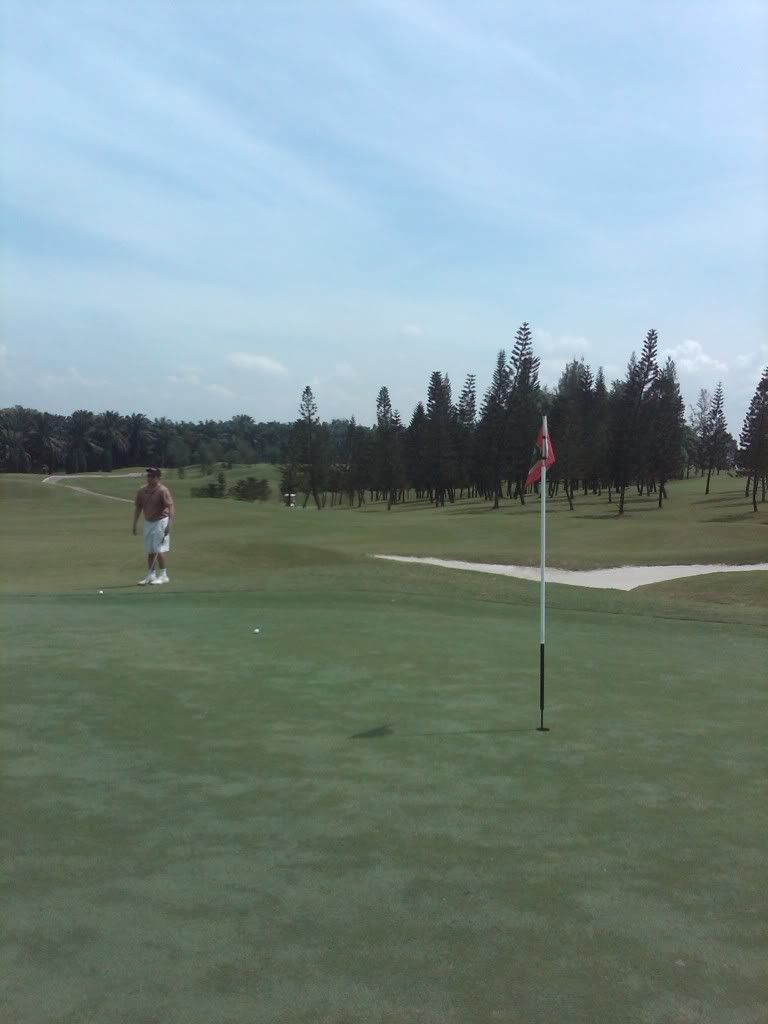 Rough ( 3/5)
Take it here from Gilagolf. You will spend most of your waking hour in The Valley in the bunker. There are a total of 1,156 bunkers on the green (this is not verified, we just need an independent auditor to go and count it). The entire course is literally littered with bunkers. I think I've hit more than 10 bunkers (fairway and greenside) on my way to an explosive score of 101. This would make an interesting challenge, except the bunkers behave differently. Some are hard packed, some are not so. Some sand is wet, others dry on top, wet under. And so on. And it's not like we're even good at getting out of bunkers. We suck at it. And yes, it's Glenmarie's fault that we play like drunk gerbils high on methanol.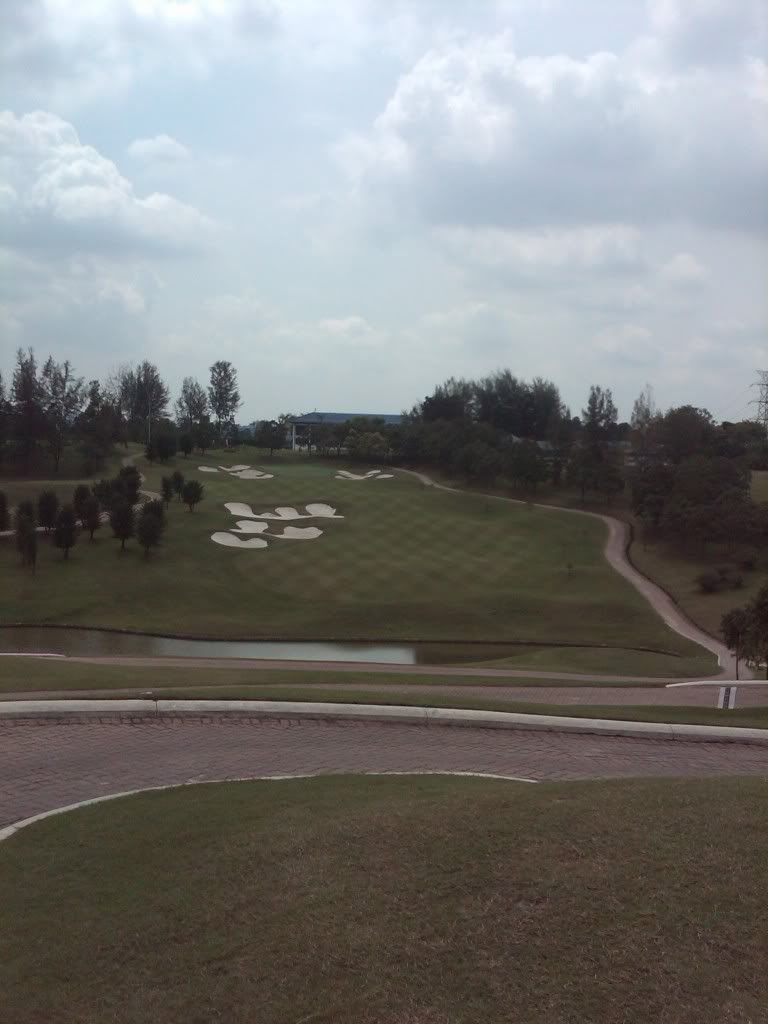 The normal rough is ok, there's no penalty like Saujana rough, and in this sense, we are reminded that Glenmarie is a resort course, like Bangi, only 3x more expensive.
Aesthetics (3/5)
Due to the contours of the Valley, you will see a lot of blind holes. One, this means, the caddy comes in play. And with the completely useless twits we had for caddies, we were in for a long day. More than one hole, they were completely lost, and we had to search for the balls on our own…and found them too. So on the tee box, you see…just the fairway and that's it. It opens up from the fairway to greens along the rolling terrain, so in some instances, like the 18th, it does gives quite a magnificent snapshot of the course, and why it's called the Valley. Instead, if you look at it, you might think you were playing in Seremban 3 course, the course we have banished into the darkness of Gilagolf course infamy. Is the Valley pretty? It's ok. It's not spectacular, but it does gives some interesting vistas of the course. But everything is with a pricetag. I wouldn't pay RM30 for a nasi lemak that tastes like a RM5 nasi lemak you know. Same thing. We can go Seremban 3, Bukit Jawi or even KGPA and be treated to similar visuals.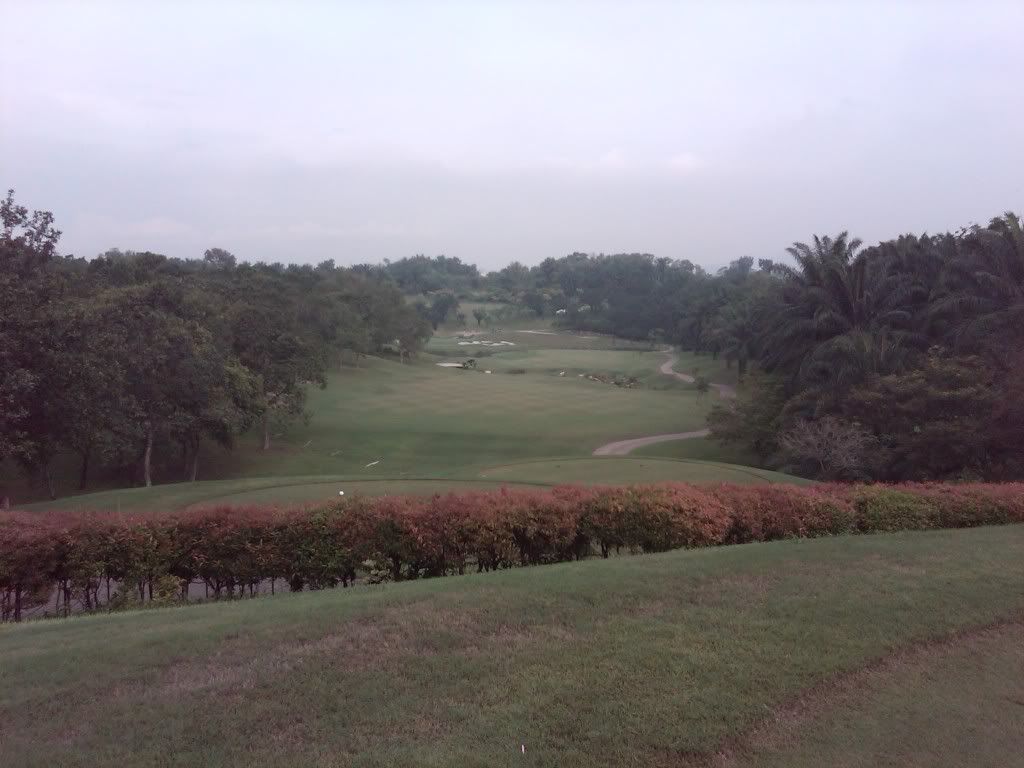 Fun Factor (1 /5)
Thanks to the service we were getting from the grumpy caddies, we didn't really have a lot of fun at all. And we were a naturally fun group, you know. But one of my guys were seething when he asked for a 3 wood and the caddy gave a 5 wood. He walked halfway and found it to be wrong and had to wait again for the caddy to change. Another instance was when I hit a ball off the green and needed my 60 degree. I had to wait there for close to 5 minutes before she came with the right club for me. And to think we are paying for these clowns.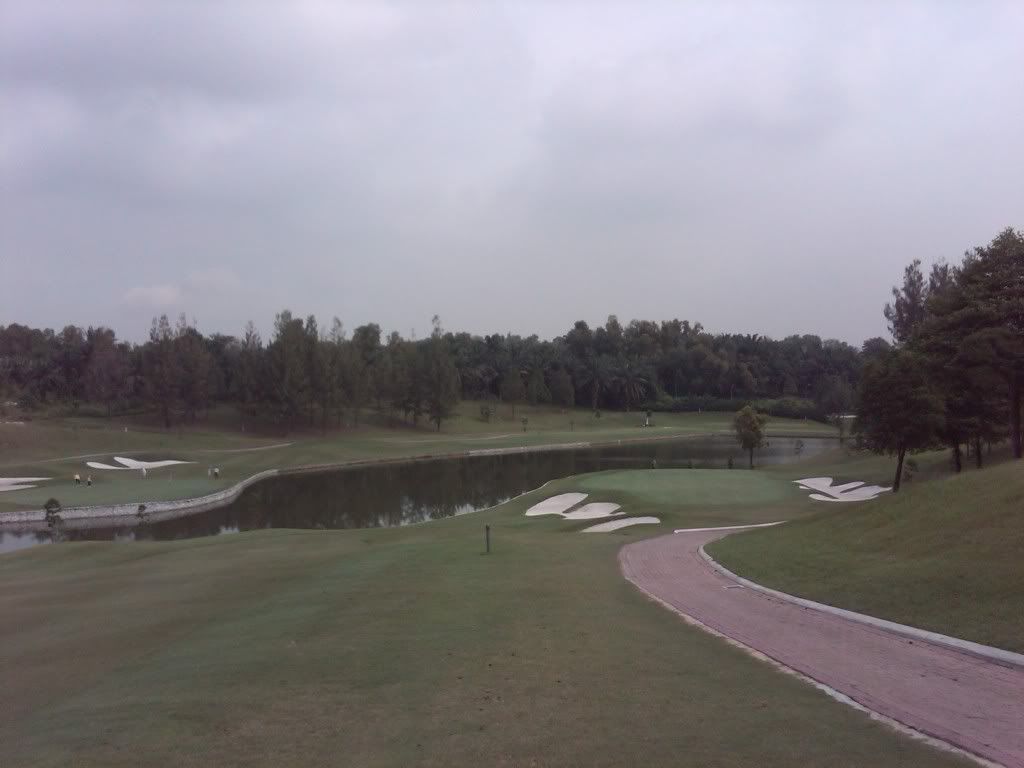 Also, the Valley is darn difficult. It's a complete opposite from the Gardens. And I supposed, I'd like to say mentally we weren't prepared for the Valley at all. While the gardens was generally benign, like Bangi, the Valley played like bloody Seremban 3 or something. The shift in difficulty was something we didn't do too well with, as can be testified with our escalating scores to the hundreds. We're not complaining based on that only of course, but hey, a Gilagolf review is very emotional based, and we don't have a lot of data to back up our nonsensical reviews.
Granted, there was a bit of fun, when a birdie was dropped by one of the guys, but the overall experience wasn't great, and at the end of the game, we were just waiting to knock off and go for lunch. Always a bad sign for a course.
Conclusion
So is Glenmarie recommended? The Valley is not. And we might piss off some Glenmarie stalwarths here who live and die by the Valley, but by charging us a 'discounted' rate of RM181 per person, and having the type of service so unusually poor that I can get better service from the dodgy DVD seller on the street, the tone is set for this course. The golfing experience is mediocre, the aesthetics is so-so, but the overall package is just something we will not recommend unless you are the type that enjoys suffering slowly in the bubonic plague.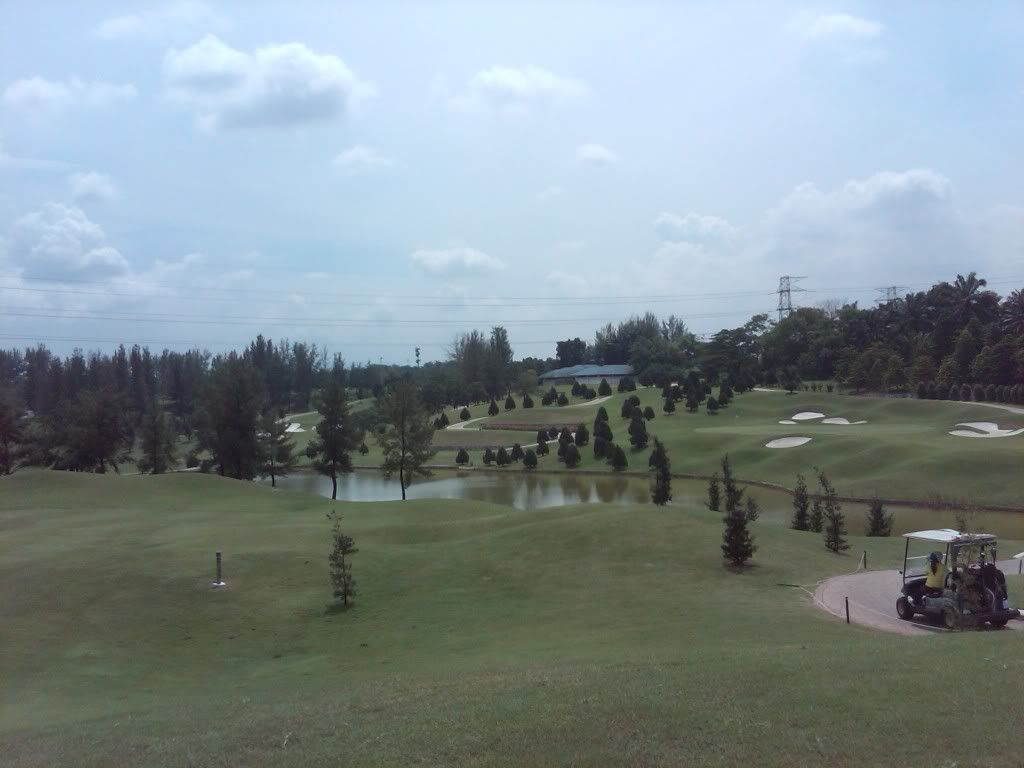 The good: The travel is definitely an easy one, if you can survive the jam; the amount of bunkers definitely gives a different challenge; the contoured greens are nice and varied.
The bad: The customer service is atrocious; the caddies are as knowledgeable as the piece of loose gravel in the buggy track; the price doesn't justify the course experience; the mediocre course just can't cut it in an area where KGSAAS, Tropicana and Saujana ply their trade.
The skinny: 16 of 40 divots (40%). Congratulations, Glenmarie Valley for becoming the latest, most high profile course to be awarded the WOTM award. You will probably have better service as a POW in a WWII concentration camp. Take your moolahs and use it elsewhere. Glenmarie Valley is to be avoided.