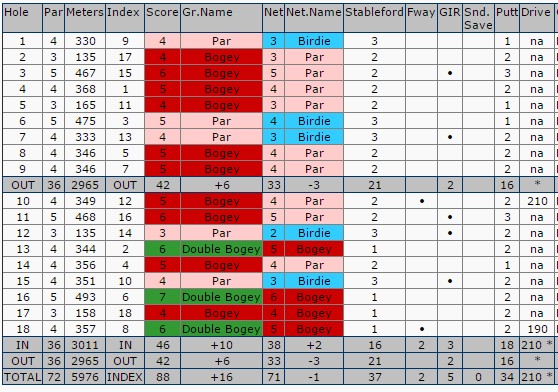 As long as I can keep the trend going, I will. I managed to hit a sub-90 round 3 in a row – which I think probably has never happened before, giving me some hope in this year's pursuit of sub 90 target. As of now, I am averaging around 92 thanks to some explosive scores like 102 in KRPM, 96 in Palm Garden, 99 in Seri Selangor etc. But the last 3 games – Kota Permai, KRPM and Glenmarie has given me 89,88 and 88 – respective scores given my struggles in this game.
Glenmarie game didn't start out well. We played the back nine and I had a pitching wedge from the fairway on the first and shorted it. I skulled my chip and settled for bogey. Second hole, I had regulation and 3 putted from 10 feet. The 13th, I had an easy 9 iron into the green, pulled left, shanked my flop into the bunker and died. 16th and 18th were just very poor – easy par 5, and I got myself into loads of trouble in the woods, and on the 18th, I skulled my chip again – many times, after getting 2 to the edge of the green.
At 46 on the front, I managed to turn around at the back.
The amazing stats on the back nine was zero fairway hits. I was having a horrendous driving day which is so frustrating because the last two games, I was driving like a king. So today's 80s round was basically a lot of recovery, and some reasonably good irons from bad positions.
Glenmarie garden was playing benign. The rough was almost negligent and all my drives in the rough managed to survive relatively easy. In fact, I could have gotten 4 additional pars – I three putted the par 5 3rd, then I had an easy chip on the 4th which I skulled, and the last 2 holes I had easy chips which I also screwed up.
If I can learn how to chip, I could be consistently scoring into the 80s!
Let's see if 4 in a row is possible – next round is at Rahman Putra, where I have NEVER posted 2 sub-90 rounds in a row eversince I joined the club 10 years ago.