So 2015 has ended, and now 2016 is in but golf is going to be scarce. I suppose this is a good time as any to look back what has been achieved last year.
First of, summary stats above.
The most damning stats here is the 91.21 average gross. This is just not good enough. I wanted to set out last year to break 90, but in 39 rounds played, I only broke 90 15 times, which is a poor 38% while only breaking 85 in 2 tries (both times at Mines, incidentally). I suppose the only good news is that I only broke 100 twice – once in Seri Selangor and the other one recently in the blow out in Nilai Springs. Otherwise, it's mostly 90 – 95 scoreline. In fact, it took me 6 games into 2015 before carding an 86, and in first 10 games, only broke 90 twice. The good news, is that, in the last 10 games, I broke 90 on 6 occasions. Granted, these were played at a lot better courses compared to the first 6 games and I didn't have to tackle Seri Selangor in the last 10 games. My fairway hits are also low, but it doesn't really matter because in some games, I can hit all the fairways but still fail miserably in scoring, while the opposite is true, whereby I miss all fairways and still score pretty well. My GIR is up, which is good, and at 2.56% par breakers, it means I had my share of birdies also.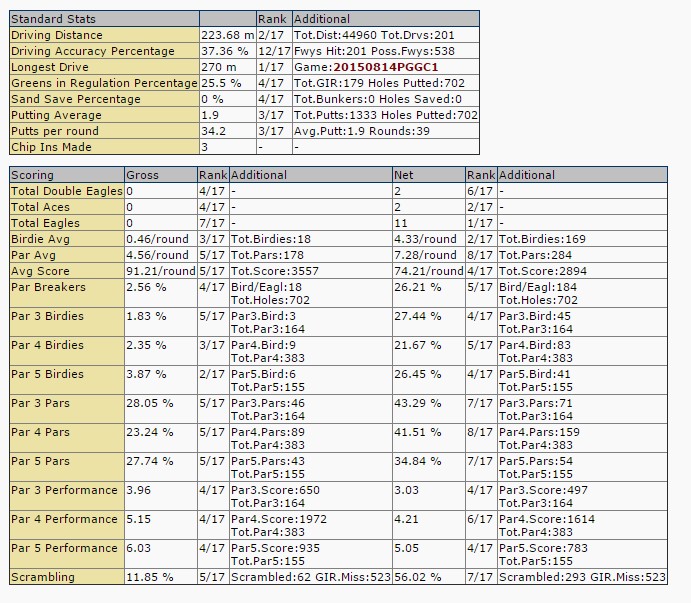 A further break down as above.
I recorded 18 birdies last year, of course, the best coming from the recent Mines game where I hit back to back birds. Overall, I have around 4.5 pars per game, which technically is just not good enough. I should be comfortably averaging around 6 – 7 pars per game. The encouraging fact is that my iron games has improved a lot. My par 3 is being played a lot better, and has highest conversions of pars and play to only +0.96. Which is great. That means, if I can work out my par 4s, I should be playing a steady 15 – 16 handicap, as opposed to a very unsteady 16.


Finally – horses for courses. It's pretty obvious my favourite courses also happens to be the best courses – Glenmarie Valley and Gardens, and Mines. Of course, Bangi has to be there since it;s such a short course. Kota permai, Sungai Long are played around 90, while Palm Garden, around 91.
So there you have it. 2015 has been filled with some pretty amazing shots (2 birdies in a row for example) and some pretty crap ones (10 greens in regulations and 6 three putts), and as I approach 2016, new father of 2, I don't expect too much gametime. Whatever game I have, hopefully I can learn how to take those opportunities and break that darn 90!
Happy hacking everyone.