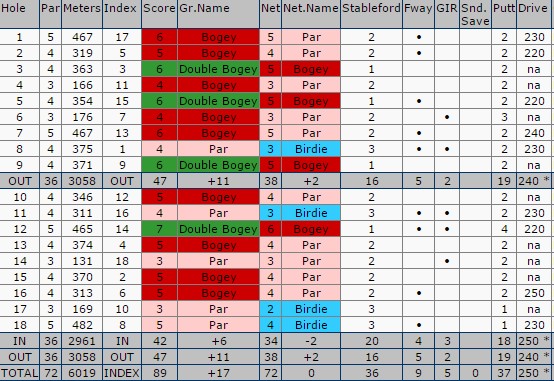 It's quite rare that I actually am able to string two decent games together. I don't recall doing it at any point of time in my hacking career that I shoot sub-90 rounds in a row. I know, some of you are probably wondering why am I so happy about this – for those following this blog, you would know me to be someone who is constantly suffering this love-hate relationship with this game. I never seem to get better, because nothing seems to come together – if my driver is pure, my irons suck. If my irons are heroic, my putting is a lump of camel crap. If everything is going well, the game is stopped due to thunderstorms.
The first game was at Kota Permai. I shot a ho-hum 47 on the front nine despite hitting 5/7 fairways and driving superbly. I kept messing up my approach shots and my irons. It was just killing me. The only par I mustered, strangely was on the index 1 long par 4, where I got regulation on with a thunderous drive and an 8 iron in. Kota Permai greens were playing at speed 10 – which were knee knockers on putts. This is evidenced by my first 4 putt in the longest time.
The back 9 got much better. I scored a 42 – and that's with a 4 putt double bogey regulation on there. It could have been a 40 if I putted better! But overall, Kota Permai was perfect condition. I had a great end where the 17th, I strung my 5 iron to the right and ended up under the trees with barely a sight to the elevated green. I thought of bump and run but decided to just flop it. I never execute good shots consistently but this was the greatest flop shot ever created as the ball shot up, missed the branches by inches, dropped on the top of the fringe and meandered down the quick slope to 3 feet from the hole. Never had such an amazing par before.
The final hole was also great, where my second shot 3 wood left me with a tricky shot over the bunkers into the green, which I flopped again with my 60 degree to the fringe and a putt to around 1 feet to save par. I am going to continue with this Ping 60 degree until I start shanking it like I did with my Cleveland (now banished into the closet!)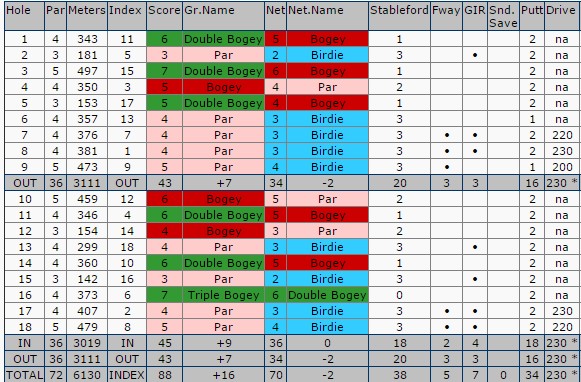 The second game was KRPM – my eternal nemesis. A quick check showed I never broke 90 before for the longest time. It started on the back 9, where 2 doubles and 1 triple were offset by 4 pars – 2 coming from the tough ending holes 17 and 18. I hardly get par for 17th and I managed to regulation on with my 7 wood – for once.
The back 9 started poorly with 3 double bogeys in 5 holes, including on the par 3 5th where I shanked my 6 iron and almost killed the next flight on the 4th hole. From there, something clicked and I just began to pepper the flag with my approaches on 6th (SW third shot from 80m to 3 feet, 8 iron second shot from 150m to 5 feet and missed birdie). The index 1 was navigated with a drive to the middle and then a six iron in to around 20 feet and two putts.
So there you go – although not low 80s, two games in the 80s are very very motivational for me!