The first major is here..and probably if you were to ask any PGA golf pros (maybe one of you reading this might actually be a very accomplished interviewer and has access to these guys) which major they would want to win if they had only one: Most likely the Augusta Masters would be their choice. It's just not the awful-looking green jacket that makes the winner look like an idiot; it's the massive tradition surrounding it. Augusta is like the World Cup in golf, except it comes every year, as opposed to every 4 years! It's probably the only majors I'd stay up to watch, and admittedly, that too only for Tiger's round. Here's a quick breakdown of the 5 favourite character stories in Augusta this year.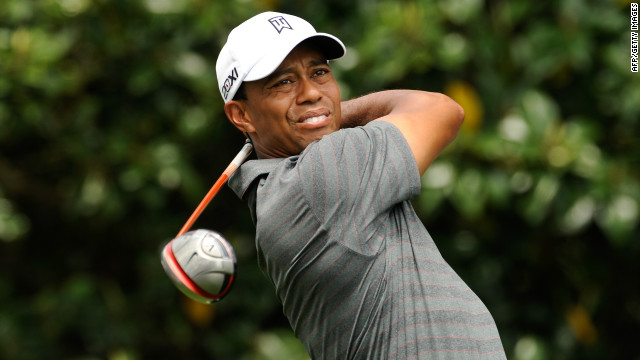 The Comeback Hero. Tiger shot 72, thanks to some seriously retarded golf on the 17th and 18th, but he actually did pretty well not to look like a complete fool on the first and second. His swing still looks a little dodgy though and at times, like the 18th, it almost resembled the mighty duck hook that I have as my normal drive. We're still rooting for Tiger though, since other alternatives are clearly as interesting as watching reruns of Home Garden Improvement.
The Prodigal Son. Rory. I really really really like this picture of him for two reasons: we don't get to see his curly pubic head hair, and this stance resembles the normal stance I usually assume after every drive. Still undecided whether to hate or love Rory…he has a great game, for sure, and he is emotional…but at times, he comes off as just plain annoying. Not Sergio Garcia annoying, but enough to put us off. Anyway, he played well to a -1, despite a disastrous double bogey start, which also usually resembles my first hole in every game I play.
The New Colin Montgomerie Villain. Skinny Westwood. Who looks like the actual villain Willem Dafoe in disguise.
Was never a fan of either skinny or fat Lee Westwood for some reason. Maybe because he comes off as a whinny, complaining guy much like his fat predecessor, Monty, who doesn't seem to wish people well, or not too happy that a punk like Rory is beating the crap out of him everytime. Unfortunately he's playing really well and now leads at -5. At one point, he had 4 birdies, and barely missed his fifth. Every story needs a villain anyway.
The low-self-esteemed No 1. He truly, remarkably is, Golf's worst world no. 1. The PGA management must be flabbergasted at how a guy like this who only wins small tournament and again, resembles an overturned crab in terms of charisma would be the poster boy for best player in the world. No majors. World Number 1. My theory is that Luke wishes he wasn't world number 1, because whenever he goes into a tournament as World No. 1, he immediately starts hacking like a nut. As in, he knows himself it's such a stupid position to be when you haven't done anything. True to form, he went out there to purposely sabotage his game and ended with a 75. He almost got away trying to disqualify himself by smudging a score to reflect 73, but PGA officials blamed it on the fax machine, and unhappily, Luke Donald has to play on. Watch for more of this self-saboteur in the coming rounds.
The Stripper-Hacker-Golfer-With-A-Girl-As-A-Caddy. Henrik Stenson is unique is some ways. Aside from this horrifying picture of him in his undies, he's also famous for forcing a woman to lug his bag around for him for 7KM every round. Many people conclude that he's probably on the queer side, but who cares. I like this guy because he is probably the only person in the PGA tour that actually plays like us, on some holes. As in, he simply meltsdown.
18th hole, Augusta 2012. He shot an 8. I couldn't get a video online yet, but here's what happened from my viewing:
1) Snap hook a 3 wood into the woods on the left. Resemblance to myself: 100%
2) Duff his punch out and ended up in heavy pinestraws and not even out of the thick stuff. Resemblance to myself: 100%
3) Complain to official that he wants a free drop and is flat out refused because official doesn't like the picture of him naked, although he vehemently shouts that he's not going to strip, for crying out loud, because there's no water hazard. Official doesn't believe it and rathers play it safe. Resemblance to myself: 0% (just play it, Henrik and stop whining like skinny Villain!)
4) Due to his argument with official, and the fact that he still has his clothes on, he tops his shot 20 meters that skitters to the right. He stopped himself from tomahawking his club into the ground, turns around, and in a split second, decides to REALLY tomahawk it. Resemblance to myself: 100%
5) The official and commentators TSK TSK, and says, "Don't do that in Augusta, naked Swedish man." At this point, he screams that he's not naked and was he eating crazy pills. Resemblance to myself: 0% ( I have no confidence playing golf naked).
6) He hits his 4th and simply airmails the green because he was already so pissed off. He immediately berates his caddy. Resemblance to myself: 50% (I'd airmail it too, but I wouldn't berate my caddy…since usually I don't have one. I'd choose to tomahawk my club again).
7) He clears everyone behind the green and rudely shuffles one clueless idiot who continues to sit there staring blankly at him. With three thousand eyeballs on him, he simply duffs his chip and doesn't even reach the green. Resemblance to myself: 100%
8) He now putts from the fringe and it goes to about 2 feet from the hole. He misses his putt from 2 feet and finally settled in for 8, quadruple bogey. Resemblance to myself: 100%
And here's the wonderful fact about Henrik…he is REALLY A HACKER who happens to be a PGA tour.
He was dead last in Augusta last year with an 83-74 score. This includes a QUINTUPLE BOGEY (8) for par 3 fourth and triple bogey on the 11th. His score in 2010? 80-75 and also miss cut with 5 bogeys and 3 double bogeys in round one. He truly suck. And that's why we need to keep an eye out for him, because he's our rep this year in the great fraternity of hackers.
On to day 2!!!