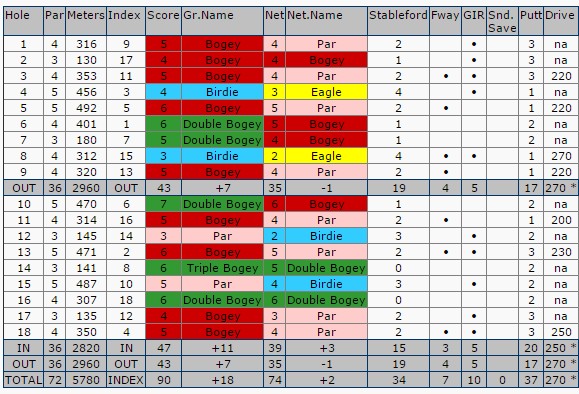 It is. A funny game, that is.
When you play like crap nuts, you sometimes still win like an immortal. When you play like an immortal, you end up losing like crap nuts.
Palm Garden had always been a good hunting ground previously. Now, the new palm garden is a different beast. Yes, the length is no big deal, but the befuddlement on this New course would be the darn greens. Most if not all greens are tabletop, meaning if you miss these greens you will end up rolling down to New Mexico and having to loft up your shot again. It's annoying.
Another matter would be the bunkers and the green itself – playing very quick, and completely bamboozling me in this round.
Think about it – 7/14 fairways hit for me is very good stats. I average 39% meaning I hit roughly 5 fairways a round only. But I hit 10 greens in regulation this round. 10! My average is 23%, meaning I only hit around 4 greens in regulation this round. I 2.5x my average this round alone, and at one point, hit six greens in regulation IN A ROW.
Out of 10 greens in regulation, I three putted SIX. I two putted two and I one putted two. That's six bogeys, two pars and two birdies for my 10 GIR. What the heck is going on??!
Putting had always been a middling aspect of my game, but at one time, when I 3 putted my fifth green in a row, I simply tossed away my putter about 20 feet in the air and told the caddy that she could have my putter.
The very next green, I hit a tricky 10 footer for birdie.
The other birdie occurred on the 8th, when my drive left me only around 50 meters, and I hit a half sand wedge to 1 foot of the hole.
You would think this meant I won some money as well.
No, I ended up losing all 3 frames of our sixers and forking out for lunch, that cost me RM100.
Sixers is played like this:
a) A partners B, C partners D for the first six holes. The next six holes, everyone swaps, and the last six holes everyone swaps again so that everyone will partner each other once in the 3 'frames'.
b) We play best ball and if that is square, then second ball counts.
c) No strokes given. In todays game, we had a 13 handicapper, a 16 (me), and 18 and a 24. Even when I partnered with the 13 handicapper, he played so badly, the 18 and 24 handicaper won without strokes given. WHAT?!
d) We played fringes – birdie, sandy par/birdie, escalation within the frame, twin pars/birdies for partners etc. One fringe=1 ball.
e) We played variations of 3-1-1, (game-dormie-buy) meaning each sixer we are playing 3 balls for game, 1 for dormie, and 1 for the buy.
f) Depending on our mood, we could play RM 10 or RM5 for a ball. So it could be a RM15-5-5 or RM30-10-10 for each sixers. Included the fringes, we could really lose quite a lot, for instance I lost 10 balls today despite playing one of the best round tee to green of my life (and one of the worst putting rounds of my life).
If I putted well, I would have won all frames, saved RM100, scored around 84 or 86, and gone home a happy man. Golf is a funny game indeed.