It's a well known fact that in golf there is a huge discrimination within viewing fans between the men and women's game. For instance, people flock all over the place to see a fat walrus like John Daly play, because, well, he's John Daly. However badly he hacks, he's sure to give you some sort of entertainment. Or how about Phil, who had been resembling somewhat of another walrus of late. We still go up to him and watch him play because he hits the sickest flop shots ever. Or maybe even Tiger, who is actually not that bad looking, but seriously, he probably would not grace any GQ magazine but for the fact that he used to be the top player that slept with 650 women, including pornstars.
Unfortunately, the ladies game is slightly different. I for one, can't actually tell the difference between one Korean from another, or whether they are Japanese or not. And I am Asian. It's weird. It's like the entire LPGA tour is inundated with clones of Grace Park or her daughters. So it seems strange that one girl can stand out from this sea of clones – Kotono Kozuma. If you haven't heard of her before, well, you're hearing from us here in Gilagolf.
Yup, this is her.
She recently was in a playoff at the Mizuno classic, where she lost  in a playoff to the eventual winner Mi Hyang Lee, after 5 playoff holes. Five. But it doesn't matter, because Kozuma is hot. As in like, maybe borderline cute and hot. For the final round, she had on white cargo pants, and a sweater that says Samantha, not her name, but the brand Samantha Thavasa. I don't know what it is, but it will be famous like the golfer in about a year, so you better go and get it while cheap.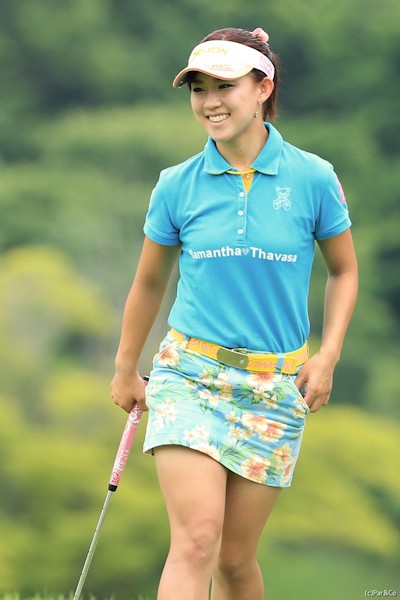 She plays like us. Or rather, we think she plays like us. Emotions on her sleeves. She skips around like a little kid (which she is, she is born 17 April 1992, which will soon be a Japanese public holiday). She has a cute overswing that obviously needs more work, yet for some reason it works. She grimaces, grins, smiles, signs in frustration, opens her eyes wide in surprise, cries when she loses. OK, actually, you know what, I take that back. I don't think any of us will look cute playing like that, because we are all overweight hackers who would be put into the mental asylum if we were to exhibit any of Kotono's attributes.
For the final regulation hole when one of the women was trying to drain the putt to win it, the camera was fixed on Kotono's face, and not once showed the other poor golfer's face who was also in the playoff. Such discrimination. Because the other golfer wasn't that bad looking — it was just that she looked like a hag next to Kotono. Anyone would look like Laura Davies next to Kotono.
Here comes the boom.
Anyway, it's hardly fair to compare them both. Kotono hasn't won anything yet. Or any tournament that is of note for that matter. But would you rather turn up to watch the player above (no matter that she is really good at golf at 51 and can probably slaughter us physically) or the one below: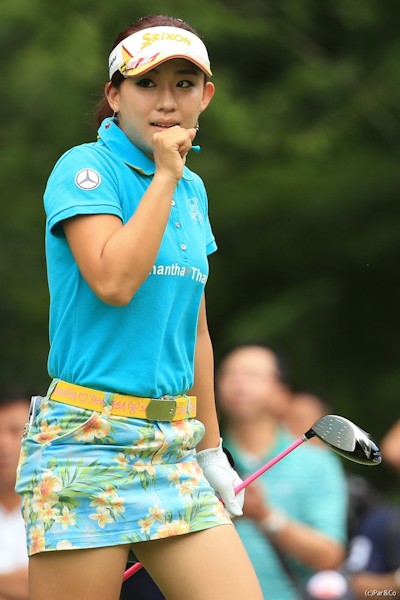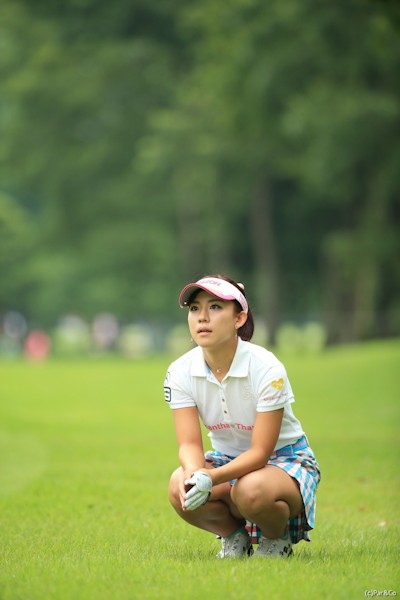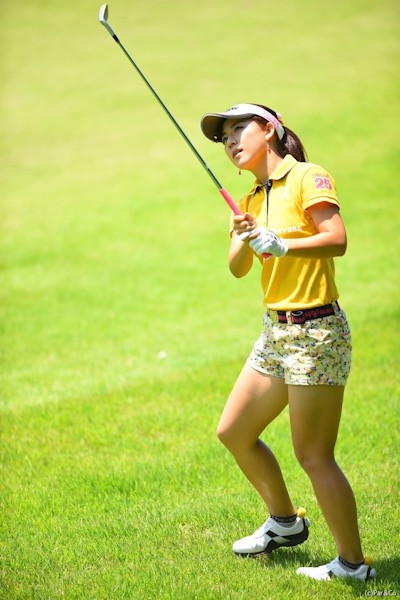 She could have won the Mizuno classic on the 2nd playoff hole, when she missed a 8 footer by an inch, and on the 3rd, hit a miracle 30 footer putt, only for the two other players to drain their 25 footer and 20 footer respectively. It was ridiculous. These girls were like Putting Goddesses.
Unfortunately our Kotono didn't make it past the 4th playoff hole, but she's still hot. So it doesn't matter she missed out on 180K USD and a Mercedes Benz prize money, and to do it on her home soil – you can bet she hated that the Koreans won it. But never mind, she gets the Vote of Confidence and Potential Player of the Century from Gilagolf.net.
Here we go again, Miss Kotono Kozuma!