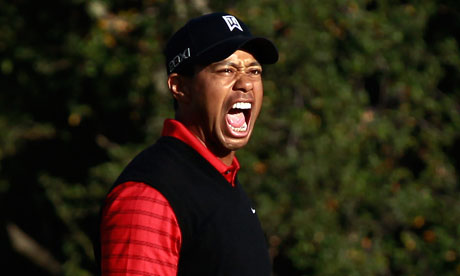 So, now he has finally won. We've been predicting this for ages. A guy with that many wins, that many majors ain't gonna disappear into the sunset. He's back, he's now single without any worries of infidelity, and he has won….a mickey mouse event, nonetheless but still, WON!
You can feel the huge amount of relief as he dropped that last putt to beat Zach Johnson by a stroke for the Chevron event. Immediately the Tiger Woods fan club is now back to life. We're big fans of Tiger not because we're glory seekers, but he's the only reason that separates golf from lawn bowl in terms of watchability on TV. Seriously. Garcia, Rory and all these guys are good, but they are so boring to watch. Yes, even Garcia. With Woods, you have history. You've grown up with this dude. You've played golf because of him. You have secretly became an internal commentator of your game comparing your stroke to that of Tiger's. And you've seen him fall from the golfing heavens to hell, and now, apparently back again. This guy IS golf for many of our generations. So, what's there not to support? He's the only person wielding a 5-iron that is worth supporting in this dreary sport. Golf is a great player's game, but it's a lousy spectator sport, face it.
Now, the one thing that has been tough to swallow over these past months, aside from the ridiculous merry go round we see at world number 1, are people who thinks that they are obliged to comment about Tiger's sorry game state.
Even when he wins, you get a joke like Jeff Maggert, commenting:
"I'm sure he'll count it as a win. But 18 guys? C'mon! At this time of year, you're fat on turkey looking forward to Christmas. But you don't have the guys from behind pressing you for four days when there are only 18 guys in the field. You're only having to beat three or four guys at the end of the day, where normally you might have seven or eight guys nipping at your heels."
Jeff Maggert then says sagely, "For him to win this week is obviously a stepping stone for his confidence. He played well on a tough golf course."
Jeff Maggert. Winner of a grand total of 12 professional tournaments. Commenting on someone who has 149 wins in all tournaments. That is an amazing 8% of Tiger's achievements. And that too winning titles like the awesome Malaysian Open back in 1989. Who the heck is this guy, Jeff Maggot? What has he done, except to eat Tiger's dirt?
Jeff Maggert. He's playing this week at Q-School, with the winning cheque of USD50,000. Tiger just won 1.2 Million, exactly 2,400% better than Mr Maggert.
And why do people, especially the bottom feeders, suddenly want to comment about Tiger when Gilagolf has been saying all the while that Tiger will return?
Looking forward to 2012 finally.