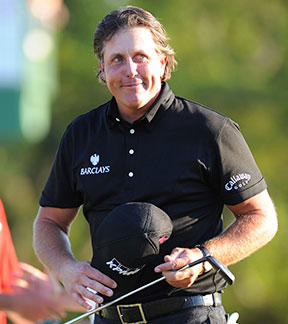 Yes, I know the GPE crapped out again.
But we got the following right:
1) Westwood sucks.I rest my case. This guy will never be able to get the Masters. I'd put my money on fancy pants Poulter to be the Brit to win the masters.
2) Tiger got distracted by a pornstar. Like seriously, if not do you think he would have driven like a roast duck injected with insulin?
3) Hunter beats Ricky Barnes. I don't think many people know their history. They were amateur rivals in the 2003 US Amateur, when Barnes beat Hunter 2 & 1 in their matchplay. After that, Barnes went south and Mahan became one of the coolest cat in the PGA Tour. He's like a young David Duval, that's why we support him, and we hate Barnes.
4) Anthony Kim rocks. I know he's not Chinese, and he talks like a gwai-lo, but his face is seriously, super China-pek. That's why we like him. To look like a China-pek and shoot 65 in Augusta is to give hope to many of us. We don't need to look good for success. Go, China-pek!
5) For a while, GPE's pick was chugging great for the first 12 holes of KJ's adventure. He was -12 and one stroke back. Then came the stupid bogey on 13, where he birdied every single day! WHY???? What is going on behind that blank look of yours???
So at the end, Phil wins it by playing the most steady round. 4 birdies on the back nine did him a huge favor but he already had the game in the bag when he saved a par on 17th with a 6 footer and hold a 2 shot going into the last. He could have closed it on the 15th, when he hit a RIDICULOUS second shot behind a tree to a par 5 green and landing it 6 feet from the hole. He missed his eagle, but pyschologically, Westwood, who has a mental game of a chipmunk, has already unravelled. Game over.
The most fun part was watching Tiger. No, not for the two eagles he had (the first one on the par 4 7th is simply annoyingly lucky)…but because we can now HONESTLY say we swing like Tiger Woods.
He hooked his first drive. Just like me.
He submarined a few of his drives.
He duck hooked.
He hacked around like he was strangling a telephone pole.
He had a swing like Jim Furyk without the results.
Was it fun to watch a god become mortal? The sex scandal was boring. To see him struggle with his game the same way we all struggled…aaah. Of course, we are shooting 110, but who cares?? It's the form that counts!
We all know Tiger is going to be Tiger and simply murder everyone on the course the next time he tees up. But, hackers and fellow gilagolfers, be at peace: WE ALL SWING LIKE TIGER!