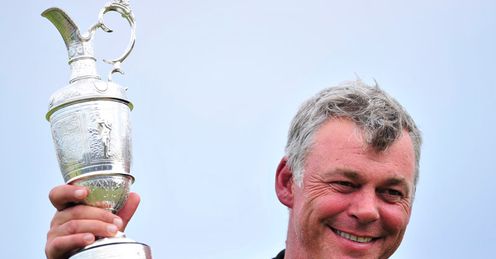 Now that the British Open is over, and the unlikeliest champion has emerged, we'll all wind down the year and have a look at it. Wait, there's still the PGA Championship and Fedex Cup. Meh. We all know that the last major, with flukes like Shaun Micheel, Rich Beem and YE Yang, isn't as prestigious as the other 3. And Fedex cup? Please. Gimmicky.
So, the cigaratte chomping (curious, isn't a cigaratte consider an outside help?) Daren Clarke wins, and I'll leave to other better writers to talk about the glory of Northern Ireland majors, the odds, the story surrounding Sunday's win, and the humiliating hacking nonsense conjured up by Phil Mickleson, Dustin Johnson and all the other clowns chasing Daren. It wasn't so much that Daren won it, but the other fellas lost it. Missing a two footer. Check, Mickleson. Shanking into OB at a critical hole. Check, Dustin. Pulling into weeds and losing grip of club. Check, Anthony Kim. Whacking into the spectator stands. Check, Mickleson. What, again?? What's wrong with you, tubby??
Now, what has this got to do with Tiger? Everything. Since our old friend left the game in shambles, we've got all these bunch of pretenders stepping up the plate and taking what they can. It's like a pack of hyenas, after the lion has finished his fill of the dead elephant and wanders off to sleep, they come and gorge on the remains and take all they can before the old lion comes back and chase them all out.
Without Tiger, majors have seen first time winners piling up. Daren. Rory. Charles. Martin. Louis. Graeme. 6 consecutive first timers, and NOT. ONE. AMERICAN. Face it, for the viewers, supporting the underdog only makes sense if there is a top dog. We ALL want to have a top dog. There's a culture of heroes in humanity. Hercules. Achilles. The naked guy in 300. Julius Caesar. Douglas MacArthur. Joan of Arc. King Arthur. Hang Tuah. Or, looking at sport heroes: Muhammad Ali. Michael Jordan. Maradona. The one person that stands above the rest, that says, "Don't eat my elephant until I'm finished, you pack of hyenas!"
Tiger Woods, love him or hate him, is one of them. He is the Top Dog. He's the Alpha Male. And he doesn't like to share.
Once the Top Dog goes, you've got these hyenas going for the majors and the number 1 in the world. Luke Donald aka Justin Timberlake Lookalike. What a joke. A world number 1 CAN'T make the CUT??!! Lee Westwood, another joke. Martin Kaymer? He can't draw the ball. Rory? We like him, but too streaky, just like a hacker.
The real winners are all the PGA players, because since Tiger left, their chances have improved like 5000% to win a major. Also, the sport writers, because now they have more stories to write about, aside from the normal "Tiger Wins." or the Horrendously overused, "Tiger out of the Woods" or "Tiger in the Woods". Recently they have gotten a little creative thanks to his liaisons with pornstars, and have cheeky titles like "Tiger getting Woody" or "Tiger shows his Wood". But still, over used. Now, with these new batch of hyenas, writers can be more creative with their headlines, such as:
If Rory wins: "Ror-ring victory"
If Daren wins: "Clarke of the Devil"
If Sergio wins: "Serg-ing to victory"…and my favorite:
If Thomas Bjorn wins: "To Infinity and Bjorn!"