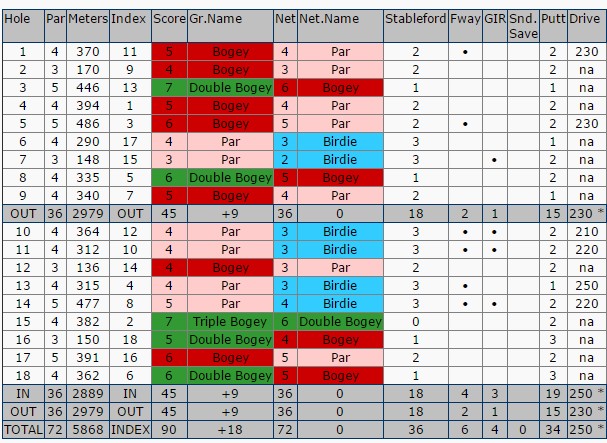 One of my resolutions: to break 90 on average. My outing in Impian Golf and Country could have really turned out to be one of the best games I've had ever, especially the back nine. However, I am the king of self sabotage.
I started the day quite badly, my recent hot driver turned out to be a piece of crap after all as my familiar duck hooks and push far right shots started to come back. It was as if that driving streak I had in Bangi was a distant dream. So – if the driver start to suck, something else needs to come in play. Even when I drove ok, on the first hole for instance, my approach was just horrendous. Chunk, fat, thin etc. Only after I hit my par on the sixth hole that I started playing well. The double bogey on the eight was a self sabotage, I was trying to drive across the river, which required about a 250 meter carry. I just thought I was good. I was not. But after that, the back nine, I was +1 over 5 holes. But on the par 5 5th, I missed a 3 foot for birdie and from there, everything sort of crashed down. I needed a bogey to get to 89 in the final hole and I double bogeyed after a 3 putt. I 3 putted twice on the last 3 holes that cost me the sub-90 round.
As for the course – Impian is in good conditions, but the greens are really bamboozling. I really cannot putt well there. Ah well.