Introduction
Finally, A Famosa. I've played there several times actually, but for some dang reason, never got down to writing a review about it. I don't know why…it has always been one of the better experiences that I've had, and in early November, a gila band went over to this Melaka course to hack and review. This is the story.
Travel ( 3/5)
Among all the Melaka courses, A Famosa is one of the most accessible ones. I am obviously extremely biased to the northern folks like me who have to travel south into Melaka. For the Johor flers and Singaporeans, well, you'll need to drive up further, because A Famosa is right near the border of Negeri Sembilan and Melaka, making it only about 1 and a half hour away…it's like traveling to Lembah Beringin and back. In fact, it's about 30 plus km away from Air Keroh, that houses the other 3 courses in Melaka. So, all in all, A Famosa is definitely favoured.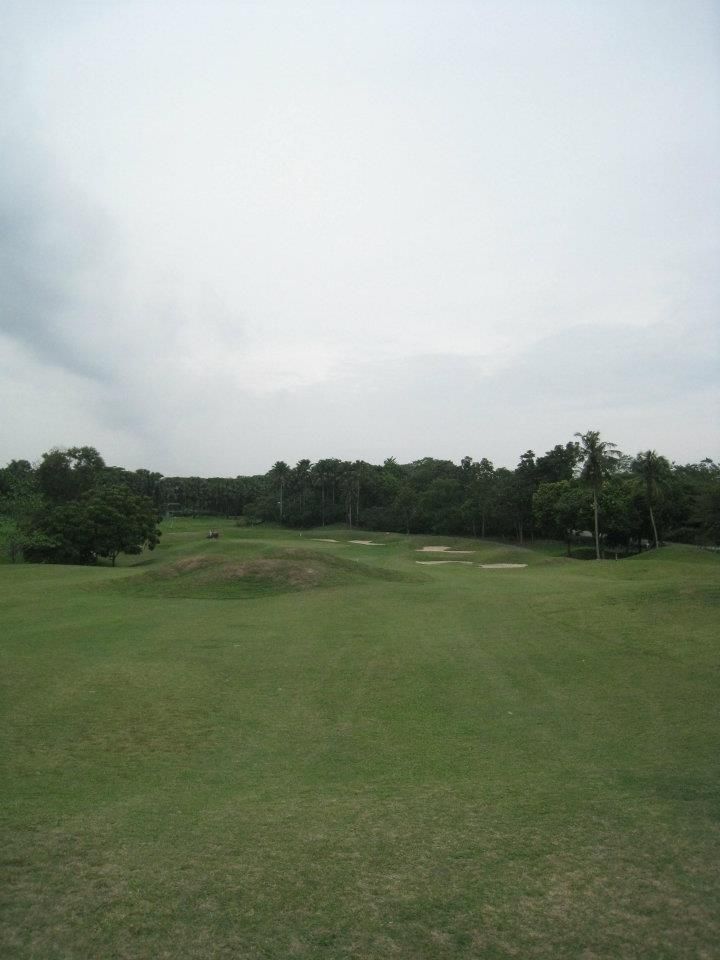 Coming from KL, it's extremely easy to access. It's the golf course right next to the highway, and travelers en route to Singapore will often look wistfully at the course from the north south highway, wishing for a one day stop before being corralled by the wife in the maze of Singapore shopping centres.
Exit at the Simpang Empat turnoff, or it does say A-Famosa, so go for it. Once off the toll, take a left and then another left at Jalan Kamus, after the petrol station. Then just go all the way, under the highway and look out for a sign that says A-Famosa. There you have it, you've reached it.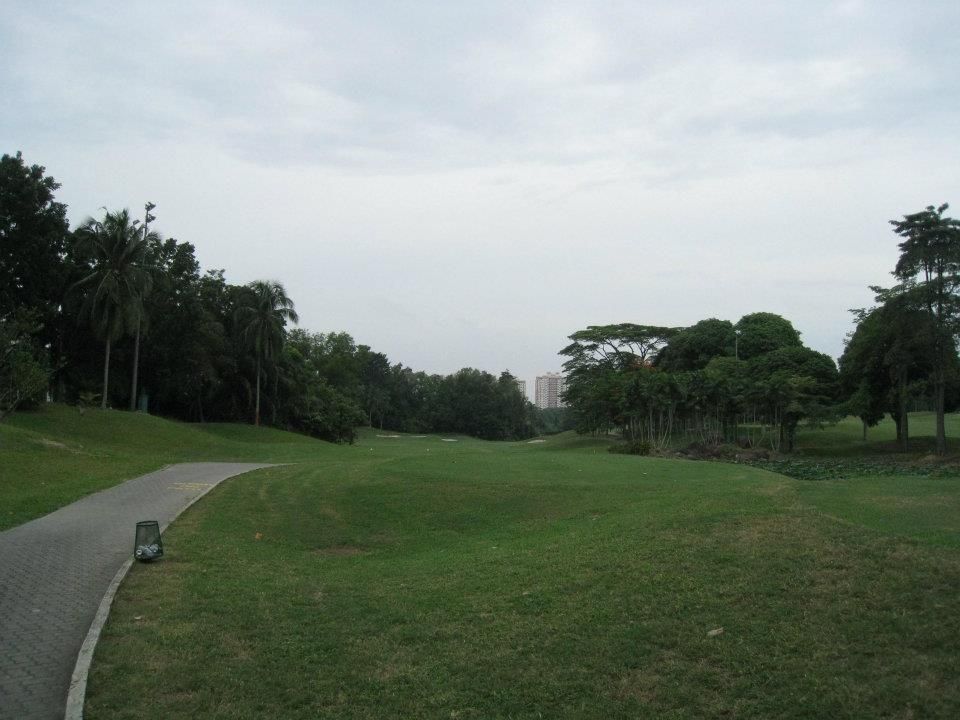 Price ( 2/5)
Price wise, we had a bit of promotion. I bought a bunch of vouchers from the MATTA fair that came with a villa for us to stay (more on that later). With the promotion, it was RM20 for the green fee. But wait for it, RM90 for the buggy. Yikes! So it's RM45 + RM20, and RM30 for the caddie, shared. So per person, on a week day, we paid RM80. Plus tips of RM15 per pax, it came up to about RM95 total.
I only paid RM40 with voucher for Tiara Melaka and the experience was about the same.
A-Famosa's price is definitely not cheap, but is it worth it? We'll see.
First thoughts
A Famosa is famous for another thing: Crocodiles. In Malay, it's called 'Buaya'. It's also a slang in golf. To call someone a Buaya is to call him a Hustler. Golfers are a strange lot. There are some who gives the impression that they play worse than your grandmother, and then fishes you a few holes until you up the stake to take advantage of this grandmother, and he finishes you off from there. Buayas always leave it to subtlety…they will beat you by a stroke, or by making an impossible shot, but they will Always. Beat. You.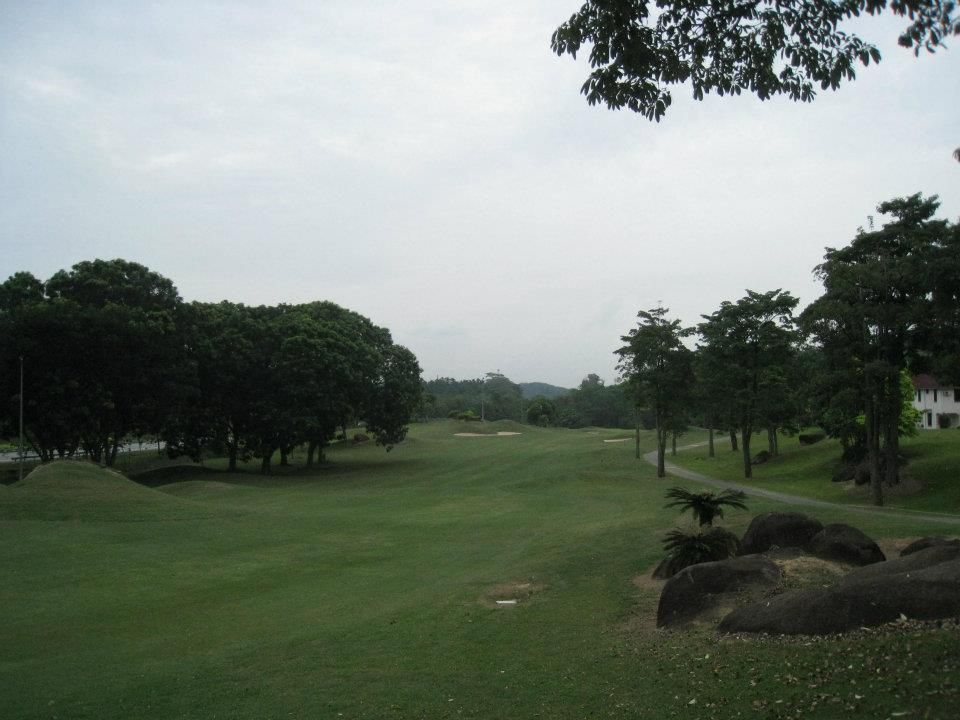 So anyways, those are the human buayas. A Famosa actually houses a bunch of crocodiles on Hole 7, Crocodile Nine. In fact, it became infamous when a story circulated around that one of the golfers was suing A Famosa after being attacked by a croc. As you can imagine, to all Crocodile Dundee Fans, this was a boon to us, so when I made my way there (not this time, my previous time) I expected to have alligator meat for dinner.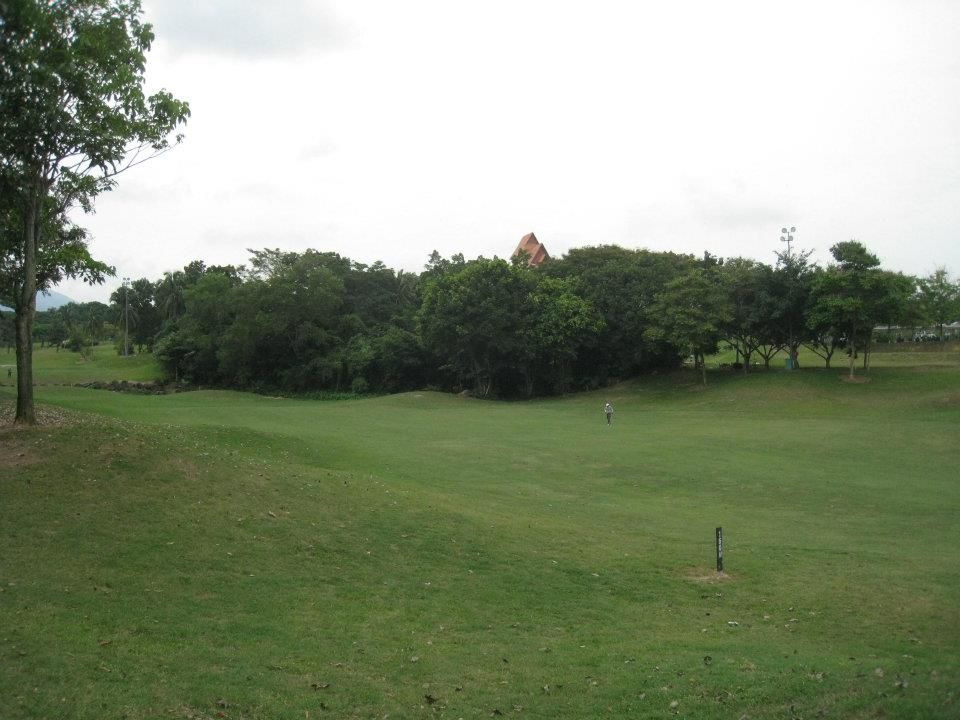 True there are crocs there, but they are all in a deep enclosure just beyond the green, and there was no one on earth a croc could escape unless it flew. Yet, according to the report here: http://www.mmail.com.my/content/30648-crocodile-attack-victim-im-happy-be-alive, this man was assaulted by one of the man eating crocodiles. I don't know how it is possible, but as a golfer to a golfer, we are more than happy to take money from golf clubs…and RM43k can certainly buy you a lot of golf clubs and games! And it's pretty obvious from the picture, that Hong (the victim) is still playing golf, judging by his clothes (he probably just finished a round) and by the unnatural darkness of our natural Chinese yellow skin.
Whether what really happened was true or not, I'll need to commend Hong for the herculean feat of 'prying' the crocodile's mouth open with his hands. I don't think it's a croc, because a Croc's bite force is 83% of the bite force of a full grown Tyranasaurous Rex. If Hong can escape from 2 tons of bite force, he is Super-Man. But an Alligator is still half the bite force of a croc, at 2000 pounds-force, which is roughly 7 times the bite force of a full grown, crazy, rabid Rottweiler Hound. Hong is Cicak Man, definitely. He must be driving the ball 400 meters of something.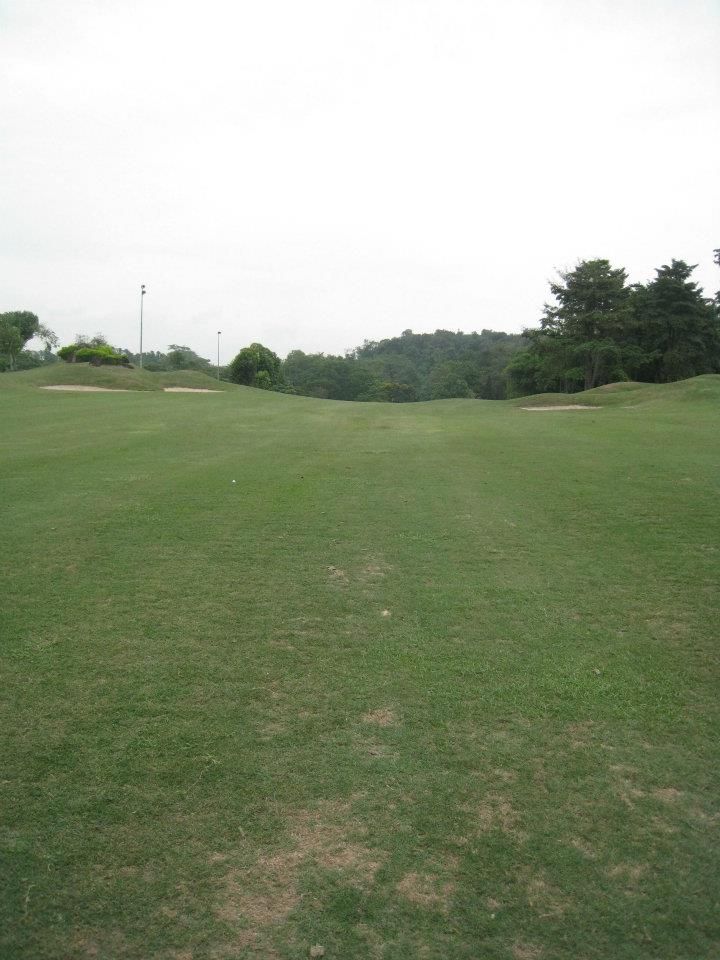 Anyway, congratulations to Hong for the win in court settlement…we'll see if A Famosa suffered for losing RM40K by not maintaining their course.
Service ( 2/5)
The problem in many cases for Malaysian golf is simply this: Our service SUCK. There's no two ways about it. First, finding the villa was crazy. We thought we need to register at the villa right? So we drove around looking for signs to lead us, and found none. We asked a guard, he said register at the clubhouse. We drive all the way back (in a convoy mind you), and the club house says, no, you go to the villa and register. I mean, who trains these guys?
Caddies? Sigh. I love Melaka, but their caddies in all the clubs are just crazy useless. First, we were forced to take two caddies per flight. TWO! WHY?? Why force us when we don't want?? If they were good, we won't mind. The tubby one we got was functional, but her reading was completely off. It was just ridiculously bad. After a few times, we gave up and just asked her to clean the clubs. The other caddy was even worse. She must think she was very desirable, because all she did was complain, about us getting her to go back and fetch clubs, or look for ball etc…the fact was she had looks of a mongoose and we were this close to clubbing her and dumping her body into a bunker.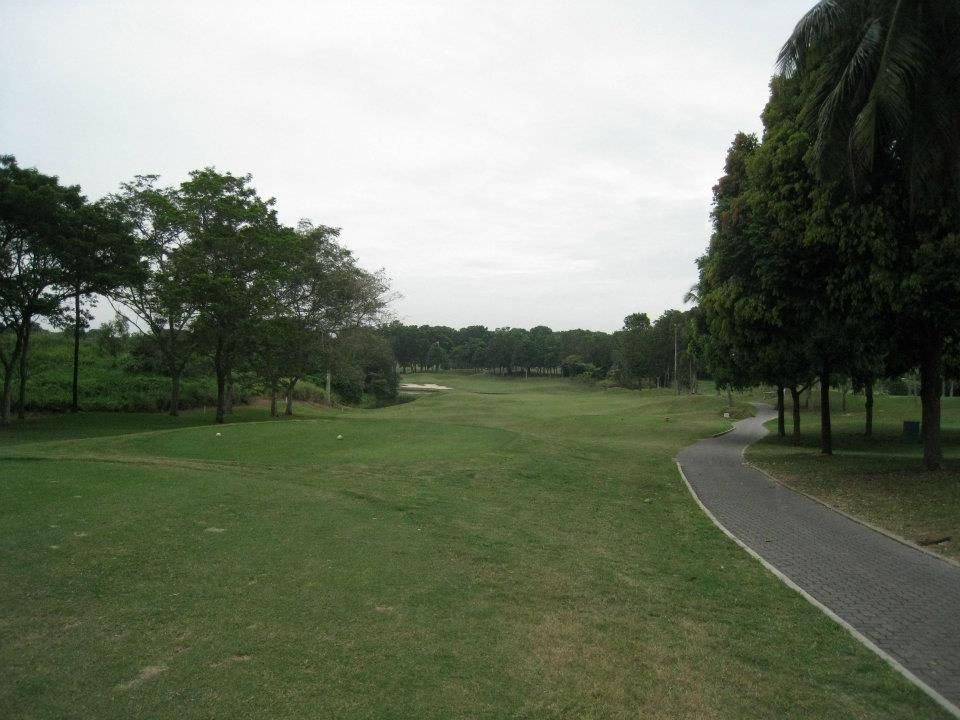 Why do we pay for these hopeless caddies? Is it to recover back the RM40K that Hong won? Can you share the winnings, Hong?
Fairways ( 2/5)
For the price we paid, the fairways were not in a good shape. In some parts, especially the par 5 4th, the baldness of the fairway was very obvious and compared to Tiara Melaka, which had a mat like fairway that day, this was just an insult.  Justifiably, some fairways were still ok, but not good enough to get out of a pathetic 2/5divots.
Greens ( 3/5)
Our games in Melaka started at Tiara Melaka: Super fast greens. Then Orna: OK greens. A Famosa: SUPER SLOW. I don't know why. I'd like to think it's because of the morning dew. Or maybe we didn't really eat breakfast, but throughout the game, it was just slow slow slow. It's not a bad thing in itself, no, but the condition of the greens were also mediocre, so we're giving it an ok rating here.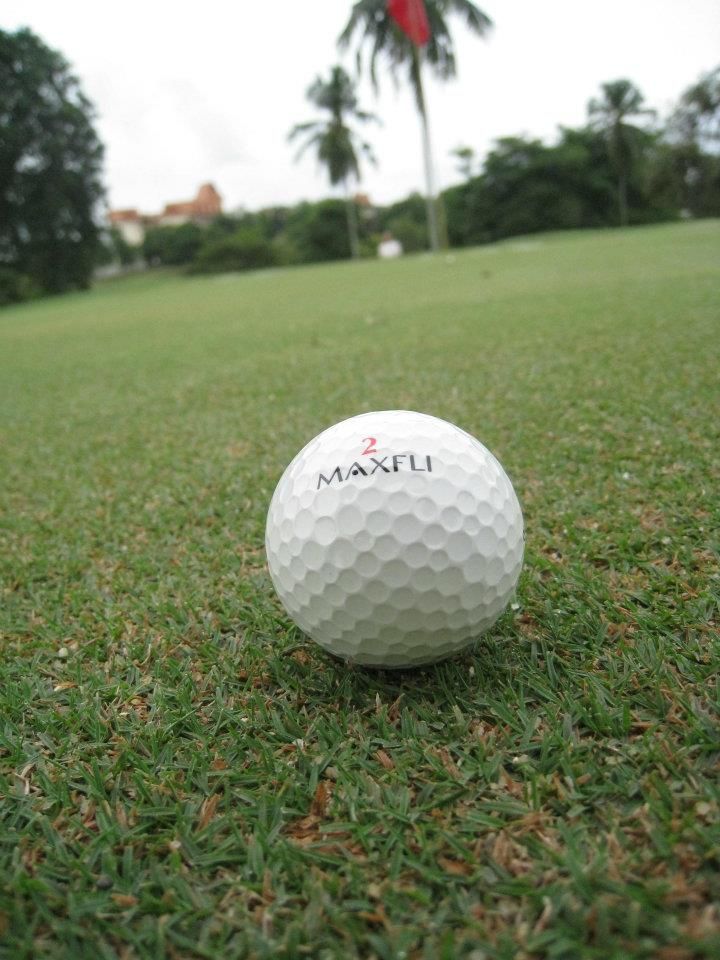 Rough ( 2/5)
The rough wasn't really kept properly. An unnatural amount of leaves seemed to have descended upon the entire course, and especially the back nine we played on, was spent simply looking for balls that meandered just a little bit off line. Bunkers were the normal Malaysian style, hard packed bunkers…the ones you used either your PW or your LW to whack out, instead of your sand-wedge.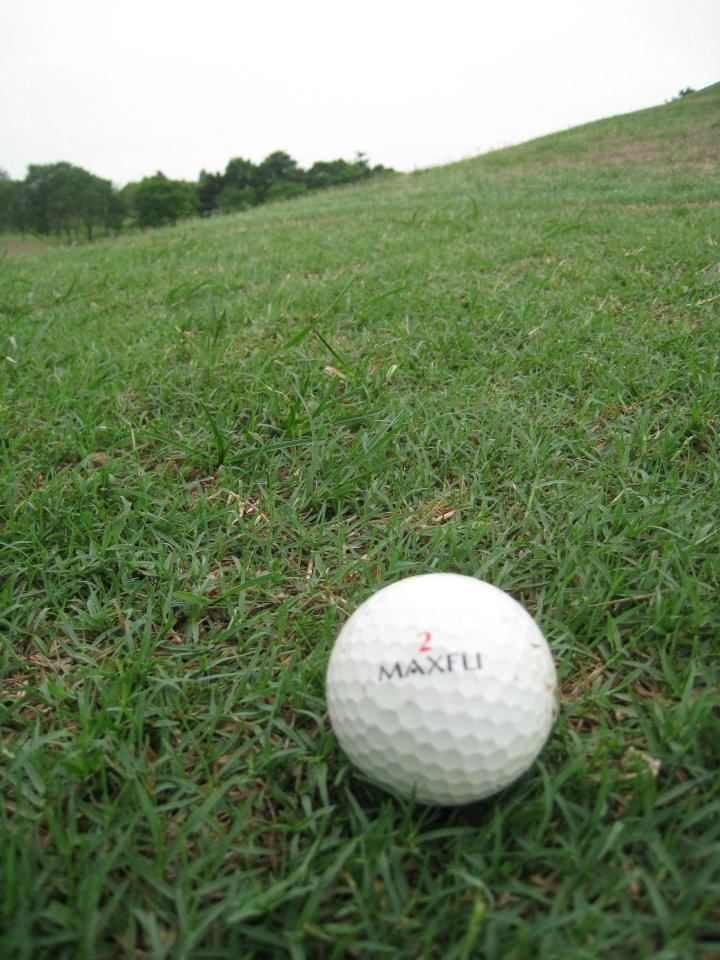 Aesthetics ( 4/5)
If there's one thing that Hong didn't take away from A-Famosa with the 40K, it's the looks. Crocodile nine was unfortunately closed, so we ended up playing on the Rockies and also the Palm. We kicked it off at the Palm and immediately faced with the daunting task of water left, bunkers right. It's a tough tee off for sure, and with the adjacent 9 hole green, flights teeing up on the other nine would be scrutinized closely at their tee off by busybody putters on the ninth. The palm course is actually very pretty. It's a pity my game was not. After tripling the relatively easy 11th by losing my ball, I parred the elevated 12th hole and then descended into such darkness that I have never seen before. 13th, 14th and 15th went by in a blur as I dumped into water on the picturesque and challenging 13th, where a good drive requires a ballsy 2nd shot into a green fronted by water; I continued to mess up 14th when a pitch out went into the woods, and messed up the 15th with some amazingly retarded display of a golf swing. I didn't really get to enjoy the scenery but the par 5 17th is worth a look. A good drive over the hill and you see a tempting elevated green just opening up for you to try it on. If you slice it, you'll be out in the open road, you pull it, and the heavy rough and trees on the left will swallow it. Certainly an interesting hole.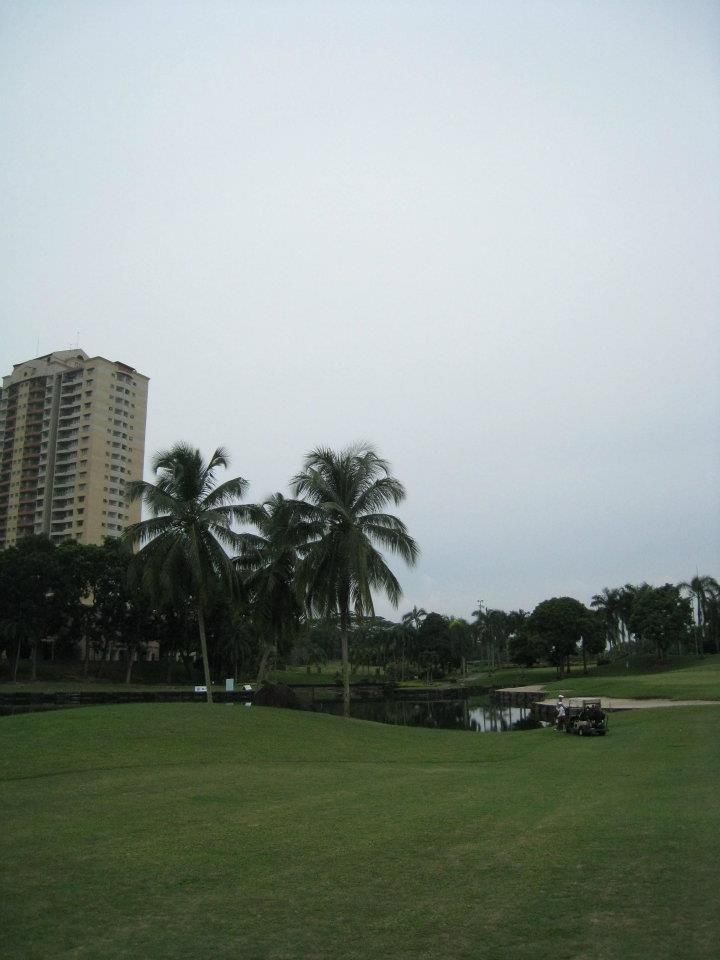 The last hole in the palm course is a hooker's nightmare, reminiscent of hole 1. The approach to the green narrows down like a constipated colon, with greenside bunkers waiting impatiently for you to deposit one in, left, right, back.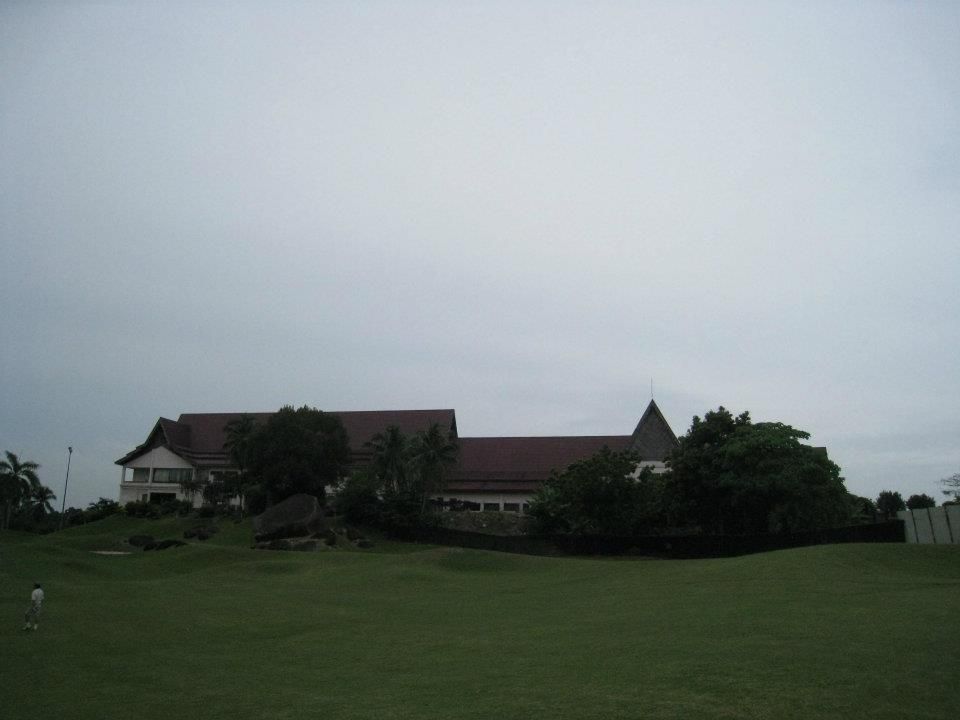 The Rockies Nine starts with a dangerous par 4. If you drive too long, it rolls down into a meandering drain that splits the fairway. But I don't think it warrants an index 1 rating, it's not too tough. I blasted a good one, right to the edge, and an 8 iron in to set up my par. The 2nd hole is a tough par 3, elevated to about 180 meters. The par 5 4th is the one you see from the north south highway, and it's just long. It's like the evil twin of the par 5 17th (in fact, both come to you at 524 meters!), and almost set up the same…a drive over the hill, and from there a good look down to a generous fairway and to an accessible green. It's also a picturesque hole on the course, with nice villas next to it, no doubt collecting wild golf balls every day in their back yard.
The index 3 5th should be the index 1. It's just an horrifying looking hole, similar to 1 and 9 on Palm, but with an even thinner slip of fairway. Here was where I was sunk, after playing only +1 over 7 holes, I dipped into the water enroute to a double.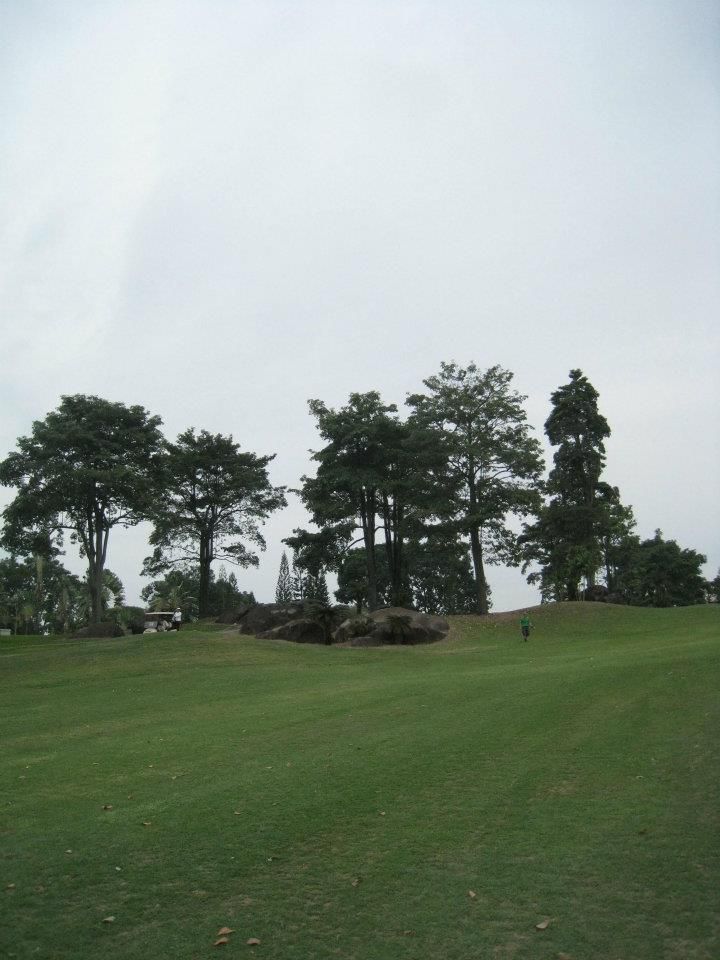 The final hole is a fitting end, a drive over a pond and to a very steep uphill green. It's a tough hole to end, but still a very satisfying golf course. Now if only we can get rid of the annoying caddies.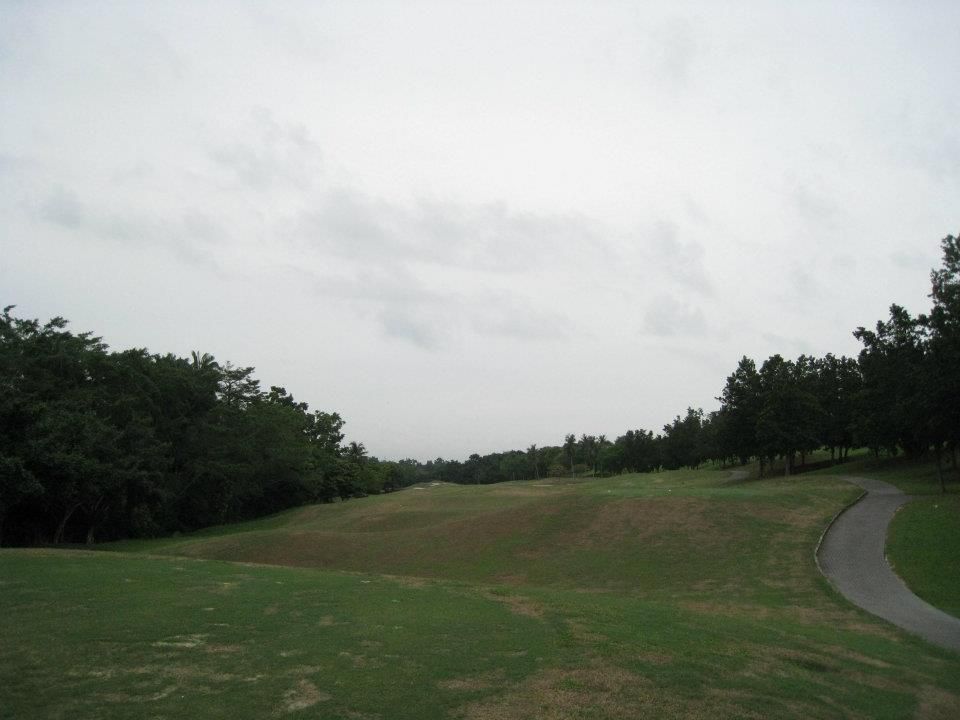 Fun Factor ( 4/5)
No matter the lousy service or retarded pricing, A Famosa is fun to play. The course set up isn't extremely excruciating, and it has enough character in every hole to keep things interesting. The undulating fairways aren't unfamiliar to us, having played Orna the day before, but it has enough elevation in different holes to keep things interesting.
The front nine on palm was nightmarish for me however, but I was just in awe at a good friend of mine who switched to an R11, and completely obliterated the crap out of his golf balls. As in, hole 15, 393 meters, UPHILL, across a pond. He blasted it, cut the pond and get this, the ball was 90 meters away from the green. My good drive still had 160 or so to go. The next hole, he created a hole in the space time continuum after ripping apart his golf ball to—honestly, I was checking the distance markers—the 200 marker, on the 520meter par 5. I mean, he knocked it past the huge ROCK. I don't know, A Famosa members, it's awful far. I'm getting that for Christmas. Not the rock. The driver.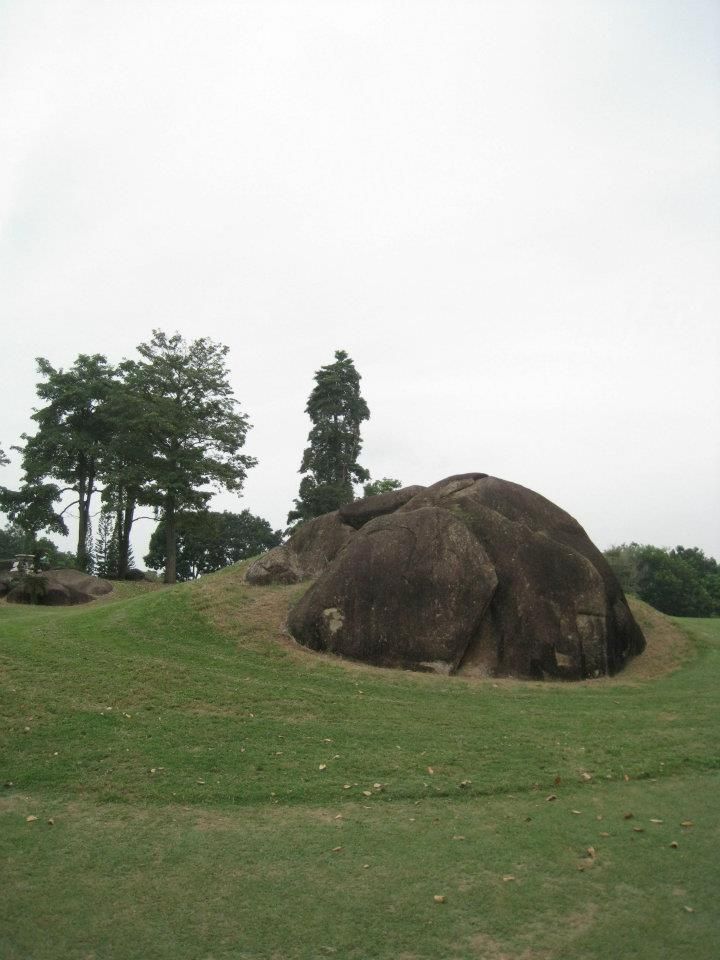 I suppose due to the undulations, depending on where the ball lands, it can probably add another couple of tens of meters forward, but you still can't take away a good drive. For some reason, he drove like a Maserati but putt-putt-putted on the green like a Proton. So overall, it all balanced out.
Myself, the streakiness continues. +13 over first 6 holes. +1 over the next 7. I am just playing horrible in my first 5 holes for the past few games. Then I would inexplicably streak off 3 or more pars in the row before descending into the world of crap golf again. Sigh.
Conclusion
A famosa, with 3 nice nines is definitely worth a go. Palm is slightly prettier in my opinion but hookers will struggle a little, as evidenced in my hooking game. Both nines are reasonably open, and the Crocodile has the novelty of playing with the crocs, I'm sure every golfer will want to have a go with that. Distance wise, it's not too bad…if you're thinking of going to that devil of a course Seremban 3 Paradise Valley, I'd advice to suck it up and spend a few more minutes on the highway to head over to A Famosa. The service and caddy (unfortunately a normality in Malaysia) is still as good as a POW camp, and the price is still an evidence of the complete misdirection of their management; but overall A Famosa is a reasonably good bet for enjoyable golf. Now, if only they would also pay me RM40K for writing a nice review for them.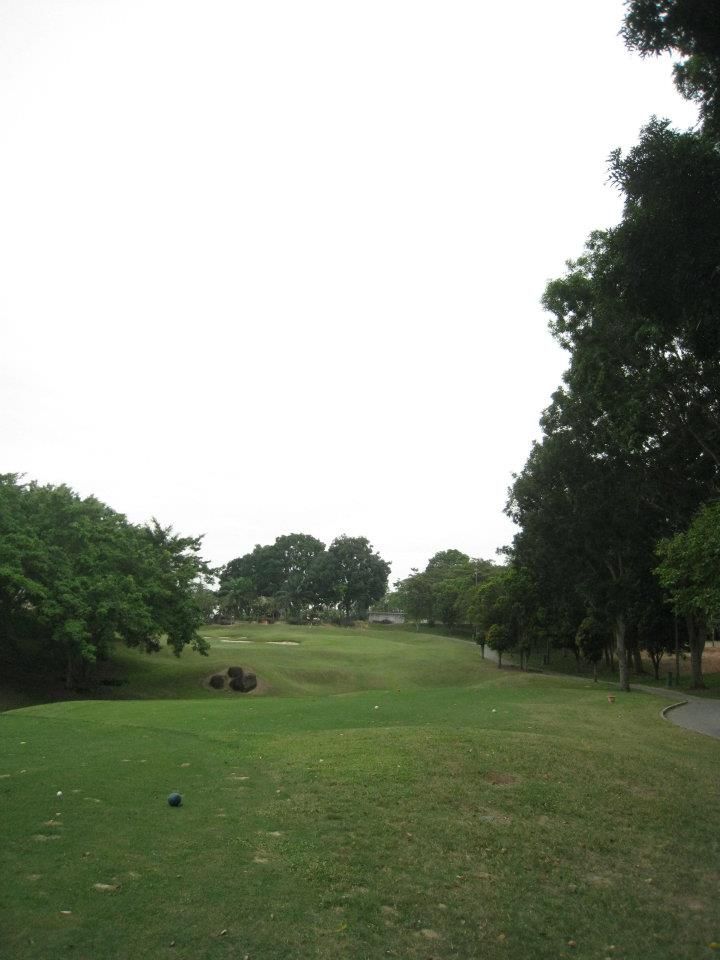 The good: Nearest of all the Melaka courses to KL; located right next to the highway is a good point; nice food around Seremban on the way back (this suddenly came to mind and became a very important factor); the course setup is interesting enough; Crocodile novelty for those who have never putted next to a real croc before.
The bad: Pricing is not very attractive, especially when you force buggies and unattractive, lazy caddies onto the flight; the services, while not abysmal, isn't what you would expect from a quality golf club; the course condition wasn't spectacular either; nice aesthetics; crocodile can bite your leg. Unless you are the Cicak Man. Then it becomes a good thing.
The skinny: 22 of 40 divots (55.0%). A Famosa could have been a lot better in the gila ranks, as it is, they just scrape in as a Not Too Shabby course, with plenty of room for improvement. I'd say go for it, but if price isn't your thing, might just want to head to Tiara Melaka.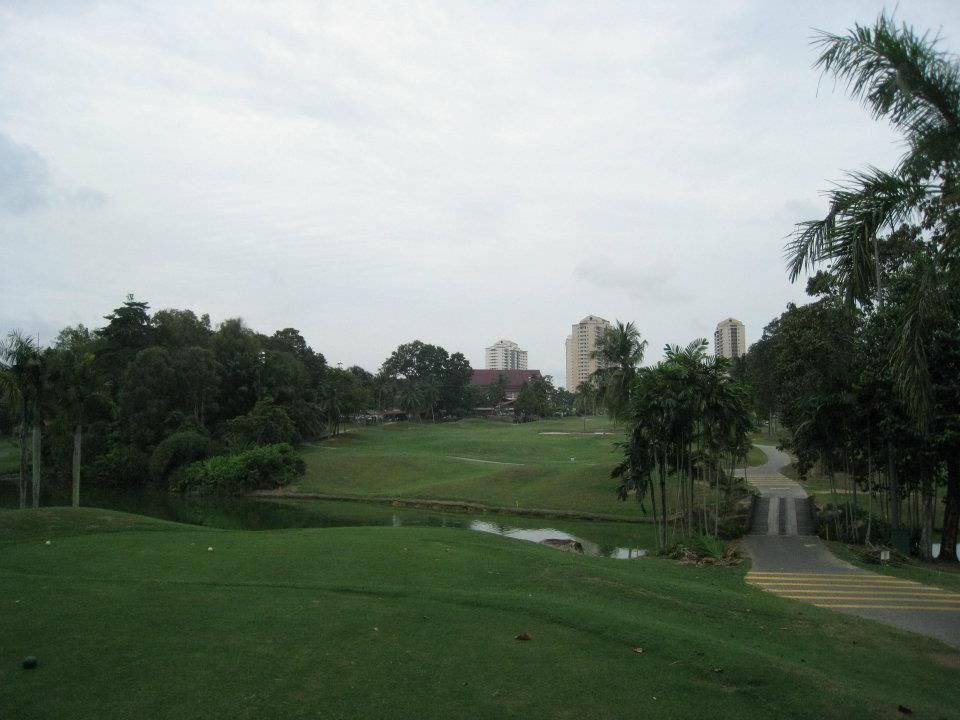 A Famosa ScoreCard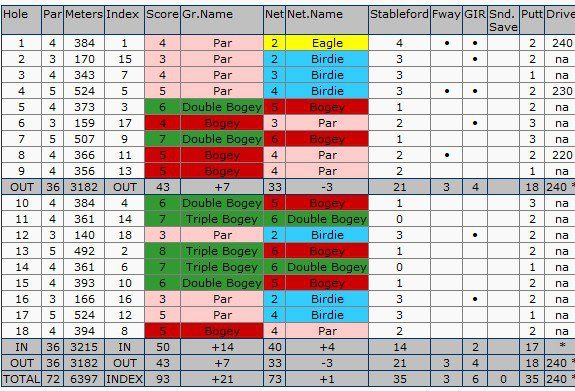 A Famosa Information
Address:
Jalan Kemus, Simpang empat,
78000 Alor Gajah, Melaka, Malaysia
Contact: +606-552 0888
Fax: NA
Website: http://afamosa.com
Email: customerservice@afamosa.com