Introduction
I'll be the first to admit that the only downside to Malaysia golf is the weather. I mean, we've got some A grade courses but when it comes to the weather, we're cooked beyond recognition by the time we're done at 18. Many PGA pros come here and they are completely drenched in sweat and play like 18 handicappers. A few people can handle the heat as well as Malaysian golfers can, so we're a different breed.
Still, the weather really sucks sometimes. Hence, the only way we can escape that is to find a course in the highlands and play it. So far, the experience in the highland courses have been sadly disappointing. Frasers has officially become the WORST COURSE IN MALAYSIA. Camerons have been so-so but there's nothing really much to shout about.
When I saw Berjaya Hills (it was formerly known as Bukit Tinggi) on the AGN list of clubs, I'll tell you, I was pretty excited. I never played in here before but the previous times that I came (non golf purpose, please don't do it, as it will bore the dickens out of you), I saw a lot of Japanese and a reasonable looking course.
Now we all know Japs and Koreans are golf crazy and if they play at a course, it ain't so bad. So we all had a certain expectation of Berjaya Hills and was hoping (since we couldn't get to play in Awana Genting) that it would be the best highland course experience we have.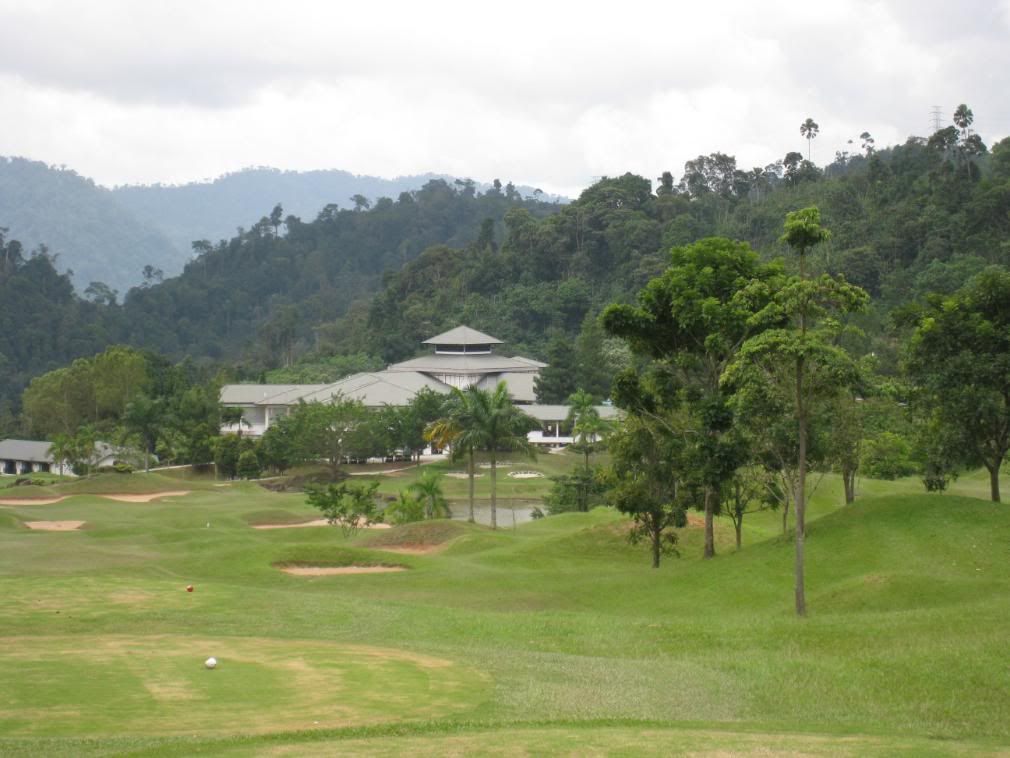 Travel (2/5)
The thing about highland courses that puts it immediately to a disadvantage is the traveling. Unless for some reason you're staying at the foothills of Genting or hanging around at Selesa homes, city rats like us expect a long windy drive up to the course. Camerons and Frasers are massively crappy in terms of traveling ratings, but Bukit Tinggi drive is a lot easier. We used the Kepong way to get out of town, heading towards Batu Caves. From there, we followed signs to Genting Highlands. Bukit Tinggi is about the next stop from Genting, so it's mainly highways, and once we turn off, it's about 15-20 minutes drive up a gradual ascent with not too many sharp corners.
You can stop by Janda Baik for some good durians and food to fuel up for a game of golf.

Price (3/5)
We paid RM48 for AGN members. The reason it gets a middle rating is that for non members, on a weekday, they need to fork out RM160. WHAT?!!? After traveling all the way up here and you get extorted that amount to play on a course like this? Unless this is St Andrews or Pebble Beach, it's daylight robbery to charge so much. Even Palm Garden or Saujana doesn't charge this much and those courses are about a million times better than this. AGN members get almost RM120 off. That's a 75% discount, so obviously we're happy. But imagine if we had a non AGN member. Sorry, bro, please wait in the car or go sit on the horses till we are done with our round.

First thoughts
With high expectations, we headed to the first tee. There were two things we can be certain of: The weather would be good; and we would lose a lot of balls. The latter prophecy was given to us by a guy we bumped into at Impian. We were at the locker room just washing up after the game and upon hearing our discussion on Berjaya Hills golof, he ominously declared, like a crazed sharman: "Bring lots of balls, you will lose 'em". I'm not sure if he hexed us that way but one of the guys in our flight sliced his tee shot into the rough and it was gone.
I was lucky to find mine in the rough.
And also found 3 other lost balls.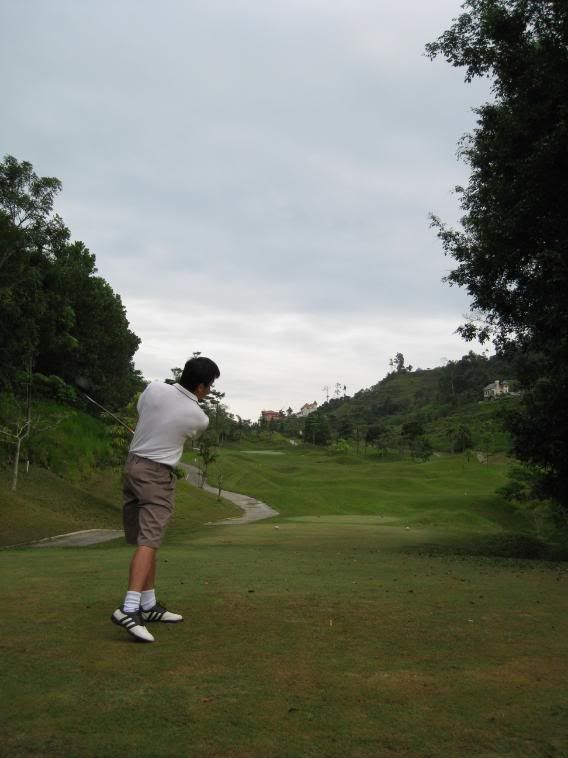 Service (1/5)
Based primarily on the course maintenance, we were in for a long game. The course was a mess. Not only was the rough a jungle, the fairways wasn't cut and was filled with long grass as well. The check in was quick enough though but the basic course maintenance was simply absent. Even the bad courses like Tuanku Jaafar had some dignity in upkeeping their course (let's not go into the heretical course in Frasers), so some semblance of activity from the maintenance workers, who sat around with a finger up their nose most of the time, would go a long way in convincing us that, yes, don't worry, we're fixing up this mess you just paid RM160 for. For non AGN members that is.
It's really annoying and disappointing because with the type of people here (Japanese and Koreans) who play, you'd expect a little class in the course. But like all Berjaya projects, it's simply a mess that someone needs to clean up. Bravo, Berjaya for being so consistent!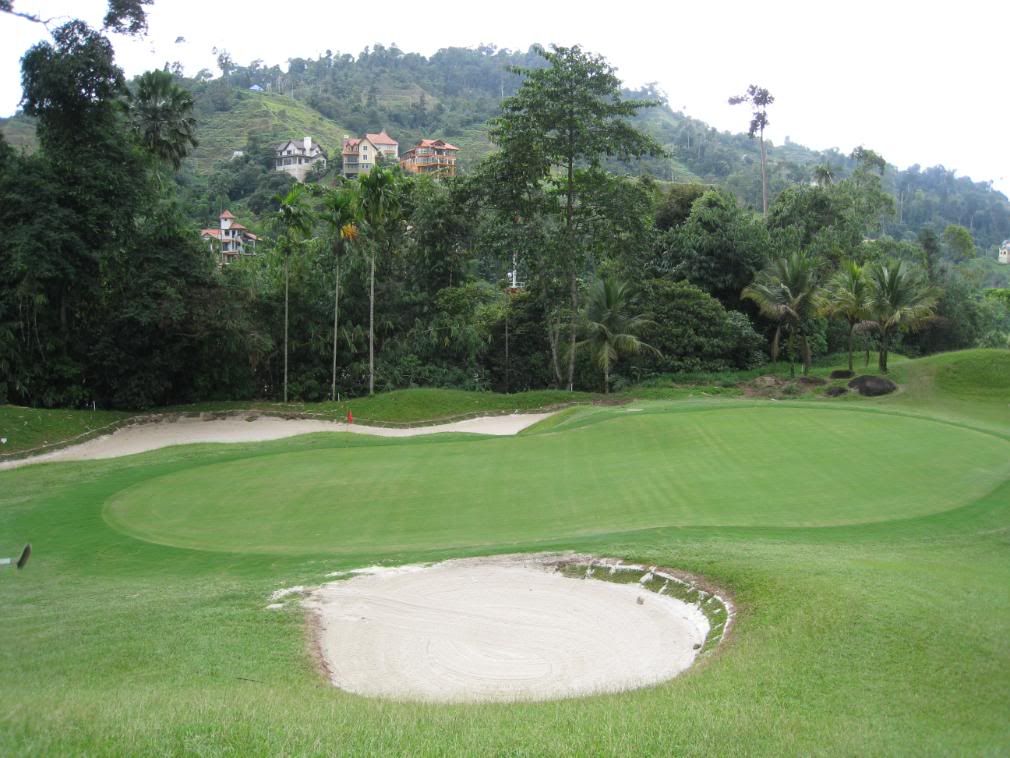 Fairways (0/5)
It's a resounding 0. When I step out of the buggy into the fairway, I went, "What on earth is this??!" You know those long irritating wisp of grass that sticks to your socks and is a devil to get out? The whole fairway was littered with these grass, along with mud, and water. True, it is the rainy season, but it was like stepping into a combat zone, with absolutely zero drainage available. You can't play golf like this. It's unreasonable. It's also unfair that on the fairway, your ball is resting between these long grasses that when you address, you need to press them down, only for them to spring up again on your backswing. Do you know how irritating it is to a golfer to have that? We golfers are so easily annoyed with anything. I have a golfer friend who simply cannot swing if he sees his shadow. He claims his shadow is annoying him. Can you imagine what the wisp of grass would do to his entire mental faculty?
Drainage was so bad that on more that one occasion we had a lost ball on a fairway. We all saw it hit the fairway. And then it was gone. Vamoose. Vanished into the depths of the earth.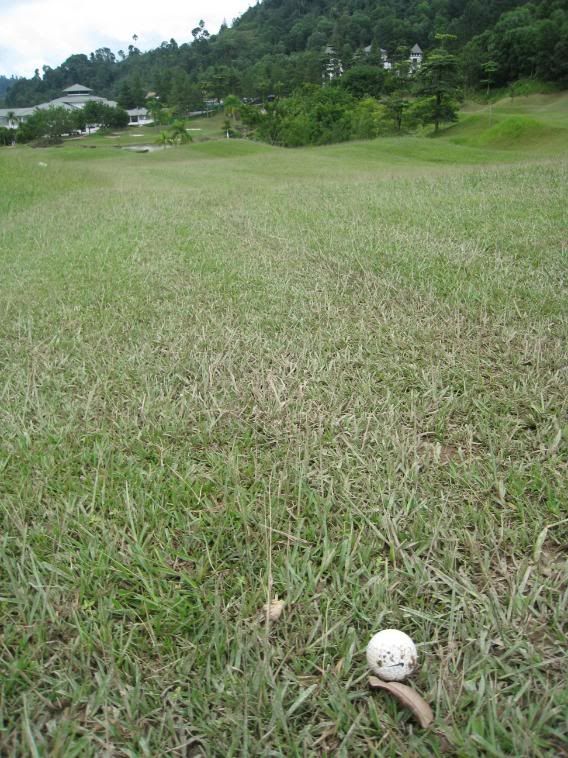 Greens (2/5)
Strangely, as bad as the fairways were, the greens were in a reasonable condition. Reasonable meaning, no, not consistent, but quite well kept. I'm sure all of them were not pressed yet, because it played excruciatingly slow, but somehow, it wasn't overgrown like Frasers. Perhaps it's the type of grass used to grow it. Generally, they rolled slower than normal but there were some that were unpredictable. Undulation is expected on a highland course, so overall, it was a pleasant surprise compared to the fairway mess we just trudge through.
Rough (-1/5)
As soon as we thought everything was looking up, we're slammed rudely back to earth. Ah, the rough. You though Frasers was bad? At least in Frasers, we didn't expect any sort of recovery. When the ball went it, we were, well, ok, we're screwed, play another. Here in Berjaya Hills, it deceives and disappoints. You see the ball going in. You see the long grass – the lalang – rustling and you go into the thick rough looking for it. And look and look and look. It's just painful. We spent 6 hours in total on a nearly empty golf course and I can safely say, 2 hours or more spent looking for the bloody golf balls. We found a lot more lost golf balls but somehow ours always eluded us. Hey, no golf course should be like this. I hit one shot that was just a little off line, bounced off the fringe of the green into the primary rough. And it was GONE! Unless there's some kind of hairy green creature tracking us down and stealing our balls, I don't know how a course can be so devilishly evil. Wild boar activities littered the whole course. No GUR signs posted up so we had to devise our own rules on it. And on one hole, the drivable 247 meters par 4 7th hole, I swear, wild boar shit was set up as integral part of the course. I tripled bogey that one. I drove into the greenside bunker, blasted out into a tree. Two out of the rough where the wild boar shit was and one chip two putted. That hole really really stinks.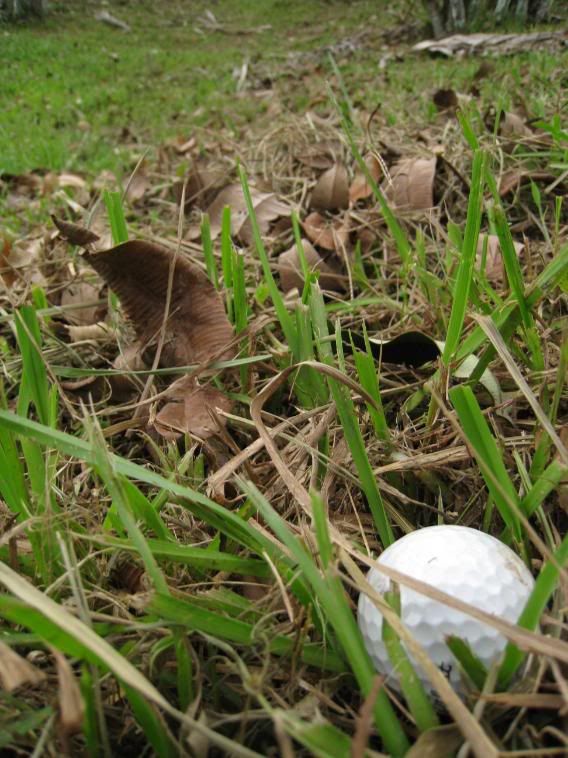 Aesthetics (4/5)
While the course wasn't so appealing to my sense of smell, it was a lot better to the eyes. This is the ONE saving grace of Berjaya Hills. It has the looks. It's another classic case of Good from Far, Far from Good. I'll admit, standing up on elevated tee box on the 12th hole, seeing the green 290 meters way down where we are, and recognizing the thin air might help the carry, we were excited. We wanted to fly the ball to the green. We wanted to feel the invincibility of "One On" for a par 4. We wanted our names to be written by bards and put into the lore of golf. We wanted to become legends. Suffice to say, none of us made it, but I was close, hitting with just 30 meters to go.
Aside from that, another memorable hole were the ending 17th and 18th. Both are devilishly difficult, the 17th require a carry of over 220 meters over a river and an uphill approach while the 18th is just ridiculous. A narrow fairway with bunkers littering the sides, and approach to the green that's protected by water and bunkers and rough all around. It plays to a 14 index, so imagine, how difficult the other holes are on this course.
Berjaya Hills is a pretty good looking course, don't get me wrong. It entices you to play, and once it has you in its grips, it shreds you to pieces. Merciless.
Fun Factor (1/5)
I did achieve a record of sorts for me. I didn't shoot par or better on any holes. I can't recall a time where I didn't manage to get at least one par or birdie in a round. Berjaya Hills completely debunked that myth and will give me something to remember by. It's one course that I will never forget, in terms of how frightful it is, and how agonizingly unfair it is set up.
Did we have fun? Well, probably in the first few holes. Once it dawned on us that the course wasn't getting any easier, we were in for a long day. 6 hours of golf, and this is on an empty course, is not fun. It's humiliating. We spent more time in the jungle than amazon natives. We even took one of the bunker rakes and used it as our hacksaw to clear the grass and lalangs in the rough.
The eerie thing about it? When the last putt finally dropped in the final hole and we turned to go, we saw a maintenance worker start up his mower and with a faint twinkle in his impish eyes, he started mowing the rough to playable condition. You can almost hear the background Twillight Zone music and a fade out of the narrator saying: "Perhaps with a mowed down rough, there is a slight chance for the weary golfers to return to redeem themselves on this course…."
Perhaps. We're not counting that out yet.
Conclusion
It was a monumental disappointment. We expected so much more out of Berjaya Hills Golf Course, something that would vindicate tragic highland courses like Frasers and Camerons, but instead of redemption, we find more or less the same utter nonsense that we found in the other courses: lousy maintenance, lousy drainage and overall, lousy experience. We have about two more highland courses to go; Selesa Hills and Awana but so far the hit rate for Malaysian Highland Courses has been a despondent 0 of 3.
The good: The weather; the elevation that makes your ball go farther, the memorable aesthetics that does justice to a highland course.
The bad: Disastrous rough and fairways; horrible drainage; absolutely unplayable conditions in some holes, with wild boar markings and crap all over the place; ridiculous pricing that cuts your throat and leaves you gasping for air.
The skinny: 12 of 40 divots (30%). It's slightly better than Frasers, but it's still a mess to play. The shorter travel time is offset by the astronomical pricing catered to foreigners. Unless you have an AGN or plan to hold the club hostage; give Berjaya a big miss. It's an RM20 course pretending to be a premier RM160 course, and failing miserably.
Berjaya Hills Scorecard
Berjaya Hills Information
Address:
KM48, Persimpangan Bertingkat,
Lebuhraya Karak, 28750 Bukit Tinggi,
Bentong, Pahang Darul Makmur
Contact: +609-2888890
Fax: +609-2888832