Introduction
Last year, we headed down to Johor/Singapore to explore some of the golf courses there. I believe there are more than 30 golf courses in Johor itself, possibly making it the Malaysian state with the most golf courses and least work done per capita compared to the rest. With so many courses to choose from, how can you ever get tired of playing golf? Likely, the explosion of golf courses here was contributed by the number of Singaporeans willing to take the drive across the border to play cheap golf. Singapore dollars now trade at almost 2.45RM, making a 100RM golf course rate slightly less than SGD40, which is really a steal. Unfortunately, for Malaysians, we see this contributing to the trend of increasing green fees from this golf courses, even if they generally suck.
After our harrowing experience with the RM100 caddy in Royal Johor, it was with some trepidation that we once again embarked on playing golf in Johor. This time, due to time constraints, we had to choose one that was relatively close to Singapore. There were two choices: golf Courses from the second link exit in Tuas, or golf courses nearer to the Woodlands-JB exit.
We chose the Woodlands-JB exit. The closest was the dratted Royal Johor Country Club, which we will now avoid it like the bubonic plague after our awful experience there. Moving further east, we have to choose Permas Jaya, Ponderosa, Daiman 18, Octville. Tanjung Puteri was a little too far so we'll need to KIV that one. The norther courses like Austin Hill and Star Hill were also possible selection. At the end, we decided to head to Daiman 18 simply because we have the vouchers from the Top Premier Voucher book…and also because we previously thought Royal Johor was better than Daiman 18. I mean, really, the name of Daiman 18 evokes as much inspiration as watching bat shit dry in the sun.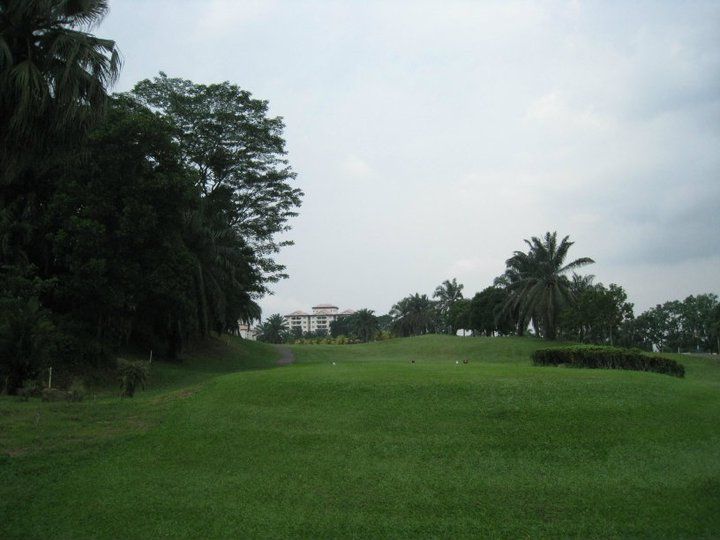 Travel (2/5)
Daiman 18 is not very far from the JB/Woodlands causeway into Singapore. I am assuming that you would be taking the same way as we did, coming up from Singapore, unless you're staying in JB itself. From Singapore, there is no way around it. Exiting from the JB/Woodlands checkpoint is as close as intravenous suicide as you can probably get, due to the absolute stupidity of Malaysian organization. Now, I love Malaysia, don't get me wrong. But when it takes you a few minutes to exit Singapore and the next 45 minutes stuck in a jam, on a Sunday lunch time at the Malaysian side, you seriously need to question the lack of efficiency in Boleh Land. There are only 2 lanes for cars to queue in a snaky route to the checkpoints. Some heroic drivers took the third lane, meant for trucks I believe and ran smack into a group of traffic police and summons. Most of the perpetrators were Singaporean cars, so it's definitely a welcome to Malaysia present for (from) them.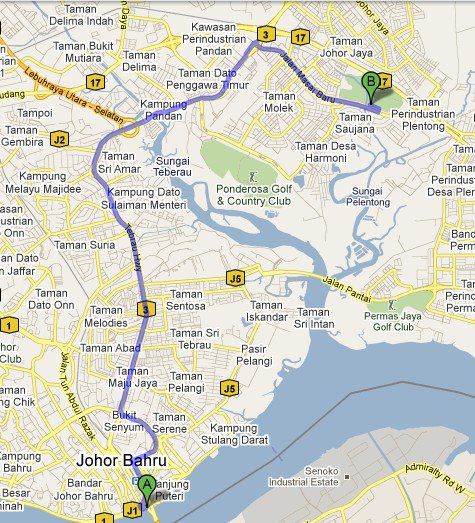 Anyways, if you manage to escape the checkpoint within this year, here's the direction to Daiman, 15km away.
1. Head northwest on Singapore – Sultan Iskandar Ciq Jb     1.7 km
2. Keep right at the fork to continue toward Jalan Yahya Aldatar    200 m
3. Turn left onto Jalan Yahya Aldatar            750 m
4. Turn right to merge onto Lebuhraya Tebrau           5.9 km
5. Continue onto Jalan Pandan           3.0 km
6. Turn left toward Jalan Masai Baru 350 m
7. Sharp right toward Jalan Masai Baru          41 m
8. Take the 1st left onto Jalan Masai Baru      2.8 km
9. Turn left toward Jalan Pesona        70 m
10. Turn left onto Jalan Pesona           190 m
There is a small trickiness here, when you need to exit Jalan Pandan. There's a small left turn before the flyover right at Carrefour (or was it Tesco??) which will allow you to go under the fly over and hit Jalan Masai Baru. We missed this turning and had to take the next left and go a big round behind the supermart. Beware.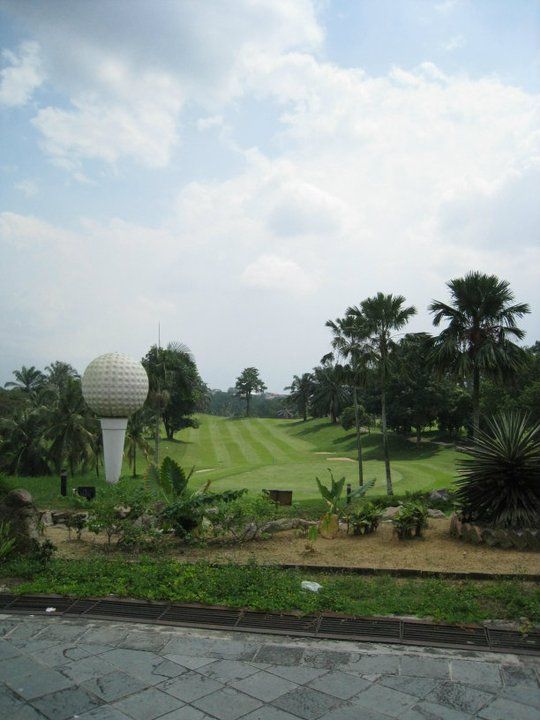 Price (2/5)
We played on a Sunday afternoon, and was charged RM110 for our troubles. There's a special promotion going on, which rendered our weekend top premier voucher at RM120 pretty useless. Now RM110 is about the same price we pay for Bangi on a Sunday afternoon package, which generally puts Daiman in comparison with our beloved Bangi, and which invariably Daiman falls short. I know we can't expect cheaper prices , but still, from what we see in Daiman and what we compare with Bangi, these courses are world's apart. Daiman 18 pricing just doesn't cut it. And what is with the voucher then? Shouldn't something we pay for allow us to have special pricing? This reminded us of the horrendous pricing strategy of another Johor Course: Legends, which actually cost more to use the discount vouchers than it would be NOT to use them. It makes no sense. Then give further discounts on the vouchers, darn it!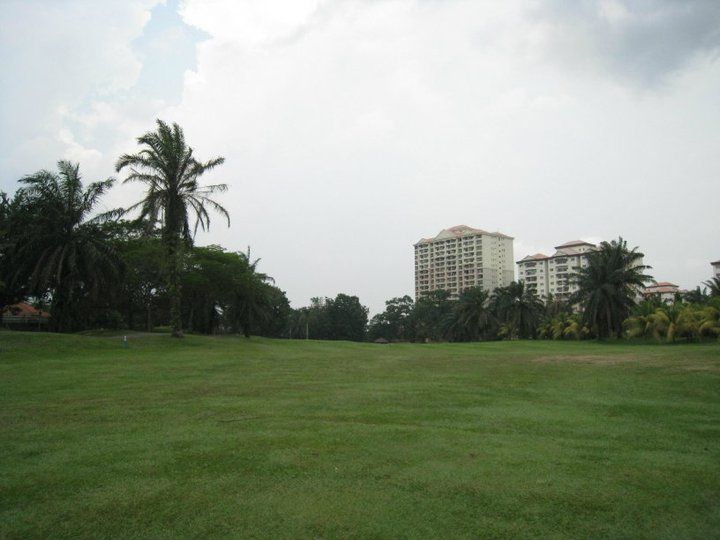 First thoughts
First thoughts that hit us as we teed up on the back nine: It looks a little bit like KRTU, a little bit like Perangsang. It's probably a mixture of both; the slight elevation of Perangsang, the oil palm trees of KRTU. First hole was a dogleg left, and here's where I found out that both my precious 60 degree and 48 Cleveland PW were missing! I must have left it somewhere at the other courses or at home.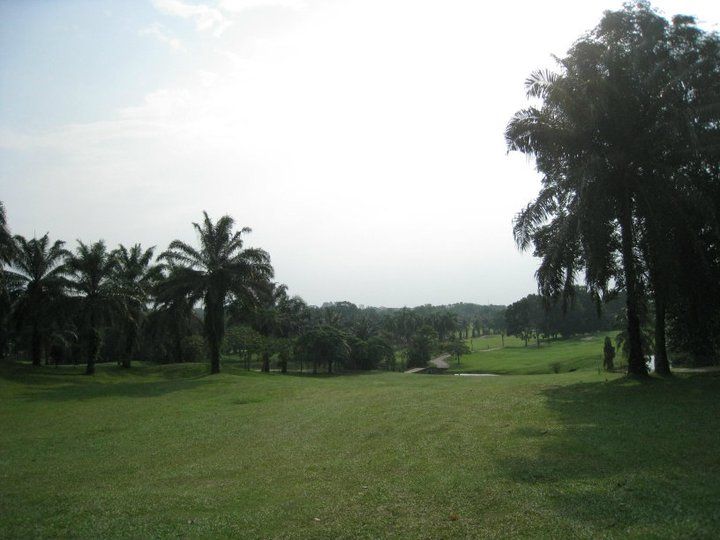 Without these two clubs, I was literally incapacitated. Even with these two clubs I play like a monkey being dunked into a boiling vat of fire; what will I do without them?? So, proceeded to hash my chip with my normal PW, which just doesn't work for me. Because of the weight, the shaft, the feel, the looks: like any good hacker, I grabbed on the first excuse I could find for playing badly: missing clubs. If only I had these clubs, I would surely have scored 75, at least!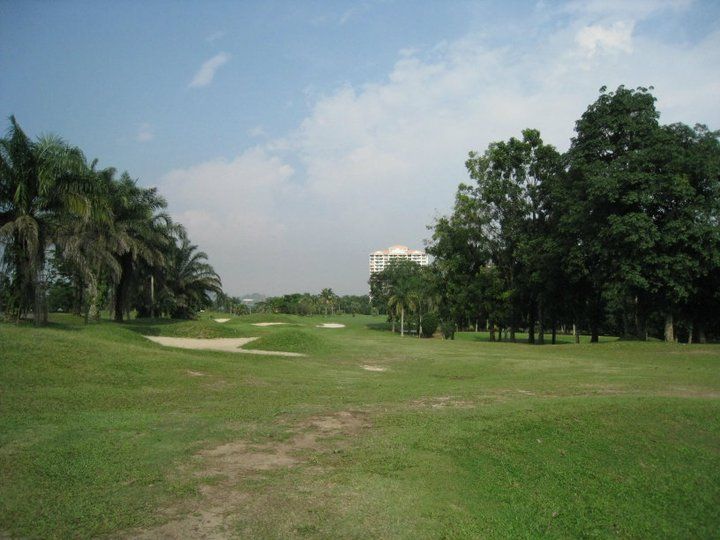 Service (3/5)
Except for the awkwardness of explaining to us that the price of the discount vouchers are actually more than the normal price, the lady behind the counter was good enough to get us on the course quickly. She also was very efficient in providing me with a letter that stated that my clubs were missing, for a possible claim, if I don't find them. The buggies were in good condition as well, so merrily we went on our way for our second stint in Johor golf.
Fairways (2/5)
The fairways, especially the back nine, were bald in many patches, and grass uncut. They looked good from far, but once on the fairway, it was tough to hit if there's no grass, only soil where your golf ball is sitting on. We groaned if this was going to be the norm, but the fairways did improve slightly as our game progressed. Instead it's likely due to the fact that buggies can drive onto these fairways.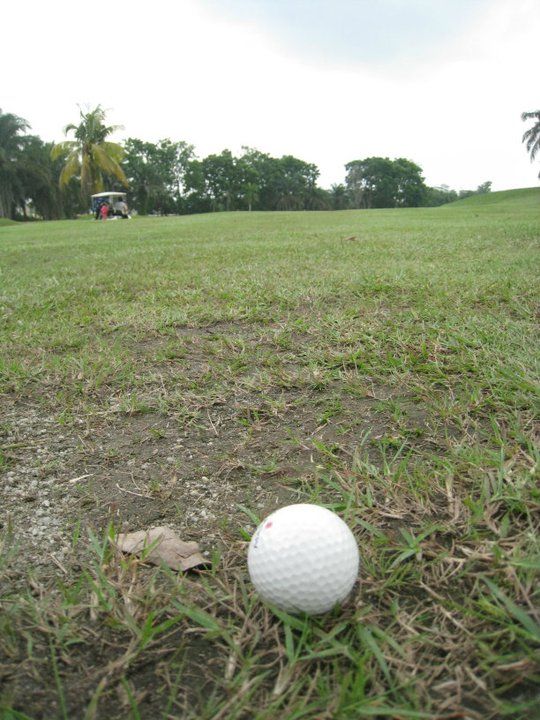 Greens (2/5)
If anything is more annoying that bald fairways, it would be sandy greens. Number one, the greens were SLOW. As in, it's hard to judge as well, since the greens are very inconsistent, sandy and slow, and varies quite a lot from hole to hole. These doesn't make the greens tough, but just difficult to predict. The roll was also inconsistent, and in many occasions, I saw my 3 footer bumping and grinding it's away from the hole. Hmm. That sounded a little weird.
Rough (2/5)
Daiman will have a lot of rank 2/5 in the categories. Simply because Daiman doesn't suck as bad to deserve a 1; but at the same time, fail to raise its game to level 3 and beyond. So we see a lot of these so-so course conditions, rough conditions as well. The bunkers were useful enough. The primary rough however was a different tale. The ball sat down in almost all our shots in there, and at some point took us a long time to find the ball: which we all saw dropped and bounce!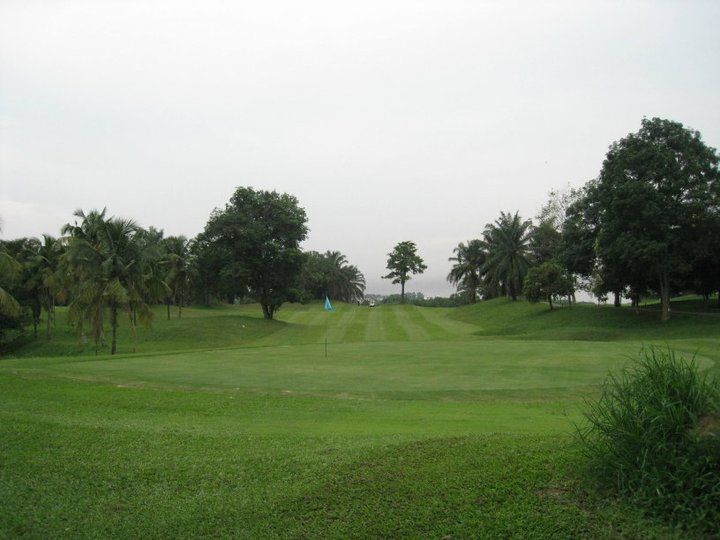 Aesthetics (2/5)
I was ready to give Daiman a 1/5 for aesthetics, based on the experience on the back nine. However, once you made the turn, the course became something different altogether. Suddenly there was landscaping and beautification.  This was the front nine. It was as if the management spent all its landscaping budget on the first nine to entice the unsuspecting golfer into thinking this is like an Impian standard course, only to have a reduced budget of RM2.99 to do landscaping in the back nine.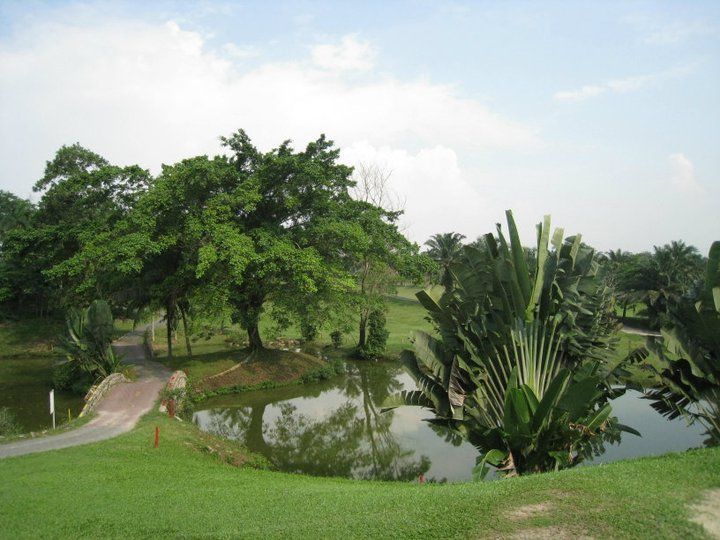 The back nine did have a few reasonable looking holes. The elevated par 5 13th was nice; except that you had to hit it long and straight to navigate it. The par 3 17th was a knee knocking hole, with water all over and a tee off accuracy required. The last hole 18th wasn't so nice; simply a straight shot pass the lone tree and entrance into a downhill hole.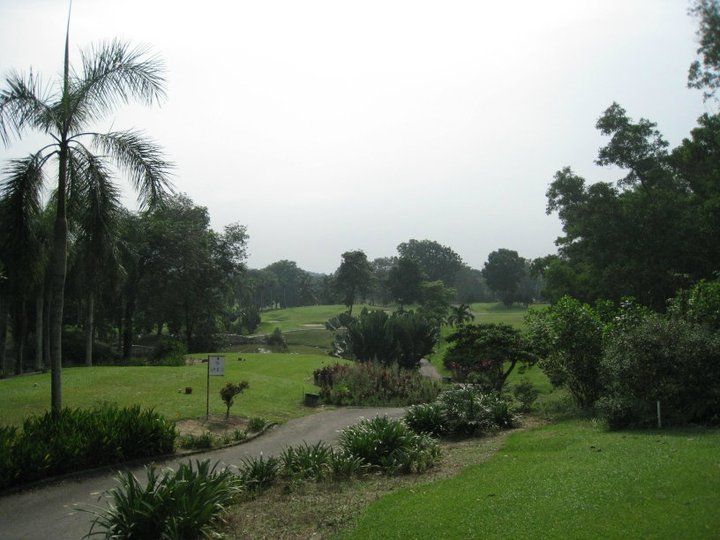 Make the turn and you see the difference. The first tee box was a very narrow tee off, that opens up at the fairway. It's like going through a narrow, constipated colon area before getting to the opening, and I'd even have to admit that that was a very strange simile indeed. But you get the picture.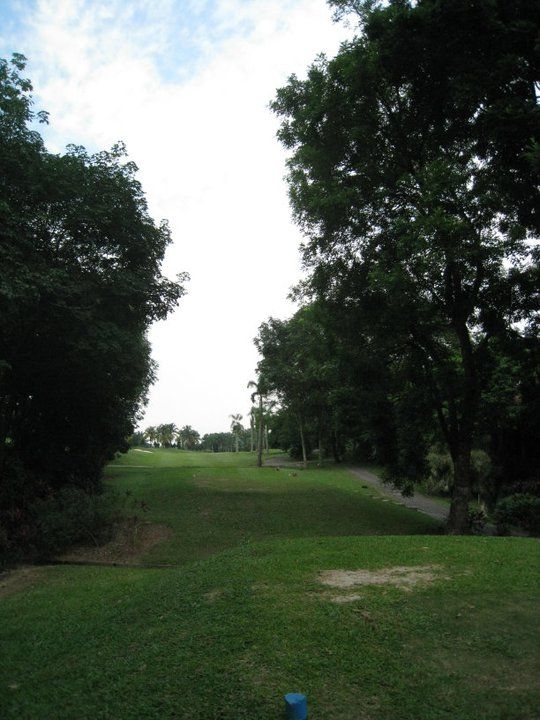 The par 5 2nd is a long, tough monster and the next par 3 was similar to the 17th, in which you have crisscrossing of water at the front from an elevated tee position. It is also at this hole that I noticed that the club is starting to look much better. Some landscaping elements were in play, turning the characterless Daiman into something more palatable. The next par 4 4th also has a tree in the middle of the fairway, and this was followed by the fearsome index 1 par 5, in all its 472 metres glory. Elevated tee shot will stop short of the water. I hit my 3rd into the bunker on the right, but the trick about some of these Daiman bunkers was that the lip was very shallow. In this instance, I putted my ball out of the bunker, over the short lip, and onto the contoured green, watching it turn into the hole for a miracle Birdie.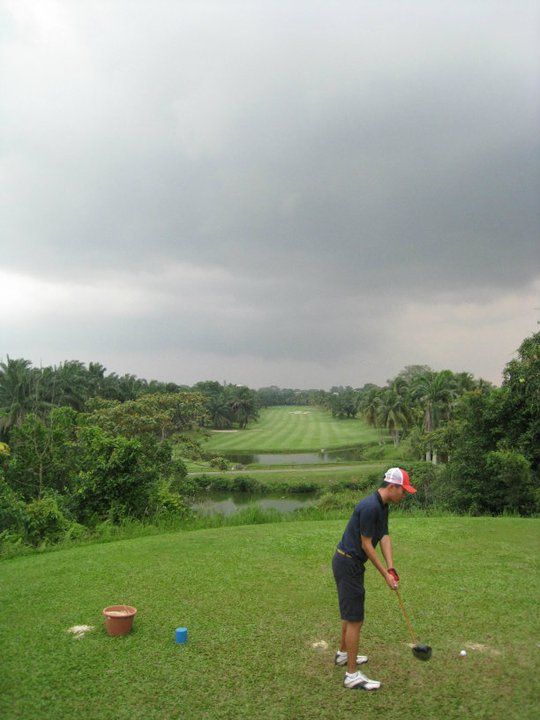 Fun Factor (3/5)
Fun was again evident, not just because of a blitz of 3 very good holes where I went par-birdie-par, but also because the course sets up quite nicely for my fade/slice shot. I used mostly driver, and the times that I messed up such as the 8th par 4; was when I used my 3 wood and ridiculously pulled it into the jungle. From there, I was like Kevin Na and only got it out near the green on the 5th shot. Two putted for an awful triple. Also, having 3 par 3s on the front brought something more to the game: accurate tee shot. The par 3s are not easy, but at least they were picturesque and it was definitely a fun experience hitting shots in, especially with a wager on the table.
Judgement of distance is key as well. The third hole for instance, the pretty looking par 3 was set as 145 meters with a downhill shot. Because of all the landscaping surrounding this green, one guy from my flight saw it as being like a mile away, and opted not to trust the yardage, instead relied on his experience in the game, which so far has led him to many games over 100 strokes.  He took out a driver and literally blasted the ball 50+ meters over the green into the next fairway, much to the hilarity of all. The distance on the board is slightly off, or they must have moved the blue tees back, because I only used my six-iron and it was stuffed close. Unfortunately, my first shot had already zinged into the fronting water, so I was 3 on and 2 putted for a double. Nice looking hole though, but too few holes were as good looking as this, and Daiman suffers for it.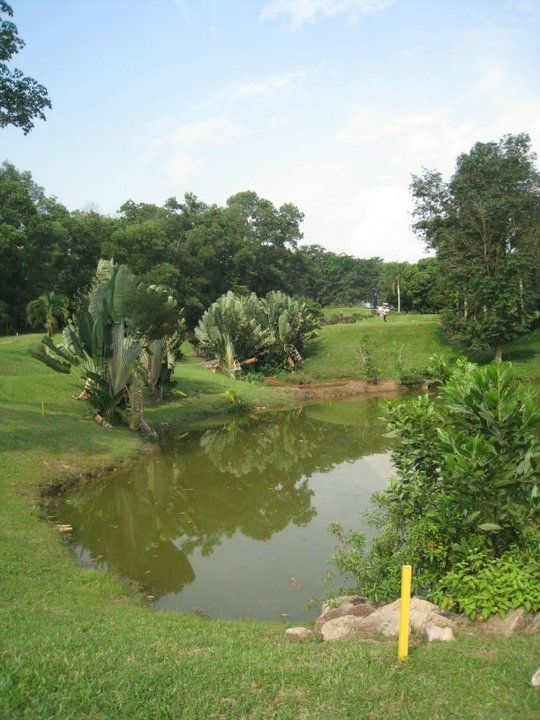 Also, we observed that traffic for a Sunday afternoon was quite limited. I.e not many people were playing the course, and the only 2 folks we saw were two Singaporeans taking shelter with us from a short bout of lightning. This could be because that many choose to play on other better nearby courses; and also the stupid crossing at the causeway causing the Singaporean golfers to seek out friendlier courses nearer to the second link exit. Of course, these are speculations, but all the better for us to blitz through the half empty course!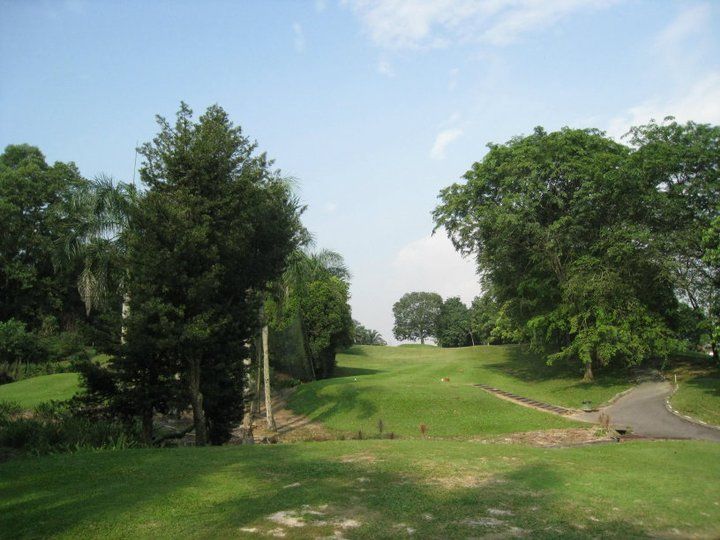 Fun was also somewhat limited due to the absence of my wedges. I was doing all I can to use my other clubs, and yes, it's a poor excuse to use; but like any good hacker, we need to look to somewhere to blame for such lousy golf…because it's definitely not our super skill level, right? What better excuse than missing clubs??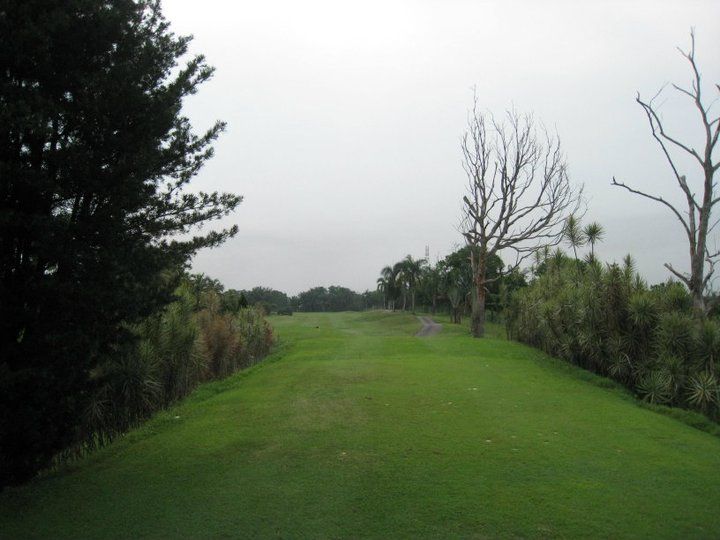 Conclusion
Daiman suffers the middle review syndrome, like Kulim. It doesn't suck so much that we hate it, the way Frasers or TUDM does with so much ease; yet, it doesn't impress enough and we just go along with the course, functional playing, without the critical draw factor, the things that make us go, "Jee, we gotta come back here to play again." Instead, we were like, "Boy, I'm hungry. Let's get the heck out of here as quickly as possible as get some chow!". Should we recommend it? Well, for its vicinity to the causeway, I think it deserves some attention, but with so many courses around, including the Japanese run StarHill course, it needs to definitely do more to draw us back again to play the second time. Furthermore, with the horrific traffic in the causeway, we might from here on play on courses closer to the second link, such as Horizon Hills, Poresia or Pulai Springs.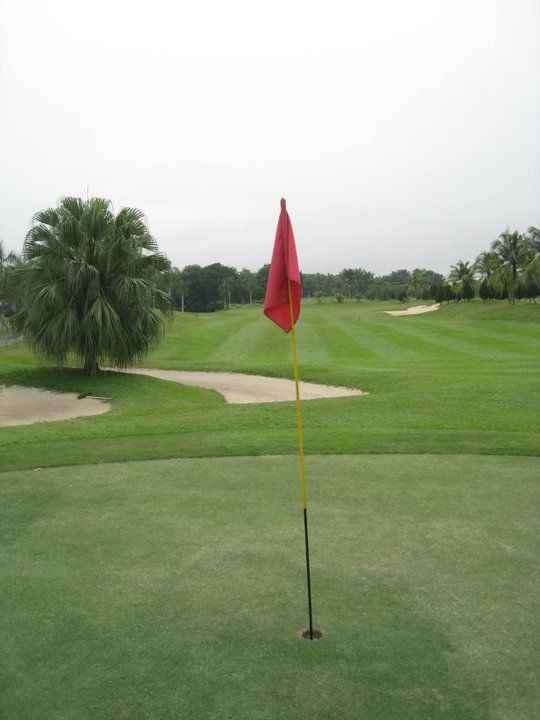 The good: Daiman is a functional golf course with a few interesting holes; can be quite fun especially with 3 par 3s and a premium on iron shots; first nine aesthetics looks good; but balanced out unfortunately by the characterless back nine; close to town enables those in JB access the course quite easily; but the causeway jam is a common cause of people howling in frustration in their cars and cursing our beloved country's excellence in efficiency (being extremely sarcastic of course).
The bad: Pricing strategy is reminiscent to the idiots at Legends, where discount voucher costs more than the actual price; travel through the causeway is excruciating; fairways, rough and greens are simply not good (or bad) enough to be memorable, causing golfers to forget how the course looks like or is set up.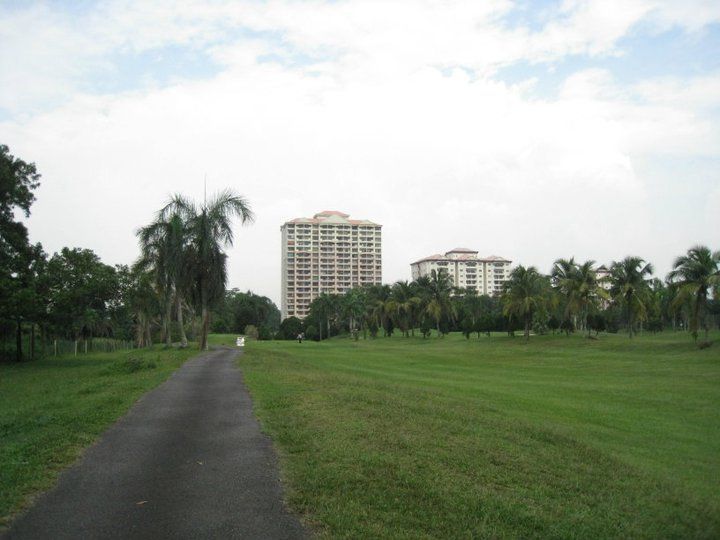 The skinny: 18 of 40 divots (45%). Daiman 18 just doesn't do enough to make us want to try it again. But considering the high price of surrounding courses, with the exception of Royal Johor, (which you should only play if every single golf course in Johor has been blasted to smithereens, and you don't have anything else to do, such as taking up pottery classes) Daiman might be just affordable for a quick 18, to those who are in JB and the course was pretty empty even for a Sunday afternoon. But if you're from Singapore, forget about the causeway and play on courses nearer to Tuas second link. It's not worth going through the horrific crawl from Kiasu Land into Boleh Land.
Daiman 18 Score Card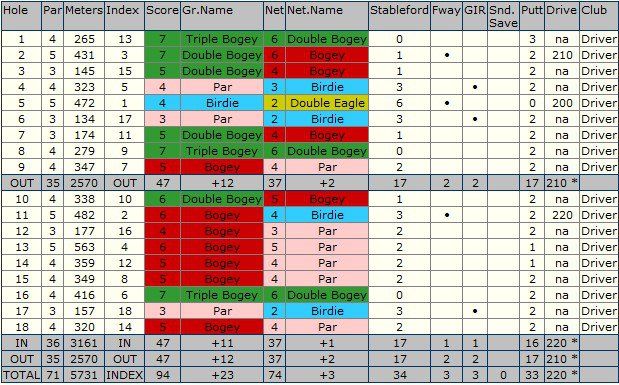 Daiman 18 Information
Address: No.18, Jalan Pesona,
Taman Johor Jaya,
81100 Johor Bahru,
Johor Darul Ta'zim, malaysia
Contact: +607-3516813
Fax: +607-3533100
Email: daiman18@daiman.com.my
Website: http://www.daiman.com.my/golf.html