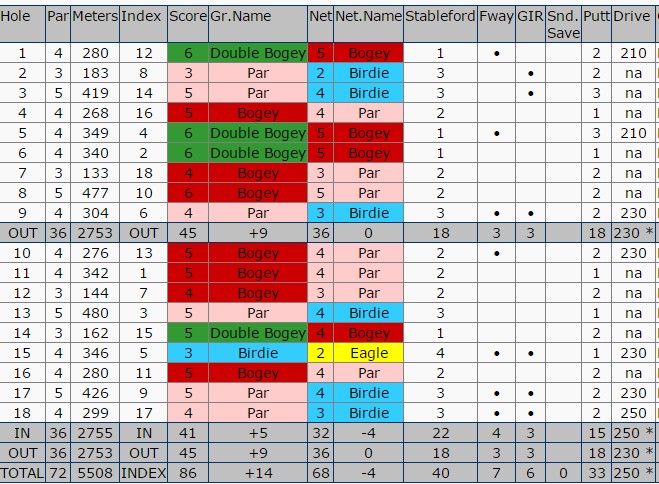 It seems easy for some golfers, but somehow after hacking this game for what seemed like an eternity (it has only been 11 years), I am still struggling to break 90 regularly. Of all the games I've played this year, I finally managed to get that done on the (admittedly) easy going course called Bangi, by scoring 86. Here's a hackers guide to get it done.
1) Go for everything
This might sound counter-intuitive as Butch Harmon and Leadbetter and all these losers will say, "You gotta manage the course, don't go for it if you think you can't." That's horse$hit. As Master Yoda would say, "Do or do not. There is no try.". Every Par 5 in this game I went for 2. On the front 9 3rd, I whacked a 3 wood to the green and the toughest green on earth to putt. 3 putting for par was the best I could do. Admittedly, Hole 8 was almost impossible to go for 2. Hole 13, went for 2 and ended up greenside and just bladed my chip too far for birdie. Hole 17, also went for 2 and ended up greenside again but again, chipping was retarded. The point is, forget about course management – GO FOR IT!
2) Drive like a machine
Due to retarded short game inherent in all hackers, our only hope of survival, we need to drive like a king. Which was precisely what happened. I was blasting the ball like a machine, and only had one bad drive the whole round, the par 4 six, where my drive skittered right, ricochet off the 150m marker and into the bunker.
3) Luck, luck, luck
Again, par 4 six hole, if my drive did not ricochet off the 150 marker, it would have ended up dead in the woods and survivability would have gone from 20% to – 50%. Sometimes, luck is all you need to keep the round going.
4) Go for 1 on if you have a chance
Related to point 1), this is a more extreme case. In Bangi, there are plenty of holes where you can actually blast one on if you are feeling it. Hole 10, I launched it around 20 meters from the green, so near that I had to apologise to the group in front, who just said, "Good shot!". However, after they saw me chunk my chip and blade my third to a bogey, they just shook their heads and left. Ahhh – the delusions hackers have. Hole 16 is another drivable par 4. I missed mine right, but a friend of mine was left with only 30 meters to the green. Hole 18 is definitely drivable, it's an elevated teebox and if you had the balls to challenge the bunkers you can go for one on. I was around again, 20 meters from the green.
Hole 1, challenge the trees on the right and you can also one on. And if you are great, even hole 9, you can put it to around 40 meters to the green, which was precisely what my partner did.
But the one hole you MUST go for one on in Bangi is Hole 4 in Putrajaya Nine. This is an elevated tee off to around 270 meters to the green but challenging a large pond fronting the green. Usually people will play safe and play to the fairway to the left, but it didn't make sense since the drop zone is only around 80 meters from the green. I did go for it and the ball stayed in the air for an eternity before splashing down around 1 meter short of the green. In fact, it hit the stone wall fronting the green and bounded back.
5) Momentum counts
We had a partnership going on, and we played the back nine first. We were 4 – 1 down in the first five holes and the other team was just gloating around us. The sixth hole, I stuck my second on the green around 10 feet but tricky downhill. The other guy, putted around 25 feet from the fringe and dunked in his birdie. They were so confident of winning his partner did not putt out and they were saying 5 – 1 down is too big a hole to dig from. My partner was going for par. I putted, and ridiculously went in for a birdie to tie the first ball and we won the second ball. From there, we went on a tear, from 4 – 1 down, to win 4 straight and won 5 – 4 on front nine, and carried over to the back nine and won 11 – 7 overall, outscoring them 10 – 3 after that unlikely birdie. Play for something, and get the momentum.
In all likelihood, if you are a hacker, you have a retarded short game, like me, so don't bother about it. Avoid bunkers like the plague. I only hit one bunker (the lucky shot) and the rest was either fairway or rough. We just don't have the capability of hitting chips, bunkershots or flops that other low handicapers can do. But if you drive like a demi-god, it will cover your flaws. This is the only route to breaking 90, if you continue to suck at short game and putting – like me.
Obviously, the lower handicapers will shake their heads and say, we need to improve the short game, but where do we have time or the discipline to do so? If we had short game, we won't be hackers!!
Frankly, it's a lot more satisfying blasting the ball to smithereens and watch it dissolve into the horizon and sunset, isn't it?