Introduction
It's been a while since I got to play on any new courses, hence the gilagolf updates have been generally about analysis and random nonsense about anything under the sun, that probably have left fellow gilagolfers feeling a little delusioned about where this humble site is heading…fear not, as long as there remains a course to be hacked in (and if budget or sponsors permit) and out of Malaysia, gilagolf will continue to exist, to bring realistic reviews and crap courses to the light of day.
And here we have Harvard Golf and Country Club, the pride of Kedah. And just in case you're wondering if there's any association with this Harvard:
This will set your mind at ease:
The vast difference of class is only obvious if you scrutinize the awesome tradition in their entrance into their respective hallowed grounds. For the thick headed, I am obviously being incredibly sarcastic.
Actually, to give Harvard (the Kedah one) credit, they do have a reasonably OK website, which means it's far better than most of the courses reviewed on this site. But they can forget about a random googler ending up in their site by searching 'Harvard', because it's probably number 1,128,453 on the search list. More on the website later. Now, to the course!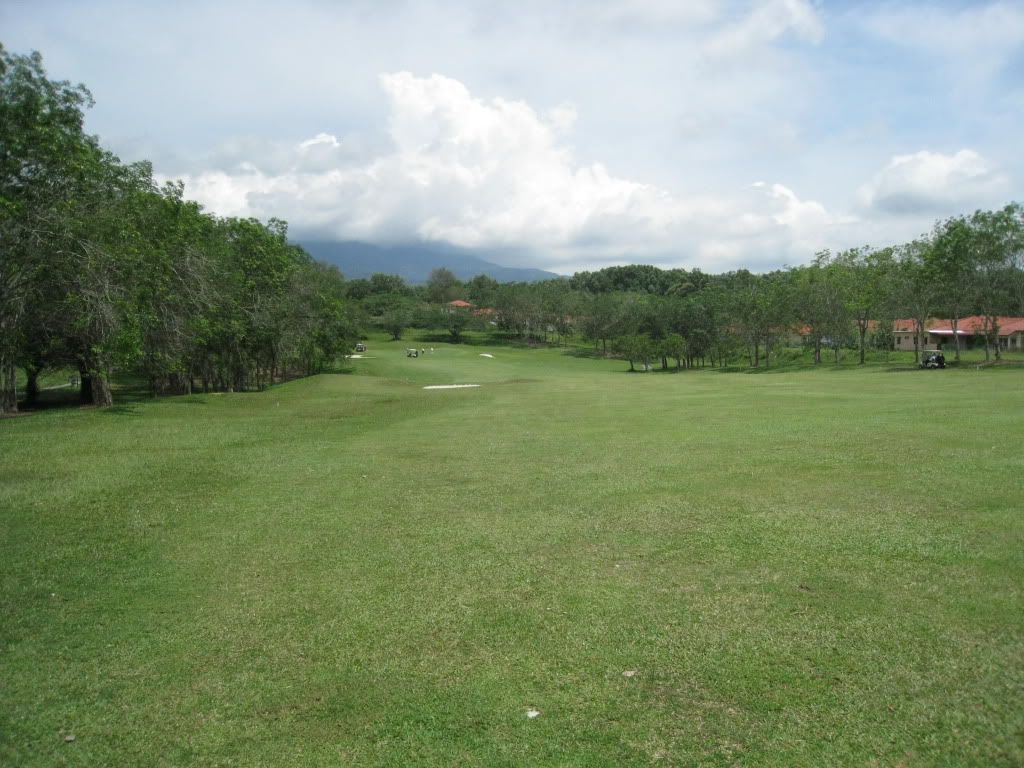 Travel ( 2/5)
OK, if you're gonna start a website, for goodness sakes, put some decent direction to your place. It's not as if we know where the heck is this elusive Harvard golf course by reputation…or is it considered so exclusive that it needs to be hidden from the world?
But I'll be honest here, I was actually searching for Permaipura Golf course to play, but because of Permaipura's inability to place any obvious signs whatsoever to the transient golfer to see, I ended up shooting past and after seeing the Harvard Golf Course sign, quickly turned into it before I ended up at the border of Thailand. Great signs Permaipura..you haven't even been reviewed and your travel is already a 0.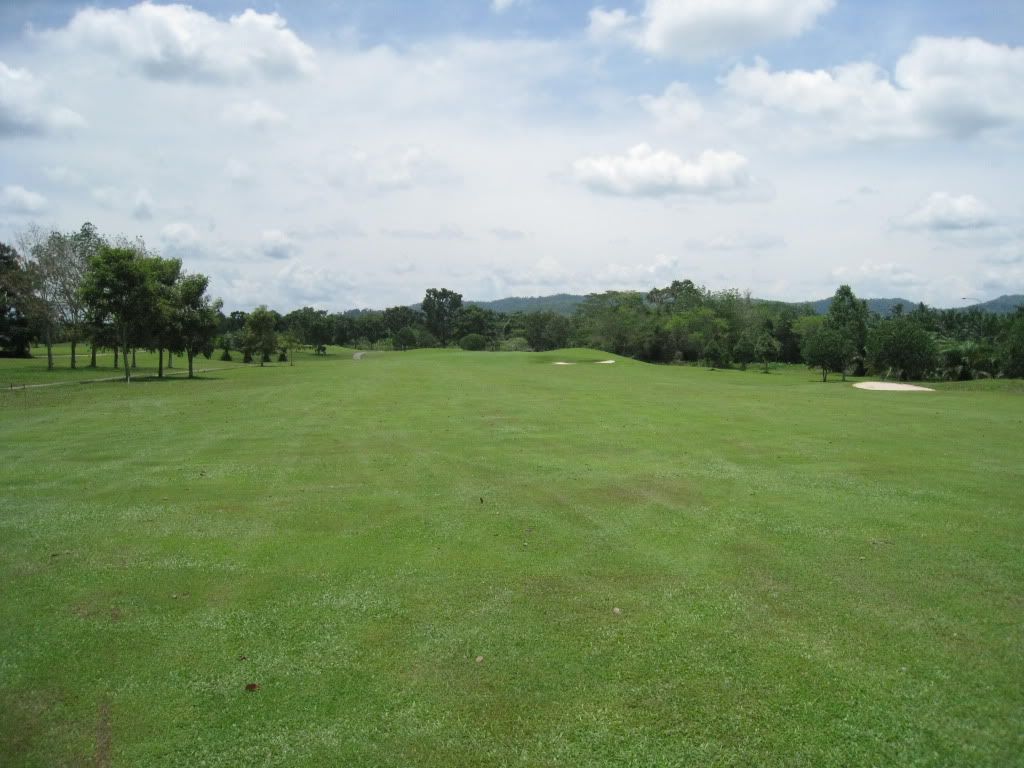 Anyhoos, there's always GPS (which I did not have) and it's a straightforward, if not a little long: North South Highway. Head towards Sungai Petani. Pass Cinta Sayang on the right, wish you were playing there, then drive straight on and exit and the Sungai Petani (U) turnoff. 'U' stands for Utara, meaning North.  Once turned off, turn right at the traffic light, and keep going the trunk road. You will pass a small town eventually and just look for the signs that says Harvard on the right. Turn right and boom, you're there. It's a 2 for being straight forward and for collecting all the lost souls looking for that dratted Permaipura sign.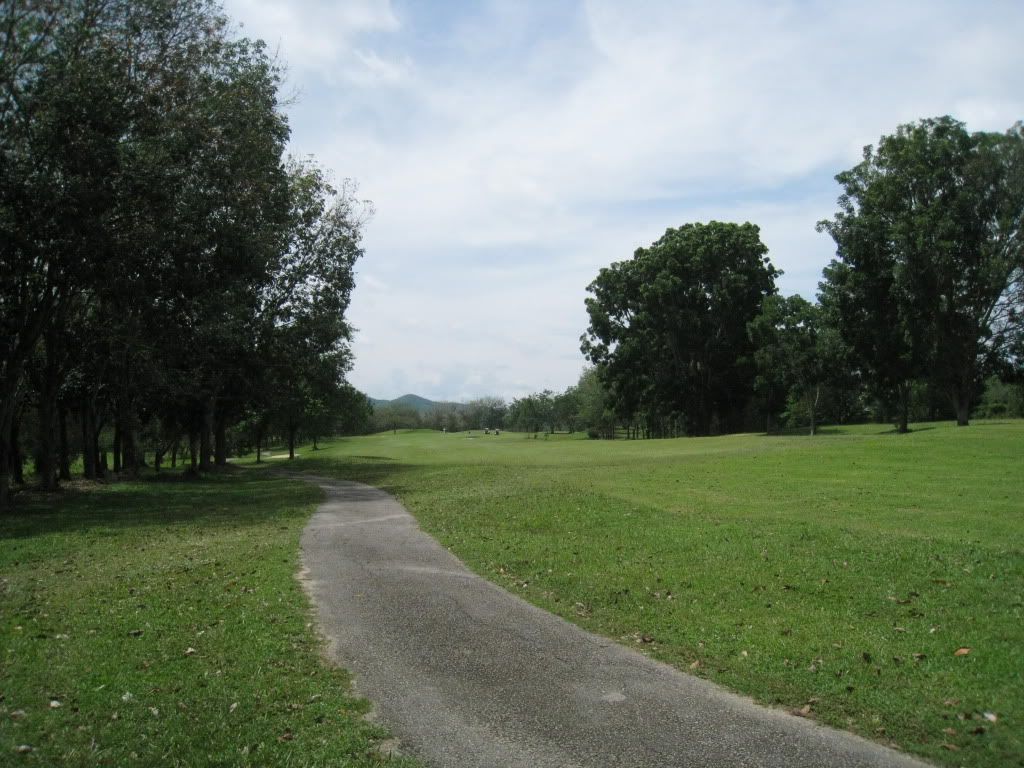 Price ( 2/5)
Saturday morning, I know, it's not easy to get cheap price, even in KL. In kinrara, it would be around 100 plus with a voucher, and in Harvard, I got to play for RM60, with a buggy as well using my special voucher. It's reasonable, but as we would later see, if it's a reasonable course, but for a course that resembles UPM or worse, that horrendouse Royal Johor Crap Course we just played in late last year, RM98 (without voucher), is a tad bit steep.
First thoughts
The course is really old. In fact, it was built in 1927, making it one of the oldest golf courses in Malaysia…Royal Selangor could be the oldest at 1893, but I am told there is another older course, I don't know where. But hey, 1927 is 84 years old, which is pretty long, so there's gotta be some pretty good tradition here and hopefully the review won't bash the course up too badly.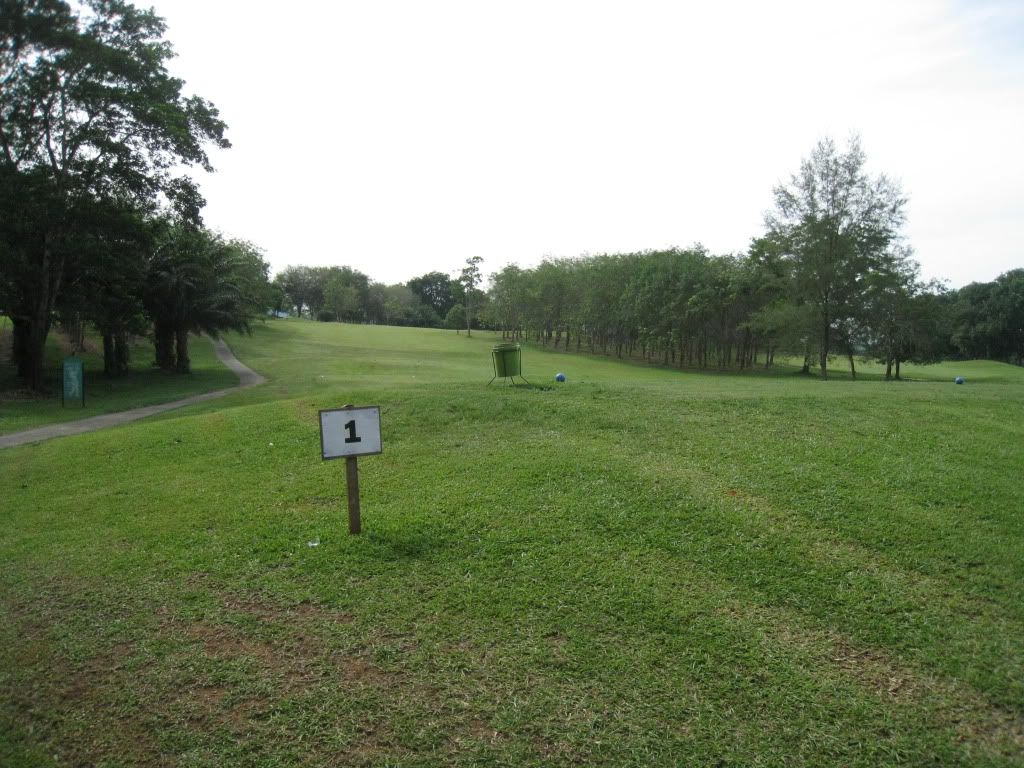 First of, the course looked extremely familiar….it could have been UPM, or God forbid, the Royal Johor Course, in which case it would be better to simply apply electrocution to oneself than to play on such courses, but I suppose old golf courses pretty much resemble the same.
Service ( 2/5)
Now, the service was pretty ok, as the girl behind the counter was kind enough to find me a solution when the buggies were all out. After giving her my standard story of driving all the way from KL to play on the great Harvard course, the oldest course in Kedah with all it's fine tradition, she convinced the marshal to hand me his buggy to put me on my merry way. So why 2? Because aside from the good human service, the rest of the service, especially the buggies, are as lousy as TMNet's customer service, which generally is just lower than being serviced by a rabid hyena frothing from disease. The buggies, all made in 1927 using pulley systems, takes at least 10 seconds to crank up and start. I am NOT kidding. In fact, the poor guy I was playing with, Edward, with his wife were stuck with a buggy that took twice as long as mine to crank up. We would each respectively step on our throttle and wait, while chit chatting about politics and see which buggy starts up first. They definitely take being the 'oldest' course in Kedah seriously. At times, you just wish you had a hole on the buggy floor so you can Flintstone your way through the dratted course.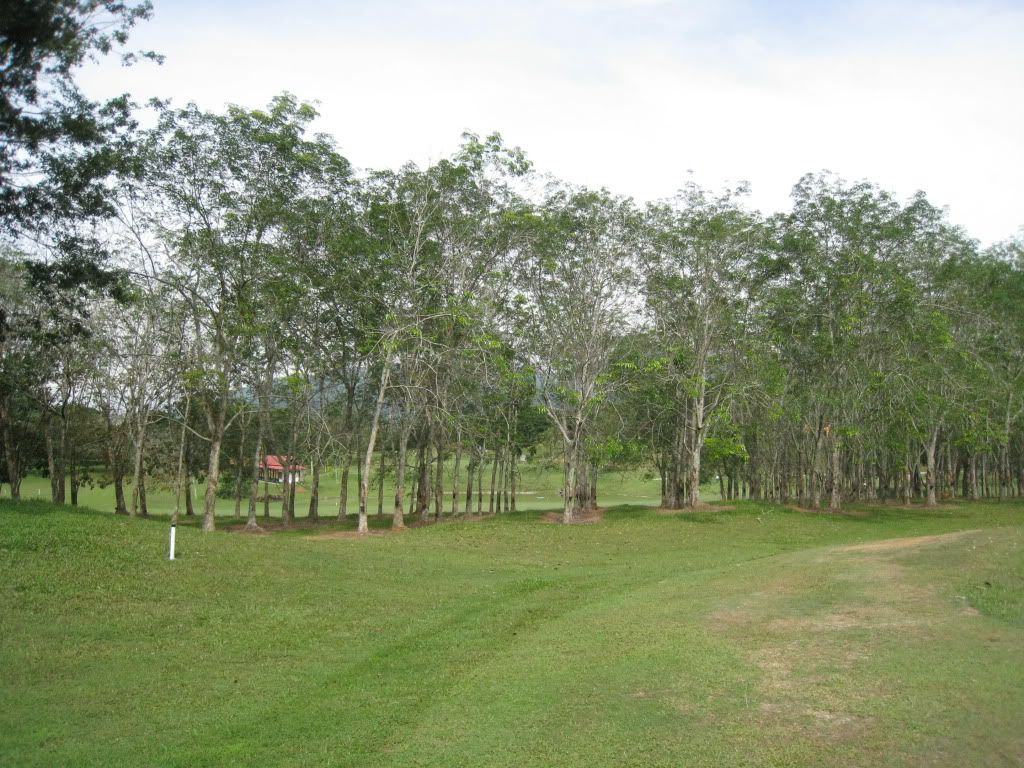 Fairways (2/5)
You really cannot expect a whole lot from a course that calls itself Harvard. I am not even going to go further on why the name is after the most prestigious instituition in the entire history of the known world, next to Penang Char Kueh Teow. The fairways were not atrocious (please, bring back memories of the mother of all crap course, Bukit Beruntung), it was functional cow grass, but nothing much in terms of proper maintenance.
Greens ( 4/5)
Of all the surprising thing I learnt in this trip, and this includes the fact that the Lorong Selamat Char Kueh Teow in Penang is actually crap, the greens in Harvard is actually very good. And I don't mean it in a sarcastic sense. I expressed my surprise (akin to finding a diamond ring in the middle of a pile of cowdung) and my member playing partner, Edward (the one who had to crank his buggy 20 seconds) proudly declared that the greens were the pride of Harvard. Which is really saying something, because as I looked around Harvard, it does seem to labour somewhat to maintain the course with a total of 1 person in the payroll. The greens, though a little slow, were consistent through the course and had very good roll. The undulation also gives some variety and overall, very nice experience on the greens.
Rough (1/5)
The rough was bad though. Leaves strewn all over the place, it's obvious that maintenance budget has been slashed to under RM100 per year, poor guys. The one thing I found extremely annoying were the bunkers. They were absolutely horrible. The size of rocks and stones there made it impossible to hit a bunker shot without denting the clubs, and in one instance I did. From then on, it was an auto matic free drop whenever it entered a bunker. And of course, the eternal fight with wild boards continue. Almost every hole bears the battle scars, wild boars digging up the rough, looking for grubs. I hate you, wild boars! I'll make a soup out of your entire species!! But still, the course has the prerogative to defend itself against these attacks and sadly, Harvard utterly failed. Come on, Harvard. If you excel in the green, it doesn't mean you need to balance your Yin and Yang with horrendous rough. Why can't you stay excellent for all time??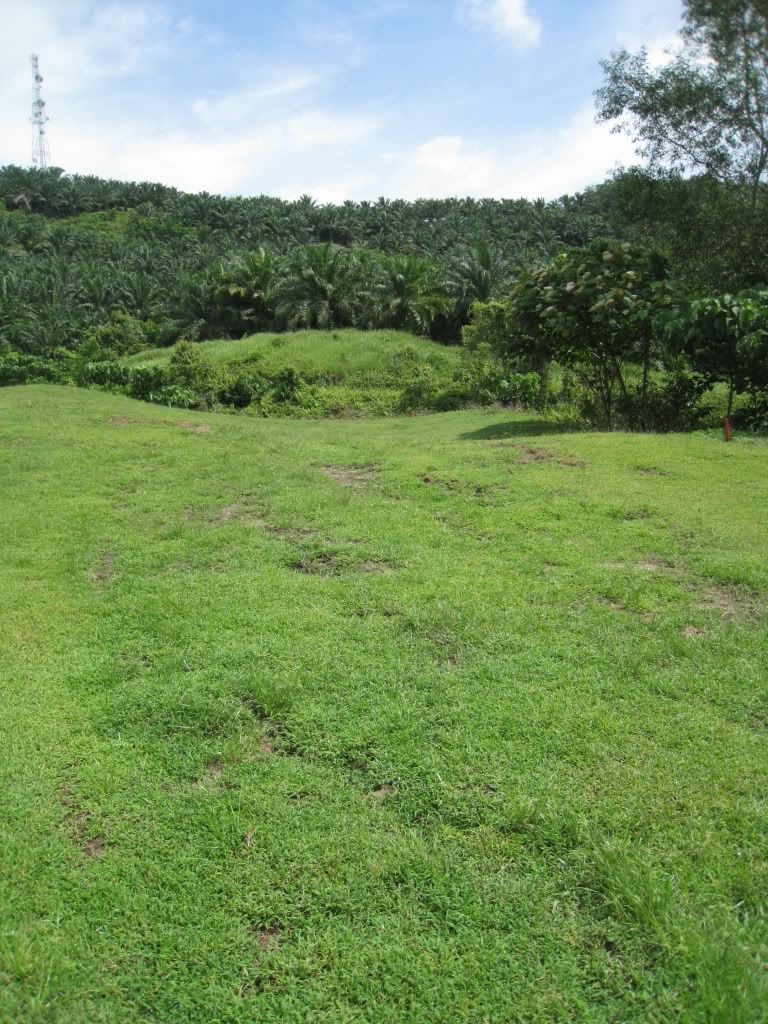 Aesthetics (2 /5)
There is a saying of 'growing old gracefully', which is to say, people who get older looks better. Harvard isn't one of them. Frankly, the aesthetics wasn't extremely ugly, nor was it very pretty. It's simple. If you have rubber trees as part of your landscaping, you are not going to look very nice. Harvard has live rubber trees that are still being tapped as part of its course. Not funny when it stinks. And there are certainly some holes that purely stank of wild boar shit. The rough was of course, full of evidence of the wild boars, so it has to be their crap that filled the air. Yuck.
The saving grace is the Guthrie nine. The first hole of Guthrie nine actually looks nice, with towering, aged trees lining the fairway. It gets slightly prettier with some water features in the later holes, but they were all stagnant.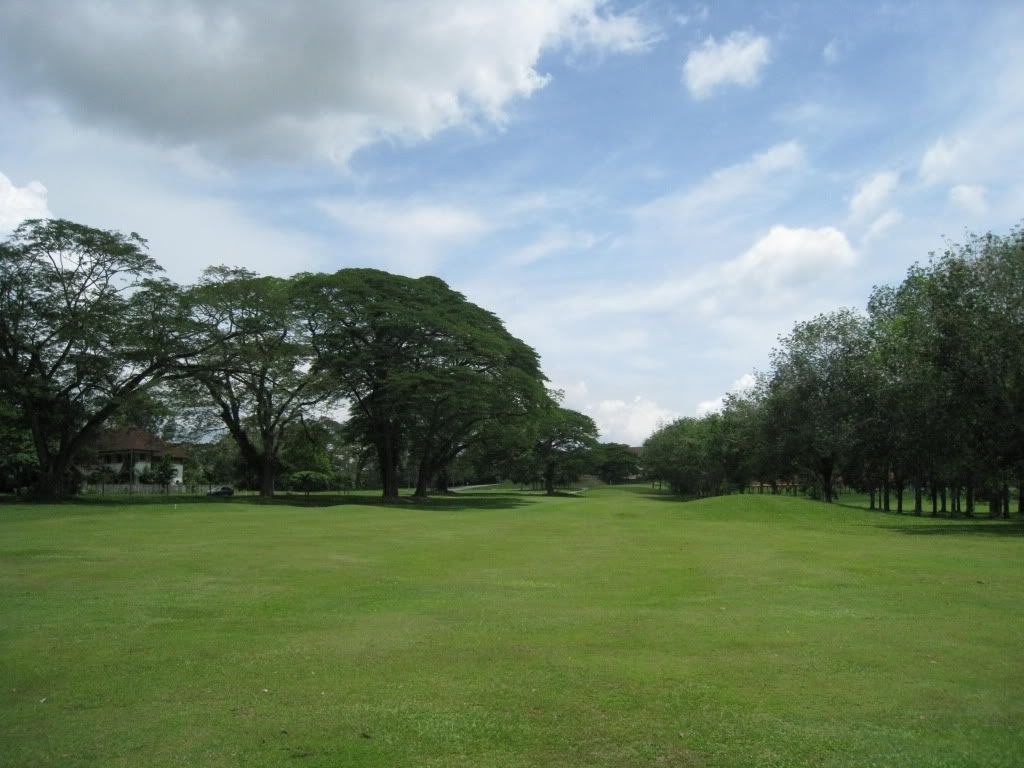 The worse is the last hole, par 5 on Guthrie. It is UGLY. It's not a pretty hole at all. First of all, from the tee, you can only see the fairway as it hills over the other side. Once crossed the hill, you have the awesome sight of one ugly club house and a horrendously underwhelming green protected by a murky swamp, and lined with skeletons from dead golfers. What a rubbish ending, Harvard.
And ok, you know how annoying it is when the website gives bad information, or outrightly lies about their course. Which is why gilagolf is here, as the beacon of truth to expose these lies. In the intro (http://www.harvardhotel.com.my/intro.html) it says:
With its cool mountain air that calms the senses and hilly terrains that invigorate the soul, Kedah's idyllic nature became popular amongst the northern elite.
That's complete BS, sorry. What cool mountain air? The nearest mountain is the one you can see on the 16th, 17th hole, which is about 800 miles away. The last I remembered, I was being fried like a Vietnamese cockroach as I tried in vain to get my dratted buggy to start. And the terrain isn't hilly at all. There's hardly any elevation on the course, making it as mouldy as a 15 year old bread. It's just a field that happens to have a few holes and flags. I don't know about the northern elite, if it's so, Harvard needs to revamp its images and fix their stupid buggies.
This is my favourite:
Where east meets west and modern convenience complements Mother nature, Harvard Jerai is your ideal gateway to relax and fraternise. Welcome to Harvard Jerai. The land where "Eagles" rest, stay and play.
I don't get the east meets west. What the tarnation do you mean? Is there some sort of Chinese/Siamese influence in your architecture, along with british colonial designs? All I see is a hut for the club house that bears remarkable resemblance of my mechanic's car workshop in Old Town. And really, if this isn't another golf course that promotes 'Eagles' as if just by saying that word, it would turn us all hackers into ultra professional Tiger Woods golfers. Try it. "Eagle". Darnit I am still duffing the ball!!
Fun Factor ( 2/5)
I ended up in Harvard by mistake thanks to Permaipura's inability to direct lost golfers. Harvard isn't extremely difficult, and the Guthrie nine does sport  huge expanses of fairways for some holes. I was scoring very well for the Guthrie, starting with 5 pars over 6 holes, and a chip in bogey save on the index 2 16th. I ended shooting my best 9 hole score at 39…which balanced out my terrible front nine of 48. There were many bail out opportunities in Guthrie nine, so I think for a guy with a crocked but reasonably long swing, it presents some scoring opportunities derived from lousy drives.
Was it fun overall? Not really. The rough was a real let down, coupled with badly maintained bunkers, I was just looking forward for the round to end eventually. The real letdown, was the ending hole on Guthrie. It's as if the designers just sort of gave up on that hole and decided, heck it, the golfers are probably having mirages of Catherine Zeta Jones by now they won't even know the difference if we put a chimpanzee in front of them.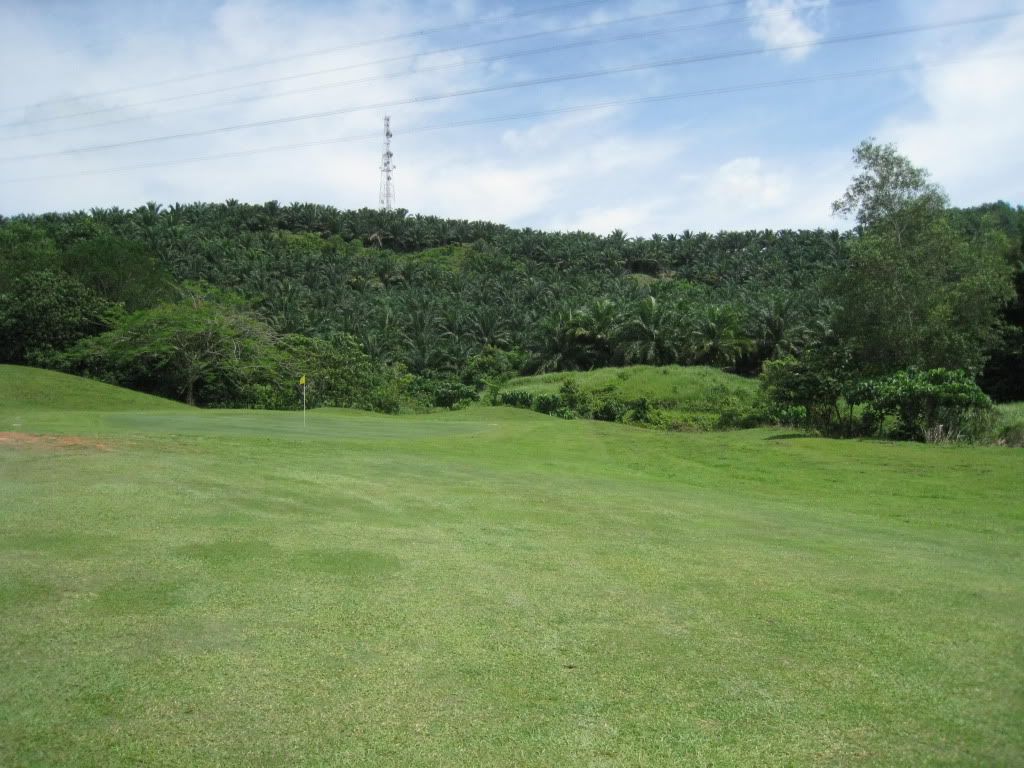 Conclusion
Harvard is a mix bag. Some good stuff like the greens are real surprises, especially in such a secluded area that you'd think even David Livingstone won't come. The customer service was friendly, but the buggy was crappy. The course overall was in ok condition, but when you have dirt roads and mud for your buggy track, you know that Harvard is probably not the right name to give this club.
The good: Travel is pretty deep in, but once there you can get on the course pretty quickly; the greens are in good condition and consistent throughout; Guthrie nine plays easier to me, and it looks way better than Jerai nine (Harvard nine is close, indefinitely, and the forest has reclaimed it).
The bad: The buggies truly suck, you need 10 seconds everytime you stop to restart it; rough is horrible, sand is unplayable; horrible ending hole on Guthrie; an absolutely daft name to call a golf course; aesthetically resembles the rearend of a Mongolian Llama, and a terribly deceitful website.
The skinny: 17 of 40 divots (42.5%). Wow, Harvard just avoided being categorized as Waste of Time and Money. This is a real borderline case. I don't think I'll ever return to Harvard unless forced to, but it really depends on how crap/good the other golf courses in this region is. Suffice to say, if you had the chance, you might want to try another course but if you get lost searching for Permaipura, I suppose this is a reasonable alternative to play on.
Harvard GCC Scorecard
Harvard GCC Information

Address:Harvard Golf Resort (Jerai) Berhad
Harvard Golf and Country Club
No 6 Persiaran Guthrie
Harvard Suasana Resort 08100 Bedong Kedah
Contact: +604-4586887
Fax: +604-4586782
Email: nirmala.vijayan@simedarby.com
Website: http://www.harvardhotel.com.my/