Introduction
Very few courses actually make it into our most anticipated list of courses to play in. Tropicana. Glenmarie. Templers. RSGC. Saujana. KLGCC of course. In the southern state of Johor, there is one course that's supposed to rule them all:
Horizon Hills.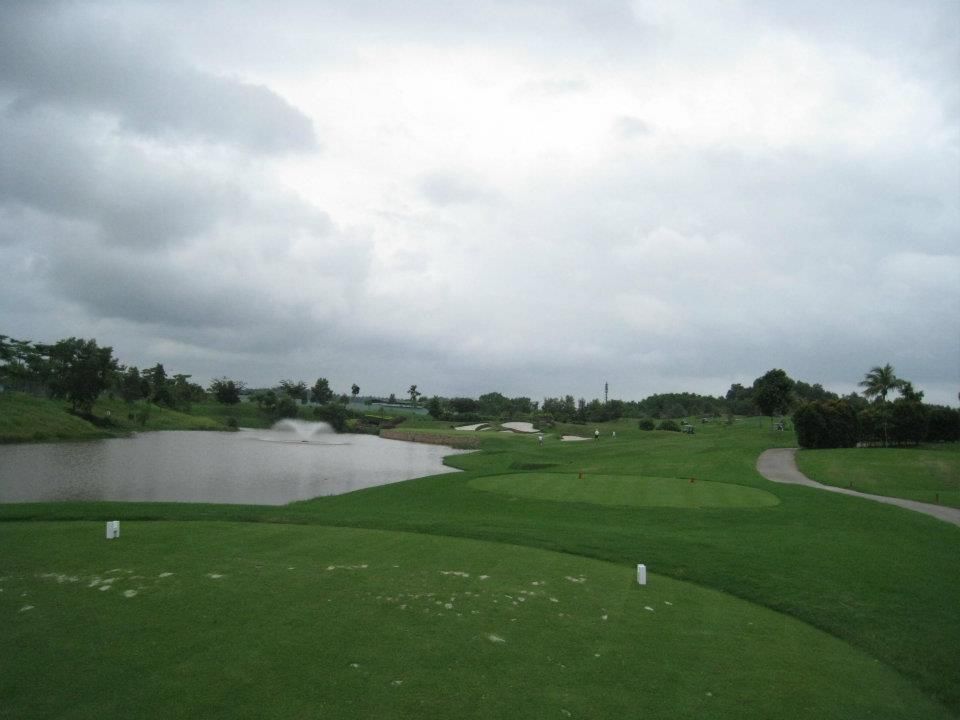 I mean the name already evokes awe. The premise of consecutive Iskandar Opens, the place where it's supposed to be so pristine, that LPGA and PGA golfers would reroute their journeys to come by this little peninsular called Malaysia. Aside from KLGCC, Horizon Hills, near Nusajaya and in turn near the Tuas exit, captures the imagination as the country's top tiered golf destination.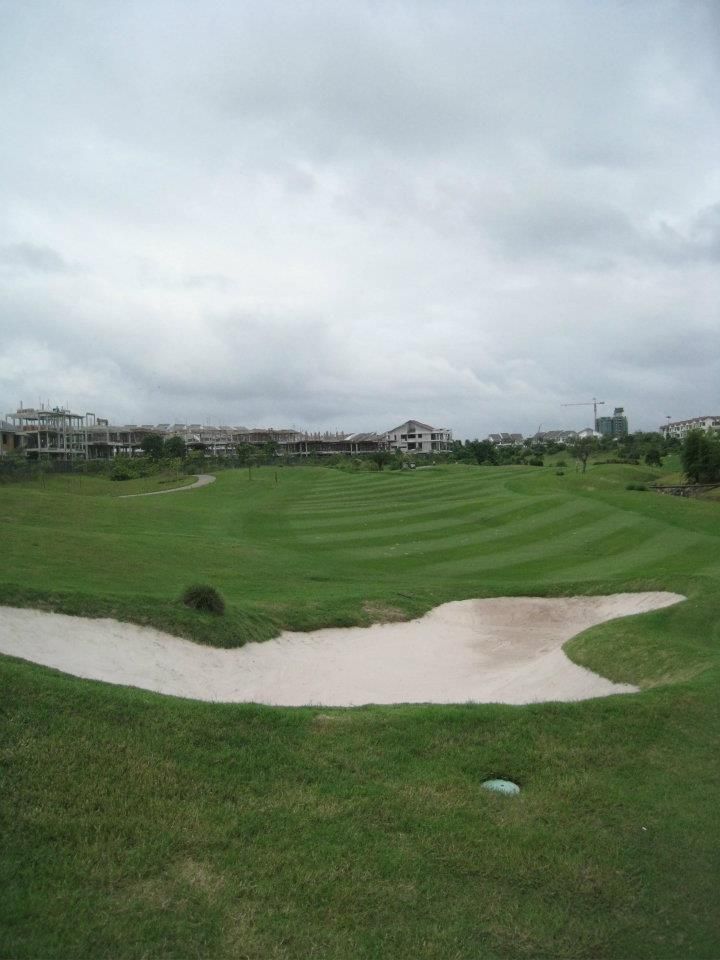 So, ten of us woke up at 5 am from various locations, to meet the tee off time at 7:22 am, with all other later tee times 'Taken up' according to the friendly neighbourhood reception (do note the sarcasm a little).
Travel (2/5)
You'd think that being such an internationally acclaimed golf course, there would be some sense in direction. We came up from Singapore to play and no where near the exit or along the highway exiting Tuas into Johor did we see a sign to Horizon Hills. We had to depend completely on Google Maps. And that turned out wrong, so we had to depend entirely on Garmin, which led us to such a long and circuitious route that our 30 minutes drive turned into a near 1 hour, and we nearly missed the cursed tee time.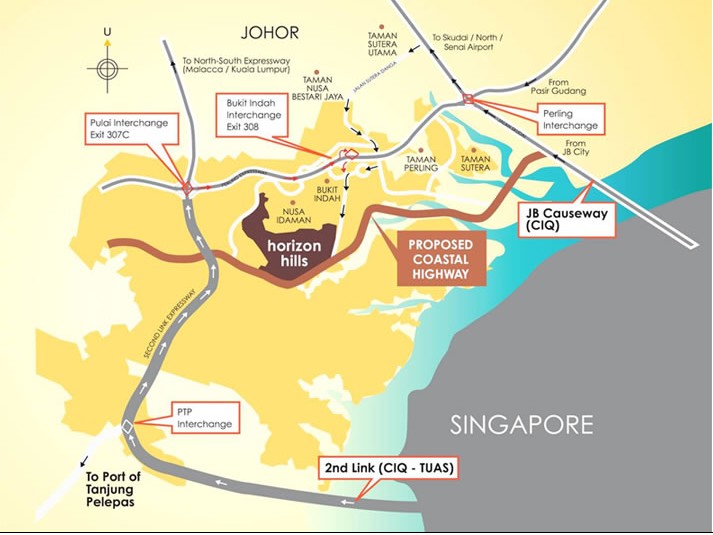 More signs would be nice, Horizon Hills, really.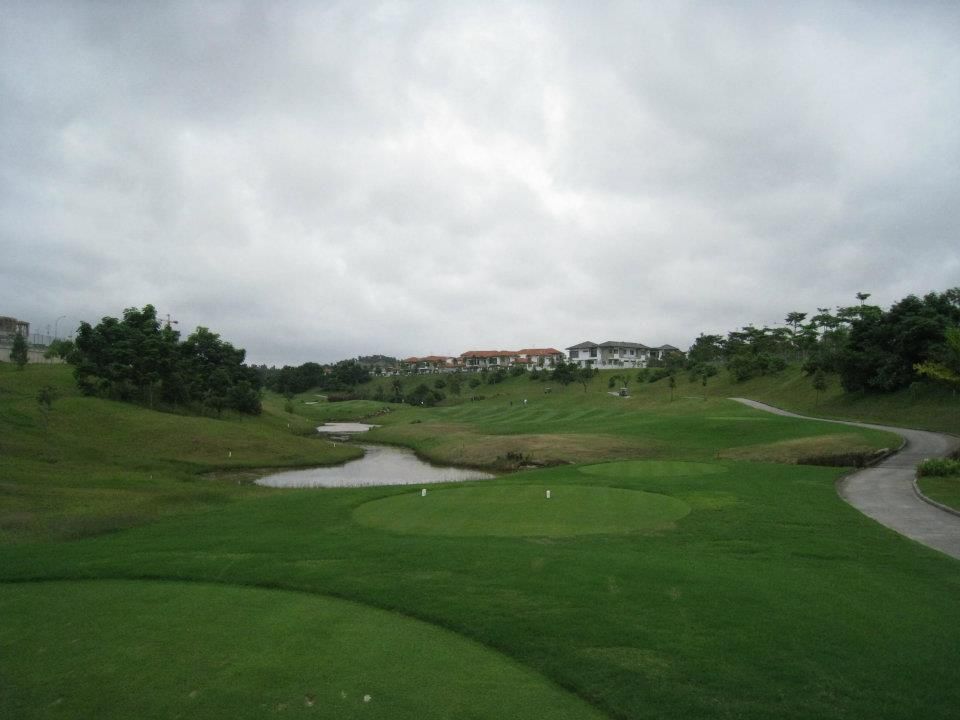 Price (1/5)
Again, I understand the prestige, and the need to draw more money from our Singaporean brethrens of clubs; so we were willing to fork out RM146 per person to play on the course. Never mind it's a weekday, off peak. Never mind that we had the Top Premier voucher discounts. Never mind that we were forced to take up caddies whom we did not want. It was all worth it, since this was KLGCC of the south, was it not? This was the Pearl of Johor, right?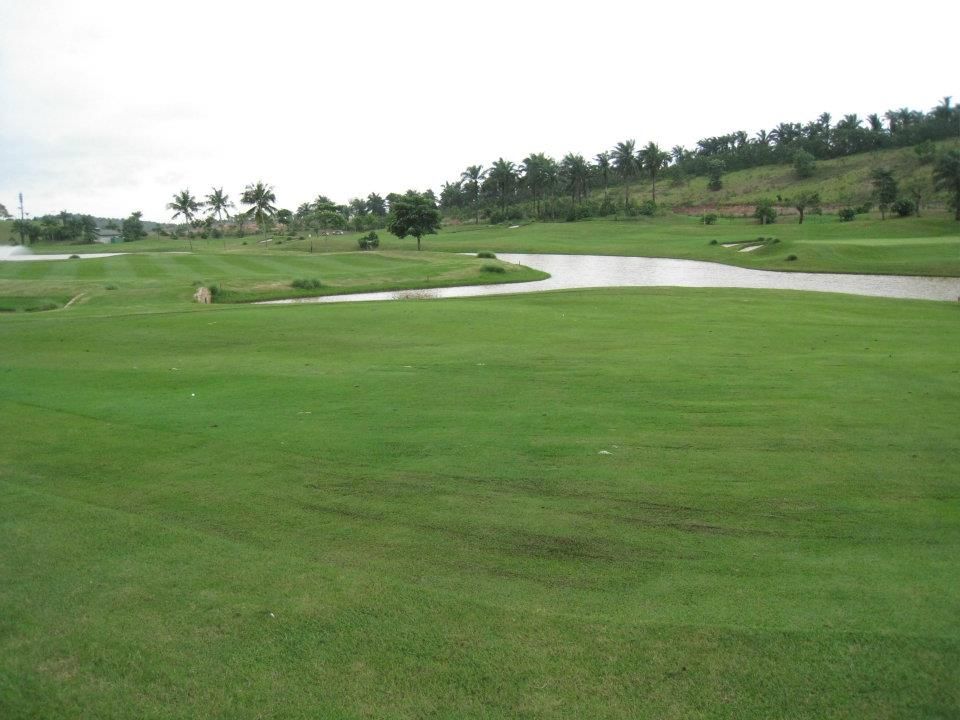 With that premise, you would straight away have a forebiding feeling that Horizon Hills, instead of soaring to greater heights and exceed all our lofty and admittedly at times, unrealistic expectations—oh how I wish I could have stated it—Horizon Hills instead descends into one of the most inglorious, most ignominious and most underwhelming experience that we ever had in a long long time. If you are in a hurry and you are not interested to read further, here's our verdict: Is Horizon Hills worth the money you pay for?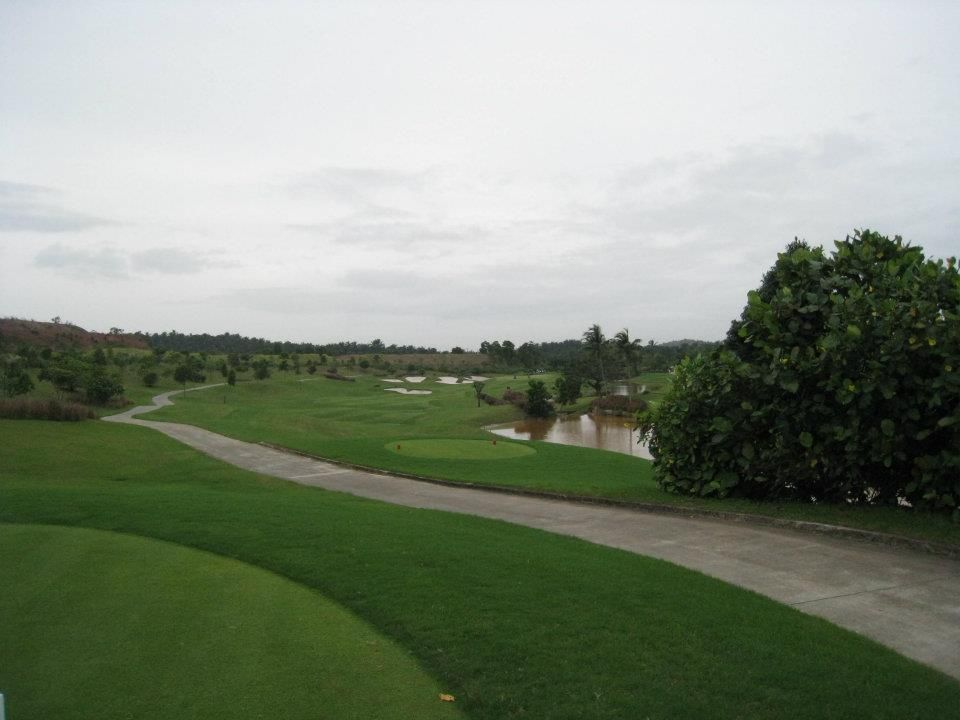 Yes it is, just like how it's worth every penny to pay RM1 million to eat dried cow shit bred specifically to ingest every sort of parasitical worms into your body, which will destroy your intestines through the most painful and excruciating death possible.
That's sarcasm. Truth is, simply: No.
First thoughts
It didn't start out too badly actually. From the second nine, when you stare out from an elevated tee with water on the right and a thin strip of fairway, you could just feel the stirring in your veins that you're going to have a good game. 'Could' being the key word, because I didn't, and proceeded to hack my drive way out into the water right before collapsing into a triple bogey start. I hate those starts. But I don't blame the course, it's simply my inability to get to any kind of comfortable start in golf.
The first impression of Horizon Hills was good, because like Bukit Jawi, from the club house, it offers a great vista of the journey you will undertake in the next four hours. Plus, the clubhouse looked as it it belonged to a James Bond flick, with expensive fittings and a state of the art design. It's a pity we are not reviewing golf clubhouse architecture, Horizon Hills, I'm sure you would be in the DAGTH status if so. Which makes me wonder, why in blue blazes was so much money spent on the club house? Why not put more into maintaining the golf course instead? It must have been a non-golfing senior management idiot that made that decision.
Service (3/5)
I am quite tempted to give it lower since the caddies we had were practically useless. I mean we ask for reads and they didn't get it right. They were friendly, yes, but unfortunately woefully underequipped for the price we paid for them. We didn't pay them to converse. And why oh why do caddies insist on flirting?? Are we that awesome looking with our six pack abs and bulging muscles? We paid them so they make us into golfing machines that would go all out to secure the testy win that will win us RM2!! Maybe we just didn't get the A grade caddies. Maybe we just looked like cheap Malaysians instead of high class Singaporeans who would tip them SGD40 instead of RM40.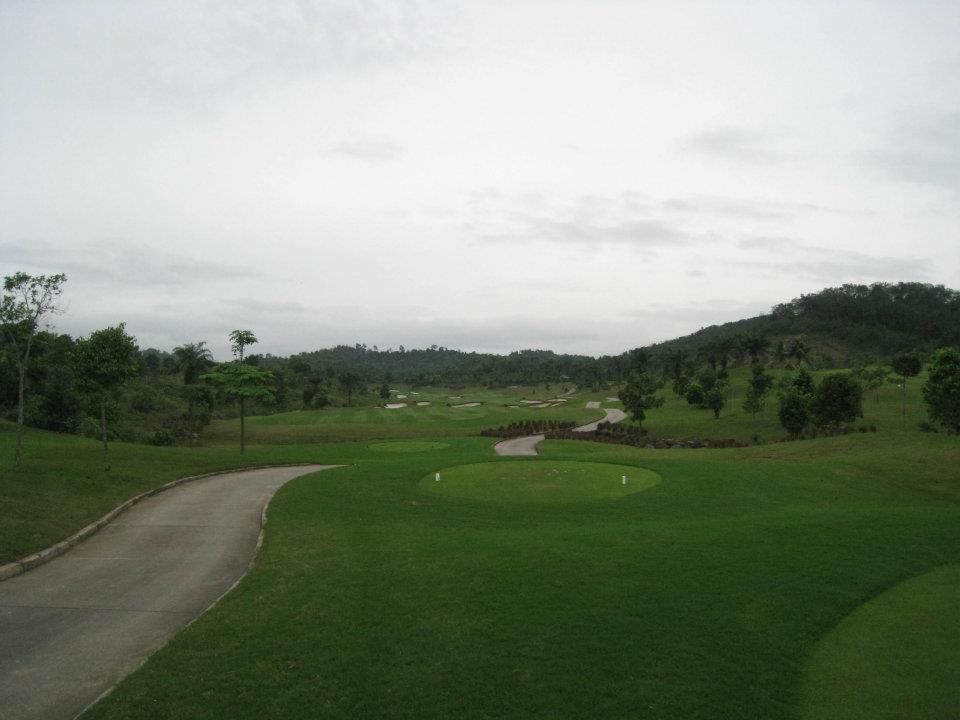 However, the reception lady, although somewhat grumpy, was quick and the lady was friendly, and got us course bound in no time. Plus, the golf bag handling guy was also understanding when we had a mix up with our bags at the end. So a mediocre 3/5.
Fairways (0/5)
And here's what the trouble starts. Horizon Hills, if you are going to look like a high class course, price like a high class course; why on earth does your fairway resemble the rearend of an African Babboon?? One word for Horizon Hills fairway on December 2011: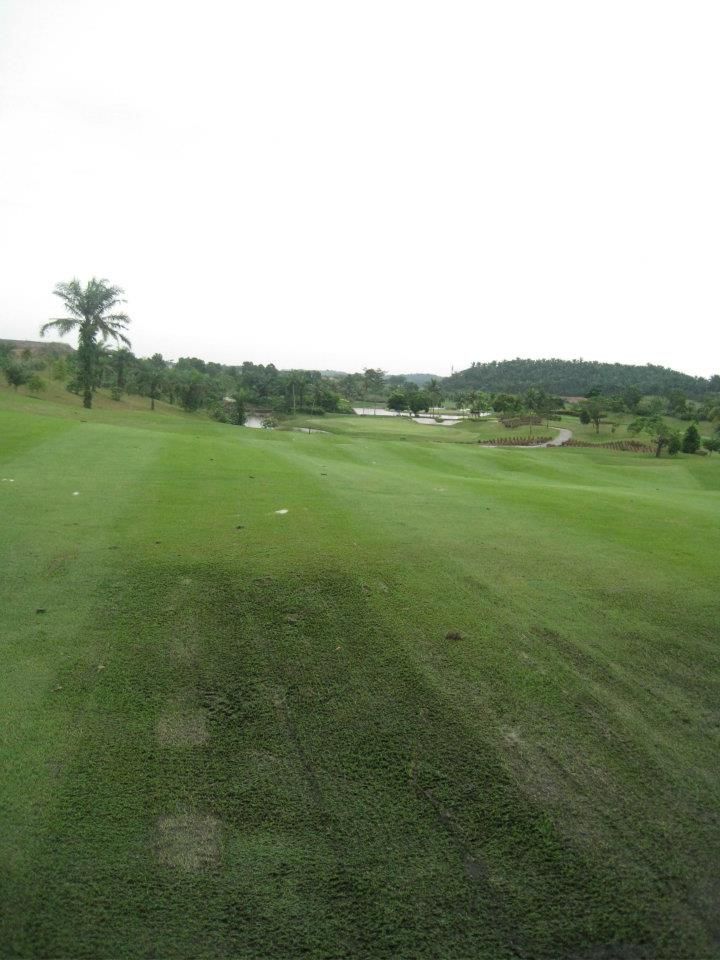 Awful.
2nd hole for instance, we saw track marks and mud all across the fairway so much so that we had to implement lift and clean…and it didn't even freaking rain the day before! Come on! I mean it's not all bad, as in Selesa Hills bad; but for a five-star course to have this kind of fairway is simply unacceptable. The maintenance guy should be dried out for this. It's like, if I was backpacking and stayed at a Rm10 per night hostel next to a whorehouse, I wouldn't complain too much about the bed bugs, the rats, the lizards on the ceiling and the occasional corpse in the closet: but imagine you went and paid for the Mandarin, or Hilton, and you get a bed that's only slightly more comfortable than a coffin; you'd sure to go barnacles, right? You'd complain! You'd not tolerate that you have cockroaches running around the bathroom!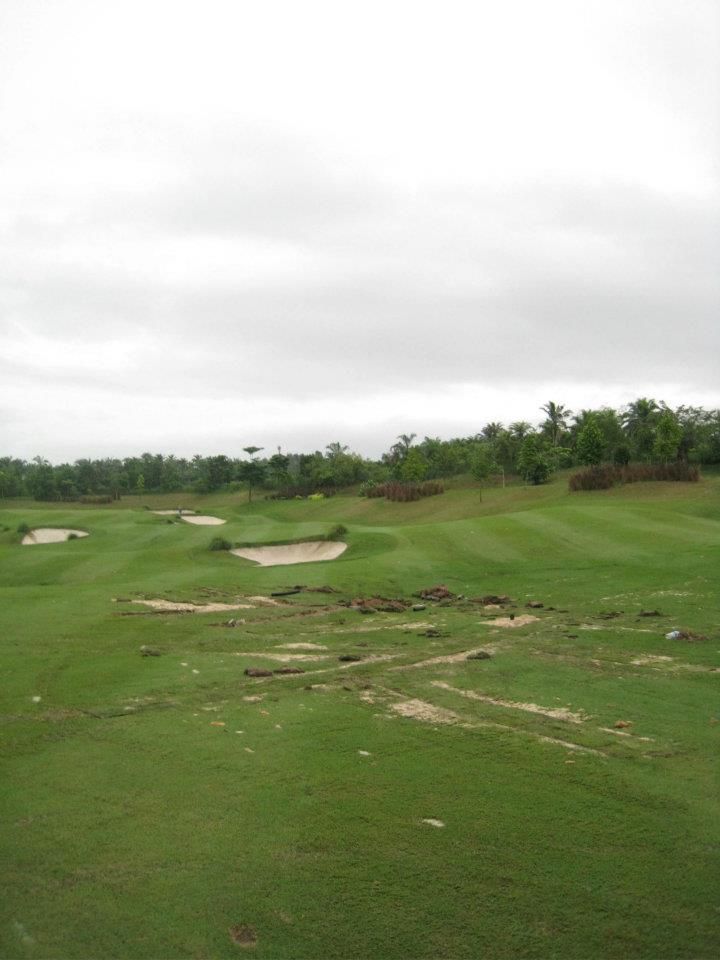 So why isn't anyone screaming foulplay over Horizon Hills? Charging the way they did and giving us an experience that we could as soon find in the football field behind my house, where the occasional rusted nails and used underwear can be found near the goal post?? And the gall of it all, was when the grumpy registration lady (to do her justice, I believe she was just completely clueless) proudly declared, when I gave my customary complain of 'wah, so expensive': "We are increasing all prices next year for Horizon Hills!"
You'd think this is based on actual studies of product development, but no, it's probably on the whim of some higher ups, who completes the above sentence with "Because I want to drive a new Audi A7 next year also!"
Huge huge, utter disappointment for Horizon Hills fairway and maintenance. They should have given a discount, an I-am-sorry voucher for having a course that has muddy fairways, thank you, come again.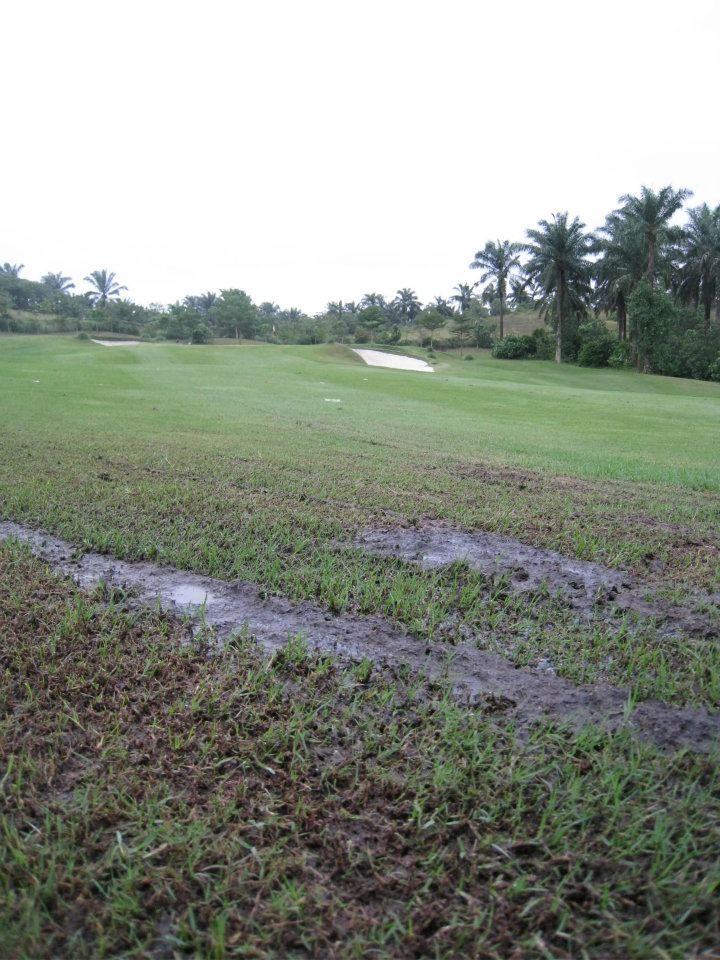 Greens (3/5)
The greens were thankfully in a reasonable shape. The speed was about 9 on the stimp but strangely played slower than that. But overall the roll was quite pure and the challenging contours and largeness of the greens created some good challenges reminiscent of KRTU. In fact, it boiled down to the final green for my team, when my team mate's game exploded into undetectable pieces and I struggled to a bogey. With all the stakes on the line, my two opponents were already 3 on. Both lag putted their 4th to 3 and 4 feet respectively and I was about to throw in the towel.
But the blessed contours of Horizon Hills green first made the initial putt veer right, and the 3 footer knee knocker molested the edge of the cup before turning away…giving my team the win! Due to unforced errors. But the green was quite demanding, with lots of precision lags, and 3-4 footers of non-gimmes. Lots of par opportunities slip by but we were generally pleased with the development of the greens.
Rough (3/5)
One of the greatest challenges and aspects of Horizon Hills isn't the greens or the cowdung fairway; it would be the rough and bunkers. It was just a torture to play on. I was driving the ball as well as I could ever drive, but very often, I either run through the fairway or it lands just off the fairway. There's no first, second cut. Just fairway, and deep deep rough. I had to literally play the ball off the heel of my right, and power a hook to get it out of the stuff. It was no joke, really, I nearly snapped my wrist at one point to muscle the ball throught the thick stuff. This was the pitbull grass, so much feared and revered through Saujana, that has somehow ended up here.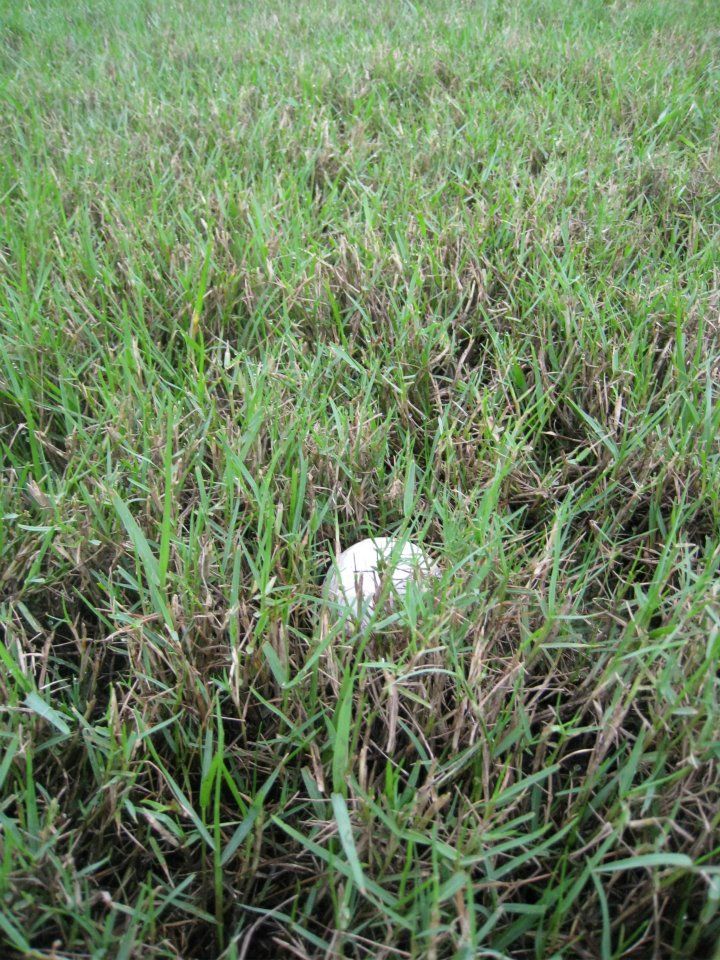 And that wasn't even the end of it: Bunkers. EVERYWHRE. This course had more bunkers than the Omaha Beach did on D-Day. Believe me, these were not the nampy pampy bunkers we get back at KL areas, where you could put of it. These were SARLAC bunkers, where once you get in, you ain't ever going to get out without luck and skill. My triple bogeys aside from the first hole were bunker experiences. At one hole, my drive again flew the fairway and into squishy rough next to the buggy track. I powered my 9 iron through on line and fell literally 1 meter short in flight and rolled back into one of the hungry SARLAC bunkers. Third shot into the edge. Fourth shot didn't come out. Shot five came out only a little. It was crazy to see a guy hacking dirt into the green but no ball, it was that difficult.
The reason why the score isn't high is the lack of maintenance on the rough. At some parts they were muddy beyond belief. They were unplayable and we had to take free drops in dry areas. Again, it's such a pity because Horizon Hills could  have offered an amazing and memorable experience, but instead fizzled out like a moon traveler firework.
Aesthetics (2/5)
Again, I would love to say Horizon Hills is an exciting, beautiful golf course and that everyone that comes here would be overawed. I am a firm believer that the golfing experience must take golfers out of the current mundane world we all live in, and transport them into 4 hours of forgetful bliss from work or any reminder of work. That's why Datai, not just being a jungle course, but a course that provides that escapism, can score so high.
Horizon Hills tries. The first nine (back nine) was reasonable enough with good mixture of nature and functional golf. But from hole 12 onwards, we could just sense the construction going around the course. Make the turn and all the illusions of escapism is gone. The sky line of Horizon Hills is reprehensible. Houses being built by the course, in hole 1, the constant banging and shouting of workers and machinery at work as you putt on the first green. And from there, every hole, almost, houses staring vigil at us hacking up the beloved game of golf. It descended from a KLGCC wannabe to a Bukit Jalil replica. And we don't like it one bit. Especially since it exthorted money from us the way it did.
Disappointing backdrop to an otherwise reasonable looking course. But really, the house development simply takes away the experience of golfing. It's just not great to survey the hole from the tee box and have the caddie say, "Target the crane." As in construction crane, not the nature bird-crane, you know.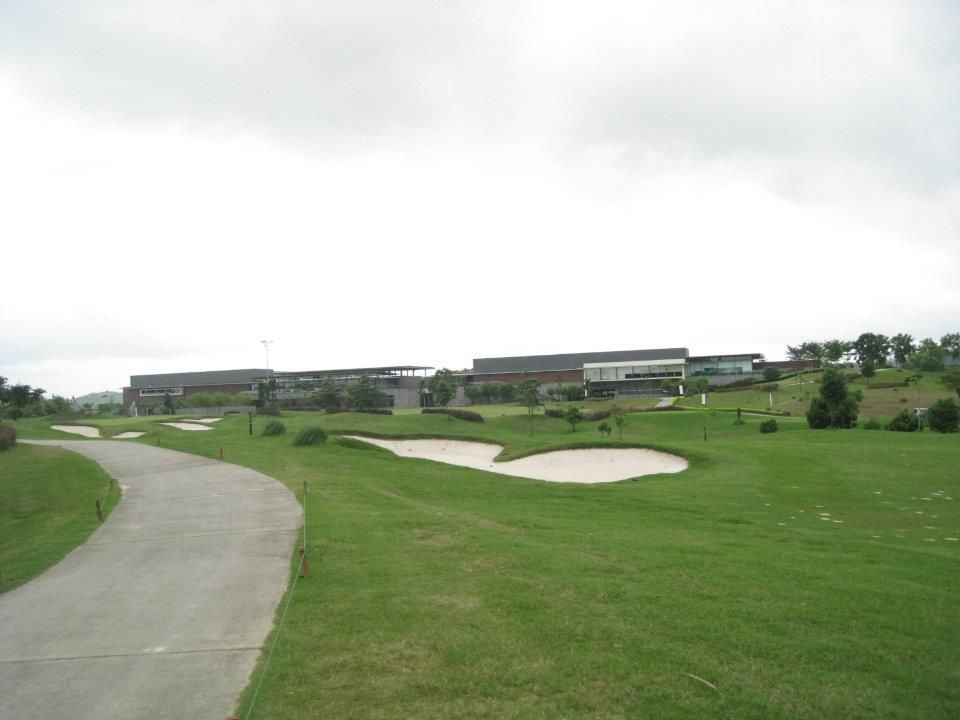 Fun Factor (3/5)
Horizon Hills do have some fun holes. Be on your A-Game to tackle the par 5s, expecially the closing and snaking 18th. It has to be the grandest and toughest hole in the entire course. There are islands of landing spots meandering across the lake. The first one on the left, and the second landing spot to the right has a rivulet cutting across, requiring a 230 meter carry, according to the caddy. I borrowed my friend's R11, and whiplash it across, as did my other friend. Unfortunately, those were our test balls, having already played safe to tee off at the nearest landing spot. We all proceeded to completely unwind in this par 5, and everyone ended up in the water somehow or another.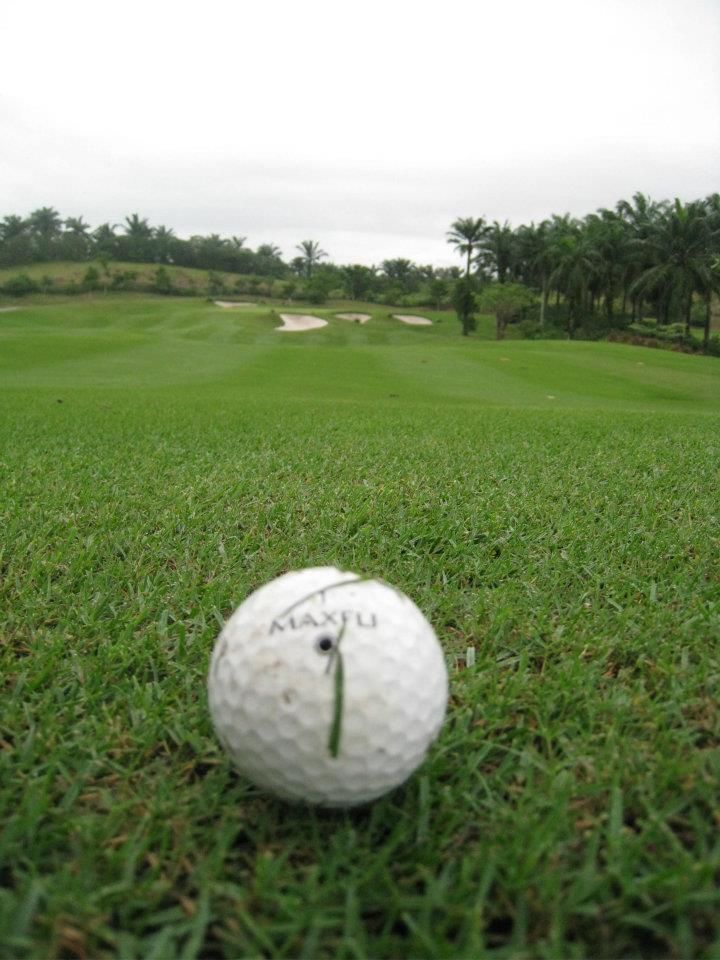 The fun factor is always there when you have two or more flights and friends just jabbing at each other. There's a lot of thrash talking going on which I like, and even though the stakes weren't big, our pride was more than enough for us to become ultra competitive.
Horizon Hills is very contoured,  with the water easier to navigate compared to the awesome Legends Golf Course with all the mass of water around the course. Horizon's main defence lies in the Sarlac Bunkers. Every bunker is a freaking adventure, and many of our challenges today and assault on the greens were rudely halted by one of the sarlac bunkers dotting the entire course and messing around with our minds. I tried my SW, my Approach wedge, my 60 degree, my chipping 40 degree and still struggled to get anything out of these bunkers. Thankfully I didn't spend a lot of time in it…the time I spent in there was severely penalized, unfortunately. Some of my other friends had a better time however, including one guy who had a miracle bunker out to 1 feet on a crucial hole.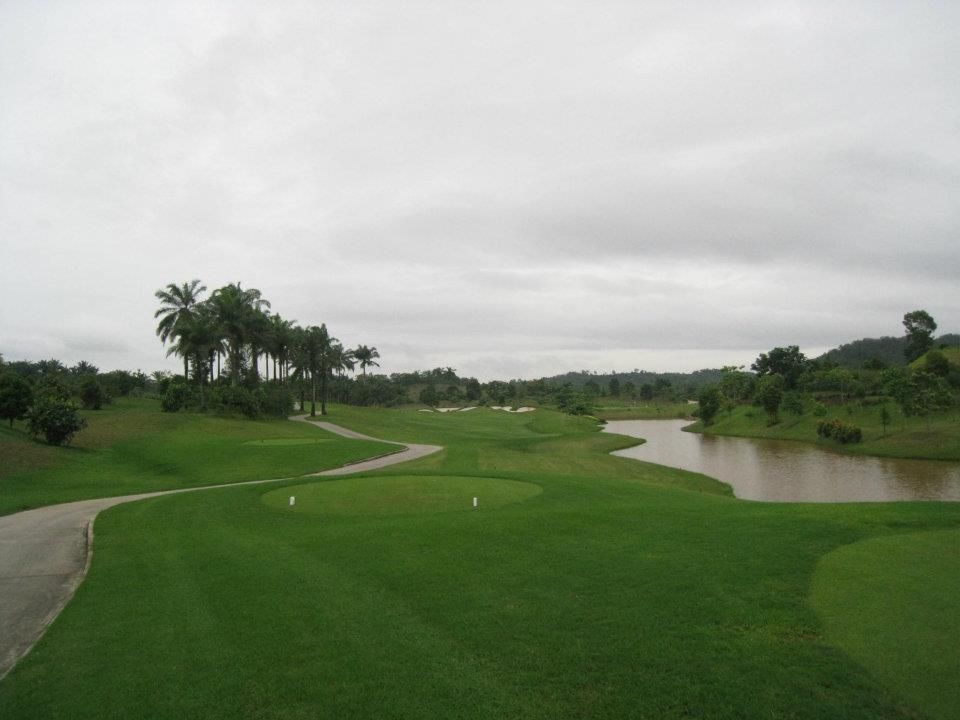 It was a fun time indeed, and the weather held up it's end of the bargain by only raining after our game. The only drawback was just the fairway condition, which is absolutely inexcusable for a course of this magnitude.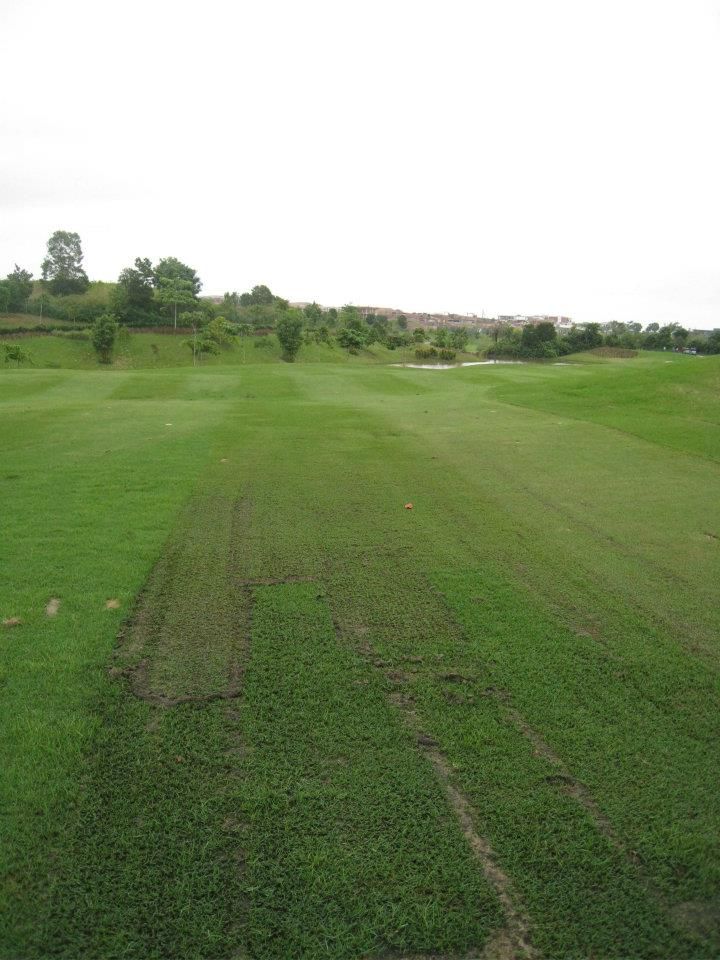 Conclusion
I will struggle to outright recommend this course to Gilagolfers. Simply due to the price. If you can tag this down to RM100 or below for an offpeak rate, then it would be reasonable. But at RM150 almost, adding the caddie tips, and with no food voucher? You can play Orchard 5 times for this amount and you're likely going to have more fun there! So unless they discount their prices, or give pristine fairways and not the cowdung they have pieced together so far, I'd say stay away from Horizon Hills, it ain't worth your money or time. Better go over to Johor Premium Outlet to shop than to waste your hard-earned money on a course that is obviously living off its reputation, but doing nothing to fulfil the same reputation.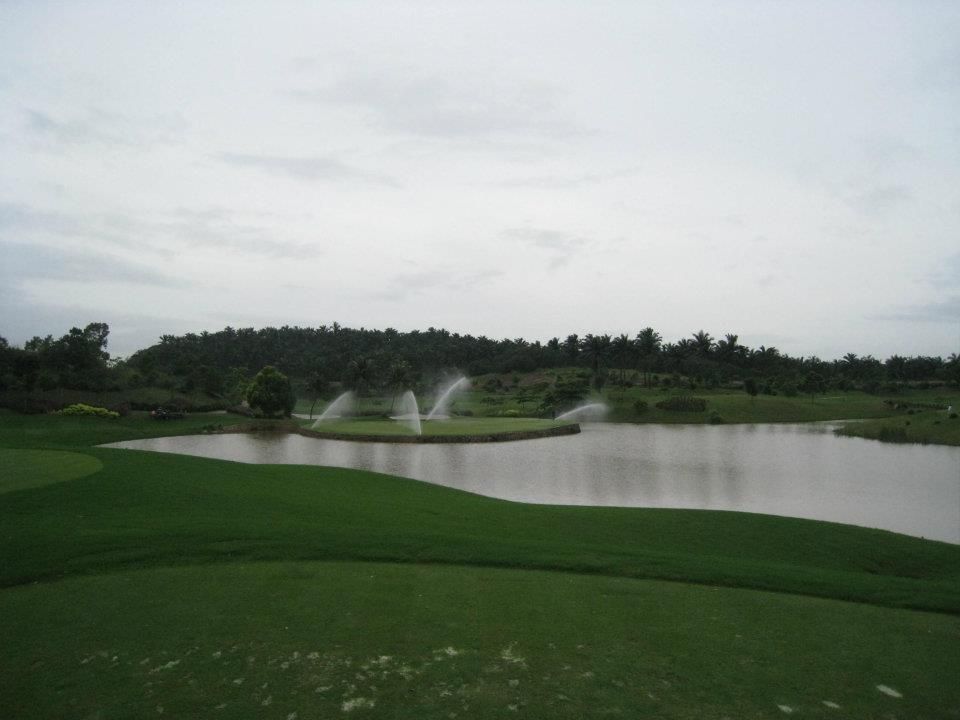 The good:Famed golf course, challenging rough and bunkers; countours on greens and fairways offers a very unique gameplay; good looking clubhouse and reasonable service.
The bad: Completely overpriced; the fairways are one of the worst I've seen, and this includes fairways on UPM, which doubles up for cows to eat from and shit in; caddie services have no value other than looking like they think they are pretty (they are NOT); travel remains a drag; aestethically more of a Bukit Jalil than a KLGCC.
The skinny: 17 of 40 divots (42.5%). It's unbelievable that Horizon Hills can only muster up a sorry score the same as these hall of famers: UPM, Kulim, Harvard, Cameron Highlands. Like Glenmarie, Horizon Hills fails to impress and is one of this years' most disappointing golf course and golf experience. In fact, Daiman, Palm Resort, Palm Villa are all more recommended than this orverpriced and overhype piece of…course. It's a no-go as far as I'm concerned, but the potential is there if they buck up on their service and maintenance. Maybe try again in dry season next year and don't expect so much. Don't expect caviar and lobster termidor, just burger and fries, and you'll be ok then.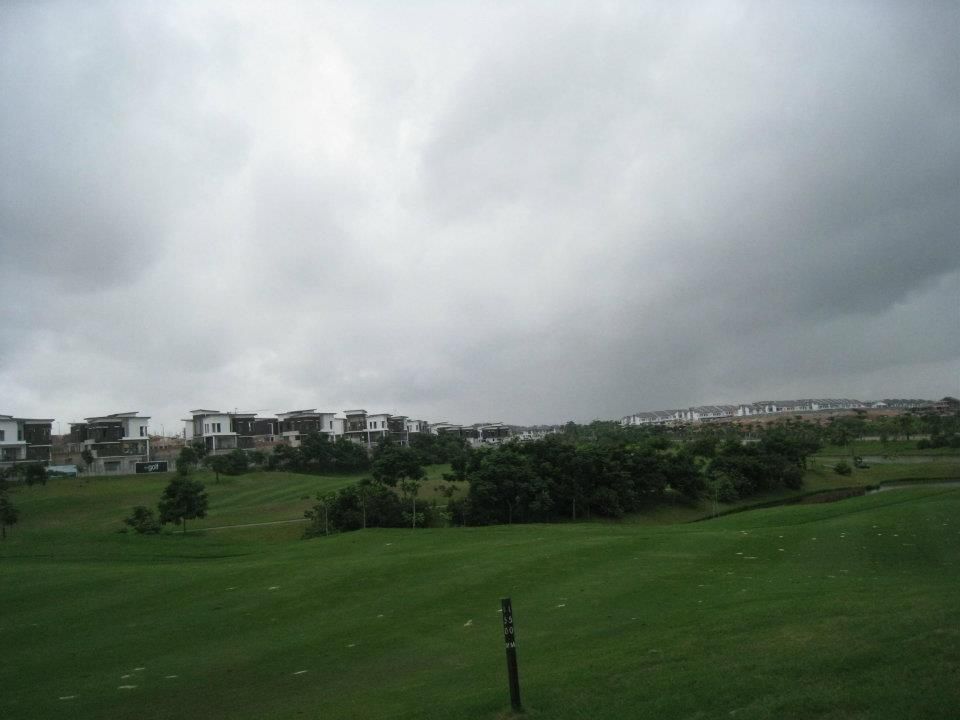 Horizon Hills GCC ScoreCard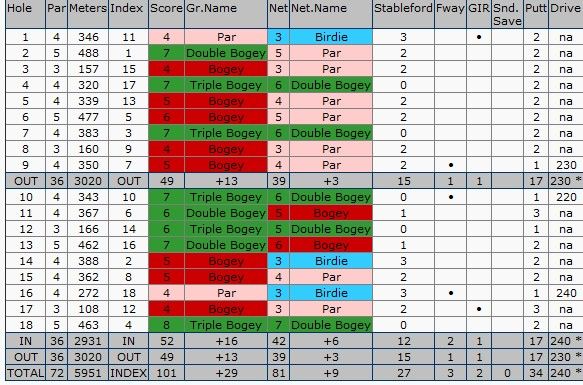 Horizon Hills Details
Address: No. 1 Jalan Eka, Horizon Hills, 79100 Nusajaya, Johor Darul Takzim
Contact: +607-2323166
Fax: +607-2323919
Website: http://www.hhgcc.com.my
Email: general@hhgcc.com.my