Introduction
In Malaysia, golf has apparently become so popular that universities have their own golf clubs (UPM, UniTen, UKM). We understand the need for this, since students, being naturally attention deficient, require as much distractions as possible from turning into rioters and revolutionaries who organize protests in the streets. Trust me, I know. I was a student before and I fantasize about marching down the street with a band of hooligans shouting slogans we don't understand. It's cool to be part of a revolution.
The peculiarity of golf also extends to our police and air force, the former having Titwangsa Golf Club and the royal air force having KRTU, which stands for Kelab Rekreasi Tentera Udara; i.e Air Force Recreational Club.
It kinda reminded me of when Golf was banned in England when it was being too much of a distraction for the queen's army. Our Malaysian army is definitely not impressing anyone and will probably lose even to the Micapulga Pygmies of Southern Papua New Guinea in a face to face battle; but I'll bet the farm that our air force can kick those pygmies' butt when it comes to golf. Bring it on!!
Travel (1/5)
Any traveling that requires transiting through a trunk road through two kampungs on a single lane into a military base gets a 0 for us. Sure it's not that far away, but trust me, when the jam starts, you feel like chewing your steering wheel into pieces. The road is riddled with potholes and when you do find yourself in the air base, you need to leave your IC at the checkpoint. After all, this is an air base, even though the only things I see flying here were a bunch of crows at the first tee. You can also employ the 'ACCESS HAND METHOD'. When you come near the checkpoint, go faster and raise your hand as if to acknowledge that you are a member of the air force. I did just that and they raised the barricade and gave me back the 'ACCESS HAND METHOD RESPONSE', no matter that I was dressed in my golf attire and looked every bit the chinaman I am. This method is a failsafe way to get into any place in Malaysia, including the prime minister's office (I haven't tried that yet, but go ahead and it will work). Aside from that, traveling is a fat 0 for us because more than the distance, we hate, absolutely hate pothole filled, one lane trunk roads with traffic jam.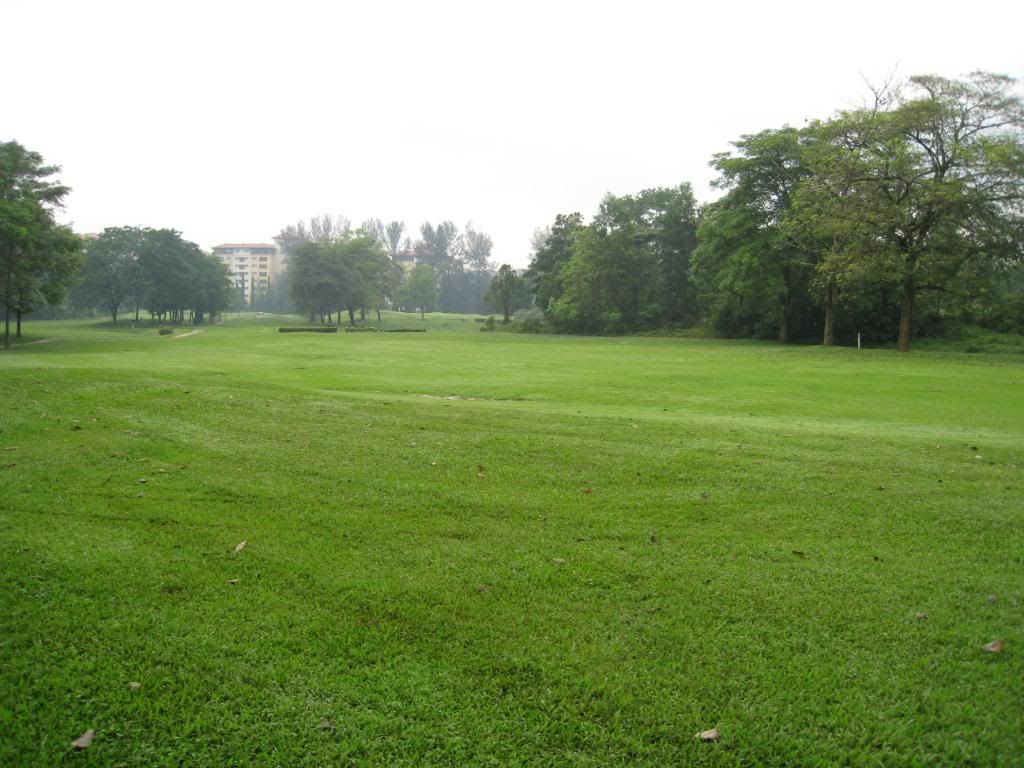 If you insist, here's the directions and map. The map is not even specific, it's to another company. But you get the idea: TUDM is where KRTU is, so head to TUDM!
To get to KRTU, head to the old Subang Airport, also known as Sultan Abdul Aziz Shah Airport, but nobody cares anyway. It's just Subang airport to everyone. If you don't know how to get to Subang airport, you can either use the federal highway and head to Subang, Shah Alam and follow the nice airport sign (it has an aeroplane symbol on it). If coming from NKVE, turn off at the Subang toll, stay right and follow the aeroplance symbol sign.
You'll hit the big subang airport roundabout. Take a 12 and now drive all the way, following signs to Kampung Baru Subang, Monterez. You'll be on that accursed trunk road, with the runway on the left. At the Traffic lights, turn left, following the blue TUDM sign and you will be in Kampung Seri Subang. You will hit a T junction where right will lead you to Monterez, and left will lead you to TUDM. Go for TUDM (although after this review, you'll wish you went right instead). Go all the way to the end of the road you you will be in the air force base. Once inside (either by giving your IC or hand access method), drive following the road and you'll soon see KRTU in front of you.
Price (1/5)
On a weekday, I forked out RM88 to play in KRTU. I was walk in, while others paid about RM35. RM88 is only RM2 shy of playing in Palm garden using AGN. Why am I subjecting myself to such humiliation to pay so much on a course that looks like my grandma's backyard?
RM88 is overpriced for a weekday walkin. I mean, I know they need to upgrade their planes, but what in heavens name do you think you can achieve charging citizens of this beloved country (whose taxes pays for this course anyway) RM88? I don't agree with the pricing, they should slash it to RM60 or below, like UPM. Face it, ain't nobody is going to dream of playing in KRTU if they had a chance.
First thoughts
The moment I drove up, one thought came to my mind. It looks an awful lot like UPM. And KRPM. Both these courses are crap hard to play on. These are courses that are not pretty, like a 200 pound woman with moustache who is bent on pounding you into submission. UPM's saving grace was the green; KRPM saving grace was the maintenance and the layout. We have yet to see what saves KRTU.
I was actually pretty confident coming into this game. I just blistered Kinrara with an 83 (which could have been a whole lot better if I didn't screw up a couple of putts), and I thought I should be able to navigate fairly well around this KRTU course, although I know about its OB palm oil trees and undulating greens. I was hitting my irons good enough to clock in 87 in my previous 3 rounds. I've finally got golf all figured out. It's an easy game. Time to break 80 and turn pro.
Ah, the demise of illusions. Golf mercilessly annihilates these wonderful, beautiful illusions.
Service (2/5)
The ladies at the counters took so long to sort our 3 flights out, I mentioned to her that I was going to grow a beard. Which took considerable time, since it's faster for a snail to learn how to dance cha-cha than for a Chinese to grow a beard.We were getting a little peeved at the service, but everything was forgiven when I ate the nasi lemak at the cafeteria. It's one of the best nasi lemak in the world. They gave us salted fish, a big one and you can add sambal as well. Mama mia!
Surprisingly, I expected the club house to be some kind of patched hut made out of cow dung, but these air force boys apparently has a whole lot more class than those fellows at UPM, Selesa Hills and Kundang Lakes. The shower room was quite nice and well kept, and the club house definitely was like a normal golf club house…which makes me wonder what these fly boys are doing with our tax money…
Officer: Shall we spend our 2008 budget on the newly developed guided missile for our air craft?
Commanding Officer: Nah, let's go with a larger pro shop and more shower units for our golfers, hey?
Officer & Commanding Officer: Malaysia Boleh! (which translates, Malaysia Can!)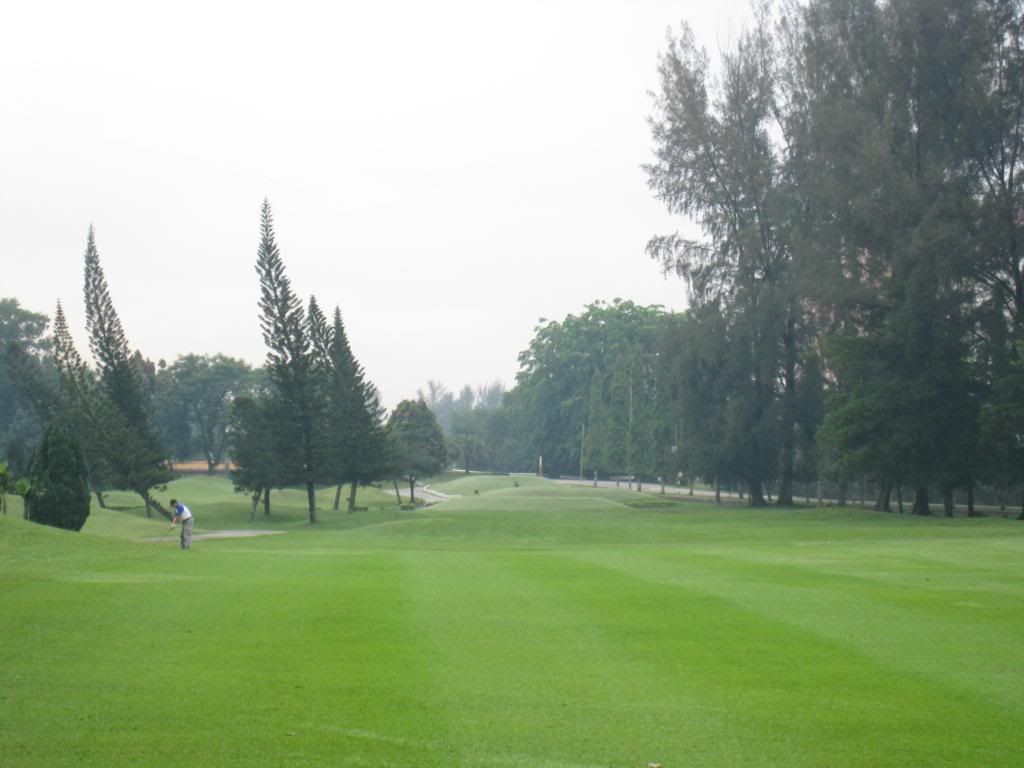 Fairways (1/5)
We caught KRTU after a heavy downpour and man, it shows. You know some clubs can really hold well to rain (Tiara Melaka comes to mind) and some just completely fails the GilaGolf Rain Test, which consist of having God pour out tons and tons of rain down on the tested course. This is the difference between KRPM and KRTU. While KRPM retained some semblance of pride, KRTU is degenerated into one big mushy piece of crap. The fairways were completely submerged and in one hole, where thankfully my drive landed on dry land, the grass was so bare I thought I was playing off a gigantic divot. I rarely want to blame the course for playing like a dingbat drunk with JDs, but when the rain came beating down on us on hole 15th, I kinda knew this wasn't going to be the day I turn pro.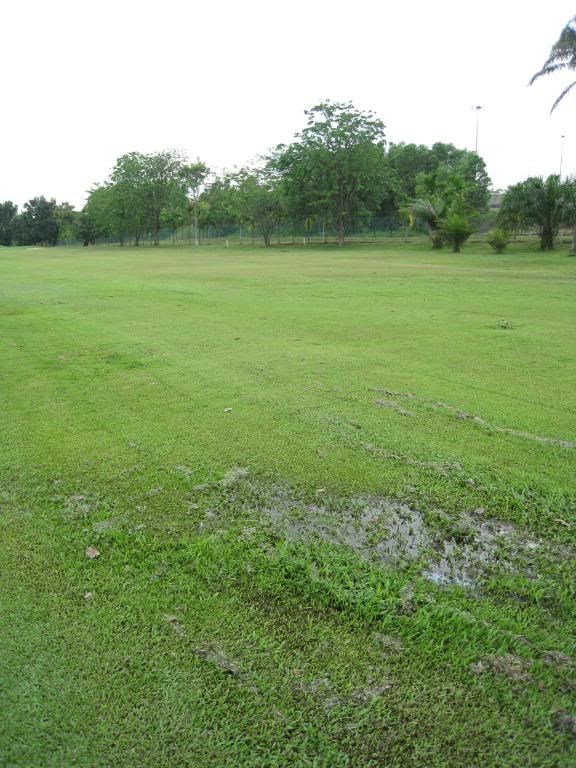 Greens (3/5)
One of the features of KRTU are the extreme undulation of the greens. They make putting akin to pulling out your fingernails with a clamp. And chipping is like sitting on top of a thousand rusted nails heated with acid. One hole, I was just off the green and, level with the pin, and chipped almost 90 degrees from the pin. Not enough. It caught the slope and rolled down, down and off the green.
We kinda liked it. Not that we're sadists, but it makes reading the greens a lot of fun, a lot of challenge. Plus, watching Augusta this weekend, we can kinda pretend we're putting on Augusta a bit. However, as one of my flightmate put simply: The closest resemblance to Augusta we can play at our level is AlorStar…and that too requires an inhuman drive up north.
The greens weren't in super shape; the rain has softened it considerably and it wasn't very well kept. But you can't beat the undulations, right, so if there's EVER going to be a chance we ever come back here, it would be for the greens.
Rough (2/5)
The rough is definitely not easy. And it's a killer. My playing partner drove well on the 10th, then hit a good second shot that veered just slightly to the right. Bye bye. It landed inside a giant bush. I completely made a mess out of my par 4s and par 5s, escalating my strokes more and more, trying to muscle my way out of the rough. Forget it. Once in the rough, pick a spot and take your medicine. The narrow alleyways they call fairways don't help either. I avoided water mostly and just hit the bunker once, but it was enough to know it wasn't well maintained. Long grass also swallowed up our balls, and once your ball is plugged in the rough, it's plugged. Your balls are mashed potatoes. Golfballs, that is. I almost snapped my 9 iron a'la Tiger in last year's Augusta when I hit my second on the 9th and my shaft collided with a coconut tree. What's a coconut tree doing there? Also I strained my back when I leapt across a stream searching for my ball. I gotta remind myself my bones ain't young anymore. I blame it on the rough for that.
Aesthetics (3/5)
Strange as it may sound, KRTU is actually quite a picturesque course. Sure, we've got like a million palm oil trees all round the course, but I'll grant it one thing. They make par 3s very well, especially the picturesque 7th, playing to an island green like TPC Sawgrass 17th. I think you probably know by now that we make random references to famous courses and holes as if we've played them before. Of course we have, in our mind. I also beat Tiger 3 and 1 in my mind and dated Diane Lane before. Any more questions?
Back to aesthetics: Especially on the second nine, the undulation provides some stunning tee shots, such as the intimidating 10th. I think in this sense it reminded me of UPM. Whether it deserves another shot, well, it would take a lot more than pretty par 3s to drag us back, I assure you.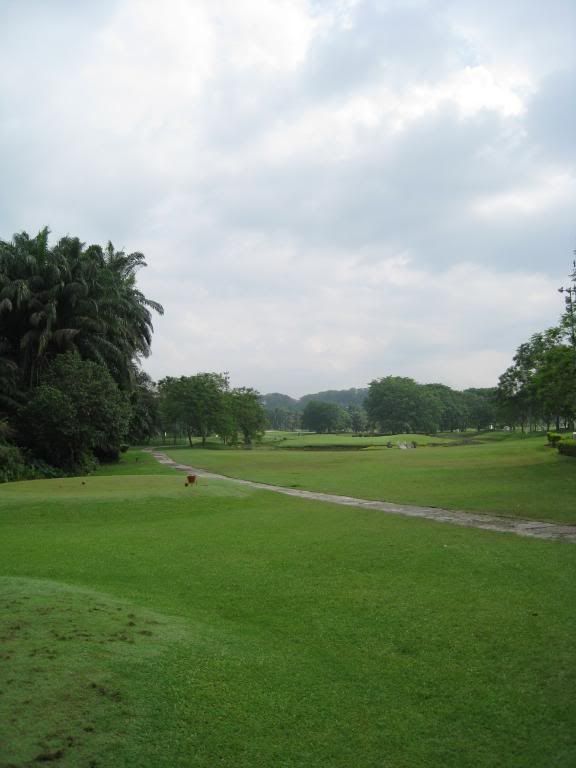 Fun Factor (2/5)
Not to say anything about my 9-iron vs tree trunk episode, or my strained back, I don't think we had a whole load of fun in KRTU. The putts brought some excitement back, but with the rain, and with the course conditions, especially the poor shape of the fairways, it's difficult to remain positive. My game was affected by this, to be sure, but also, my deciding to play like a Andulician goatherd didn't serve the cause. I had some super chances to nail my score down, but I duffed my 7, duffed my 6, duffed my 22 degrees. I'd like to think the soggy ground played a part, but my swing was just too steep and completely dug into the soft ground. I could have changed my method, but heck, who do you think I am? I'm just a hacker that keeps doing the same thing expecting a different result, otherwise known as being insane. Also, the cross wind and rain that poured down at 17th brought us an imaginary Carnoustie, another meaningless reference. And we obviously have imaginary games to go with Carnoustie.
I managed, however to par all my par 3 holes, something I haven't done in a long while. That was the only saving grace for me.
Conclusion
I wish I played better than my 95, my worst score since Berjaya Hills in December, so that when I make conclusions, you wouldn't think I'm whining like a sore loser. The plain fact is that I sucked. I made way too many mistakes on this course. I let 83 get into my head. I thought golf was tamed, figured out, but just when you think that, this game kills you off. Why do we still subject our egos to such a mauling like this??!? Golf is so demoralizing, isn't it? It really makes a monkey out of us.
The good: The greens. KRTU greens are definitely worth trying out, not the maintenance but for the different undulations; great great Nasi Lemak; interesting looking par 3s.
The bad: Travel is an experience reserved for the mad people; fairways are muddy and wet and fails the GilaGolf rain test (conducted by God); service is very third world; course is a little repetitve after a while; not easy for the everyday hacker due to length and massive amounts of OBs.
The skinny: 15 of 40 divots (37.5%). We won't recommend KRTU, but neither are we discounting it out forever. The greens are still good enough to visit, as are the Par 3s. But find another course if you want a fun round, this is not a course you want to bring a crooked swing to. Or a sprained back.
KRTU Score Card

KRTU Information
Address:
Pengkalan Udara TUDM, Subang, 40000 Shah Alam, Selangor.
Contact: +603-78467170
Fax: +603-78464415