Introduction
I used to work around Sri Kembangan area, and every morning I'd drive on the highway looking over the mining lake at the green grass of Mines Resort and Golf Club, and often wondered when will I ever make enough cash per month to actually go and play there, since I heard that the green fees are exorbitant. Now there are a few reasons to that:
1)      Tiger Woods played there before for the World Cup Golf 1999. Lots of pictures of him around the club. So many in fact, I think the local Church of Tiger Woods hold their mass here and light candles and sing songs for him. Creepy. I don't think he's coming back, Church of Tiger Woods.
2)      Robert Trent Jones designed that course. If you don't know who he is, well, be like me and Wiki him. All golfers should have some knowledge of these designers so at least we can pretend that we know more about the game than just destroying golf courses.
3)      By pricing it astronomically, it will discourage world class hacks like this writer to decapitate the course, therefore, saving millions on course maintenance fees. Seems like a sound business model, except the only players on a typical weekday on that course are the native gerbils and the occasional squirrel.
The last I know about the green fee was about RM400 per person. Now I believe this is a myth. I don't know how anyone would be psycho enough to fork 400 bucks to pay for 18 holes, unless it's St Andrews, Pebble Beach, Augusta or TPC Sawgrass. Definitely not me. I don't think any of you reading this article as well, unless you earn in USD. In which case, maybe you can donate some cash to me for me to continue reviewing courses?
How I got there? I suddenly I found myself there, invited for a closed tournament to raise charity. Since I didn't need to cough up the dough, I was more than willing to take a look at the mythical Mines Resort and Golf Club.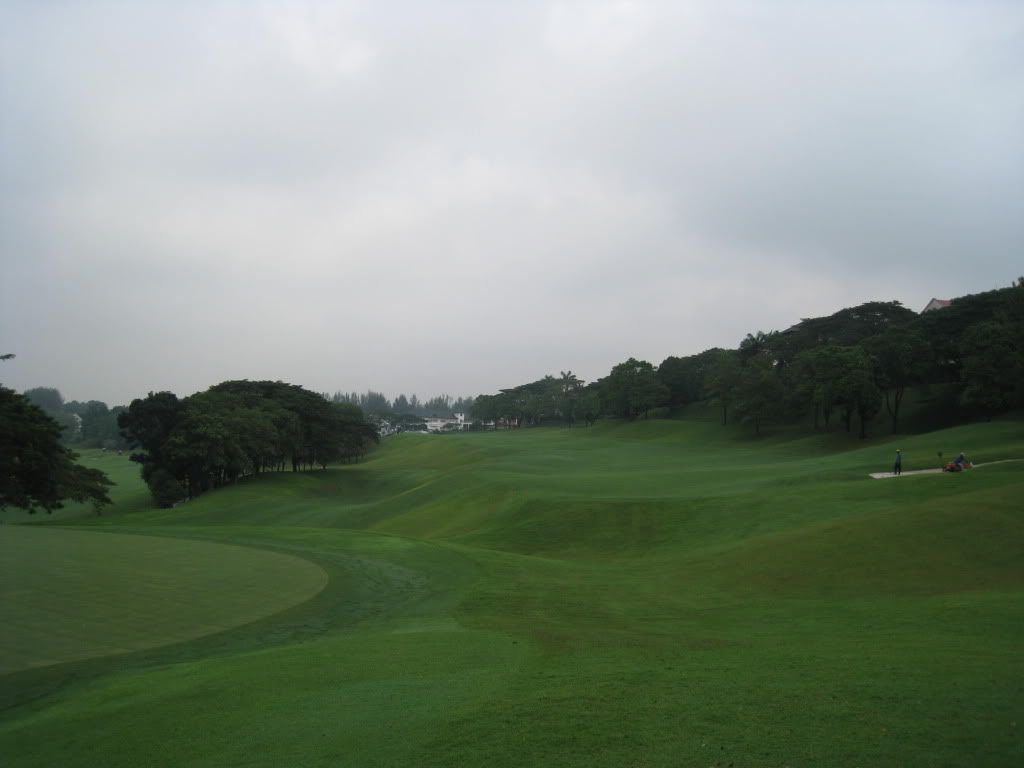 Travel (3/5)
You basically want to get to the Palace of the Golden Horses in Mines. To get there, there are 2 good ways to get there: from the North South highway and from the Bukit Jalil highway.
1)      North-South: Get to the North South highway. For gila readers, you should be as familiar with this highway as you are familiar with your own mother. Serious. This is the gateway to all your golfing paradise. Once on the highway, keep left, you want to turn up the mines flyover before the toll. Look for signs on the left to the Palace of the Golden Horses. By the way, the this is a hotel, not some kind of massage parlour as the name might suggest. Follow the turnoff and you'll end up in a mini roundabout. Take a 3 o'clock and keep left. You DON'T want to turn down to the Sg Besi Highway again or you'll have a first hand experience of the brainless way Malaysian roads are made, with the only U-turn 50 kilometres away. Take a left instead and you'll see the hotel on the right. Just follow along the road and you'll eventually reach Mines Resort and Golf.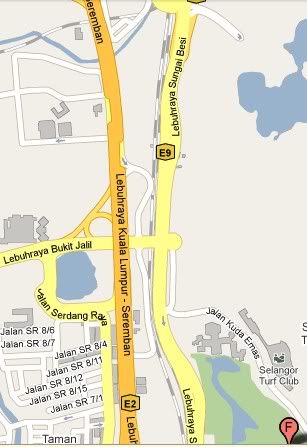 2)      The Bukit Jalil highway: Take the LDP from PJ heading towards Sunway. Pass the Sunway toll, head straight, go by Kinrara and Bukit Jalil all the way. You'll see Astro HQ on the left and hit the mini roundabout we spoke about.
Along the way, don't be distracted with those houses that look like clubhouses. These are actually private residence, no doubt put there with the express purpose to make us mid-class citizens feel bad about our little terrace homes. I'd like to tee up a driver right at their windows.
Price(0/5)
Before we even start to talk about the course, the myth of RM400 green fees, unfortunately has not been dispelled. As mentioned, I had a free pass that day and after the game, I was just too darn tired to go up to the counter and ask for pricing. All I know was that a member had to bring you in, and you still had to donate a kidney to play here. If someone does confirm that mines costs RM400 for green fees, we're going to dip it down to negative. As such, we're willing to be as unbiased as possible and give it just 0. A positive 0, based on unfounded rumours, just like all the articles in our Star Newspaper and New Straits Times. This is what journalist call, creative integrity.
First thoughts
For the price you pay, you have certain expectations. Face it, that's how life is. You pay RM10k for a Proton Tiara, you'd perceive it as a piece of junk, which it is. 200K for a BMW, you expect it to perform. If that 200K BMW performs like a junk, you get pissed off. If that Tiara performs like a junk, you're glad it's performing at all. Actually, 10K will be too much to pay for the Tiara.
Bear in mind, at RM400 green fees (again, stand to be corrected), you want something mind blowing. Something that takes Saujana and Tropicana and KGNS and spit on them. Something that ranks up there with Pebble Beach or at least gives you an indication that you are some Saudi oil magnate coming to play. You are the king, it has to be something that's so darn special, you want to take some grass with you, some sand from the bunker and preserve it for your children.
So it was rather strange, standing on the 13th tee (we had a shotgun start) and seeing the grass is just grass, the sand is just sand. In other words: what the heck is the big deal??
Service (3/5)
We had 2 caddies for our flight. Unfortunately, I always seem to end up with the apprentice. The guy wasn't that bad (not in looks, I mean in reading the greens), but wasn't extremely good as well, unlike the other guy hanging out with the other twosome in the other buggy. He read the first green well and I promptly sunk a par putt to start things off. Things began to derail from the 18th (my 5th hole) onwards, when I sunk in a 10. In a tournament, a 10 means certain death. I mean 10! What the heck! Although that's probably 99% my fault, still, I had to blame someone, so the caddy gets it.That wasn't too bad, but on the second, fourth and ninth, I had easy putts that were read wrongly and lipped out. I can't remember if I didn't listen to him, or he didn't offer me good advice. Either way, we had to fork out 60 bucks for his service.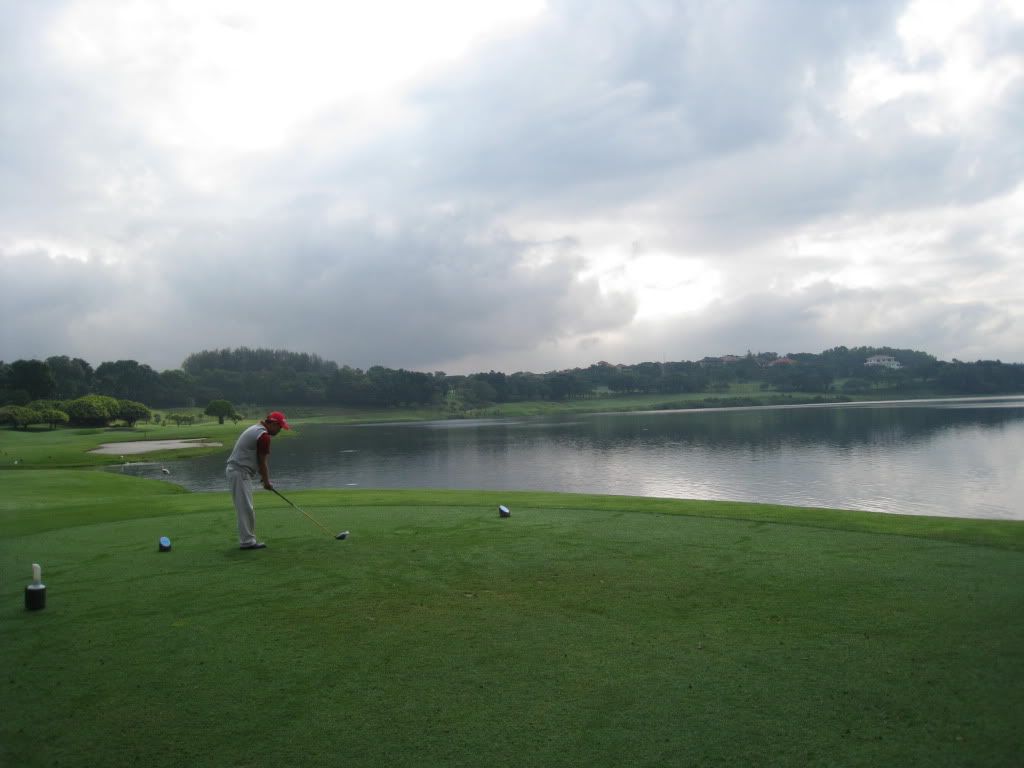 Still, we're giving a three because Mines is generally well known for good service. They attend to you, tag your bags properly and generally do what a RM400 green fee course should be doing. And the changing room is pretty good. I wanted to take a picture of it, but was afraid that they might jail me for indecent pictures of fat, naked men walking around after golf.
Fairways (4/5)
Ah, now we're talking.
The Bermuda turf withstood the previous night's rain pretty well as we had very consistent fairways throughout. It still wasn't as nice as Tropicana's in comparison, but it had a carpet-like quality to it, and the drainage was very good. We still managed to mutilate this nice sheet of green blanket with our lousy play but hey, at least it was good while it lasted.
Greens (4/5)
The greens, likewise were almost perfect. There were a few holes that were patchy, but I'd attribute it to traffic over the day, since we had close to 10 flights, which is probably the same amount that visited this place last year.
I found the green pretty straightforward, without the extreme up and downs or trickiness of Saujana…its only my darn problem that I can't get the ball in! Darn you caddy!!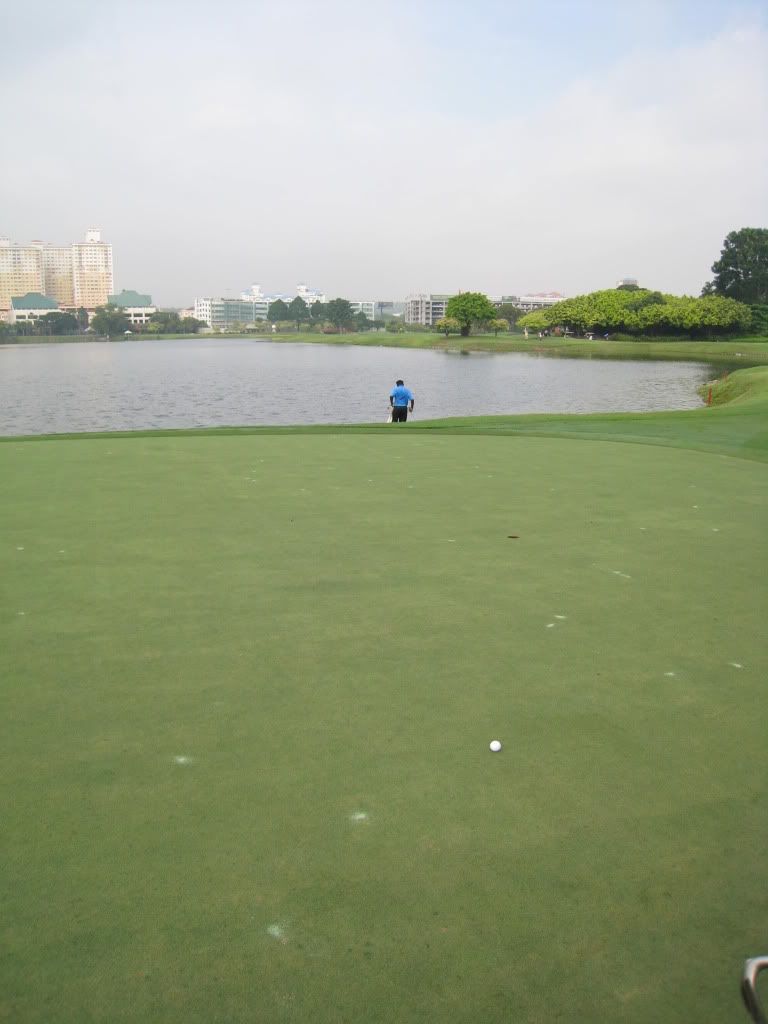 Rough (3/5)
I had no issues with the rough but the bunkers weren't optimum, with the sand hard packed enough to use pitching wedge to dig in. I was having quite a time with my wedge, especially on the 17th when I pitched in. Normally, hard packed sand would be deemed passable but not when you have a reputation of being the most expensive golf club in Malaysia! I want that fluffy white sand that when you hit it, it comes out in a cloud of white powdery dust!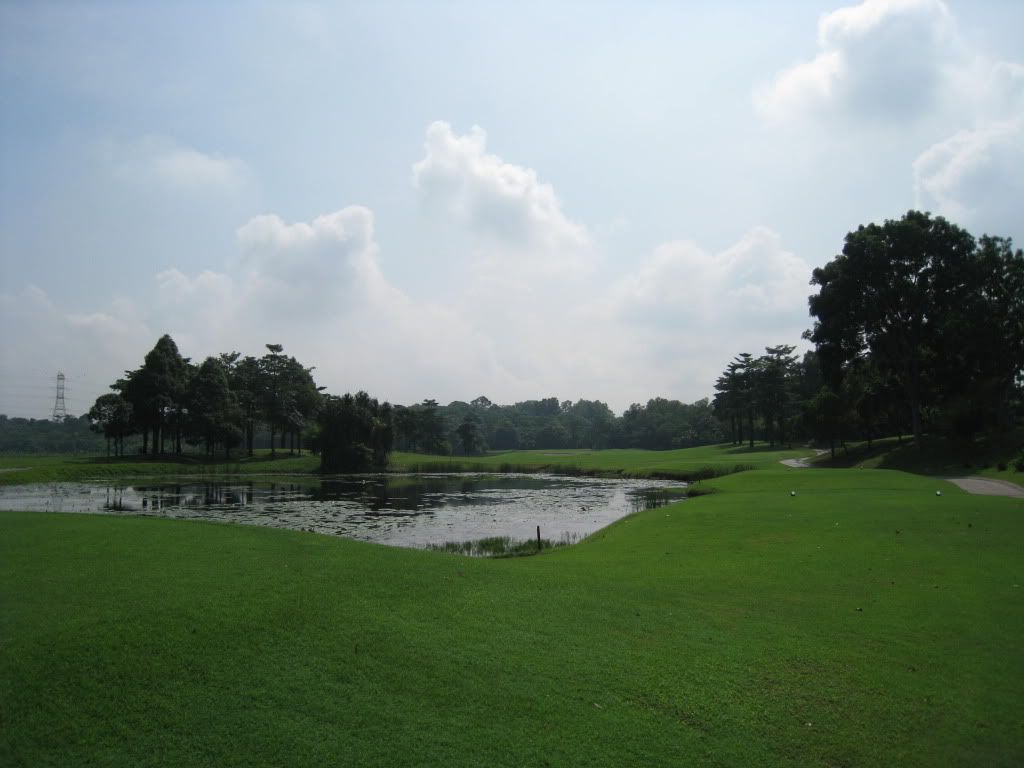 Aesthetics (4/5)
Throughout the game, Mines offers a lot of wow. As in, Wow, haven't I seen this before? Sure! Just head to Clearwaters! The par 4 12th especially with the lake on the left and a slight dogleg left, brings to mind one of the holes with similar set up in Clear waters. I realize that there's only so much one can do with a golf course before the design starts repeating but hey, if I can recall this, it must really be quite common, since I have a memory of a dingbat.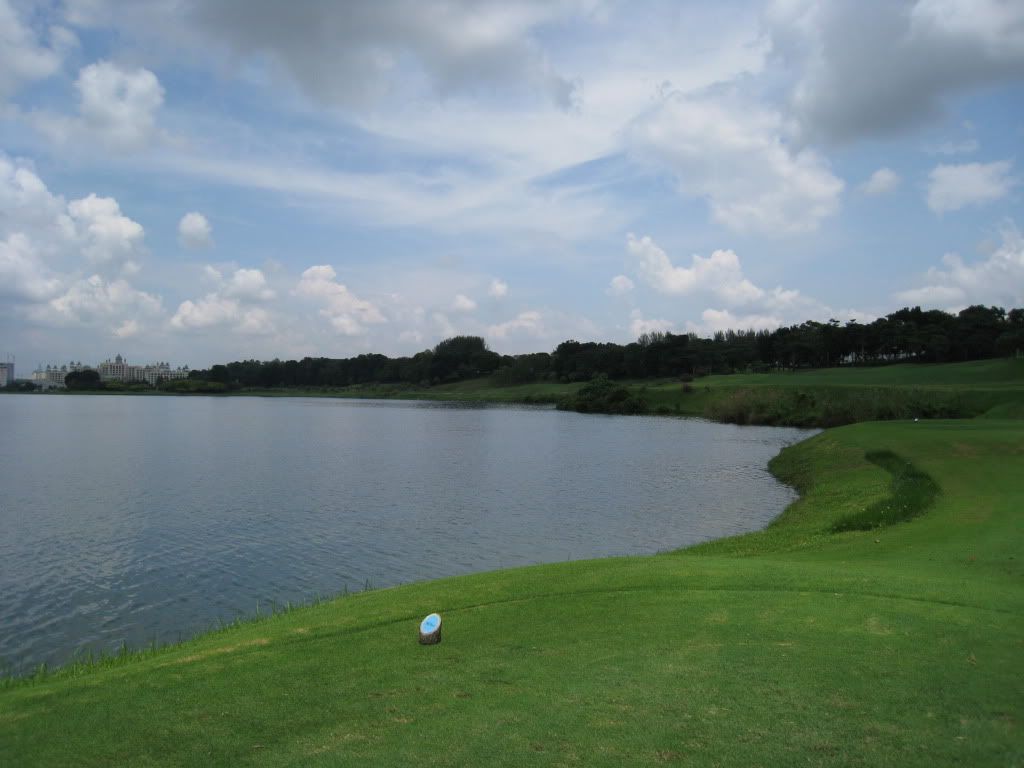 The lake really puts a lot of beauty to it, but I wish there were a little more variety, but this is a mining course, so don't expect a whole lot of trees surrounding it. The par 3s are generally quite pretty, I liked the 7th hole, where the green is ensconced in a little U shape dell, with bushes all around it. Hit it too hard, left or right and it's into snake land.
Fun Factor (4/5)
It's quite impossible not to have fun in a tournament with 10 flights and a shotgun start. I started off pretty well from 13th, with par on the first hole and 4 bogeys, including one pitched in. I unraveled on the 18th with a 10 on a par 5 after shanking 2 balls into deep woods. Let's see: first shot hit a tree. Second shot tried to slice it around, ended up shanking. Third is on a slope, shank again. (Ever noticed once you start shanking you're pretty much SCREWED?) Fourth one, decided to play out, hit the darn tree, still in rough. Fifth one pitched out. Sixth one pitched to the green, over. $#*#(@!! Chip back, roll past hole to fringe for 7. Eight, aggressive putt, missed hole. Ninth, easy 4 footer downhill missed. Ended with bloody 10.
I played 4 bogeys after, then went on a par-birdie-par before double bogeying the 8th and 12th (my last hole) after horrendous tee shots.
One thing about mines was that it really allowed you to recover your shots. There's not much OB except for the occasional jungle lying up the sides, but you could easily avoid that by aiming to the other side. Now, that is a real genius advice, isn't it?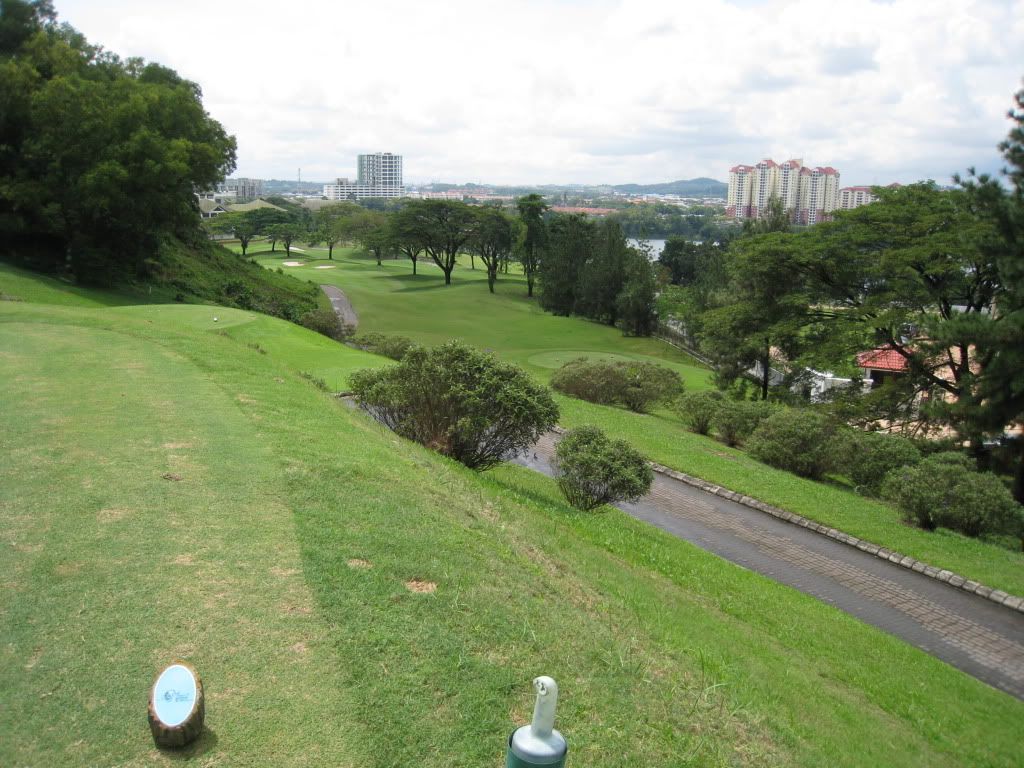 Conclusion
There's really no way to win anything by pricing green fees so high. The overwhelming feeling we had when we left the place was: it's a nice course, interesting holes, great maintenance, but would it be worth the price of admission? Probably not. This was probably the first and only time we'll be coming to Mines Resort and Golf. It's better to use the money and go Saujana or something. Or Tropicana or even KGNS.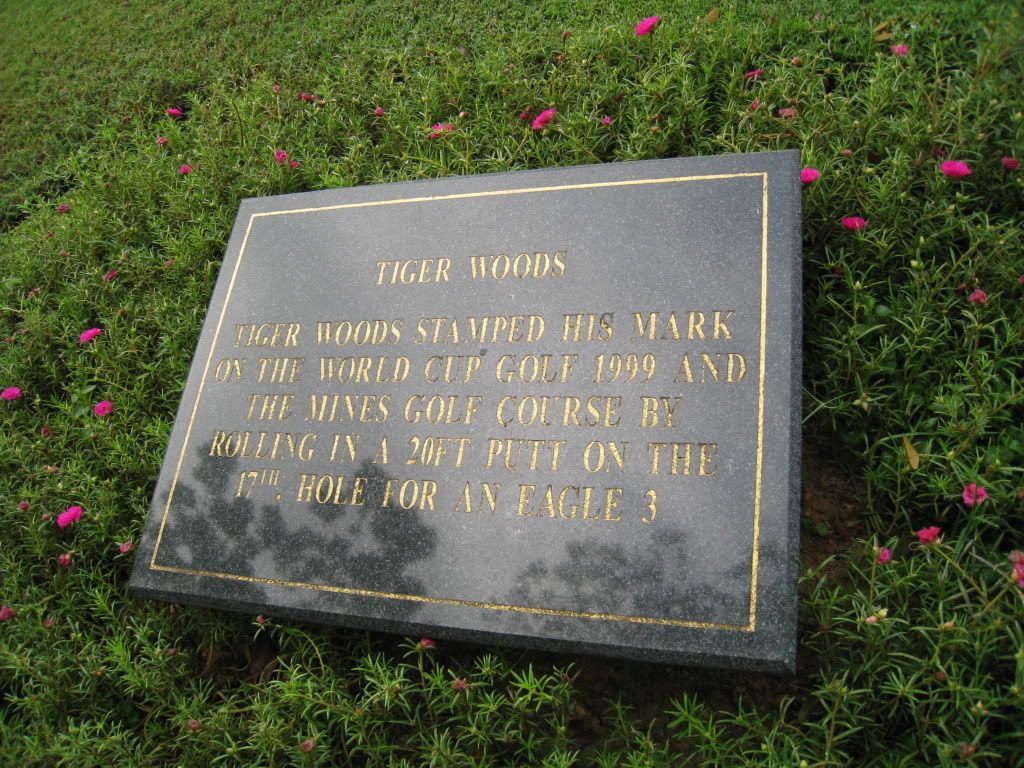 The good: Great greens, fairway in good shape even after downpour; pretty easily accessible.
The bad: Price. We'll need to confirm it but if it's really RM400 or so, it's just too crazy to pay for a round of 18. Especially when the course doesn't have that great a character. Better to travel further and play at Clearwaters.
The skinny: 25 of 40 divots (62.5%).