Introduction
Nilai Springs has always been discussed among us hackers as an 'alternative good course'. It's like, say you can't get the first choice, it's passable as a second choice. It's like if you can't get KFC, you go for MacDonald's chickens or eating the public toilet seat since the experience should be the same; or you can't get a Gibson guitar, you get an Ephiphone; or you can't get Catherine Zeta Jones, and you'll need to settle for Siti Norhaliza (who's one of the very very few Malaysian celebrity I actually can remember, although my spelling might be suspect).
I guess I have very vague memories of that place, and I don't remember getting put off by it, the way a recollection of Bukit Beruntung brings nightmares of sandy fairways, bumpy greens and lousy food. So we took off to check out the course, and to jog back any particular memory filed along with all the other golf courses in my limited brain.
Travel (3/5)
For a non Klang Valley course, it's one of the most accessible golf course available. Take the Seremban highway down south, and make sure you stop by the Nilai rest stop, just past the Nilai Memorial Park to load up on one of the better Nasi Lemak you will taste, a perfect, fiery start to a day filled with golf.
Nasi Lemak is probably the greatest invention…the westerners will say that it is sliced bread, but they are obviously not food crazy people like the Asians, because if you put a hot nasi lemak with spicy belacan, fried egg, curry squid in front of anyone, and a choice of sliced bread, it's like putting a Maserati and a Proton together and get people to choose. Yeah, sure, take the Proton, huh, go ahead, that's a real intelligent decision.
It's a little more than half hour drive from KL, depending on how fast you go; but here's the map:
Price (2/5)
I paid in total about RM73 for a weekday game. The whole green fee + buggy package is cheap; around RM50, using the AGN card for me. However they force you to do two things. Buy a RM10 food voucher, and a caddie for a flight. We ended up with two caddies and had to pay and extra RM16 officially and to top off, pay the tips as well for the caddie.
Now I ALWAYS have a problem with clubs forcing us to take caddies. I don't care if they are considered pretty (which they are, as I said, reasonably presentable, like how a loaf of bread is presentable), a caddie means two things. Extra cost, and….extra cost. That's it. Why do we need to tip them? What sort of practice is this? Don't they like get paid or something? Why not just tip the registration lady? Or the waiter? Or the maintenance worker? Heck, why not tip the guards at the gate to give you a salute and sing a song when you go off? The point is: WHY are we practicing tipping only on golf courses? Do all the kiasu, cheapskate Asian people suddenly become generous and kind westerners, like our colonial masters in the past, simply because we're holding a stick and hitting a white ball in the hole?
No I didn't like the pricing. You can't force people to take the caddie. Worse, you also force people to eat your crappy food, when we can go somewhere else to eat. RM10 voucher? We ended up buying a jug of soya bean cincau and some ice cream just to make use of it.
First thoughts
I honestly expected a better experience, but on the first tee itself, we were faced with a Par 5 requiring a 7 iron tee off, since it was about 170 to the water, and 350 to cross. I'll say one thing about this course and get it over with.
It's like Monterez, Seri Selangor and all the other accursed courses that likes to put OB signs everywhere and gleefully goad you into the wilderness. I'm not saying it's bad, I'm just saying it's narrow. Not only that, this course has fairways that run away into jungle and hazards.
Feature wise, I am reminded again of Gunung Raya. Young trees dots the landscape, barely providing enough shade for weary golfers. It was obviously originally in a wasteland, where the inhabitants of Nilai probably deposit their sewage, old furniture and dead cats. At some holes, the smell of shit was literally so overwhelming, you just have to hold your breath, tee it up and scramble into your buggy and speed off. I think they were fertilizer smell, but hey, shit's shit, you know.
Service (3/5)
Ok, I admit, their locker room was pretty good.
Their caddies were pretty helpful as well. They don't know how to read greens, so don't bother (at least the ones we got). I found them very useful particularly in cleaning my clubs and making sure I don't leave any clubs behind. They also do the little things like marking my ball and cleaning it. I suppose all caddies are like that, but it helps to have caddies that don't comment so much on your game, or give pointers when none are needed, or don't engage in internal caddie betting.
But points loss in terms of halfway huts being deserted. I don't know what is the point of having a halfway hut when there's no one there. We were fortunate the day was generally overcast. If it was a hot weather, not a lot of golfers will make it out alive. It would be the Seremban 3 experience all over again.
Fairways (2/5)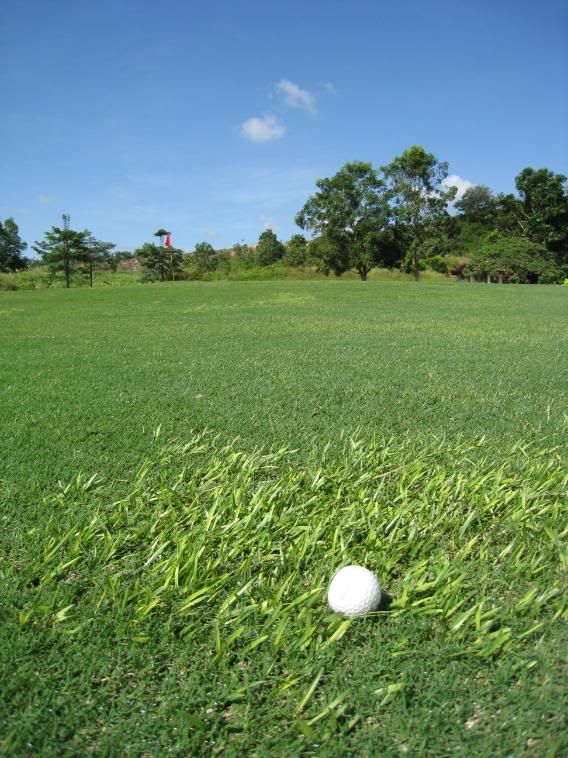 Not particularly great fairways, frankly. It has what we call complexion issues. Like the face of an adolescent, spotted with acne, the Bermuda fairways here have spots of cow grass growing here and there, and making things more than a bit uneven. That's really not the main issue. Another issue is that for a course this exposed to the sun (and we have quite a generous amount of sun, although slightly cloudy), having puddles of water is really a testament to horrendous drainage. I mean, even on the 18th, when we are almost done and the sun was finally blazing down, casual water was still evident on the fairway. Bad drainage, bad grass maintenance really offsets the other good points on the fairway, where in some holes, the ball can be found sitting up reasonably on a mat of Bermuda. It really tips slightly from mediocre to below average on the Gila Scale of Fairways (which just officially existed 3 seconds ago).
Greens (3/5)
Like the fairway, the green is harmed with complexion issues as in being patchy with different coloured grass, some dried patches here and there. However, maintenance wise, it was reasonably average. The grass was pressed down, giving evidence that the maintenance guys were doing more than just picking their nose and poking fun at golfers. The roll wasn't exactly true, but then again, we're not really like expert putters. I just recall we didn't really complain too much of the green and we did managed to hole in some long ones.
Rough (2/5)
Ok, having a challenging rough is one thing, I completely appreciate it, like what KGNS is, even though I sucked at it.
But Nilai gleefully attaches OB hole after hole after hole. I am so tired of the caddie saying, "OB kiri kanan, beyond buggy track." – translating, OB left and right, beyond buggy track. I'm like, darn it! Yes, I know I suck at my driving direction, but give me a chance to recover! I recall Tiger Woods can push his first tee shot so far right that he had to hit from the 18th fairway in one of the majors. So, treat us like Tiger Woods and give us a chance to recover!
Nope, the rough is ok, but too little rough makes it almost negligible. If you miss the fairway, you're 50-50 gone. Unlike Monterez which featured mainly straight holes, Nilai Springs chucks in slight doglegs with humps that causes unfriendly bounce to the ball.
Oh, yeah, lots of water too, but not as crazy as Monterez where it requires carrying water almost every other hole. Nilai Springs have a reasonable mix of dry and wet hazards. The bunkers were crap though, but the rain probably cause the hardness, but hey, it's still crap.
Aesthetics (3/5)
Nilai Springs can be quite pretty at times. It really depends on the weather. It's like how some girls are prettier in cold weather, they have rosier cheeks, more radiant complexion and generally a more bewitching look. I think it's the fact that in hot weather, the T zones are more obvious. It's really awkward when a girl's oily areas are prominent, it makes them look shiny, like a how my clubs are shiny after a coat of WD-40 has been applied. In the clubs case, I simply can wipe it down with a dry cloth; in the other case, I cannot possibly go up to them and wipe their face and say, just getting the lubricants away. There is a guarantee slap in the face there and depending on the subject, a kick in the nuts is also a high probability.
So it was that Nilai Springs did look pretty at some holes, especially the Par 3s, and the 17th hole that requires a carry over water. But perhaps due to cloudy weather in the first nine and the fact that OB was littered all over the course, kiri kanan and all that, we didn't appreciate the full beauty of Nila Springs. It's not a matured course, so don't expect the Clearwater, Datai Bay kind of scenery. It's more of Gunung Raya, Seremban 3 style. Small trees, surrounded by low scrubs.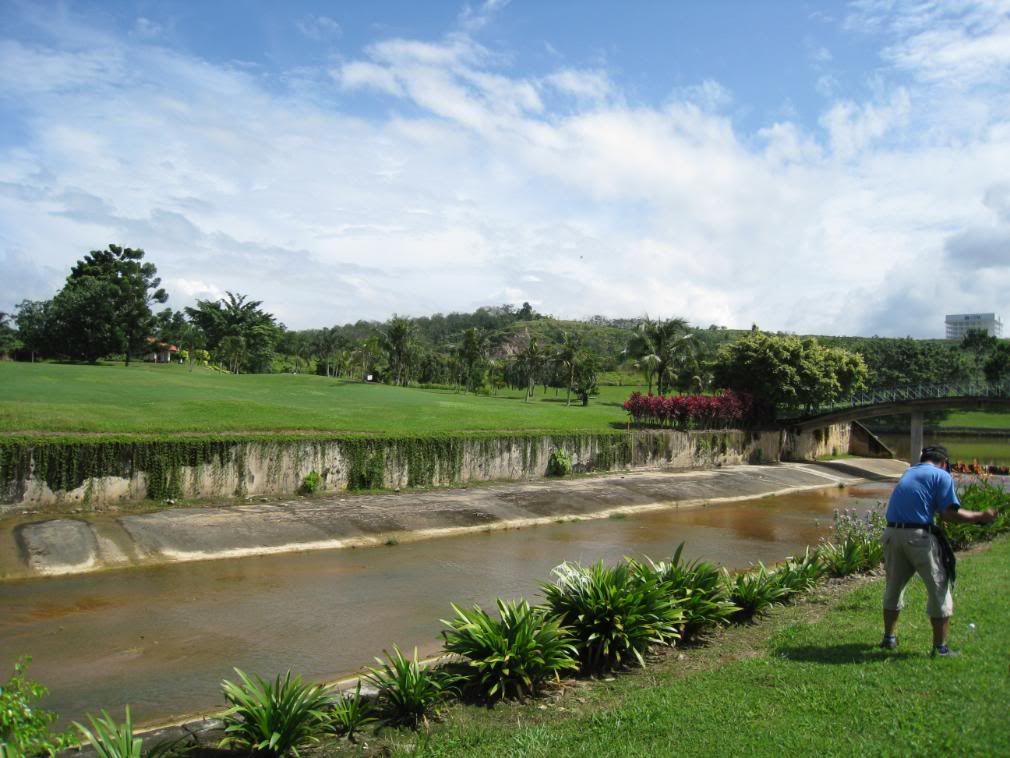 Fun Factor (2/5)
Whatever small fun we had was completely wiped away on the 18th, when a bunch of clowns coming down form the parallel 15th ( I think) came into our fairway and hit our balls. We know because we found their cheap ball later. I mean, seriously, why is this happening? Can't people just identify their ball, or are they so evil that they would trade in their ball with a Newing brand for a titleist Pro-V1x? I don't believe in reincarnation, but if I did, I would have wish them reincarnated as the materials used to make the golf balls (if there's such a thing) so I can spend the rest of my other life pounding them into smithereens.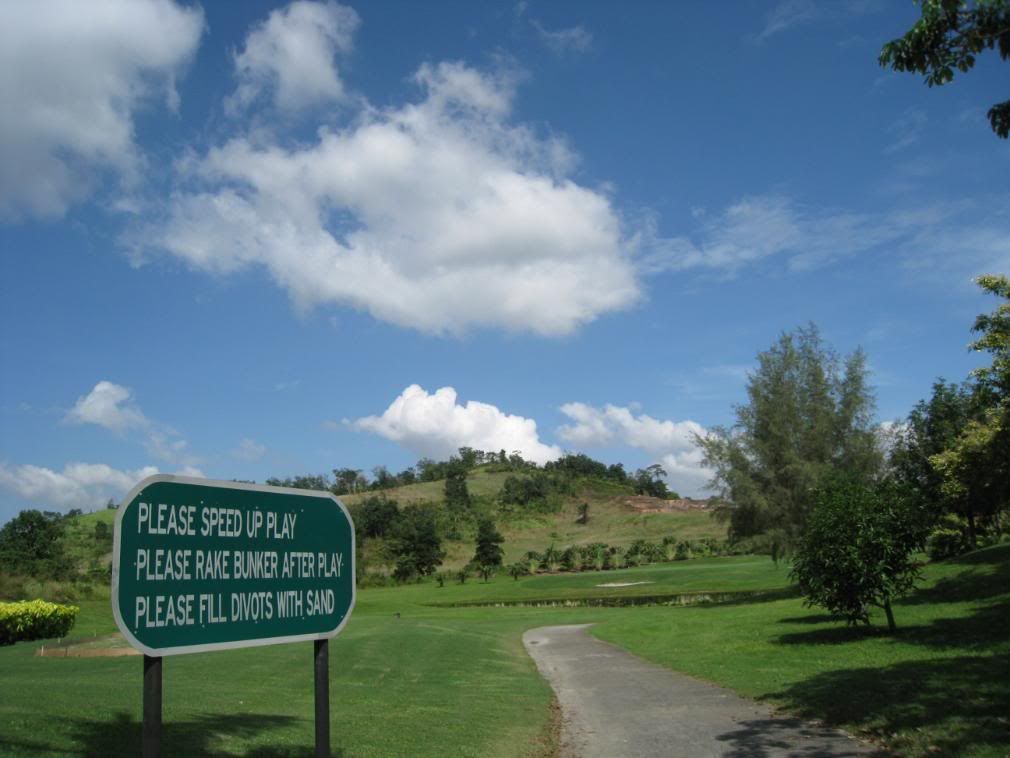 The 18th hole is a toss in between brilliantly challenging hole or a brilliantly stupid one. It requires a draw off the tee, as there's tree branches covering your sight about 20 meters from the tee box, and the fairway doglegs left. I hit a flush shot, the best I've hit, and it just sailed and sailed and sailed….
It must have hit the cart path, because it landed almost 320 meters way, in the rough and yes, on the right side of the buggy track.
Here's the thing I don't get it. The ball didn't even reach the parallel hole. It was just in the rough on the right side of the buggy track, with a possibility to hit over the trees with my 60 degree and regulation on. Theoretically, I would find it a challenge but at least the course would be saying, well you suck at driving, let's see how you get out of jail with an amazing recovery. Now, probably about 1 out of 100 times, I can recover. And why do we love Tiger so much? Not because he looks buffed, or has Malaysian blood (yeah, Tiger is Malaysian!!!), or snarls at everyone, or drives long. We love him because of the impossible, crazy, magnificent, intelligence-insulting recovery shots he conjures from places where normal golfers would break down weeping and cradling their clubs in agony. Please don't say you love golf played from the fairway. And please don't tell us that we should fix our drive first before commenting about the course being unfair. We are weekend hackers, missing fairway is what we do very well, so get used to it. Besides, it's not that Nilai Springs is unfair in it's OB mentality.
Nilai Springs is saying instead: "You suck at driving, so too bad, we don't like to see heroics on our golf courses. OB! Take another."
But the ball is still playable, its not interfering with another hole or whatever. It's still playable…
OB! Take another!
Nilai Springs officially join the ever increasing courses labeled "Accursed Courses with too many OB stakes to use up", like Monterez and Seremban 3 course.
Conclusion
Nilai Springs is hard to judge. At some points we liked it; but mostly derived from our intense internal competition of RM5 per hole, matchplay style. It doesn't have the character we expect it, instead we get a typically narrow course, immatured with no shade and possibly the most OB stakes ever seen in a course throughout Malaysia.
If you want to play it proper (and I probably will), leave the big dog in the bag and negotiate with your woods. It doesn't play extremely long, so course management is really vital here.
The good: Access is easy, nasi lemak stop in the morning, greens are reasonably maintained, aesthetics passable
The bad: Narrow like Borat's G-string, caddie and food compulsory, OB doesn't give much recovery chances, bad drainage and fairway, and idiots playing your ball and refusing to admit later. Please bring a shotgun to settle cases such as these.
The skinny: 20 of 40 divots (50%). If you want a quieter course outside Klang Valley to play precision golf (this experience is similar to having your toe nails pulled out by a plier), Nilai Springs is for you. Otherwise, give the course a miss but not the nasi lemak.
Nilai Springs Score Card
Nilai Springs Information
Address:
Pt. 4770, Bandar Baru Nilai,
P.O.Box 50, 71801, Nilai, N. Sembilan.
Contact: +606-8508888
Fax: +606-8503388
Website: www.nilaispringsgcc.com.my
GUEST REVIEW
Introduction
I played at Nilai Springs on Sunday the 15th of November 2009.
Played on the Pines 9 & Mango 9
I must say i was not disappointed by the Course or the Service.
Service
The service was reasonable although our 08:30 Tee off was during the peak hour.
Our tee off was delayed due to congestion of about 4 flights before us.
Initially they could offer only 2 caddies to our two flights, but then after requesting the Caddie Master, he did find two more for our two flights which made it perfect.
The half way huts were manned as well and the caddies were not the best but not bad either.
Fairways, Greens & Bunkers
When i saw the practice green look like a sandy beach, i remembered the Gila Golfer comments and was regretting the decision to play there, although it was not mine.
But was pleasantly surprised by the quality of the Fairway and the Greens.
It has rained a fair bit over the last week, but must say that the fairways did not show it. The quality was at least the same that we expect to see in a very good club. No uneven or squishy patches.
The grass was in good shape and i didn't see any signs of Elephant grass as in the picture above.
Some tee boxes looked like the lunar surface though, but over all it was good.
The Greens were playing slow at first and became hard once the sun started peeping through and then it became hard to stop the ball on them with anything less than a perfect shot.
The ball was rolling nicely and no signs of any bumps.
The Bunkers were in fairly good condition as well.
Also didn't come across any undue OB's except at the last hole of Mango, where there is no need to have an OB right of the cart path.
Conclusion
Overall it was not a bad experience and wouldn't mind going back there and playing another round .
Regards
Khawar (khawarak@gmail.com)