Introduction
I remember trying to get to Permaipura without the aid of GPS and ended up in Harvard. Not the university, but the golf course, and aside from the name does not bear any resemblance to any prestige that the hallowed name may invoke. Permaipura, on the other hand, is almost impossible to locate unless you keep your eyes peeled for the sign and you generally know where it is, or the vicinity of it. As one of the few golf courses that's up north, and that's under the top premier voucher book, it has been a club that I always wanted to play on, and on a particular weekday when the meetings are over, I managed to slip into the club for a very quick round of 18.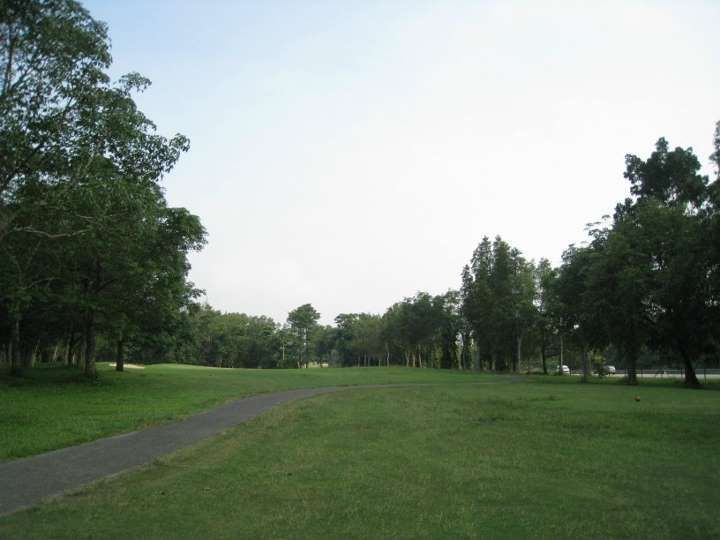 Travel (2/5)
It's on the way to Harvard actually, so exit the north south highway at Sungai Petani North or (U) exit. After the toll, turn right and you're at the Bandar Aman Jaya trunk road. Just go all the way till you see the sign to permaipura on your right. If you are like me, color blind and unable to see signs properly, GPS will be useful. If you're like me, with no access to GPS, watch out for a series of orange road dividers in the middle of the road. These are to allow you to turn right into Permaipura.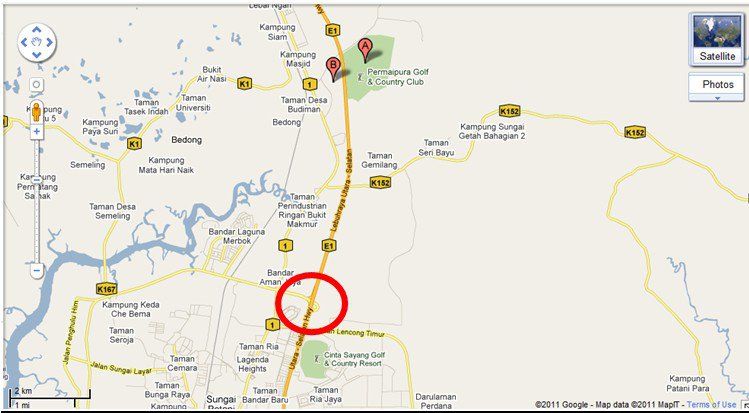 Price (4/5)
Not bad, I paid RM66 for 18 holes on a weekday. This includes buggy and insurance, using the Top Premier Voucher booklet. It's hard to find this kind of pricing, and immediately recurring nightmares of lousy courses like the TUDM Kuantan or Frasers Hill reccur involuntarily. I mean, you can call your course cheap or whatever, but I'd rather pay a little extra to make my golfing experience at least worth my time. As we'll find out, Permaipura more than makes up for the price.
First thoughts
Like Harvard, Permaipura's website is completely filled with marketing BS, the very same marketing BS that Gilagolf.net was started for, with the mission to banish such utter complete nonsense written by people who probably have never ever stepped into the golf course before.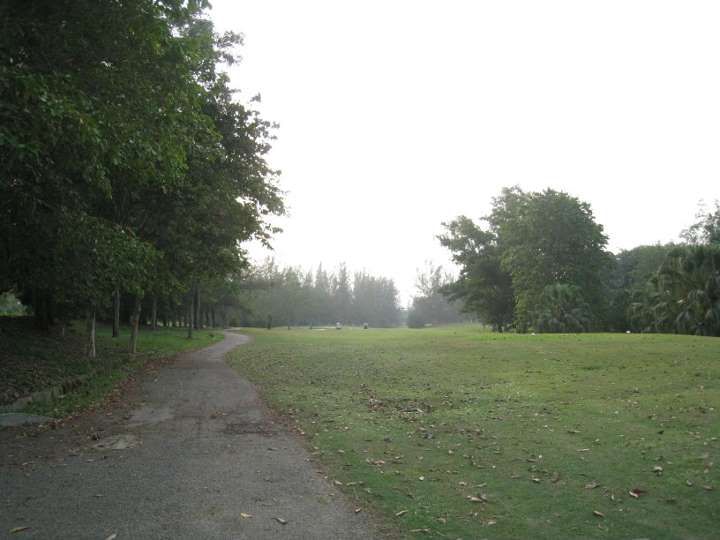 "Sunrise.   Low lying clouds enveloping the foothills of Gunung Jerai.  Verdant rolling meadow of green as far as the eye can see.  Tranquil lakes setting off plays of light.  A sense of peace and quiet, broken only by the song of birds.  A spectacular setting to begin a day of challenges and excitement.  This is  Permaipura Golf & Country Club.  Kedah's peaceful haven."
What is this?? Broken only by the song of birds?? Verdant rolling meadow of green?? It gets worse:
" Permaipura features wide and narrow fairways, water in play on most holes and contoured greens to baffle even the most seasoned players.  Come rain or shine.  All year round."
This makes no sense whatsoever. Come rain or shine?? What does this even mean? If rain comes, siren sounds and you get your butt back into the club house before you get struck by one million volts of pure electricity. Contoured greens? Water in play on most holes?? They obviously have NOT played in this course before.
Obviously, whoever wrote this spent a lot of time taking out phrases from the English Country Landscape Magazines, because there is no such thing as rolling meadows of green as far as the eye can see. This brings to mind this picture:
Yes, this is the picture of your Microsoft Windows background. Permaipura looks like this:
I can definitely see the tranquil lake setting off plays of light. Can't you?
I know this is a rant, but somehow, it's absolutely so annoying that there would be in existence people who actually write this kind of crap. At least the crap we write in this blog has some basis of reality. And it doesn't sound like it has been lifted straight out of a Jane Austen novel.
So, as for first thoughts, it wasn't very good, thanks to some atrocious and useless information in their website.
Service (3/5)
Service that gets you to the course with minimum fuss is the best. The lady behind the counter was like a speed train. "You want to play golf? You got voucher? Ok, 66 plus insurance." Count the money I pass her. "OK, go." She passes me the tee off slip and directs me to a brand new buggy (which is a huge change compared to the cavemen vehicles in Cinta Sayang and Harvard). No fuss, quick service, excellent conditioned buggies. All equals good first impression of the course.
However, the course does get a little jammed up in the evening, as it allows walkers, but you just need to be patient. If you want to bypass them, most of them are quite courteous and would allow you to go through, I suppose.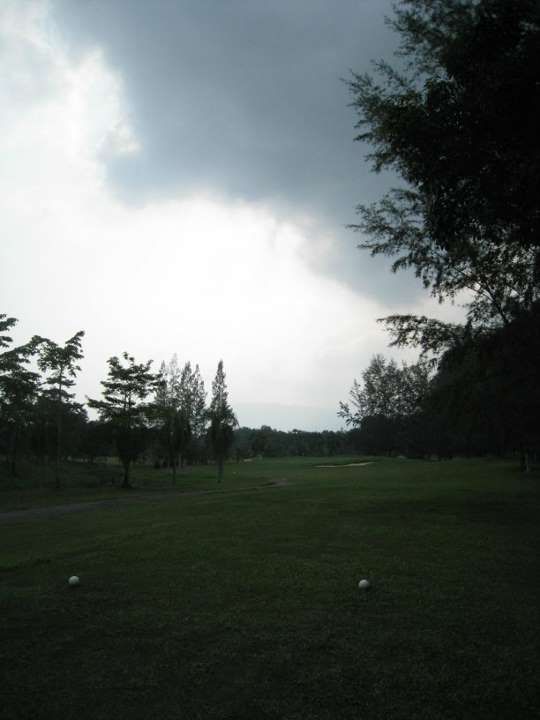 Fairways (2/5)
The fairways were functional, but bore some grief in terms of bald patches, sandy areas, and uneven cutting of the grass. Also, the infamous buggy tracks thanks to allowing buggies onto the fairway. It wasn't as bad as some of the hellish fairways encountered in this never ending journey to unveil the truth about golf courses behind all the fancy write ups on rolling meadows and come rain and shine drivel. The fairways definitely could be improved, starting with more grass needed in most areas. Sometimes, it's as if every where my ball landed on the fairway (which, due to my crap driving, isn't very often), the ball is found in a divot. Except it's not a divot. Just bare patches sprinkled all over this rolling verdant meadow of greens that causes the birds to break out into song to interrupt the peace and the tranquility of the lakes setting off the plays of light. See how stupid it is to write in such a manner?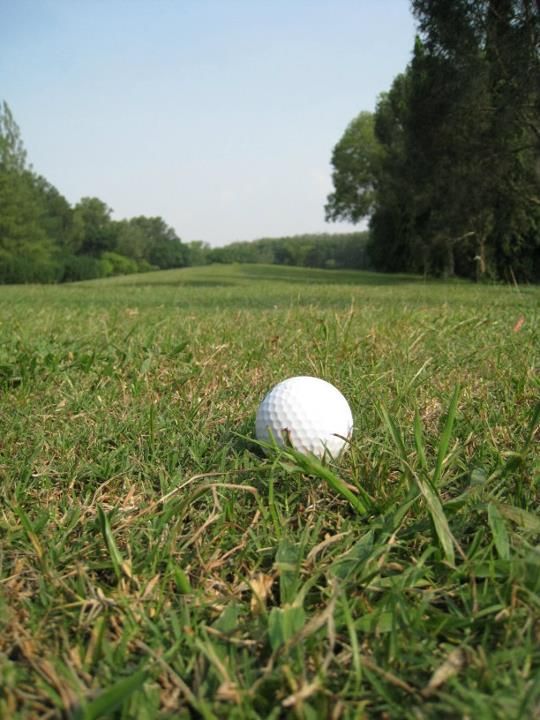 Greens (3/5)
The front nine greens were in a bad bad condition. Some of the greens were being sanded, but the difference is that these are under maintenance, and it isn't the norm on other greens, so it's unfair to judge the greens by the greens being maintained. The back nine greens were much better, and although playing a little slow, still showed that with proper care and maintenance, the greens would work out fine. There is a fair bit of variation in the greens, in terms of sizes, but contour wise and challenge wise, the greens remain a little short of it. So, whatever was written about the contoured greens baffling the most seasoned golfer is almost perfect BS. I am not a seasoned golfer and my game actually suck, but I still managed a respectable 31 putts and only 3 putted one hole.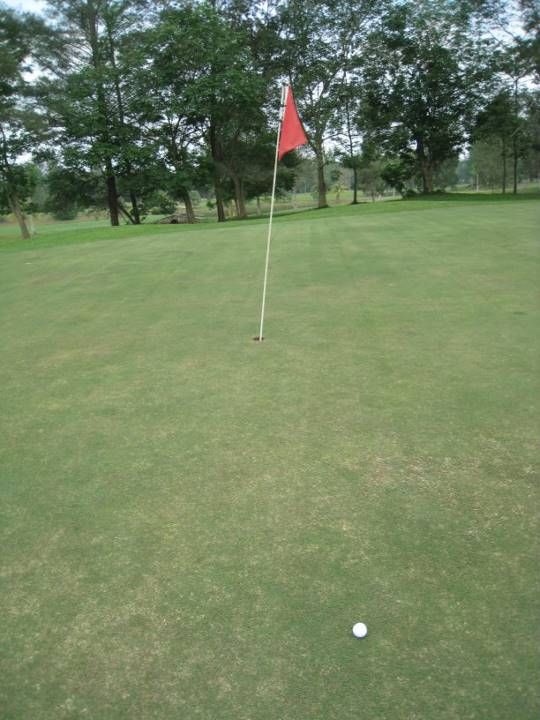 Rough (2/5)
Compared to the well maintained Cinta Sayang, Permaipura's rough falls short. Bunkers are not exactly well maintained, and especially the primary rough, strewn with leaves that has not been cleared since the day of Noah. It's not too difficult to hit from the rough though, as it's cut pretty generously. In fact half of the pars I made only came from the fairway, while the others were chunked out of the rough (or sand).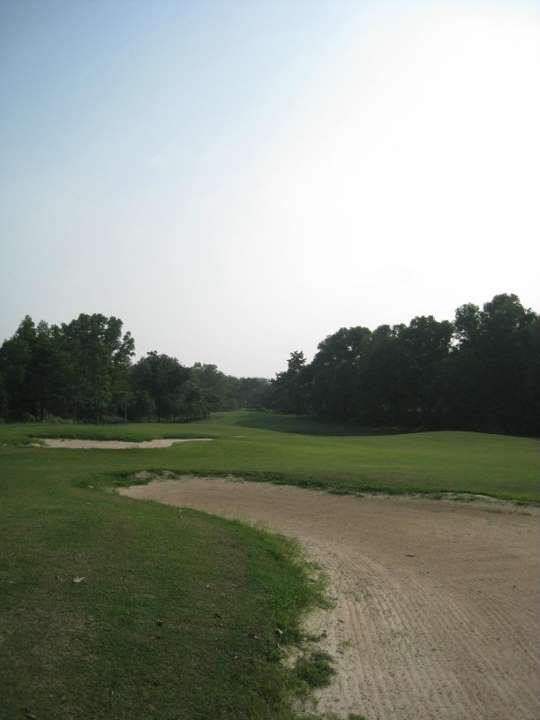 Aesthetics (2/5)
Permaipura isn't what you'd term a very memorable or picturesque course. Landscaping is almost non existent, unless you consider golfers duffing their 8 irons and taking out tons of dirt in the process as landscaping. The course resembles a little bit of Kundang Lakes, or Kulim, where the designer, I suppose, focused more on just cutting fairways across jungles and plantation area and forgot about beautifying the whole place. Elevation wise, Permaipura is as flat as can be, without much vantage points to see the advertised meadows as far as the eye can see. I'm a little biased against the aesthetics, because from the description of the website you'd think this course is the heaven's gift to earth, and God also would love to tee off here. Come on, seriously.
However, one thing about Permaipura: it sets up easy.
Fun Factor (4/5)
There's a new name of this course: Par-maipura. Funky eh? Because you will be loaded with a lot a lot a lot of par opportunity, which comes to show that fun isn't in struggling on long and challenging courses. Fun, for hackers, would be to play in courses that makes us feel better about our epileptic swings, and gives us the much needed encouragement to proceed hacking this game in the future.
Here you have it: Par-maipura is the MOTHER of all Ginnifer Courses.
If you think Bukit Kemuning has the largest fairways ever and the most generous areas of bailout ever, you ain't seen Par-maipura yet. It doesn't look that way from the onset. Hole 1 is a tricky little beast because a good tee shot might land you in the bunker and from there, you need to navigate through a drain fronting the green. Hole 2 opens up with a good shot on the left of the fairway while the 4th has a narrow tee shot that opens to a generous landing area.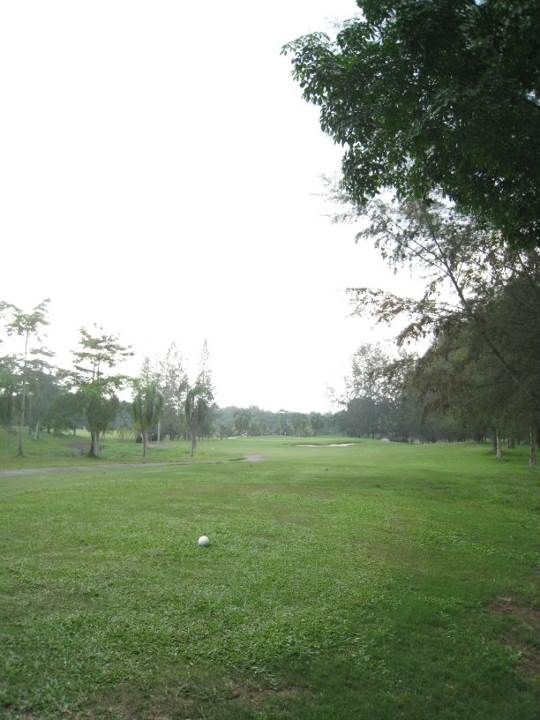 Probably the world's largest fairway can be found on the index 1 par 5 7th. All you need to do is navigate through a stupid tree right in front of your tee box area. Once you land on the green, you'd go wow. It's humongous. You could land a rocket in here without any problem.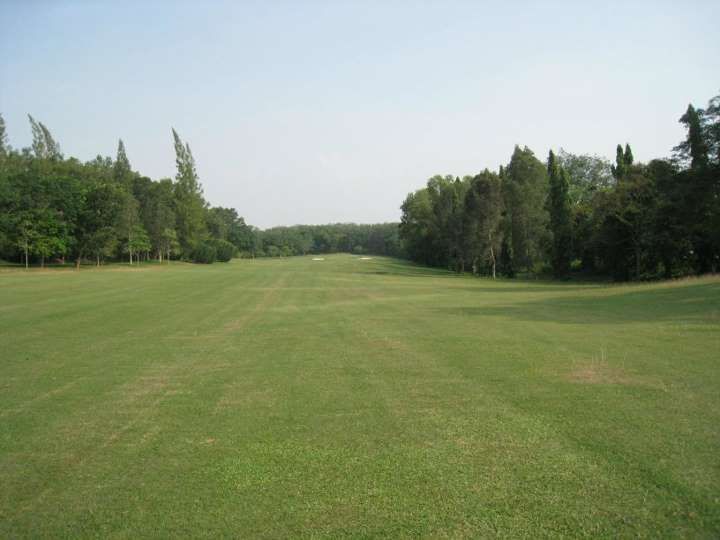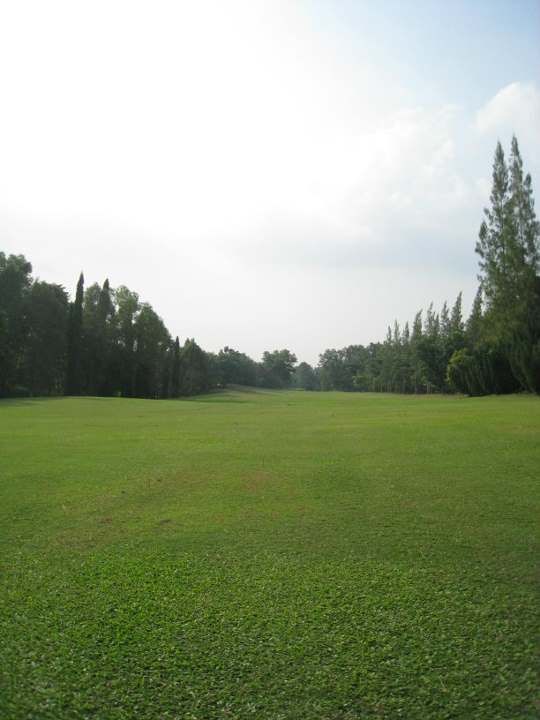 The back nine more or less plays the same. According to the website, it says it would play narrower but it doesn't.There are loads of huge fairways staring back at you and plenty of scoring opportunities.
I think Permaipura sets up easy for the slicer. I.e if your missed shot is a slice, you can probably play this course with your eyes shut. For instance, in the back nine,4 out of 7 fairways plays to a dogleg right, meaning you can aim left and fade/slice back your ball in and not worry too much on getting it out of bounds. Only once on the easiest hole 14 that I messed up my drive en route to a triple bogey.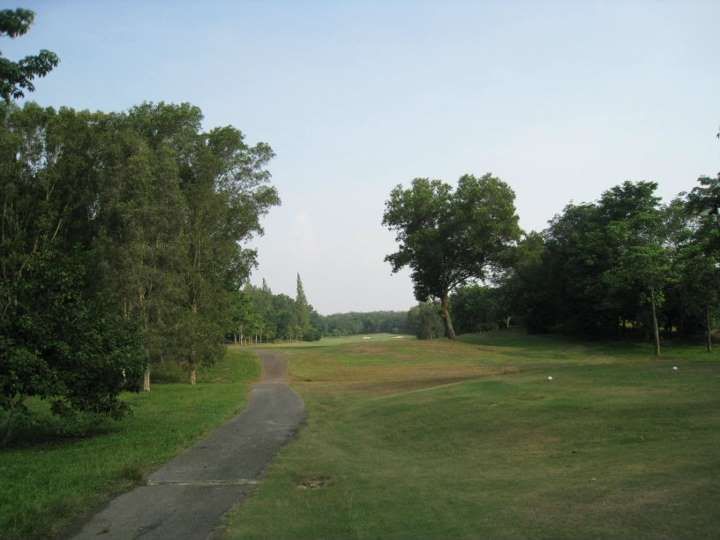 Otherwise, 4 pars on the front and 4 pars on the back nine really gave me additional reason to continue this wretched game of golf. I could have added one more on the easy par 5 last hole. After a great drive, I completely topped my hybrid and left myself 160 meters to the green. A big pull with my six iron and I was gone. Into the pool next to the green. From there, 5 on, two putted for a demoralizing double.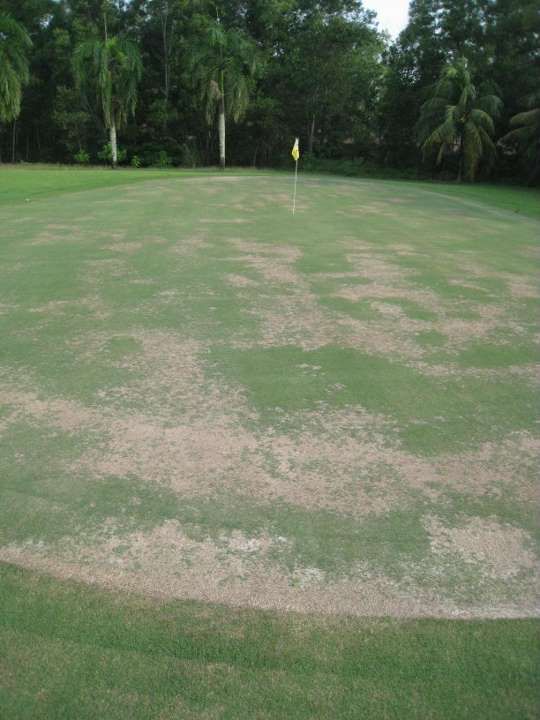 Still, any course that allows me to hit 85 is definitely worth playing again. I was putting almost unconsciously in the front nine, with five one putts. Most of it were in the 5 to 10 feet zone, so it was really something to see those saves for bogey on 6th and 8th go in. I missed a bundle on the second nine though, so like the balance of life, everything evens out at the end.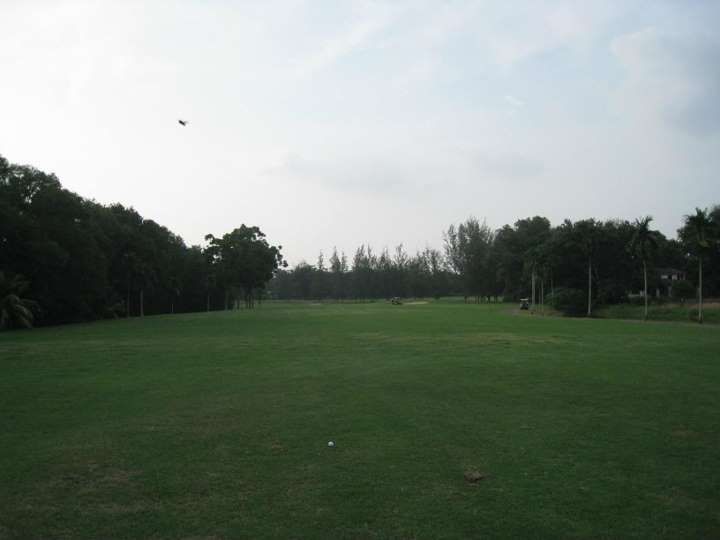 Conclusion
Par-maipura is a generous course, and is definitely worth playing, especially if you just had a long day at work and need to blow some steam. The big fairways are a sight for sore eyes, and although aesthetically it resembles Kundang Lakes (which is not a compliment, it's like saying your face resembles an exhaust pipe), it makes up for it by providing a fun experience for the not so great golfer.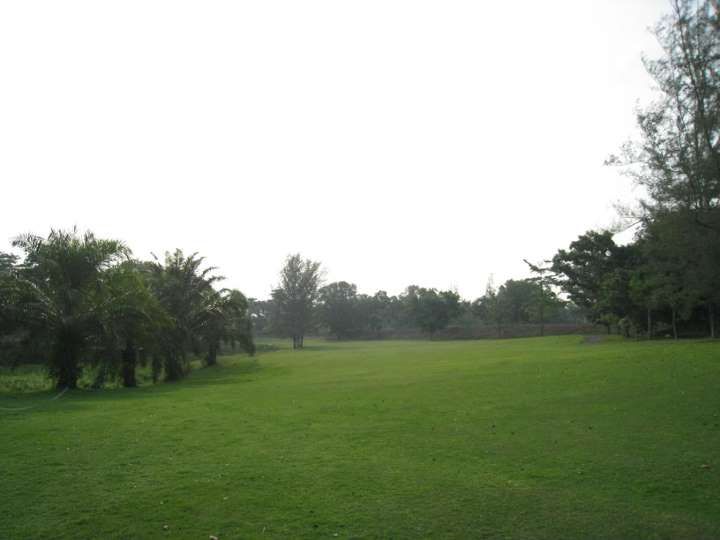 The good: At RM66 for 18 holes, it's a good bargain course to play, definitely better than Harvard; good service and finally, good buggies; generous fairways to the slicer; probably a good place for the beginner to start hacking; the greens are actually quite reasonable, especially once they finish with the maintenance program.
The bad: Fairways are worn down; the rough is unkempt and bunkers are hard; aesthetically doesn't do too much and makes you wonder the writers on their website are likely pot smoking chimps; make sure you don't miss the small sign on the right or you'll be heading to Harvard instead; the course traffic is quite high due to 9 hole walkers in the evening.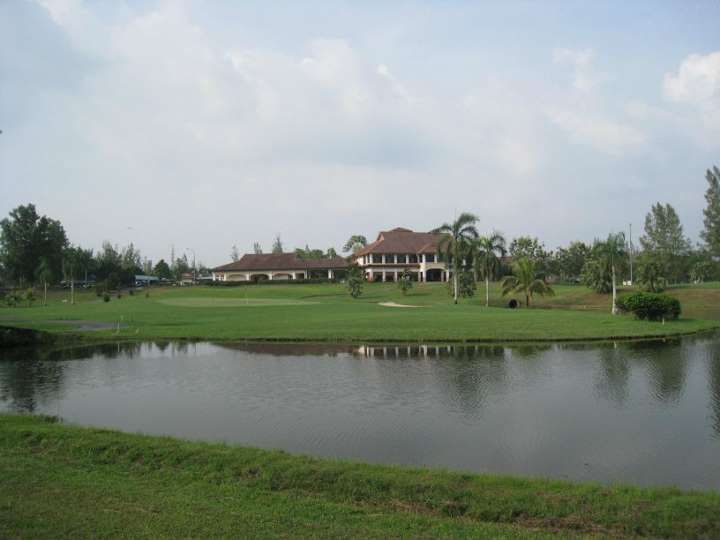 The skinny: 22 of 40 divots (55%). Par-maipura crawls into the middle tiered golf course, under the Not Too Shabby category. The winning factor of this course is the friendliness and the absolute Ginnifer kind of set up. It doesn't intimidate or takes away your man hood: if you play reasonable golf, you can score here. Except for the fairway condition, and the lack of landscaping around the course, if you had to chose a club in this area that is not called Cinta Sayang, Permaipura is a good choice.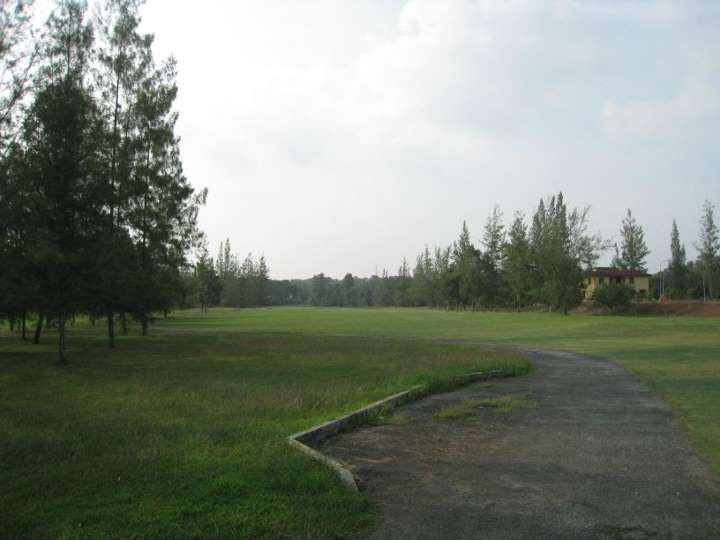 Permaipura Golf Card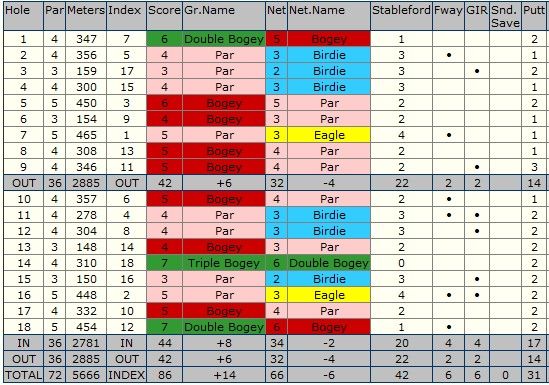 Permaipura GCC Information
Address: Jln Permaipura 5, Riverside, 08100
Bedong, Kedah
+604-4594000
Contact: +604-4594000
Fax: +604-4594500
Email: permai@po.jaring.my
Website: http://www.gentingplantations.com/golf/