Introduction
Every end of the year, my wife makes her pilgrimage to the sacred and holy grounds of Orchard Road, Vivo City and Suntec City, the holy trinity of shopping in Singapore. This pilgrimage is usually set on the week after Christmas to the 30th or 31st. This year, instead of slowly rotting a slow and sure death in the one of the many Coffee Beans and Starbucks lifelessly browsing the net, I decided to arrange a few rounds in Johor with some mates, and hopefully can cram in a 36 holes while the ladies do their shopping.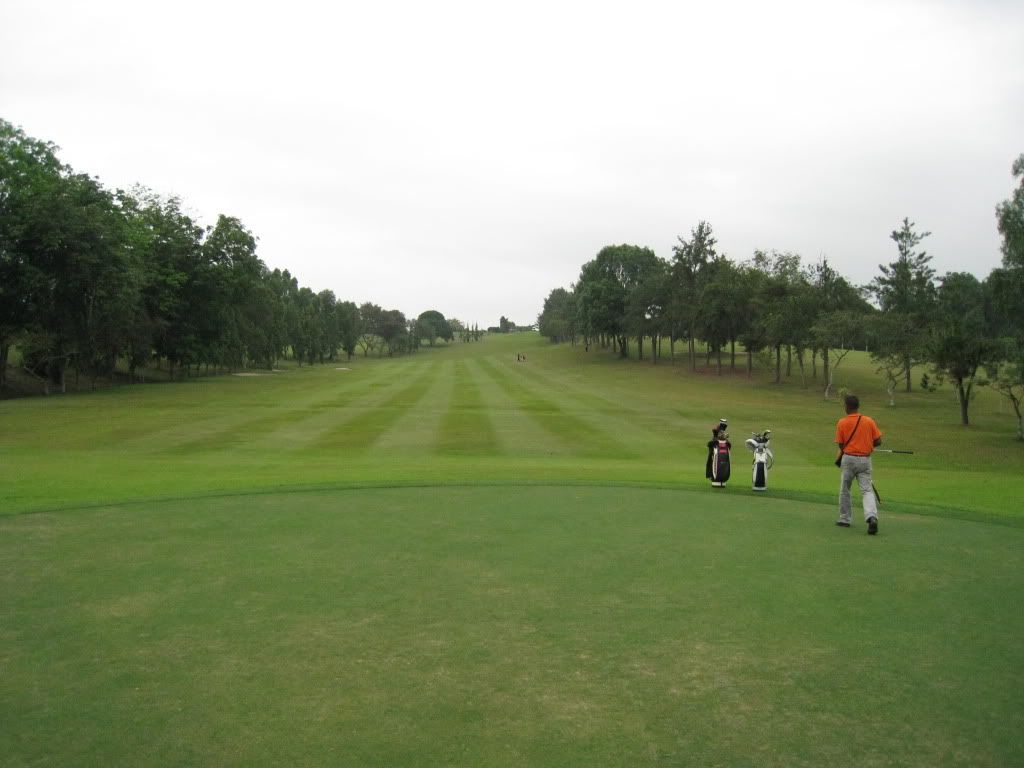 So, with the many golf courses in Johor to choose from, we decided on three: Palmville, Legends and Royal Johor. The first two was because we had vouchers, the last one was because it was close to Singapore and we only had about 3 hours of daylight and it was a toss between Daiman 18 and Royal Johor. We chose Royal Johor because of it's apparent association with royalty, which we associated (later, we found out, mistakenly) with quality, and because KRPM was an affiliate club, so I didn't need to pay any green fees. Oh yeah, also, there has been tournaments there like the Iskandar Open from 2007 to 2009. So it has to be good, right?
Travel (1/5)
Immediately, we were slammed with reality. Going to their website http://www.royaljohorcountryclub.com, we looked for the location map and ended up downloading this HUMONGOUS jpeg that was simply lifted out of Google maps, with a tiny RJCC somewhere in the middle with no directions whatsoever. OK, guys, number 1 lesson in internet stupidity: NEVER put a gigantic 1.2M picture map with no directions as your main location map…we're downloading via our berries and iphones on pathetic Celcom and maxis broadband lines, so cut us some slack. Seeing how useless the silly map was, we took to our own google maps and it led us to the general vicinity of the club. The problem with google maps is that it doesn't rightly know where the entrance was, so it led us to the backside of the club, along Jalan Datin Halimah.  From there there were absolutely NO SIGNS to the club, so we had to do some guess work, including turning into the palace gates and being hailed by bullets from the Johor Royal Guards. We beat a hasty retreat and after seeing the golf course but not being able to access it from Jalan Datin Halimah, we finally wised up after 2 U-turns, took a small road at the circled red into Jalan Tun Abdul Razak and finally saw a sign saying Johor Country Club. What happened to the Royal?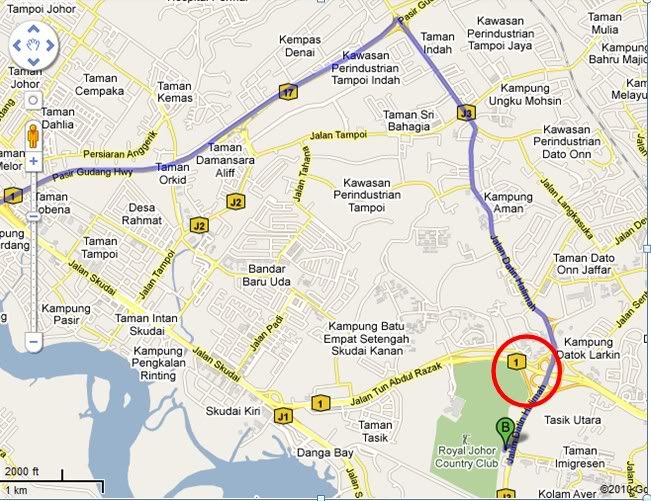 Will it hurt for them to put a few signs to point us to the right direction? And please, RJCC, change the darn location map on your website. It's stupid. And lazy.
Price (-1/5)
This is where the crap hits the fan. Remember I told you that I had a free green fee because KRPM was affiliate? Well, my other group member had to pay the full price because he wasn't any affiliate, and they charged us RM87. Well, that's ok, since this was a tournament course.
Wait for the hidden costs. One, this course does not have buggies. It's ironic, because we were told this by two guys who were sitting in a new golf buggy, who sneered at us and said, "Walking Course lah".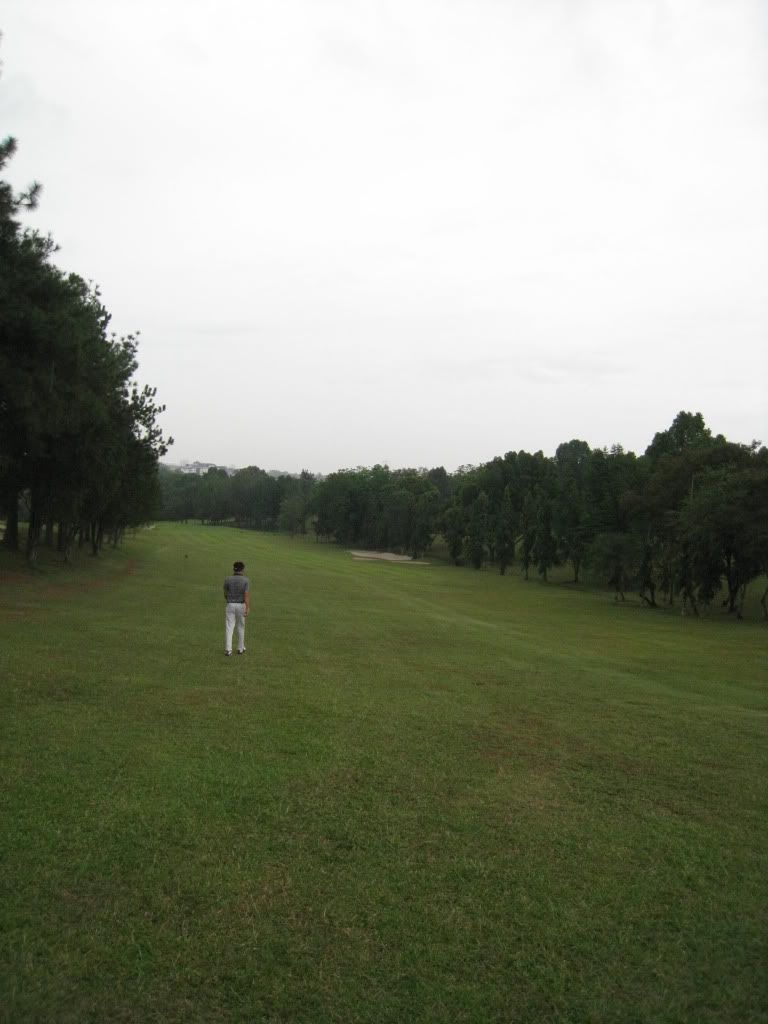 Well, it comes with a caddy. Because RJCC was famous for violating every single human rights or working conditions, it forced us to take one caddy to carry two of our cart bags. Poor guy, or so we thought. At the end, we thought of tipping him RM50 for his work. Instead, he told us that the RM87 does not cover caddy fees, and that it will cost EACH of us RM50 to cover his tips and payment.
So, RM100 for one caddy? Sure, he carried two bags, but what the heck, he wasn't that helpful anyway! So, my friend had to pay RM137 for a walking course, on a weekday, and a course that generally resembles the rearend of a hyena? WHAT THE HECK kind of stupid pricing is this? And we had to WALK, after 3 hours sitting in a car, actually, 4, including of going into Singapore and coming out again. Lordy.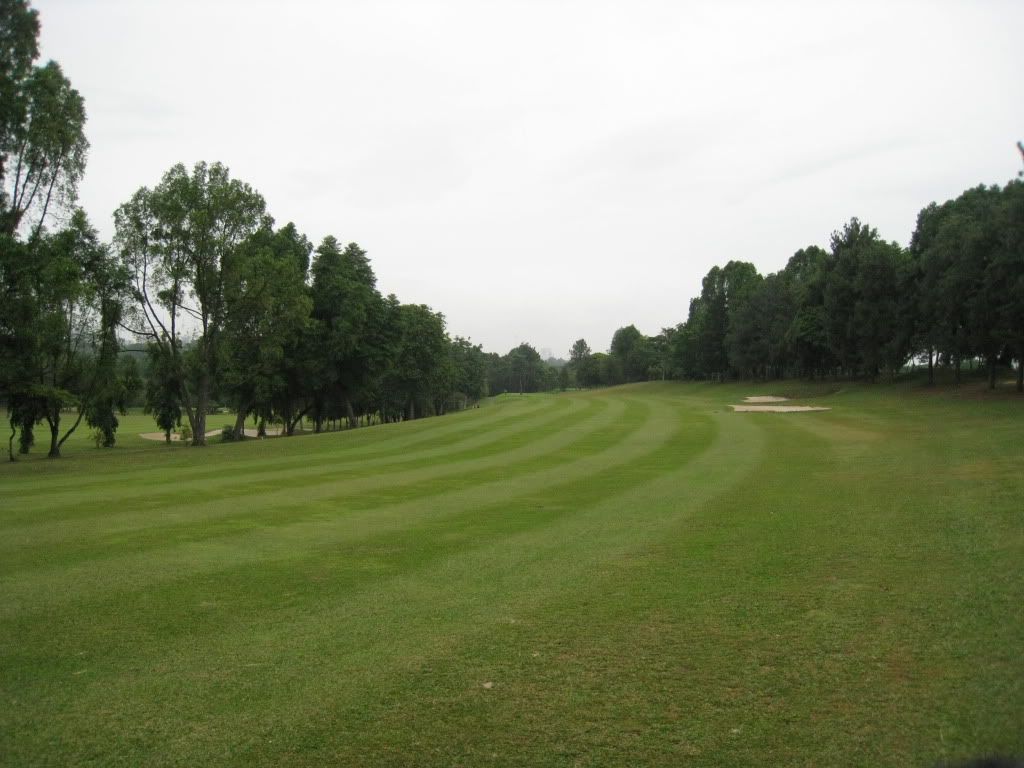 First thoughts
We didn't know about the pricing arrangement until the end, so we did go into the course without much of the prejudice we had at the end. First thoughts: Lots of trees, cowgrass, resembling UPM and finally, are you serious that some world class players like KJ and Retief actually played on this crap course?
Also, they call it now Johor Golf Course, without the 'Royal'. When asked, the caddy, Jamal, cryptically said, the Royal was removed when the king died. After a few holes, we concluded that most likely, the king couldn't stand such a course to bear a royal standard, except for being a royal pain in the ass to play it.
Service (0/5)
Ok, let's be fair here. Jamal, our caddy, was a lanky, talkative dude who had some golf experience for helping out to organize tournaments. And he was lugging two big bags. And walking. So, he was probably treated slightly better than the southern slaves in Missippi during the American civil war. Yet, his yardage was completely out. Until it came to a point where we had to either overclub on his recommendation or underclub, depending on what we think is right. His green reading was also off.
The worst of course, came when we had to fork our RM100 to pay him. I mean, ok, he worked hard, yes, but I could generally get a Bangladeshi worker to do his job. He didn't do too much except carry a lot of bags. And that too, we lighten the load for him by carrying our water bottles.
According to the website, a class A caddy costs RM40 including tips. We each had to pay him RM50 and he was no where close to a class A caddy, so we consider this a rip-off. If you happen to play, please negotiate the caddy pricing before teeing off, and make sure you get a class A caddy that can do more than carry two bags and wipe your balls. Golf Balls, not your other kind.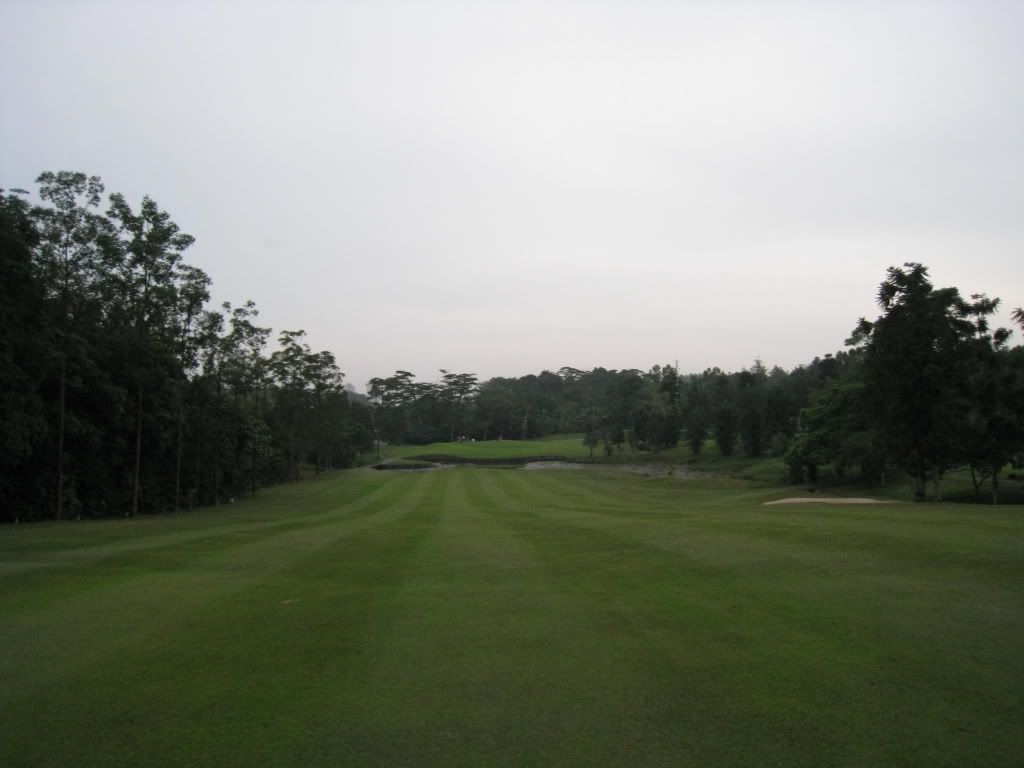 Fairways (2/5)
Aside from being cow grass, it actually wasn't so bad, and the conditions (rain coming down in a miserable drizzle) made it difficult to enjoy the game thoroughly. But the fairways, while not being exceptional, did hold up to the rain a bit. Don't expect pristine, mat like fairways though.
Greens (1/5)
For a tournament club, the greens are seriously in need of restoration. Or perhaps they were in the middle of doing that. Sandy to the point of having your ball bumping up and down into the hole; the reads were useless because you couldn't get a good roll on it. It was hugely disappointing to come to club that had Retief and KJ putting on it only a year back, and now it resembles, again to use our amazing metaphor, a hyena's backside.
Bad greens.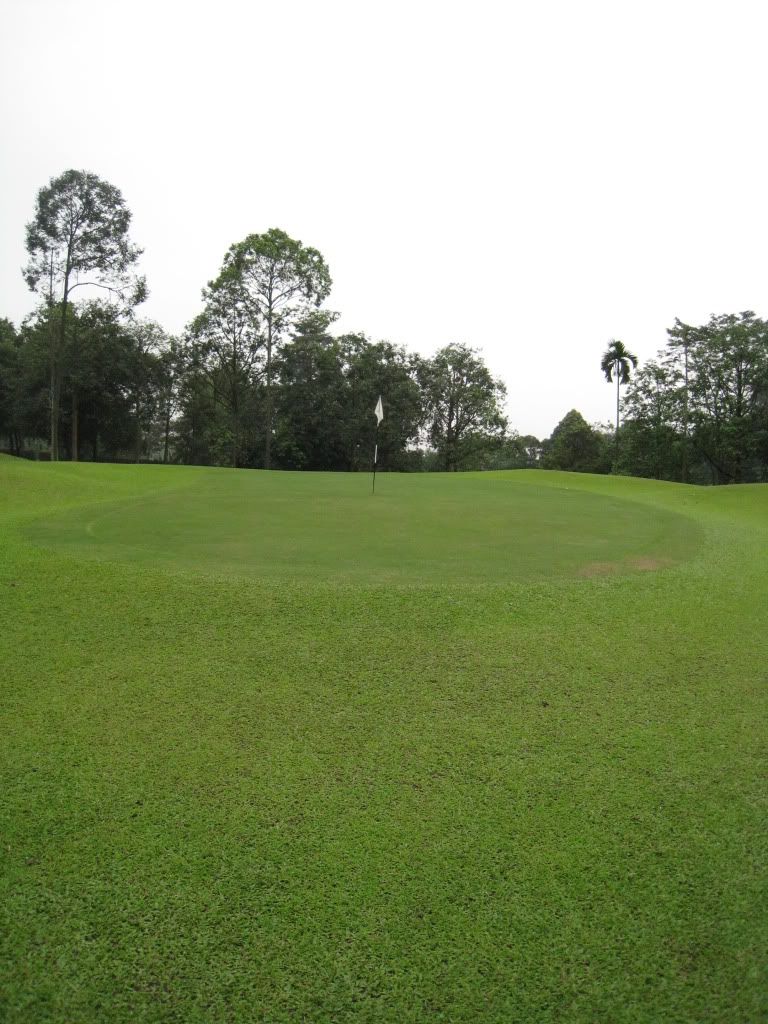 Rough ( 1/5)
The rough didn't fare too well, either. Because it was nearly dark and gloomy, a lot of our balls were lost in the rough due to the leaves and unkempt trees. Foliages, branches, lalang, everything was growing out of it. Once your ball rolled off the fairway, good luck. Of course, you can say it puts  a premium to driving accuracy, but come on, seriously, how many hackers are there that can reasonably hit the ball straight? OB generally lined the entire course, and with a resemblance to UPM, it was yet another gargantuan struggle for a hooker like me to stay on course without exploding, both in scores-wise as well as in temperament.  Indeed, it was a sight to behold, a china-man tomahawking his clubs all over the hallowed royal fairways.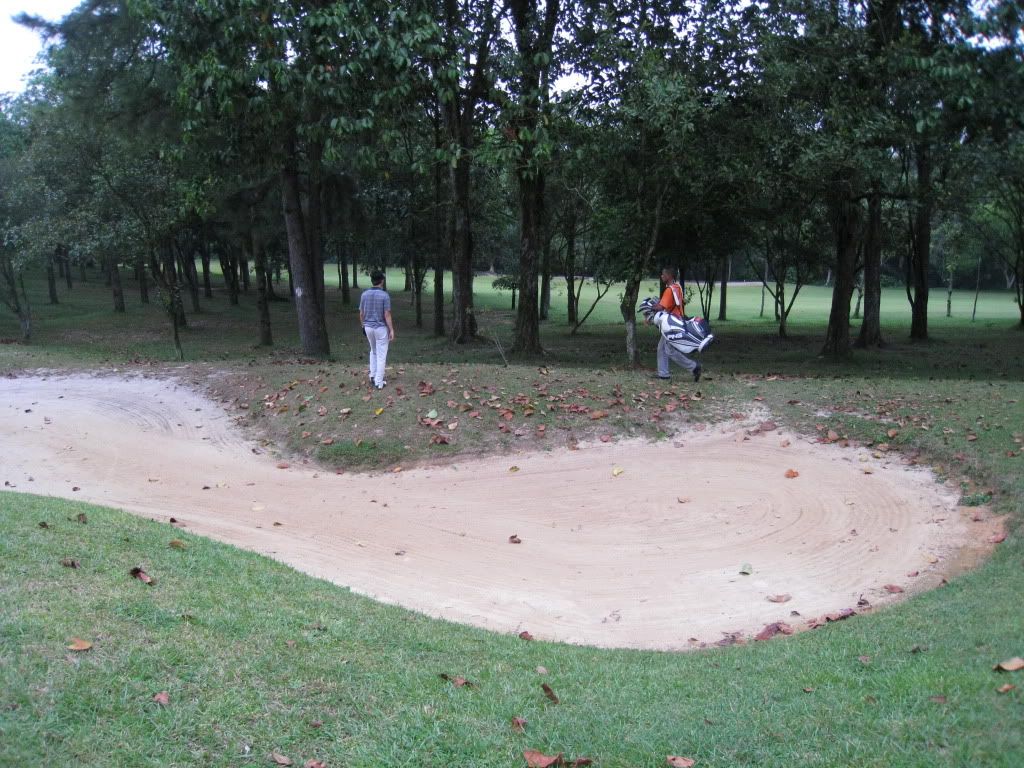 Aesthetics (2/5)
Jungle course. Trees are all over the place, and this makes it as enticing as being repeatedly stabbed in the nostrils with a rusted nail. I mean, I know some people who actually LOVE jungle courses like UPM, but they are generally in the minority hackers categories, probably just as many as the guys who like to eat bat shit. It's actually edible, no kidding, but seriously, do you have bat shit cravings like you do for chocolates?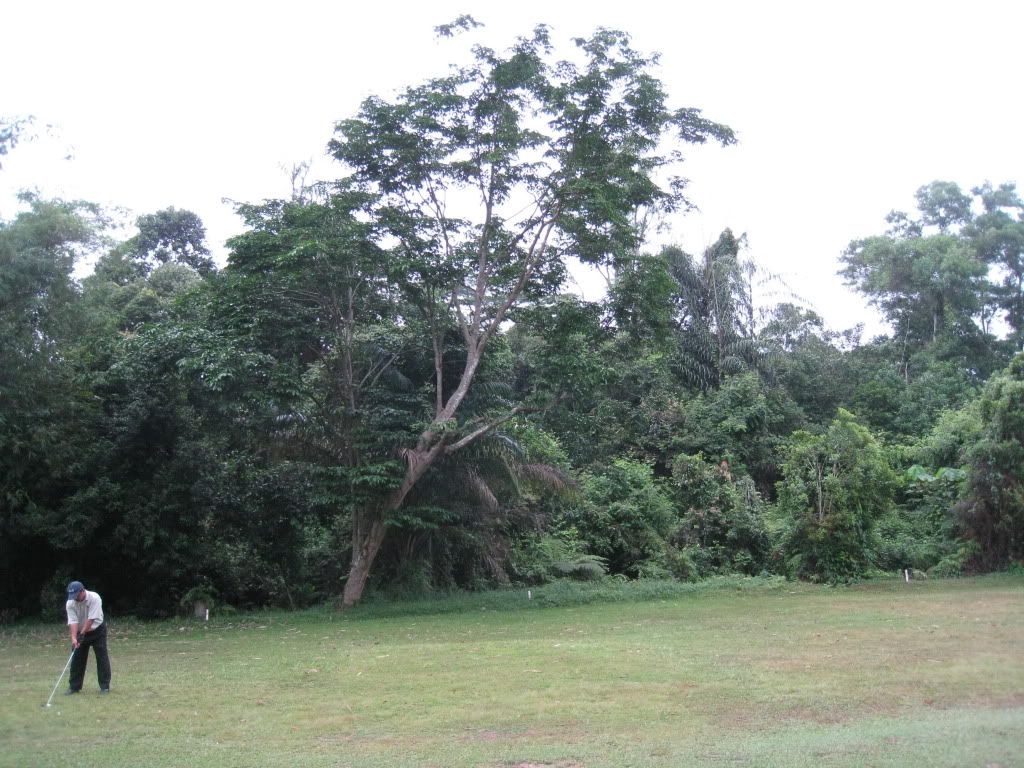 The problem with RJCC is that all the holes in the front nine, literally plays the same. Hole one, elevated tee box, dogleg left. Hole 2, elevated Green, dogleg right. Oh, a nice par 3 surrounded by trees with a huge elevation drop from tee to green. Here we go again, hole 4, dogleg left, hole 5 dogleg right, hole 6, straight.
Aesthetically, the par 3s are the ones that stand out as being better than normal, especially the ones in the front nine. Hole 7 is a pretty funky shot across a huge pond fronting a table green. Hole 16 also reminds me of the par 3 in Saujana, with a raving fronting an accessible green.
The two ending holes are nothing much to shout about, simply straight drives, with bunkers here and there making you so eager to get off the course and not come back. We might be missing the whole point here, because I can't imagine a crap course being selected for an international event for 3 years running, but we seriously cannot see the exceptional character that is at play here. This is just a crap jungle course, as far as we can see! Are we blind? KJ, Retief, did you actually had fun playing and winning here, or were you forced by gunpoint by your sponsors and agents?
Fun Factor (2/5)
Rain. Walking 18. Dim lights. Long travel from KL. Long travel back to Singapore. Was it fun as an experience? No. Was it fun as a golf game? I guess it was OK. Walking on the course actually does something to your game. It actually improves it. Seriously. Try walking instead of buggying the next time. Your muscles becomes less tense, it more loose and you can actually hit the next shot without writhing like a snake strangling a zebra. But for 18, on a hilly jungle course? I think I'll pass, until I get my fitness level up a little.
Again, the par 3s are pretty fun to play, as of the occasionally hole like the 17th, with an elevated fairway, very much like one of the holes in Danau. But the tree line course makes it excruciatingly tricky for us to play, and in the fading light, and with the course filled with leaves, it got to a point where fun wasn't how we described it. Another f letter word would probably be a better description.
Conclusion
Disappointing. We honestly thought Royal Johor would be one of the better course in Johor. But except for it's history, and the tournaments held here from 2007 to 2009, there's really nothing much to recommend for this course. I suppose, removing the Royal from the club does it justice, since it should really be a mediocre, below average experience. We chose this over Daiman 18, and unless Daiman 18 is like playing in knee deep cow dung, it will probably be a better bet than Royal Johor.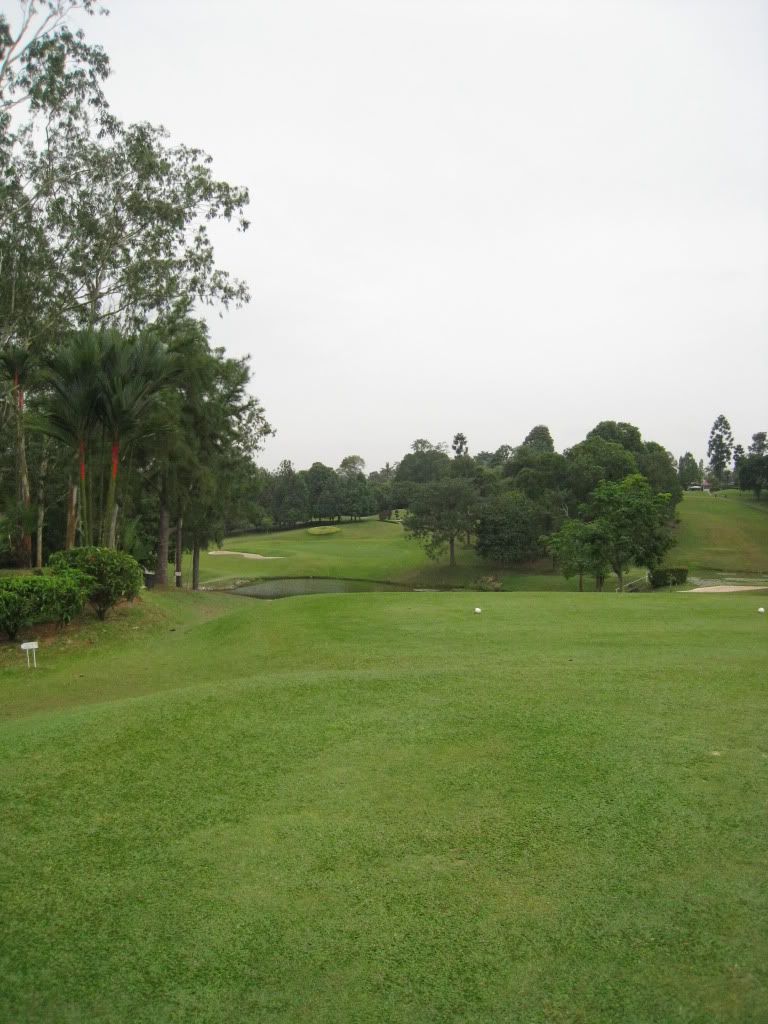 The good: History and the fact that Retief and KJ had planted their sacred shoes in this course a few years back.
The bad: Travel is crap, compounded by the insistence of not having signs to point to the club; pricing is RM130++ for a walking course and a mediocre caddy; buyer beware, make sure you nail down the pricing before the start, or caddy will rip you off and threaten you with a 7-iron down your throat; the course is nothing special, KRTU, UPM will probably suffice at half the price and half the travel agony.
The skinny: 8 of 40 divots (20%). RJCC just made it past the AAC category by the skin of its teeth and on its merit as a host for international tournaments. But this is a club that rides on its past success, because nothing we see indicates any sort of international standards by any stretch of imagination. Absolutely not recommended, unless you enjoy being ripped off and playing the rest of your round completely butt-naked. In which case, you need some serious therapy.
Royal Johor CC Scorecard
Royal Johor CC Information
Address:
Royal Johor Country Club
3211 Jalan Larkin, 80200 Johor Bahru,
Contact: +607-223 3322 /224 2098
Fax: +607-224 0729
Website: http://www.royaljohorcountryclub.com