Introduction
Every golfer, whether hacker or professional, would have the 'Top 3′ courses he/she wants to play in before dying. It's natural. Of all instincts in the animal kingdom, two instincts rise above all: the instinct to mate, and the instinct to choose the top 3 courses to play. For me, it's Augusta, St Andrews and Pebble Beach. But since those are currently out of reach (both geographically and budget-wise), I have to scale down to the Malaysian standards to the following 3: Saujana, Kota Permai, Mines. Of course, you can talk about Sungai Long, Bukit Jambul etc but why these 3 are so attractive is simply because Saujana and Kota Permai have hosted numerous high profile tournaments and Mines have had the pleasure of Tiger Woods' footprints, spits and curses over 4 rounds of the Malaysian Open years ago (did I mention that his appearance fee is possibly more than the winner's prize money?).
So when the opportunity came to play in Saujana, it was like an invitation to the Masters. We had 3 flights and those who never played the course before were highly strung up because we didn't want to screw it up and look like idiots. So lots of planning, training went into the week before we were supposed to tee it up.
Which brings back to one of Gilagolf's theory: No matter how much hackers practice on the range, there is no difference. They will suck, regardless.
Obviously my confidence level wasn't very high, having trudge through a pair of 95s in Tasik Puteri and KRTU, and developed a horrendous duck hook along the way.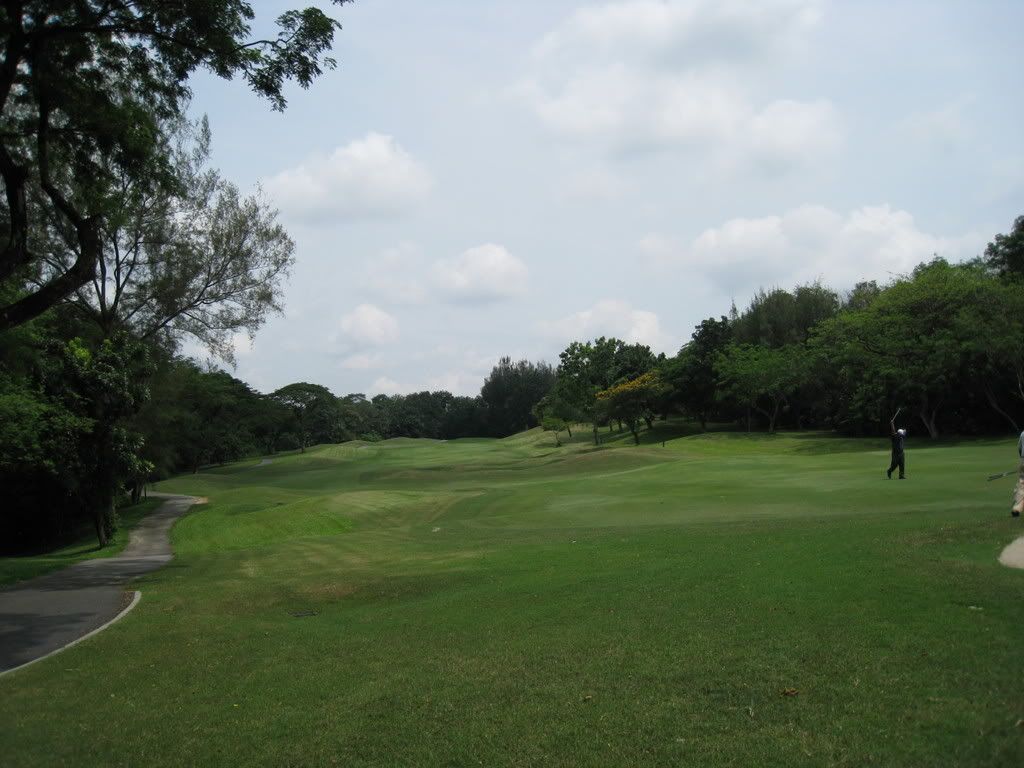 Travel (5/5)
We like courses that are nearby, i.e not too far from where we stay, and not too inaccessible, i.e too deep inside housing estates like Tasik Puteri, Nilai Springs, The Nameless Course in Seremban 3. We gravitate a lot to courses who are smart enough to be built next to a highway like KGNS or KGPA. Or in some cases like Saujana and Seri Selangor and Tropicana, we have the highway built next to the course.
It's very simple to get the Saujana, even a blind cow can eventually find its way there. Remember the old airport, Subang airport? Well, head towards it, either from the federal highway (in which case, head past the Motorola (now Freescale) LDP bridge and stay left and follow the cute aeroplane symbol. If you're coming from the NKVE, turn off at Subang, and right after the toll, stay right. You'll make a big turn and end up on the road to Subang airport.
From there, stay left, looking at the signs that says Saujana and Ara Damansara. Turn off to Saujana and take a 9 at the small roundabout. The club is on the right.
As you drive up the road, revel in its history, like how other lucky golfers get to drive up Magnolia Lane in Augusta. This is the closest you can get to the local version of Augusta.
Here's the official map from Saujana's website.
I know, it doesn't say much does it? In fact, for a premier golf course, I wish they would spend a little more on their website. I mean, if you compare it to Augusta's website, this looks as if it was created by a bunch of college nerds out to make a quick buck.
Price (2/5)
According to the website, non members pay RM353 for an 18 hole round. That's just green fees and insurance, mind you. Buggies are – get this – RM82 for twin sharing. RM82??! What the heck kind of buggy are they giving us, one attached with a freaking robot chauffer? We find out later that it was equipped with GPS for to track you distance. After fiddling with glee on the first hole, we all forgot about the GPS and just played golf like how we play.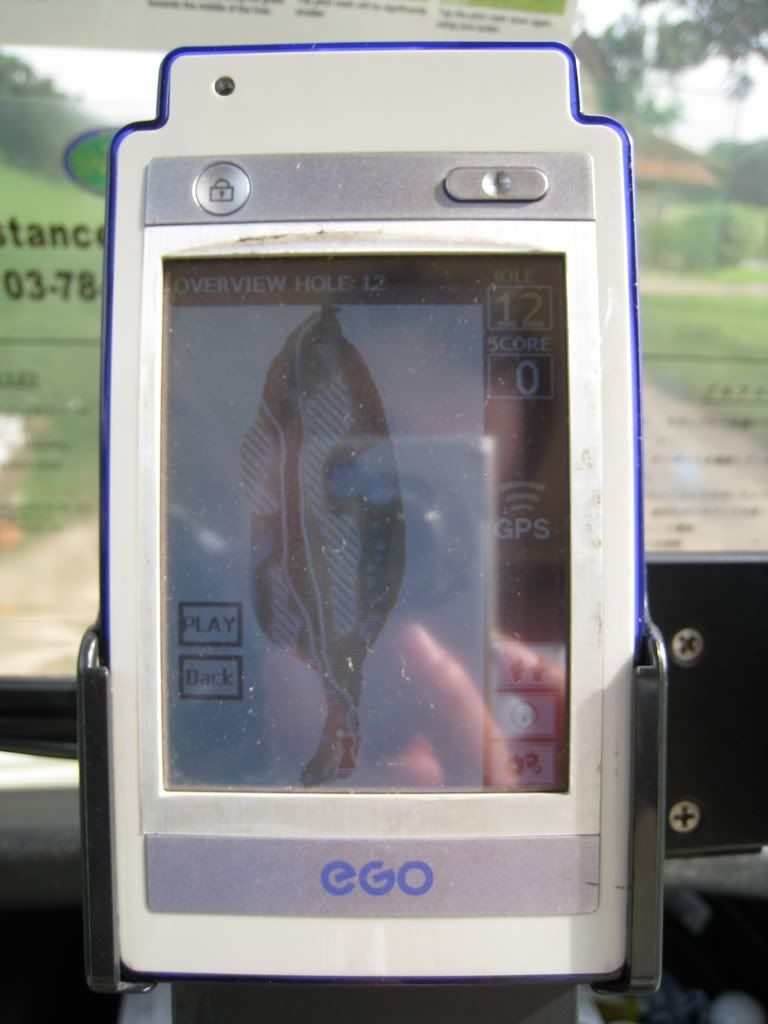 Golfer: (To caddie) "Eh, how far-ah-the hole?"
Caddie: "150, boss. Take 6 iron la."
Golfer: "150? Looks nearer one? No la, I strong hitter, 7 iron."
Caddie: "But boss, ada wind la…don't believe, check GPS la."
Golfer: "7 iron!!! "
Proceed to hit short into the bunker.
Golfer: "AIYAA! Wind laaaa!!!" (Tomahawk the 7 iron into the ground)
Caddies cost 40 bucks each, so it's 20 per buggy. So here's the overall price you are expected to pay (kaching!):
353 + 41 + 20 + 25 (minimum tip is 50 to caddie per buggy). = RM439.
Instead of giving it a -100 for price, we understand this is a premium course, so we're bumping it up to a 2. Come on, Augusta comparisons are just for fun. No way in a zillion years will Saujana be even mentioned together with Augusta.
First thoughts
As I said, it was a nervous affair to come into Saujana. I was hoping we would get championship course, called the Palm Course, but more glamourously as "The Cobra", but obviously, we're still considered second class citizens in our little tournament and got bumped to their secondary course, The Bunga Raya course, otherwise known as "The Crocodile". There is absolutely no reason why it should be named the crocodile, because we expected to see some reptilian obstructions along the fairway, which we did not. Neither is it a watery course, with water only in play towards the end. Perhaps it's the fact that once the rough catches your balls, it's like how a crocodile locks its jaws when it grabs hold of your balls, never letting it go until it crunches your balls into a million pieces. We're talking about golf balls here, by the way.
Because this is Saujana, we're willing to separate the two courses (Bunga Raya and Cobra) into different reviews (that is, if we ever find ourselves playing on the Cobra in this lifetime).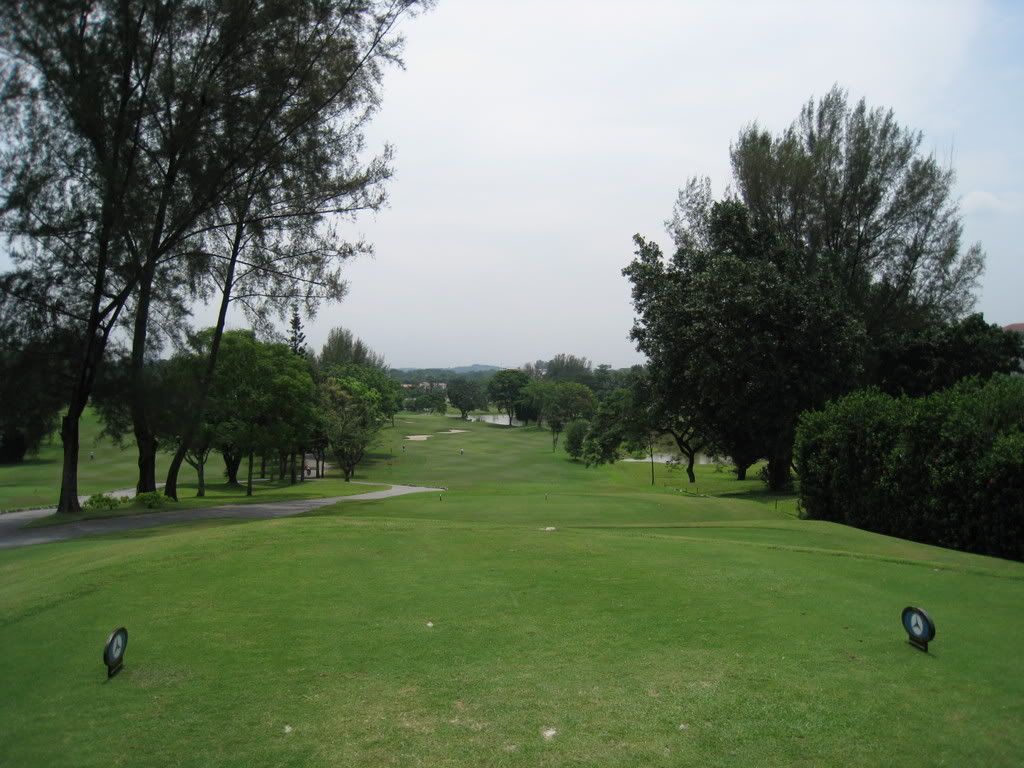 Service (3/5)
This was a game serviced by one of our generous vendors, so check in, registration was a breeze. I just turned up and we were ready to go. As mentioned, there is a GPS unit attached to each buggy but that's about it. We hardly use it except for a few holes where we distrust our caddies (who for some reason, get offended when we do that).
The caddies were good. They know the course, they know the greens and you will need them to read these greens. Saujana is diabolical in the greens. What I didn't quite like was how arrogant some of them were. We had a guy who was probably a 4 handicaper but he wasn't my caddie. He seems like a nice fellow, someone like Nan, from Air Keroh, and he was constantly teaching my friend in the other buggy, how to release his drives.
My caddie was a girl, whom I thought was Indonesian (by default) but turned out to be a local Chinese. So it was the first time that I actually conversed with my caddy in Cantonese! But she wasn't that great. Some of the reads she gave was way off, but some were good. But when I didn't pull it off, she would go off in a huff saying I didn't listen to her. What? Excuse me, how the heck am I supposed to be good enough to hit that chip exactly where you pointed? You think I am pro or what? One time I blasted out of a bunker and she says, "Why you hit so hard? Now long putt to hole." I shot back that with our skill, anything out of the bloody bunker is good enough. It was a good thing she was a girl and my natural gentleman instinct overcame by barbaric instinct to wring her neck after 13 holes and plant a hundred balls into her thick skull.
It's annoying when you hit a long putt and she goes, "See, I give correct read." And when you miss, she goes, "Why never listen to me?". Gosh, how about I drive your RM80 buggy into one of the lakes with you strapped behind it?
Fairways (3/5)
I was a little surprised to find the fairways in such a mediocre condition. Now all this is relative. The fairways are nice, with the ball sitting up like a carpet. But if I were to fork out nearly RM500 for a course, you need to give me something more than 'nice'. It has to be Tropicana nice, as in, pristine. Hole 11's fairways was mushed up and muddy near the buggy track. Hole 2 had tracks on the fairway and I had to take free drop. Hole 3 area near the green was so soft, my ball disappeared. A couple of holes, it didn't hold up to the previous day's downpour as well as I expected it to. So, relatively speaking, the fairways weren't too special I'm afraid.
Greens (4/5)
Here's where the madness begins. Saujana's greens are absolutely crazy. They told us it was 10 on the stimp but I putted so badly, at one point 3 putted 3 holes in a row and ready to whack the putter to my head like Woody Austin. Putting is a snowball effect. You putt like a clown for the first few holes, you start second guessing. And I'll tell you this, Saujana Greens are harder than KRTU. In KRTU, you can at least see those crazy undulations. You know your ball will break, but you're not sure how much. Again, we reiterate we are speaking of golf balls. In Saujana, a straight putt could have a left break, an uphill putt could be a downhill. A regulation on could turn into a double bogey when you four putt. I mean, it's not in your face like KRTU. This is deceptive. It's subversive. It's main intention is to trick you and you just watch in despair as your ball rolls…and rolls…and rolls and rolls. I putted like a man possessed, sinking in critical 5 – 6 footers to avoid 3 putting almost every hole. I don't even have a tap in on any occasion!
And to prove yet again that Gilagolf's review is in no way affected by how badly we play, we're giving it a 4/5. The breaks and trickery were great. The maintenance wasn't super though. Again, this is with the RM500 per round pricetag hanging over everything.
Rough (5/5)
Ah, if the greens were crazy, the rough was probably the best lesson I ever had in golf so far. I think it's Bermuda, but you will likely enjoy hitting your balls out of lumps of cowdung more than trying to get out of these stuff. It's gnarly, for the lack of better word. You think your ball is ok because you can see it and it's not too deep inside. But this grass is strong, you can't just whack it because it grabs your clubs and twist it any which way, which usually results in your ball being badly topped or bottomed and advancing 20 – 30 meters in pure ignominy. And here's the difference between pro players and hackers.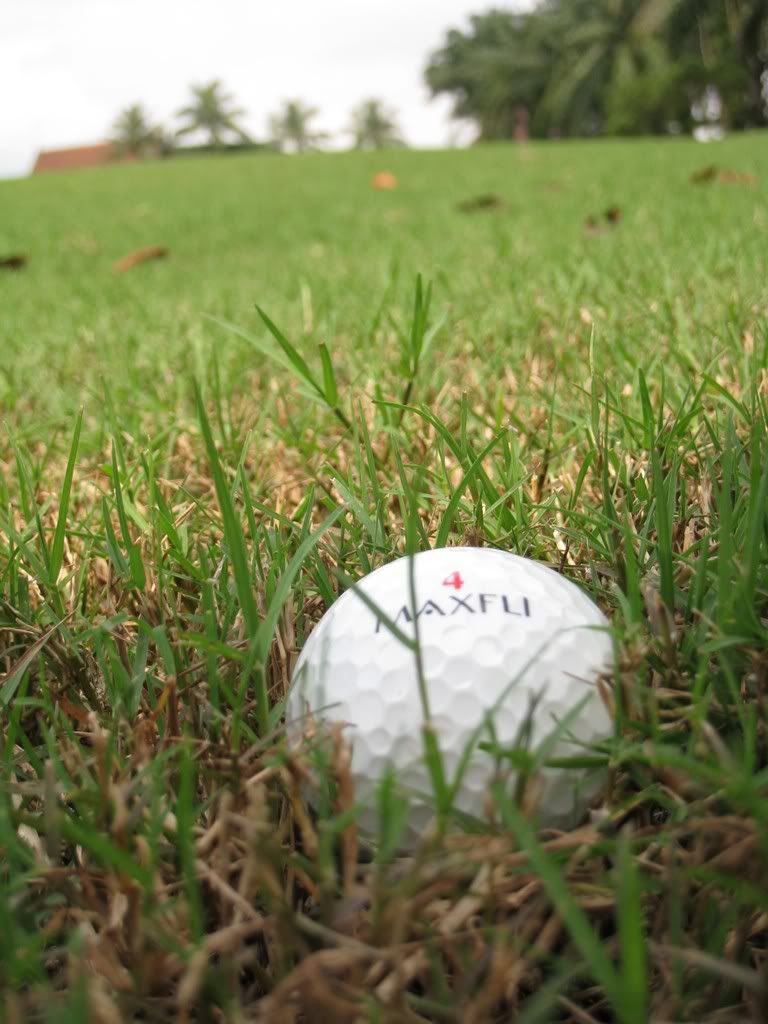 For hackers, our learning ability is seriously malfunctioned. In fact, if I may, I can say I am golfically retarded. A pro player, after 1 or 2 holes experiencing the rough, would adjust his game to suit the conditions. For me, I usually chip around the green with my 48 degrees. I like to bump and run the ball, bounce once or twice off the green before releasing it on. I might sound like I know what I'm doing but most of time, it's because I am really crap with my 60 degree and often end up skulling it. A wise guy might suggest to use my sand or approach wedge, but I will reject it simply because I like how my 48 degrees look at my chipping address. Anyways, so there I was throughout my front nine, trying to bump and run the ball on, and everytime I hit it short, the grass catches it and it gives me absolutely zero bump and zero run. I recall the par 5 8th, I was near the green in 3. My chip was short. My second chip was long and I had to struggle for a bogey.
It took me 9 holes to realize that my 48 degree will be useless and I switched to a 60 to get a higher trajectory on my chips to land on the green and avoid all the stuff between. I immediately got a par on my 10th and started recovering from my front nine 47. In fact, I was only six over when I reached the 18th and needing a par to break 90, and that was when the disaster (which I will chronicle) struck.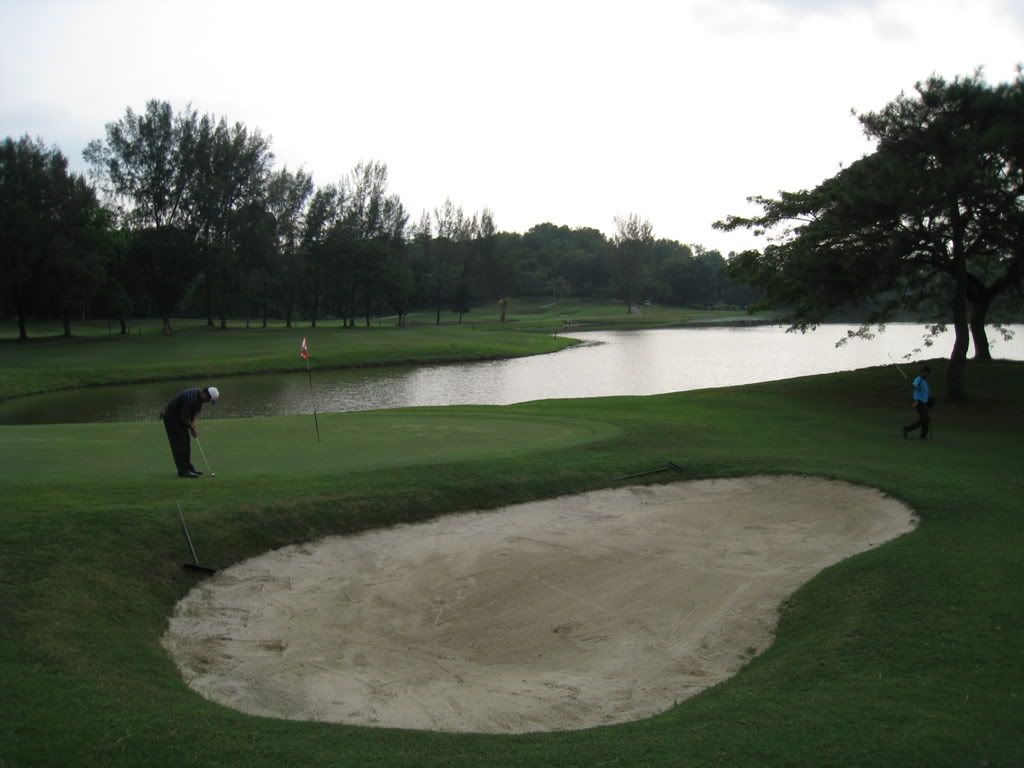 Aesthetics (4/5)
Saujana is a great looking course. I'm not just saying because I like groveling before the best club in Malaysia, but it's a genuine feeling of freedom, standing over the elevated tee box at 1 and 10, and watching your drive soar down. Even the 9th hole, it was a magnificent view on top of the tee box, that sloped down into a valley and up again to the green. Some of these holes are diabolically long, like the Par 4 2nd which requires a perfect drive to hug the little dogleg left. The par 3s are not a piece of cake as well, the 13th is a scary 180 meter hole with an extreme elevation drop from tee to green. I'm surprised that they can come up with so many elevated holes in the Subang area. I always though the land was fairly flat.
It's not a pretty little thing like Palm Garden, or a horrendously long course like Clearwater, but it's a little in between. The generous fairways invite you with the driver, and the lack of OB gives you a fake confidence over the teebox. You yank something offline and it goes in the jungle. As the caddie said wryly when I asked if it was OB, "Here got no OB. Boleh cari, boleh main.", i.e instead of plastering OB stakes around the course like stupid amateur courses like Nilai Springs, KRTU and all that, Saujana dares you to recover from the jungle. That's why we call it a man's course. It doesn't retard the players recovery like other courses with its OB here and OB there. It lets the player decide, hey, if you wanna hit it through the jungle and risk your life, go ahead, make my day, lets see how you recover. Most of the time, we take one look at Saujana's rough and jungle and we go, forget it.
At the end it's still a Palm oil estate course like Rahman Putra, so we're giving it an almost perfect 4/5 for aesthetics. Certainly enjoyable view and a great experience.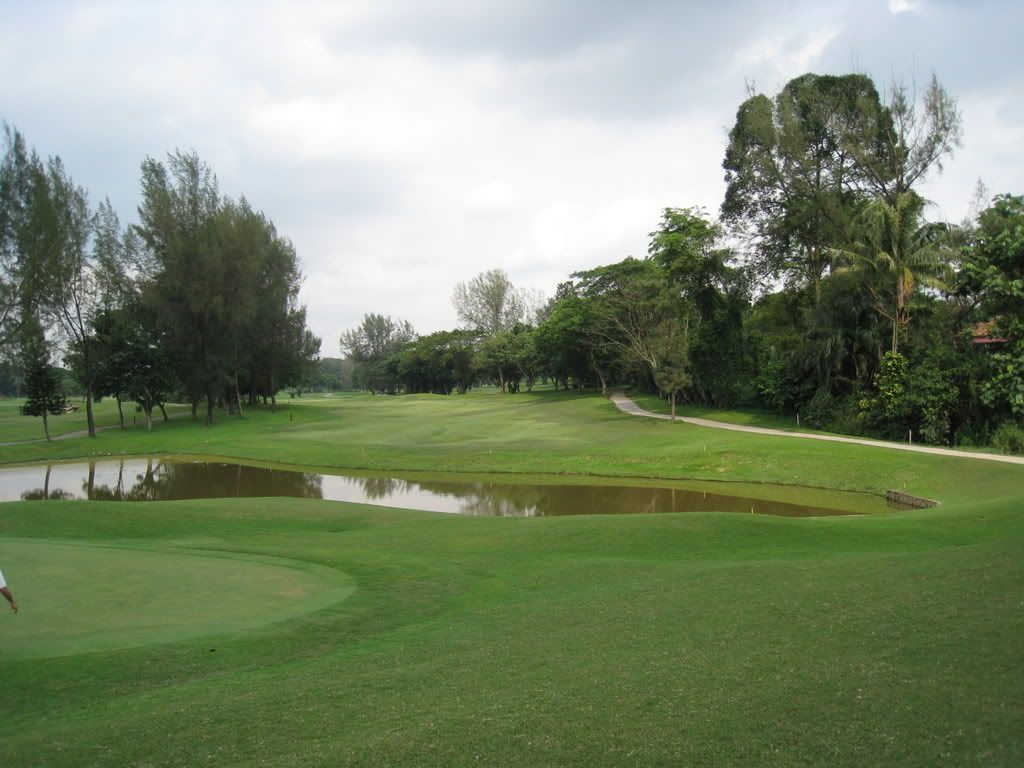 Fun Factor (4/5)
It took me a while to really get used to the greens and roughs so I was basically hacking like a turkey before Thanksgiving on my first 9. I was having a great driving day, blasting the ball a mile, that prompted the handicap 4 caddie to comment, "Do that again. I want to see your drive."
Unfortunately, my other aspects were completely stupid. My approach shots were mediocre at best, and I pulled some nasty shots into the jungle. I was especially struggling with my 23 degree taylormade rescue (which is now back in the store room for punishment), yanking it left all day. My chipping, as mentioned, was like a man with epilepsy. My putting was Jekyl and Hyde, 3 putting at times, and dropping some crazy bombs at others.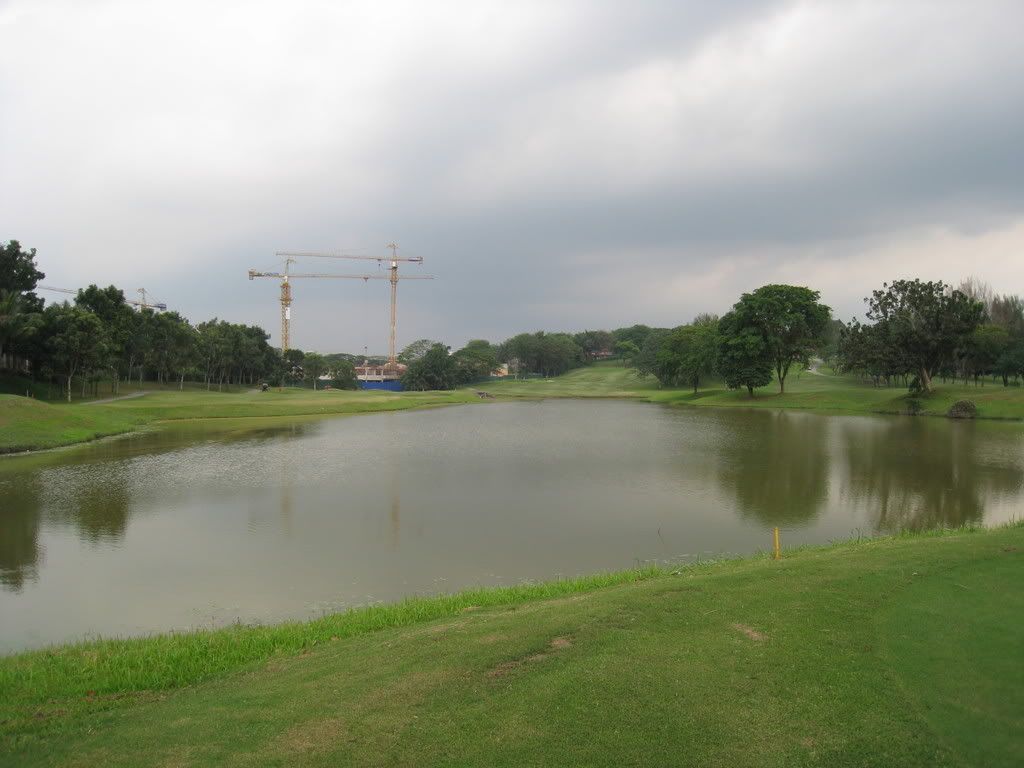 Did I have fun overall? Sure, how is it not possible to have fun in Saujana? I would have gone home a happy and satisfied man if only I didn't screw up the 18th. Like the show "Seconds from Disaster", here's a breakdown of the disaster of 18th.
Approach the tee shot, a scary looking one with a peninsular on the left running along a huge lake on this Par 5. You need to aim left and depending on your carry, look for a target in that peninsular. It's actually a great great hole to end.
My drive hooked a little with a topspin but safely carried the water and into the primary rough.
About 230 meters away to an elevated green, and here was the crucial decision. A 6 iron or my rescue wood? I already faced this dilemma in the 12th hole when I yanked my rescue wood into the jungle and barely escaped with a double thanks to a 20 feet putt over a 10 feet break.
I don't know why, but this is how insane people operate; I thought I could pull it off again. The exact same thought process came in: Come on, you can do this. But it's deep rough. Maybe a 6 iron to just play it safe. Nah, what the heck, I want to go far. Far!!
And with that, the devil on my left shoulder triumphed over the angel voice of reason on my right shoulder and I took my hybrid.
I came down so steep, the ball got popped up by my rescue wood's top and it sent the ball short, high and right. This is by far my crap shot.
Every golfer has a crap shot. Shots that cannot be analysed, cannot be simulated on the range no matter how hard you try, shots that come once or twice in a round, often with disastrous results. Some struggle with the duck hook, some with the sh*kns, mine is exceptionally embarrassing because it just pops up 20 meters and go far right. In this case, yep, into the dang water.
So lying 4 about 220 to the hole uphill, you reckon I would learn my lesson by now and try to five on and save bogey. Instead, I used the same bloody club and hooked it left.
I was lucky there was a bunker there to catch it, else it would have dribbled off into God knows where. From the bunker, I hit perhaps my best 8 iron ever for the day, straight, lofted landing just off the green with a severe downhill for my bogey chip.
I chipped using my 60 degree, saw it land, saw it track. My best chip of the day. It looked to be in the hole but last minute turned, careen off the lip and settling 4 feet away from the cup.
I needed to hit a measly 4 footer to salvage some pride and I've been hitting this all day with my eyes closed.
As the case for nearly every hacker in a similar position of a must make putt: I came up tentative and short, settling for a humiliating triple on the final hole, and a 92 overall. Bah.
Conclusion
So ends the Saujana experience. I was hoping this would enter the mythical Gilagolf status of DAGTH (Died and Gone to Heaven) category, but it falls short due to several reasons as stated. Still, it was a good round of golf overall, which could have been better. The course obviously has a lot of things going for it. If someone pays for you or you have extra money to spare, then Saujana – Bunga Raya course is a great place to go. The wide fairways are super friendly to a crazy driver like me. It doesn't limit your game with stupid OB stakes like Nilai Springs or KRTU or Seremban 3. It's a man's course, so you're gonna make sure your driver is working well, or you're not gonna regulation a lot of holes. The course, with its contour changes is also superbly designed with a few holes requiring placement and thinking and not just smashing. Definitely a must play!
The good: Travel is great and fast; the greens will test your resolve not to smash your putter to pieces; the rough is a heck of an experience; overall aesthetics is very attractive, with contours and elevations for a different experience every hole; last hole on both 9s a great experience.
The bad: Crazy pricing designed to force you to mortgage your home; fairways are not exactly up to par (pun intended obviously); caddies are a little annoying if you get the wrong ones; GPS is aesthetically nice but functionally too advanced for stone age hackers like us.
The skinny: 30 of 40 divots (75%). Anything with the name Saujana in front would be a good experience. Even with the fairways far from perfect, Saujana – Bunga Raya course manages to come in third in the Gila Meter behind Palm and Datai. A definite "play" for this course!
Saujana – Bunga Raya Score Card
Saujana GCC Information
Address:
Saujana Golf And Country Club
P.O. Box 8148, Kelana Jaya,
46783 Petaling Jaya,
Selangor Darul Ehsan, Malaysia
Contact: +603-78461466
Fax: +603-78467818
Email: golf@saujana.com.my
Website: http://www.saujana.com.my/