Introduction
Our previous review of Saujana had it at 75%, pretty short of the 90% required for the DAGTH (Died and Gone to Heaven) category, which as of now, none of the golf courses in Malaysia have achieved.
And finally, having just stepped foot in Mines Resort, Gilagolf finally came upon one of the elusive courses of all: Palm Course of the Saujana, otherwise known as the COBRA. I'm actually not sure why it's called the Cobra, I guess because it's snaky, or poisonous, or slithery, but you know golf commentators, they really suck at nicknames.
So anyways, I was invited there by a good friend of mine, who was a VIP of the club (somehow through my wayside travels, I will chance upon a VIP here and there), and he needed company for a round and was willing to subsidise the green fee, without which, I would most likely have to pawn off my Tag, seeing that that my income has been severely reduced.
Due to the invitation and probably a flight of prestigious character, I had to cut back my photography spree at the risk of being mistaken for paparazzi and chased off the course with a 7-iron. Hence, the pictures here aren't that great, but it will have to do.
Travel (5/5)
Aw, you know how to get there. It's Saujana! Check my previous post here.
Price (3/5)
After complaining so much about the mythical 400RM green fee of Mines (which so far has yet to be disputed), RM280 ain't so bad for weekday golf (it balloons to RM400 over the weekend). I was heavily subsidized and even with that, I was forking out 3 figures, so you can imagine.
But then again, pricing against the experience of the course. This is the course where Malaysia Open plays, this is where the British Open qualifiers are. In the case of Malaysian courses, this is as prestigious as prestigious gets. Is it worth RM280 green fee? Well, we complain everything is too expensive, but at the end, this is Saujana Cobra. It's a whole different kettle of fish. Adding buggy fee and insurance, the price would be RM320 or so. Just try not to get a caddy or you'll end up tipping more.
After going through the course, you know you will only play if its subsidized, or there is a tourney invite….but due to its prestige, it gets a 3/5 for pricing.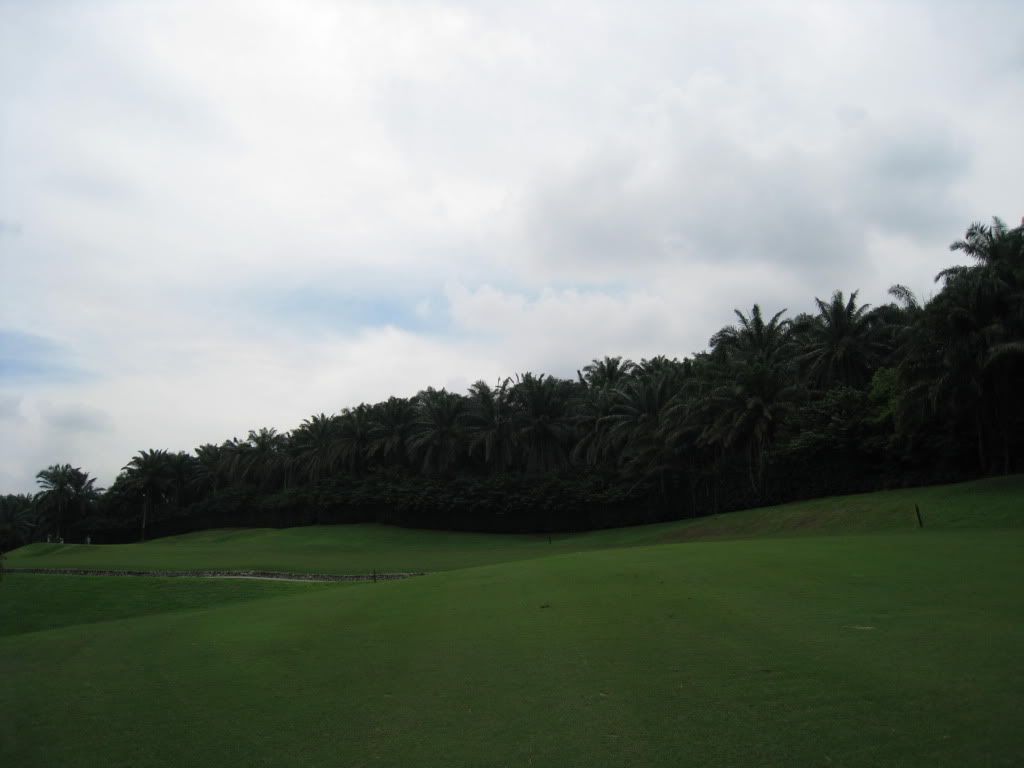 First thoughts
What can you say? Standing at the first tee, I'm just wondering to myself, hey, I'm standing where Anthony Kim stood a couple of months back when he came for the Malaysian Open. Cool.
I've gone for golf tournaments before and stood 3 rows deep at the side watching Prom Meesawat rattle his tee shot at the magnificent par 5 18th and wondered, darn, could I have outdrove him? You know Prom, aka the Big Dolphin, right? He's like this big teddy bear that lumbers around the course and plays like a god. He's an inspiration to everyone sporting a belly (which is 99.99% of all casual golfers in Malaysia), that to be cool at golf, all you need is a good pair of sunglasses. Go, Prom!
No, but I came close with a 250m drive past the two fairway bunkers. The amazing thing was I still managed to screw up the hole, it's just amazing.
Service (4/5)
I don't have much experience with the service since I didn't use their caddy, it was just our flight. I think it would be unfair to base it on my previous experience with Saujana, so I'm bumping it a +1 from our Bunga Raya review, just because this is the Cobra and we feel like Prom Meesawat, belly and all.
Fairways(4/5)
Come on, Saujana, you just shot yourself in the foot to attain DAGTH status! Anything less than perfect will screw up your score. Try as I might, I still found the fairways wanting. I mean, it certainly feels ok, but I recall one hole where my drive landed on the fairway and I saw a bit of bald patch on it. Don't get me wrong, it's still very good, but not as immaculate as say Tropicana when I played on it the other day.
But Saujana is certainly challenging, each hole having its own character, and even the fairways, reminiscent of Rahman Putra, the same way a Maserati resembles a Proton Waja only by the fact that it has four wheels; the fairways are undulating, snaking its way around the former palm oil plantation. In other words, its not just a matter of landing the ball on the fairway, something we seem incapable of doing; it's also landing where on the fairway.
Greens (4/5)
Again, a little disappointed with the greens in Saujana. We played on very slow greens, it was almost as if it wasn't pressed and at one time it was so frustrating, to see your ball rolling to the hole only for it to careen off target by a little bump near the hole. As far as the condition of the greens, I'd say it wasn't its best, so it loses a divot here.
But ah, the challenge of the greens. It's absolutely fascinating to watch your ball go through several breaks and dip down a slope so fast, a slight touch is enough to send the ball to the outer limits of the fringe. Saujana greens are devilish, and requires the utmost precision to play. I three putted several holes and finally resorted to landing short and just chip and putt.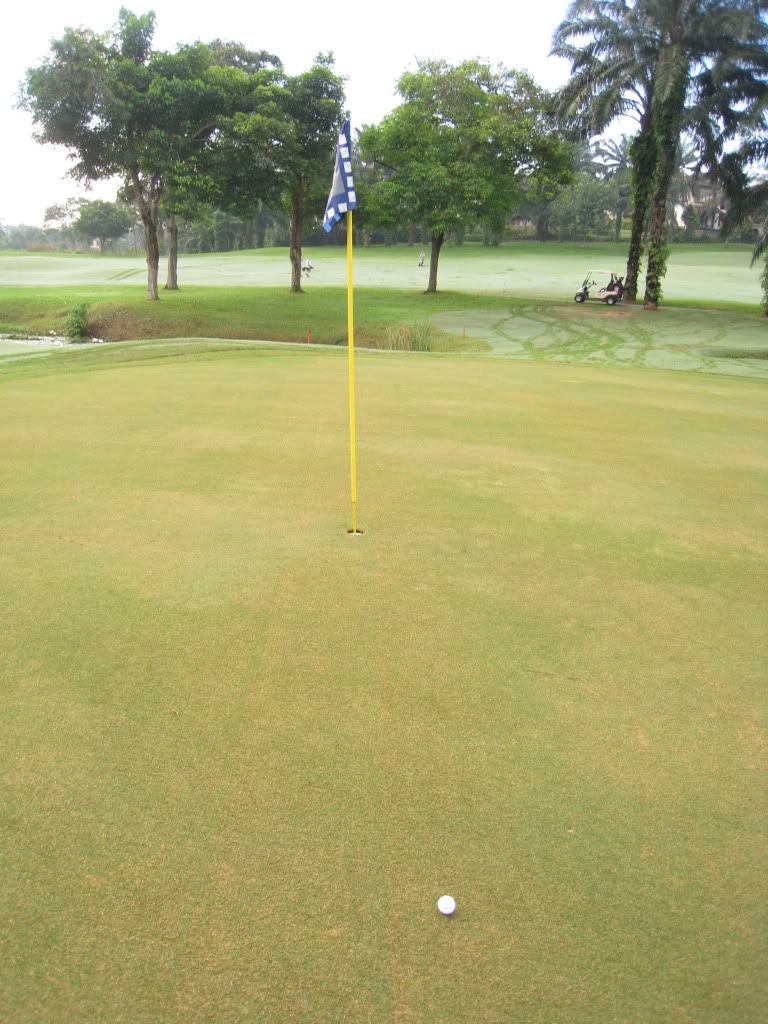 Rough (5/5)
Ah, now we're talking. The rough, as Saujana rough goes are the toughest. The grass catches your club, snagging it and making your seven iron look like a piece of stubby wood. It's punishable by death. I am overlooking the slight wetness of the bunkers due to rain the day before, because it still played well.
Case in point, my playing partner teed up to the right on the final hole 9th (we started back 9). It was a good one, but unfortunately on the slope. Instead of playing it out and taking his medicine, he decided to go for it at an awkward angle, with the ball almost at his waist height due to the slope. He was essentially swinging an axe.
One swing, the ball hopped and moved backwards. This guy is a low teen handicapper and he had just whiffed the ball. He claimed his iron was snagged by the grass and he lost his swing plane. Second swing and blam, shank, it's still in the hill. Third and SHANK! It goes to the top of the hill.
Fourth shot out and rolled into a drain about 50 metres off the green. Fifth penalty. Sixth he sends it back of the green in deep rough. Seventh, chipped out, flew past the hole and almost greenside bunker. Eight chipped too far. Nine, missed, and folded with a 10, on a par 4. Boom. He still shot 92 with that 10, so imagine if he hadn't screw up.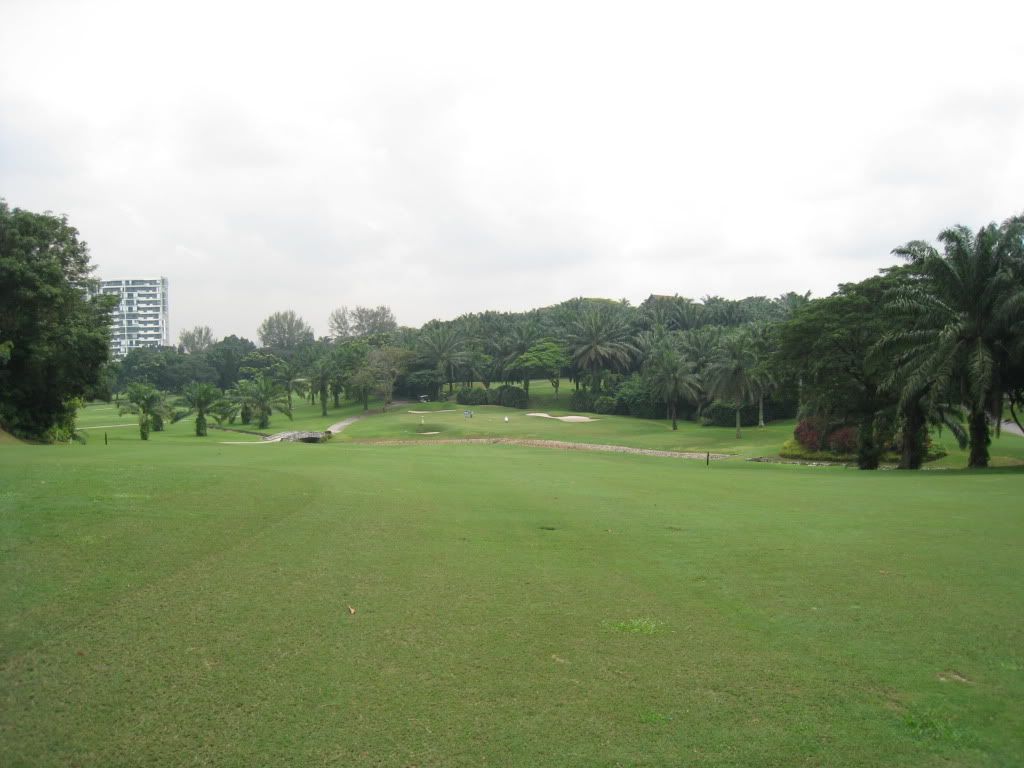 Aesthetics (4/5)
What can we say? While Bunga Raya was nice enough, crossing over to the palm, it's easy to get blown away. We're talking about a major character here on this course. This is like the Tom Cruise of Golf Courses in Malaysia. Compare it with, say, UPM or Nilai Springs, which are essentially like Awang Bin Amri or Lim Chin Ho. Don't know who the heck these guys are? They are bit actors in Cerekerama and a few Chinese Series. I just made up their names, but that just further strengthens my point: Saujana Palm blows these sorry excuse of golf courses away. BLAM!
It's a mixture of water, undulation, palm trees, jungle vegetation, wide fairways, narrow fairways, big/small greens. It's like a Bollywood movie. It has everything! Dance, songs, fights, comedy, drama, thriller, horror, politics, love…the whole she-bang. The par 5 13th has an elevated tee shot that overlooks a very reachable green in 2. A great drive and a great 3 wood to clear the water and you're there.
Hole 14 is the toughest on the course because it is narrow and long, and filled with well-meaning bunkers. Well meaning to mash up your balls! Golf balls, that is.
I really like the 17th. I hit (finally) a perfect tee sailing from right to left and landed only about 40 meters away. It's an extreme L shape dogleg left, with water on the left side. As for the 18th, this was where I watched Prom whacked the heck out of his golf ball during the Malaysian Open in 2007. As I was standing there, I hit a great tee shot about 250m, hit a crappy 7 about 100m and then hit the shot of my life with my six to 5 feet pin high. In my joy, I proceeded to miss the dang birdie putt but at least ended a rough nine with two pars.
The par 3 second is both beautiful and vicious. It's like that bad girl in GI Joe, who looks hot and ultra bad. Or Zhang ZiYi in Rush Hour 2. Or AnakSunamon in the Mummy. Take your pick.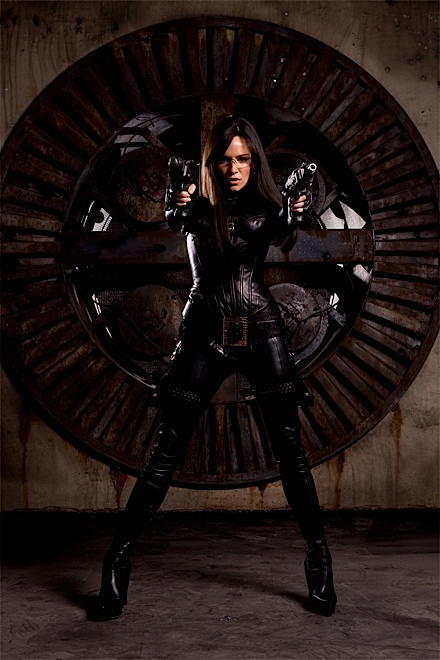 It's a moderately long hole, 172 yards, but anything short, you have bunkers or it will roll down a 45 degree gradient into the jungle. Anything long and you got an adventure coming back because the green has an extreme drop off and yes, the hole is located at the bottom of the drop off. I hit long (thinking it was 172 metres) and by a stroke of luck, managed to hit my 60 degree soft, landed on the edge and trickled into the green….and it rolled, and rolled…and rolled and rolled….and rolled. YIKES! No wonder it was dubbed the most difficult hole in the country!
Fun Factor (5/5)
Where to start? Teeing off at 10, it's a wide nice fairway but the small bunker traps any hookers that stray too near the left side. My first par came on the 12th, where a stray tee shot was recovered from the thick rough.  The very next hole is the reachable par 5 which I proceeded to butcher it with excess force.
The par 4 4th is also reachable from the tee if you hit massive, a dogleg left with water flanking the side. The elevation gives you a good view to strategise. Our strategy has been perfected for every par-4 and par-5:
Smart Golfer inner voice: Hey man, this is short hole, just lay it up with a 3 or 5 wood and you have a full 8-iron in. You're hitting your eight iron well, man.
Me: Hmm, that's right, inner voice. Maybe I should —
Stupid, egoistical Golfer inner voice: Eh, dumbo, you pay so much for driver to leave in bag issit? See, the other fella also take out driver mah, after you no face leh. Might as well tee off ladies tee lah, play so chicken.
Me: Darn, you're right, stupid, egoistical inner voice! Smart Golfer inner voice, I banish you forever! DRIVER!
And I hammered the ball straight into the water. Yaay.
Anyway, you get the gist of it. I know golf is supposed to be with people who make it fun but I am thoroughly convinced that if I were to play alone in Saujana palm, I'd still have one of the most enjoyable game ever. It's a course that interacts with you, because there's so much thinking to be done. Obviously, we are not the thinking type which is reflected in our ballooning scores but ah heck, maybe another day.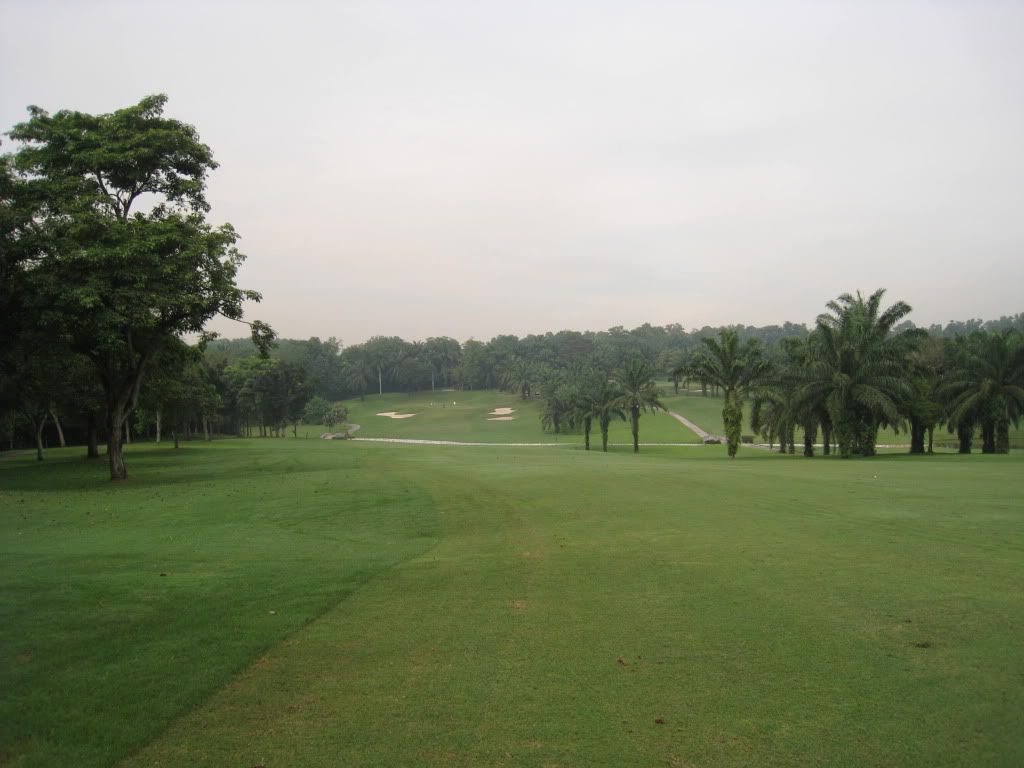 Conclusion
Saujana Palm, aka Cobra gets two thumbs and two big toe up from us. We generally hate courses that blow their own trumpet (please see review on Bukit Unggul), but after hacking away the premium course in Malaysia, I can safely say: this is the best course we've played so far. If you can afford it, or you know someone willing to subsidise or you have a choice of clubs to choose from for your company event (charged to your company of course), choose Saujana Palm. If not, sell a kidney in the blackmarket. Either way, you gotta play this course.
The good: Great, great character. Every hole is an adventure, and the game will definitely end too quickly for you on this course. The rough is challenging and the undulating greens and fairways will definitely give you a little fit or two.
The bad: Pricing obviously, but if you had a choice between Mines and Saujana, hands down, take the latter. We also caught Saujana palm on a moderately bad day on fairways and greens, as the condition wasn't immaculate.
The skinny: 34 of 40 divots (85%). Argh! Few more divots for the elusive DAGTH!!! This definitely wasn't predetermined because I really thought this course will be the one to get it. What do we need for DAGTH, Pebble Beach?!
Saujana – Palm (Cobra) Score Card
Saujana GCC Information
Address:
Saujana Golf And Country Club
P.O. Box 8148, Kelana Jaya,
46783 Petaling Jaya,
Selangor Darul Ehsan, Malaysia
Contact: +603-78461466
Fax: +603-78467818
Email: golf@saujana.com.my
Website: http://www.saujana.com.my/