Introduction
After undergoing the debacle in Frasers and Berjaya Hills, it was not without some nervousness we approach our second last Highland Hope: Selesa Hills. Of course, I'm not sure if we're ever going to try Awana ( I hope we shall), but Frasers and Berjaya are in the trash can now. I thought Selesa, being priced more expensive than Berjaya would offer something slightly better.
So dragging my normal group, we headed off early into the morning to Selesa, praying that it would be a better experience that the other Highland Trash Courses we've tried.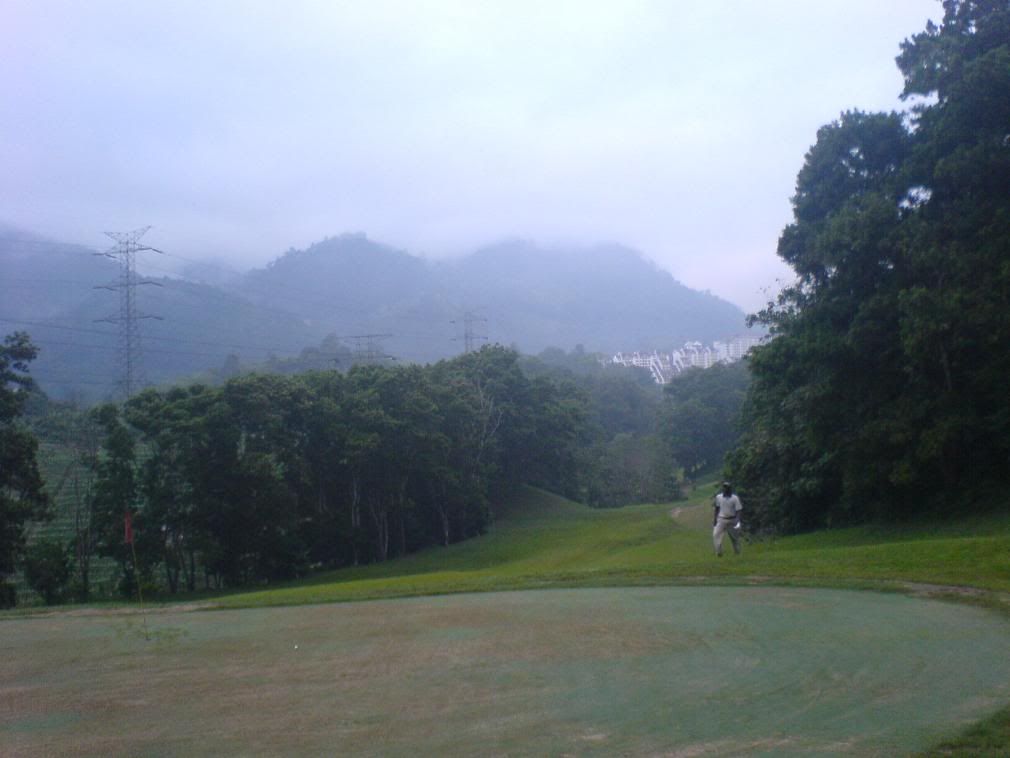 Travel (2/5)
Here's the first news: It's easier to access than Berjaya! All we need to do is to take the highway heading to Genting (from Kepong), past Batu Caves, past the Genting Tunnel. Eventually on the left, as you head towards Bukit Tinggi, you'll see a group of hillside homes stacked together. That's Selesa Hills. Selesa means Comfort in Malay. It's a promising start.
Just slow down for a left turning and once you turn into Selesa, go straight past the homes entrance and 50 meters on, you'll see a broken down sign to the right that states Selesa Golf. So much for a promising start.
Price (1/5)
It's RM60 for a Saturday Morning. That's with AGN, so that's pretty steep already, especially if you see the course that we end up at. Plus, it's only for two turfmates. For four people. What the heck does the other two do? Apparently there was a mix up but I'm going to blast this during the review of their services. Price wise, I rather top up additional 30 RM and play somewhere in Monterez or Kinrara, that would be a lot nearer and probably a lot more worth it.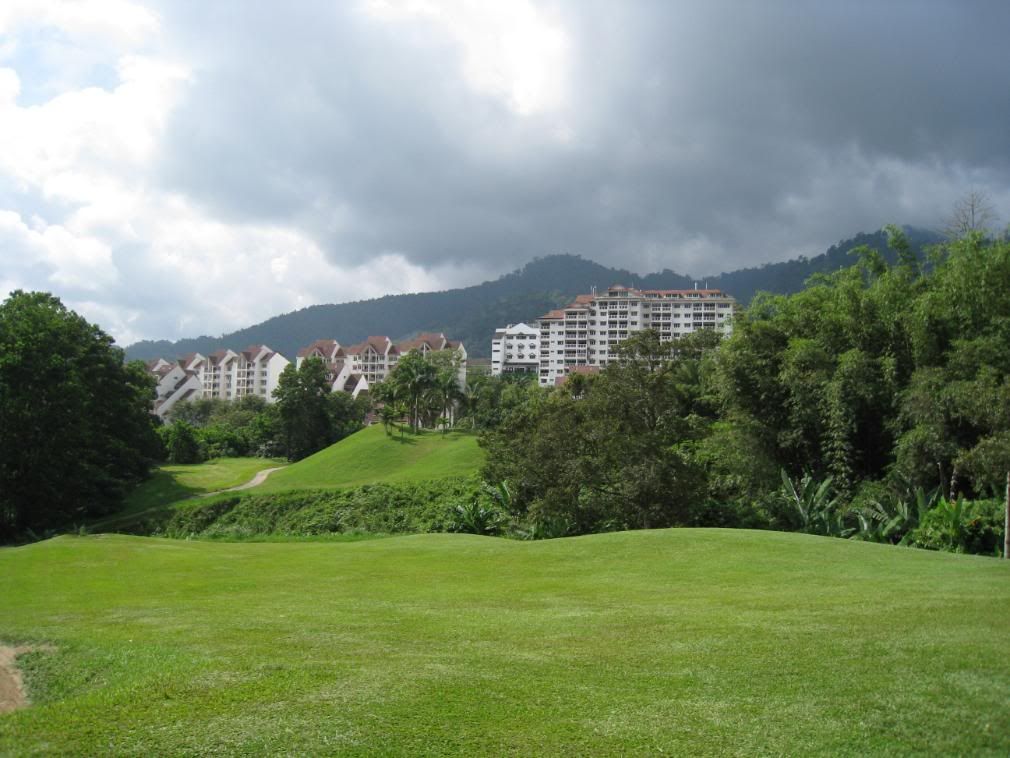 First thoughts
When I stepped out of the car, I just went like, "Oh, crap."
You can tell a lot about the course just from the club house. The club house is like a dress. Now a classy girl always knows how to dress right. She might not be beautiful, but with a good dress sense, she can be pretty. The pretty can be bewitching. A clubhouse, a locker room, everything are not integral to the course, but it plays a part. So its that first impression, and as they say, the first impression counts, because that's where you set your prejudices, your biasness.
Looking at the course we are biased for: Palm, Datai, Trops: they all had great club houses and facilities.
Selesa? Let's just say, it makes Tuanku Jaafar looks like a palace.
It's a little more than a hut, most likely built during the Paleolithic era, with its primitive use of wood and dried cow shit to be stuffed in between the cracks. Behind the counter, a Neanthedral huffs at us for money while weighing his club in the palms of his hand. Welcome back to the past.
We looked at each other and shook our heads. Even before the tee off, the fate of Selesa has been sealed. We just have to see how bad it actually is.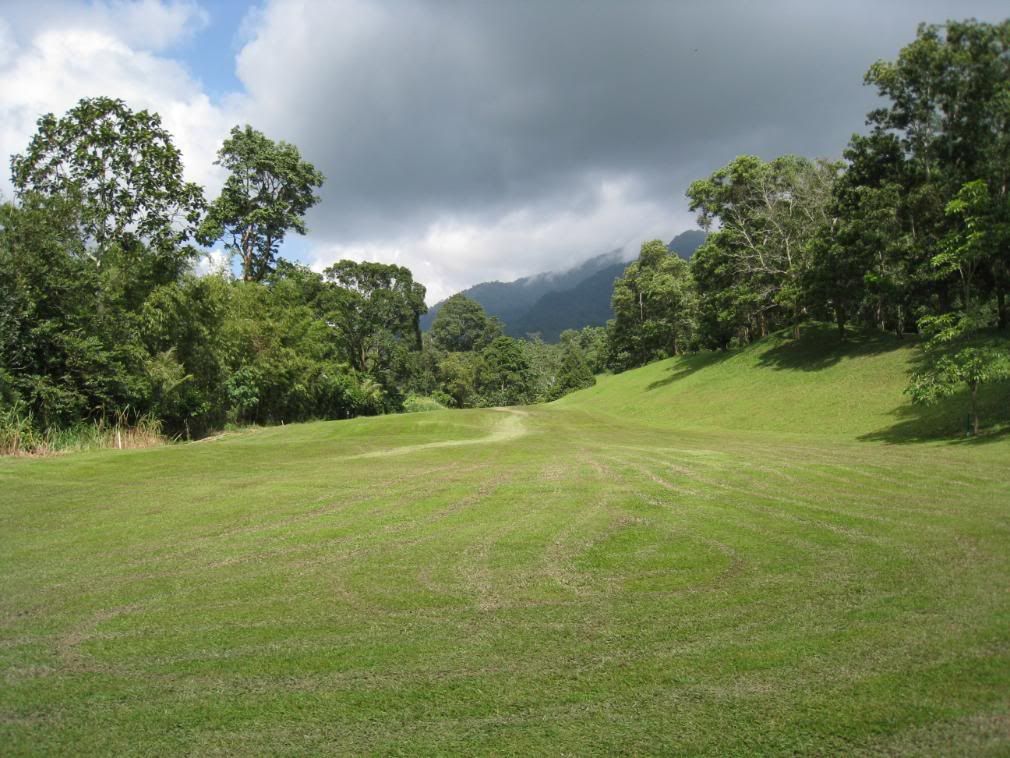 Service (-1/5)
Congratulations Selesa for being the second course that rates a -1 in service, aside from Tuanku Jaafar. Now why? We'll tell you why.
I go up to the counter and say hey, we paid RM60 and expect each a turfmate. I don't know if this is an AGN issue or Selesa issue. They say Turfmate twin sharing.
Have you seen a turfmate before?
How in heavens name are we supposed to twin share?!?
Then the locker room. It's about as bad as Tuanku Jaafar, but much smaller, smellier and dirtier. It seems like I'm back at my school toilet, where we create stink bombs. The lockers also don't work so we ended up taking all our bags into the shower room, that resembles somewhat the prison shower rooms, with cold water and a funny smelling glue they disguise as soap.
We're willing to give it a 0 after all this. But at the 9th hole Par 5, I hit a drive that forced me to hit a recovery lay up shot. I was standing about 170 to the green, and found out from my other friend that there was a lake in front of the green and a carry of 160m was needed.
The marshal, a fat guy with a moustache that makes you want to yank and tie it over a flagpole (with him still there), rides up with his turfmate and tells us there's a pond. OK, thanks, now get out of my sight.
"Use a 3 wood." He says in Malay.
"What? How far to cross?"
"160m."
"Are you crazy?" I took out my 5 iron.
"What you using?"
"5 iron."
"Oh, definitely cannot, you must use 3 wood."
At this point, I was this close to stuffing my 5 iron into his eye. I mean, if you were my caddy, fine. But this daft person rides up to me, never seen me swing and he tells me to use a 3 wood to carry 160 meters? And he says my 5 iron can't carry? Is he just joking, or certified insane? Just because he has never seen any golfers that can do that (tells you about the class of crappy golfers at Selesa if I can be considered the best), doesn't mean I can't.
I ignored him and lets fly a 5 iron that sailed perfectly.
"Oh, that swing, sure can." He says and rides off.
"Hey," I shouted, "You never seen anyone who can play golf before, right?! You suck!"
I didn't actually say the last word since I don't know how to say it in Malay, but you get the point.
Selesa gets -1 for a stupid marshal who discourages people and gives wrong advice, then rides off in embarrassment when someone does well. How I wish I stuffed my 5 iron into his eye!!
Fairways (-1/5)
Congratulations, Selesa, you're the first course that gets two negatives in one review.
The worst fairway in the whole world can be found here, in Selesa Hills Golf Course. Seriously. You allow turfmates to ride into a highland course, you're just asking to be doomed. No other way. At one point, our turfmates got stuck in the mud in the fairway and we had to push while accelerating, creating deeper ruts in the fairway. Oh, the horror!
There's really no difference between fairway and rough. The only difference is the fairway is harder. It's filled with mud. It stinks. It's damp. It's just worse than a mess. It's impossible to play it. In fact, I'm just going to put the pictures up and offer a moment of silence in light of HOW HORRENDOUS it is. Words cannot describe it.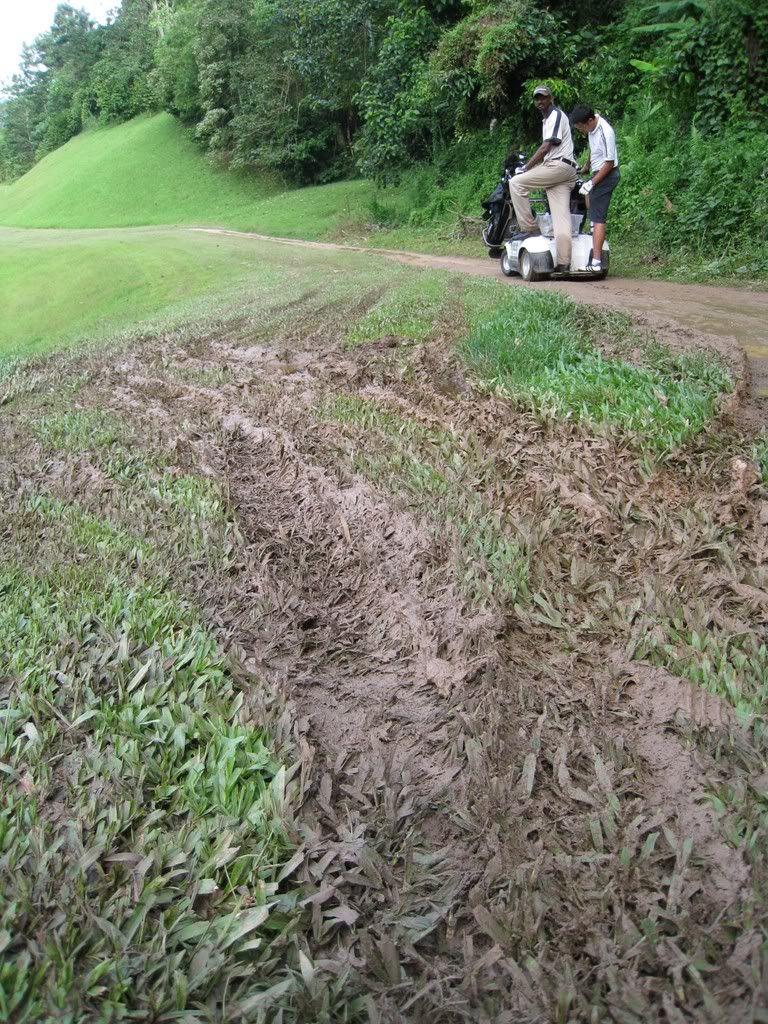 Greens (0/5)
After going through the fairway, the greens improved to become a big fat ZERO. Why? Because the greens suck, that's why. They are sanding it I think, or they are using the bunker as a temporary green, I don't know. I just know that the amount of sand on the 1st, 2nd and 3rd hole was so bad, we concede any putts within 2 driver lengths. In fact, as long as you hit the green we'll just give you one putt. Great job, Selesa!
Not all the greens were like that of course, some were at least in playable conditions. But come on, I know this is a cheap course that nobody sane should play again, but you still get a zero. We have no sympathy for clubs who has marshals who poke fun at players.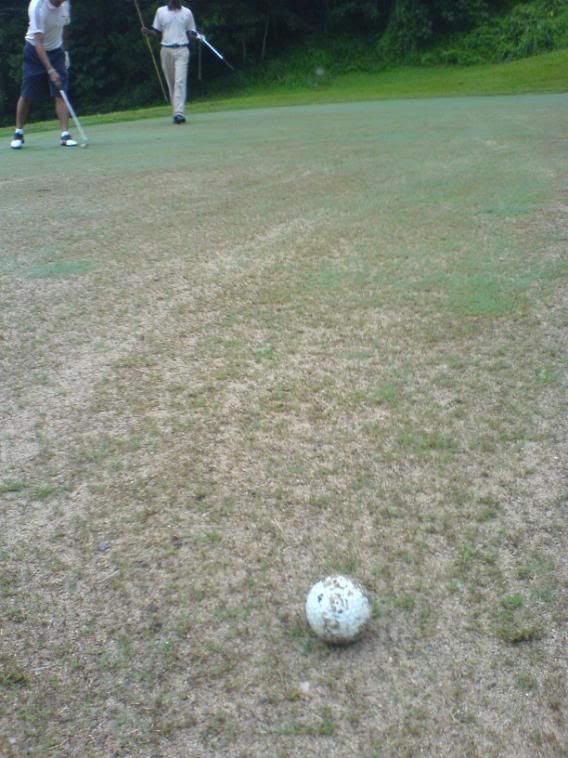 Rough (2/5)
Things started looking up finally. The rough is actually quite well kept and mowed down. In fact, the rough is better than the fairway. This is the first course in the world that rewards shots in the rough and penalize fairway hits. Imagine that. This is because it lets the ball sit up. But points are loss for the bunkers, which look like some surface from Mars or something. At this point we were just looking for something positive to say. Even if you had rats in the bunker, we're going to say its good. We're so numbed by lousiness that there's nothing much to look forward to at this point.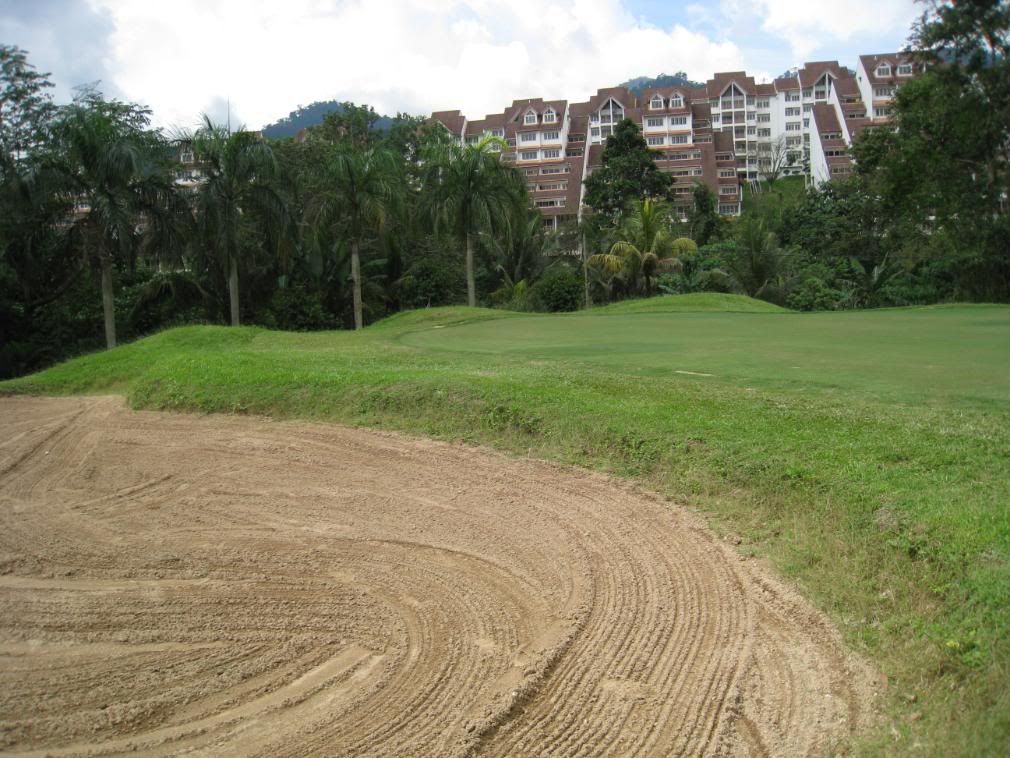 Aesthetics (2/5)
By now, you know how much we hate this course with every beat of our heart. If it was a living organism, we would fill it with 7.62mm lead from an AK-47. Unfortunately we had to play 18 holes on it so we tried to make the best of it.
It's really not a Highland Course. Because it's at the foot hills of a hill. It should be called Selesa Foot Hills, or better still Selesa 'My Foot!' Hills, or simply Selesa 'Crap' Hills. They are all good names for this course. The first nine, if we ignore the greens and fairways and smell, is actually quite visually pleasing. It's like Berjaya Hills but not as pretty. Jungle frames it and especially the par 3 fourth, it sits alone with jungle beyond, a very pretty hole for a lousy course.
Make the turn and it descends into being plain, boring and crappy again. The first nine is a like a girl before marriage. After the turn, it's post marriage, she becomes lazy, fat and hideous. We still give it 2 because of the pre-marriage holes, and some enjoyment we had from there.
Fun Factor (1/5)
I think the body language of one of my partners say it all. At one stretch from 12th to 15th, he was just slapping his ball here and there like a nut. No life in his eyes, no response when we spoke to him, he was just out of it, like his mind was wandering in LaLa Land. He walked with a slouch and we had to poke him with an electric baton to wake him up. We were all just waiting for the ordeal called Selesa to end and release our souls.
But it still gets a point because:
1) The par 4s offers the drama of one on, which one of my friends actually achieved, on the 256m 5th hole. A perfect tee shot cut the dogleg and landed 12 feet from the hole, much like my Bangi One On achievement. He missed his eagle and birdied the hole
2) The guy who needed the electric baton, in the earlier holes was having a time of his life, when he birdied the 6th Par 3. He kind of went down hill from there.
3) The 8th is actually quite a scenic hole, with elevated tee shot into a peninsular landing area on the fairway. I recovered from the ravine for an amazing par. It was fun.
4) We got a free durian. Serious. One of the workers, probably out of pity that we were so depressed, gave us a free durian which we later opened and ate at the club house. It was pretty good.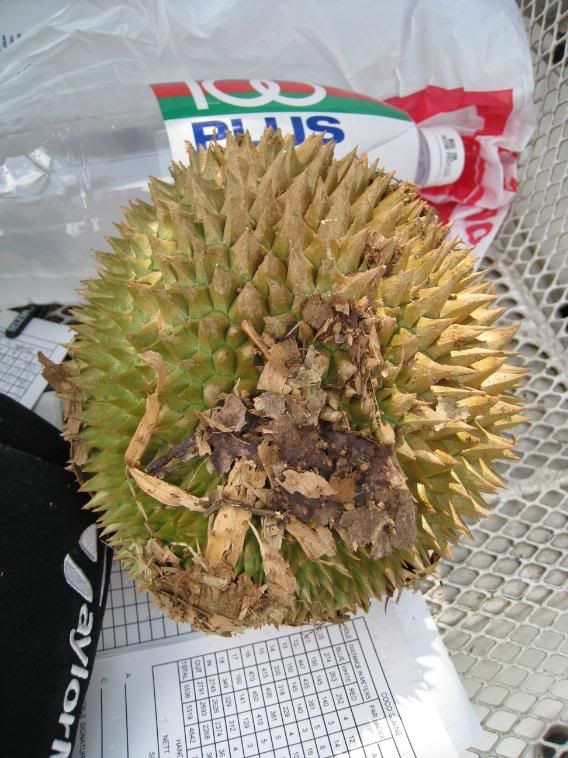 Conclusion
Selesa joins in the ranks of Frasers as Absolutely, Astoundingly Crap golf courses and only the ultra desperate or the social outcasts and criminals will play again in this course. There's no limit to how low it is; the fairways and greens are the worst in Malaysia, the whole experience makes us want to electrocute ourselves over and over again. The only plus point is that you can have lunch at Janda Baik or durians, to remove the stench this course leaves on our souls. Begone, Selesa and be banished forevermore!!
The good: The durians. If you're a white guy, you're out of luck. There's nothing I can do for you except to tell you: Go with your heart, not with your nose. Durian is good…
The bad: Wow. Shall I continue my rant? No. Let's just say EVERYTHING is bad, including the opinionated marshal.
The skinny: 6 of 40 divots (15%). Please don't even think about this course. You're better off standing in a driving range and have people hit their driver straight at you.
Selesa Hills Score Card
Selesa Hills Information
Address:
18750,Bentong
Pahang Darul Makmur
Contact: +609-2330039/42
Fax: +609-2330066