Introduction
I've waited quite a long time to play at Templer Park, and thinking that my game was coming around after an 83 at Bangi, I was pretty confident of doing well. See, Templer Park is a player's course. So if you do well there, you know you're getting somewhere in your game. Plus, it's quite a premier course as well, and after seeing pictures of that mountain thingy (it's called Takun Mountain, though it's really theoretically a limestone rock), it's a must play course for Gilagolf, up there with Clearwater, Saujana, Palm and Datai.
Travel (3/5)
As a kid, I recall traveling for hours to get to Templer's Park. It used to be so darn far! Now with the wonderful advent of modern roads, pristine Malaysian forests are plowed down so we can get from the city to the remaining pristine forests in shorter time. The easiest way is from PJ, head over to Kepong. After the LDP toll, stay right and go up the flyover and you'll be heading towards Batu Caves. Look for signs for Ipoh where you'll need to turn off. At the roundabout, take a left and you'll be on the old Ipoh road. From there, it's 21 KM down a scenic drive and you need to make a U turn and Templer's Park Golf is on your left. You'll come to a T junction and you'll see Templer and Perangsang, i.e Heaven and Hell. Guess which one to take?
The only disadvantage is that it gets very jam during rush hour. The entire area is clogged up for some reason, and though it's accessible, you need to leave early to get there in time. Oh yeah, Templer Park is very anal about their tee time. You miss it, it's too bad for you. You'll get bumped down the food chain.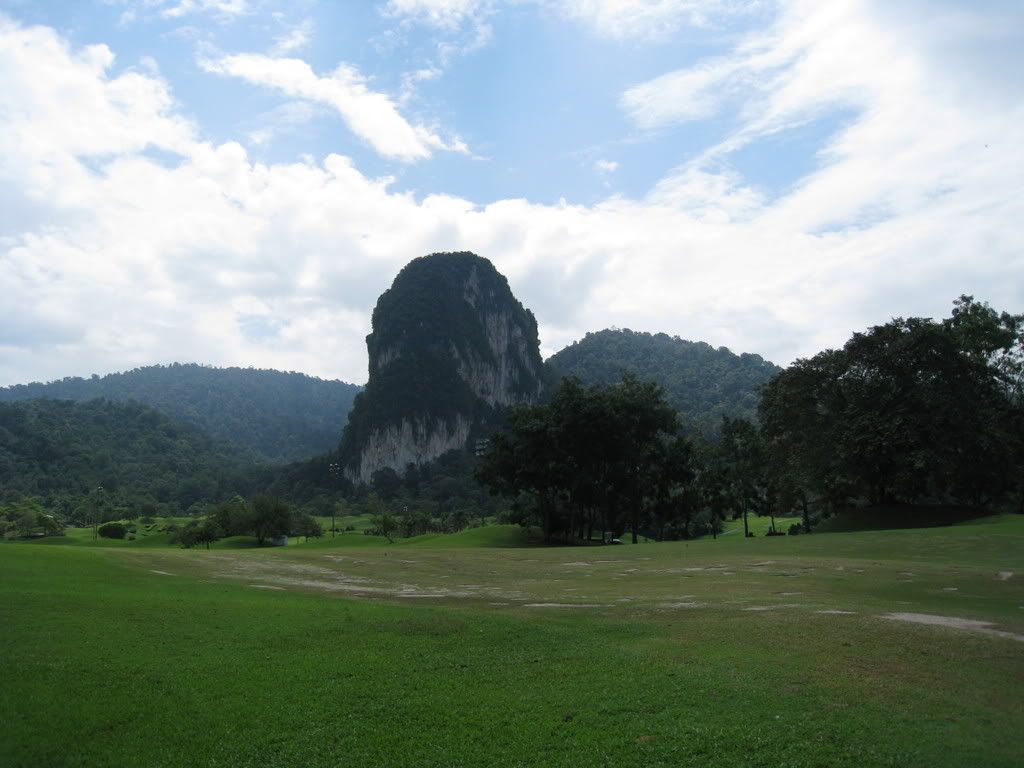 Price (2/5)
The cheapest way to play at Templer is to purchase the Top Premier book for about RM160. It has 2-3 vouchers for Templer park, and you end up paying about 50 bucks or something to play. Else, if you're a walkin, you'll be spitted upon and charged 135RM for a weekday. Seriously, get the Top Premier book.
Now, I understand if it's RM135 on a weekday. I get it. It's a top course. It has many Japanese speaking people there. It has this huge hill that looks like the crystal rock I have on my office table. I get it. What I don't get is this: WHY ARE YOU CHARGING US NORMAL PRICE WHEN YOUR COURSE IS OBVIOUSLY NOT PLAYING NORMAL??
It gets a 2, and you'll see later what we're so pissed off about.
First thoughts
Class. Those were my thoughts. I liked the changing room. You take off your shoes. Very Japanese. I liked the F&B area, there's a wide garden and the huge lime rock looks over you. And the course looks fascinating. Everything here reeks of class…and I think for a change from all the other golf clubs, it really is cool. And also, one of the Gilalogy is this: If there's a course that is next door or nearby, almost always your course will be extra good, if it's the better one. Look at Kota Permai. It overshadows Bukit Kemuning. Palm Garden overshadows UPM. Across the road here is Perangsang. I've never played there, but I heard it's a poor man's Templer. So, we'll give it a miss for now.
Service (4/5)
The moment you get down from your car, you'll be greeted by eager caddies. I like the service for the little things they do. Like having a specially modified buggy to take the golf sets without piling them lock stock and barrel into a normal buggy like the stupid Bukit Kemuning and Tiara Melaka. It's very considerate of them. The check in was quick and painless, the locker room clean, and the buggy waiting area very orderly. The caddie needed some work, because she kept giving me the wrong yardage and she couldn't find my ball on the third hole when I clocked up a triple, but overall, very good service.
Fairways (2/5)
Ok, now you will see why we're so pissed.
The first 3 fairways were unplayable. That's right. I mean this wasn't just a part of it that was being maintained. They were ripping up the entire course! I see chunks of dirt and carpets of grass littering the whole course like gigantic cow dung. I see casual water around the first fairway, I see my ball resting a huge clump of dirt and I can't even drop, since, the whole fairway was stuffed up. Holes that you could sprain your ankles in. For a while, I wanted to march back up to the nice registration lady who gave me an A Class service and shout, "I PAID RM135 FOR THIS?!"
Of course, in a civilized world, that would be unacceptable, so we bit the bullet, struggled through the first few holes.
After the 3rd hole, the fairways finally reverted back to normal condition, which was pretty good. But it doesn't save it. You charge me RM135 to essentially play 16 holes since the 2nd hole was a par 3.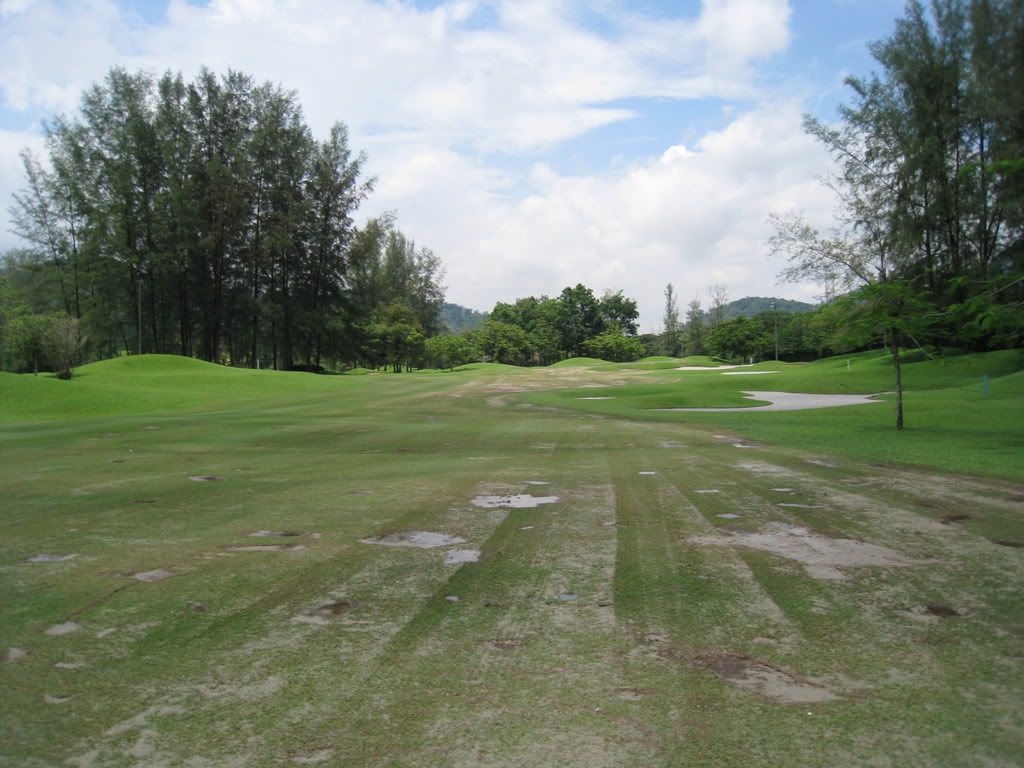 Greens (4/5)
Thank God they weren't messing around with greens as well. Templer green was almost perfect. We were all a little spoilt after Beringin, but it held up to the rain very well. One thing about Templer is that the greens are huge. I don't know if it's me, but regulation doesn't mean a thing. I thought my putting was pretty ok, but I struggled like a monkey getting the speed right. At the par 5 12th, I made a complete fool of myself, where putting off the front, I putted off it, and three putted back in. It was just one of those days. I think we were all a little upset over the condition of the fairways, since all of us struggled the first few holes.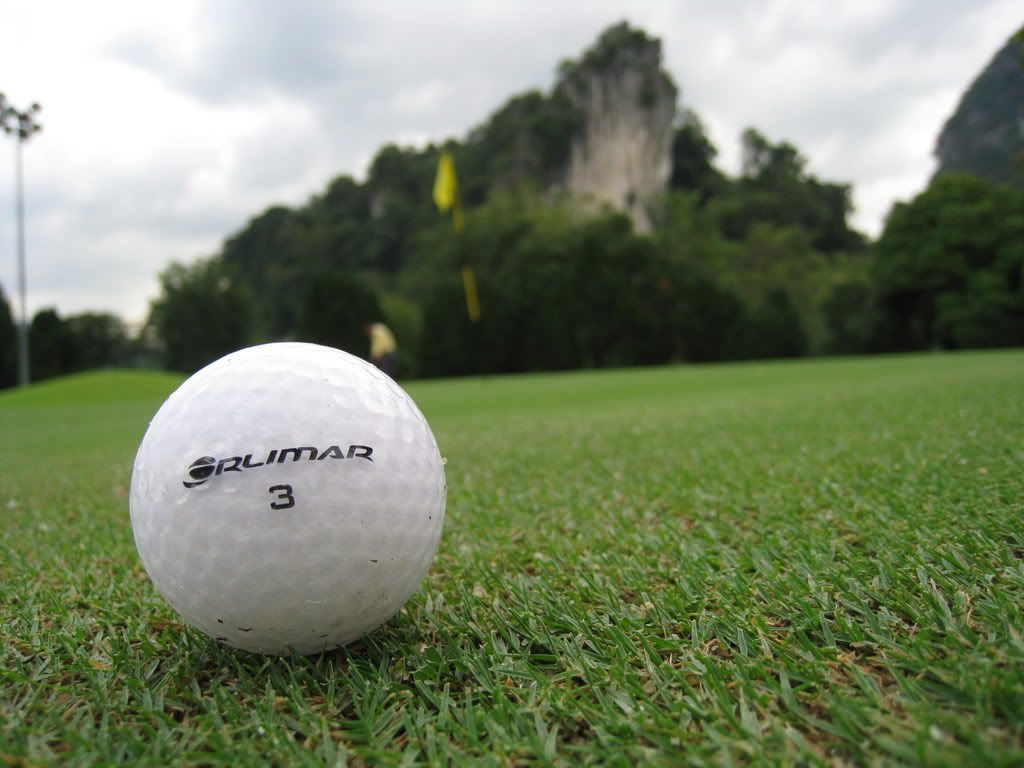 Rough (3/5)
The rough here punishes us in a way that Clearwater does. Because Templer is deceivingly long (at 6150m, it's medium but for some reason, it plays almost 300m longer), the rough catches your ball and turns your par 4s to par5s and your par5s to God knows what. I was actually driving very well—I avoided the dreaded duck hook, my crapshot, and this time, I was pushing the ball right (which was an improvement to me, trust me). Several times I landed into trouble with the ample water, but the first 9 was supposed to be easier, and I scored a massive 49 on it. Most of this was because of the bunkers.
There is a LOT OF BUNKERS. Can't say anything anymore. It severely degrades your game when you hit a bunker, hit out and hitting 3 into the green from 140 – 150 meters and hope it's close for par or at least bogey. Make a mistake and hit one in the bunker again, you'll likely look at some inflated scoring.
Aesthetics (5/5)
The selling point is always the aesthetics of Templer. With that gigantic crystal rock overlooking everything, every hole plays to its shadows. It's quite imposing, and we played the first nine under clear skies, but the weather made a U turn and down came the rain again, spoiling another good game.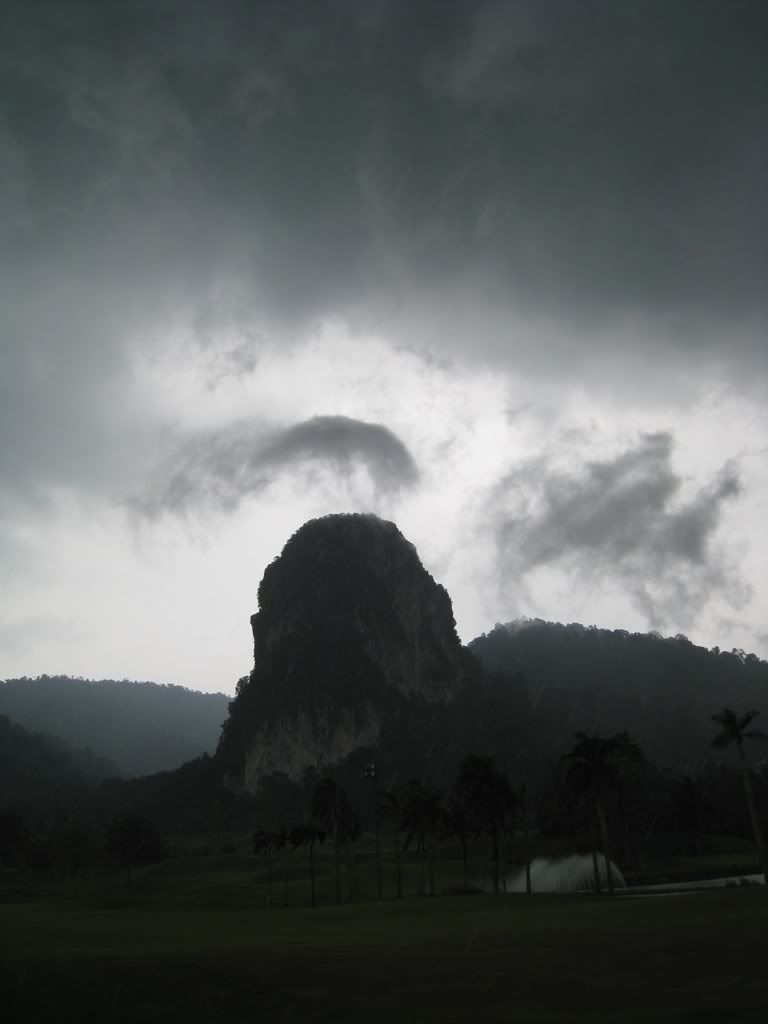 When the rain dissipated, the course took on an even more surreal look; with low hanging clouds hugging the Takun Mountain, and drifting around the course. Templer is quite a beauty, every hole bringing in a different look. The par 4 3rd plays flat as flat can be; yet the imposing 15th par 5 is framed by jungle on both sides and takes a huge dive down into the green; cascading down like a lush, green waterfall. The snarling 169m par 3 8th requires a deadly carry over water, and bunker. The magnificent par 4 12th takes a risky path over jungle down to a narrow strip of fairway. The beautiful par 3 16th, a elevated tee shot to a green peeking over a brook, that has a stone bridge across it, a'la Hogan Bridge in Augusta. The par 4 17th, at 425 is highly impressive, and with a good drive and a hybrid, I only managed to kiss the front lip of the humongous green.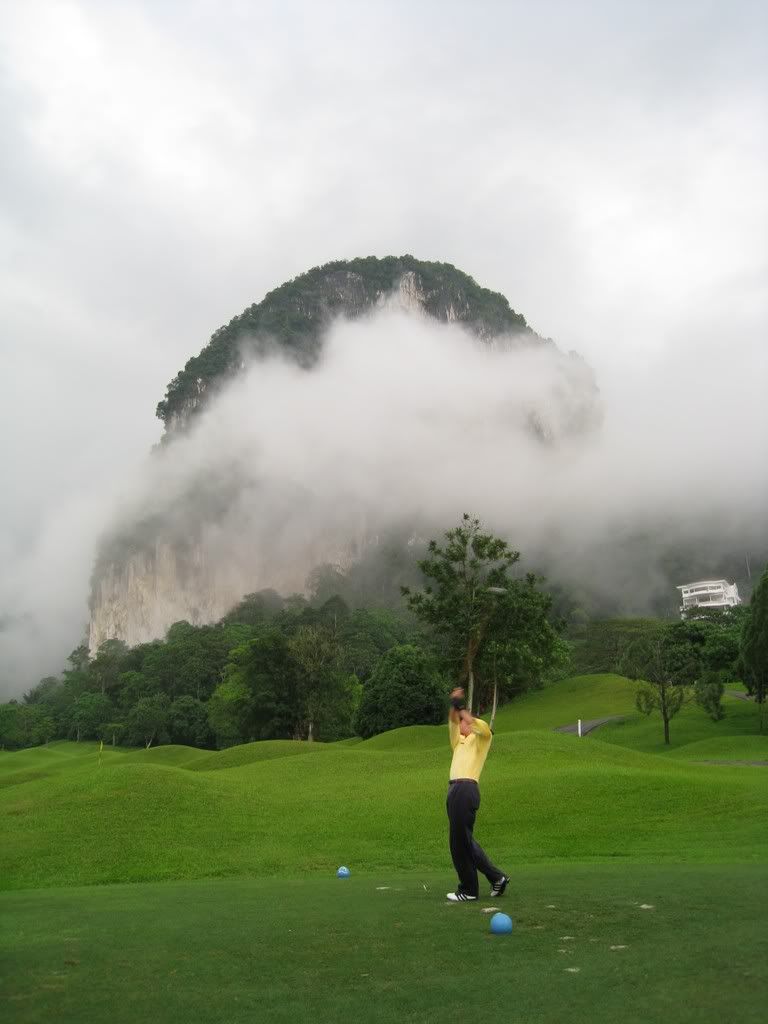 And of course, the signature ending hole, the 18th. The mountain looked down at us, frowning at our antics as we smashed 3 balls each to see if we can get it up to the upper tiered fairway, across the lake. The carry over water was about 210 meters or so, and with 3 balls, I managed to cross but couldn't get it to the upper tier, settling at a small landing area about 90 meters from the hole. Only one of us, with a massive drive managed to reach the top tier. He skulled his approach and settled for a bogey while I parred it, and brought back at least a good memory of my otherwise forgettable game.
Fun Factor (4/5)
It's not often you can say you had a lot of fun when you stumble to a 94. I actually played better than I scored, for once. And strangely played better at the harder 9 coming in. Except for the first hole, I didn't descend into my patented crapshot, the low duck hook that veers right to left about 100 meters down the other fairway or right into OB. Of course, I went to the other extreme, the big push to the right, which caused my triple bogey on the 3rd by blasting it over the fence into oblivion. Two holes later, I pushed my shot into the lake, hit my 3rd into the rough, lost it (this is where I was a little annoyed with the caddie), chipped illegally my 6th and carded my second triple. I had 2 doubles on both sides of the nines, but I actually played a lot better after the downpour except for the stupid shot at 16th where I duffed it into the drink.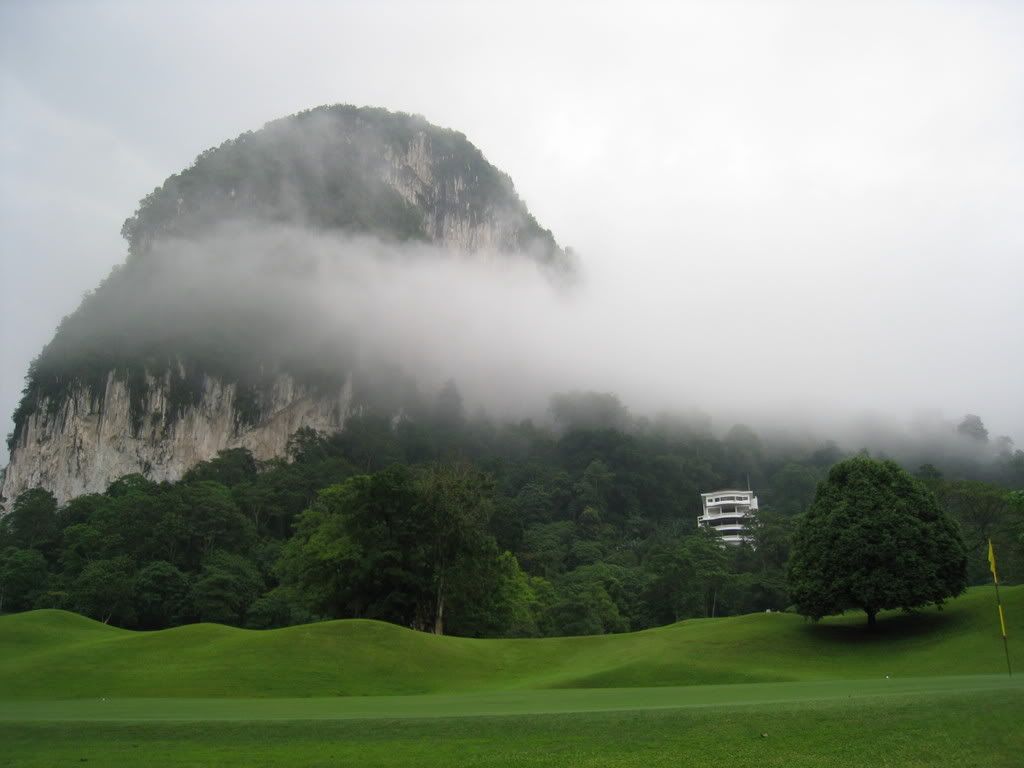 There are a couple of things you need to be careful of:
1) The distance markers suck. Really, they do. They actually measure only to the front of the green, usually where the deep bunkers lie in wait. In the cart, there is a crude drawing (I wished I photographed it!) of the pin positions of the day and additional yardage calculation. Why they do this, only heaven knows. It's not as if we are smart enough to keep referring back to the drawing. We usually just get down from the buggy, walk and hit, and walk again. Which brings me to my second point:
2) The caddies aren't superb either. Actually we only had one, and she wasn't great. She kept giving us yardages that were shorter. She claims she's calculating in meters and telling us to the middle of the flag but she's lying. I doubt she can calculate yards to meters on the fly. I bet she's simply subtracting 30 away, because Templer's average yards per hole is 375, which is about 343, so minus 30 right. Now if it's 100 yards, she'll say its 70 meters. But it actually is 91.44 meters! CRAPSHOOT! So lots of the high score came not from lousy shots but from shots that were short. And in Templer, short means in the drink or in the bunker. Beware of the converting caddie. Just tell her to give you in yards and you make your own judgement.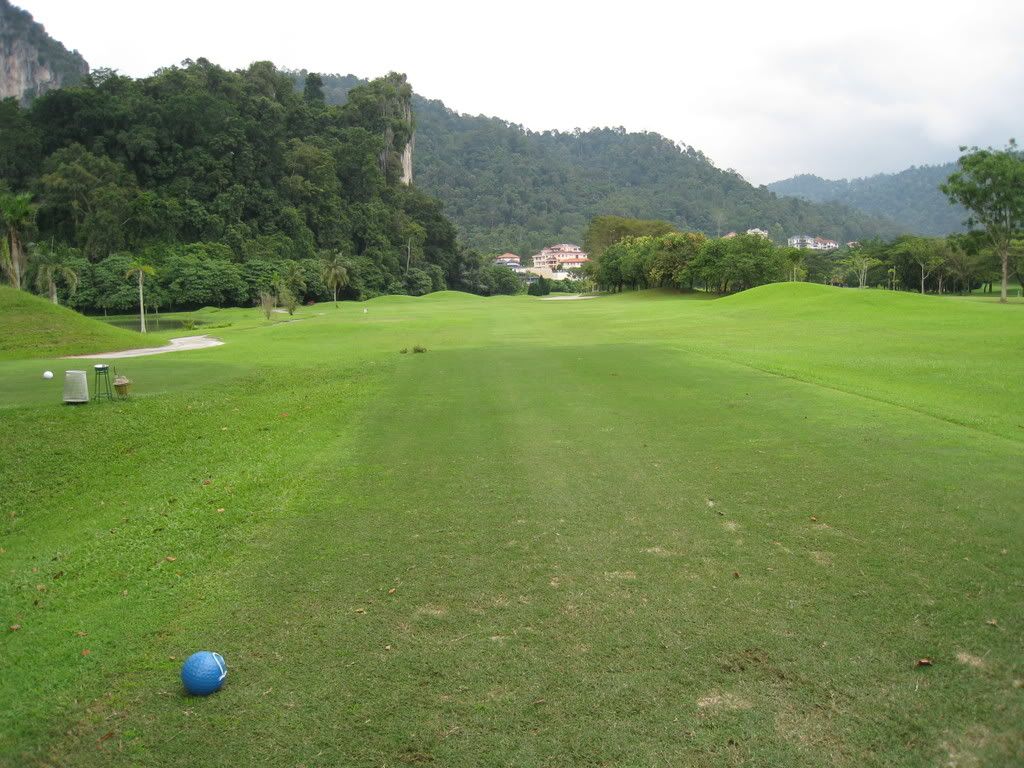 3) Your buggy can sit 4 people! It's crazy cool! Of course it's more difficult to control, but hey, it's quite a good invention. Drive with care….
4) Templer Park's notorious for having ghost stories. One of it was that on the backswing, you'll see your caddie at the corner of your eye behind you, but when you've hit it, she's in front of you. Another one is that the ghost will applaud and say "Good Shot!" in one of the par 3s. Another one is that they will see an extra ball on the green. Another one is that when your ball goes into the jungle, it will be thrown out again. I like the last ghost best, but I didn't see any of it, so I'll just assume as I always do, that ghosts are a bunch of bollocks. Here's what I got from a forum:
"Prisoners were executed and buried here during the 2nd. world war by the Japanese army. Coincidentally this golf course was the first to introduce night golfing. But night golfing stopped after a short while."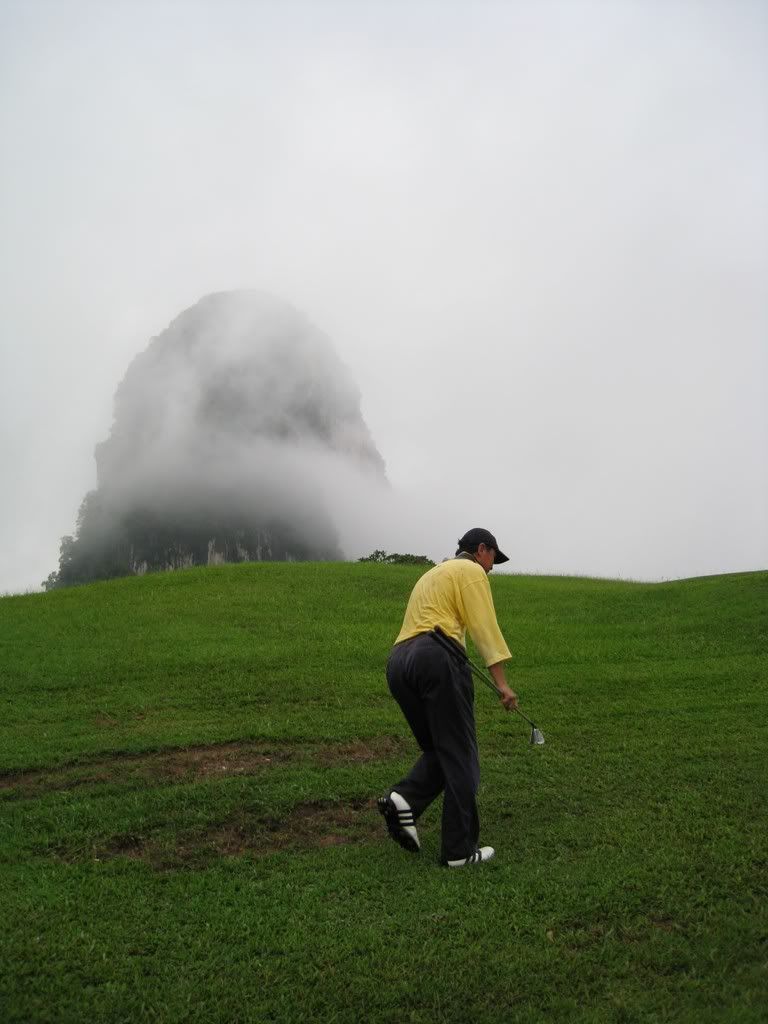 Conclusion
Except for the first three holes, the experience of Templer Park was really good. First, you'll need an A game here. OB doesn't often come in play but the bunkers really kill you. They are littered everywhere! For a course that's not too far out of the way, its striking beauty will definitely leave an impression on you. The holes are championship material, the course well designed, and the greens very well maintained. If they fix their fairways, this will be an A-list course for sure.
The good: Decent travel time; superb scenery; greens are almost immaculate; tough, challenging rough forces you to keep the ball in the short stuff; every hole has distinct personality; 4 seater buggy is a cool idea.
The bad: The price! With lousy fairways, they should be decent enough to slash it for us; distance hard to gauge; caddie is below average, yet have to tip her; tougher back 9 for short hitters; ghosts don't throw the ball out; monkeys will attack your buggy (serious this one).
The skinny: 27 of 40 divots (67.5%). It's not the best we've played but for the view, it's definitely worth braving the jam and ghosts to get there. If you do well here, you'll probably do well in most courses in Malaysia. A definite go for us.
Templer Park Scorecard
Templer Park Information
Address:
Templer Park Country Club

KM21, Jalan Rawang, Rawang
48000 Kuala Lumpur,
Selangor, Malaysia
Contact: +603-60919111
Fax: +603-60919807
Email: many_sp@tpcc.com.my
Website: http://www.tpcc.com.my/