Introduction
While I really doubt Gilagolf will ever be allowed to step foot into places like Sungai Long, Mines or Saujana (due to our irreverent way of describing and reviewing golf courses), another premier course entered our list, in addition to Clearwater, Palm Garden, Datai and KGNS. So far, no golf courses has reached the immortal status of the Gilameter, DAGTH (pronounced dak-the), short for Died and Gone to Heaven, the greatest accolade given to a course. The closest were Palm and Datai, falling just a point shy of the lower strata of DAGTH.
Enters Tropicana, a premier course, located in Petaling Jaya, considered one of the finest Malaysia has to offer in terms of course design and playability.
I've played there once before, and fared quite well, so when an invite came for us to have a go, we didn't need to be asked twice.


Travel (5/5)
Immediately a 5. There's no question asked. Prime spot, it took me only about 10 minutes to reach there. In fact, we would often go to the driving range to practice, so traveling is of no issue.
The easiest way there is to take the NKVE, headed to the Damansara toll. Right after the flyover to Bandar Utama, stay left and you'll end up in the old road to Tropicana. From there, keep going straight, and turn right at the tee junction. You'll go under a tunnel and right in front of you is the welcoming sight of the Tropicana archway. Beautiful.
Here's a detailed map. Go ahead, click on it!
Price (2/5)
Ah. This is where they lop of your head with an axe. Playing on a public holiday or weekends? Let's skewer your throat over an open fire! RM190 for green fees. That's the stab in your heart. RM25 for a twin sharing buggy (50 per buggy). That's RM215 and a turn of the knife in your heart. Wait, there's more. Just because we know you suck as a golfer, you're forced to take a caddy at RM30. They've already taken out your heart with that. Lastly, you need to tip the darn caddie at least additional RM10, bringing your total to about RM230, RM240 over weekends. Don't worry, we got a package!
At RM280!! We give you lunch and breakfast as well!
Who in the blue tarnation is going to be stupid enough to eat RM50 worth of food? Come on Tropicana, don't be daft!!!
Did I pay that much? Nope. Someone was kind enough to bring me in for free, God bless his soul.
First thoughts
Morning dew covering the first tee, the sun peeking down on us, promising us a great day on a great course. Again, for goodness sakes, I pushed my tee shot right, but managed to recover for a one chip one putt for a par and we're off.
First hole par means two things. One, you're going to have one of your finest rounds ever. Two, you cannot take success and your subsequent holes will be filled with frustration and death. Guess which option I took?
The thing about playing on a public holiday is that the whole course gets jammed up. Tropicana, despite its premier status feels it more than the other courses like Rahman Putra. I don't know why. Maybe too many rest stops is not good, because you get an idiotic uncle who wants to sit and eat.
Then, when you drive up, they quickly finish and run off to the tee box so they won't let you through. In this way, we knew it was going to be long one.
Service (1/5)
You'd think a premier course like this would have great service right? Of course, everything expected is there; good maintenance, good facilities, easy check in. A small gripe is the loading area for golfers. We're like sardines. There's a small area where all the buggys are crammed into and all golfers jostle with each other like a market place. You'd think they come up with a smarter way to get golfers on the road. All it takes is one idiot who parks his buggy wrong and everyone is jammed up. It's like the Malaysian highways who makes the roads so narrow despite having so much space. We just like our infrastructure and signs small and dainty you know.
My MAJOR gripe is the F&B. Sorry, if you say that food and beverages has nothing to do with the course, you tell the golfer who just crawled in at 12 noon looking for food and drink. You get him food and drink!!
My order took so long, I think my stomach gave up waiting and just started eating my own intestines. Serious. It took almost 45 minutes for my stupid Kueh teow to come.45 minutes! What's up with the kitchen, man? An ominous 1, for a premier course, and gone with it hopes of being the first course with DAGTH status. Dang! Hurts me more than it hurts you, Tropicana. I thought you had a chance! Dang your service!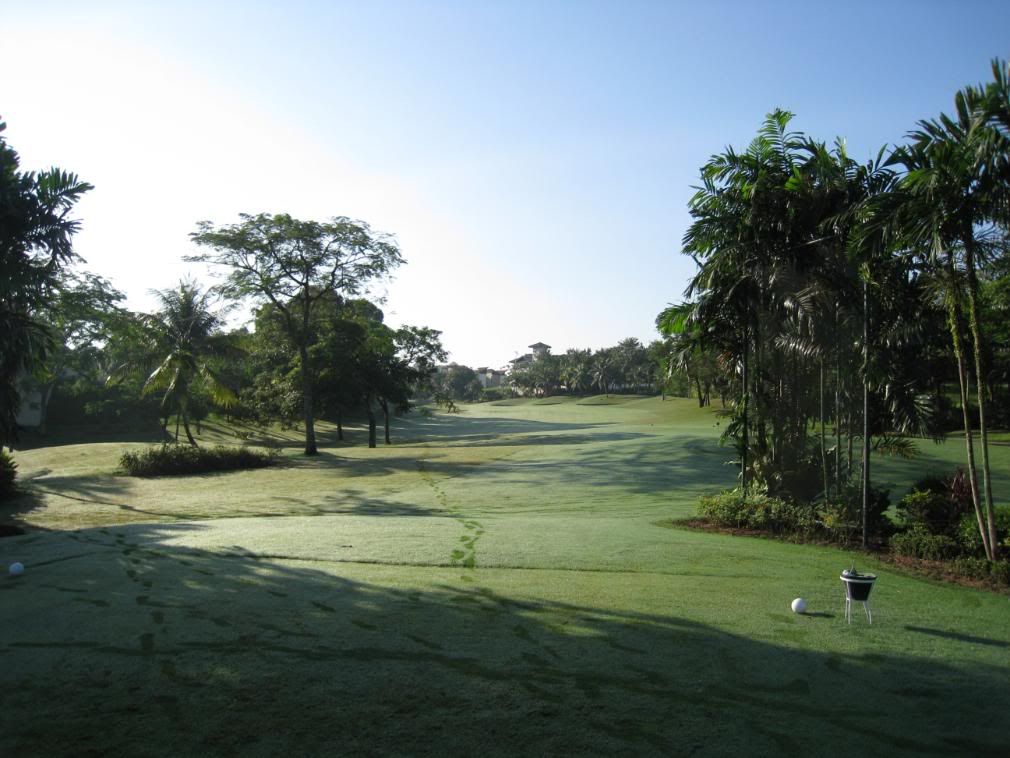 Fairways (5/5)
If you're looking for a club who knows how to run their fairways, Trops gives the great lesson. I don't believe I know of any other club offering such a great carpet of grass for us to hit from. It's unfortunate I spent so little time on it. I hit a pathetic 4 fairways enroute to a 91, with 9 bogeys. But as the sun was shining down on the par 5 6th, it was just a brilliant picture to take. As the day wears on, the fairways got drier, firmer and it was just in superb condition. 5/5 definitely.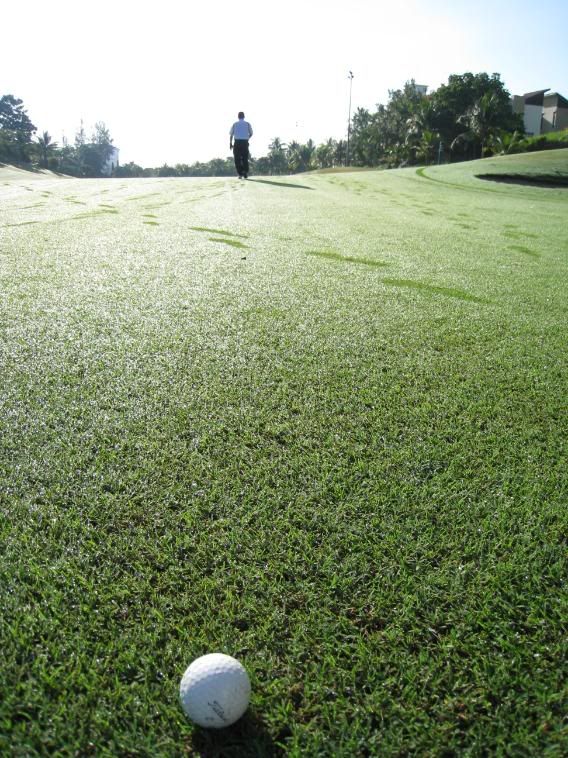 Greens (4/5)
Despite my par start, I had A LOT of problems with the greens. It wasn't because they were slick or whatever, it was simply: what kind of speed is this? Some played fast, some slow, some medium: we just couldn't get a grip on how to putt. I had 3 3 putts but it wasn't the 3 putts that killed me. It was the missed par putts, when I was trying to get up and down. Statistically it's 2 putts, but the short ones I missed for pars (at least 3) was enough to render me half crazy. I won't say it's entirely my fault for being a lousy putter, because the greens weren't tip top as expected.
Rough (4/5)
I like the recovery options given by Trops. Now, it's still a course that advocates OB (the mantra of the caddies are 50-50, boss). Amazingly, I don't think I OBed any hole, although some were close. I struggled massively with my swing, trying to find the fairway but managed to pull myself together at the end for a good finish. If you're not OBed, the recovery from bunkers and even the occasional water bank is possible. The bunkers are almost perfect except for a few holes that requires less bounce, more dig.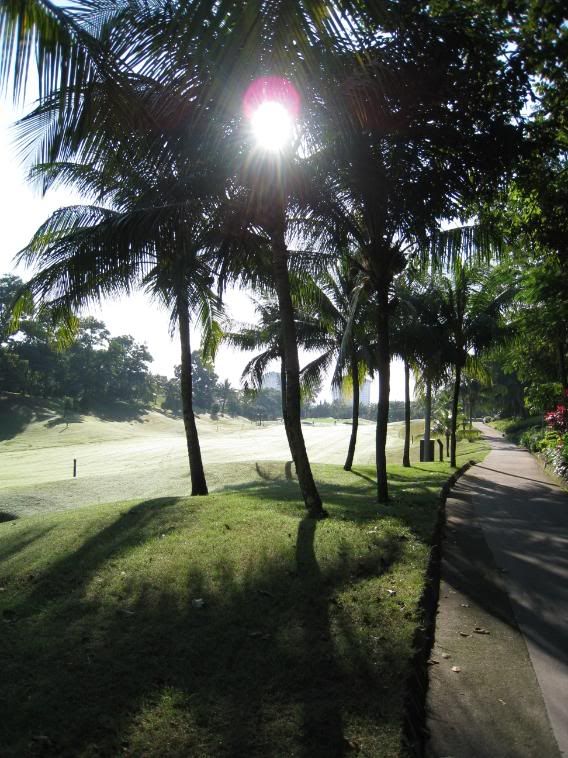 Aesthetics (4/5)
It's very much like Palm, in a way it's city pretty. That means that no matter how you look at the course, you know that it's not exotic, it's not filled with wildlife, it's not natural. It's like a beautiful English girl as opposed to a hot Latin woman. Both are beautiful; but the Latina like Catherine Zeta Jones or Jennifer Lopez are definitely a lot hotter than say, that chic that was in the Pirates of the Carribean. See, I can't even remember her name. The one that looks like Winona Ryder. (Incidentally, what the heck happened to Winona Ryder?)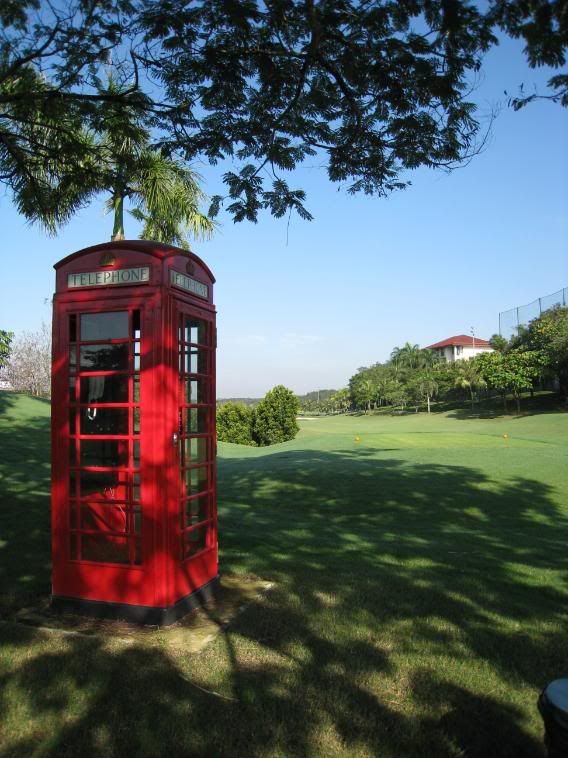 Memorable holes? For me, the 11th. Elevated tee box, my drive went almost 250m, soaring into the sky, seemingly never to fall back to earth. It's also dangerous, because the 17th tee box is right at the 160-190m range for slicers. We almost killed a group there, our ball landing smack at where they were teeing off. An old white guy dressed in black, a'la Gary Player just stared at us, his face twisted in a frown even after I apologized. Get over it, old feller. Golf's gonna be like this in our part of town. Or perhaps he's just in a permanent catatonic stasis that sometimes people that age go into. Eat your vitamins while you're young, little golfers!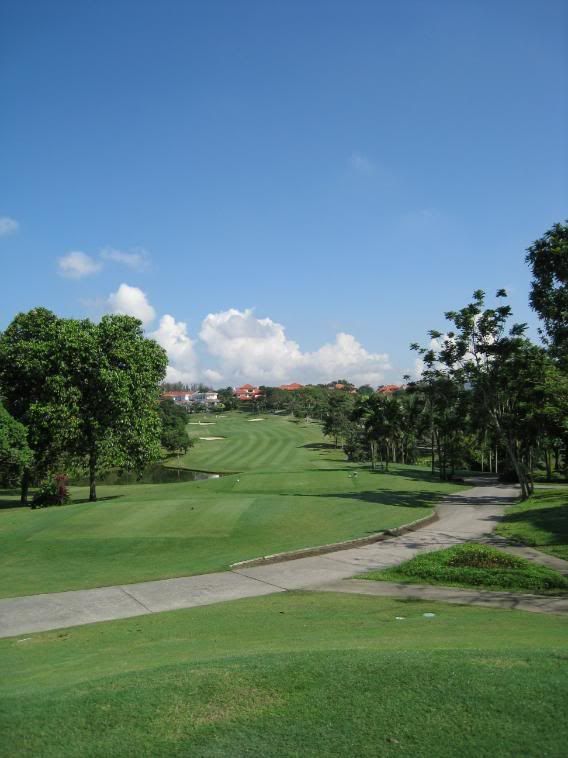 Other than that, Hole 1 is a beautiful opening hole as well, requiring a carry and a lake on the left. The Par 3s are a little dull though, very much like Palm's problem, so no perfect score here for Trops.
Fun Factor (4/5)
Struggling as massively as I was, it was hard to find fun. My putting was just tremendously off, at one time going 7 straight bogeys, missing a string of sitters that would have given me a whole lot of better score, and a prettier scorecard.
However things came together after missing another sitter on the 16th. A 12 footer curved in for par on the 17th and I yanked my tee shot so far left, it was flirting with OB. Just a foot away from OB, I was contemplating whether to go through the trees or punch out. At that point, I have already lost the little betting game we were having. Contrary to your expectations, I went the safe route and punched out to 130 – 135 meters to the flag.
Using my 9 iron, I stuffed the purest shot of the day. It started right and drew a little back in. It landed and practically danced around the hole before settling 15 inches from the cup. If there was a time where you want to shout 'Get in the HOLE!' This would have been the best time.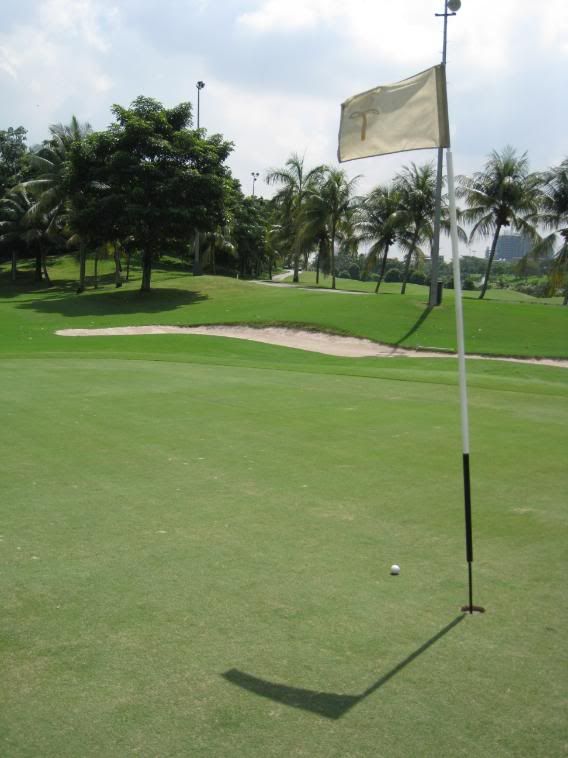 I started with a par, ended with a birdie. If we just closed our eyes to everything else between, hey, it was a pretty fun day in Tropicana.
Conclusion
If you have the money or someone offers to bring you in, Tropicana is a course you can never go wrong. The course is very well maintained, it is very easy to access, and it's a guaranteed good fun. The pricing is always a pain point and unless you are Augusta, St Andrews or Pebble Beach, this will always be something we harp on. But looking beyond that, this is a course everyone should play, must play and will definitely enjoy playing. Go Trops!!
And oh, remember the golden rule of golf courses with 27 holes: Play 1st and 2nd nine; forget about the 3rd nine.
The good: Great conditions of green, fairways and rough; scenic holes built around mansions and wealthy township; easiest accessibility; guaranteed fun
The bad: Price makes you want to sell your own kidney; awful F&B services; loading bay is an accident waiting to happen; old white guys staring at you catatonically can be quite distressing.
The skinny: 29 of 40 divots (72.5%).
Tropicana Scorecard
Tropicana Information
Address:
Jalan Kelab Tropicana,
47410 Petaling Jaya ,
Selangor, Malaysia
Contact: +603-78048888
Fax: +603-78043688
Website: http://www.tropicanagolf.com