Introduction
When someone mentioned Tuanku Jaafar golf course, my first reaction was Lord, where in blue blazes is this place? It sounds like it's located in the remote ends of Papua New Guinea. I mean, there's one thing to lie about the naming convention of your golf course (look at our writeup on the Seremban 3 course), but seriously, do you think there will ever come a time when an announcement for a big tournament starts like: "And this will be held in Tu-an-ku Ja-A-Far course!" I mean, 9/10 westerners ain't gonna be able to pronounce that properly. Name it something easy. Name it something attractive. Name it anything except a name of a Malay guy. Or Chinese. Or Indian. Can you imagine a course called Tan Cheng Loke Golf Course or Sundramoorthy a/l Aluchelapan Golf Course?
Well, anyway, naming aside, my friends did mention that a Korean management had taken over the course, so it should be reasonably well maintained, given how crazy Koreans are about golf. Incidentally, we had a Korean in our group as well.
Travel (1/5)
Tuanku Jaafar is actually a township located in Negeri Sembilan, a state away from where we stay. To get there, hit the North South highway to Seremban. Take the exit to Senawang and after that take a right turn. Here's where it goes down hill. Apparently Senawang is still a town with 21st century traffic in an 18th century road. There's this stretch of road governed by a dilapidated traffic light that conjures an extremely long line of cars jammed like sardines in a can. The road is also lousy, being frequented by trucks, tractors, and the occasional Panzer Tank.
After the nightmare traffic, you need to stay left and look for signs to Samsung. Not Tuanku Jaafar golf course, because there ain't any. Take the left flyover and you'll find yourself in the Tuanku Jaafar (you know what, from now on, I'm just gonna refer it as TJ, the name is too darn hard to type, I keep giving it a single 'a'). The 1st traffic lights, go straight and keep right. You will see a right turning into Samsung. Take that and take the left turning that says Pilosa Ville. There's like a small sign saying TJ Golf Course, but it's small, and only meant for ants to read it. If they can read, which they can't, so I don't know what the heck TJ Management is thinking. Maybe Koreans can navigate by the smell of cow grass or Tifdwarf greens, but us Malaysians are as dumb as cows without signs. Give us signs, man!
Anyways, here's the primitive map that might help you locate this confounded place.
Incidentally, since TJ Golf course is located in Pilosa Ville, why not name it Pilosa Ville GC? It doesn't mean anything, Pilosa could be a cuss word in ancient Greek, but who cares? Anything sounds better than what it is now!
Price (3/5)
OK, I admit, I paid cheap, about RM35 I think using the AGN golf membership. And they don't force any extra baggage like Caddies, food vouchers and all that jazz on you. RM35, get your butt into a large Korean made buggy and you are off to one of the 3 nines we can play from.
Though the price is good and cheap, it always needs to represent the course, and as we will see later, there was a pretty good reason why RM35 is considered justifiable for the course we played in.
First thoughts
Nobody in TJ believes in signs. No, not even for the directions to the course. We had to wander a bit with our buggy till one of the workers pointed us to the 2nd nine. I mean, what is wrong with these people?
The buggy track itself was muddy, so before even the first tee off, we stepped out into mud and waded to the tee box. Staring at the first hole Par 5 10th, it's running almost 500 yards. The tee area wasn't maintained and as we looked at each other for explanation, we noticed that finally the management had at least the common sense to put the hole explanation up there on the tee area.
And it was in Korean.
Service (-1/5)
Never have we ever encountered a golf course that deserves a minus. I mean, even Frasers, the worst golf course in Malaysia, never had a negative point. Unfortunately, we are so irate with TJ service, a -1 is already a charity afforded to this mockery of a course. Firstly, we started registering. The lady at the counter says that the towels and locker keys are given at the registration. Seriously. They don't have another counter for all the towels and plastics and stuff. It's at the front counter. And the towel looked as if it had been used to wipe their buggies. It smells like insecticide, which I confirmed later, after seeing dead ants squashed inside the towel.
And here's the one bit that totally made us crazy. We asked her for the locker room keys and she distinctly pointed to a box full of keys with numbers on them. Locker numbers, right? So, in front of the lady, we took the towels AND the keys from the box and walked around the clubhouse in search of the mythical male changing room. Remember, there are no signs. They believe signs are evil, and bad. All must navigate through smell.
We reached the lockers, tried all keys on all lockers and nothing fits!
We had to trek back all the way to the registration and here's what went on, I swear this is the truth:
Conversation in Malay, translated.
Me: None of these keys fit.
Lady: (looking at the keys) For what?
Me: The lockers! We can't lock any lockers with these keys.
Lady: Oh, these are for the buggy (i.e golf carts), not lockers.
Me: ……
Lady: See, number 43 for buggy 43 and …
Me: But we just took these keys in front of you when we asked for the locker keys. So why don't you just tell me where is the locker keys?!
(at this point I was wondering how she derived in her brain that if a bunch of guys go off with bags and towels, they need a buggy key instead. What, we change in the buggy and take a piss in the buggy?)
Lady: Umm, most of the lockers are spoiled so we no longer have locker keys for you.
Me: (at this point, just stunned, beyond reason). So, where do we keep our things?
Lady: I think you better keep them in your car.
Serious. The locker room lockers are useless. The three aircond units are useless, because when we went there, no aircond, it was stuffy and smells like crap. No hot water, the water smells funny, and I think there's probably a few corpse they didn't clear overnight.
No power steering in the buggy. No rest stop or halfway huts. I feel as if I've just been sent to a detention camp in the holocaust. By far, Tuanku Jaafar wins the award for the WORST EVER GOLF COURSE SERVICE IN MALAYSIA. Congratz, Korean management!
Fairways (2/5)
It better improve outside on the golf course.
Things did get slightly better. I was surprised at the fairway; and was wondering is it cowgrass originally and now patches of Bermuda showing or the other way round. It's a 50-50, which I thought was an interesting challenge. See where your fairway drive will end up: Cowgrass or Bermuda? It has the case of Golf Acne, as we call it, where the grass is neither Bermuda not cow grass, it's like a hybrid, like how Michael is a hybrid of vampires and lycan in Underworld. Don't know what I'm yammering about? Never mind. Drainage was bad. Ground was soggy, at times, beyond belief. And mud was just everywhere.
The saving grace for the course is probably the generosity of the fairways. And after playing in Nilai and Monterez, the lack of OBs here was a welcomed sight. In fact, I pounded the ball so far right on the 16th that I was parallel to the hole, on the other fairway. That's how golf should be played! A Driver that we can use without fear!
Greens (1/5)
We were so tempted to give a negative as well. The greens were probably as bad as Frasers Hill. The grass were too long, so most of our putts were literally bouncing all the way to the hole. It was a good thing there weren't too many undulations, so the putts went reasonably straight. But the speed was the killer, and not in a good way. Because of the maintenance, some greens went slow, while some were faster. It was just not a good experience with the green.
The green yardage is so way off at times that on the hole 2 par 3, it marked there as 150, while in fact, we were hitting 175. I mean, how wrong can you go?
Rough (1/5)
Horrendous. Not challenging, but horrendous. Leaves strewn around so finding the ball was quite an adventure. A ball bouncing just slightly off the fairway is as good as gone. One hole particularly, Hole 3, is an elevated green with a narrow fairway that sloped down to the right. I pounded the ball beautifully to cut the dogleg left. When I went there, the ball was gone. Vamoose. Disappeared. I searched and searched and finally had to conclude that it hit the ground so hard, it rolled 40 meters into the jungle. I mean, how else? We couldn't find anything.
Or the Hole 16th. My pitch was just slightly off, and it took me a long time to look for a white ball in an ocean of leaves. I mean, isn't there supposed to be a bloke who handles these darn leaves? Hello?
Sand bunkers were neither here nor there. Some were packed dirt that requires a pitching wedge, some were just soft enough to dig. The problem is we don't know which is which, and I ended up skulling most of them. I played +8 over par 3s, most of them due to my extensive time in the bunkers.
Aesthetics (3/5)
Despite of the really crappy service, fairways, greens and rough, the course is actually quite nice to look at. It's a classic case of "Good from Far, Far from Good". I mean, you'll have to give it to the Koreans. There aren't many trees, although not as immature as Nilai or Seremban 3. Some holes do give a good impression, like the 6th, a blind dogleg right requiring a brave shot over the jungle, or a fade shot.
Simply based on looks, it's TJ's strongest selling point. It's not holy cow, its beautiful! But it's 'hey, this is interesting.' The golf course itself just plays straight. Not many holes with doglegs. So it's one straight hole after another, with generous amount of leeway given for wayward shots and an opportunity to recover.
Fun Factor (2/5)
Fun is at a 2. The only reason it's not given a one is because I managed to eagle the final hole, the par 5 9th. It's a 480 yard tee off. I hit it slightly left, but it hit the card path and went about 280 yards, leaving me close to 200 yards to go. My hybrid 23 degrees (the same that I two on the par 5 in Tasik Puteri and nearly murdered a man) in my hand, I hit flush that settled 1 feet off the green on the left fringe. It was an elevated green and rain was coming down. Downhill left to right, I played it with less break since this green didn't roll.
I actually mishit it a bit, I hit it too hard. If it didn't catch the hole, it would have drifted 4 – 5 feet by down the hill. But as it were, the ball nicely went into the hole for my second eagle. The first I got it from Bangi, but that was really an asterix course, since I was hitting a 9 iron in, due to the mickey mouse nature of that course.
But here, in TJ, I finally recorded a man's eagle, and bumped the fun factor from a 1 to a 2. I guess it made up for the miserable par 3 record I had.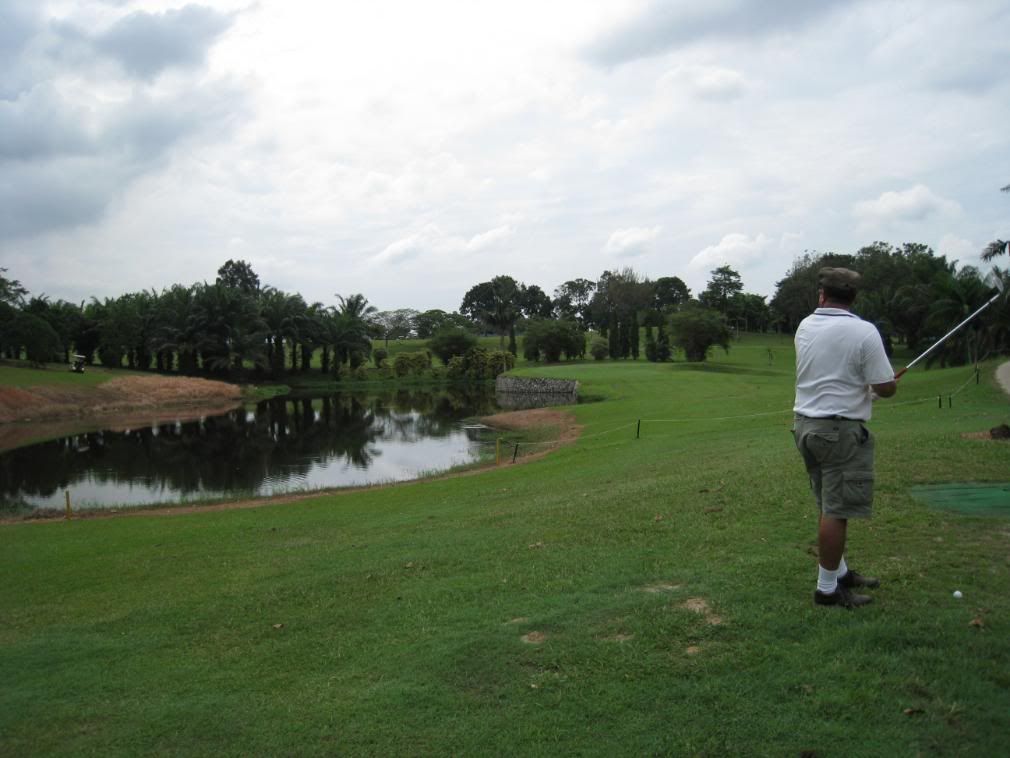 Conclusion
Tuanku Jaafar is a course you will probably play once and not come back again. It's not overly enjoyable, but it's generous, so beginners will like it better. However, the travel is simply not worth it. Jam, getting lost, it's just not a trip that you look forward to. The service is absolutely disastrous, I cannot recommend it to anyone unless I want them assassinated for some reason.
The good: Some scenic holes, generous fairways, generous to wayward shots, at RM35, it's one of the cheapest 18 holes you can find; no need for food and caddies.
The bad: Traffic jammed roads, lack of signs and directions; bad drainage; the worst service and locker room of all time; lousy greens and lousy rough; lousy choice of name!
The skinny: 12 of 40 divots (30%).The course itself isn't as bad as Frasers, but it would be considered maybe a third tier course you want to consider when everywhere else is packed.
Tuanku Jaafar Score Card
Tuanku Jaafar Information
Address:
Sungai Gadut, Seremban 71450 N.Sembilan
Contact: +606-6783088
Fax: +606-6782908