Introduction
When you speak to a golfer from Malaysia and you mention the word "Combat Course", there is a high probability that he or she will sigh and say, "UPM?"
UPM stands for University Putra Malaysia. It's basically a university with a golf course. Yes, apparently this is a concept it took me a while to adjust. I would love to register for a uni with free access to a golf course. In fact, it's not just a golf course, it's complete with a driving range, a pro, and locker rooms and showers, just like any club!
I knew of this some time back, where my friend mentioned that in UPM, actual cows actually roam the fairways, like the legendary bisons over American Heartland. I'm like, holy cow, are they movable obstructions, loose impediments?
I've played it a few times and each time, I struggled mightily. The combat course is really what it says; you feel like you're fighting it. It's a course maintained by a university for crying out loud. What did you expect? Someone to give you a face towel on the back nine?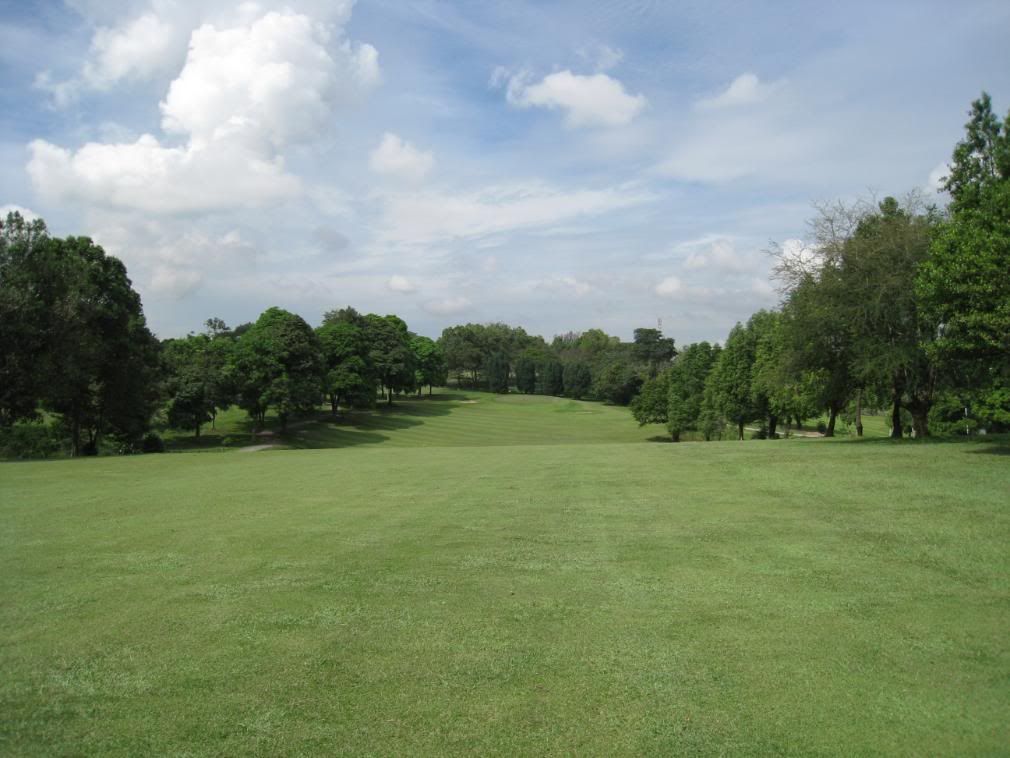 Travel (1/5)
There are several ways to the University and each ways are wrought with perils. Sorry, just had to say that, it sounds so cool. Anyways, the easiest coming from PJ/KL is to hit the north south highway (by now, this highway is so familiar to golfers, they should be dreaming about it and know every exit more than they know their own mother). Head south to Seremban till you see the UPM exit. This is the easiest. Take the loop, you'll hit the UPM toll. Voila, you're there, easy peasy. If you come from Putrajaya or Kajang side, head towards the SILK (or whatever the name of that highway is called), you know the one that heads you to Kajang and IOI mall. There is a turnoff to UPM, watch for it on the left. Immediate left after that and you're there.
Here's the best map I can find.
Update:
I've downgraded this course significantly and will tell you why. The ONLY way into the golf course in UPM is via the SILK way, because that puts you immediately at the entrance with the golf course. I will state this clearly: If you come in via any entrance (including the one that I have cancelled above), YOU ARE DEAD. You will spend eternity circling this god forsaken university looking in vain for signs and asking in vain for directions. It took me 30 minutes of mindless driving to finally spot the golf course. There are a few reasons to this madness:
1) The insistence of UPM to not use signs. Everyone navigates by smell. They must have spent so much in building fancy facilities, that they only have RM150 left for all the signages in UPM. There will be NO signs pointing you to exit, to golf course, to toilet. The only signs there points to boring faculty buildings, no doubt filled with the living dead.
2) The sign fonts are so darn small, it's impossible to read it. It's senseless if you put up an unreadable signs. Why don't just draw pictures like cavemen? It would definitely help more.
3) The directions given by students/faculty members/living dead are as vague as the signs. Or maybe my Bahasa sucks. They would say, go straight, turn left. I do that and suddenly I'm at a crossroad but there were no further instructions. What is this, some kind of Amazing Race crap? Did I miss a checkpoint or something?!?
4) I think it's UPM strategy to increase their enrollment. You have no way to escape this campus because it's so darn confusing and the signs are so darn useless, that you go insane and you enroll for life. Yay, now UPM has more students!
5) UPM refuses to set up the course "How to Make Road signs that are intelligible 101" for fear that people would actually escape their campus and their enrollment dwindle to their original number: 2.
Awful directions inside this university, possibly the most confusing labyrinth in the face of this earth.
Price (2/5)
You'd expect student price for a course like this, but I paid RM70 for a weekday rate. That's because it's RM30 for the green fees and RM40 for the buggy. If we had split the buggy, it would be RM50, which to me is quite reasonable. Given the course conditions (more of that later), we're willing to give it an extra divot. RM50 is still a little steep for student pricing.
First thoughts
Now, we've played in UPM before. And we didn't really enjoy it that much I recall. The last time I played 97, and not score any birdie/par. Sounds familiar? Yep, like Berjaya Hills. I know I was struggling with my swing and UPM is a course (especially the back 9) that severely punishes off line drives. And at 6271m, it's not a pushover as well.
The good news was when we entered the campus, we saw banners everywhere that stated Annual Golf Open in UPM in 3 days. This means that we should expect some reasonable conditioning of the course at least! The best time to play, remember, is always before or after a competition. That way, the course is primed to its best. I recall playing KGNS old course after the National Amateur and nearly died. The rough was just impossible to play from and the greens were glass. I was four putting like a dodo bird flying into a propeller. I think the Stimpmeter was like, what 20?
It was just pure luck that we happened on a course right before their annual tournament, so we expect some good experience here.
Service (2/5)
Maintenance was being done on the course, although this is a little biased since we're looking at a few days before the competition. Checking in was a breeze,a dn the guy at the counter was a very articulate fellow who spoke perfect English (it being a University and all). They don't waste time with golf insurance, caddie fees and all that hocus pocus. You enter the new club house, you pay 30 bucks, you get out, you pay another 40 for the buggy and they pack you off. There's no halfway huts, it's just pure golf.
The one thing I have to nitpick on is this: I don't know what is it with our government or education institutions that love SMALL SIGNS. I have very good arguments on this. I entered into their old clubhouse (it was never stated as old clubhouse), which was deserted except for two guys talking. They must have saw me coming in, but simply paid no attention as I scamper around looking for the changing room. There was a sign that said Men's changing room, so I opened it and voila, I'm in a Surau. A Surau is a prayer room for the Malays. Holy place, you know, not where you want to be stepping in with your stinking golf shoe that hasn't been washed since the last World War.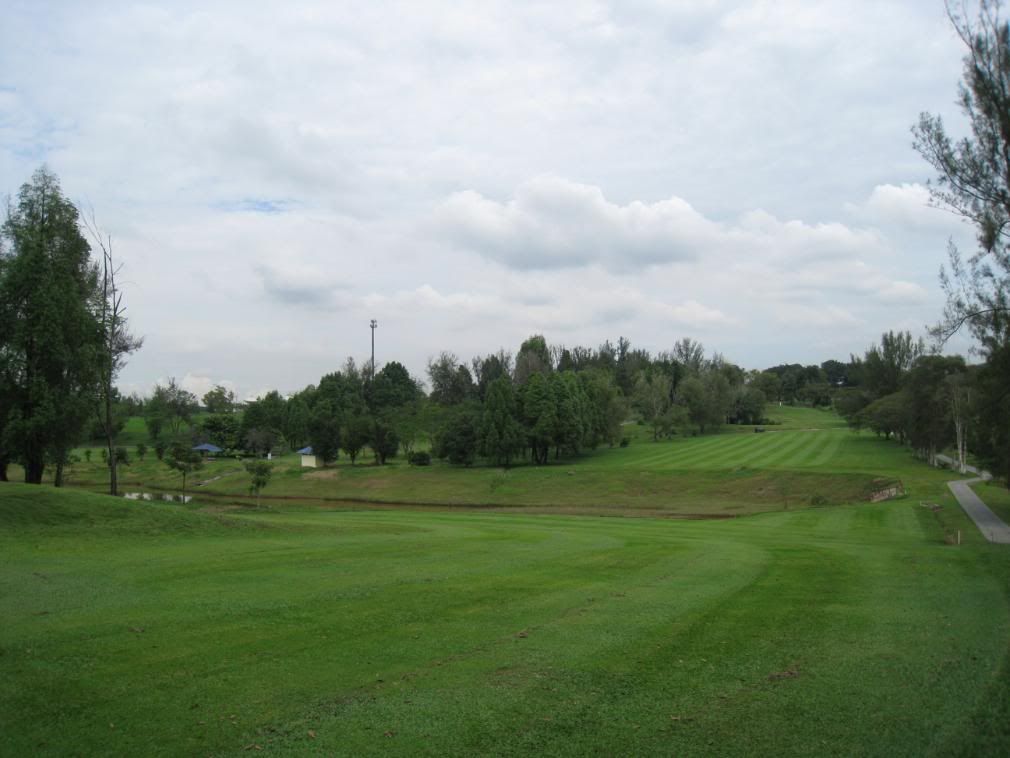 And there I saw it, in a small dark corner, a little A4 print out pasted on the wall (Only God knows who is it for, hidden away there). It's like a treasure hunt clue: Go to New Clubhouse. And why the heck are those two guys ignoring me? Can't they point me to the right direction? Am I like Bruce Willis and they don't see dead people?!
The reason why I drag government institutions into this is easy. Try driving to Putrajaya, our administrative capital in Malaysia, the place where all ministry and government buildings reside. The signs are not just small, they are MINUTE. I have to slow down and nearly cause pile ups everytime I pass a darn sign because they cram everything into a small space that nobody but pedestrians can read. Do they think it's dainty to have small signs or what? What the heck is going on?
Fairways (3/5)
Once we hit the course, there's where it gets better. Well, at least for the first nine anyway. And I know this has a lot to do with the upcoming tournament. The first tee off is to a huge fairway-which, for once, I found with my tee shot, so I guess I am slowly improving-a reachable par 5, which I pushed my 3 wood but still parred it. It was a sunny day, so I didn't expect it to be bad. It wasn't, and UPM is a course where hitting fairways is your primary goal. It plays not that long, but some of the holes, notably the signature Par 5 16th requires a bomb to reach the ravine and then a carry. Grass was cut for the tournament so it was as best as it could be.
Greens (2/5)
I was tempted to give it a 4 after going through the first nine. Really, I thought I was playing in KGNS or Rahman Putra, because the fairways were great and the greens were just superb. I hit an approach to the 3rd and it spun back. To the 4th and 5th and the greens just gripped the ball. It was soft, it was receptive, it was un-UPM like, and more Impian-like. Most greens here are table top, so please don't run low balls into the greens! It played slow though, probably due to the watering of the greens in the morning but I'd say, UPM greens on its best days, beats Impian greens on its worst. It's like the plain Jane upstaging the Belle of the Ball who had a bad hair day. Hey, that happens.
But Jekyll and Hyde. Or rather, front nine and back nine.
As good as the front nine was, with newly paved buggy tracks, someone forgot to include the back nine in the budget. Back nine plays wild. It's much much tougher, much more undulation and less maintained. I suspect the tournament is only for front nine, because once I hit the back 9, the greens were back to their sorry state. The 16th was sanded and unputtable. The 13th likewise. It's a pity because the back 9 is much more enjoyable and more memorable, but I guess they haven't got down to maintaining it. Now, this is more like the UPM we recall from our previous visits!
What a waste, so we just have to split that 4 into 2. Still, the front nine shows promise of what the greens in UPM can become!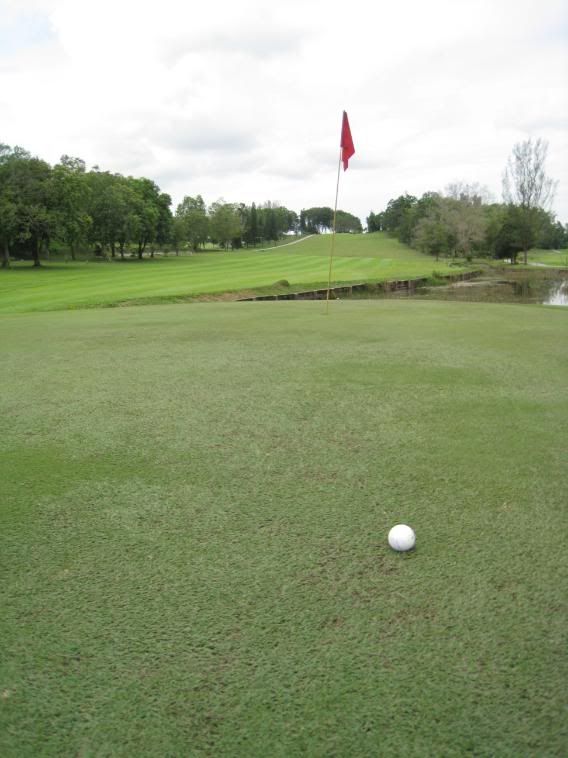 Rough (2/5)
The rough is punishable by death…of your balls, that is. The front nine is quite benign, and reasonably allows you to score well even with crooked driving. Once you make the turn, it's as if you've crossed the gateway into destruction. From Hole 10, to the narrow 12th, then to the long 13th, the 15th and 16th, you will be framed with jungle from all sides. I don't know what's a rainforest jungle doing in the middle of a university, but there you have it. Even the par 3s are inhumanly long: 183m, 171m, 154m (but plays to 160 since it's a severe uphill) and the most scenic 17th, playing at 170m downhill, where I lost my 5 iron shot into the oblivion beyond. Even my six iron was over. Bollocks!
The downpoint were the bunkers. Probably they were a little too wet and packed, but it has always never been very well maintained. I suppose it being a University, there's a course on 'How to Make Good Bunkers 101′ as well as 'Constantly Frustrate the Stupid Golfer Advanced Course'.
Aesthetics (2/5)
I'd like to give it a good score here but the honest truth is that, the course is just not pretty. It's functional, yes, but the front nine plays very boringly, if there's such a word, except for the 7th, which is quite a nice hole to look at. The back nine plays almost claustrophobicly, due to the framing of the jungle. We hardly get to see the whole course in one view and sometimes it plays like Datai Bay in a sense where every hole is self contained. But Datai Bay had the view. UPM doesn't.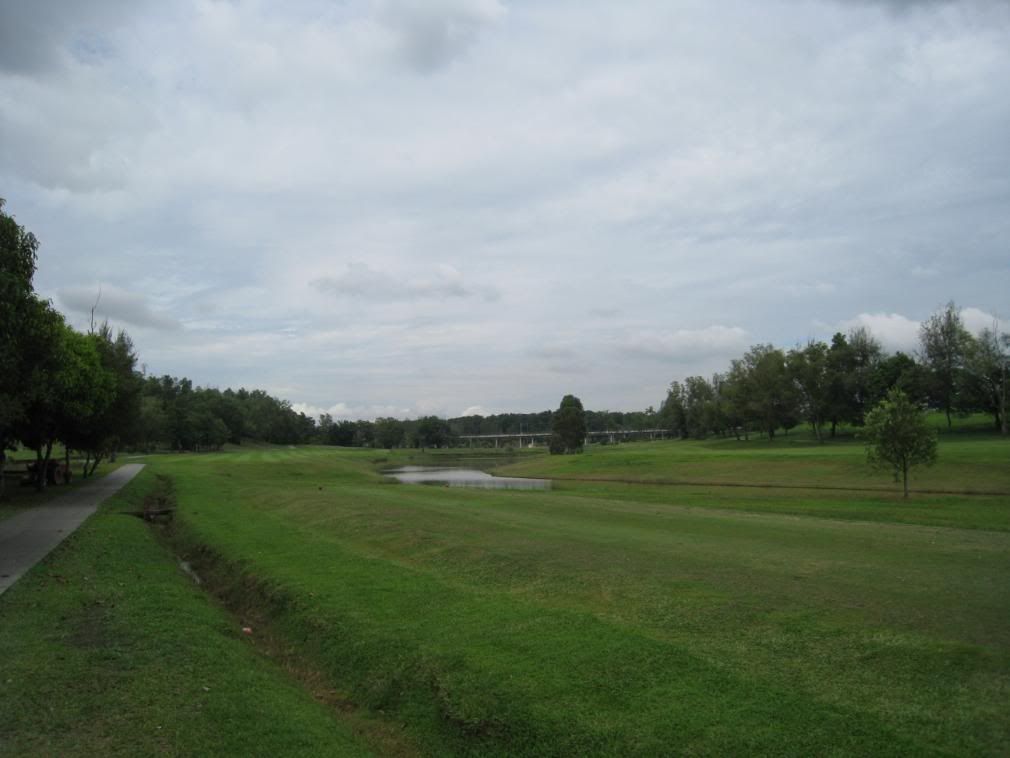 Fun Factor (3/5)
Despite of it all, we believe that UPM can offer a measure of fun, given the right conditions. Good weather is paramount. And before tournament conditions also help. The front nine could have been more exciting, but it more than makes it up with some of the most challenging holes you will never play in other courses. The par 4 13th is a driving hole over a massive ravine at the tee box. After that, you're faced with the short 14th. A good tee shot places you about 50 meters away if it catches the slope, but the green is just demonic to putt on. The 15th is also severely undulated to an elevated green. But the 16th is the most fun to play. A good tee shot can catch two terraced slopes leading down to a landing area right before a huge ravine. From there, a risky 3 wood should give you a two on and a putt for eagle.
The ending hole is a par 5 where a slope runs your tee shot down to 3 wood range. You can eagle this as well.
Conclusion
I think we caught UPM on a good day. No doubt about it. The pre tournament conditioning worked well, but I've almost always never do well on this course. I'll be the first to admit it's no pushover, even for a university course, neither is it a pretty course. But if you can play the back nine reasonably well here, your game is pretty much ready to go.
The good: Good fairways, great greens on the front nine, memorable par 5s that will definitely be quite fun to play on the back nine, a functional course on a good day.
The bad: Lousy greens on the back nine, par 3s are long and except for one, not very scenic; price is a little looped out of a student budget; lousy bunkers; not a pretty looking course. Plus, 5 year olds can make better signs and give better directions than these so called university staff.
The skinny: 19 of 40 divots (47.5%). We caught UPM on its best day, so we're recommending it. But take heed of the entrance and bring a flare gun in the event you get lost or have to fight off the living dead in UPM. Don't blame us if you come out cursing the course and Gilagolf!
UPM Scorecard
UPM Information
Address:
Unit Golf, Bahagian Pembangunan UPM,
43400 UPM Serdang, Selangor.
Contact: +603-8946 7996
Fax: +603-8943 3972
Website: http://www.upm.edu.my