Introduction
After a long lay off, I finally dusted off the dirt from my clubs for a quick nine in Bandar Utama. It was a simple golf game, basically with a couple of beginners, and also to get the rust out of my system. And what better place than our old hunting ground, what we know as BU course, or BU9 or sometimes, in our best mood, that piece of cr** that disguises itself as a golf course. So on a cloudy Sunday morning, we teed up on a course we haven't seen for more than a year.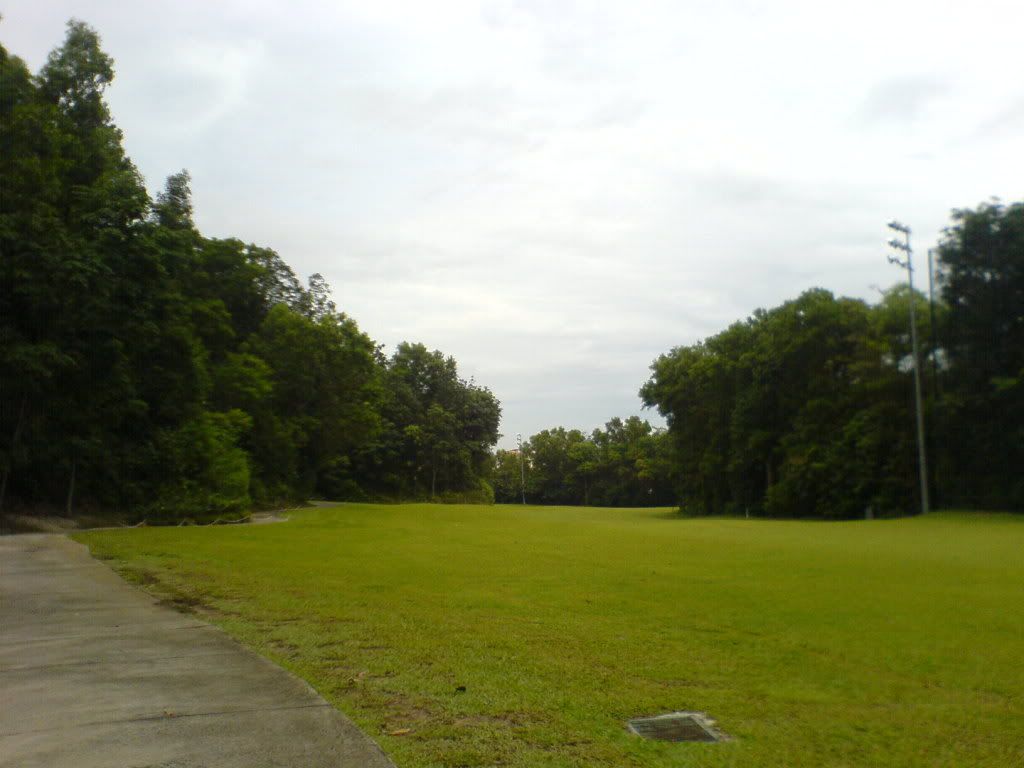 Travel (2/5)
This is obviously a very contentious point, because if you're from Penang or something, it's absolutely pure insanity that you would want to drive down all the way to play on this course, as you will soon see. I mean, it's like paying a billion dollars to buy a Preda, Louis Vitton or a Gutci handbag, and those are the correct spelling. Or a Rollex, Tag Higher or Ohmega wrist watch. In other words, absolutely pure insanity.
But you know, as mentioned before, the rating system is obviously very biased in terms of convenience to the one actually writing it, and for this particular person, a drive to Bandar Utama is a breeze.
It's one of our courses that probably don't require a map but we're going to put it in anyway for the sake of looking professional.
OK, so take the sprint highway heading towards the Damansara Toll (for Pj folks, that's the one that you hit when you want to go to the airport). Go up at the Sony flyover to get into Bandar Utama, and turn right at the lights. Go straight till you see Bandar Utama College on your left, and take that turning leading to the college. On the map, it's called Persiaran Utama.
Keep going straight, go past a few bumps, ignore the first left and take the second left, despite warning signs of danger and death. It's going to look as if you're going into a mining site, or some kind of POW camp, but you will emerge and see a parking lot on your right and a small little hut that passes off at the club house. Remember what we said about telling a golf course from it's club house. Well, there you have it, ladies and gentlemen, the Bandar Utama Golf Course.
Price (2/5)
We forked out RM53 for 9 holes, which on a prime time like Sunday morning, is pretty decent, I guess. It gets down to about 40 plus during the afternoon. It's of course a little premium for the convenience, but we need to temper that price with how the course is, and matching price for course, it gets a below par 2. I mean, think about it, if RM53 gets us 9, RM106 gets us 18, which is more than we pay to tee up at Kinrara on a Saturday morning utilizing our AGN membership. And you know sometimes you're fat and you stand next to a fatter guy and everyone starts thinking you're thin? This Bandar Utama course makes us think that when we die and go to heaven, Kinrara course will be waiting for us. We begin to yearn for the course which, as we have already reviewed, is a pretty much extended copy of a moderate to frustratingly crappy course as well.

First thoughts
Ok, I'll be honest with you, I didn't even want to review this course in the first place, that's why all the pictures are taken from my camera phone. It was until the second hole that I decided to review it and let you know what me and my buddies think.
First thoughts when you see the club house, especially on a weekend, is:
"Wah, so many people one ah?"
In fact, it often seems that the entire population of PJ has decided to gather on this tiny plot of land for the sole purpose of cangkuling the ground and making life a miserable, living hell for other jokers who have also gathered for the sole purpose of cangkuling and miserabling. It's one big pile of mess, because of it's convenience, every Tom, Dick and Sally, Aunties and construction workers are here to pitch their new found skill on this game of golf.
It's generally a lose-lose situation here. Because as beginners, having a huge gallery looking at you is probably not the best way to get to your first tee. But you have to tee up and with sweaty palms, and knocking knees you stand over the ball which suddenly looks smaller than a plankton and you proceed to skim the ball 20 feet in front of you and embarrass your family name. This slows down the game, but there's no way out of it, as you go on and cangkul onwards miserably. And this repeats itself as flood after flood of beginners pack the starting tee.
And as long as we are here, we're all beginners, so there's really no point in getting overly frustrated over the lack of skill displayed.
Service(1/5)
OK, the service sucked. Signing in is easy itself, but we had to wait additional 40 minutes because they ran out of buggy. I mean, ok, fine, I get it, your course is so popular than all your buggies are snapped up by 730. So, if you come at 8:30 am, you're in deep crap because you don't have buggy and you have to wait till at least 945 for the first flight to complete.
We thankfully came about 9:15 ish so it wasn't too long before we haggled over a buggy and drove off to Tee 1. The buggies are new, which begs the question of "Who the heck is investing into this forsaken place anyways?"
On Tee 1, it gets worse. You will see a long line of buggies in front of you. And because these are typically beginners, no one has any idea of any ethics. There was a flight in front of us with 2 people. And in front of them, a flight with 2 people. And in front of them was a fourball.
What's the rule here?
The two balls join together right? I mean, balls here mean the flights, because my statement there might get some of the more depraved readers chuckling. Two guys just say "Hi, can we join you" and make a fourball and everyone  gets moving along.
But due to the lack of governance on the course, and the obvious lack of any marshal whatsoever, all rules are thrown out the window. The two marsupials in front of us absolutely did everything in their power to avoid eye contact with us, who threw them dirty looks and when one of us said aloud: "Gee, wouldn't it be nice if it was all fourball instead of two balls, right?" they pretended they were Micronesians who didn't speak a word of English.
I mean, come on, would it kill you to say hi and join the darn flight in front? Would it kill you to actually learn a little about golf ethics? Would it really kill you if for once in your life, you become a little more considerate and stop making life a miserable, living hell for the rest of the PJ population waiting for you to get out of the way?
Fairways (0/5)
From here on, be prepared for a free fall down hill. With that amount of golf newbies on a course with 9 holes, there is absolutely no way that the fairways can even resemble anything close to a golf turf. Most of the time you'll find your ball either stuck in mud or simply sitting on a patch of sand. In fact, we recommend you steal a driving range turf and just carry it around with you and use it, because with the ground blasted to bits by relentless golf clubs coming too steep, it resembles Omaha Beach on D-Day.
Also, aside from hole 1,3 and 5, the rest of the fairways are forbiddingly narrow. It's not due to the intelligence of the designer, but rather the limitation of the land. Like its big brothers Seri Selangor and Monterez, BU Course is another reason why so many beginners give up the game in the first place, after losing 60 balls into oblivion.
Greens(1/5)
The greens fare slightly better, but it's not to say it's good. It's just better than the fairways. The greens are not pressed or maintained, so it's just there, with different speeds, mainly excruciatingly slow and unpredictable. There are a few undulations or interesting greens like the massive one at the par 5 third. Or it can resemble a temporary green like the one on the 4th. Needless to say, I have never seen a green mower in my life in BU course, so I am guessing that they train gerbils to nibble away and trim the greens to its current, low grade condition.
Rough(-1/5)
I can only post up these pictures of horror for your viewing.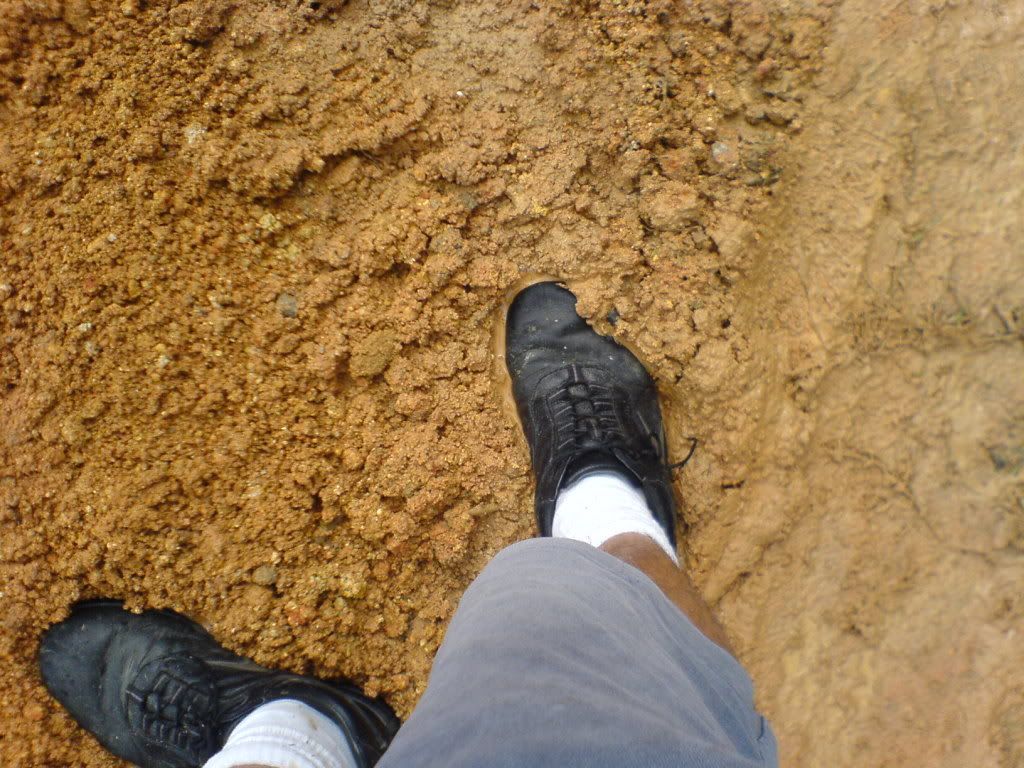 The problem with BU is that it seems to be in construction all the time. If it's not one condo, it's another office block. It generates a foul stench, especially at the unplayable second. And come on, look at this piece of crap. You're kidding me.
It gets better as you 'cross over' to the 4th (literally, you need to cross over the road), but the same soggy ground is prevalent. Your ball goes into the rough, it's bye bye. It's either plugged or stolen by those darn maintenance gerbils.
Aesthetics(2/5)
Why do we give this a 2, despite everything points to a -10?
To be fair, if you can get past the second hole, BU course can pass off as an acceptable looker. The same way as how any normal human with 2 eyes, 2 ears, a nose and a mouth will generally not draw gasps of disgust, BU course is typically a narrow, constipated, forest surrounding course, with very typical scenes. The ugliness is in the construction around it.
To be fair, they've made some changes in terms of beautifying the place, by placing proper embankment on the par 5 3rd. They also seem to be investing to build a community center with swimming pool at the side of hole 1. Without a side net however and one of our group promptly shanked his second shot into the currently unoccupied pool.
And to be also fair, the par 5 3rd is quite a good challenge. A good drive puts you about 180 from the green but you need to float up a 3 wood over water to an almost inaccessible green with water in front, right and back. A small bailout is to the left but pull it, it lands into water.
The par 5 sixth is also reachable in 2. It's a curious hole with a cliff on the left for your wayward balls to rebound from into the fairway. In fact, in our flight, two guys careened their balls from the walls safely onto the fairway. Mine also pulled but landed inside a bush instead. Bollocks!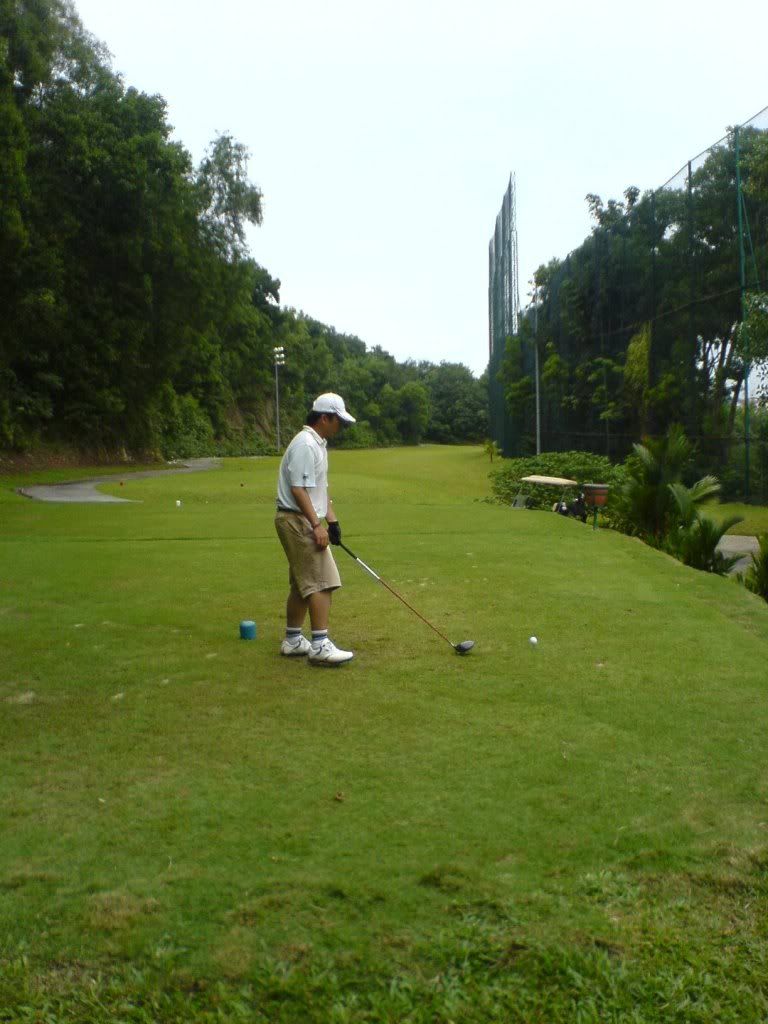 Of course, the signature is the par 3 seventh. It's an extremely elevated tee box looking over the next two holes. It's quite enjoyable but serious hard work in gauging the distance and keeping your ball from yanking left to OB. It's also OB right, with a pond in front, and a steep drop off to the back.
A lot of people overshoot the green because it states like 165m or something. In fact, go for your 150m club, like your 7 and you'll get it on safely. This is pretty much the saving grace of the entire course. Feel free to pile in 3-4 balls to the green while you're here, because after this, it's going through the slog again.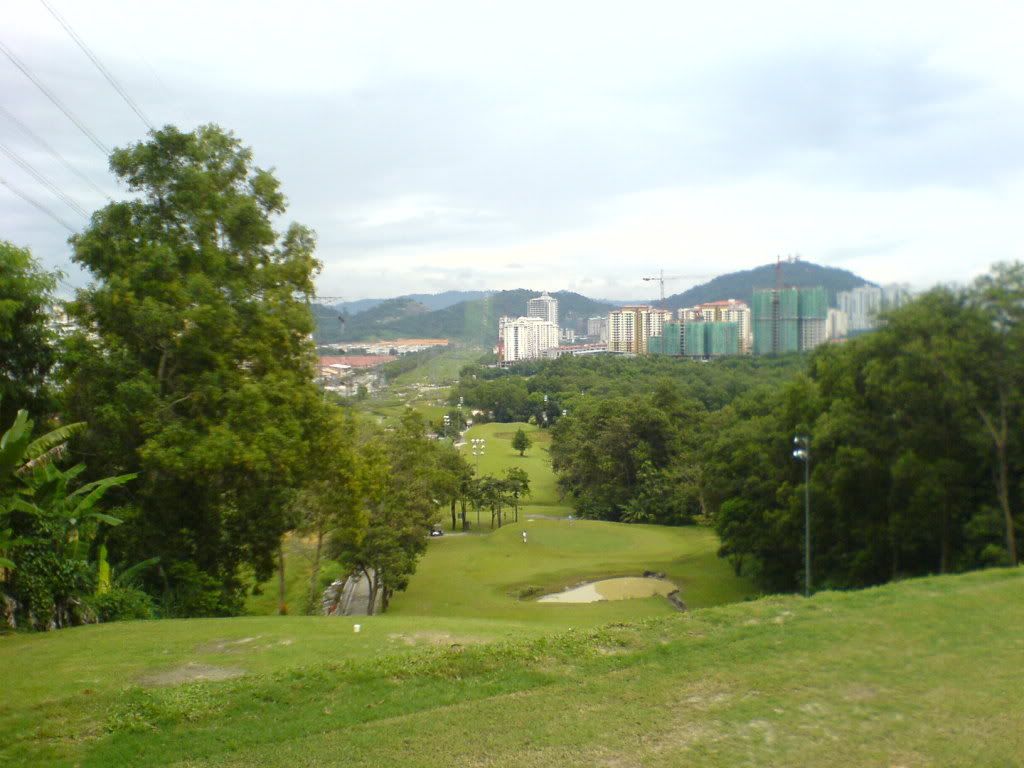 Fun Factor(1/5)
Fun? Nobody has fun in Bandar Utama Course. Due to its constipated heritage, it's sheer torture to go through it and also to watch those marsupials in front of you go through it because they take so long to look for their darn ball. In fact, the flight in front of us actually went into the construction site searching for balls. I mean, are your balls studded with Tiffany diamond rings or something? Golf balls, I mean.
This course also carries the distinction of a 9 hole course that takes an 18 hole duration to play. We teed up about 9:45 and finished almost at 12:30 pm. It took us an hour plus to just slog through the first three holes. They should advertise it: "Make your 9 holes feel like 18 holes!" Half the time you will spend waiting, ball juggling, playing chor tai tee, watching movie on your ipod video or generally wondering how you could have spent your morning sleeping instead of standing in a stinking golf course waiting for the fellas in front of you to hit their diamond studded balls.
In our group the two beginners had their share of joy when one hit the flag pole to get a par and the other bombed a 25 footer through sheer luck to get his birdie on the par 4 eight. He leapt up and screamed in joy, as if he scored the winning goal in the world cup, and finally started smiling, after shooting about 110 on the first six holes.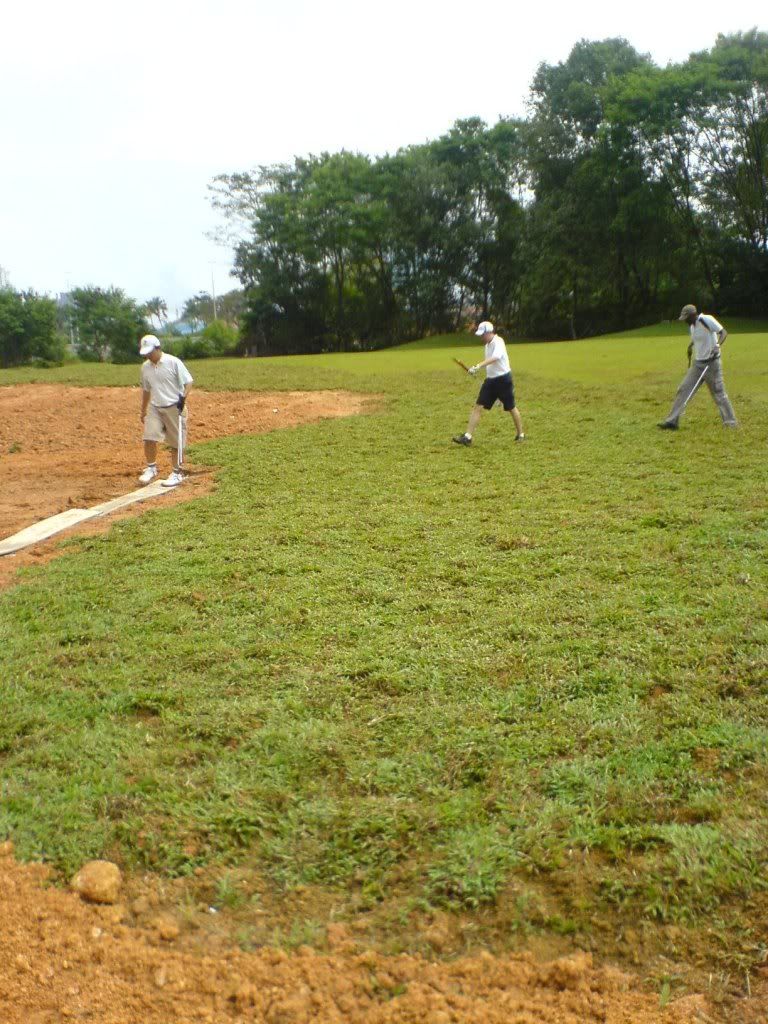 Conclusion
Despite of it being graded a complete waste of time and money, it escapes the dreaded AAC (Absolutely Astoundingly Crap) grading due to its location. Like it or not, people and us included will probably return now and then to play it because of its convenience and the fact that it's the course that all beginners will start with. It sucks, but that's life right. You most likely will enjoy it as much as having your wisdom tooth extracted with a BOSCH drill, but if you last to the par 3 seventh, then at least you can have some fun there.
But once you are a decent player, or once you record your first par and birdie, make arrangements to flee the place. Consider yourself graduated and look forward to a lifelong struggle with more worthwhile courses like Kinrara or Bangi or Seri Selangor.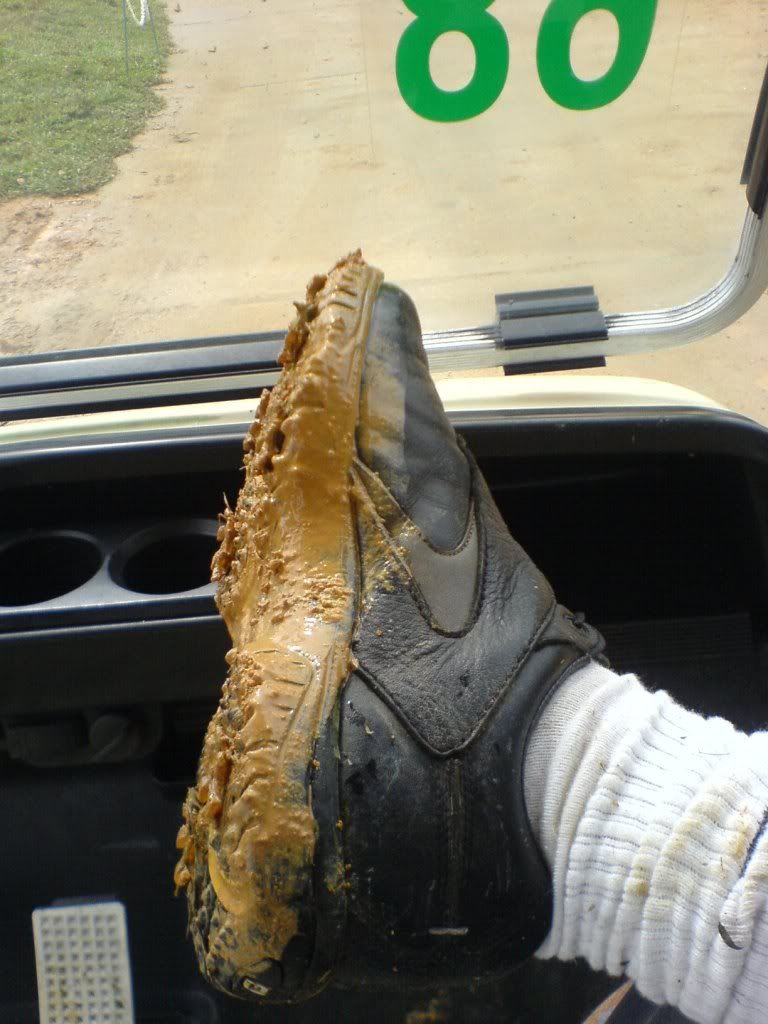 The good: Location, location, location. Also par 3 seventh signature hole is worth playing a few times; the de facto beginner's course, so most people will forgive you for hacking the ground to death and playing like a complete nut.
The bad: Boy, there's a lot. Wait time is crazy; no governance on course; no golf ethics; stinking fairways; absolutely awful rough; and be prepared to lose a dozen balls or so, so please take all the old driving range balls and use them, and keep your diamond studded balls at home.
The skinny: 10 of 40 divots (25%). If you just started golf, you can't escape this. It's like ragging, a rude welcome to the game of golf. You won't enjoy it but you will need to go through it and get stronger as you level up, like World of Warcraft. Once graduated, don't look back to this heinous piece of course ever again…unless you need to accompany other beginners.