The MCO has pretty much change a lot of things that we do in life. From ordering food, to getting things online, to exercising online. It probably set us back a few years in terms of revenue and income but catapulted us a few more years in front in terms of how the future will likely be in terms of virtual reality and new standards of anti-socialness.
Which is great for golf, since its probably the best game for anti-social behaviour. It's one of the only sport where you do not need to interact with another annoying human being if you have a choice and still can play a great round of golf.
Over the course of the MCO, I've been toying with the idea of setting up an area in my terrace home to build a small golf simulator area. The idea is simple – these lockdowns will happen more often than not, it provides a place to improve my game without socialising and it also offers a way to introduce my kids to the sport.
The last part is important. Because the idea here is to eventually plan our so-called family trips surrounding the things that the majority of the family prefer. Since my wife's vote is 2, most of our family trips now consists of things like shopping, swimming and all sorts of stuff that interests me as much as watching flowers grow. If I can bribe these two kids to play golf, we can finally plan some meaningful trip surrounding golf for the 3 of us, and just put my wife in a shopping mall somewhere for 5 hours. Everybody wins.
There's a lot of Sim options for golf, but since I haven't really set up anything at home to have a real hitting area, I am limited to only a few option – one that does not require space and one that is so easy, my 6 and 9 year old can play without going into golf rage for not hitting the ball.
I settled on this product called TittleX.
I know it sounds weird, as anything that starts with "Tit" would, including Titleist which many pronounce incorrectly as "Tit-less". But what attracted me was the simplicity and the price.
For USD119 you basically get the TittleX hardware (consisting of a small bluetooth device the size of your pinky finger), some cradle so you can put on your club and an amazing software E6 connect to play on 5 great courses for free. The software is absolutely smashing, because the graphics is the best you will see in a sim. E6 is used by the best simulators out there from Trackman, GCQuad to other more affordable ones like Skytrack, Mevo+ etc. To get this software for USD120 plus the hardware is a steal.
If you are willing to pay USD80 (Around RM350) more, you get the swing stick, but I am a cheapskate, so I rather check out the system first before I commit another RM350 for the stick.
It arrived after around 3 weeks + and yes, because of the cost, I had to pay the courier the custom duty fees of around RM100+, so altogether, I guess the whole cost was around RM600.
The box was simple enough, small and compact, and out of the box, there was a charging cable and simple instructions to get started. The instruction from the box isn't updated to the E6 Connect version (it's using the old E6 TruGolf application), so you must go to https://tittlexplay.com/article/play/8/90/ for a better idea on how to set it up. It took me a bit of tweaking here and there but it worked nicely after that.
Once you set up with E6 Connect Golf, you just download the five free courses and then you are all set to go. The five courses are Bandon Dunes, Aviara Golf, Sanctuary Golf, Stone Canyon and Wade Hampton. Those courses eventually get a bit boring if you end up playing over and over and over, but hey, its for this cost and price, there's nothing to complain.
The only problem isn't so much of the TittleX itself, but how to set it up with real golf clubs. Because it comes with limited cradles, I've put one on my driver, my hybrid and my iron. I have a driving range mat I bought from Lazada so initially, I would set it up outside the garden and try hitting from the mat without balls.
The problem is the TittleX receiver is only one, so every shot, I have to go and change the receiver to the other club and hit again. The receiver itself wasn't extremely accurate (my usual hook shots translated to slices) and my distance had a significant reduction. On trackman, my driver was around 98mph swing speed and around 220-230 meters, but from this TittleX, it was easily around 20-30% less. While we never liked being shown how lousy we actually are, it didn't seem likely that all my drives were going around 180m when in reality (on the course + Trackman at MST Golf), the numbers were a but more.
Plus, the disadvantage of this set up was that I had to play outside as there's no space to swing indoors my driver, and my kids cannot participate, so this wasn't what I wanted. I increasingly wished I bought the golf stick.
Of course, for additional RM350, I tried looking for a similar thing in Lazada and Shoppee. But most of these turned out to be swing trainer sticks for adults which are a bit heftier for kids. Until I went to Decathlon online and found this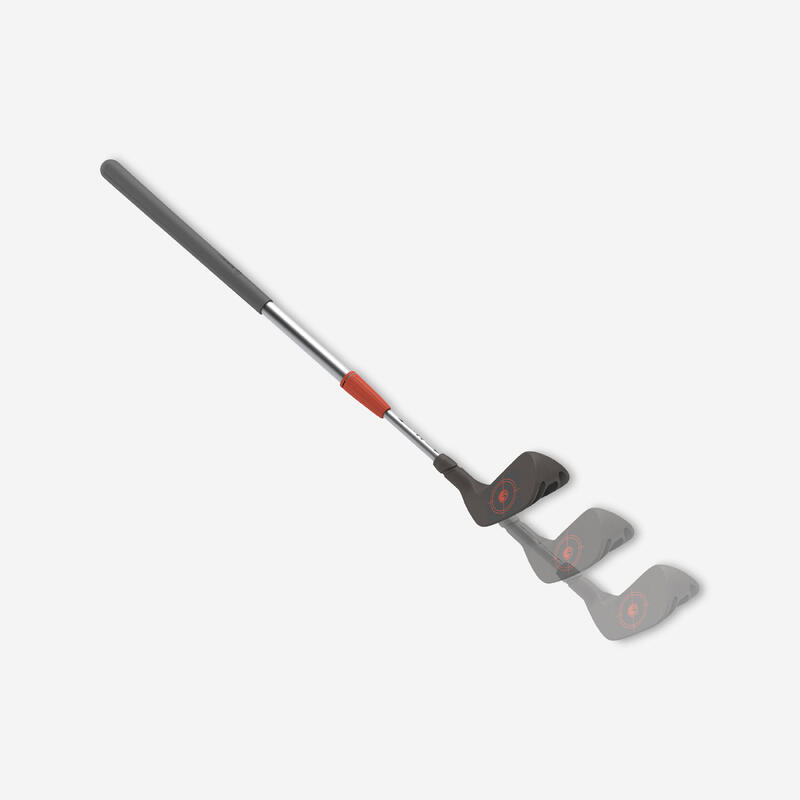 This is around RM50. So it's a whooping RM300 less. It's less realistic, but the cradle fits nicely to it, and it's a lot lighter and easier for a 6 year old to wield. In fact, right now, we just play primarily with this stick and TittleX just to get the kids interested in golf. Realism? Obviously not. My 6 year old hit his drive 320m by shortening the club and swinging it.
However, I do see improvement in his actual golf when I play with him outside the garden using his US Golf Kids 7 iron and hitting foam balls. He is now connecting the ball better, and more confidently.
This isn't a true SIM, but its a great way to get your kids interested in golf, so go ahead and get it. I would recommend the same set up and if you can get the RM350 stick, go ahead, but we're happy with what we have right now with the cheap Decathlon driver.  I don't know how heavy the RM350 stick is and whether it's suitable for a kid, but it sure perks their interest better when they are hitting birdies and eagles.
Sometimes a little less realism is fine to get their interest into the game.
TittleX – go for it!