Introduction
Ok, this is one of the reasons why gilagolf site was setup. We find most golf reviews just extremely polite and untruthful about the course being reviewed. Face it, we are mediocre golfers, cursed to the very last breath to work on our swing, and fixing a slice and donating thousands of balls into the lakes and jungles in hundreds of courses. We're never going to be in the PGA tour. We're never going to beat Tiger unless he is 99 years old, half-blind and can paralysed from neck down. And by then I doubt any of us will even be alive. We're never ever going to wear the green jacket in Augusta. Those are kid's fantasies. Many people will say I give up my dreams too easily. Actually reality makes it easier to play golf and more enjoyable. I used to get really angry about my swing until this new philosophy settled in. Hey, you suck, anyway. The good shots are bonuses. Let's all get along and have a good round of golf. And wouldn't you know it: I got a whole lot better after that.
Anyways, back to Bukit Unggul. Here's what the website says:
"Very few golf courses in Malaysia leave a lasting memory… Bukit Unggul Country Club is one of them. Craved into a 65-hectare valley, the par 71 5,858-metre long 18-hole course is a natural wonder created by renowned American architect, Ronald Fream. Golfers who play here for the first time instantly fall in love with each hole of varying character and challenge."
This is like going up to a girl at a bar and saying: "Hi, I am so and so. I am very impressive, I have a good job, six figure salary and every girl says how wonderful I am and sing my praises. They instantly fall in love with me, I also have a 15 inch dongle. Please sleep with me."
Seriously. Self promotion is no promotion. Actually, some girls might go for it; but you know, it ain't the kind you want to get married to and live with. Your mom will disapprove.
More of it:
"Playing he (sic) hilly course demands patience and precise club selection. Here, a comprehensive fairway and green maintenance programme by the management ensures a satisfying round for golfers of all levels. Its undulating Bermuda Tifways fairways and tees, and true-rolling Tifdwarf greens exist harmoniously among a luch, majestic tropical rainforest to make play a true test of accuracy.
Bukit Unggul Country Club is simply an unforgettable experience."
What the heck is luch? Rich you mean? Or lunch? What's the key word here?
Spelling errors are sure signs of amateurish wrks. Who wold pozt ip something thjat dosent get run though the spll chcker frst?
We generally dislike courses that blow their own trumpet and cannot spell correctly. Please, let us be the judge of your so called unforgettable experience. Tsk.
Travel (1/5)
I've played more than 5 times at this place and each time I have no idea how to get there. It's one of those courses that's like a twilight zone experience. You've been there, you did something but it doesn't leave any impression on you and you leave with absolutely nothing in your mind. Unforgettable experience? I can't even remember the location of this dang place!
Easiest way is to take the North South Highway to Seremban and turn off at Bangi. You'll immediately hit a big roundabout, so take a 3 from there. Follow the road and take a left at the T junction, a mosque would be in front of you. Now you're on a little road with loads of holes so drive carefully. You'll hit another T junction eventually, so take a right. Now you're in a small road heading to Bangi. It's quite windy and there are loads of trucks here. Look out for a right turning after the Nuclear Institute. It's funny since there is a Nuclear and Atomic institute there, and these look like secondary school dormitories, that's how advanced they look to me.
Anyway keep on that tiny road and eventually you'll see Bukit Unggul on the left, after the driving school. From the Bangi toll, it took us about 15-20 minutes further into the rural area to get to the club. It's like Kundang Lakes. Why do you need to make it so dang difficult to access??!
Price (4/5)
If there's one thing Bukit Unggul does right, it's the price. With AGN, we're paying only about RM50 and that includes RM10 voucher for food (which sucks, and is really expensive, so don't ever eat at Bukit Unggul!!). Even walk ins pay around RM70. The price for Saturday morning is steep though, but that's prime time, so we expect to pay about RM150. They also don't throw any caddies at you, which is very positive and why we like such golf clubs. As mentioned, the food is probably leftovers used to feed monkeys and giant lizards; but aside from that, pricing is almost as good as Bangi.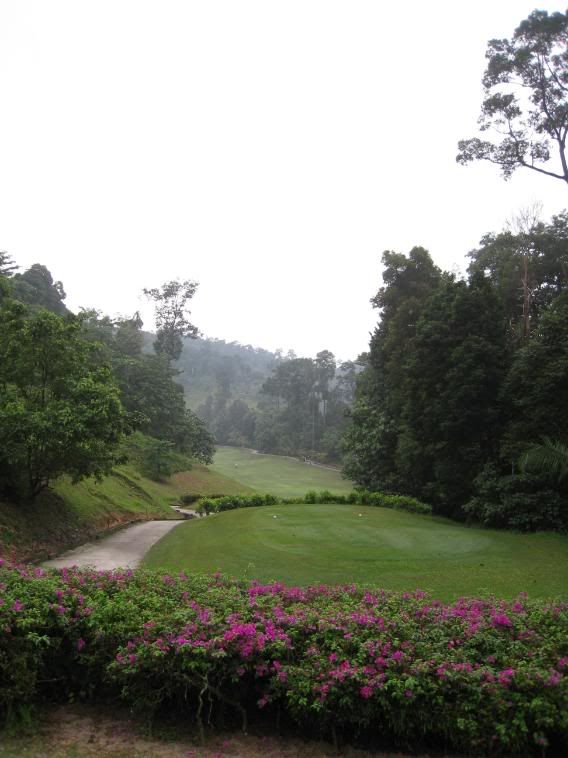 First thoughts
For some obscure reason (please refer to twilight zone experience mentioned above), I always thought Bukit Unggul played easy since it was a short course, on paper. Sitting at the clubhouse, the course is seen built inside a valley; not a mountain, or hill, as the name Bukit implies. It should be called Unggul Valley.
We teed up on the 10th, a scary looking par 5. As usual, I pushed the ball way out into the 18th fairway, played back onto the fairway and struggled to the green in 3. Surrounded by lush rainforest (LUSH! So that's the key word! Well, that part of the advertisement is true!), any ball that hooks, slices is headed to an early death.
Now I know why this course plays so tough, despite its meager 5858m appearances. Many of the greens are elevated, or located far below the fairways; so judging the distance is a cracker. Also, this course delights in giving you doglegs after doglegs, so a solid drive, like the one I had on the 1st, will be sent into oblivion (in my case, almost killing the guys teeing off at the 3rd hole)
Service (2/5)
The F&B service was just massively slow. We ordered drinks and it took them aeons to deliver it. In fact, I think the waiter started a family and had kids and forced one of his kids to finally deliver the coconuts to us. Maintenance of the course was also non existent. No marshals were in sight and I was almost killed at the 5th, a drivable par 4. Balls were raining down from the 4th tee box, where slicers sliced OB into the green on the 5th. No amount of shouting helped. To cap it all, I was leaning on the sign depicting the 14th hole design and the whole thing tumbled down, nearly taking me with it.
Fairways (1/5)
Sorry, this gets a resounding 1 from gilagolf. Even on the first hole, we have evidence of golf's eternal nemesis, the wild boar. I think that's the whole problem with having a course built around the jungle. If there's a lack of maintenance (a problem that Datai Bay did NOT have), generally you'll face some holes that you just gotta let go. Berjaya Hills had that problem. Frasers Hill had that problem and now Bukit Unggul has the problem. That's a given. What we cannot excuse is plain neglect on the fairways and bad drainage. It didn't rain the day before but the ground was still soggy and on some holes, casual water was still there. I don't want to know how it would be if it faced the rain Tiara Melaka faced. The fairway was also patchy, with just mud, in some instances, the grass was dead. It wasn't all bad, at least the ball didn't plug in like Berjaya Hills, but still, for a course that sees so much traffic, I'd think more effort should be involved in upkeeping this course.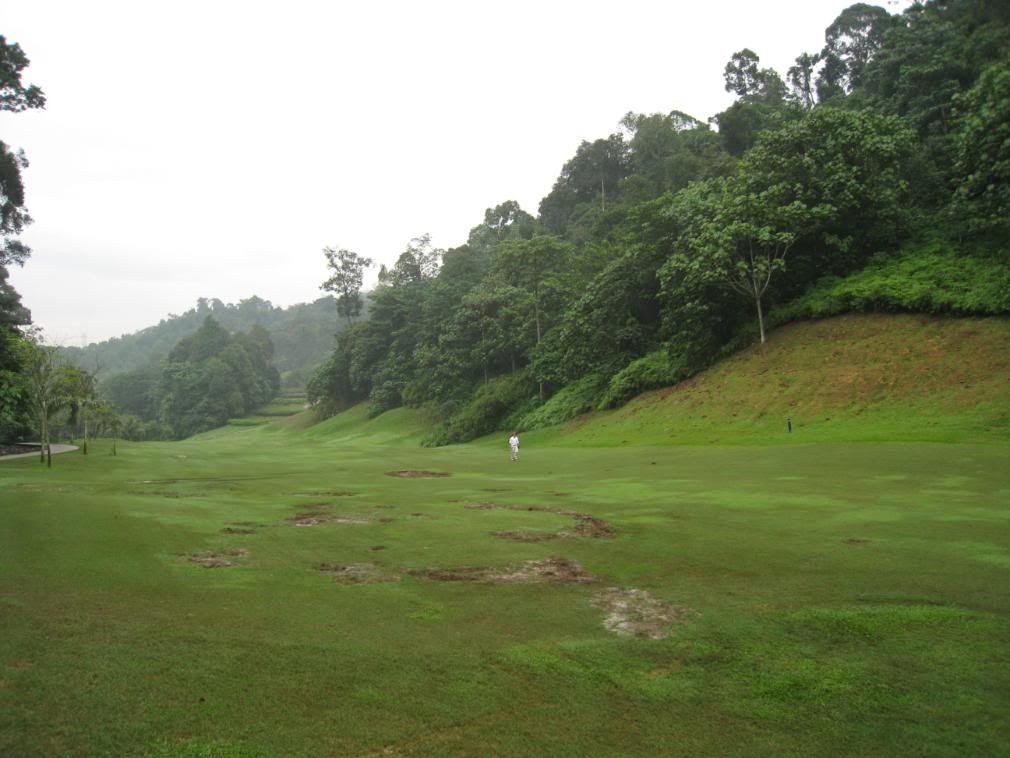 Greens (2/5)
The greens are playable. Undulating, as expected for a course that dubs itself Bukit, meaning hills. Elevated greens makes it awesomely difficult to judge the distance. On the 8th, for instance, a solid drive found me about 140m away from the green, judging by the distance markers. A flush 7 iron should have gotten me there, but left me short. Seeing how stupid I am in chipping, I ended up with a bogey. Many more holes played different from the yardage and just confused the dickens out of me. The greens don't hold, and was generally patchy but at least they were playable.
Rough (0/5)
Wayward balls are dead. I can't say anything that would save it. From hole one to 18, slicers and hookers will be in for a hard time. The par 5 15th was butchered when I sent my tee shot into the woods. Forget the doglegs, don't play it; it's too risky to carve your ball around the hazards unless you are Tiger, which you are obviously not. If you are, hey Tiger, you rock. Why the heck are you reading all these stuff?
My other triple came on my final hole. I was playing solid golf for 8 holes then and was only 2 over. Darn, I pushed my ball into oblivion, and my second ball as well but managed to recover it, I was 5 on after that, and two putted. I thought I couldn't break 90 but found out later it was a par 35 on the front, and that gave me a respectable 89. Hey Michelle Wie can shoot that number, so can I. Yes, I like to challenge 18 year old girls in golf. No, I don't feel emasculated at all. Any more questions?
I don't really have that much complains against the rough, my major grief is on the bunkers. This is by far, the worst bunker maintenance I have seen ever. Worse than Frasers, worse than Berjaya. Not only was the sand hard packed like your pavement, it was filled with stones and rocks. Not the small type, but the type that scratches and chips your wedges. Seriously, what the heck are they intending to do? Make us claim insurance for broken clubs? Some bunkers still had water, so obviously it wasn't maintained at all. But rocky bunkers get an automatic 0 from us.
Aesthetics (4/5)
Like Berjaya, this is a bimbo course. Looks good on the outside, but crap from within. Anything built around tropical forests will look good. Any course sporting monkeys and giant lizards for wildlife will generally be appreciated. Bukit Unggul is pretty, although not mind blowing as Datai Bay. The lousy fairways detracts the looks abit but if you stood high up on the 4th hole and take a picture, it really really looks nice.
But as the old adage from your mother goes: "Looks ain't everything, boy." It certainly applied at Berjaya Hills, it certainly applies here. Listen to your mother, she is always right.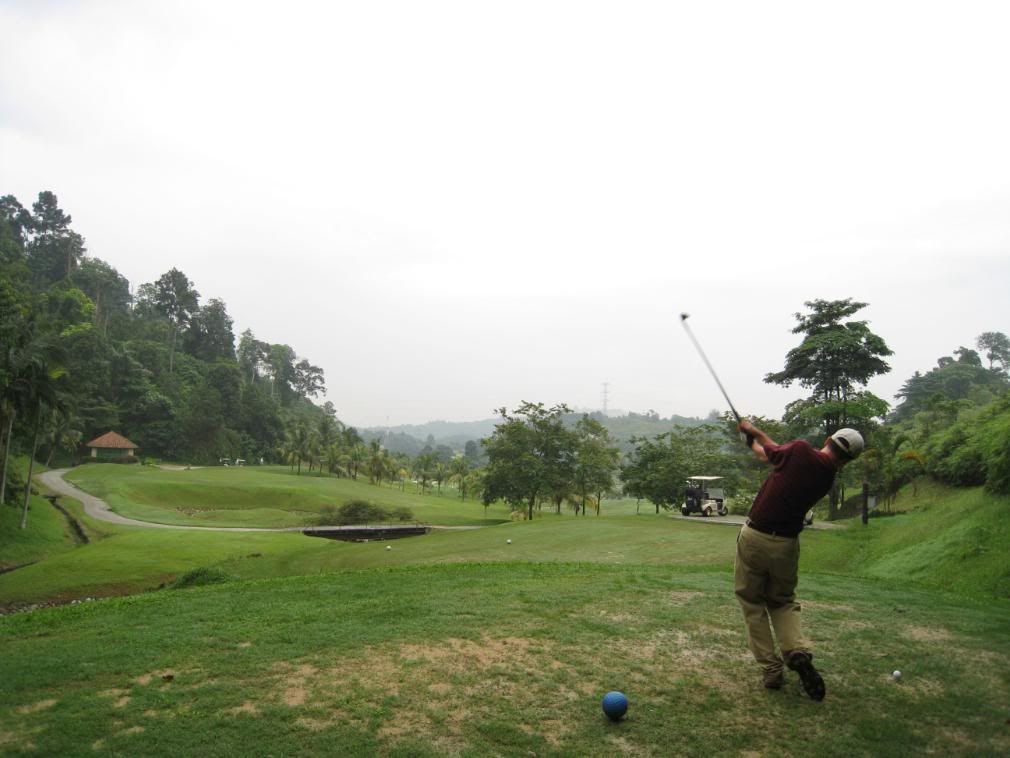 Fun Factor (2/5)
Even though I ran into a hot streak and started bombing my drives and getting to 2 over through 8 holes, it wasn't as fun as I thought. This is a course that DEMANDS accurate tee shots. And it plays pretty long too. Don't ask why. I don't know how 5858m extended itself but looking down on the 8th hole valley that plays on paper 375, I drove as well as I could and still had 150m to go. I think the distance is screwed up. I don't think I am so lousy in my drives, right? My flight mates were all struggling in the back nine as well, and there wasn't much talking going on. I think we were all embroiled in our own internal frustrations.
So, let's rewrite for these clueless marketing people at Bukit Unggul:
"Very few golf courses in Malaysia leave a lasting memory… Bukit Unggul Country Club is NOT one of them. Craved into a 65-hectare valley, the par 71 5,858-metre long 18-hole course is an unnatural piece of crap mutated by renowned American architect, Ronald Fream, who is also a suspect in the latest crime of defacing golf courses around the world. Golfers who play here for the first time instantly realize how screwed they are with each hole of wrong yardage and sadistic treelines that eat your balls. Golfballs, that is.."
"Playing he (sic) sadistic course demands a beretta 9mm and a precise shot to the head to end all misery. Here, a non existent fairway and green maintenance programme by the management ensures a muddy, dirty experience for all golfers, and especially for beginners, remind them just how lousy and useless they are and that they should stay home and curse the day they took up a golf club. Its un-maintained Bermuda Tifways fairways and tees, and bouncy Tifdwarf (do we actually give a darn what Tif actually is??!) greens exist harmoniously among a luch, majestic tropical rainforest, filled with wild boars and monkeys who will not hesitate to attack and kill golfers, simply to make play a true test of agony, like middle age torture, or wearing a corset at your crotch.
Bukit Unggul Country Club is simply an forgettable experience. However it will often return randomly as a nightmare that will revisit you night after night until your dying day."
There, now that is what I call truthful advertising.
Butchering the last wasn't fun, but the general consensus of the group is that it would be a long time before any of us come here again.
By which time, I would have completely forgotten any experience of this course. Or the way to it.
Conclusion
Given the price, it seems like a good candidate to be at least a middle tier golf course, but instead it scratches the very bottom of the middle class courses, where Gunung Raya and Cameron highlands congregate. It should be placed in the class of Monterez and Nilai but the looks couldn't save it. Unggul could have played a lot better, but lousy fairways and greens and the worst bunkers in Malaysia turned out to be its undoing.
The good: It's like a poor man's Datai Bay in terms of looks; pricing is as good as it gets in prime spots in Malaysia; good place to hone your 3-wood tee off to manipulate doglegs.
The bad: Journey is like to the center of the earth, i.e it sucks; service for food is bad; rotting signs can kill golfers; so-so greens and bad fairways; possibly the worst maintained bunkers in Malaysia. If you're in it, God bless your clubs. And balls.
The skinny: 16 of 40 divots (40%). It's hard to put a 'never' at a club offering such a good price, but it is offsetted by the course and travel. Play only if you got nowhere else to go or forced to visit your mother-in-law, but trust me, it's nothing like what the website writes it out to be. Go somewhere else if possible.
Bukit Unggul Score Card
Bukit Unggul Information
Address:
Lot PT 2180, 2181 Mukim,
Dengkil Daerah Sepang,
Selangor.
Contact: +603-89202888/2188
Fax: +603-89267870/79
Website: http://www.bukitunggul.com