Introduction
Our second leg of our Johor tour took us to Legends Golf and Country Resort. We chose it because it boasted of being developed by three of the biggest names in golf, Nicklaus, Palmer and Player. Although, I personally think it's a marketing hack: Nicklaus designed the 18 hole course, Palmer designed the 9 hole course, and Player designed the 0 hole course.
As in there's NO GARY PLAYER course there.
But we didn't let it spoil our fun. After circling our way around Singapore, we finally got out of Tuas, back into BolehLand and began our merry journey into the blissful unknown.
Travel (0/5)
For those traveling to Legends GCR, it's as bad as going to Damai Laut. I know, some courses are really worth it, but is it funny putting your customers through such excruciating torture of traveling and traveling and traveling to get to your darn course?? Why is the course buried so deep into the wilderness, is this some sort of Jurassic Park Wildlife preservation centre? Here comes the classic map: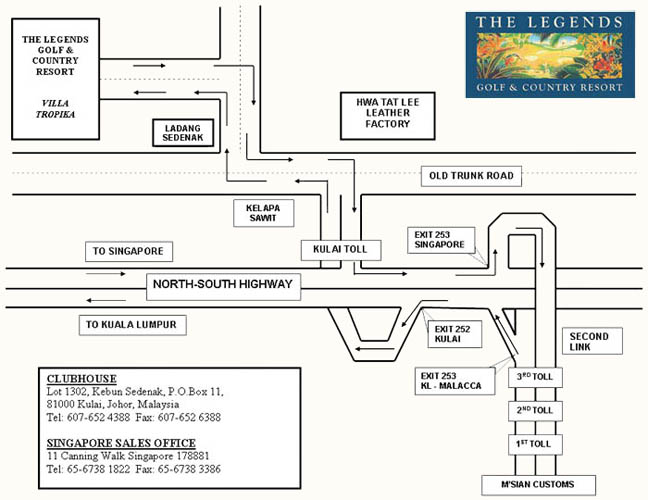 We just love maps that are deceivingly simple, and that has no regard at all to proper reflection of distances. Again, this is mainly due to the fact that most golf course maps are generated by a company called Zoo Negara that employs eight Borneo chimps to draw out the maps.
OK, from Tuas, or from KL, depending where you are coming from, you want to hit the exit 252, to Kulaijaya. Once you hit the Kulai Toll, there's quite a long straight road, lined with palm oil trees. At the end you will hit a T-junction, with a huge Carrefour (or was it Tesco) on your left. Turn left and you will perhaps undergo the longest, most torturous, most annoyingly signless road ever to be found on earth. In fact, I don't know what is it with Johor and the extreme aversion to putting up signs. We finally ended up just following this Singaporean car, because we assumed that no Singaporeans in their right barnacles would be coming to such a god forsaken place unless it was to play golf. Or negotiate a kidnap ransom. Or sell palm oil. Easy guess.
Anyways, from the map on the Legends website, this trunk road from hell is only approximately one inch, which is about the same length as the road coming in until Tesco. The real map in google maps is almost 2.5 times the distance. There you go, another reason why Borneo Chimps are proven to be poor cartographers. You need to drive past this town called Kelapa Sawit. No kidding. They named a town after a tree. As in, translated, the town is called 'Oil Palm', and they deservedly won the nation's most creative naming of a town. It's like calling your town, 'Cow' if there are many cows, or 'Coconut' if there are many coconuts, or 'Sand' if it's next to the sea. Well, at least they are descriptive.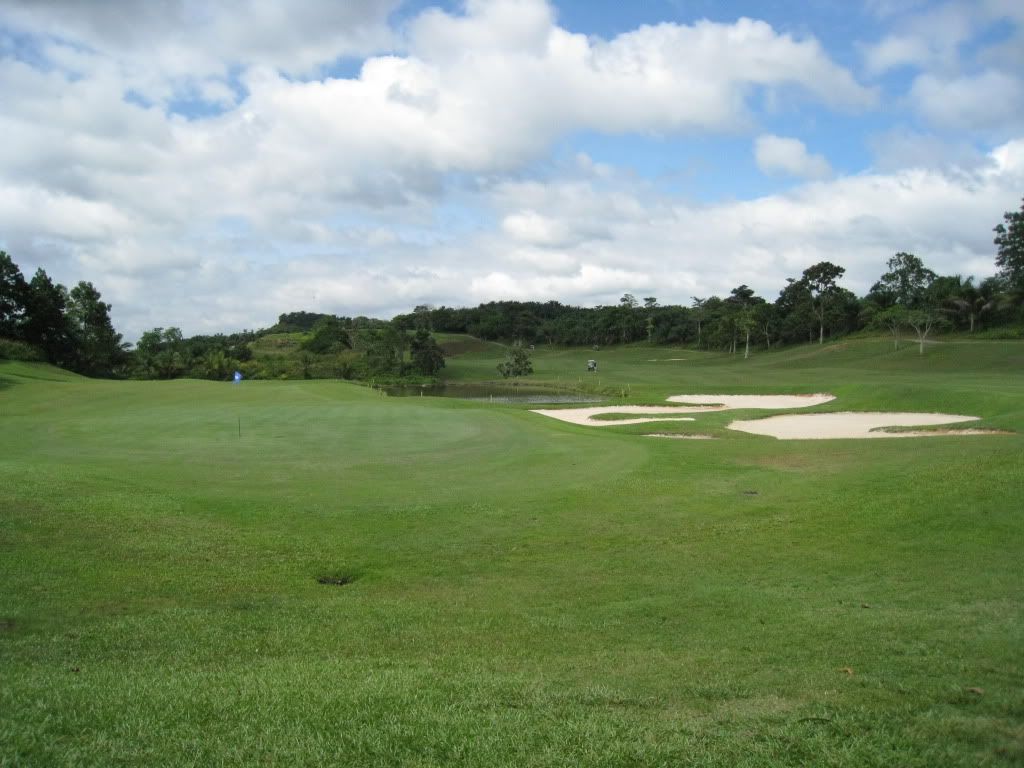 Anyway, after Kelapa Sawit, you will eventually see a right turn into Legends GCR. You immediately go past the guard house, yaaay! And find out that from the guard house to the actual club house, is about 10 kilometers, making it the world's longest drive way for a golf course.
It's an absolutely stupid travel experience.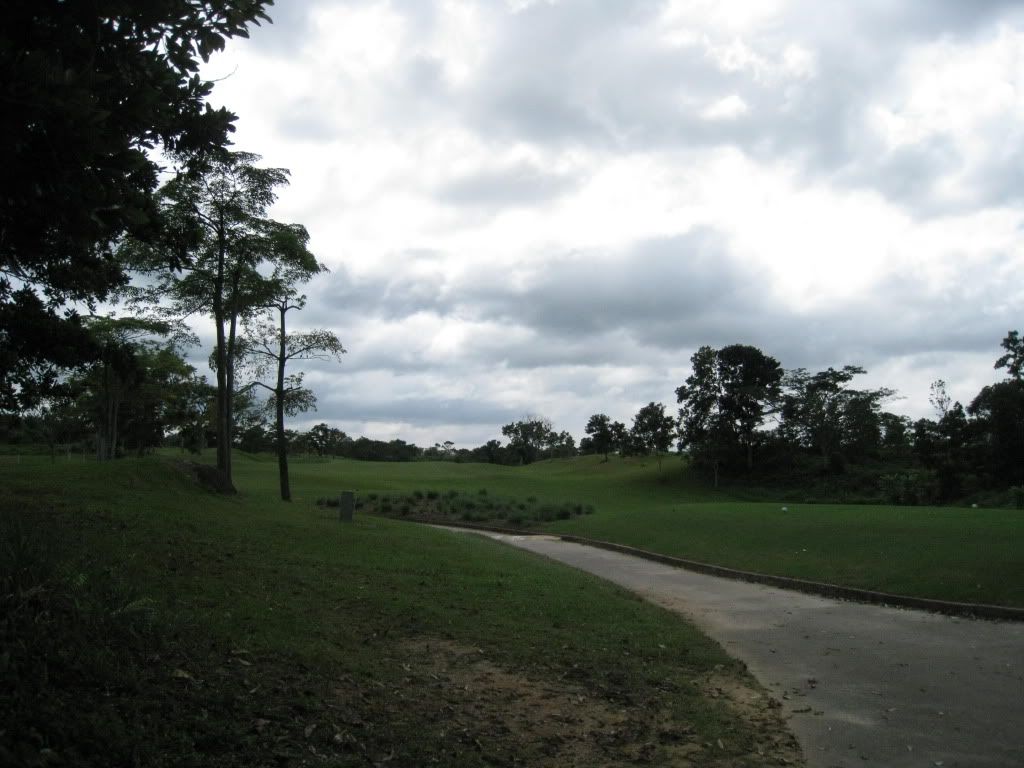 Price (1/5)
Finally reaching the spot, we were welcomed to quite a nice view of the club house. We registered ourselves using the Top Premier Voucher for RM87 each. I thought, hey, wait a minute, isn't the green fee complimentary? Why did I have to pay RM87?
"For the buggy," replied the sleepy eye registration lady.
"So 87 for the buggy? 40 something per person?"
"No, it's 87 per person."
"For the buggy??!? So it's…(calculating) 174 per buggy???"
"Yes."
Congratulations, Jack Nicklaus, Palmer and Player, you guys have officially won the world record for not just the longest drive way, but also the most cutthroat pricing ever for a golf buggy. That 170RM buggy better have GPS. And Turbo Nitro. And wings.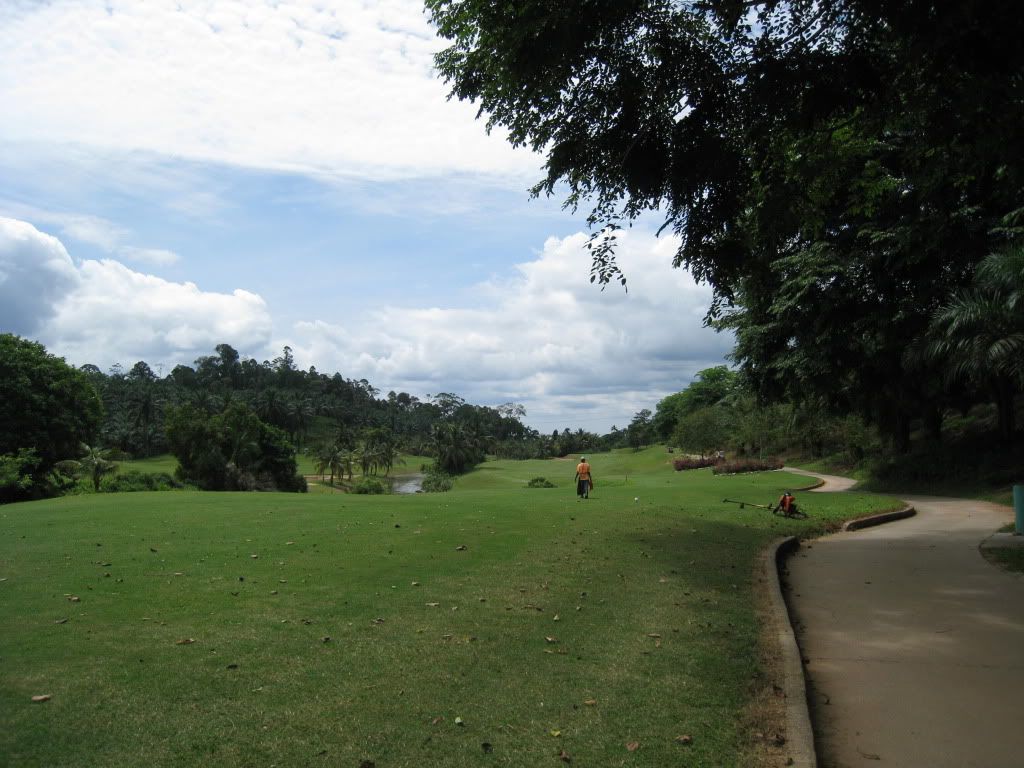 Later, I found out the truth. Legends charge RM85 per game per person with buggies etc included. Because we used the voucher, we weren't eligible for the RM85 promotion, so we had to pay the cutthroat price instead.  If you wanted to play 9 hole, you also need to pay RM80. So to break it down for the confused:
Walk in – RM85 promotion, all in
With a complimentary Green Fee VOUCHER – RM87 for buggy, per person
9 Hole – RM80
Now, why didn't they tell us not to use the damn voucher, when a normal walk in was only RM85? With a voucher, I paid RM2 more!! Why did I spend my money to buy vouchers, when it made me LOSE money?
Completely daft pricing arrangement, Legends. We are giving you a one, because at least it's still not over RM100 to play. But still, please change your management to people who can actually understand what numbers are.
First thoughts
Not great first impressions, isn't it? Once you get out of the changing room, turn left, and immediately the course opens up to the view of the Palmer 9.
And you go: "Aaaah."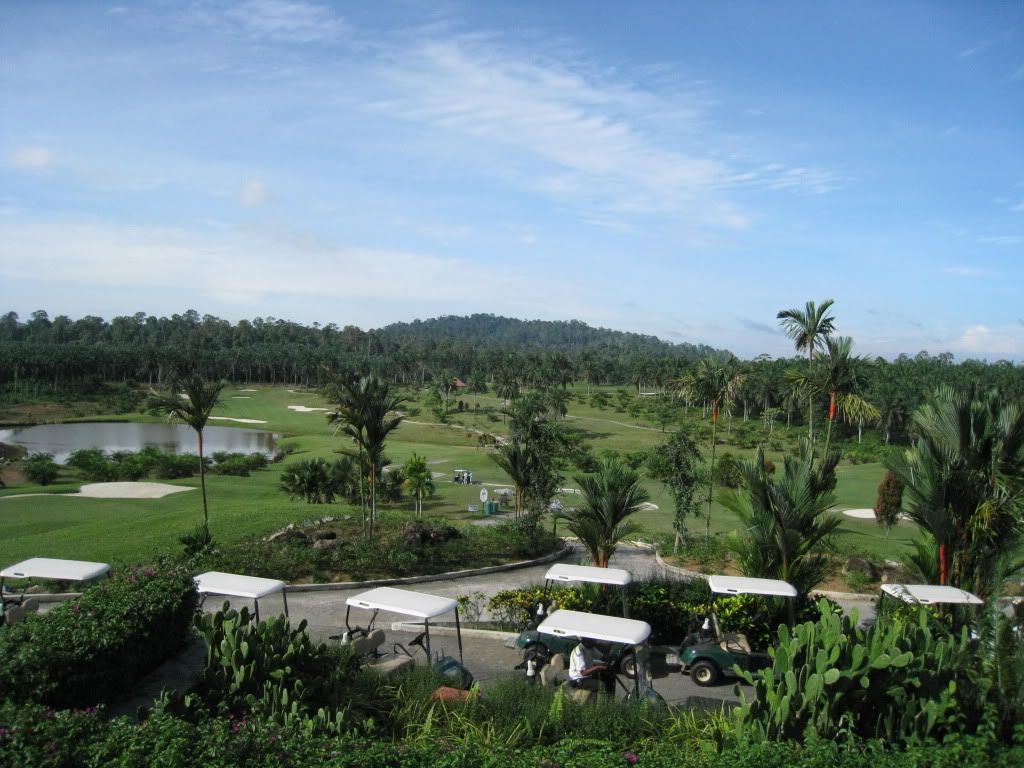 You are standing on an elevated platform, with an entire view of the course, and you suddenly forgive the darn Borneo Chimps, the idiots that price the course and you think, "Heck, this is why I pick up Golf."
We got into our RM170 buggy (it looked like a normal buggy, by the way, in fact, slightly retarted driving wheel), and we chugged to the first hole on the other side.
Service (1/5)
I'd like to give high scores for the service, seeing that the caddy master (I think it was a girl, but I swear, she looked, sounded, walked like a man) was very efficient, got us out into the course at maximum efficiency.
But two things bothered us.
One, the fact that we were not informed of the promotional rate and using our vouchers, we got the worse end of the deal. Why, why do you want to purposely cheat your customers? What joy does it bring? Isn't it enough that we had to travel through Mordor to reach your clubhouse?
Two, if you happen to eat your lunch there, good luck. Legends GCR is the land of the flies. As in once your food arrives, there are literally hundreds of flies swarming around you. I HATE FLIES. Because they've been in a lot of shit. And Legends GCR, for all your premium pretension, you are NEVER gonna make it if I have to eat with one hand constantly moving to swat flies away. Get those electrical blue lights that zap flies! Or hire a guy to walk around with the electrical badminton racquet to save your patrons. Don't ever eat anything there, because it's a filthy place to eat.
Fairways (4/5)
Finally, to the course itself. And whatever sins Legends GCR has caused in service and travel, it made it up a bit by giving us the finest patch of fairways we've seen in a long while. It reminded us of  Bukit Jawi, not as pristine as Tropicana, but very very nice. Coming from the hell hole called Royal Johor, we definitely agree to good fairways.
Greens (3/5)
The greens were not perfect by any means. It didn't look very good either, with small patches of bald turf and sand appearing, but the roll itself was reasonably good, and definitely a lot more easy to predict and putt on. Mediocre Green, coming from better fairways. The greens also lost some points due to some Blue Grass disease that popped up, notably on the 9th and a few other holes. As in, these are literally BLUE patches, as if someone spilled a bucket of paint on it. I can't understand why, but I guess it didn't really affect the greens too much, except now, we need to call them 'blues'. Get it? Stupid joke, I know.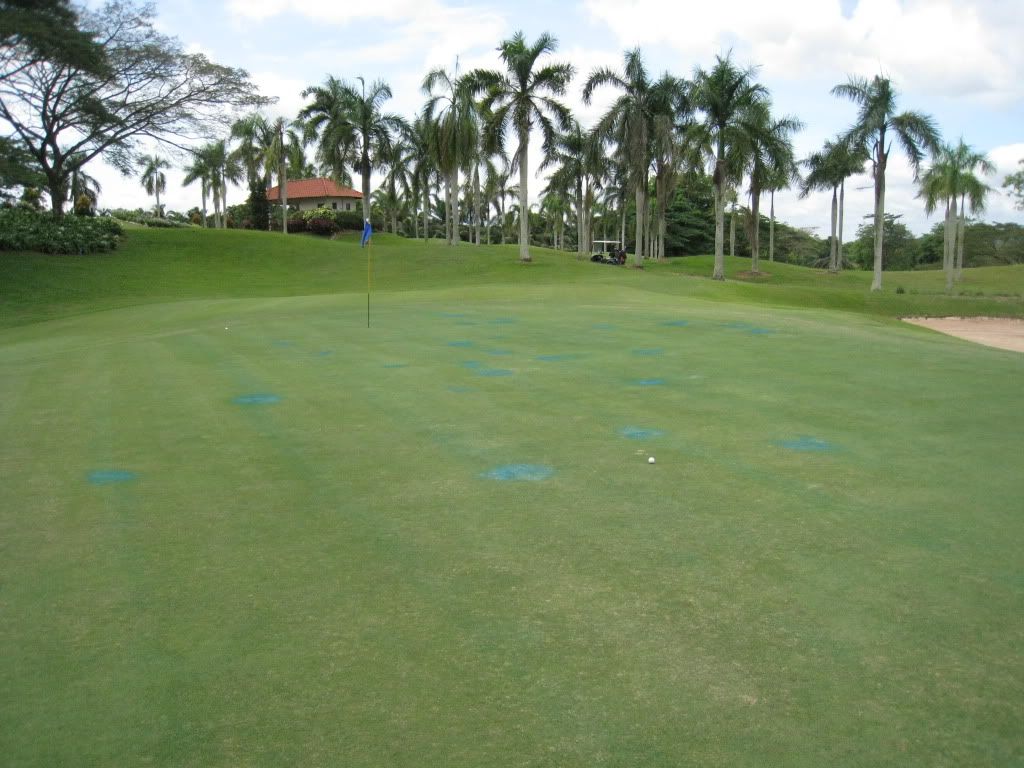 Rough (4/5)
Rough was actually qute well preserved. The leaves were annoying, but the bunkers were pretty good where we played it. Well conditioned, it retained a lot more fluff despite the rain. This meant we could actually use our sand wedge with more bounce to get out as opposed to our 48 or 60 degrees for more dig. It really sounds like I know what I'm talking about, but honestly, I have a golf digest next to me, and I'm just randomly selecting some key words to give golfers a boner. Which by the way, have you noticed how many key words in golf resemble innuendoes? Soft and hard shaft. Lots of bounce. Get your wedge in there. Get in the hole. Good with your putter. Long and hard. Your club has a big head. I think those Scottish folks that invented golf could also be quite perverse.
Aesthetics (4/5)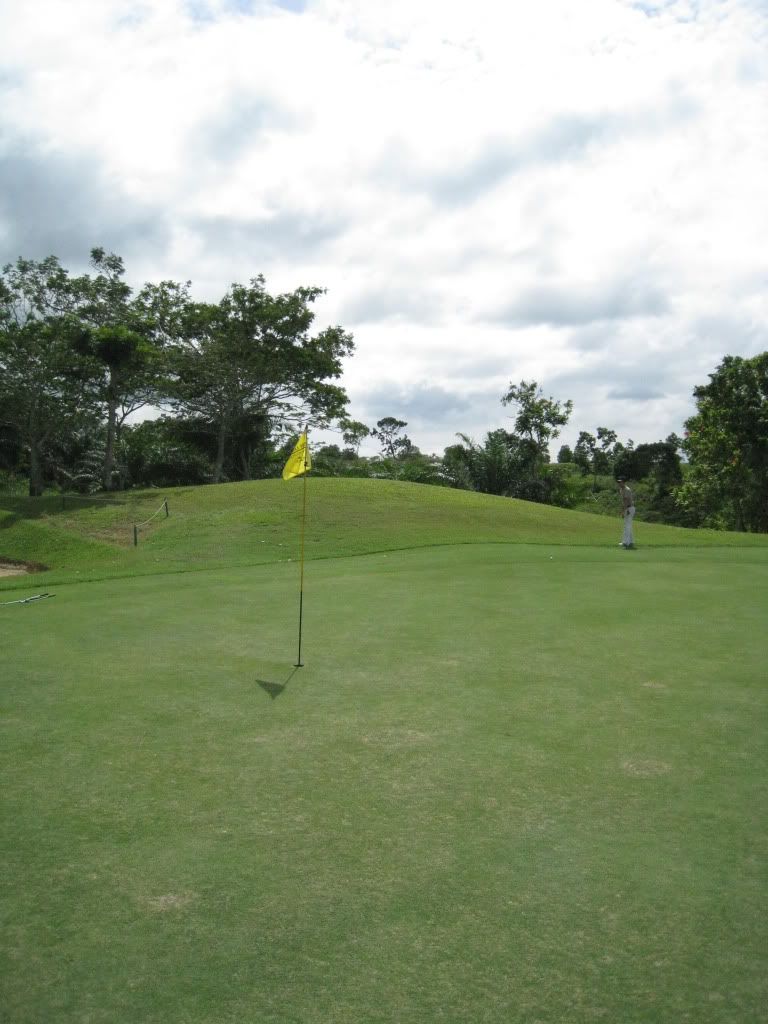 We like the aesthetics. Even though I was having a complete melt down in my game, I still managed to take a walk and enjoy the scenery when I could. The first hole is a relatively simple shot, get up the slight knoll and you have a nice view at a lowered green that is generous on the misses to the left. Unfortunately I shanked my second shot into oblivion and started one of the worst games in my already patchy career.
The par 5 hole 3 is a very good looking tee off, both intimidating as well as precise, a 500m monster that plays long and straight.
The index 1 hole 5 is also quite a monster, fading shots will be guided into the oil palm hell by a ravine slipping away on the right of the fairway. Aim it too far left like what I did, and you are in OB land. It's actually a very annoying view, because you think it's wide, when actually it's not. The elevation gives you that trickery, very much like the illusions we have playing KGPA. Hole 6 is another elevated tee box staring down at a fairway with bunkers dotting the right, a jungle waiting left and right. This is actually a fun hole to play because you can route your second shot over the water to another strip of fairway, or you can play it safe, and hit the 3rd shot over the water. In fact, hole 6 is considered the signature hole and we liked it, even if we were playing like wookies having too much sa-ke.
Hole 8 par 3 is a nice little number nestled in a dale (wow, my description is truly getting more and more Enid Blytonish!) I like it simply because I managed to get my first par there. No big deal right? BIG DEAL for me. I was shanking and topping my way furiously, losing a great deal of moolahs on the way.
Hole 9 plays pretty long but we found the fairway and from there, the trip coming in was a nice lofted 7 iron into the centre of the pin. Not. I topped the ball on the way to another bogey. AUGH!
The aesthetics continue to be impressive on the back nine, you have an elevated fairway to negotiate on the 10th,  and the 11th is where the crap hits the fan. It is an extremely elevated tee box with a view of the pond on the left and a very very narrow landing zone on the fairway. The back nine, though pretty is a HOOKER's nightmare. I was having a terrific hooking day, and almost every hole had ponds running the left side, and on 13 and 14th,  my tee shots all found watery graves. 15th was a nice par 3 with water on the right (at least), but hole 16th and 17th were back with water on the left.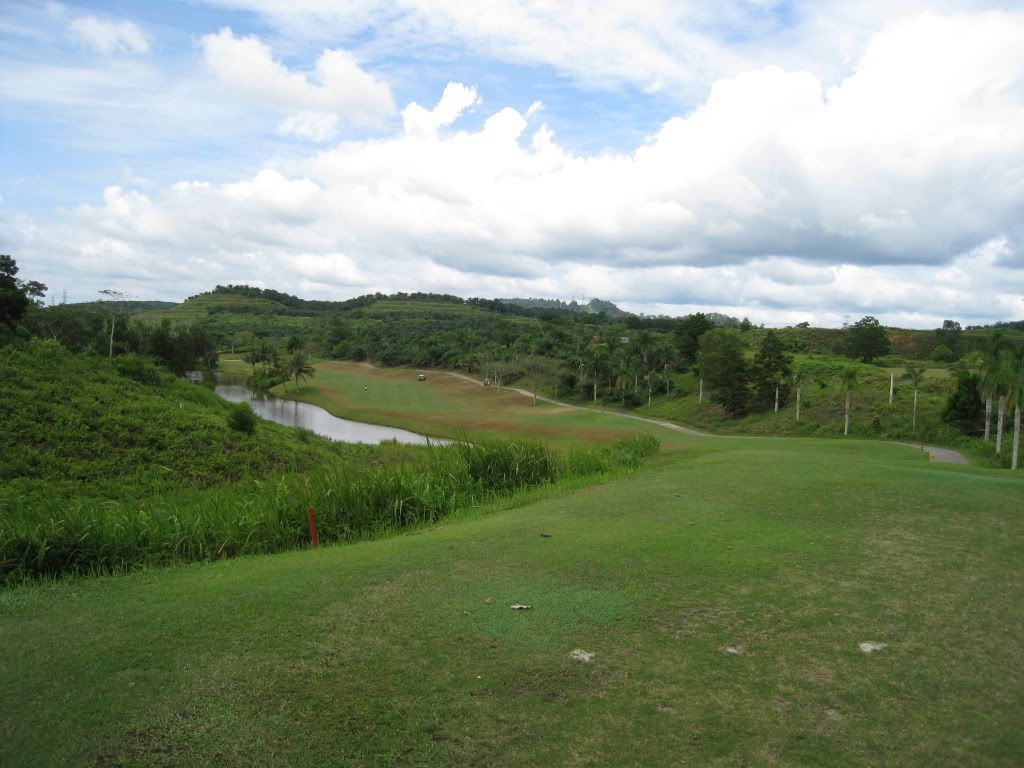 Aesthetically, I liked the 18th best. Because it didn't have water. But it also required a long carry over a network of bunkers to have a sight of the green. I cleared the bunkers and my second almost carried to the green. However, I duffed my pitch and ended up with a bogey. Nice end to a horrid nine.
Fun Factor (3/5)
Technically, I didn't have so much fun because I just couldn't figure out my game. I have now, sort of, but at that point of time, playing this course, I was taking it too deep inside on my backswing, which caused me to reroute tremendously coming down and 'getting stuck', and continuously toeing the darn ball and hooking it badly.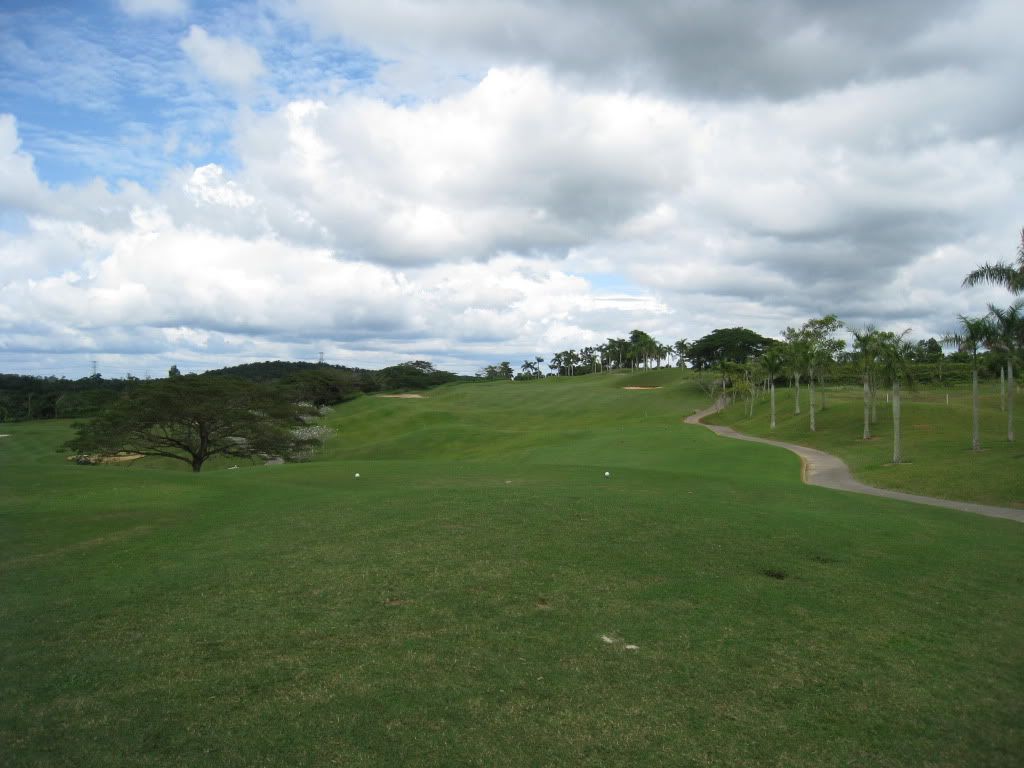 Did we have fun? Our fourball weren't playing too well, only one guy managed to break 100 (we don't know how, since he lost as many balls as we did, but hey…) However, due to the nature of the course, it's definitely worth another try when the golf swing is back. I'd like to take on the prodigiously difficult holes with left water again and the layout of the course was something that you would definitely equate with 'good design'. Hole 6 was very fun, with each of us choosing different routes to the green and of course, hole 18th was bewitching with its series of bunkers.
As for my game, my pars all came in the par 3s, and the explosions came primarily due to either water balls, or OB balls. Tough game, but good course, nonetheless.
Conclusion
Even if we have only tried a grand total of 2 courses in Johor so far, we believe that Legends could be a top tiered course in Johor, and definitely recommended to be played. The course visuals are reminiscent of Bukit Jawi, but a little better, with a mixture of tight fairways that reward precision, and open savannahs for the basher. I prefer the hills course than the water, but strangely, I scored better (or not so bad) in the water course. (likely due to my balls being in hazard as opposed to OB). While the course experience is good, stay away from the F&B and its flies infested food; and try not to get cheated by the people at the counter.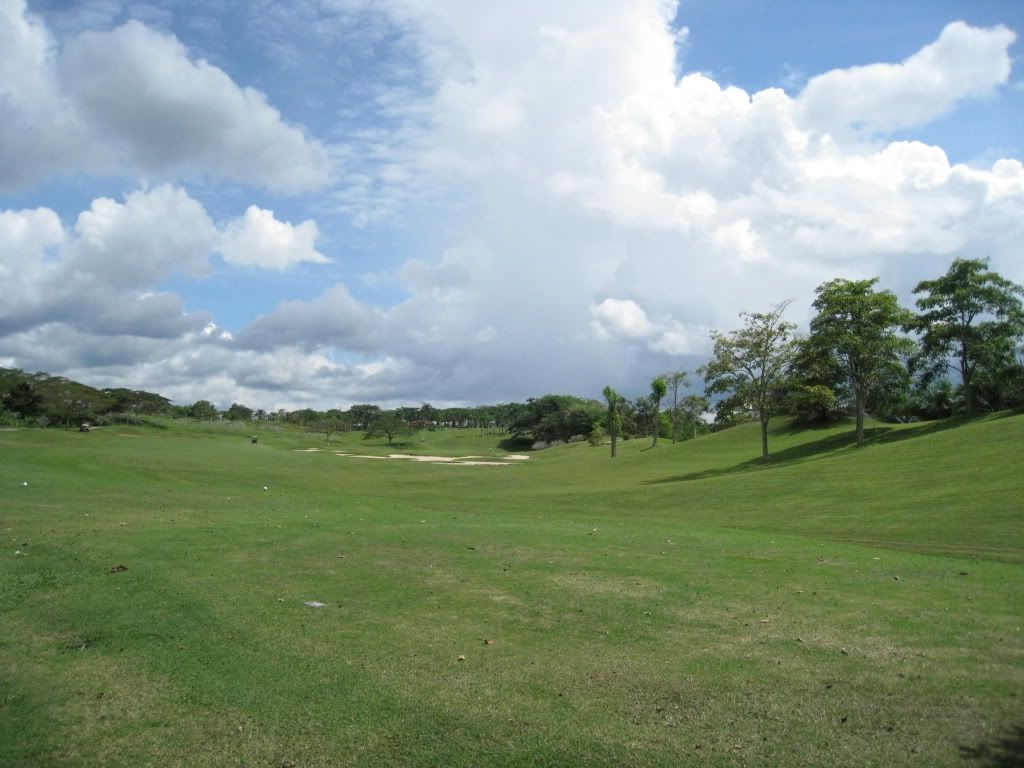 The good: The course is aesthetically pleasing; well preserved fairways, rough and reasonable roll on greens; a good mixture of precision and basher; elevated landing areas allows you to open up the courses with some well placed shots.
The bad: The travel experience is horrible; the Borneo Chimps really messed up the map badly this time; be careful of the people behind the counter and their RM170 buggy hoax; flies are all over the clubhouse, making it more of a toilet than a food place; greens had a bit of blue, but otherwise is fine.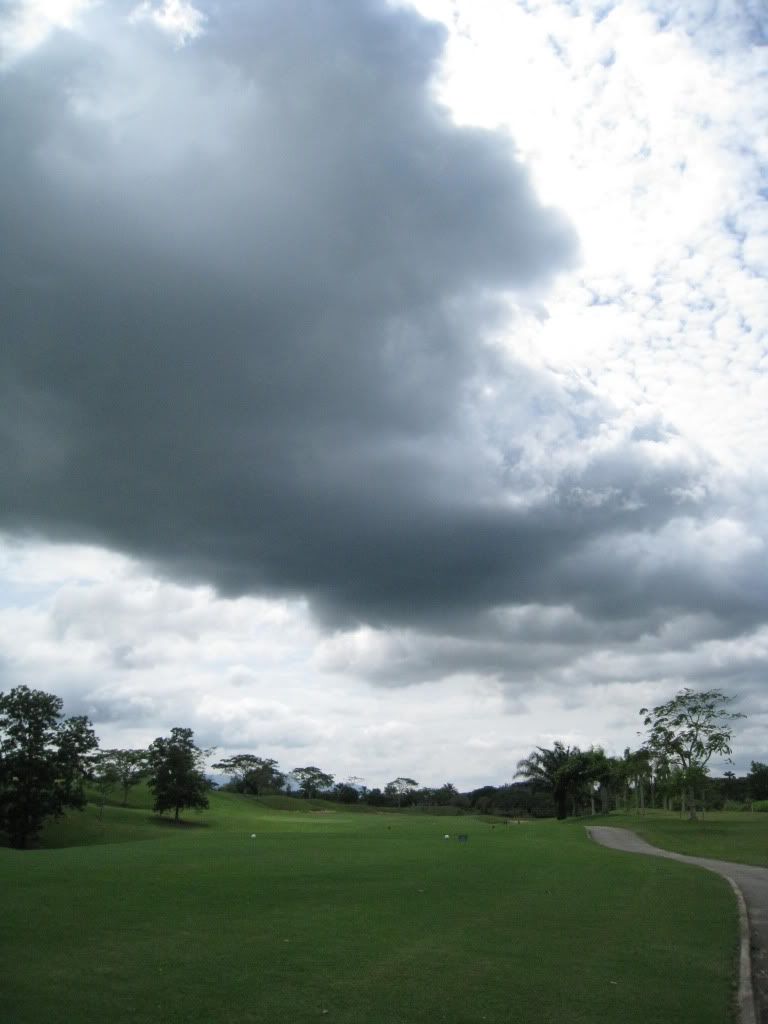 The skinny: 20 of 40 divots (50%). The course itself actually scored a lot of high marks, but a pity on the pricing, service and travel though. If you could look past these transgressions (which we could not), you can definitely have a good golf experience in the Legends course. Just pray that your hook doesn't kick in during the back 9, and you should be fine! Recommended if you can take the travel and eat somewhere else.
Legends GCR  Scorecard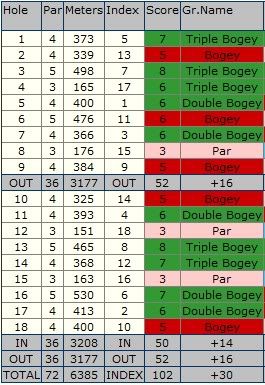 Legends GCR Information
Address: Lot 1302, Kebun Sedenak, PO Box 11
8100 Kulai, Johor, Malaysia
Contact: +607 – 6524388
Fax: +607-6526388
Website: http://www.legends-resort.com
Email: enquiry@legends-resort.com