Introduction
So far Johor, the golfing state of Malaysia has yielded one pretty good course in Legends, one mediocre one in Daiman 18 and one simply unrecommended in Royal Johor. So we were looking forward to add another good golf course into our Gilagolf bag of reviews, and we were pretty certain Johor would be able to cough up the majority of good courses for this country, it being so close to Singapore, the capital of robotic efficiency. The reasoning would be that Johor courses would cater to Singaporeans as well, so it does bear some weight that they would be slightly better than most courses if they want to capture a market as fussy as our brethrens in Kiasuland.
If you look at google maps, you'll find one huge sprawling mass of golf course near Senai airport, called Palm Resort Golf and Country Club, and this was where we were headed for one night stay and golfing in the morning.
Travel (3/5)
The travel is very straight forward from Singapore at least. Take the Tuas exit and just go straight, follow the destination Senai all the way. The key is that you exit Singapore from Tuas, which is about 100x better than  going through the torturous Woodlands/JB Causeway (see the previous post on Daiman). The Palm Resort is right next to the airport, which technically doesn't make it very peaceful, but in reality, with the amount of planes flying into Johor everyday—probably just 2—it didn't make much of a difference. We did see the airport for the first time though and it was a state of the art facility.Too bad no one flies to Johor. Here's the map from the website: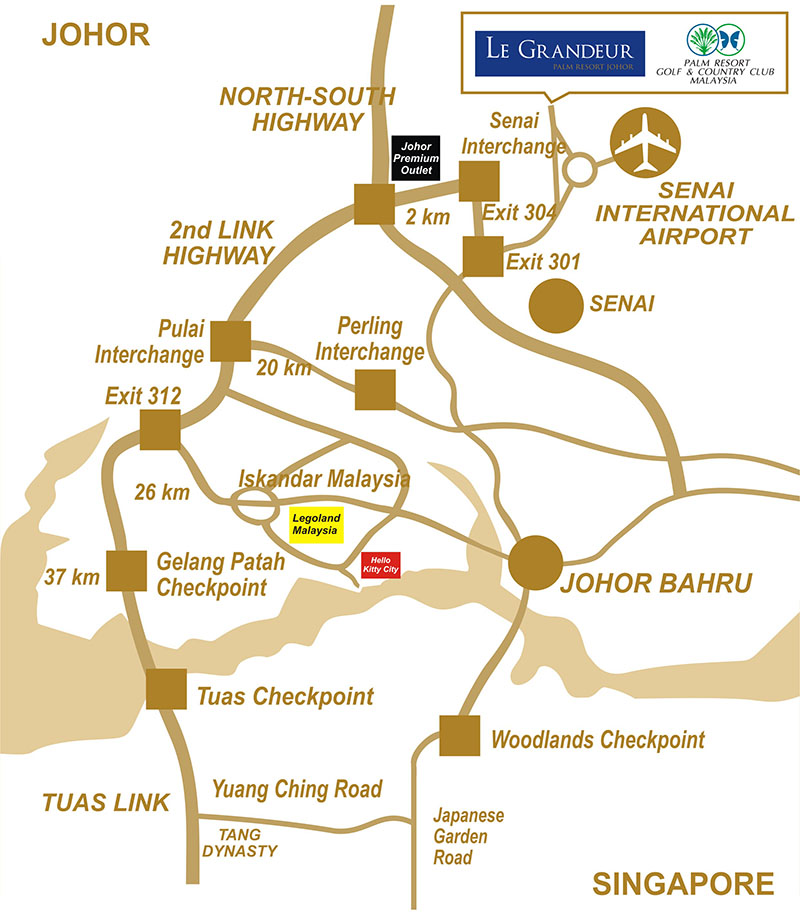 There is a slight confusion however at the entrance, stating that Palm Resort is straight on, while Palm Villa Golf Course requires you to turn right. It's two different courses. It's annoying in a sense, I don't get why two courses would want to confuse the dickens out of golfers by naming themselves so close to each other. In utter confusion, we thought Palm Villa (Voucher from Top Premier Voucher Book, free green fee) and Palm Resort were one and the same course! Because in google maps, it looks like they are in the same vicinity.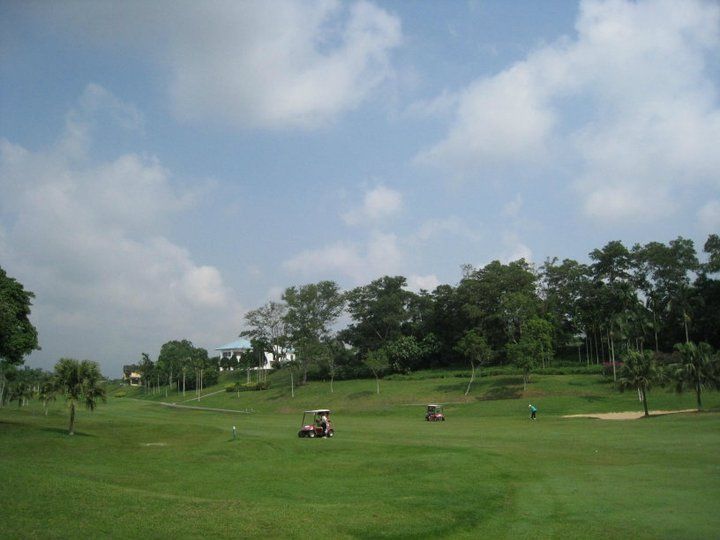 This confusion carried over to the next day when we headed over to Palm Resort Golf Course with the resort buggy. One of our guys forgot to bring the voucher book so he had to rush back and ran back all the way, about 300 metres to the club house. Only to find that Palm Villa and Palm Resort were two different courses, and the discount did not apply to Palm Resort. What? Annoyed, we were already prepared to play so we just paid the special guest rate in Palm Resort and muttered our way to the buggy station.
So: Palm Villa NOT EQUALS to Palm Resort. Both are at the same vicinity but different course!
Price (3/5)
We ended up paying RM99 per person for all in package for golf, plus RM5 food voucher for each person. So it's around RM94 for a weekday rate on a resort golf course, which is slightly high, but then again, a price we gladly pay to experience what was considered as a good course in this area. For walk in customers (non hotel guest), you might need to pay more. But (you didn't hear it from us), there was no verification done on whether you were the hotel guest or not…so….hmmmmm.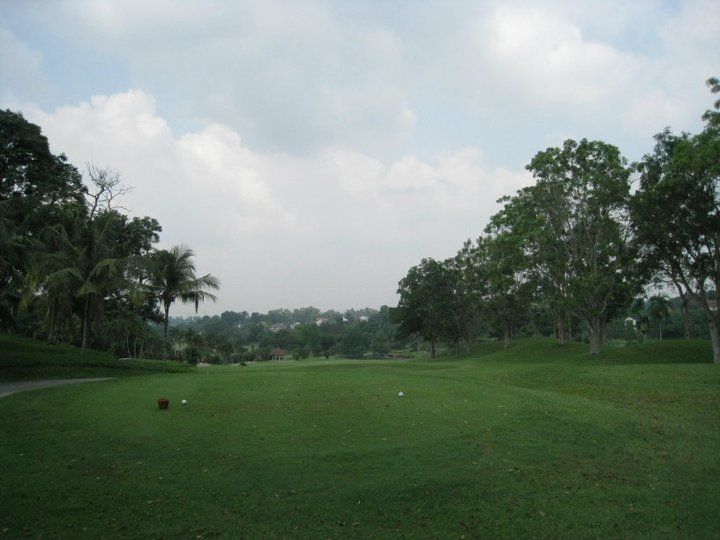 The website was impressive enough, with an offering of 3 18 hole courses for the delight of golfers. And these are really 3 courses, not some fake advertising course like Legends, which had Nicklaus 18, Palmer 9 and an advertised Gary Player course which in reality is non-existent. At least Palm Resort is honest about it. These courses actually exist. Take that, Legends course, you liars.
The problem with courses like this is like the problem with buffet. You don't know which one to select. The lady gave us two choices, since the championship Cempaka course was closed for maintenance, so it was a toss up between Allamanda and Melati course. Allamanda was recommended as an intermediate course, and also, more people seem to like it, as there were 14 flights already there. Melati had only 2 flights and was considered not as picturesque as Allamanda. But Melati had the Par 3 Hole No 2 with the largest bunker in Malaysia, as well as the longest hole in Malaysia at no. 15, measuring a ridiculous 684 yards from the tip. That puts Air Keroh's last hole in the pocket.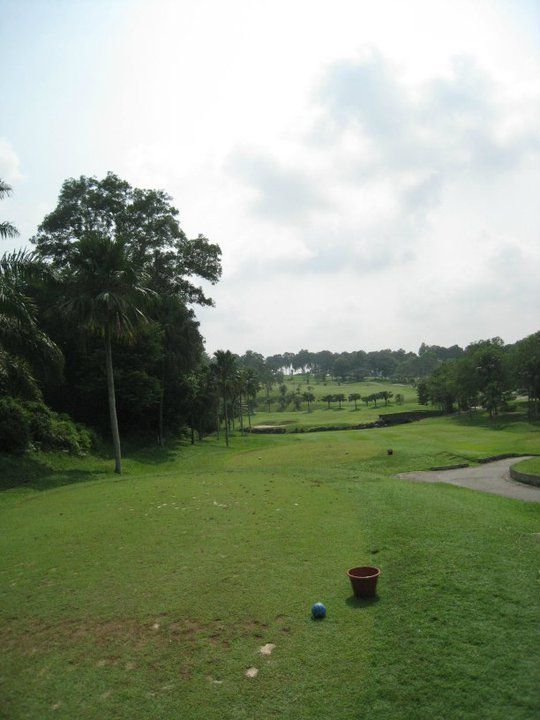 But we decided on Allamanda as we wanted a relaxing round, and with a beginner on board, it seems like a better choice for now. We can always come back again to tackle the monster courses in Melati and Cempaka.
First thoughts
We teed off from the back nine to avoid some traffic at Allamanda, and we joined a local member to make it a four ball. She was a very nice lady, and complimented our beginner, who was also a lady, and we merrily made our acquaintance. She was also quite chatty and seem to appreciate having a younger group with her, especially us who seem to make fun of everything and laugh at every lousy shot we make. She turned out to be an invaluable resource as time went on, as she found our lost balls, gave us putting tips, gave us some good advice on nearly all the holes on yardage etc. This was key, as we sometimes would get lost converting yards to meters and completely stuff up our sense of distance.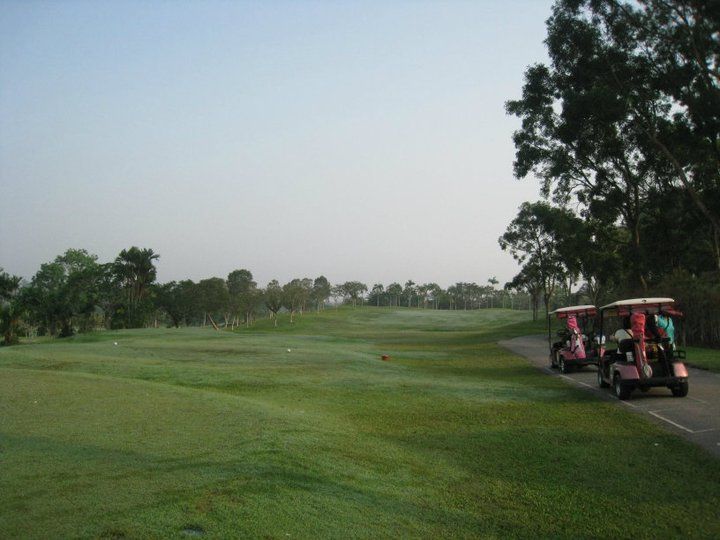 Under the morning sun, we watch our first drives sail delightfully into a big, receptive fairway, that is almost a carbon copy of the first hole in Legends. Ah. Ginnifer courses. How we love 'em.
Service (4/5)
The service was excellent; the lady behind the counter gave us very good description of all the courses, how many flights were there, and what was recommended. The marshal ensured that everyone moved along as quickly as possible and made sure to distribute the flights evenly on the back and front nines. In fact, we didn't even get jammed up once, and we allowed a bunch of Koreans to go past us on our third hole. Buggy was in excellent condition as well. This is typical of the service found in resort courses: very good, very efficient, and very much catered to our fussy brethrens across the causeway. For us more relaxed Malaysians, this was a huge bonus compared to some of the service atrocities reminiscent to concentration camps we are so used to in the courses we play on.
Fairways ( 1/5)
And just like that, the entire perception of Palm Resort fell in a resounding thud. Once we teed up and went onto the fairway, I was in shock at the condition. Divots chunked up, not replaced, balding patches all over, skid marks from previous buggies, uneven groups of grass….it was shocking because it looked good from far, but now it's far from good. It's like seeing a girl from a distance sitting at a bar, dressed nicely, beautiful hair, nicely shaped face, great body…and when you get closer, you see, wait a minute, there's some zits on her face and her arms and legs are too skinny…and when you get even closer, you see she has extremely thick eyebrows, lazy eyes, buck teeth and a beard. And just as you try to steer away and escape, she catches you and you see hairy arms, smell foul breath and hear a voice as deep as James Earl Jones. WHAT??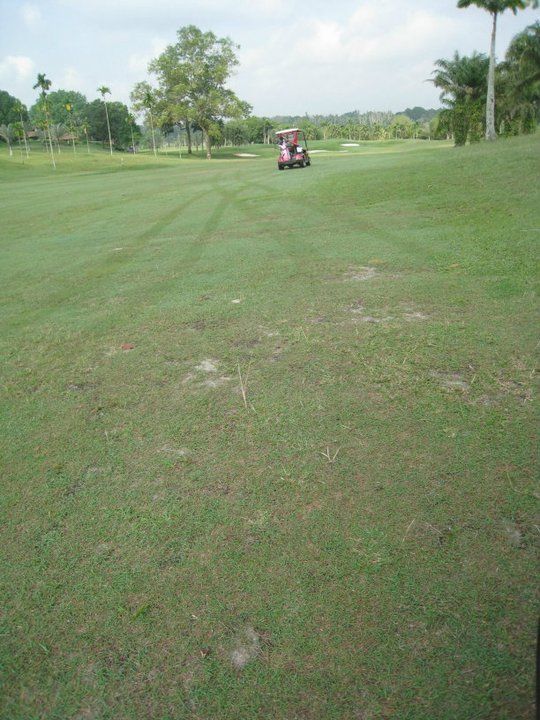 We immediately asked the local what the meaning of this was and she sagely says that the maintenance contract for the course was in transition. They have not renewed the previous contractor due to pricing issue, and instead have agreed with a Singaporean contractor to take over. The new contractor would take over in about 2 weeks from now, so until then the course was literally NOT MAINTAINED. Which explained the horrendous rough and the ugly fairways, as well as the less than pristine greens. I asked how much was the previous Malaysian contractor charging and she simply said, "Too Much for such a service." For a malaysian golf course to choose a Singaporean golf contractor and choose to pay in SGD instead of RM is a testament of the atrocious business practices we unfortunately have in this country. How much markup do you think the previous contractor is charging, for this course to opt to pay Singapore instead?? Malaysia Boleh! Mesti Boleh Markup and make a killing one!
Greens (2/5)
The greens suffer the same fate as the fairway. There are some slight maintenance, you can see some parts are pressed down, but these are done as afterthoughts and probably not regularly. And it's such a pity, because we saw that the greens were actually in fine condition before, and in some cases still are. The greens itself were quite easy to putt on, not much undulation, and had resemblance of better days in that the roll and consistency were still there, if not barely.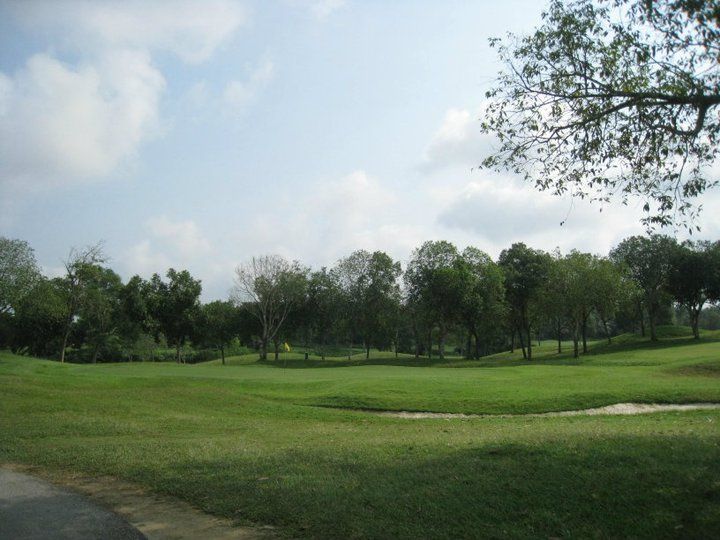 Rough (0/5)
Probably the worse feature of Palm Resort Allamanda. The rough is just inexcusable. You can tell it's been thoroughly neglected as grass was allowed to grow to deplorable lengths and thickness, causing balls to disappear completely under. It was lamentable, so much so, it reminded us of the horrors of Bukit Beruntung, the mother of all crap course. This was very much the same experience. The second hole par 5 for instance, both myself and my partner lost our balls in the rough, not because of a bad shot, but just a skittered shot into the first cut. And they were gone. My second triple bogey on the 14th was the same story: not a bad shot in the rough and boom, was gone.
Bunkers were so-so, but the kicker was really the thickness of the rough, that made it almost impossible to find, and when we did find it, impossible to hack out.
Aesthetics (4/5)
Looks wise, this was most certainly a very pretty course. If you neglect to play on the rough, you can actually see great landscaping all around the course. In better days, this would have been a much better course than Legends for instance, but unfortunately fall short due to non-existent maintenance. The 11th hole par 5 is a challenging dogleg to the right to a receptive green. Par 4 13th is an extremely challenging hole with a bail out on the right, but any hook will end up in OB jungle.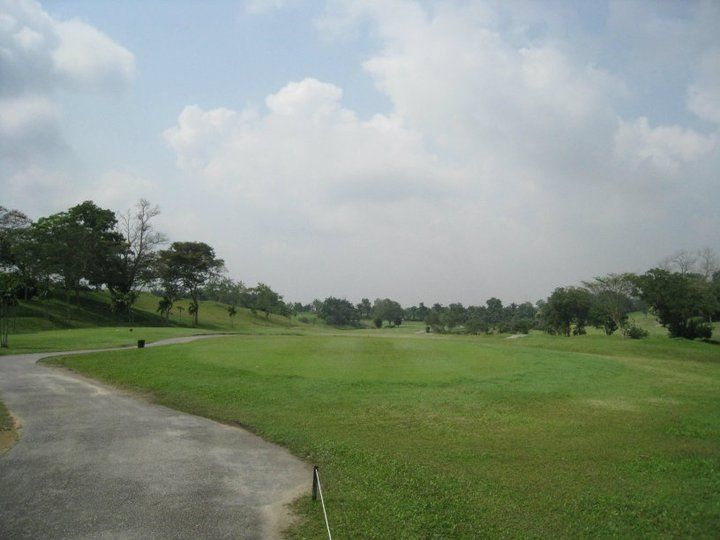 The very pretty par 4 15th is reminiscent of the A Famosa Crocodile Hole, where a 3 wood positions yourself on the right fairway and allow you to hit into a green across the water. Hole 18 is a tough one, with the fairway sloping to the right, and balls to the right will be in heavy rough, as one of us found out and lost another ball, contributing to the overall frustration.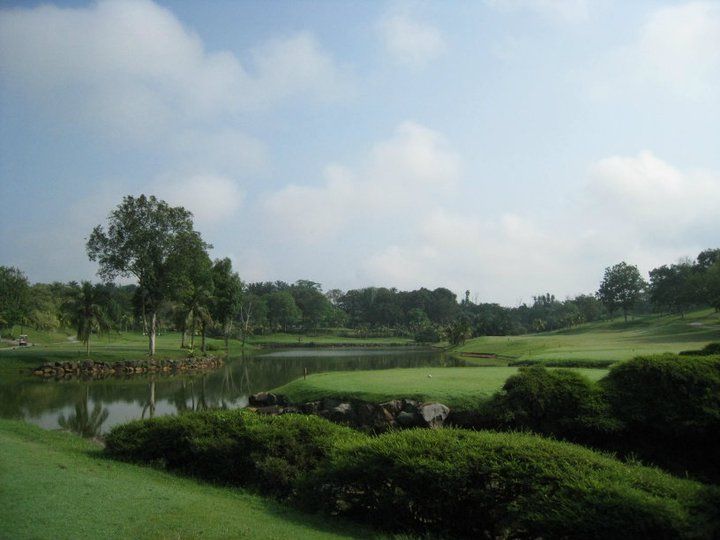 Hole 1 is a wide open Ginnifer hole but not so easy to get up, as it hits to an elevated tee. Hole 2 is a nice looking par 3 that drops down to a green fronted by a moat, surrounded with pretty landscaping. The last two holes, 8 and 9 are probably the exciting ending holes of the course: Hole 8 is an awesome 180 m par 3 to cross the water at about 170m. It takes guts to take on the green instead of bailing out on the right. A perfect hybrid sailed into the large green and I managed to two putt par there.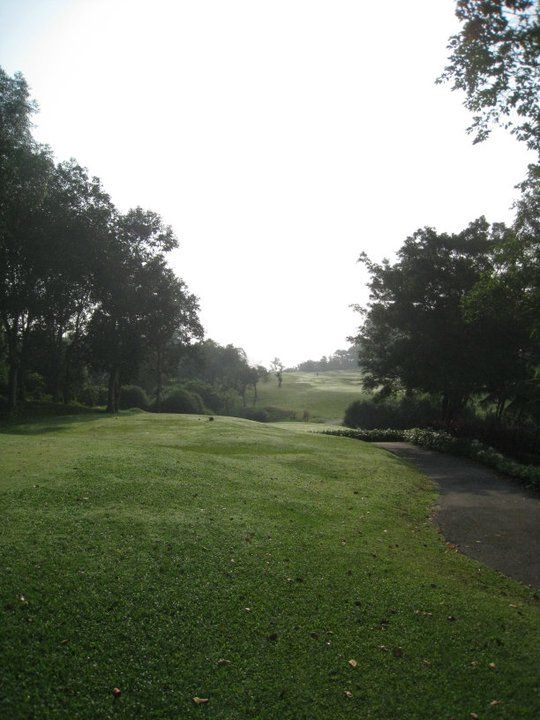 The final hole actually crosses back into the resort (and unknown to me, right next to our room), where a dogleg left cut allows you an access into a receptive green. Cut it a bit too much and you might end up OB. From 100 meters, I short sighted to the front of the green, but a chip to 6 feet and a good putt gave me my fourth par of the day, on an otherwise bad score of 96.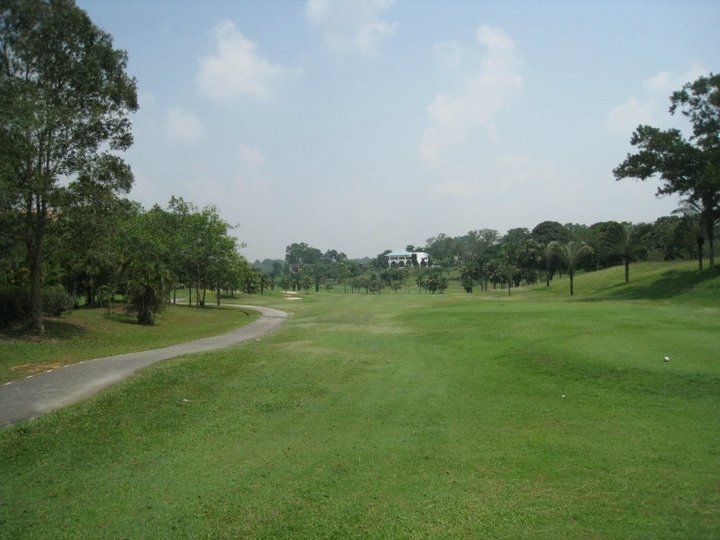 Fun Factor (3/5)
As long as we stayed out of the rough, we were ok with the course. In fact, the course plays pretty easy, if not for all the lost balls and lost strokes when our balls are in the rough. If given proper maintenance, it's a close resemblance to resort courses like Palm Garden or Bangi.
The course generally have wide fairways, and gives a sense of largeness to the course…no narrow navigation with the 3 wood, just take out your driver and blast it all the way down. Having a local 'caddy'-cum-player was also key to the fun we had, as she was able to locate some crucial lost balls and also helped us in professional advisory in navigating the course. Most of all, she helped our beginner relax and we all enjoyed her company immensely.
The fun generally improved as we moved to the first nine, and we were able to drive in the buggies onto the fairway after 10 am. We spent less time in the rough, and the two ending holes on the front 9 were certainly worth playing for.
Conclusion
Palm Resort course is a missed opportunity. Allamanda could have been so much better than when we played it, simply because of the lack of maintenance. We came during a transition period and I think it should be fair to the course if we had another go at it, when they have recovered the conditions of the greens, fairways and for the love of God, the horrendous rough. I believe that once they get the new contractor in, Palm Resort can probably be elevated to a must play course. As it is, and as Gilagolf unbiased review would have it, this is a supposed premier course that somehow manages to shoot itself in the foot and getting ranked as Not Too Shabby, the same with the likes of Kinrara, Nilai Springs and Monterez, definitely unflattering company for a course with this much of self claimed prestige.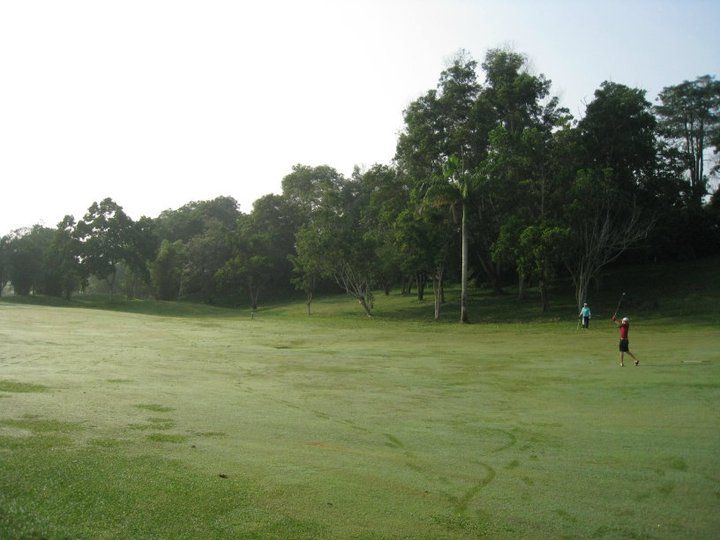 It's good from far, far from good; it's that good looking woman at the bar that turns out to be a bearded man with thick eyebrows and voice as deep as Darth Vader.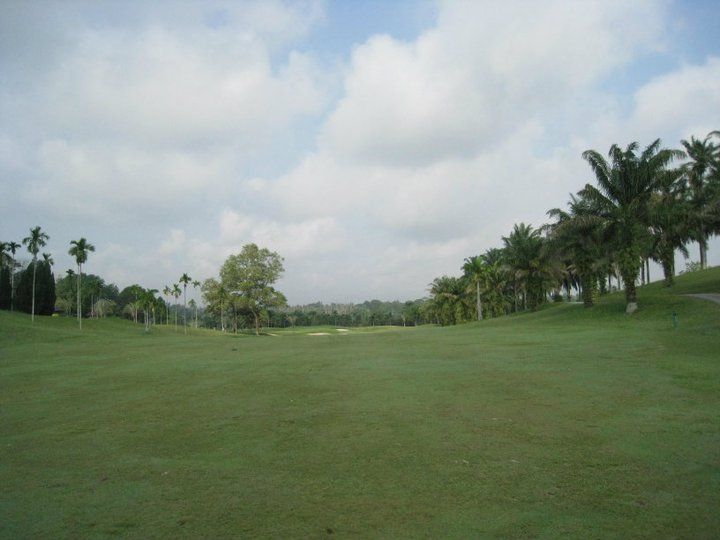 The good: Pretty pretty course, the landscaping is picturesque; holes are generously Ginnifer-like, easy for the newcomer to the game; the course set up is friendly; service is excellent; good promotion prices for those staying in the resort itself; good course marshalling, throughout the game, we didn't have to wait too long, even if 14 plus flights are in the course.
The bad: Greens and fairways are not well maintained; rough is Bukit Beruntung style, which means it sucks sucks sucks bad; for lack of maintenance, they should have dropped price a little to commensurate for the bad experience.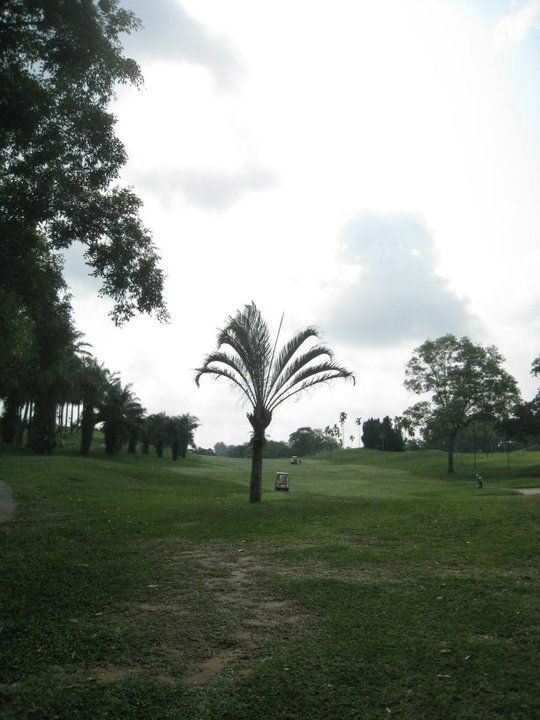 The skinny: 20 of 40 divots (50%). Palm Resort Allamanda is like that promising young golfer that grew up and didn't amount to anything, and became a ball boy. Wait, that's Ty Tryon. Well, we are rooting for Palm Resort's new contractor to come in and do a makeover, so by no means this course should be given up on. Instead, maybe plan elsewhere for the next two months, wait for the course to recover and come back and play one of the three 18 hole courses. As a golf facility, I have no doubt Palm Resort will improve; now it will just be the growing pains. Recommended in the future; for now, maybe try Palm Villa, the confusing golf course name next door.
Palm Resort Allamanda Score Card
Palm Resort – Allamanda Information
Address: Jalan Persiaran Golf,
Off Jalan Jumbo, 81250
Senai Johor, Malaysia
Contact: +607-5992000
Fax: +607-5991370
Email: golfbooking@palmresort.com
Website: http://www.palmresort.com/golf-country-club-41.aspx