Introduction
If we had a home course for our group, Bangi Golf Resort would probably be the best candidate. Every golfer has what I call the orientation course. This is the course where as beginners, we would play most of our rounds. These courses are usually either very far away or very lousy; so as to minimize traffic and to save the embarrassment of a whiff or the ignominy of not crossing the ladies tee box on our drive. Mine was Bukit Beruntung, I hear that it completely sucks now. Most of my flight mates learned how to fly in Bukit Utama, the 9 hole course that nobody likes to play but everyone is forced to because of its location.
Then we have the hunting course. This is the course where we truly play golf. Where we learn how to read the greens, the doglegs, the course management. And for many of us, this is Bangi. Due to the reasonable location but more for the kick ass pricing, this course has given us some of the best memories of our otherwise tragic golf careers.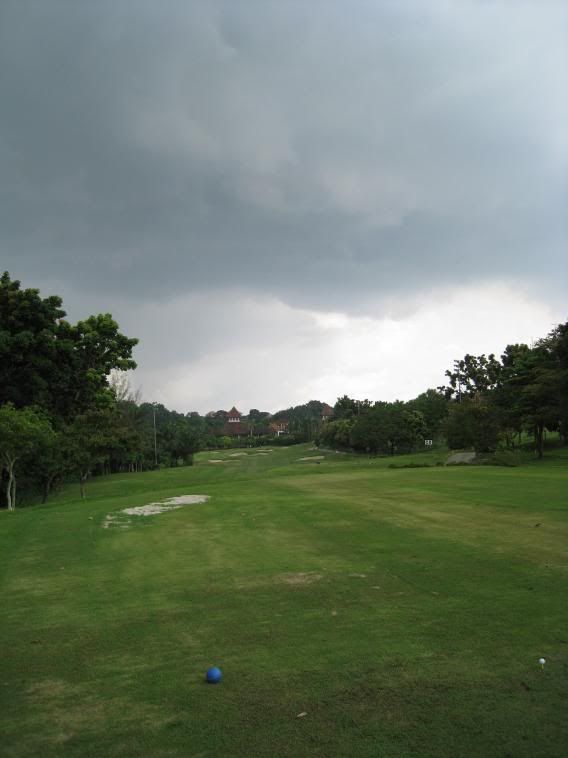 Travel (3/5)
Usually courses out of town is really a challenge in terms of accessibility. But around the Kajang district, we have a slew of courses that are top class: Impian, Kajang Hills, Palm Garden and Sungai Long. We know them as the four heavenly courses. Their little cousin is Bangi Golf Resort, a 27 hole golf course built around Equatorial Bangi. To get there, take the North South Highway headed to Seremban. Exit at Kajang, and after the toll, it forks three ways: Right to Cyberjaya, Middle to Bandar Baru Bangi and Left to Kajang. Take the middle and straight all the way. You will eventually reach a T junction at the end of the road and take a right. At the second lights, right after the petrol station, take a left, and a second to the right. There will be signs to point you in case you get lost. From PJ to the course is about 20 minutes, on a nice Sunday morning traffic.
Price (4/5)
This is really the main reason why many of us made Bangi our home course. For walk in for Sunday afternoons (non members), we paid about RM90 each. It used to be the same for mornings as well, in fact, cheaper at RM85 but I think there was a recent change. Before AGN, this was the most affordable course for us during the weekends. We spent many Sunday afternoons here, honing our drives, improving our putts and just progressing in terms of golf. With AGN, it gets better. We only pay RM70 for Sunday afternoons. In this region of good courses, Bangi can't really measure up to the four heavenly courses, but as a cheap alternative with equally impressive maintenance, it's a perfect course for intermediate players who are without clubs.
First thoughts
Seasoned golfers-you know you are seasoned when your skin color has 6 different tones-have the same impression on Bangi.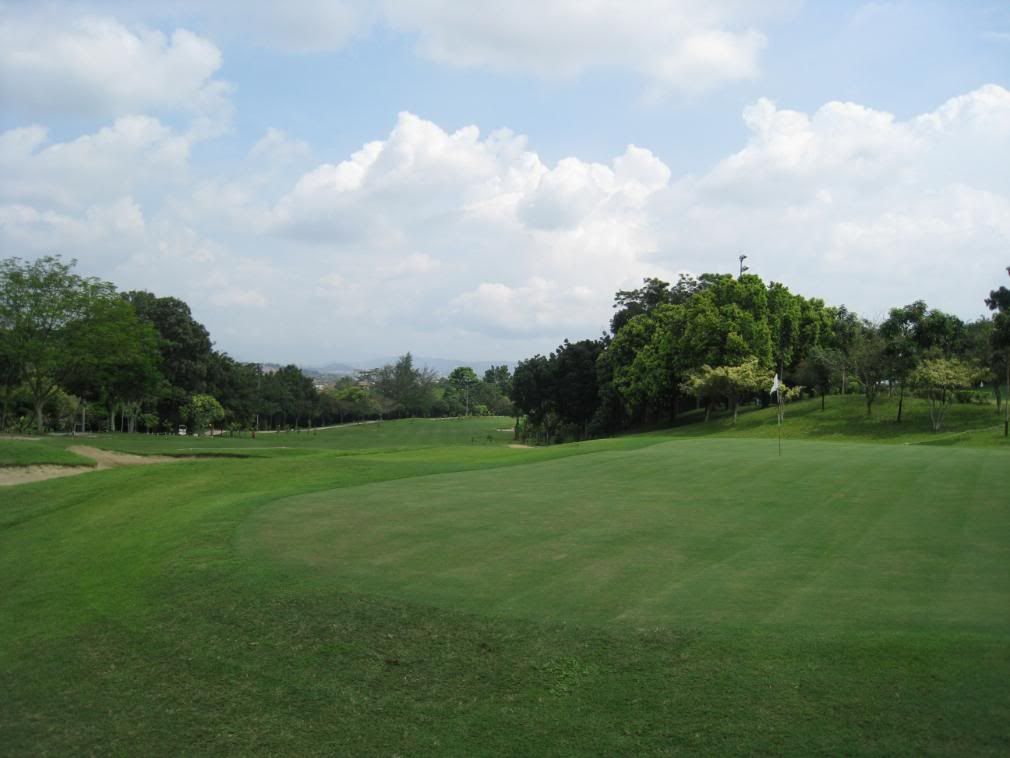 Easy.
Well it really depends how you play it. There are actually 5 tee boxes in Bangi: Gold, Black, Blue, White and Red so it really caters to all kinds of level. We usually play off Blue, mainly because for the other courses, Blue is typically the second toughest aside from tournament tees. However in Bangi, Blue actually plays as White and Black as Blue, in terms of difficulty and distance. Golfers being golfers, we are unable to adjust to the changes, and our preset minds cannot handle the sudden change in paradigm. That is why you see most golfers are really anal about their game: you have to wear certain colours, have a ball in the right pocket, must waggle twice, must have silence, must not have their shadows over the ball etc etc. Basically, golfers are just a bunch of mentally paralysed nutcases unable to operate outside of their comfort zone. Tee off at black tips? What, are you freaking nuts?!? I don't care if that is really blue, it's coloured black!!
At blue, Bangi plays the shortest: 5465m for the 1st and 2nd.
Important note: Playing Bangi, always play the first and second. It is the most scenic and nicest. The third is quite crappy aesthetically, although it does play ok if you don't have a choice. For now, we will review our preferred 1st and 2nd nine.
This is by far, the shortest of all courses we have played on. In fact, from the black, it plays almost 500 meters longer. This has a 68.5 course rating, the lowest we find and a 122 slope, which plays tougher than Palm Garden. Actually, we have very little idea how those figures relate to our game, but we just want to make this review sound professional, see.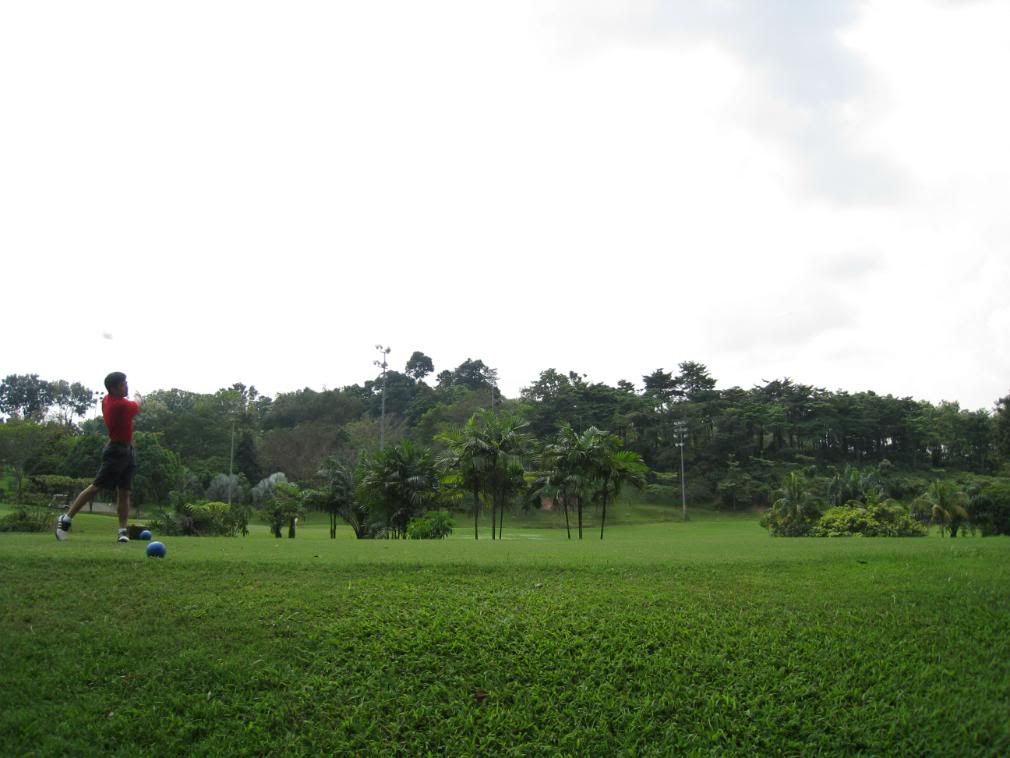 We also call this an asterix course. This means all great achievements in Bangi (and we will have them for sure) comes with an asterix. You birdied the 4th? Well, now, that's great! Where? Bangi? Hmmm. I take it back. Eagle in Bangi? Meeh…You made out with a caddie on the 4th green? In Bangi? Caddie's probably a dude…
It's not truly a championship course, after all, it's just a hunting ground for most aspiring golfers. The tutorial level before we head out into the big bad world.
Service (3/5)
As many times as we have played in Bangi, we have never really experienced the caddies. But check in is quite simple, as long as there is no queue, and the buggies are reasonably cared for. The plus point is really the food. It's one of the better club food we have and by saying club food, we are comparing it with other golf clubs that usually serve ground nuts mixed with wild boar crap for sauce. It's not superb, but at least, it's edible and reasonably quick on the service.
The minus points are the guys at the locker rooms who would rush out to grab your shoes to wash and shine. Now, the first few times, I thought this was a great service, until I realize that when they returned the shoes to me, they weren't expecting a thank you, which I would generously give them. Part of the service right? I was wondering why they threw me this dirty look. I realized after a few times, that those outstretched palms weren't a foreign sign of gratitude or a request for high five.
As I said, we are not in a culture of tipping. If you wanna wash my stinking shoes, do it with dignity and not have something attached to it. I already paid. It's called a golf fee at the counter. I don't understand why I need to tip you to wash something I can wash at home. Will you zip my fly and ask me for a buck after that?
So after the game, walk straight to the locker and ignore all pleas, hand grabbing for your attention. Pretend to be either mute, or fake cardiac arrest. Whatever it is, don't pass them your shoes. Well, ok, if you do and wish to be labeled the second most hated customer next to me, go ahead.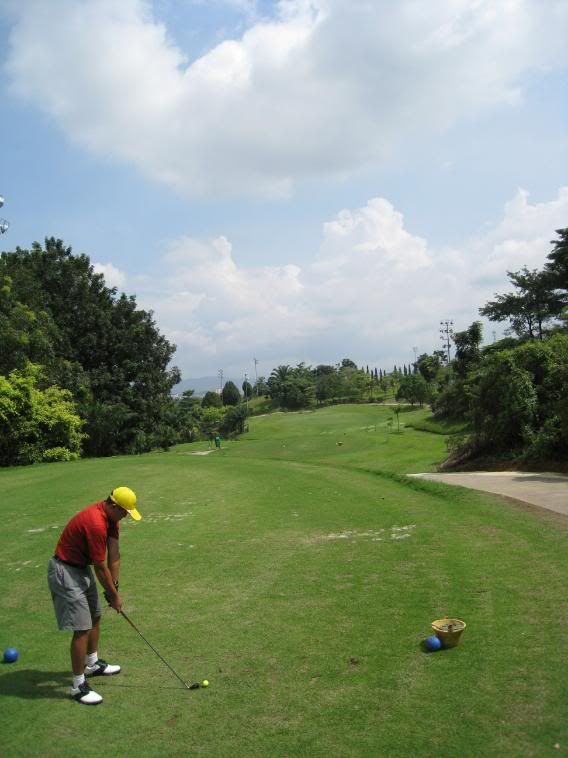 Fairways (4/5)
I like them. For a cheap course like Bangi, I always wonder how they could get the cash to maintain it as well as they do. Although my home course is Rahman Putra, my preferred turf is Bermuda, not cowgrass. It sits up, ready for you to blast the ball high into the green. I've played Bangi in all conditions available: soggy, damp, flooded, dry, baked, perfect; and so far, it has withstood the test. Sure, there are some drainage failures here and there but overall, the fairways are in great conditions.
Greens (3/5)
The greens are generally well contoured, with subtle breaks and consistent roll. It's not tip top shape like Impian on its best days and your balls will probably not land and stick, as it plays harder, but it still adds a different challenge to the game. A well placed second shot to the front of the green can sometimes offer a more advantageous chip than a regulation with a lengthy putt. You can roll it pretty well on the fringe but the rough surrounding the fringe is pretty nasty and your balls can really get buried there if you're not careful.
Rough (3/5)
The rough in Bangi comes in play a bit but from it, we still have a hope for recovery. Unlike courses built around a limited space like Monterez and Nilai, Bangi offers a good mixture of wide fairways and holes designed to punish wayward shots. Bunkers are generally well kept, if a little hard, so if there's rain, dig it in with less bounce on your wedges.
Aesthetics (2/5)
Bangi has the misfortune of competing with the four heavenly courses: Sungai Long distinguishes itself by being a Nicklaus-designed course; Impian has top class greens and maintenance; Palm Garden is a hacker's dream in terms of forgiveness and Kajang Hill is simply beautiful in its serenity. For Bangi, it had to find its own character and in that sense, it failed. The par 3s weren't anything special; crossing lakes or hazards. The par 5s were simply too short; and it made us into heroes by attempting to two on from the blue tees. I'm not complaining obviously, but in terms of overall looks, it was simply quite normal and in this region of golf courses, normal ain't gonna cut it.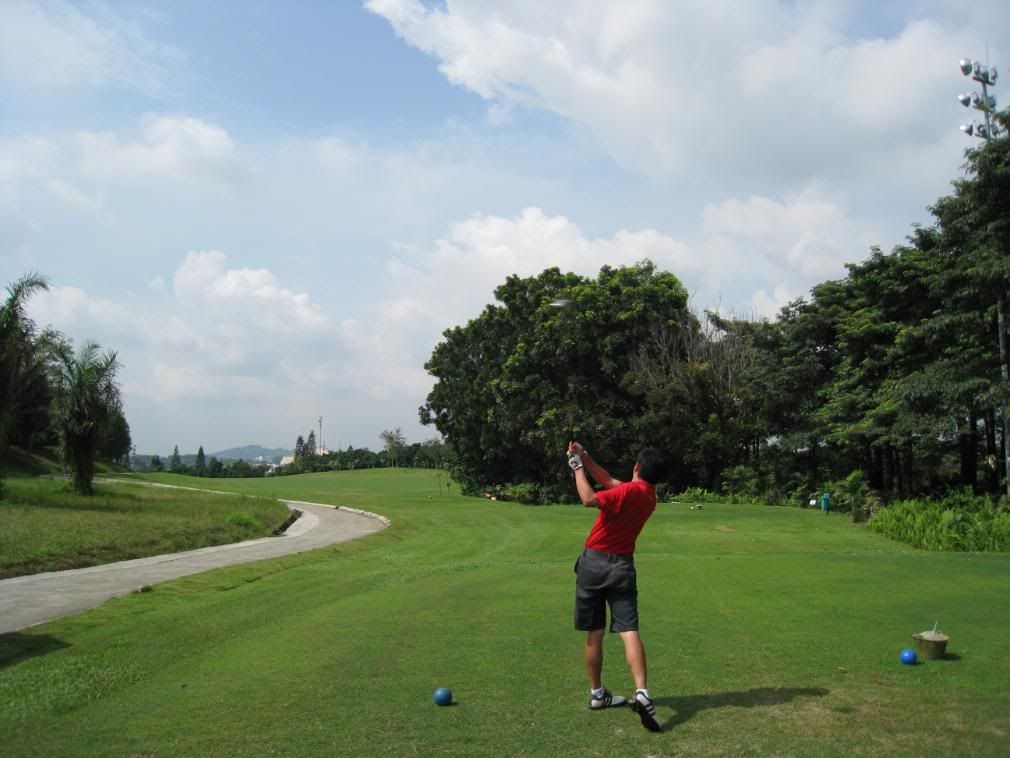 Fun Factor (4/5)
Bangi is a fun course. Fun because the first nine has 3 par 5s. The first is a reachable one with a sharp dogleg almost 90 degree to the left. In one mighty stroke, you can cut the entire dogleg over the trees and land with an 8 – 9 iron distance for eagle. The second par 5 is also reachable with a good drive and roll; and a wood or long iron into the green guarded by two front bunkers. Finally the par 5 9th plays the easiest. An easy cut of the dog leg left will catch the hill and roll down. I was hitting a 9 iron into the green way below and hit a chip in for my first eagle there.
The second and third nine were more traditional, in a sense of regulation golf.
Possibly the most memorable par 4 is the 13th. It's 260m to cross the pond onto the green, or you could go for a safer route to the left fairway where a long iron or wood would be enough.I took out my driver and blasted one of the best drive of my life, that floated high with little spin and landed on the green, one on, 12 feet away from a historical eagle.
In fact it was the most disappointing birdie I ever had. Why don't we ever hit putts firm enough I will never know.
Conclusion
Bangi is like an old friend. There is already familiarity there since this was where we honed our skills (or lack thereof).We can always depend on how the fairways will be dry or how the greens will roll. Bangi always welcomes us with open arms and you'll appreciate the shortness of the course if you are playing with beginners. It's the perfect course to break in newbies to the game.
The good: Many challenging holes and opportunities for eagles; great price; generally good maintenance on fairways and greens, good balance between risk and reward.
The bad: Asterix course so my first eagle, my birdies and eventually my sub 80 round will be asterixed. Par 5s might play slightly too easy, even from the black tees; locker room boys haunting you for tips.
The skinny: 26 of 40 divots (65%). Bangi is easy to recommend to everyone, of any level. It's a course that allows semi-newbies to have a taste of course life. Welcome to your lifelong prison called golf.
Bangi Score Card
Bangi Information
Address: No 1, Persiaran Bandar,
Bandar Baru Bangi,
43650 Selangor.
Contact: +603-89253728
Fax: +60389253726
Website:  http://www.equatorial.com/bng/