Introduction
You know the school nerd that suddenly gets hot once she gets past the teenage years? Well, we've been hearing a lot about Beringin for some time. Now, I have never played there before but I recall one day, early in my golf career, when I was cangkul-ling the ground at Bukit Beruntung, I complained out loud to my brother: "We traveled all the way for this??" Because, at that time, Beruntung was crap. I don't know how it is now, but it used to be the entire fairway was like a giant bunker. Not only for one hole. But for 18 bloody holes!
My brother responded, "You should be glad you're not at Lembah Beringin, it's even worse!"
And from there on, Lembah Beringin has become synonymous to crap, lousy, piece of stool, mother of all crappy courses, a gigantic piece of dung…you get the idea. It seems awfully unfair to rate it like that before we even see it, but you know, I have a high regard for my brother's advice. And anything worse than Beruntung has gotta be something beyond our wildest nightmare.
Recently we keep hearing how Lembah Beringin has changed, due to Saujana taking over. Now, Saujana are the geniuses who gave us Impiana and of course Saujana course. Golfers who went to Beringin, came back with wonderful tales of a glorious change, of a magnificent course worthy to be a championship course. It wasn't just a name change—ditching the unpronounceable-to-foreigners 'Lembah' was a good idea. It removed any obvious name jokes golfers are so notorious for: like Lembik Beringin, (Weakling) Lembu Beringin (Cow), Lemas Beringin (Drowning), Lebam Beringin (Bruising). Golfers who crack such stupid jokes and laugh at it should be shot on sight with a 12 gauge shotgun, and remains fed to hyenas.
Anyway, due to such exciting news of the newly called SSG Beringin, we packed up into a car and headed up north to this mythical course.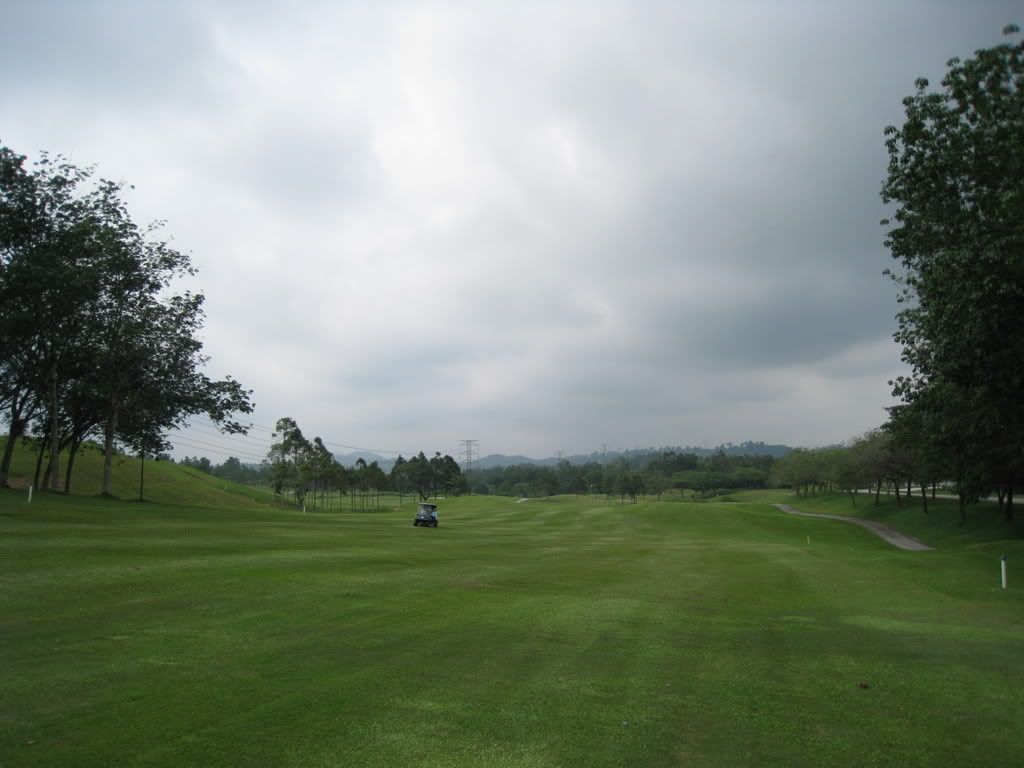 Travel (3/5)

We absolutely hate traveling to the northern course (i.e north of Klang Valley). Where as you see the southern courses are all closely clustered (Bangi, Kajang, Palm Garden, UPM, Impiana etc), the northern courses always feels as if you need to pack your passport. Anything after Rawang, and we're hitting the outer reaches of space. But we'll try to be fair and give more points to courses that are easily accessible, even if they are located in Timbuktu. To get to Beringin (we will just call the darn course SSG now, shall we?), it's easy, head to the NKVE (you know how to get there don't you?), easiest from the Damansara Toll, and head to Ipoh/Rawang. You will travel a long, long time, past Rawang, past Bukit Beruntung and finally arrive at the Lembah Beringin Exit. Take that and ta-da! The course is right next to the turn off. It's that easy. In fact, it's so easy, it doesn't even need a map. If you can't find it, you don't deserve to be called a fully functional seeing man. Or woman, as if women actually read this blog.
Because it doesn't try to purposely waste our petrol like Bukit Unggul, we are going to give it a 3. It's far, but it's easy to find.

Price (4/5)

We paid RM65 all in, and they didn't force any caddy on us, which is good, because we don't like paying extra, especially after burning so much petrol to get here. In fact, I'll have to admit, the price was pretty good, considering we were walk ins and in normal cases, walk ins are treated only slightly better than the cow dung remover. Not the person removing the cow dung, but the actual equipment itself. So it was good that they didn't slaughter us with some ridiculous pricing like 120RM or something, and use the Saujana name to justify the price.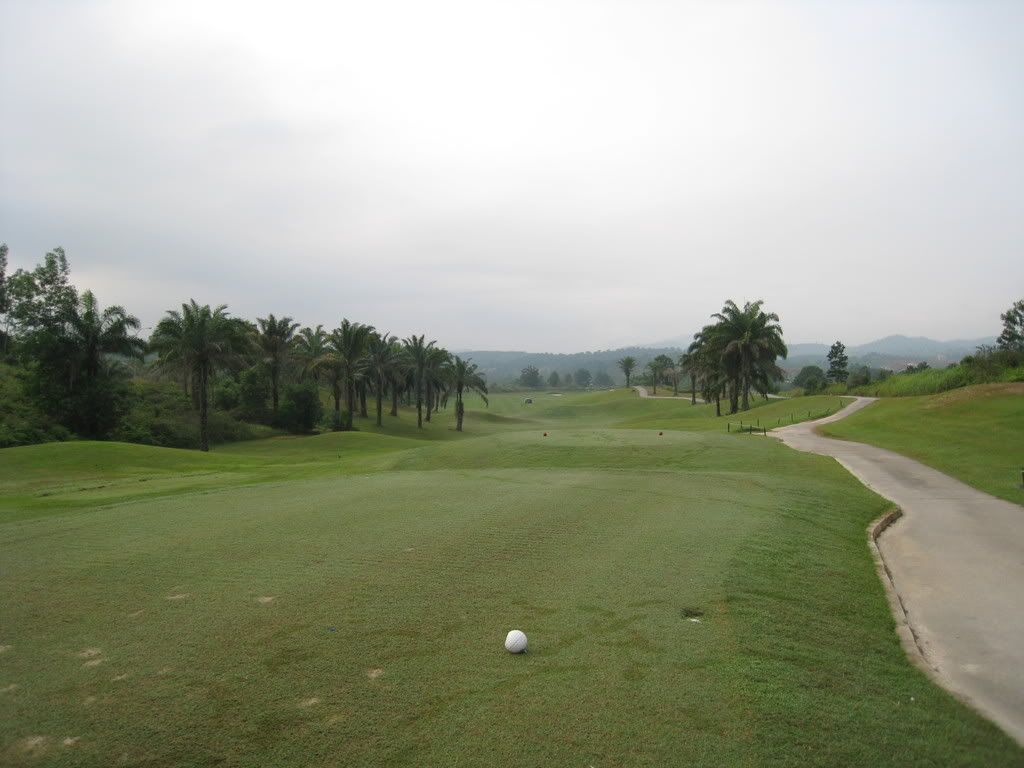 First thoughts

One guy from my flight mentioned that Beringin was a short and easy course.
"No OB one!" he stoutly declared.
He is obviously one of those who fall under the non functional seeing man category. The first hole itself was a daunting dogleg right, to cut, you have to fly over the jungle. I made it, but took 3 to get on and stupidly 3 putted for a double bogey start.
The course was short, definitely. Easy? Not really.
Service (1/5)

Service is definitely not their strongest point. Firstly, the registration girl was so slow, we thought we had entered into an X dimension where time is slowed to half. Seriously, she was just staring blankly at the computer screen for a few moments while the queue was piling up behind us. I finally had enough and got my friend to stand in there while I changed. The changing room wasn't any better. It had a musty smell of bad ventilation. I changed and came out after 15 minutes, and yep, the line was still there, and we still had to wait.
The cracker would be this. Apparently, this club has no sirens. Sirens, as in not the mythical sea creatures, but the ominous horn that sounds the death knell for all golfers: lightning, stop playing. We struggled through our round with heavy rain at the later half, and as we didn't hear the siren, we thought, well, let's trust the club's lightning meter and play on.
It finally struck us as we teed up the 18th in a blizzard like rain, with no visibility and sheets of water cascading down on us, and us drenched to the bone; that we might not have heard the siren go off. Surely, that was a flash of lightning. And another and another. And here's like a whole series of them, crackling up above us, as the wind whipped up water like Noah's flood. We looked around us and saw we were right under high tension wires, carrying probably 1000000 volts of electrical current, in a thunderstorm.
We abandoned the last hole, put in an arbitrary score and headed back to the clubhouse. We went straight to the marshal sitting there, warm as a puppy, with a sleepy look on his face and we demanded, where the heck was their siren? Did it sound at all?
With a shrug, he said, "Tak Tahu", which translates to, "Don't know, but you are morons to be playing in this weather." I doubt there's any sirens in this club! DARNIT! We could have been fried chicken out there! How can you NOT know if there was a siren or not?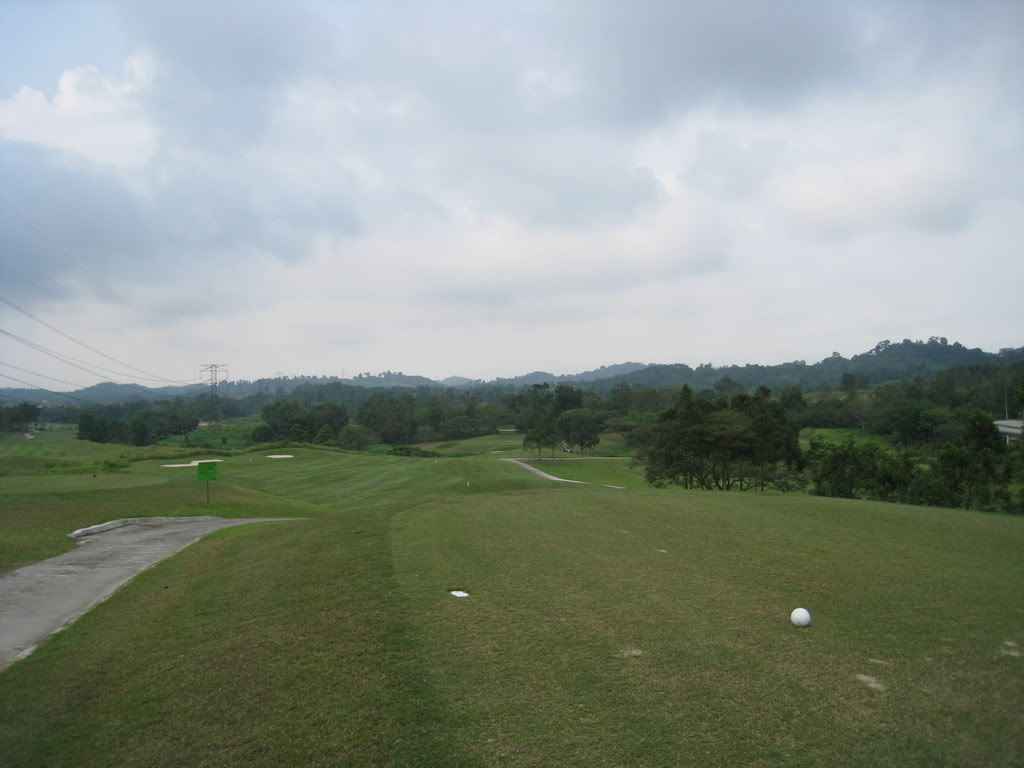 Fairways (2/5)

Bah, cowgrass. I hate to sound picky, since my home course is also cow grass, but after playing in Bermuda, going back to cowgrass simply sucked. Plus, the fairway wasn't holding up well in the rain. At times, I had to wade through the water to get to my ball. Even the second hole, a long 525m par 5 had fairways narrower than Kate Moss, so stupid as we were, we thumped our drivers nearly into oblivion. No OB? This course was all OB, dude!! But the lower score is really for it's condition. Besides not holding well up to the rain, the fairway had patches of sand and was fairly bald in many places.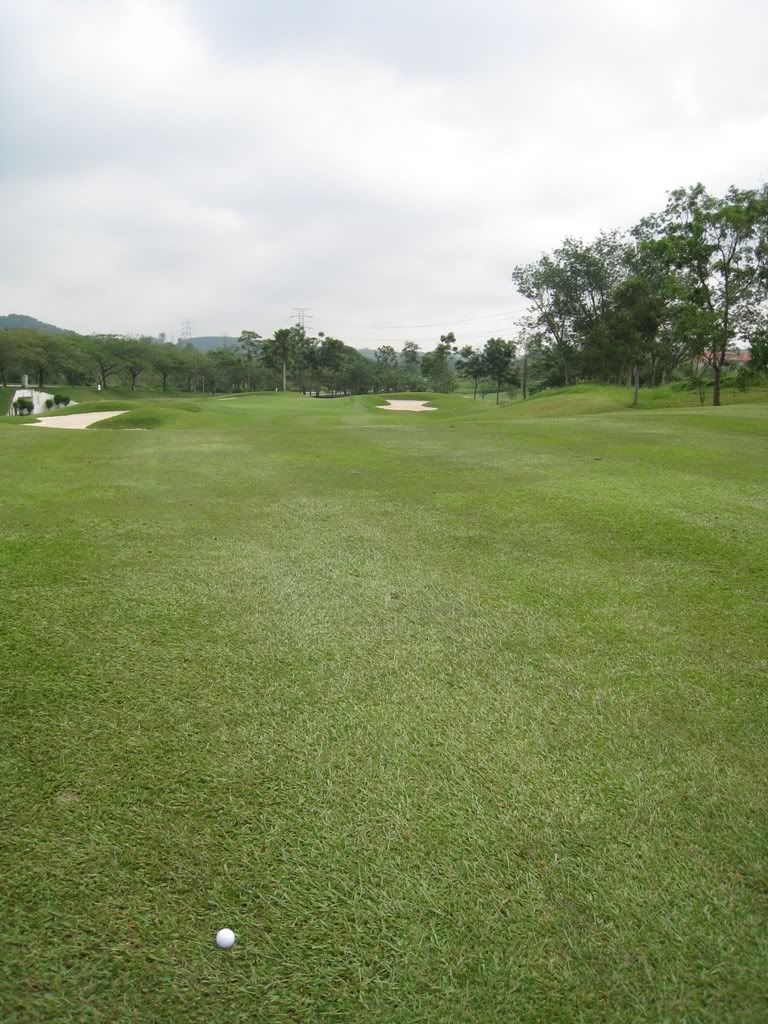 Greens (5/5)

We see what the fuss is about. The greens were apparently called TifEagle, which has as much meaning to us than the word garbulomumbo. Call it what you want, the greens in this club really, really rocked. As in, what a green. While all the other aspects were bad, or medium bad, once you're on the green, you're like in a velvet carpet. It's that good. The ball bit, spun, danced, and basically showed us once again that if Saujana specializes in anything, it's their greens. Despite the drizzle, the greens played fast, causing me to 3 putt twice in the first 3 holes, before getting used to it. If there's anything that's worth the travel, price and struggle through the fairways, it's the greens. Top notch.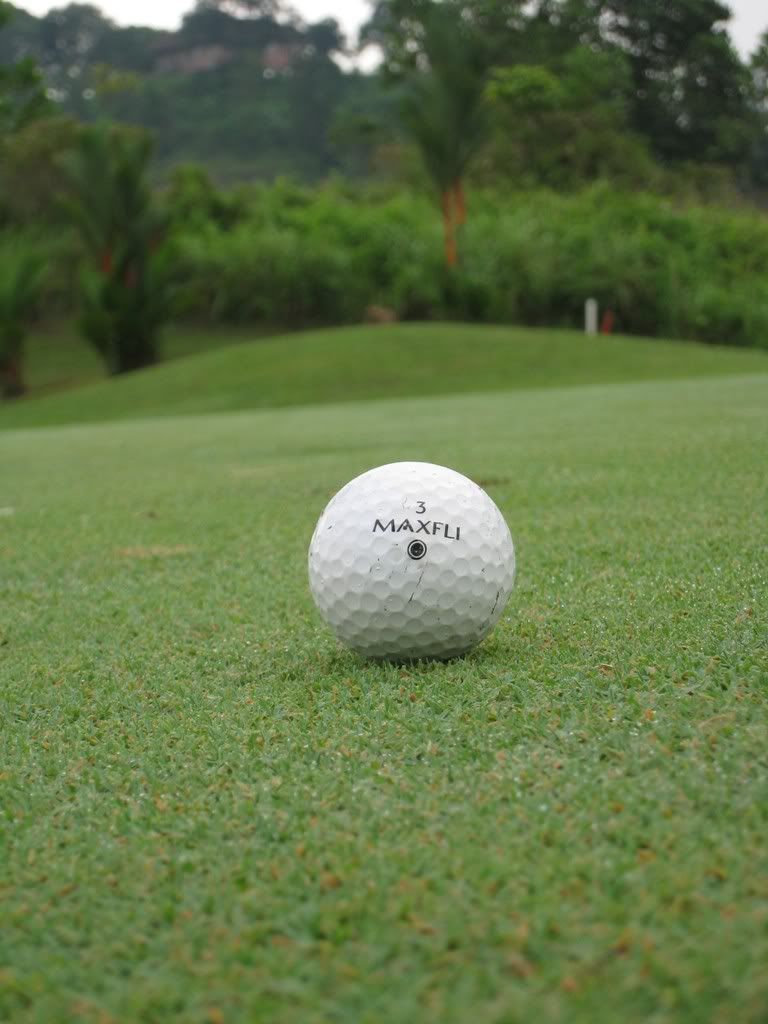 Rough (3/5)

Say what you like about SSG, it punishes way ward shots, and that means all of ours. We like the grip it and rip it style of Palm Garden, Bukit Kemuning, and don't really fancy constipated courses like Nilai Springs and Seremban 3. Unfortunately, SSG lands in the latter category. There are a few exceptions, but most of the holes, from the narrow par 5 2nd and 7th, to the skinny 15th with hazard on the right. Bring lots of balls and if you're not confident with your driver, use a 5 wood to negotiate. No kidding. If we had stuff the big dog back into the bag and use our 5 wood, we would have scored like 67 on this course. Well, thereabouts. As it is, being typically monkey-like golfers, we always think our next drive would be better, until we lose a dozen balls or more. Tough rough.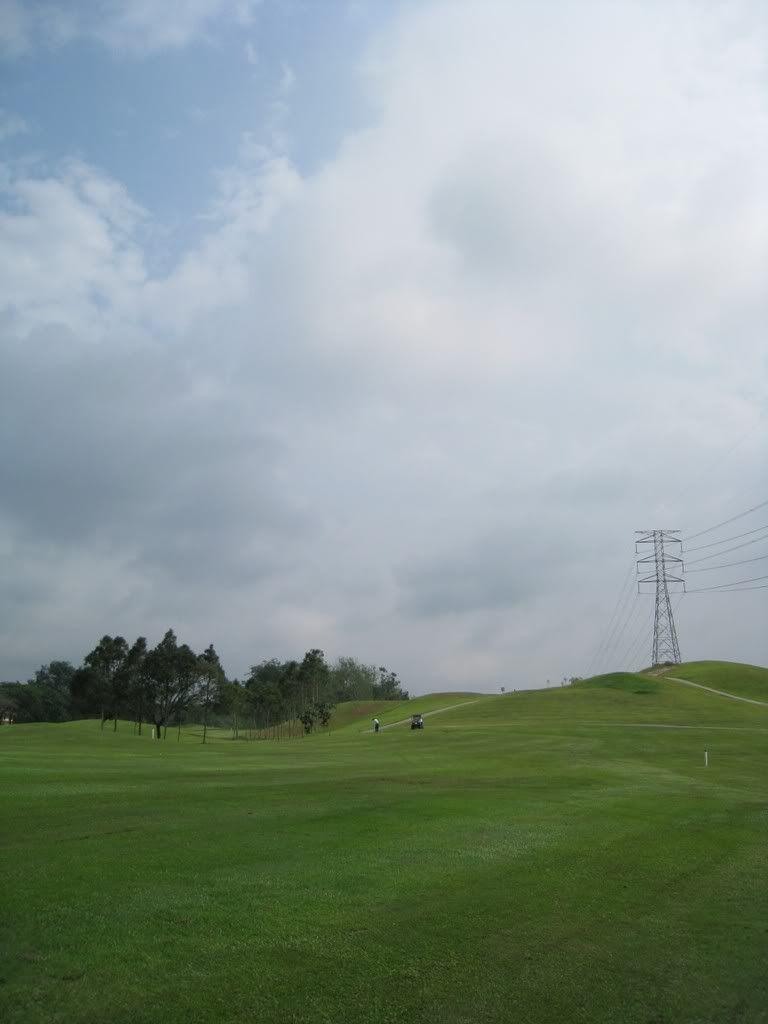 Aesthetics (2/5)
As much as we love the TifEagle greens, the rest of the course just wasn't extremely picturesque. Unlike Bukit Unggul (as much as we hate that course, you gotta admit, it's quite pretty), where the OB is lined with jungle; the OB here is typically lalang and 'semak samun'. I don't know what it's called in English. Like those grass that reclaims the land, kind of. It's not pretty, but worse, there's no way that your ball might careen off a branch and come back in play, since there's no branches. It's just hip deep waste bushes that will eat up your balls.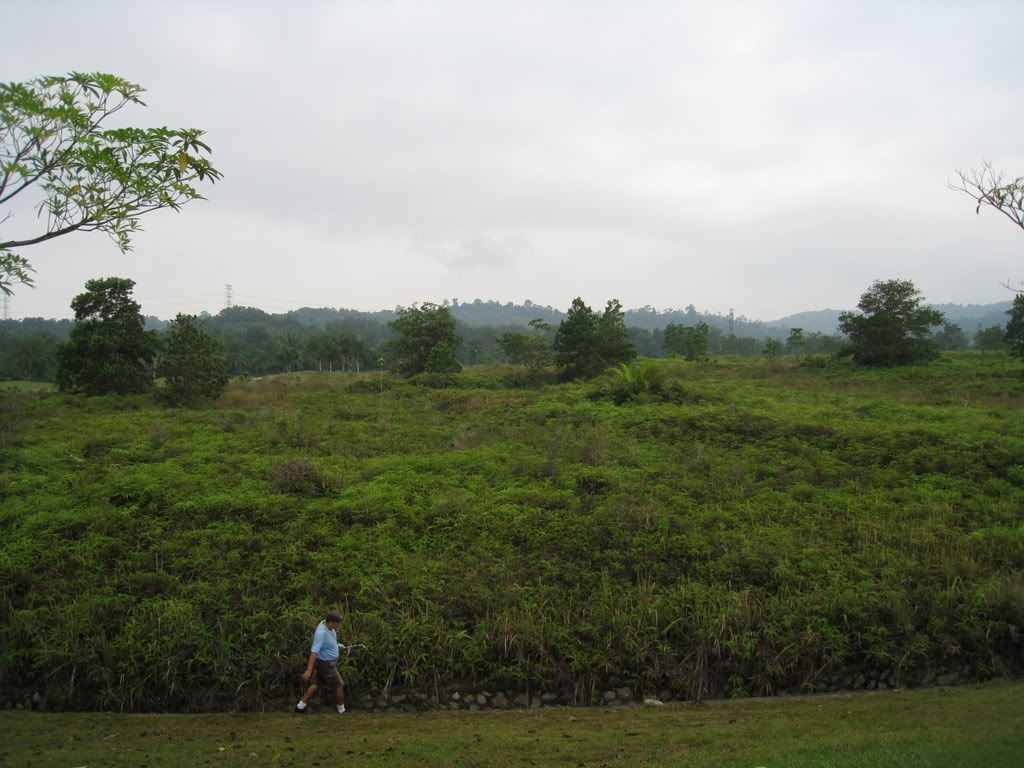 One thing about Beringin, is that it is a dead town. I think the history was that everyone thought the international airport was going to be up north of Klang Valley, so housing estates like Beruntung and Beringin sprouted up, hoping to cash in. Lots of buyers bought homes there, to be a step ahead. Suddenly, the airport went south to Sepang, and homeowners in Beringin were left to die. I heard a story of someone who purchased his home for 150,000RM and now, the selling price is about 80,000RM.
Around the golf course, you see homes that were supposed to be grand golf homes, like those at Tropicana, but now, overgrown with weeds, Mother Nature is taking it back. It's actually very depressing. We couldn't wait to scoot out of there. We half expected wide eyed creatures peeking out from the soulless windows hissing, "Come, my preciousssssss." Yikes!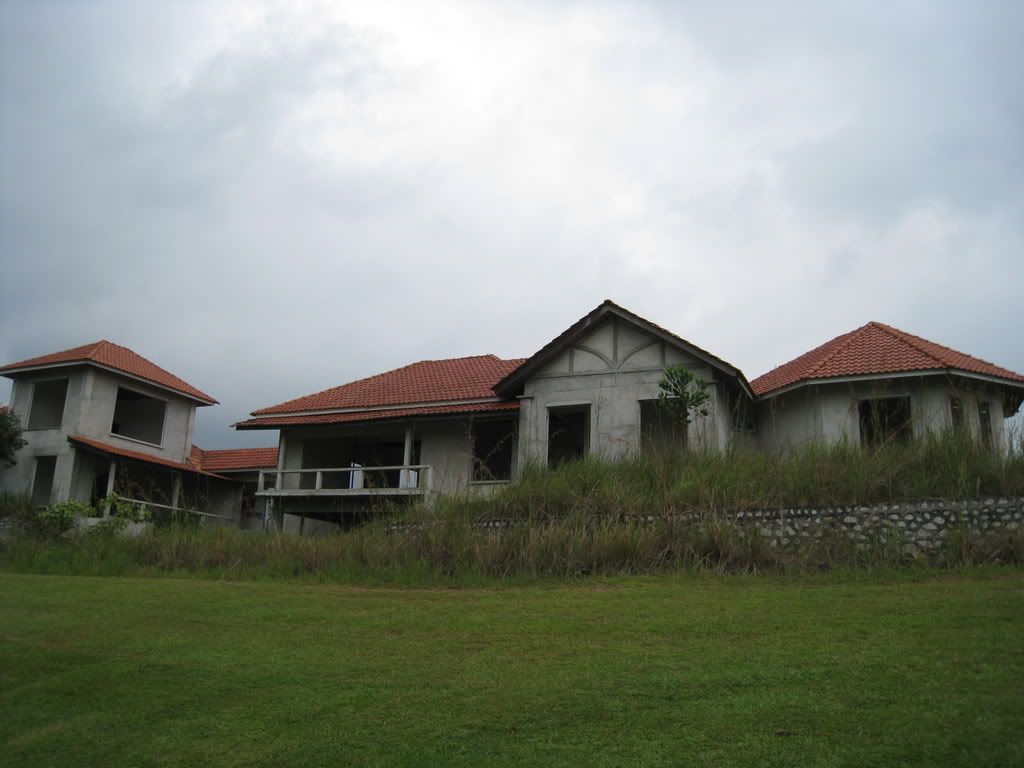 Fun Factor(3/5)

We actually had quite a nice time, even though we were struggling like baboons being forced to undergo acupuncture. The OB really got the better of us. But the 10th hole was a cracker. It's a 290 meter drivable par 4 from an elevated tee box. You're probably at the highest point and us being golf cowboys, snapped up our drivers, sauntered to the white tees, and let it rip to the green. There's a huge raving fronting the green so anything that can't carry 250 meters is in deep do-do. From the white, you needed about 270 to reach the green. From the elevated tee box, we gauged that a 250 meter drive would do the trick, with 230 to cross the ravine.
Both of us who tried made it. In fact, my friend, hit it so long, it reached the black tee of the next hole, over a pair of Korean women teeing up at the red. Mine landed in deep rough at the side and I stumbled around for a par.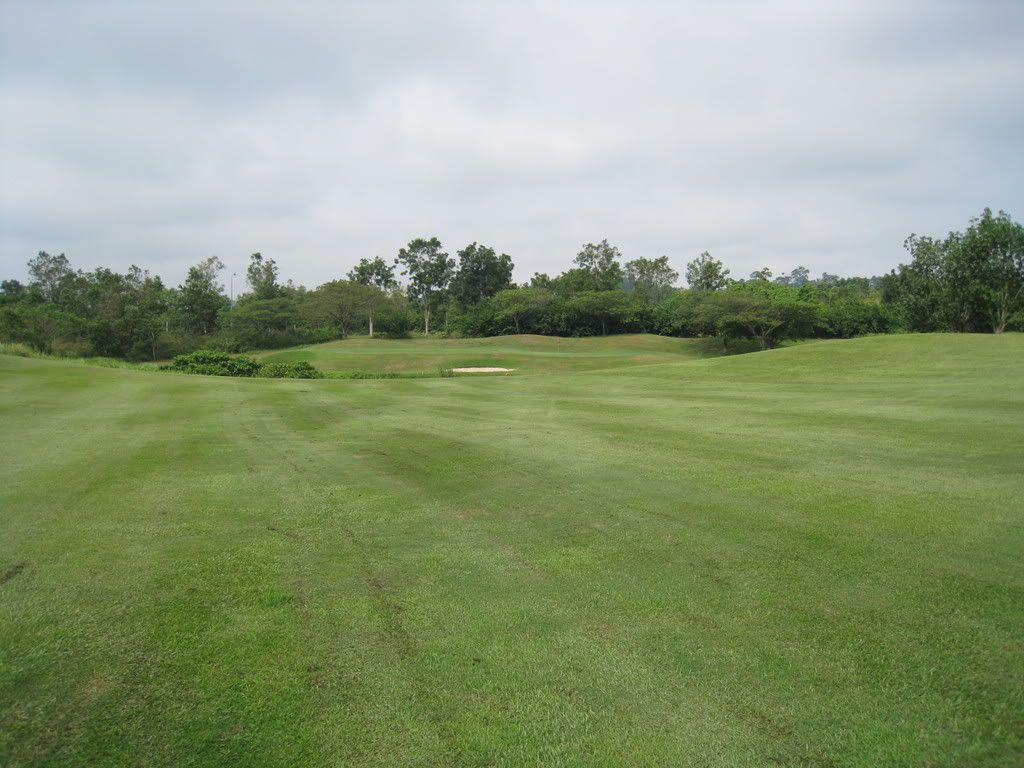 Conclusion

If you have a group of jokers who'll keep you from dying of boredom, it's actually quite worth the drive to Beringin. I mean, look, if you were planning to head out to Beruntung, you can go the extra mile or so, right? The greens are certainly worth your attention, and you better enjoy it now, in case SSG decides to pull out of the club like they did for Impiana. Unlike Impiana, Beringin just doesn't have the volume of visitors to keep it from descending back into reclaimed land.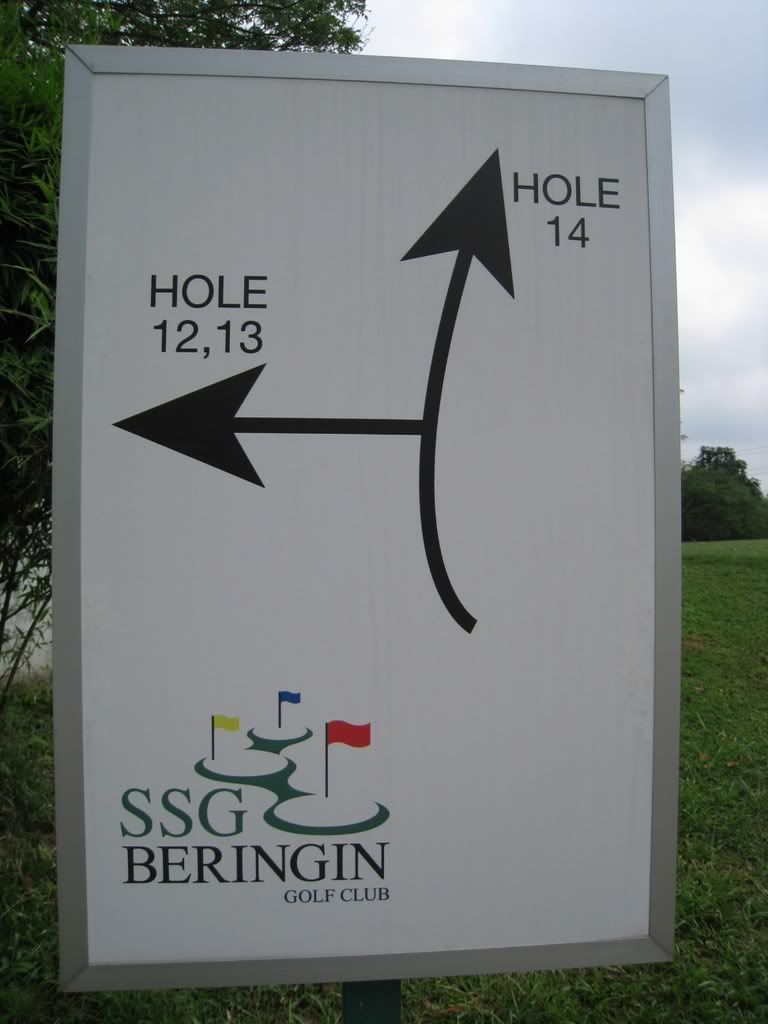 The good: The greens, definitely; the course is very strategically located right next to the turn off; challenging holes like the 10th makes it fun; reasonably well maintained; reasonable pricing
The bad: Heavy on the petrol; fairways are not so great; narrowness of the course might not suit some; aesthetically depressing; deaf and blind marshals that cannot hear or see lightning; there's no bloody siren.
The skinny: 23 of 40 divots (57.5%). We expected nothing much from the course and got something out of it. We will likely give it another go, if the price of petrol comes down…which might be 50 years from now when we learn the art of teleportation. Still, it's a go…you gotta try out the greens!
SSG Beringin Score Card
SSG Beringin Information
Address:
Lembah Beringin,
44110 Kuala Kubu Bahru,
Selangor Darul Ehsan, Malaysia
Contact: +603-64600016
Fax: +603-64600018