Introduction
Gilalogy Theory of Course Crappiness can be attributed to the phenomenon called the Halo Effect. It sounds familiar doesn't it? Well, because the guy that wrote that book ripped it off from us, since we know Golf Gilalogy has been in existence since the time of Mesopotamia. Anyways, the effect is that in a given area, there's always a correct balance of good and crappy course. Rahman Putra has its ugly step sister Kundang Lakes.  IOI palm garden has the dastardly UPM. Datai has Gunung Raya. Tropicana has the equally foreboding Seri Selangor. It's never a case of equals, and it's never more evident than Templers Park Golf Club vs Perangsang Templer Golf Club. Perangsang has always been in the shadow of the more illustrious club next door.
Unbelievably, this is my first time to the course that I have heard so much bad things about.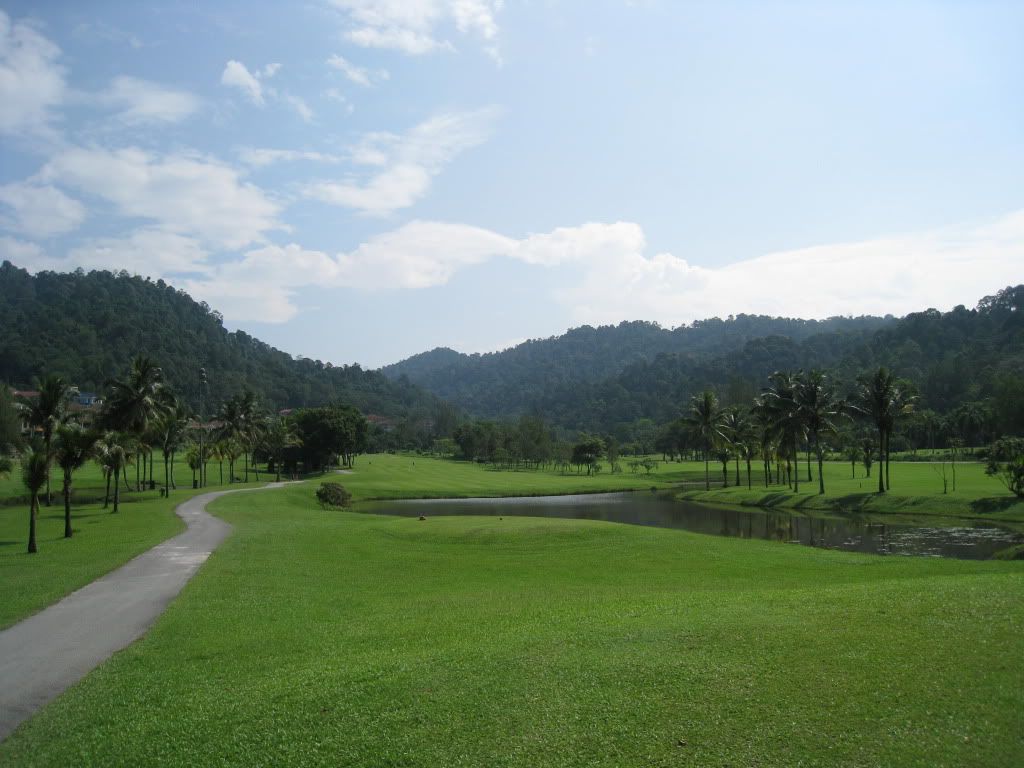 Travel ( 2/5)
The very same route you take to Templer Park Golf Club, you take it to Perangsang. Now I know we gave it 3 to Templer Park, and it would seem unfair to rate it to 2, but as mentioned, this is very much subjective to the club. For instance, if you were to run through a hail of 7.62mm bullets spat from an M14 rifle from one end of the field to another to get an all-paid tour around UK's best golf courses and a tee time in St Andrews, you would do it, won't you? It'd still have the same risk, but you'll do it and think it's heck of a deal. Now, would you do the same to get to a trip around Ulu Yam? You'd think it sucked.
So anyway, I forget my point. The fact that to get to these golf courses, you need to negotiate the most harrowing U-turn in the world. It's a U-turn and immediately need to cut 3 lanes to the left to enter. The cars are zooming by, with the occasional 16 wheelers careening out of control and possibly smashing into your car and spilling 20 tonnes of uric acid on you. It's a ridiculous way to access the golf course.
The alternative is to U-Turn and try to inch left and make the turn at the Shell station instead, giving you more roads to go left.
Absolutely stupid access.
Price ( 3/5)
We paid about RM40 using the Top Premier Book voucher. It's a good deal. With SSG links, you pay about RM53. SSG links have the advantage of paying RM63 for the weekends, which is pretty good weekend rate to me! They have a few promotions here and there, so head over to the website to have a list of it. But this is pretty reasonable, considering it's right next to one of the overpriced clubs in Malaysia.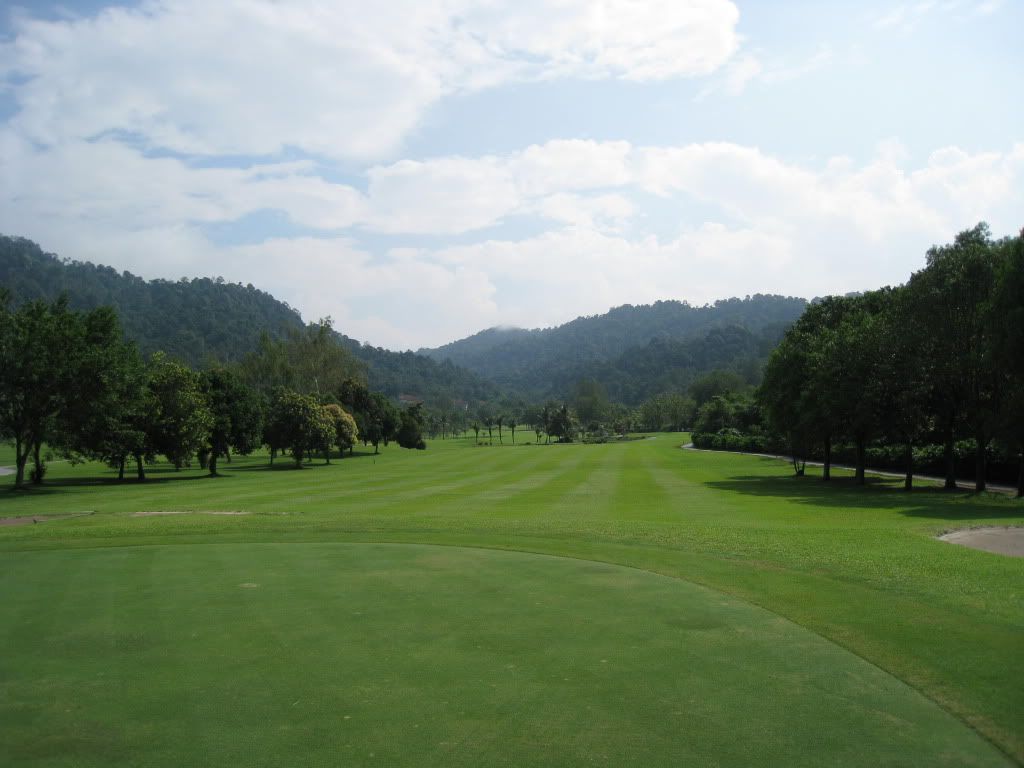 First thoughts
Before we reached the first tee, one of the maintenance guys ominously looked at us and said, Yesterday, big rain, flooded up to—(he points to his calf).
Obviously, this maintenance fellow is prone to exaggeration, but it's still a bad sign for us, because we know from reputation how some of these cowgrass courses handle the outpouring of rain. We rolled our buggy past this creepy maintenance guy, holding his rake, and eyeballing us like we were going to Shutter Island. I half expect him to grab our scorecard and scribble the word 'RUN' there.
And on we rolled to the first tee.
Service (2 /5)
Thankfully we were spared from having caddies, so there wasn't any extra charge, and we didn't have any real experience with the service: until the end. When we were done with the game, we needed some drinks at the terrace. Being the cheapa$$ we were, we just wanted ice water to cool us down before we head out to Selayang area for food.
Imagine 4 half baked potatoes sitting around waiting for a drink that did not come. We waited, until one of my partners whitered into a prune and finally I decided to get up and look for the water-cooler or the ice water dispenser or anything. Nothing. The waiter kept saying, "Mineral water? Ok!" and I had to go "No, no, just a darn drink! In a cup!" because they will likely charge like RM10 for the mineral water.
Finally I had to practically force them to bring cool drinks for us, threatening them with our famous 7-iron up-down-your-throat maneuver. Not great service.
Fairways ( 3/5)
OK, enough of the nonsense service, it's time to get into the course itself. One thing, the downpour was pretty intense the day before but we were pleasantly surprised by the fairway. We didn't  expect it to hold the way it did, in fact, all of us were already laced in our army boots ready to wade through another heckhole of a course.
So after the first tee off landed (we started on the unforgiving back nine) and we threaded through the fairway, our balls were not plugged and the fairway was in a reasonably drained condition. First fairway (10th hole) was a tough looking one, with a sharp left turn, very similar to Danau's 10th. The 12th and 13th fairway brought nightmares to us, similar to Danau's Kate Moss hole 2…narrow bleeping fairways lined with jungles on every side!
The course opens up in the first nine, so it might be a good idea to tee up normally on the first nine, instead of like us, who seem to be liking the 'belakang mari' style of late…in golf that is, your perverted mind misunderstanding again.
Greens ( 4/5)
Here comes the saving grace for Perangsang. This is pretty amazing, because we expected the course to be in ruins, like the city of Osgiliath. So here we were, a band of brothers wielding our drivers, thinking that this is a poor man's Templer Park Course and ready to banish the course into the WOTM or AAC category of hell, and when our ball finally plomped onto the green, surprise. …it was in a decent condition. Now I'm not saying it's in Beringin condition, but you need to understand, the 4 is given because it's so unexpected…we expected crap and got…well, another nice surprise.
It was slower than Danau definitely but because of the heavy rain fall. There wasn't any puddles on the green, you just had to putt harder than usual but the roll was good and there wasn't any annoying sand of stuff like that. The same guy that four putted from four feet in Danau (even if he was still playing like a drunk Zimbabwean nightbat), was having fun because his putts were reasonable.  His scores were the same, but you know….we hackers have very unpredicatable emotions.
Rough ( 1/5)
Back to life, back to reality.
As great a surprise as the fairways and greens were, the rough was totally…horrendous. Especially the bunkers. I have a good mind to give a -1 on it, because the bunkers were all swimming pools. Serious. Here's how they look:
And not just one! Several! And the ones that didn't have water had rocks the size of my fist. We decided (yet again) to implement the rule of If-in-the-bunker-then-its-on-the-green. So we didn't play a bunker shot until the last few holes…but seriously, if you can drain the fairways and greens, spend some time on the darn bunkers man. The rough itself was ok…it's punishing without being unfair, so we're willing to conceded a point. But seriously Perangsang, if you want to compete with the big boy next door, your maintenance of bunkers need to improve. Tsk Tsk.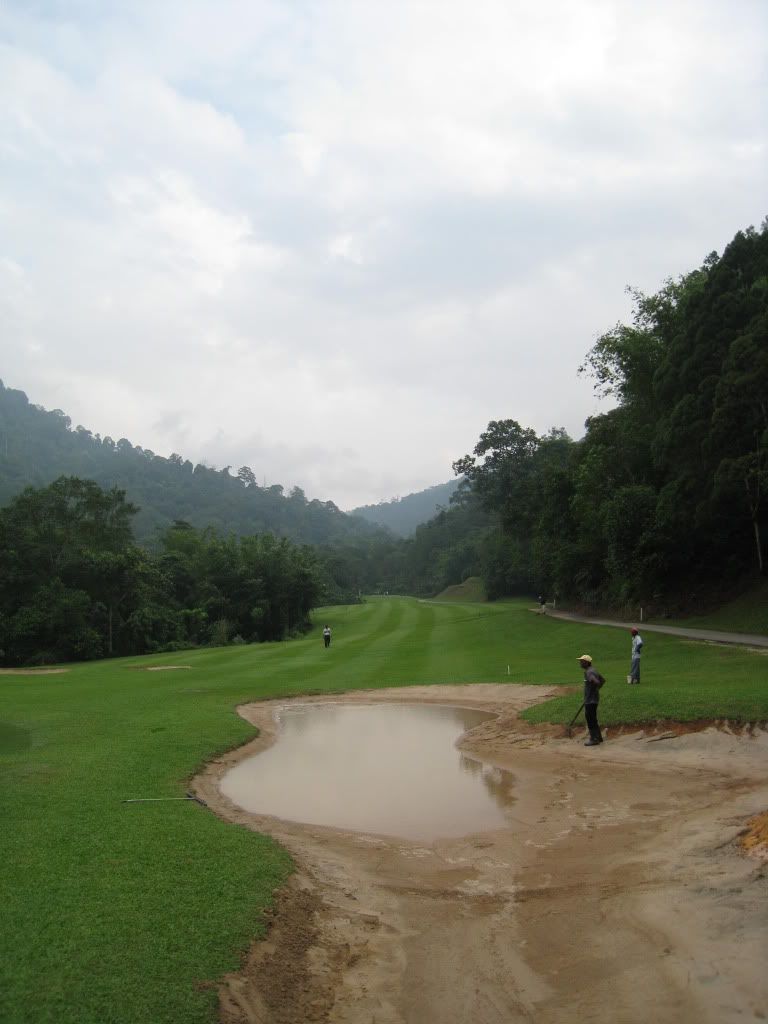 Aesthetics (3/5)
Now I know what you're thinking. You give 5/5 for templer park and 3/5 for Perangsang?? Bias!
Well, to be honest, even though they were neighbours, whoever gets the Takun Mountain or whatever it's called, gets the beauty. Templer Park is right beneath that mountain, and it gives some pretty surreal scenery. Perangsang plays more like a jungle course on the back nine, and more of an open space course in the front. You get a glimpse of the Takun mountain here and there, but especially some holes in the back nine, they played pretty similar.
The plus side is the water features are really clean. I mean, the river running through Hole 15 was like Evian Mineral Water. In fact, I was just about to dip my hands in it until I realize that one of my playing partners is proned to taking a piss in the middle of the round. Of course we didn't pollute the pristine waters of Perangsang, but you just gotta be safe you know…pissing Hackers are quite common these days.
There's also not much elevation changes, unlike Danau or A-Famosa, so overall there wasn't much things to shout at in terms of beauty. It's that sort of functional course that tests your accuracy.
Fun Factor (3/5)
OK, we admit, we did have fun there. The back nine was quite a killer in terms of  accuracy in the first couple of holes but after a while, as mentioned, they played pretty similar. Long drive required, and accuracy to the receptive pin.
OK, once you make the turn, (or rather first nine, please don't get confused with our belakang-mari method), the course opens up and you definitely feel less claustrophobic. I mean, I don't know about you but I prefer a wide fairway with plenty of spots where you can screw up. Amazingly, and this is seriously, a mystery of my game, on the first hole, I managed to hit a great drive with a slight draw. It bounced off the fairway and lucklessly landed into a narrow strip of drain marked as hazard just at the side of the fairway. WHAT!!! How can I manage to hit these unseen, small, insignificant hazards and still not get a hole in one??
Hole 6 is a nice pretty par 3, which we all managed to hit reasonably good shots at. It has some limestone at the background and a very nice pond next to it, from which will enter millions of golf balls. The thing that spoils its beauty would be the electrical lines running all over the course. Why do we have them and Augusta does not?
OK, finally to the killer Hole 7. If we had teed off on the front, we might be able to bruise through this, but as it is, due to extreme fatigue of sitting in a buggy and swinging at tiny golf balls, and also the fact that golfers have the fitness of a beached whale, we weren't firing on all cylinders.
This is a crazy hole. It reminds us of that Danau hole 12 but worse. We basically need to target where we want our ball to carry the water. Target too conservative and you will send the ball past the water, past the fairway into OB. Target too aggressive and your ball has no hope to cross the water to dry land. Hook it, you're in the water. Slice it you are in OB.
Suffice to say, we all tried our first ball and all failed miserably. We each took mulligans and tried our second ball and here's the result: Mine again in the water. 2nd guy OB…he angrily tees up again and OBs again and screams in agony. 3rd guy gets so afraid he duffs his tee to 30 meters before water. Safe. Last guy decides to take the sissy way out and hits it down 150 meters into the fairway. He's the safest but he has lost all his claims to his manhood that day.
Conclusion
It wasn't that bad. Perangsang actually surprised us a bit. If it wasn't for the distance and the maniacal U-turn, it might be a great replacement for courses like Seri Selangor, Kinrara and other fringe courses that are bordering on the WOTM scale. The location is not the best, definitely, but we think it's worth the try. The only thing is that it has to compete with the big brother Templer Park next door. Well at least Perangsang doesn't have its resident samurai ghost story…or does it?
The good: Fairways and greens are surprisingly intact after downpour; nice aesthetics; reasonable pricing; a good challenge to your driving accuracy; especially Hole 7; no Samurai Ghosts.
The bad: Rough sucks, too much waterclogged bunkers; suicidal U-turn if coming from PJ; service not up to par; always compared to the better Templer Park Next door.
The skinny: 21 of 40 divots (52.5%).
Perangsang Scorecard
Perangsang Information
Address: No 1, Templer Park Resort,
48000 Rawang, Selangor Darul Ehsan, Malaysia
Contact: +603-60910022
Fax: +603-60910023
Website: http://www.ptgc.com.my
Email: info@ptgc.com.my