Introduction
Rahman Putra or KRPM as it is known, has a reputation. It goes like this:
Foursome chit chatting at the first tee while waiting for the fairway to clear.
"So which club do you play at?"
"Rahman Putra."
"Waahhh. You must be really good."
I have no idea where that came about because I'm a KRPM member and have been playing there for years and I still am a hacker. The name KRPM invokes respect, fear and awe from other golfers, like how Godzilla used to before a million stuffed toys turned it into a cheap competitor of Barney the purple dinosaur. Is the reputation justifiable?
Yes and no.
KRPM is a tough course because there's a heck lot of water. And it's not like drains and stuff, its like ponds and lakes, that houses plesiosauruses and gobble up your golf balls. The famed ending holes on the back nine, 16,17 and 18th plays index 6, 2 and 8 and needs a carry over water for 2nd shots. We call it the Amen Ending (a 'la the Amen Corner), but most of the words that come from the mouth during the final stretch are definitely not yes and amen.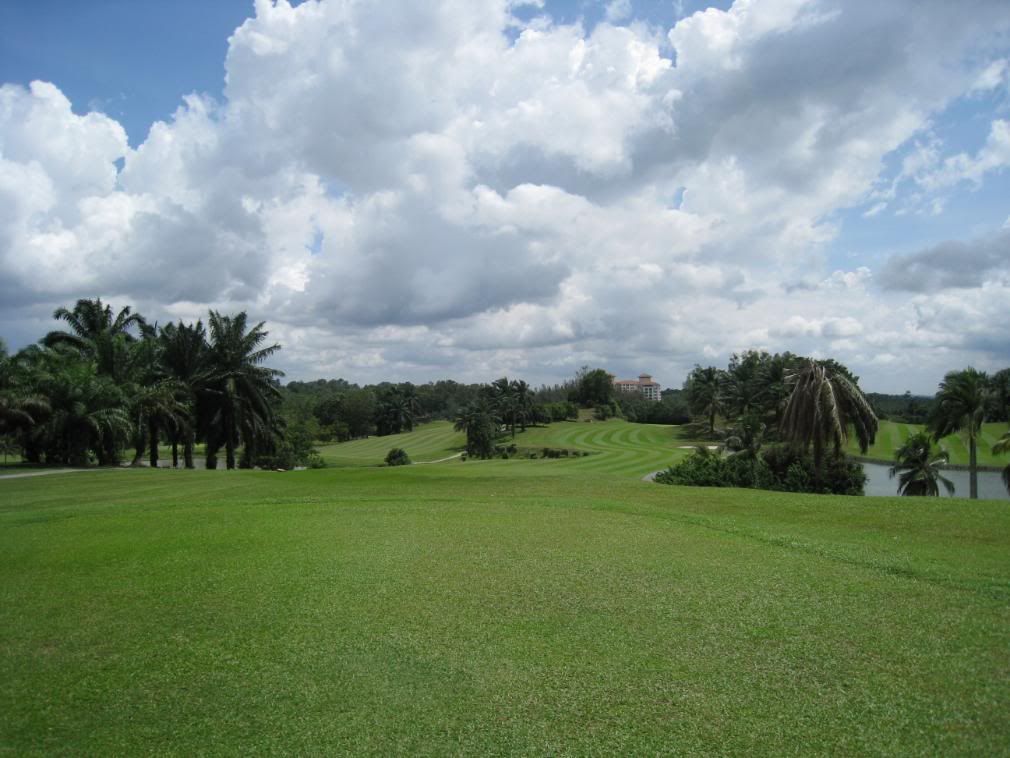 But if you compare KRPM to the other courses, you see statistically it's quite mediocre. It plays to 6130 m, about 700 metres longer than Bangi, but falls short of Clearwater's monster 6482 m. It's 71.9 course rating is less than Clearwater's 74 and slope of 129, less than 135 of Clearwater.
No wonder we were struggling like twits playing in Clearwater!!
Travel (3/5)
KRPM used to have a travel rating of -100, as one of the ways was to go through the Sungai Buloh trunk road, pass Sierramas and Valencia, or take the NKVE and turn off at Sg. Buloh. I used to push off at 12 noon to reach there for a 2 pm tee off, and that too after running over a few motorbikes on the way.
They have finished the new freeway and now traveling is cut down to hardly 30 minutes. The road condition is still bad, since heavy lorries still ply that route and you'll get potholes and an occasional falling boulder from the truck, but otherwise, its accessible now.
Price (3/5)
KRPM has a lot of generous packages. It's a 'package' course. They'll package in a meal, or an early tee off, or half price off the buggy, or women's day, or happy hour, or senior citizen package…everything you can shake a stick at, KRPM has done it. It's reasonable, but it loses points for weekend rates. It's good for members like us, but the problem is that its too expensive to invite people to play over the weekend, guest have to fork out close to RM200 for a weekend flight. It's a nice course, but its still cowgrass and its not a brilliant experience.
First thoughts
Newcomers to the course will be shocked at the opening tee. Both 1st and 10th tee requires a carry over hazard. Long drivers can bomb it but they will soon find out that KRPM rewards the placement players in most of the holes, and have trees blocking even on the fairway.
The shorter hitters sometimes resort to a 7-iron tee off which will usually find the fairway but they will forever be classified as wimpy mama boys who can't handle their big stick (or lacks a big stick), which brings forth a thousand connotations that the person might not be able to live with. It's better to hit a driver into OB and say, "It's hard to control my big stick," or into the pond and say, "What to do, my big stick always finds the wet places."
Both jokes and several thousands similar are common on the golf course, and it seems bad taste jokes are generally accepted as the norm here. The problem is when golfers come out into society with the same tastless jokes and expect a laugh, instead procuring a glare, a slap or a well deserved kick in the nuts by the more genteel gender.
KRPM is a matured course, therefore you'll find plenty of shade. However, carts are not allowed to roam on the fairways and because the setup is that we have parallel fairways, the strategy of borrowing fairways come in play here. So there's quite a long walk from the cart over to the next fairway. This can slow down the game considerably.
Balls can fly all over like WWII as well. There are many blind spots aside from parallel fairway, and in some occasions I've seen balls zoom over my head and we'll be hitting the ground.
Service (5/5)
The service is generally very good. Reception staff is friendly and they know me by my name, which means either I am a lifeless golf nut or they are very good at remembering people. The food there is very good, surprising for a golf club. The members generally have quite a lot of clout in the club and we can submit complaints over almost anything from fixing the darn drainage to wearing turtle necks to play. The only minus is that they force guests to have caddies, which I think is just silly. The caddies are new, so they don't really add any value to my game. They can't really contribute much in terms of course design or strategy, because I've probably played there longer than them and you don't really lose too many balls in KRPM due to the lack of OB in most holes.
But there's one person in KRPM that perhaps is the most important individual and best friend in your golf career. He's the ball seller found at the green on the par 5 3rd/tee box on the 4th. He sells all balls flat at RM1, which is about 0.3 USD. I get ALL my Maxfli Blackmax there. I know a person who buys all his PRO-V1s there and these balls are generally 8/10 or above in terms of condition. Very well cleaned, looks very new and an honest chap who gives free balls for every 10 you buy. I even have his mobile number to place orders. He's the best of the best in terms of deals.
Fairways (3/5)
The fairways are not Bermuda. It's what we call cowgrass. There's a reason it's called cowgrass. These are the grass cows eat. It's tough and it doesn't sit your ball up like Bermuda or twiff. In fact, some people will find cowgrass harder to hit on than real cows. It catches your club if you dig too much, resulting in fat shots, too much divot and you might break your wrist. Take too little and you might skull it into one of the waiting ponds. In fact, standing over your ball with a 180 m carry over water for second shot can be downright diabolical. It's not uncommon for golfers to break down weeping after depositing ten balls into the lake. They usually have to be carried away by the marshals and then the group behind can pass through.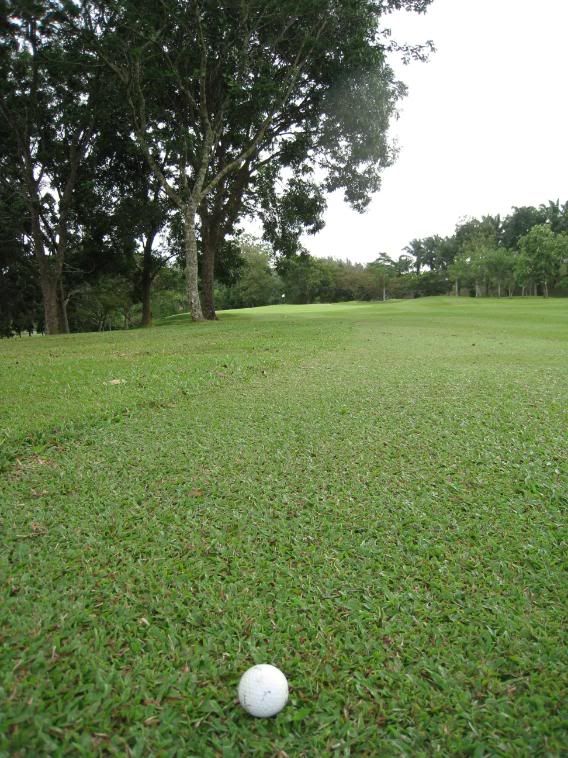 Fairways in KRPM are undulating, you'll be hitting balls below, above your feet on down slopes, up slopes. Any sort of position except straight and flat. So get ready to compensate for slices, hooks and the omnipresent duff.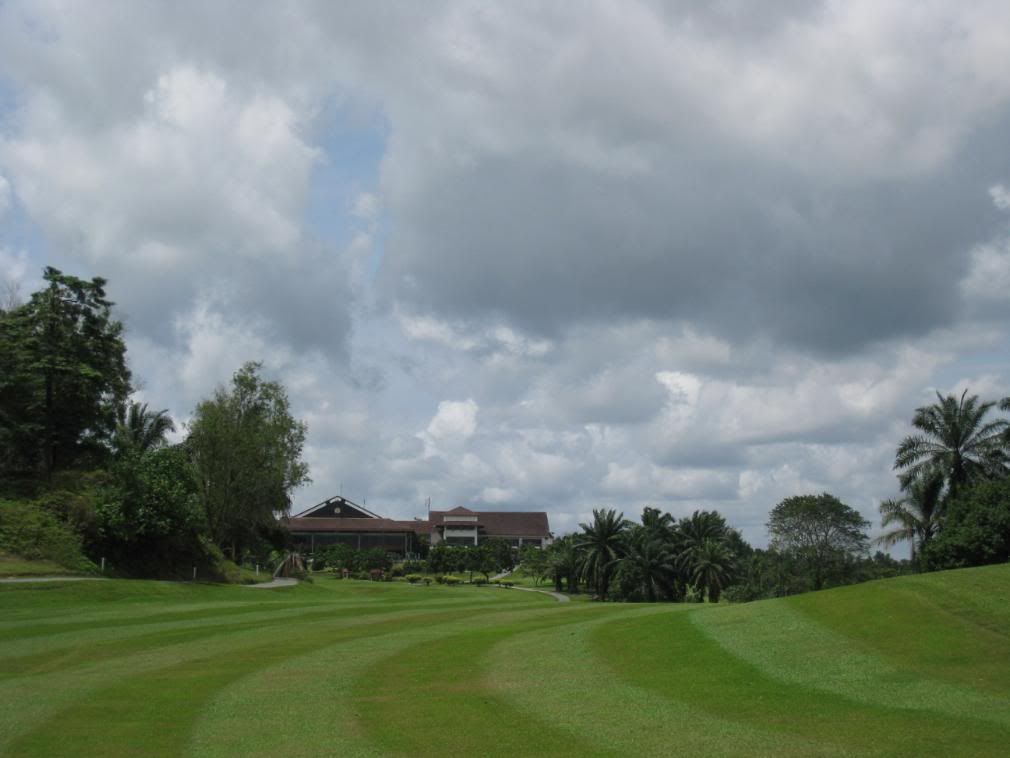 Greens (3/5)
The greens are usually what KRPM-ers are really proud of. Like the fairways, the greens are undulating, hilly and have like 20 breaks before reaching the hole. In fact, the 18th green has such a slope that a ball landing at the back of the green can funnel all the way down and off the green. Putting can be downright painful. In fact, it's better to play short and chip and putt as opposed to hitting in regulation with a 40 footer. Generally, the greens are slow, but some are inconsistent. It doesn't catches the ball the way Meru or Impiana green does, so approach shots must come in high. For golfers with lower trajectory like mine, expect the ball to fly off tabletop greens, or roll into the bunker after hitting what you think is a good shot. I've never seen a ball spin on KRPM and there are some bald patches here and there. It's not bad, but not something I'll shout about. I like the undulation but the inconsistency throws me off.
Rough (4/5)
Ah, the famed KRPM rough. Hit into one of these and that's it. You'll be lucky if it sits up. In fact you'll be lucky if you can find it! It really puts a premium for fairway hits. In the rough, it sinks in and I've found many lost balls while looking for mine. There are also natural elements that makes it harder, like fire-ants that crawls up your pants. There are no giant lizards, hardly any snakes, but those ants are devilish. Great care needs to be taken as you enter into the trees to punch the ball out, because when they bite, you better wish it ain't where the sun don't shine.
Aesthetics (2/5)
KRPM is a course built from palm oil plantation. It's like a wizened woman past her prime, but would still punish you for all your wayward drives and lackadaisical approach shots. There's nothing really beautiful about this course, it's functional, its tough, its challenging, it's like a 40 year old marriage. It's not a course I'd bring my investors or customers to, let's put it this way, but it's a course I'd go play alone to get better at golf. It gets a low grade also due to the lack of wildlife except for fire ants and stray dogs running around the fairways. Ever heard of ball in a foot print in the sand? Well, we've got dogs sleeping in the bunker and creating a crater for our ball to land on!
Fun Factor (2/5)
Perhaps it's because I've played it so many times over the past years that the fun factor is simply no longer there. I do recall the first time I played there, I was so frustrated with the course, I vow I would never come back again. I obviously did, but I can't recall a time I had total fun on the course. Most of the time was functional golf, getting better, putting better, but not going crazy like what we did in Datai Bay.
Conclusion
There's really nothing much to complain about this course. It's not as long, but it does take some strategizing because of the amount of water that comes in play. Long drives are sometimes rewarded with a splash, or you're swinging like a baseball batter at some holes with the ball so much above your feet.
Even though its shaded, you'll go through your water, because you'll likely be walking a lot to your ball. Also, traffic over the weekend is crazy. We need to have at least 5 hours to finish 18 if we're lucky. Booking for the weekend is impossible if you call too late on a Monday. Because it's accessible, the course can get pretty hacked up, that's why maintenance is very much vital in this course. The people here are generally friendly and would invite you to join, if you can play a decent game.
Just keep the golf jokes to yourself.
The good: Greens are good challenges, food is superb, best deal in used golfballs in the world found here, the rough really punishes, walk in rates reasonable on week days, 36 holes allow each nine to be maintained and recovered.
The bad: Not a very pretty course, parallel fairways makes it dangerous to hit and be hit by stray balls, table top greens hard to hold and inconsistent, fairway cow grass tough to hit and predict, weekend rates are inhuman, too many people on the weekends, hard to find a flight time and long wait between shots.
The skinny: 25 of 40 divots (62.5%). Functional and challenging course, not much of a wow factor.
Rahman Putra Score Card