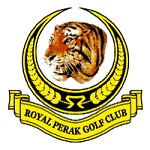 Introduction
I chanced upon this golf course by accident. I was on the way to play at Clearwater Sanctuary during my short trip to Ipoh, but it was already around 3.30 pm (we had a long lunch…it's IPOH, how can you miss the food??!), and halfway to Clearwater, I decided to swing to Royal Perak Golf Club (which on Google Map is strangely marked as Ipoh Royal Golf Club – I suppose their old name).
As with all 'Royal' golf courses, I would expect some sort of tradition, and some old clubhouse, expensive fees and not so great course – see the review on Royal Johor golf course as a perfect example.
As I rolled into the Royal Perak, the clubhouse was surprisingly new and looked almost grand. I was accosted by the very serious guard outside who sternly told me to park at the visitor car park – which is probably a good 200 meters away from the clubhouse. I was fine, of course, but I did see some cars (non-members presumably) clamped at the members parking so they really take rules very seriously here.
Apparently, this used to be a pretty busy tournament course, hosting many events in its heydays. Since then however, it had sort of not gone with the times and hadn't made much improvement, and not many big tournaments are held here anymore – instead at ClearWater Sanctuary. It's a pity, because this is a really conveniently located golf course.
Travel ( 5/5)
Compared to the awful travel time for Clearwater Sanctuary, we stayed at the Weil Hotel – and from there to Royal Perak was a breeze. Literally, only 4 km away, around 8 minutes drive. Problem is, what if you don't stay at the Weil? Well, Ipoh is a very small town, so if you aren't at the Weil, you're probably at Syuen, which is right next door to Weil and also around 5 km away from the club.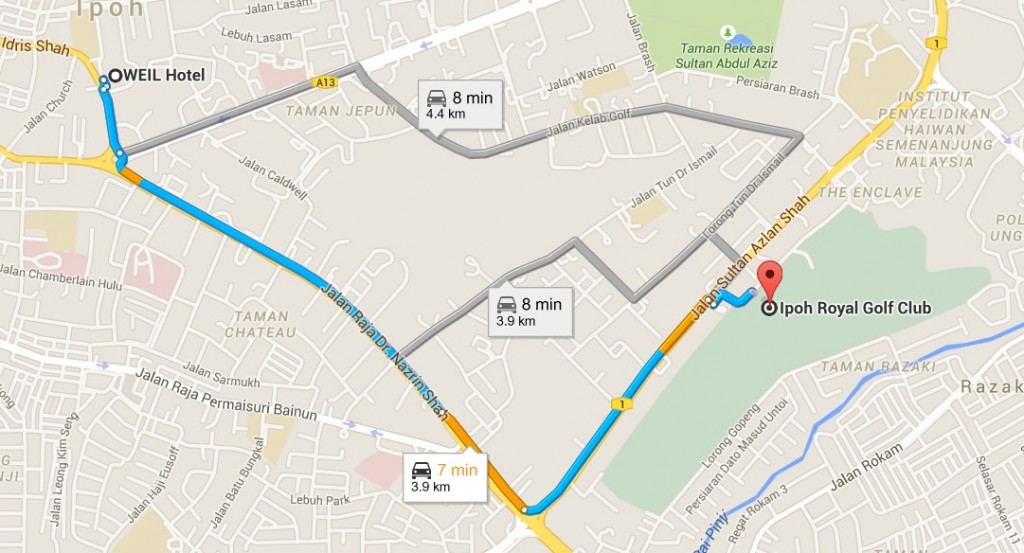 This is like KGNS or Royal Selangor Golf Club – it's in the heart of the city and you don't get much better than travel for this.
Price ( 1/5)
Right after the great travel, I was rudely brought down to earth by the pricing of this club. Now I know you used the word 'ROYAL', but it doesn't mean you have to charge fees that are reserved for 'ROYALTY' only! I mean, here's the price list:
A Weekday WALK-IN is RM180++. ++ here denotes caddies and also buggy. The buggy fee is RM80. And caddy fee, I don't know – around RM40, plus maybe RM40 tips. So if say, there are two of you, you are paying around RM260 with tax for a weekday game. If let's say you are alone, like me, it would be a stratospheric 360+ with tax. Weekday.
Now would I have played there just to write one stupid review? Nope. But thankfully I had reciprocal with my KGNS membership and only had to pay buggy fee (I begged the lady to not have a caddy), and ended up with RM92 all in (buggy is forced) with tax.
Now for RM92, it's definitely a worthwhile jaunt. For RM260 – RM360 for a weekday spot, and based on the course value? No, of course not. It's way too expensive.
I do have a feeling that, it's purposely set up like this to make it exclusive to members or members guest and avoid itinerant Gilagolfers from coming in and reviewing and hacking the crap out of their Royal Fairways.
First thoughts
Not that impressed, unfortunately. The problem with these city golf courses (and I'm saying it even for Royal Selangor), is that terrain is pretty bland. Most of it is flat, with just features on the greens like tabletop etc. Elevation is minimal, and although RSGC makes up for it with a great course design and devilish greens, Royal Perak doesn't seem to hold that much beauty.
Also, cowgrass seems to be the choice for most Royal Courses. Since most of these courses are very old (this was built in the 1930s), they shared the course with grazing cattle, hence the name cow-grass. This is of course based on historical analysis from our Gilagolf archives, that has a historical accuracy of around 2.5%.
What I am saying here is that, on the first tee, a ho-hum par 5 with a nice broad fairway, we don't get too much excitement from it. Obviously with the tee off only 10 meters away from the payment counter, you might be still jittered over the exorbitant sum you paid to play here.
Service (3/5)
There's really nothing much to say on the service as the only experience I had was the counter lady who was friendly enough and who listened to my begging her not to give me a caddy so I can save money. I rushed off after the game so I didn't experience any of the royal toilets with the royal flushes.
Fairways (3/5)
Cowgrass fairways was generally OK. Quite well maintained although nothing compared to the Palm Gardens or Mines back home. There is minimum undulation, but the course is devilishly tight. After the first hole, basically, everything gets kind of cramped in. Also, many holes have suspicious doglegs where a member might be able to navigate based on familiarity, but for a first timer like me, I got caught out a lot. Like Hole 2. I watched everyone tee off with an iron for some reason. Then it said 192 meters there is a drain. I'm like OK, let's tee up with a 7-wood then. I flew the drain like 10 meters. The yardage isn't exactly right then. If I had clobbered my driver, it would have been way across.
The narrowness of some fairways places premium on your drive. I was carrying an awful hook all day and it was expected that I struggled mightily to a 93. Most of my drives ended left in the woods. And in Royal Perak, like KGNS and other matured courses, woods = bad. Most of the time I was killing trees trying to get out with my ball.
Greens (1/5)
For the price paid, awful. The first nine, all nine holes were being sanded. I know there should be some maintenance done now and then, but I am in the school of thought whereby if you do maintenance, you should inform the customer or at least discount the pricing a little. It's a fact. If I were to rent you a car with a punctured tyre, wouldn't I discount a little so you could change the tyre yourself or at least inform you about it?
The greens got better in the back nine, but still, it wasn't amazing and I was already mightily put off by the front nine greens, some of which was unputtable.
Rough (2/5)
The rough was typically cowgrass rough, the type you generally will see in courses like Bukit Beruntung, or what comes to my mind is Kundang Lakes, for some reason. It's deceptively difficult to find the ball. One – because of the maturity of the course, leaves are all over the rough and also the trees are thick in some areas. You think it went in, but it bounded out. Another reason is that you will spend a lot of time in the rough due to the narrow fairways and the subtle doglegs. From the score card, it looks like it plays straight but it doesn't, the course generally meanders here and there and if you overkill your drive, you end up with a visual like the one below.
Aesthetics (2/5)
There's just nothing much to root for. The visuals are ho-hum at best, and the only pleasing sight is the distant mountain range on the back 9 first hole and Hole 14. The thing about Ipoh is, I suppose why many Ipohians love it – is that the mountains make it look as if you are in another country. This should be exploited as much as possible, but unfortunately the front nine was devoid of the ranges, and in the back nine, only a few holes had a peek of it.
An interesting par 4 Hole 12 had an extreme turtleback green. I had the misfortune of landing my second shot very short right at the bottom of the hill and struggled to a double bogey there.
Besides that, the rest of the holes are generic looking, without much attraction like the ones we are used to at Palm Garden or even the Mines.
Fun Factor (2/5)
If you had the misfortune of being stuck behind a VERY.SLOW.FLIGHT like me, all Fun is basically out the window. The front 9 I thought I had an open field to myself. I teed off a very good first shot, and saw in the distance a group putting out on the green. I thought this might be a fast group. I hit a great 3 wood, but duffed by 60 degree into the bunker. From there, I managed a double bogey and…wait, the group in front of me were STILL hitting their second shot only! I caught up already with that group.
The problem was, the group in front of them were also slow, so from the second hole onwards, I was waiting and waiting. To give an idea, I teed up around 3.45 pm. I only managed to finish the 18th at around 7.15 pm. Now I know it's not anyone's fault, but it still doesn't make it more fun. It's a full walking course for members – hence all members will obviously walk, and it seems like a perfect course for walking. Not much incline or steep slopes and holes clustered close together. But see, they force guests to take the buggy. I would prefer walking so that everyone can be at the same pace – but I ended up playing so fast, and there was no one I could bypass the group in front because all the groups were clustered together — I ended playing Chor Tai Di on my phone for the good part of the 4 hours on course.
My point is – if the groups are clustered together, at least let the reciprocal member have the option to walk – it would have been so much better.
I do put a 2 here because around hole 15, 2 members from the front flight left – so I immediately asked to join them and they agreed. From there, I shot bogey, par, par and double bogey. The final hole was just a small mistake — over clubbing at 90 meters – with a 60 degree. The yardage is just off. I couldn't get out the bunker. But once I joined them, I suddenly started playing better. I wasn't waiting anymore and it helped that the members were really friendly. Over 4 holes, we bonded quite a bit and I can just imagine if I had a full 18 with them.
Conclusion
Royal Perak wasn't as bad as Royal Johor – but nowhere close to Royal Selangor. So it's kind of in between. The course is actually quite functional and the proximity to the city is just unbeatable. The course is deceivingly hard. The members I played with said, "This course sure very easy for you one!" once they found I was a KGNS and KRPM member and playing around 17 there. But I disagree. At 6376 meters, it's easily one of the longest 18 holes I've played. Comparably to the ridiculously long ClearWater which is at 6462m or Cobra Saujana at 6610 meters. It's definitely not a pushover like Bangi, which plays almost a kilometer shorter.
Furthermore, the course rating is at 73.6. That's worse than Saujana Cobra or Bunga Raya and higher even than KRPM Championship. KGNS championship sits at 72.90. Of ALL the courses, only the crazy Seri Selangor is harder, at 73.7. But the slope for Royal Perak is at 136, compared to Seri Selangor's 131.  Anything over 130 for slope is generally on the harder side of playing. So Royal Perak is definitely statistically one of the harder courses a hacker can play on. Gilagolfers beware.
So I didn't really feel that bad with my scores at the end. I did struggle with all the waiting, but at least I improved my Chor Tai Di skills.
The good: The location is unbeatable in Ipoh, compared to the harder to access Clearwater Sanctuary or even Meru; the toughness of the course is challenging and puts a lot of pressure on good drives which should make you appreciate the subtlety of the course; the members are very friendly and accessible – try to join up with a flight there and your fun factor should be multiplied.
The bad: Unless you are a member or reciprocal, I don't see why anyone would pay so much for a course like this; aesthetics are generic at best and mundane at worst; the fairways and rough is reminiscent of courses like Kundang but the price is reminiscent of courses like Palm Garden.
The skinny: 17 of 40 divots (42.5%). Royal Perak is a go for Gilagolf because of its location and a reciprocal at KGNS. If you are a non-member or reciprocal, I think other things can be more worthwhile than spending that much money on a course like this. Clearwater is even cheaper than this and its championship material. The thing is, I doubt Royal Perak actually gives a crap about non-members (evidence by the 1000 mile hike to your car after the game), so there won't be any changes anytime soon.
Royal Perak Golf Club Scorecard