Introduction
When you say Monterez, the most likely response you will get is a grimace on the face, followed by, "Short and narrow," before the said person goes back to doing whatever he was doing. I haven't found a person who actually liked the course a lot, and I have played a few times on that course, without much memory of it. So armed with a camera and a flaky swing, I decided to give it a try and see how it goes. I had an initial feeling that it was one of those courses that do not offend, yet do not provide the fun we deserve, taking Sunday afternoon off to play.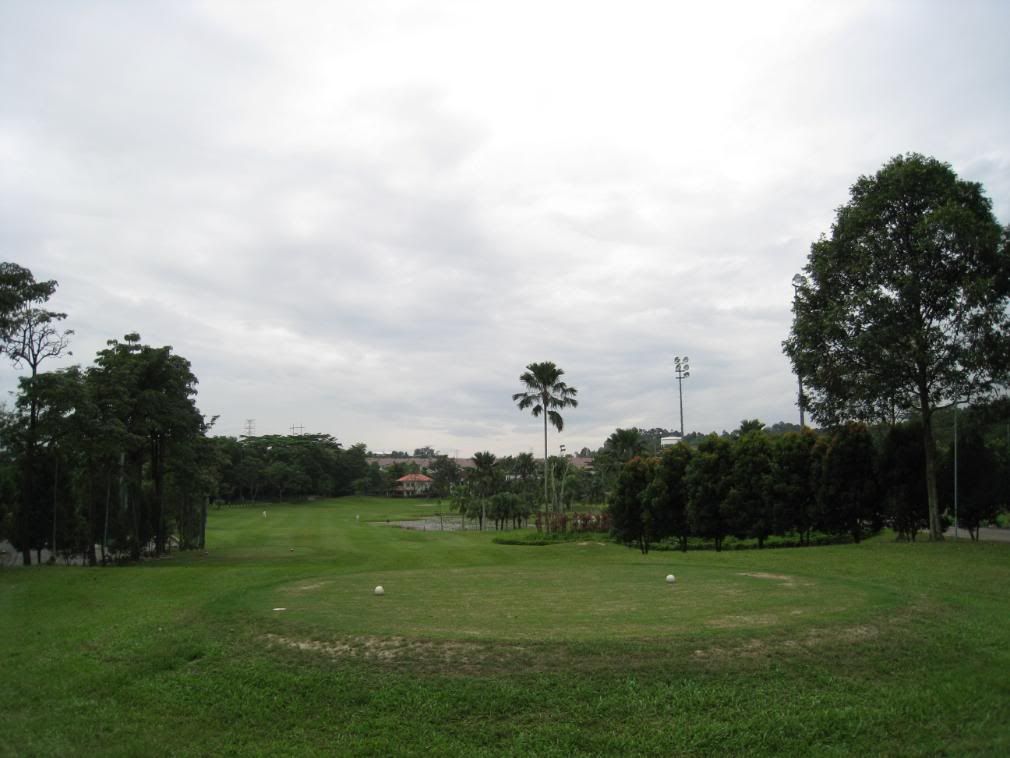 Travel (3/5)
Now that the whole stretch of road at Bukit Jelutong is built up, the easiest way is to take the NKVE and head towards the Jelutong Exit. After the toll, take the second left turning. You will pass a short par 3 course on your left. Keep going straight, stay on the left lane as there will be a sign that directs you to Monterez. Take the left turn, you will hit a traffic light and from there, a right and left will put you in the old Sungai Buloh road. You will pass a petrol station and at the traffic light, take a left and you are there. Travelling was fast. It took us only 15 minutes from the Damansara toll to the front gate of the club. It used to require a 4×4 to get through to it, but these days, the word Sungai Buloh no longer evokes memories of cannibals living off the palm oil trees and preying on the estate workers. Malaysia, at long last, is taking baby steps to civilization!
Price (3/5)
With AGN, we paid just RM77, which could have been cheaper if we had a fourth ball. As it was, it's a pretty reasonably price to pay for a weekend round. Without AGN, we probably need to pay about RM120 or somewhere in that region. There were no extras as well, unlike some clubs where they force you to take caddies. Especially talkative ones who can't shut up.
First thoughts
Monterez is probably familiar to most golfers in the klang valley area, it being one of the more accessible golf courses around and relatively short, hence quite playable. It's a narrow course, so it's not the best course to bring a crooky swing into, like the one I was bringing in when we played it. I knew I would struggle massively as I'm trying to hit straight shots.
Monterez derives the name from the ancient Maya civilization. I read this from their website:
"Monterez Golf & Country Club adopted the concept of Maya civilisation, renowned as one of the most advanced civilisations the world has ever seen.
The essence of these ancient traditions is reflected in Monterez's architecture, lifestyle and culture. The traditions of an ancient world are rediscovered to create an unforgettable experience in modern leisure living."
Actually, to a certain degree, ancient traditions of Mayans include human sacrifices via decapitation, and the removal of the heart. After that, the corpse is thrown from the pyramid where it will be skinned and worn by the priest. At the end, that poor guy would be chopped up and eaten by the spectators. I mean, I think that was how it was, according to Apocalypto. Unforgettable experience in modern leisure living? Come on, seriously. It's marketing babble. Lifestyle? What lifestyle? It's a golf club for crying out loud!
Nothing on the course resembles the Mayan culture. Maybe the tight fairways do make you (the ones who are extremely violent and sadistic) want to rip out the hearts of your partners, but if you expect something Mayan in Monterez, it ain't got nothing, except for the clubhouse that looks like a wedding cake. Otherwise this is just another course, with no visible beauty and a very bad naming choice.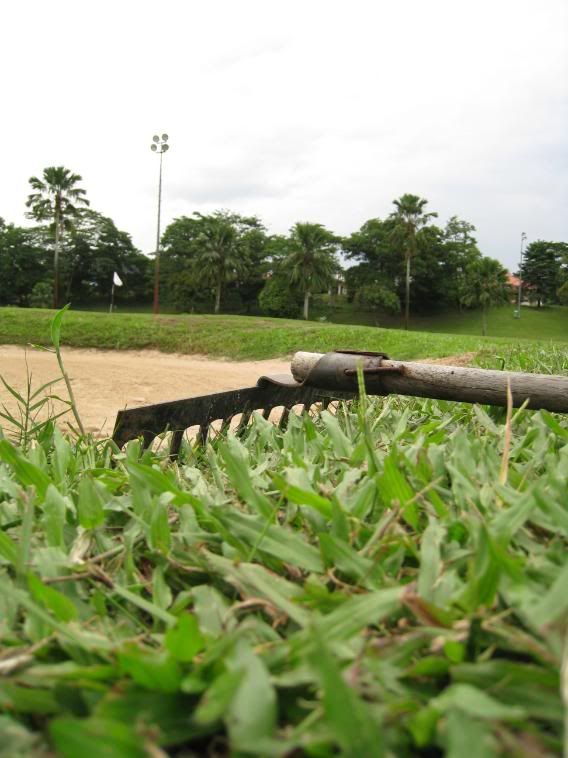 Frankly, if I was given a chance, I'd put some skulls (well not human, silly, I mean goats skull) on the stakes surrounding the green, and have the course marshal randomly throw a spear at us at the tee box as part of the course obstacle. Maya culture? I'll show you Maya culture, darn it!
Service (4/5)
I must admit, the service was excellent. I went to register and it took me like 5 minutes. After that, in another 3 minutes we were already on the 10th tee, ready to go. No fuss, no red tape, their idea is to simply get you out onto the course and play golf. It loses a bit of points as it allows people to randomly tee off anywhere they choose. The marshals don't seem to practice any sort of rules here.
For instance, we were about to tee up our back nine on the first when this Chinese uncle just barges in and announce they are teeing off first, since they started at the 4th. Really, who gives a darn? Chinese uncles who play golf are the worse lots. They are usually either contractors, hawkers, construction workers or retired/jobless elders who doesn't have anything better to do than to smoke and attempt to whip a golf ball. And talk loudly. And be rude.
Chinese uncles should be tranquilize on sight or better, as the ancient Mayan culture should dictate, be decapitated and thrown into a ditch. I doubt anyone will want to cannibalise them though.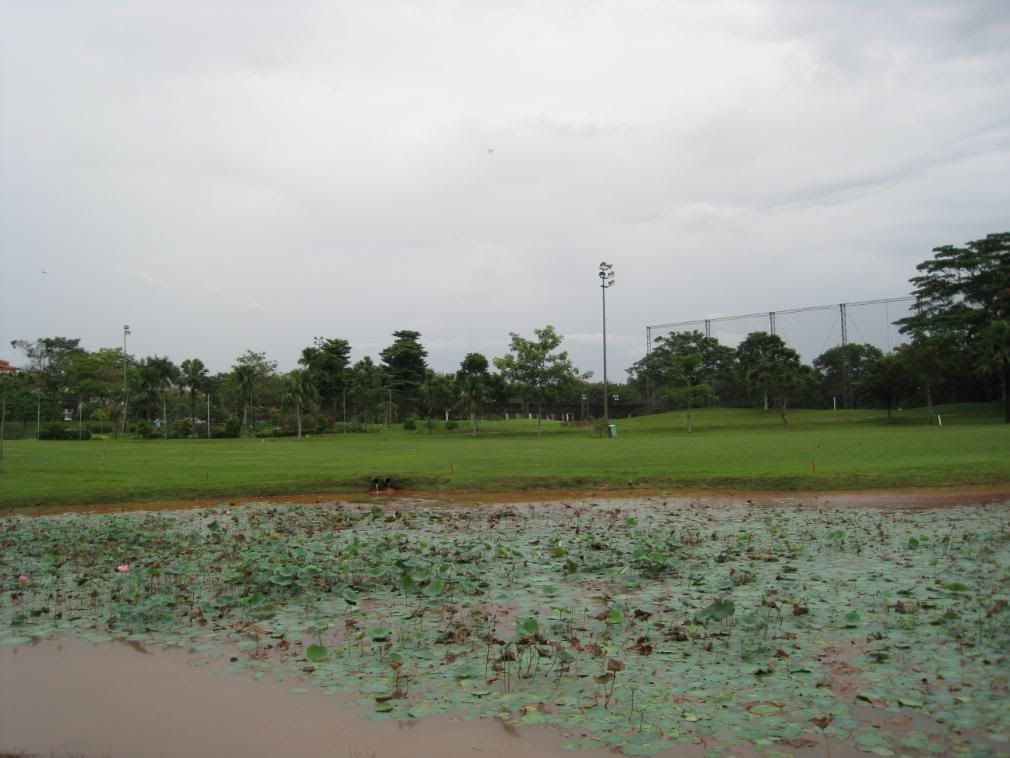 Fairways (2/5)
Ah, the fairways.
Monterez is build with space issues, so much like the Nameless Course in Seremban 3, so the fairways are tight, narrow and full of OBs. I honestly hate courses that have OBs all over the place. I for one, was already struggling with my drive, so if we could resort to a 5 wood it'd be good, but no, the course has to put in so many holes with 170 – 180 to clear water from the tee, forcing us to go for driver. I understand that's the course challenge, and I can hit my 5 wood about 190 m, but still a mishit will land it in the drink. I understand the course wants us to manage it, to think our way around, but seriously, most men are wired with one thought, take out the One and hit it. I'm quite smart I think in general, but when it comes to golf, I'm an imbecile. Like Curly, I'll keep doing the one thing that gets me into trouble over and over and over and over….
I won't mind that much if the fairway was at least reasonably maintained, but Monterez is supposed to be a Bermuda course. Instead on the fairway, large patches of cowgrass was growing, showing a lack of maintenance on the course. It also has patches that should be marked GUR due to the mud and lack of grass but instead just left there. Definitely not up to mark.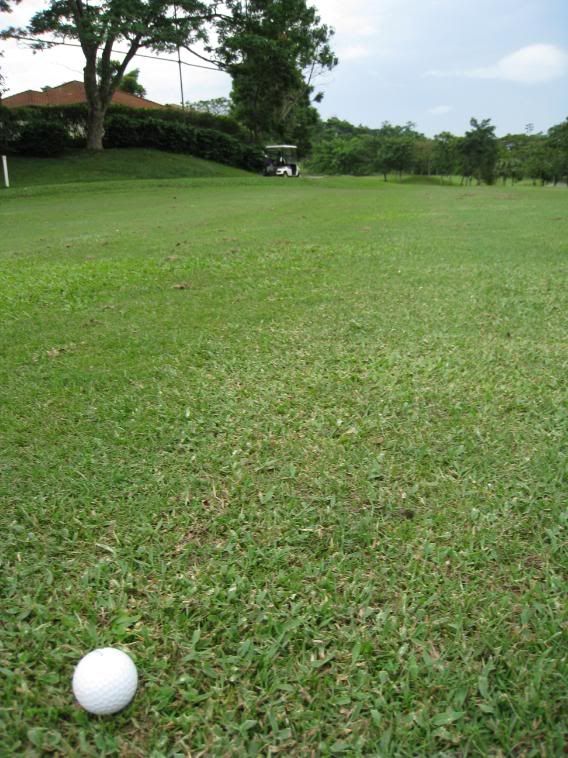 Greens (3/5)
The greens have two things here: bad maintenance and good contours. It kinda offsets the other. GUR should be marked in bald patches on the fringe (and we have plenty) but the large greens are a challenge to putt. It wasn't well maintained, the grass was too long, too uneven to recognize the speed properly. The good challenge was that the greens were large, so regulation play might also mean 3 putting, thanks to the hilly contours the greens are built on.
Rough (1/5)
Not much to say here. With the amount of OBs around this course, it's tough to navigate for people wanting to take out their big Dog. As in the driver. Also, sand and water plays a big part on this course. Most of my holes either bombed into the sand or flirted with disaster. The bunkers were also uneven, some were wet and hard, others just kinda wispy. We've already decided we're not into courses that are stingy on their spaces, and Monterez is definitely one course that's absolutely, the epitome of stinginess.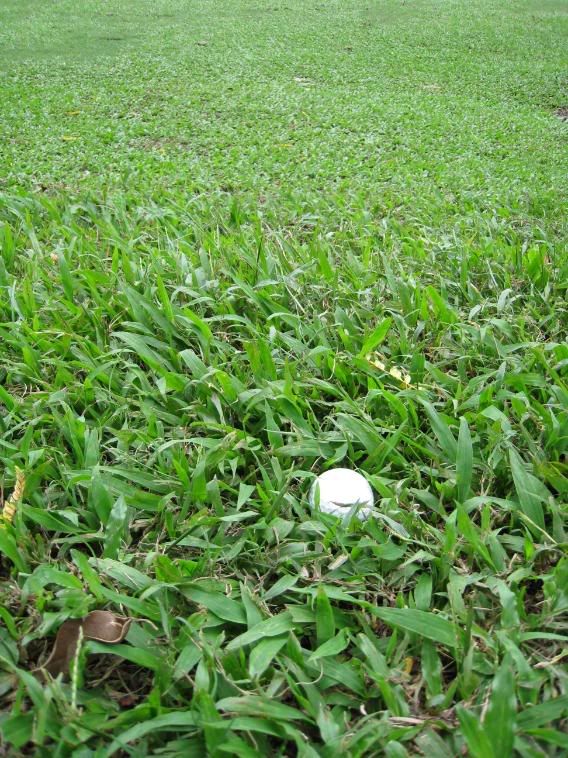 Aesthetics (2/5)
Elevated tee boxes do give the course a reasonably nice view of things. Also, the trees and plants surrounding the course adds to its geniality. Is it pretty? No, not really. On close up, you'll find that the water stinks. Perhaps that's where the Mayan tradition of body dumping comes in.
Some holes do stand out a little; but too many holes play too similar, as if the designers have run out of ideas. In fact, the 9th and 18th plays exactly the same, except that there is OB on both sides, so you can't borrow fairways. I borrowed twice, so I OBed both holes! It's parallel and everything is just too similar. The par 3s are reasonably short, but the par 5s can be reached in two. In fact, the first par 5 I met, I used driver and a 6 iron and I was already next to the green. Kinda like Bangi isn't it?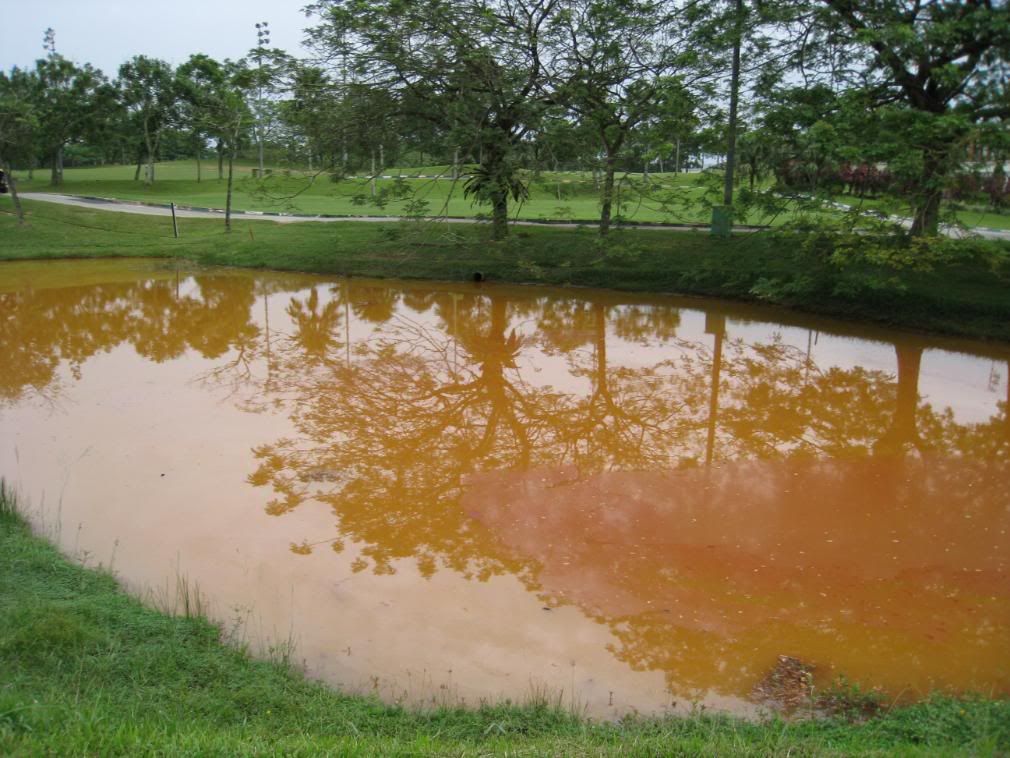 Fun Factor (2/5)
It's hard not to have fun when I'm with my normal group; we did play quite well. I struggled predictably with my crooked swing, but at least I scored reasonably and did get an escalation par on the first nine. The weather was great so I don't exactly know why we didn't have fun. I think likely, every hole lacked character. If we play Datai Bay or KGNS or Meru, there are holes you know and will remember for this and that. In Monterez, all the par 4s are like twin brothers to each other. We didn't get any, "Wow, check this hole out!". I know space is an issue with this course, but seriously, we didn't find much to have the wow factor going.
Also, I was stressed with my swing. I kept hitting into the other flights and once nearly killed the group taking their tee off on the next hole. There are hardly any borrowed fairways here, so we just got to keep it straight and long.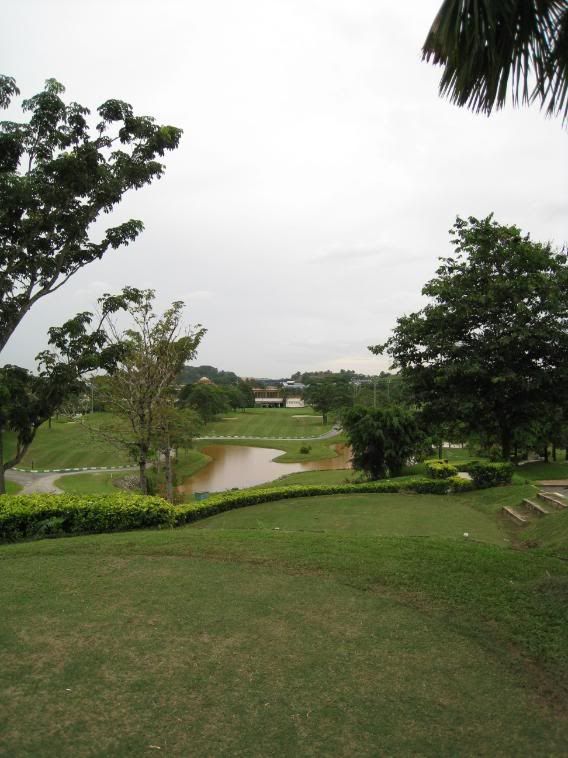 Conclusion
The good: Good accessibility, great service from registration to the 1st tee off, reasonably priced golf course; challenging for accuracy and recovery; putting and bunker play must be sharpened for this course
The bad: Narrow, narrow course; loads of bunkers all over the place; stinking water harboring disease; fairways and greens are not properly maintained, OB is a constant feature and holes are basically similar to each other in design. Also, a lousy name.
The skinny: 20 of 40 divots (50%). It's not the best choice out there, but if you're in a hurry to finish the round on an afternoon, it's a course to improve your accuracy golf, not your bombing. It's a boring course, no 'WOW' factor, and we recommend a miss on Monterez. Unless they bring in the goat skulls on the green.
Monterez Score Card
Monterez Information
Address:
No 1, Jalan Merah Kesumba U9/18,
Seksyen U9,
40000 Shah Alam, Selangor.
Contact: +603-78465989
Fax: +603-78467881
Website: http://www.monterez-golf.com