Introduction
Melaka, the historic town of Malaysia, can boast of a few really nice golf courses. Tiara Melaka has always been favourably reviewed, so when I was given a chance to join a group of 8 hackers, I jumped to it. Besides, with Rahman Putra, it was an associate club with 50% off green fees, and seeing that it is Melaka, I don't expect much traffic on the course.
Unfortunately, one thing that we cannot control was the weather. It was just absolutely horrible. Rain swept the cities the night before and as we headed down south under gloomy conditions, the rain continued pelting down, with no signs of abating. How will the course hold up under such ungodly weather? Will we see a course flooded, wet and dirty like a newborn baby's diapers?
Travel (2/5)
Melaka isn't that far but for some strange reason, it took us the whole day to finish our game. We teed up at 10:00 am and ended the game at 3:00 pm. I mean, what the heck? What was holding us up? By the time we reached back to KL, we were all caught in the crazy jam (we played on a weekday. Yes, we are lazy cretins who refuse to work. Sue us!).
Take the north south highway and turn off at Ayer Keroh. You'll hit the town of Melaka going straight and past the Ayer Keroh Golf Course (which we hope to review soon!). You'll reach a roundabout, take a nine, hit another roundabout and take a 12. There aren't a lot of signs, but just follow the old Malaysian adage: "If there are no signs, go straight."
Tiara is opposite another course, Orna. What I like about Melaka is that all golf courses are so close to each other. You can do a speed tour and play 3 courses in a day with minimum traveling!
Price (5/5)
I paid RM33. You heard me.
Tiara is one of the participating club of AGN (Asia Golf Network) which I just joined. It's also one of the obliging clubs that allow vouchers to be used, which most of the people in our flights used, and hence, it's possible to pay such a minimum fee for 18 holes. It's inclusive of buggies as well, although the buggies are more likely to kill you than transport you, since they are so old. And, on top of it all, they don't force guests to have caddies. I mean, clubs that do that are a royal pain in the behind. Why the dickens should I pay for a guy who hangs behind my buggy, make unwelcomed comments on my already crappy swing, and have to pay him RM20 – RM30 on tips? Why is there a tipping policy for Caddies and not for hot looking waitresses in Malaysia? Don't the latter deserve more of our tips? Isn't this country such a strange place to live in?
I would like to not tip a caddy one day and see if they maul me with my 7 iron or not.
Anyways, this is a great value for Tiara.
For non-AGN, non voucher holding members, sorry, I don't know the price. I don't think it's that expensive.
First thoughts
Water, water and water.
I mean there's quite a lot of water here, and I've already had enough of this from that Nameless Course in Seremban 3 we reviewed before. From the clubhouse, we have a view of the 17th and 18th hole of the Lake 9. It's parallel fairway split by the same lake, absolutely beautiful, but I just knew a few of us will be depositing our nice little white dimpled balls into that lake.
We were more worried about the amount of water and drainage in that course, with the rain coming down non stop. At 10 am, we finally decided to just play in the rain, so with rain jackets and umbrellas, we teed it off.
I promptly hooked it and we are off.
Service (0/5)
For a club with so little traffic, so much rain, and so much free time, you'd expect people to be jumping around helping us out and breaking into the song, "Be our Guest, Be our Guest, put our service to the test", and have that annoying candlestick fellow prance around. Actually, that would be quite disturbing. But you know what I mean.
Instead, we arrived and have to take out our own bags, while the workers at the counters just sit buffoonishly looking at us, half drugged with sleepiness and rain. I mean, don't you think we deserve some respect, even if we are discount grabbers paying RM33 for 18 holes? Don't remind us of our stinginess! The registration was more straightforward, but as we waited at the buggy station, it took them a long time for to get the bags.
When they finally came, we saw 5 of our bags crammed into the passenger side of a buggy, with my bag straddled across the front panel and the seat. That means, my driver, or one of my woods, is actually holding the weight of my entire bag. How incredibly moronic is that?! The first buggy didn't work. The second also felt like crap; tyres are out of air, and no grip and basically a piece of junk.
Not the welcome we expect.
It gets a resounding 0 because the halfway huts are also empty, devoid of living beings. I mean, where we gonna get our banana fuel halfway, huh?
Fairways (5/5)
Thankfully, once we teed off, things got a lot better.
For the fact that almost the entire ocean has been deposited into Malaysia for the past two days, we expected puddles here and there and some ad-hoc lakes housing sea monsters on the fairway.
We walked the first hole and … nothing. Almost perfect fairway conditions, if a little soft.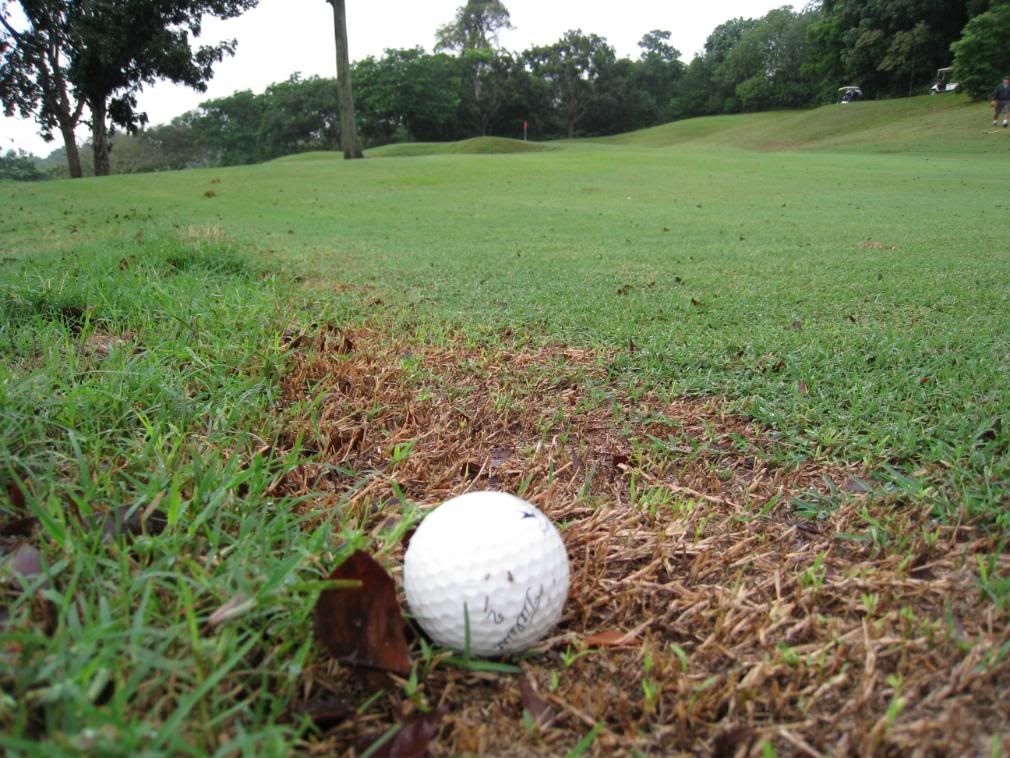 We wanted to play winter rules. Not once did I have to extract my ball from the ground or dig it up with my shovel, as I am apt to do in my own club. We weren't just surprised. We were dumbfounded. How do they make their drainage so dang good? You have to remember the amount of rain we see to fully appreciate the fairway condition, it's remarkable! We played 18 holes in the rain and only once I had to drop for casual water. Once! And that was right next to the pond so there's a cachement area there.
Greens (4/5)
If you got good fairways, you'll likely get good greens as well.
We got a lot better than good greens. These were great greens.
We thought the ball will run slow due to the rain; but my first putt from 10 feet slid by and by…and by…and by. Suddenly I have 12 feet back up and I am like, if it's wet and it plays like this, what, when its dried it's putting on glass?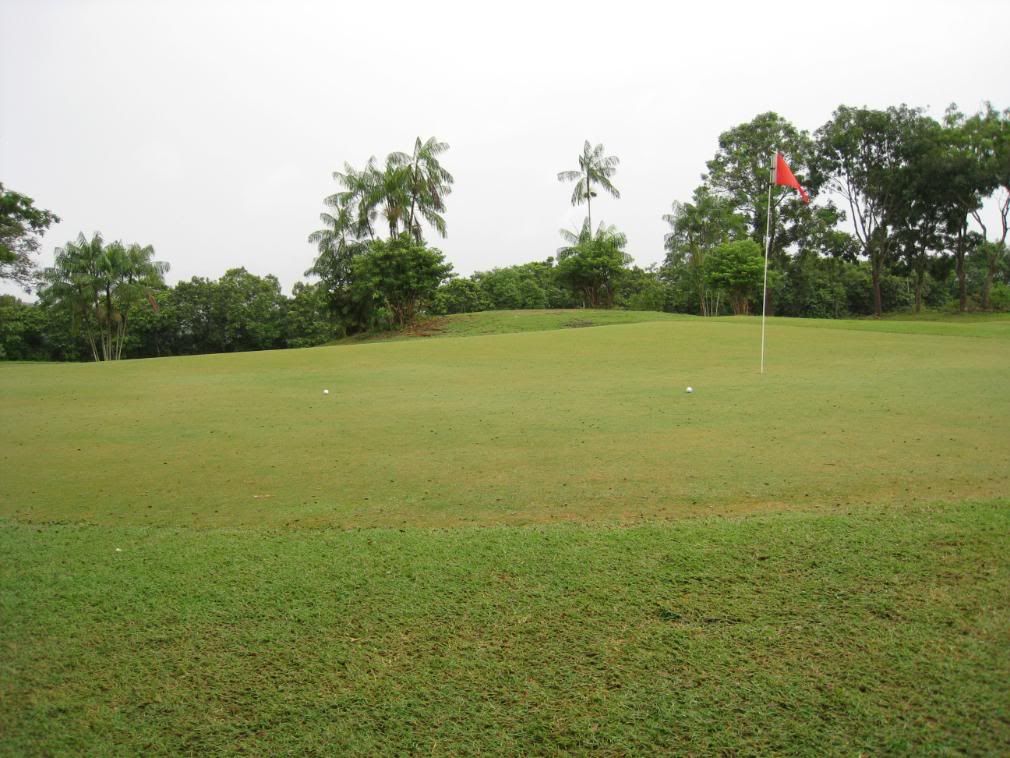 I don't know how they do it, but Tiara has got the right formula of keeping their greens. The speed was quick and bit the ball. A few shots spun back, and we were high fiving like excited kids in the playground. Wow! We are like that half Thai, half African American, half Chinese, half Malaysian World Number 1 player, whatever his name is! Without the consistency! Without the skills! Without the endorsements! Without a hot babysitter for a wife! In retrospect, the only thing we have in common with that guy is we have two eyes, two ears, a nose and a mouth. The rest is really debatable, since he's really an Robot, sent by sentient beings from outer space.
But wow, back spinning!
The greens lose a point because one of the green had a pool of water in it. I happen to birdie it, but you can see how unbiased we are with our reviews. We don't just give a good score, because we're not pissed off, or because we play well in it (although it's very rare—the playing well bit, I mean, not the being pissed off part).
Rough (3/5)
The rough wasn't punishing enough.
Yes, we are officially insane. And yes, I know you are asking me to play in Frasers and look for challenge that way. But see here, a rough is supposed to be penalizing, or at least force you to play shots that are difficult. Here, the ball basically sits up and can even be an advantage for us to hit a wood off the deck. I reached a few greens in regulation due to this. Of course, we don't get much spin off it (now we're bragging like professionals), but hey, whatever works.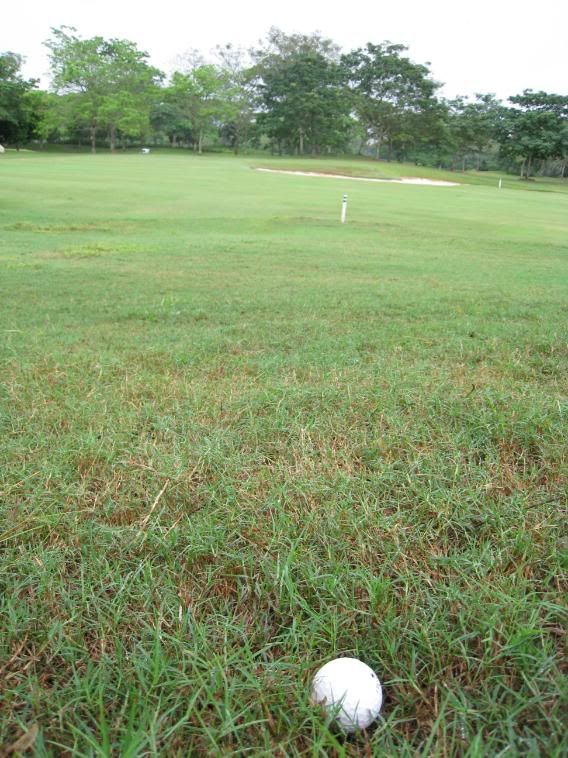 Aesthetics (3/5)
Tiara Melaka's Woodlands nine was closed. I hear that's where most of the beauty lies. But what we played at was reasonably attractive. No holes really shoot out at you but I recall a few that had massive trees framing the fairway. The index one is a horrible hole with a huge bush and tree smack in the middle of the fairway. Most good shots will need to negotiate either through, over or occasionally, some attempts under, this obstacle.
I almost reached the Par 5 also in two, but fell 2 meters shot, into the drink. I most certainly would rate the aesthetics higher if I eagled it. Oops, I mean, we will continue giving an unbiased review.
It's not a particularly long course. Not mickey mouse like Bangi, but not a monster like Clearwater as well. It's pleasant to play in, easy if you keep it on the fairway, which is the biggest challenge.
The 8th and 9th in the Lake Nine are the twin terrors, sharing a huge lake. The 8th needs to clear 160 meters or so. No issues (I hooked it in, though), but the landing strip is as narrow as a thong. Too much juice it runs into the trees, and you don't want to go there with water guarding the green. The ninth is likewise a Thong Fairway as well, a good shot will squeeze in about 6-8 meters of space, with jungle on the left, and water on the right.
You'll get your share of birdie chances, so make sure you take it.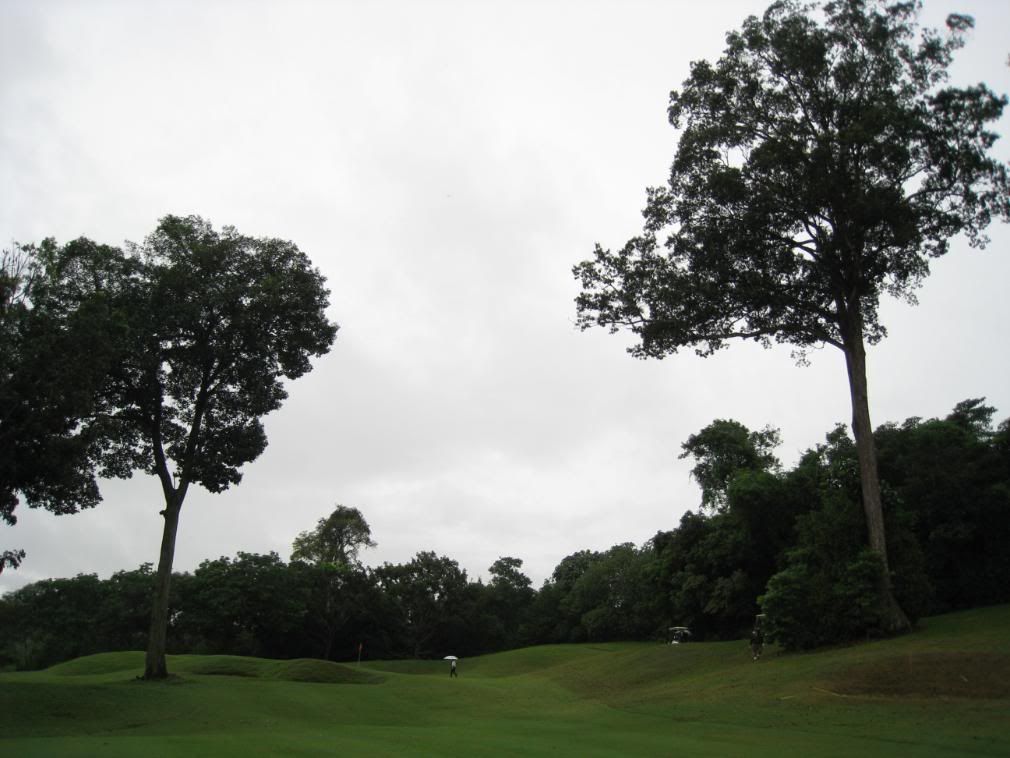 Fun Factor (4/5)
We definitely had a good time together. It's also because our foursome was playing well. I was playing great until triple-triple spoiled the day for me at the end of the first nine. A course that plays this soft, and allows us birdie opportunities is a course that will do well in our estimation. It's not too tough and remember, we're reviewing this from a hacker perspective, not a championship perspective. For guys who want championship material course, please ask yourself if you are a single handicapper, 5 or below first. If you are, then you'll most likely find all reviews from this site utterly meaningless and annoying. In fact, I wouldn't be reading further if I were you. I'd be out there, training, so that one day you can beat that guy with a hot babysitter for his wife.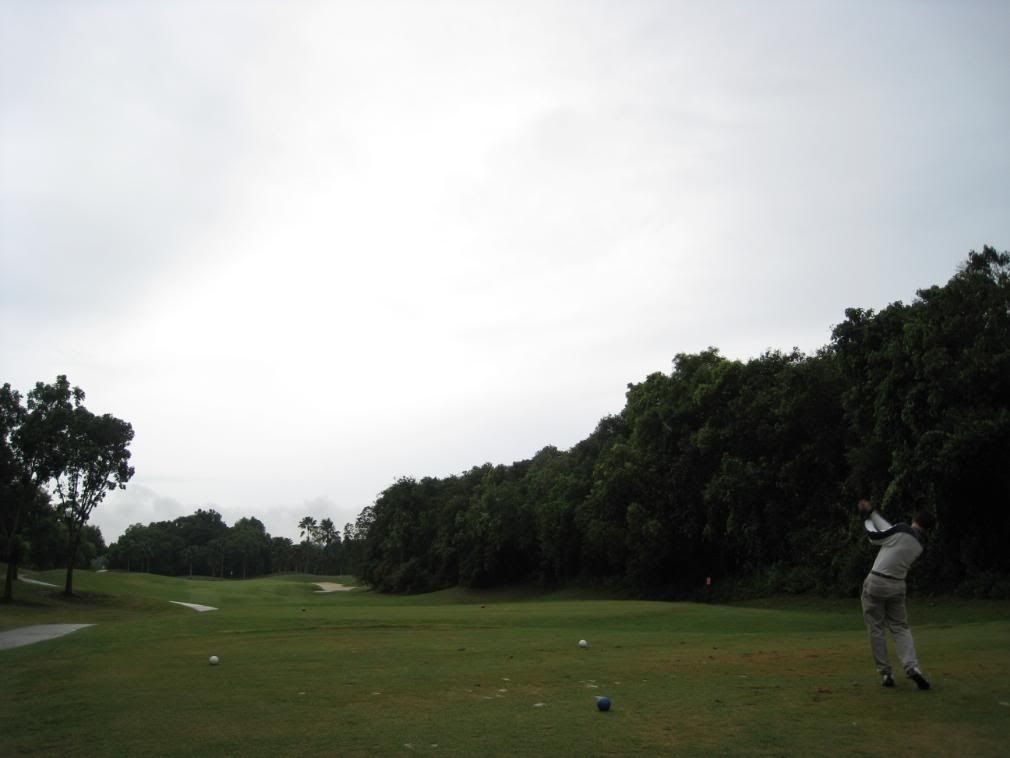 Conclusion
It's short and relatively friendly, although it's like an acquaintance kind of friendly, not the, "Hey buddy, we know you suck so this course is to ease your deflated (and obviously, undeserved) ego" friendly, such as Bangi. For a good time, and if you're near Melaka, Tiara is a good choice, bringing a good blend of challenge, precision, good driving as well as forgiveness. Quite a lot of holes allow recovery, due to the friendly rough and softer greens.
The good: Great green and fairway condition, challenging end holes involving water hazards, rewards both distance and shorter player with different choices to attack the holes
The bad: Incompetent staff that does not lift a finger to help and then thrashes our clubs by driving with 5 bags in the buggy, rough isn't tough, halfway hut empty except for scavenging hyenas. Travel is a drag from KL as well, unless you factor in the great food in Melaka.
The skinny: 26 of 40 divots (65%). Recommended to take a day trip to Melaka. Play golf, have a nice chicken rice ball lunch, see A Famosa and eat some seafood there.
Tiara Melaka Score Card
Tiara Melaka Information
Address:
Jalan Gapam, Bukit Katil
P.O.Box 473, 75760 Melaka
Contact: +606-2312366
Fax: +606-2314122
Website: http://www.lion.com.my/TiaraMelaka/TiaraMelaka.htm