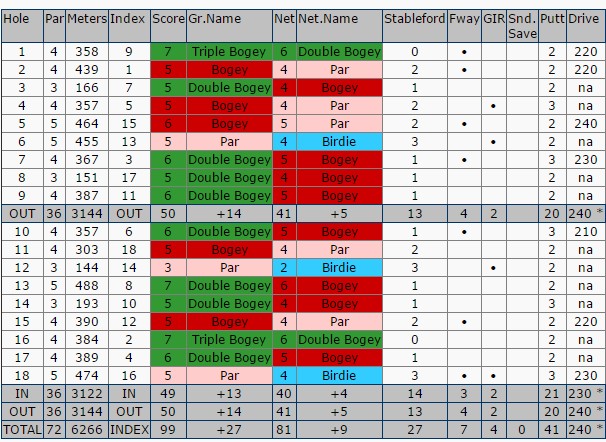 Golf is strange.
This is the final conclusive statement that every golfer, whether hacker, amateur, buaya, professional or Tiger Woods will agree to.
I had my worst game this week – a 99 in my old haunt Seri Selangor. You would think that I would be hoping mad over the game but only – I thought I hit some of the best shots of my life in that game, coupled with some of the most retarded short game and putting ever experienced.
1) We teed off at Seri Selangor back nine first. It's always better, because the back 9 of Seri Selangor is narrow like Kate Moss, although not as flat as her. So once you have warmed up, you can really drive like a King once you cross over. At least that's how I prefer it.
2) I shot 49-50. Which is really weird, because I played really well on the back 9. I can probably hear some guffaws, but the stats is there – I drove as well as I could and the only two bad drives I had which ended up left was on 4th and 6th, both of which I put regulation on.
3) The front 9 (Hole 10 – 18 here) was just a massive cock up of epic proportions, especially when I started teeing off with my stupid 3 wood on the 16th and 17th. For 18th, my drive found me around 190 meters away from the hole (where the pole was, for those who know Seri Selangor). It's a par 5 that all of us invariably tries to two on but messes up 99% of the time. This time around, I wanted to just land in front of the green, so I hit my 7 wood. Honestly, it was probably my best 7 wood shot of my entire life, because it went high and long, with a slight draw, and landed on the front of the green and rolled all the way to the back fringe, around 15 feet from the hole. Eagle? Yes, guess what – hello retarded 3 putt!!
4) The cock ups after great shots continued in the back 9. First hole, great tee shot, lousy 9 iron behind the bunker and flop right into the bunker. 3rd hole lousy first shot into the water, great 3rd tee to 5 feet and a wonderful retarded putt that misses for bogey. 4th hole great 6 iron recovery from the woods for regulation and three putted AGAIN. 5th hole, a booming drive that left me around 170m to green on a par 5 and instead of hitting a six iron, I opted my 7 wood which hooked into the water. HELLO!!
5) By far the worst was the 6th hole. I ended up in the woods with a very tiny opening which I hit my 3 wood second shot, probably the best 3 wood I hit. It landed around 10 meters from the green, but required a flop shot, which I deftly executed with the best 60 degree shot I've hit in my life to 3 feet from the hole. Birdie? Nope. 2 putt. From 3 feet. HELLO?!?!
6) After that, the entire will to live on left me and I just plugged around the final 3 holes with double bogeys on each, without any more resistance to the cruelty of crap shots after crap shots in my game.
I suppose the take away is this – that I *can* hit some amazingly super shots in my golf, but continuously following up with some of the most stupid shots immediately after. I suppose there's still some positive there.
Hack ON!