Introduction
Courses in Petaling Jaya, the satellite hub of KL, are usually expensive and often times overrated. Premier courses such as Tropicana, KLGCC, Saujana are difficult to get in, and KGNS (which stands for Kelab Golf Negara Subang) is no exception. This translates to Subang National Golf Club, in Malay language, we just need to flip everything around, like how Master Yoda speaks. It's very easy.
It's a long story why I am not a member of KGNS while my family is. Suffice to say, at an age of idiocy (about 18), when I could transfer my junior membership to full membership, I stoutly declared I will never play golf and gave up the membership. Six years later, I picked up the game and now there is a 10 year waiting list for the club. Unless there is a major epidemic strikes and half the golfers expire prematurely, I will never get to be a member here.
Thankfully, my brother is, and he brought me in one gloomy morning, with rain pelting on all sides.
Travel (4/5)
Travel is a breeze. It's right in the heart of PJ and since the review is based on accessibility, you can come in from Subang side using the federal highway, where you need to turn off before the Sunway bridge turnoff. Or from the LDP, make a U turn at Western Digital and turn left at PKNS field. It gets a minus point for the fact that the usual way to enter s either by Federal or LDP. Both highways really suck on a bad day, especially the LDP. People who built the LDP are the same ones who architected your company's toilet, meaning, they entirely lack the expertise to build a highway. Two lanes, no emergency lane, and constant traffic floods the LDP at all times. Bottleneck is everywhere, and throw in a silly train stop on the highway and cars piled 3 – 4 deep in temporary parking, has made the LDP win the "Highway most likely to be cursed at" award.
Price (2/5)
Weekdays is around RM120 per person, and that's excluding buggy fees. I decided to trolley my bag around to save some money, and that's one thing good about KGNS, they do allow walking for even the main course. Most courses forces you to take the buggy and some even the caddie, at gunpoint. Unfortunately, all the points scored by allowing walking is lost when KGNS falls into the latter category, where all guests MUST take a darn caddie along.
Now, while I do realize the benefit of a caddie in many cases, especially around the green, it's quite annoying when you get one who can't seem to shut the heck up. He seems to have comments on every single aspect of your game, till the point you just want to stuff the driver down his throat and tee him up with the ball. The problem is this: Not only do you need to pay for the caddie, you need to tip him as well and the going rate is around RM30 – RM40.
In this aspect, the pricing in KGNS descends into the realm of stupidity. It's a nice old course, don't get me wrong, but seriously, paying RM150 a round per person on a weekday? And for a course with cow grass? Well, you decide.
First thoughts
I remember playing a few times in KGNS. It was never really an enjoyable experience, much like KRPM, where functional golf was the order. I don't really enjoy cow grass golf, and with rain for the past two days, the course was wetter by the minute.
But KGNS is steeped with tradition and that's one of the main reasons to play it. It's like how some people come back from playing at St Andrews and say it wasn't much of a course, but since it's the birthplace of golf, it's like a pilgrimage for all golfers to try it. KGNS is absolutely no where near the magnitude of St Andrews, but still it's one of those courses which demands respect. Whether you like it or not, you can't insult it that much, no matter how it insults you, simply because it's supposed to be a top tier club. Obviously, in GilaGolf, no matter how top tier you are, if it's a lousy experience, it's a lousy experience.
However, the course is also championship material, with a few national opens being held there, so you know if you play well on this course you will survive in pretty much everywhere else. It demands seriousness from golfers, not your typical weekend hacker who doesn't practice, hooks and who can't break 100. If you birdied in KGNS, you get at least some respect, as opposed to having eagled in Bangi.
Unfortunately, I was in a midst of a swing funk when we played; and couldn't seem to fix it, so I fall nicely into that typical weekend hacker category.
In KGNS, a swing funk is a recipe for disaster.
Service (2/5)
Frankly I didn't really experience much of the service. I know nobody is going to help you take your bags from the car. So everything is judged by the caddie I got, an old dude by the name of Eddy. He has a mouth that can't seems to stop jabbering and I guess I should have been careful to select any guy by the name of Eddy, Murphy, Chris, Rock or Sienfield. Giving advice is one thing. Commenting on every shot and analyzing your game is another. Why does everyone thinks they know how to fix your swing? It's crazy. It's as if they know you for your whole life! "Your first steps, yeah, your first word, yeah, been there. First clubs, yeah, was there. Oh I know you for so long, why don't you do this and this to fix your swing? Trust me, I know you well. Coffee later, as usual?"
Jeez, you're a caddy. And I don't know you. You might play better, but why don't you just lug the bag and give me my clubs. Save the lessons another day.
And it's not as if he's a single handicapper as well. I know some caddies are, and I appreciate it. I saw him swing and it wasn't that great. As I said, I was in a swing funk at the worst possible moment; where we played with a 8 handicapper that just ran us out and killed us. Of the foursome, another guy was having a more spectacularly hard time than me, but I wasn't playing remotely well at all, and I didn't need a caddie to tell me that. I need some quality range time to fix my swing.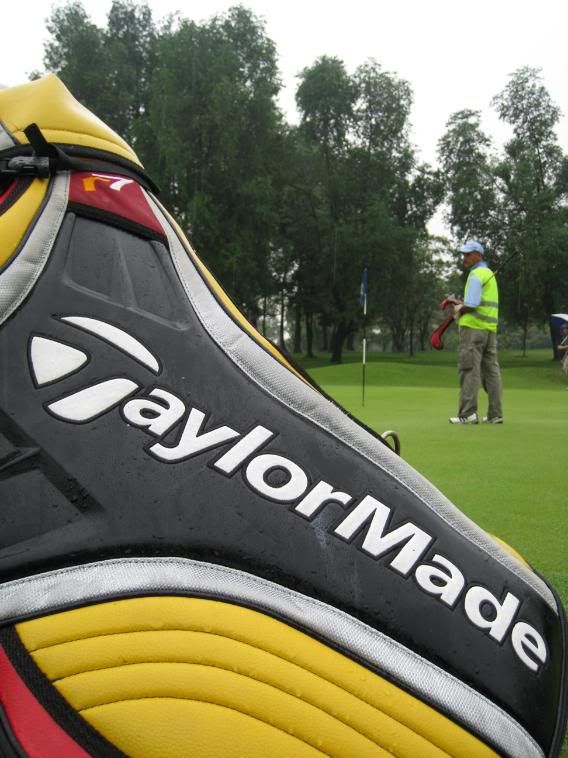 Fairways (5/5)
Much like Tiara Melaka, KGNS experienced a flood of rain over the past days before we played it. Literally, it was raining non-stop and even raining when we played it. Miserable and soggy, we went through the whole course and the fairway was remarkable. I don't usually rate cow grass fairways high, but the drainage was first class. No puddles or casual water at all. Aside from that, the fairways were challenging, some wide and others narrow, but the design of the course was the main challenge; doglegs to uphill greens, elevated par 3s, blind par 5s. If your drives are ok, you'll be ok. Unfortunately I wasn't. Aside from a par-birdie start, when I started missing fairways, my scores shot up. You need to play the fairways here, it's unforgivable. And you can't really take out a 5-wood except for one or two holes. Most holes are just too long. Par 3s here average out to 170-180 meters so it's absolutely critical that you are able to hit straight playing at KGNS.
It's a championship course, designed for top players, so there's no mulligan in the course design. We played it as hard as it can get, with almost no roll due to rain. And as mentioned before, hitting from cow grass isn't all that fun.With rain, they grow like beanstalks and although the fairway was kept short, once it rolled into the rough, ain't no way you gonna get out.
Greens (4/5)
The greens were in a very very good condition. Solid roll, and consistent and even due to the rain, reasonably fast. It was well maintained, and a few crucial putts at least gave me needed pars and a birdie. The thing about the greens in KGNS is that once you are on, you're on. There's really no great contours here and there. Most are relatively flat putts, so it's not difficult as long as you get the speed right. Breaks are not usually that severe and most of the time, I overread the breaks too much. There were hardly any 3 putts, but still it was challenging just to find the green.
Bump and run is not really the option as the cow grass near the fringe will catch your ball, so not only must your drives be accurate, anything 100 meters in or your pitching must be A grade.
None of these were working for me, and it became what I call ICU golf. I was just trying to stop bleeding all over the course.
Rough (5/5)
You want challenge?
KGNS is absolutely a killer when it comes to the rough. This course gets it right. If your drives are awry, there's hardly a chance to come back, unless you take creative shots. The maturity of the course gives a certain imposing look in some holes. Giant ferns line the fairway. Even if you hit the fairway, you'll need to shape some shots into the green. Course management and accuracy is vital here, and the rough is just a Punisher. Grass is thick, and most of the solution is simply punching the ball out and working your way to the green over again.
This is how a rough should be designed.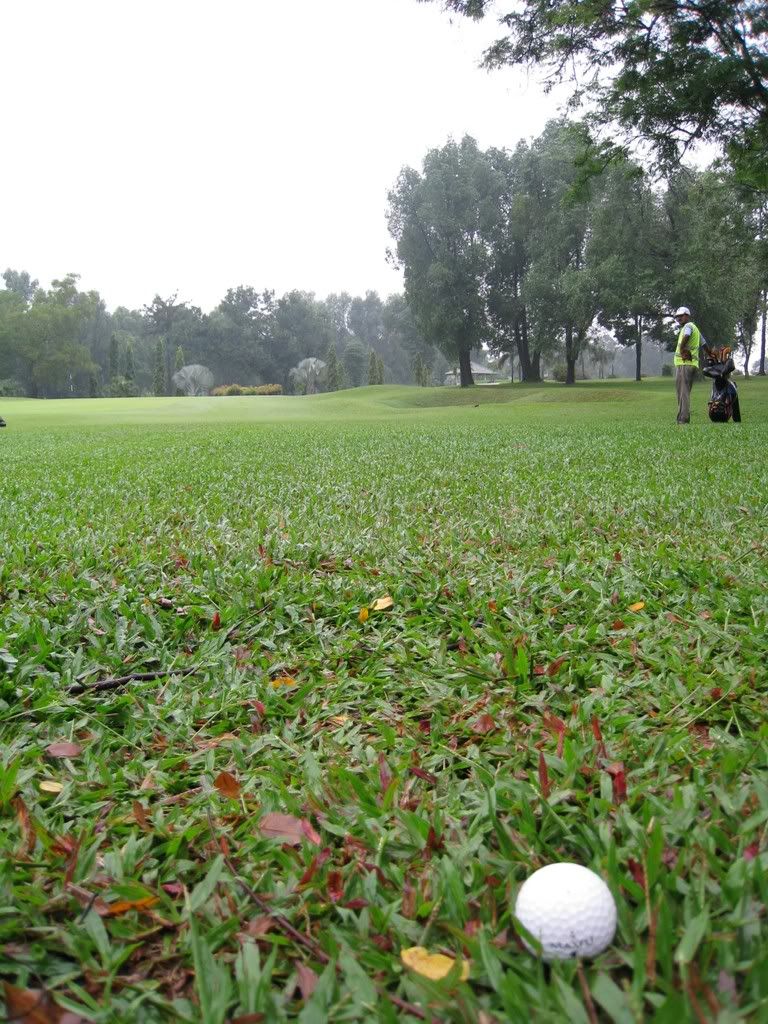 Aesthetics (2/5)
Not much points here. KGNS, being smack in the heart of the city of PJ doesn't boast of any nice scenery or rolling mountains or what not. It has parallel highways running around it so please don't hook or slice the ball into the cars!
Signature hole would definitely be the par 4 18th, the ending hole that requires a solid drive down the hill which opens up to an elevated green. A good drive still requires at least a 160 meter shot in, so it's a dramatic hole which thankfully, my game came back and I won the last two holes to stem the losses from building up.
Par 3s here as absolutely killers. Only one of them was about 155 meters. Others are over 170, or 180 and requires absolute precision in hitting it. I blew up on a few par 3s. It's a challenging design, absolutely but I was just playing awful and in Par 3s, you ain't gonna recover at all.
Fun Factor (2/5)
Was it fun?
If I was swinging better, or have a caddie who would just shut up, maybe. But I did play KGNS before when I was on my good day and I never really remembered having buckets of fun at the course. Like the players who play the course, it seems like a serious place, where you hardly hear shouts of joy or frustration or the ever present curse word. Everyone seems so staidly. The 8 handicapper looks as if he's in a coma. A nice comment on his shot only evokes a bare nod, not a grin or smile. I think everyone starts thinking they need to act like Tiger Woods when they play a good shot, which frankly to me, it's quite anal. Enough of these snarling, 'I am good' competitive spirit. Heck, we just want to play the darn course and have fun after that.
If I played better, I would probably have just the tiniest more fun than I did, I think.
Conclusion
If you want a good challenge, this course is for you. It's probably the best cow grass course you are going to find in the Klang Valley. It's challenging without being pretty, much like Rahman Putra, but the rough here is so much more punishable. It's championship material, no doubt, but is it a hacker material? Perhaps not.
The good: Travel is easy, smack in the heart of PJ; greens are immaculate; fairways are nicely designed and have excellent drainage; rough is a template for all golf courses to base on, a mixture of long grass, use of matured trees and course angles to punish the wayward drive; championship course material that you can walk and save $ on the buggy fees.
The bad: Blabber mouth caddies; scenery as nice as a public toilet; stupid way for the club to force blabber mouth caddies that you need to pay to annoy you; price is steep for a cow grass course-yes it's championship material but face it, it's not exactly the nicest course around anyway; Par 3s are just inhumanly long.
The skinny: 26 of 40 divots (65%). A quick round of golf is great, since it is so accessible. Also, it's must play course simply because of the history and tradition, plus the upper echelon of society gathers there. But if you want a pretty looking golf course with memorable holes, give KGNS a miss and go outside the city for nicer golf courses.
KGNS Score Card
KGNS Information
Address:
Jalan SS7/2
P.O. Box 151, 46710 Petaling Jaya
Malaysia
Contact: +603-78760381
Fax:+603-78755267
Website:  http://www.subanggolf.com/