Introduction
Kelab Golf Perkhidmatan Awam (KGPA) stands for Public Service Golf Club in Malay. Which doesn't sound impressive in any language. It also has the distinction of being voted 'The Most Difficult Course in Malaysia for 3 consecutive years'. I don't really know how does this attract golfers to it as an advertisement, but I suppose due to the egoistical nature of golfers, we'd like to declare, "Yes, I played in the most difficult course in Malaysia for 3 consecutive years." It's like saying, yes, I was in the largest aeroplane disaster in recent history, and hope the girls go fawning over you like some long lost hero. Unfortunately (or fortunately), most fantasies of golfers never come true. However, my last experience with KGPA was as a young golfer, bright eyed, just new to the game, complete innocent of golf's treacherous nature.
I recall being completely demoralized and destroyed by this course, to a point that I never wanted to pick up a club ever again. The ball kept getting plugged and lost, and I kept hitting my balls out of bounds. It was the most humiliating experience of my life (aside from the time I smacked a girl on her head thinking she was my friend only to find her a complete stranger, and completely pissed with my antics). KGPA took away my innocence, and from that day onwards, golf and me became adversaries, and the game became a war that was won and lost by both sides. I went away knowing that the game was merciless. I went away, learning the golf held no prisoners and gave no quarters.
Well, I'm back.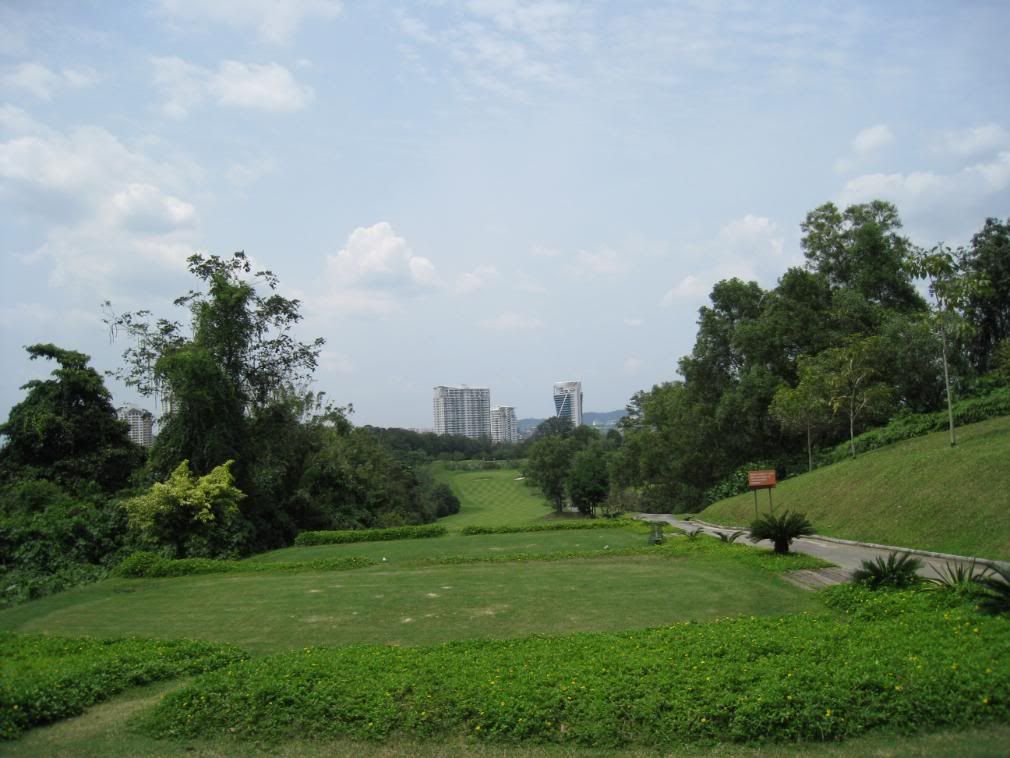 Travel (5/5)
Say what you like about this category, but any golf courses located in PJ gets an automatic 5. KGPA should get a 10 but it's not possible to give anything more than 5 (although very possible to get a negative, as some courses have found out!). I routinely head over to KGPA to the driving range since my place is only 5 minutes drive, and I used to work opposite the course and would steal away during lunch to bash balls.
Head to the Damansara Highway on the way to KL/Bangsar. Before seeing Siemens/East Inn building on the right (if you are coming from PJ), stay left, do not go over the flyover. At the traffic light, simply turn left into the club.
If you are coming from KL/Bangsar, it's a little trickier. After passing Bangsar, you need to stay left and go down the turnoff to Mount Kiara/Sri Hartamas. Do not take the flyover! At the lights, do not turn right to Mount Kiara, simply go straight and you will eventually see Siemens in front of you. At the lights, turn right under the bridge and you will see the road leading up to KGPA.
Price (2/5)
We played on a Saturday afternoon, and even with AGN, it cost us RM120, since it forces us to take a caddy. For non AGN, it's only about RM125 due to a promotion, but in anycase, it's still pretty steep for a cow grass course that so far, didn't sound very impressive. Granted, it was a weekend and probably a peak period so we're willing to overlook it and give it an ok rating, due to its promotion for walk in golfers. Of course, we saved up on the fuel to get here. But having a caddy forced on us is never a good thing.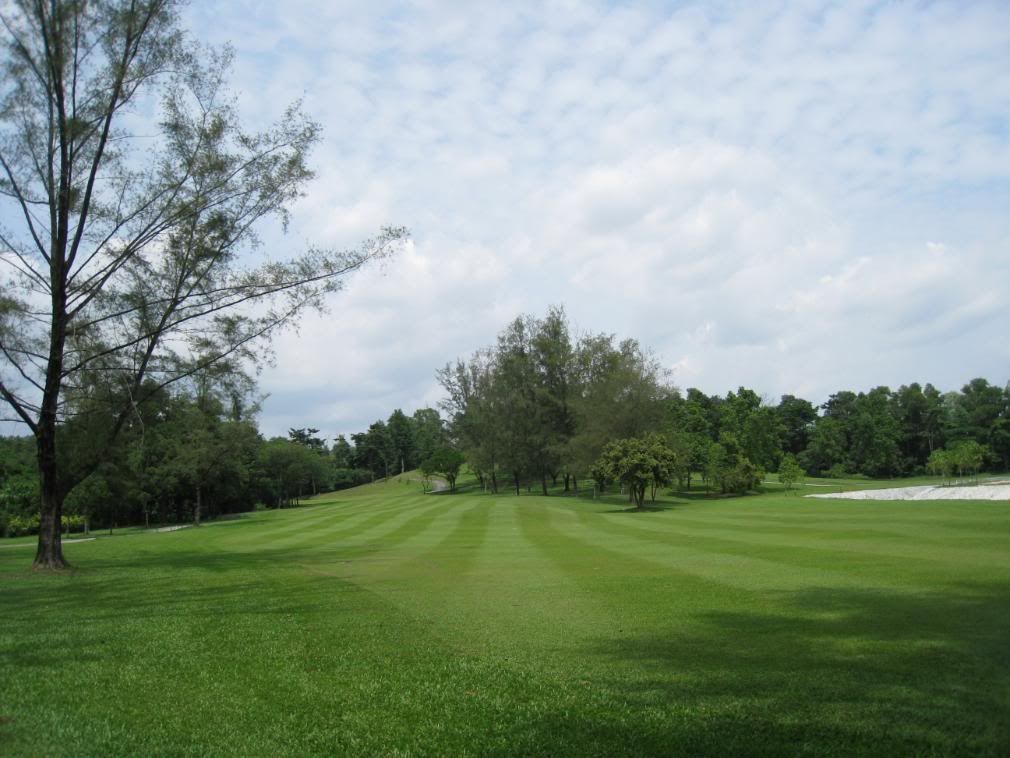 First thoughts
I will say this and get it over with: I was impressed with the course. The first hole of the Hill Course was a magnificent elevated view staring down into the generous fairway (which I promptly missed), before going up again to a small green. I don't recall playing this hole years ago, which goes to show our adage is true: On a course with 3 nines, avoid the 3rd nine (in this case, the Forest Nine). Play Hill and Lake nine, and you won't regret it. Especially Hill, it offers significant elevation changes that allows you to see the vastness of the course. The Forest nine is mainly for walkers, and I remember playing there and sucking really bad. So, the other adage, "Avoid playing where you really suck bad" comes into play. Follow these rules and life will be beautiful.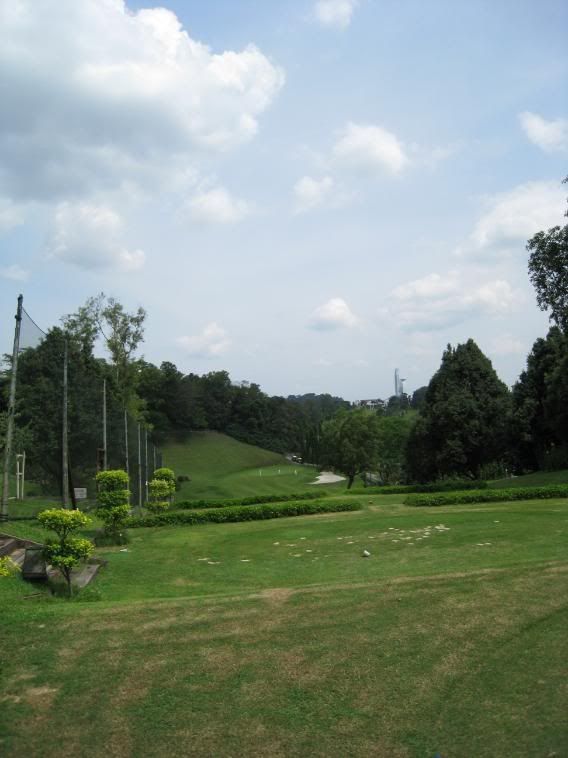 Service (2/5)
The forced caddy did a good job. She couldn't find my first ball (which I found myself) but she was initiated to help out the weaker players in our flight. She ran around, cleaning our clubs and marking our balls. What I liked about her was that she actually, at the end of everything, placed my clubs exactly the way I started: 4 woods in the first compartment; 5,6,7 in another compartment, 8,9,P in another; Sand and Approach in another; and my 48 and 60 degree together. My putter takes one whole compartment. I know, I have two Pitching Wedges in there, but I use my Cleveland CG10 48 only for chipping and nothing else. And yes, I know I have 15 clubs in there and the limit is 14 for golf. Tell me, do you take proper drops? Do you penalize yourself properly? Did you ever remove the tuft of grass behind your ball? Hey, we're hackers, so these rules only apply when we're in an anal mode. For today, we could take 25 clubs into the bag for all I care!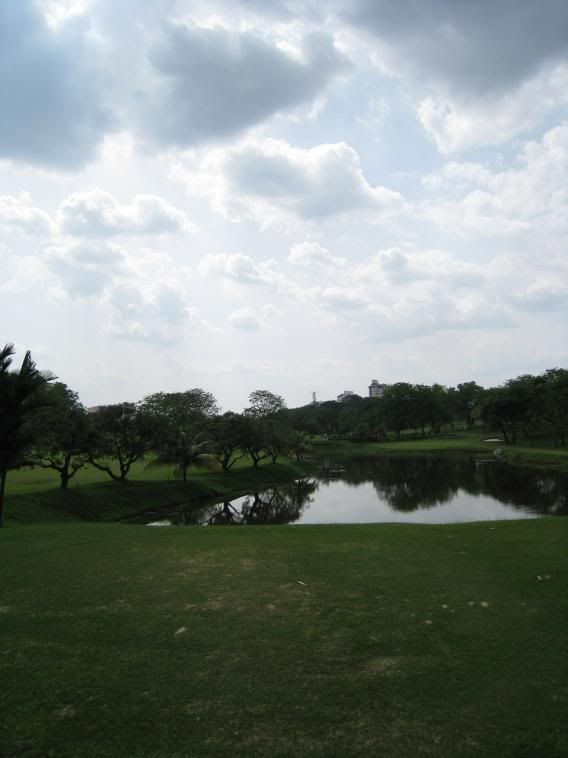 The only downside to KGPA is not really related to the golf game we had. Having visited the range for so long, I've come to observe the service given in the driving range is completely crap. The guy selling the ball looks as if he will gut you with a rusted blade for asking him to bring the balls. They scold you for playing with an untuck shirt, as if it would distract them when they see our belly buttons as we make a full swing. And the club pro-who calls himself Master Instructor-is just a guy who sits around and chats with his other friends, while yelling across the range to his students, "OK, you're doing well!" when they have just swung their club farther than the ball. Come on. Show a little dedication and at least make a show of taking pictures and analyzing the swing, even if your camera is a plastic container for food and your computer software is actually a static wallpaper. At least.
Finally, one of my flight mates quit this club some time ago and when he requested for the form to quit, the secretary told him he needs to write a letter himself. It's very much Malaysian Government style, where they slow things so much, it would be the second coming before anything actually gets done. Ladened with bureaucracy and red tape, you probably need to fill up a form and a questionnaire before you can flush the toilet.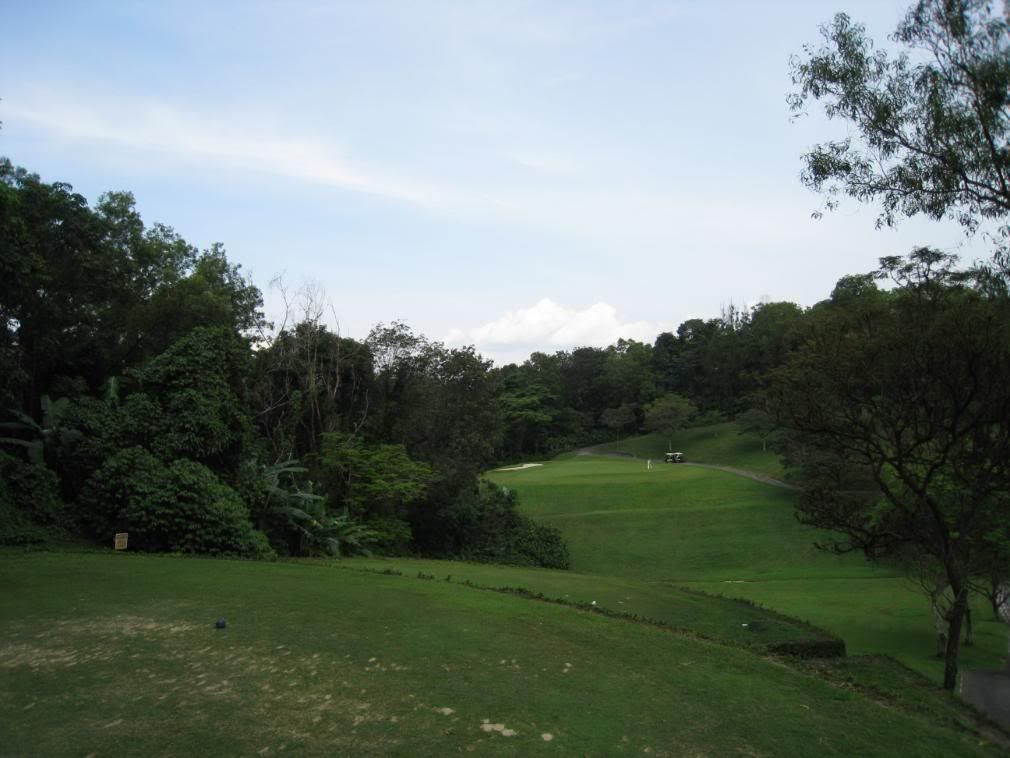 Fairways (3/5)
Finally, on to some golf. From my last experience, I was expecting the fairways to be less than average condition but to my surprise, even from the first tee shot, the whole courses' demeanor seems to have been altered. I think the management really spent on maintenance, having conditioned the fairways so well, we never experienced a plug ball, except once, near the green on the 17th Par 5. Granted, we were playing under the hot sun, but the course wasn't overly dry as well. I've seen courses like Nilai Springs and Seri Selangor completely flunking the 'too dry fairway' test, where underneath the grass was just dirt. Not sand, but hard dirt. Here in KGPA, a nice divot can be taken without any worries of skulling the ball if you hit it fat. Your ball will just trickle 20 meters way but at least it's not a skull!
Another thing about the fairways here is that even though some holes are long, because of the undulation and elevation, the ball can really roll if it hits a slope. I experienced it on the 3rd hole where a tee shot that cut the dogleg found me 20 meters away from the flag, a 300 meters monster drive. I proceeded to bogey it after some stupid play. On the 10th, again, I blasted the ball to about 40-50 meters on a 350 meters par 4. This time I parred it. It wasn't because I was an extremely long player but it caught the slope and it rolled and rolled.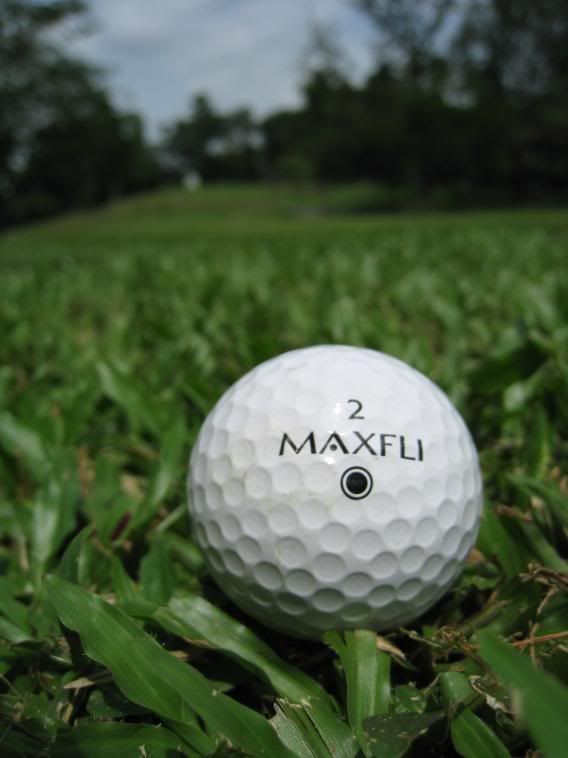 Greens (3/5)
The greens were also well conditioned; not superb like Impian but you need to understand where this course was before (i.e crappy) to what it is now (playable and rather nice) to fully appreciate the improvements done by the management. Bravo, KGPA!
If you can get your ball to hold the greens (which are a mixture of large and small, rolling and flat), you have a chance to make your birds and pars.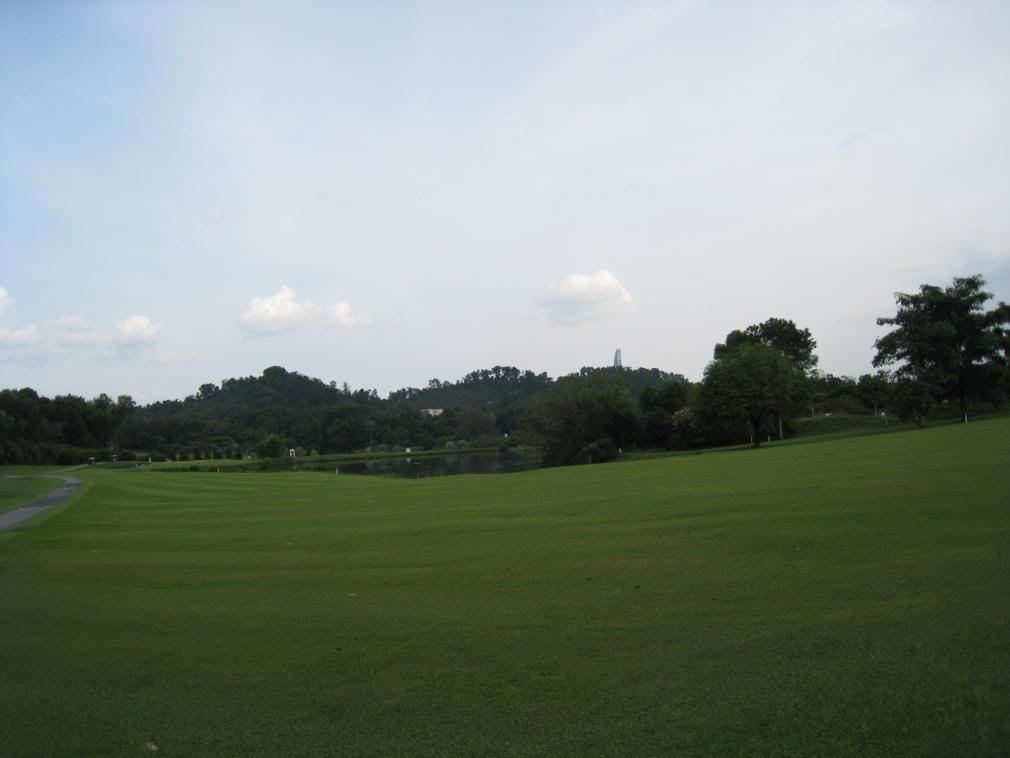 Rough (4/5)
I landed in the sand a few times and for a club seeing so much traffic, the sand is in great, great conditions. It's the type that when you explode out of the bunker, your entire view is covered with fluffy white sand, and you can turn your head away in disgust as if something entered your eye. Tiger Woods moment! Yeah!
What makes the course so tough that it should be named the toughest in Malaysia, would be the rough. Hill has more jungle OB (which is bad) and Lake has more, well lakes. Which isn't so bad unless you land in one. I witnessed an amazing feat in the second hole where one of my playing partners hit a tree in almost every shot he made, i.e he ended with a 10. I found myself in deep rough and couldn't hack myself out of it as well.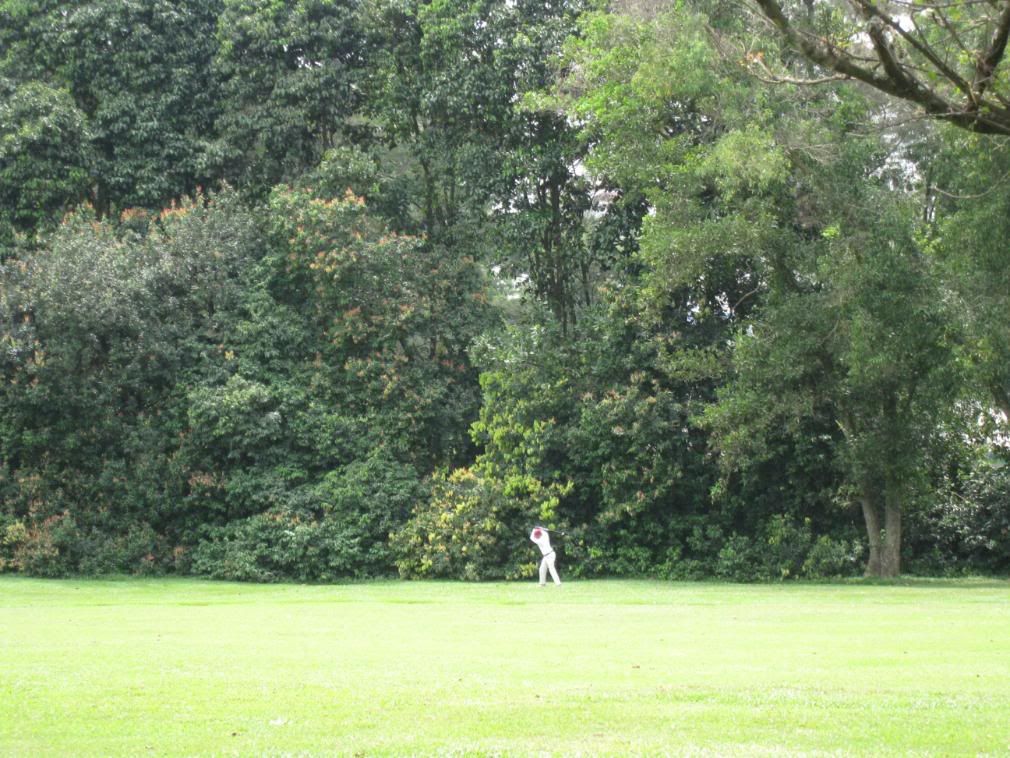 Aesthetics (3/5)
Halfway through the round I turned to my playing partner and said, "Do you regret giving up the membership?"
"A little." He responded and noted that he has not played here in like years, since he has a Tropicana membership.
KGPA, despite its completely unmarketable name , succeeds in enticing us, not so much with beauty but with features. There's a difference. There's the kind of girl you meet at the bar and she really looks hot. All the guys want to buy her a drink, she looks fabulous in a red dress, and even though you suspect her eyelashes are fake, you don't really care, since the lights are dim and you are on booze anyway. You give her your number and you tell her, let's meet up for breakfast the next day. When the next day comes, you find out, yes, she's still pretty, but all she can talk about is herself, her eyelashes and whether red looks better than blue, as finger polish. At the end of the one hour conversation, you feel like strangling her with your belt and throwing her off the cliff. That's Selesa, Frasers and Berjaya Hills. KGPA is like the girl who quietly and diligently does her job; respects her parents, get on fabulously with your mom, and takes care of you when you are sick. Sure, she might not be hot, but she can really cook darn well and she's as stable as rock.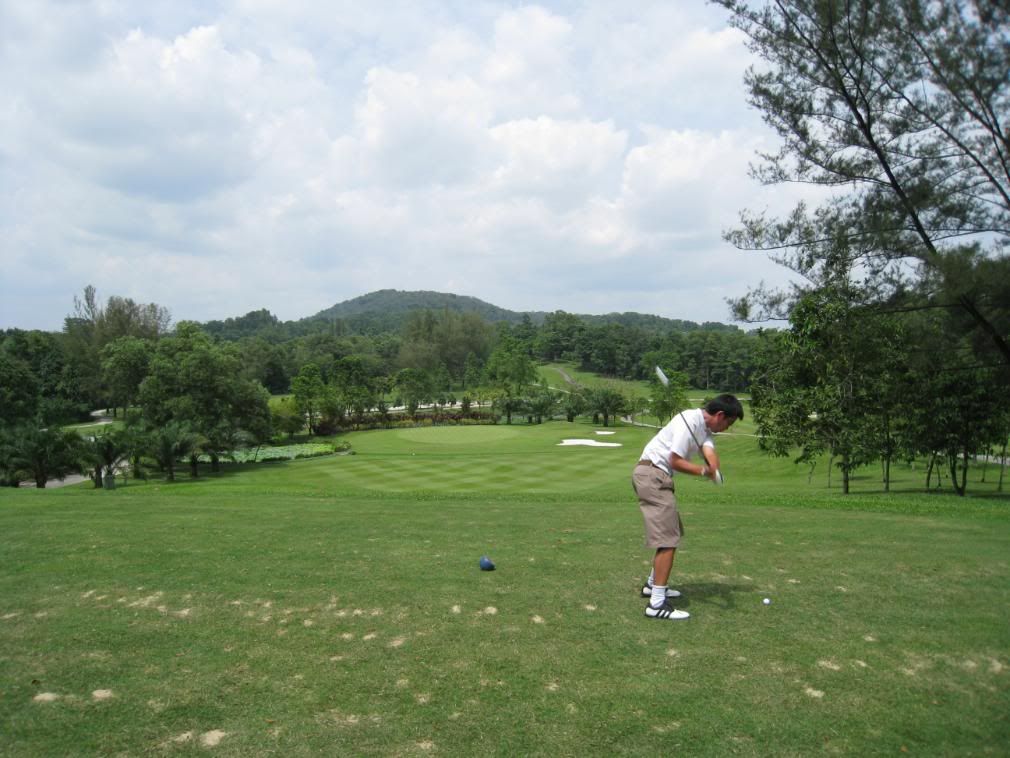 KGPA offers a lot of features. From the rolling fairways to the elevated greens and tees, each hole is like an adventure, am exciting proposition. The Par 3s especially are superb. The Hill nine boast of 3 par 5s and 3 par 3s, the 7th and 8th being 174 and 194 meters respectively. The 8th is certainly the signature hole, and many rounds have been torn to shreds by this monster. Make the turn and you see another set of par 3s, a 176 meter carry over water and a 150 meter over a deep gorge, absolutely wonderful to play.
This course, while lacking in aesthetics, makes up for it in character. Unfortunately we don't have a section for character, so we'll make it up by giving it a higher…FUN FACTOR!!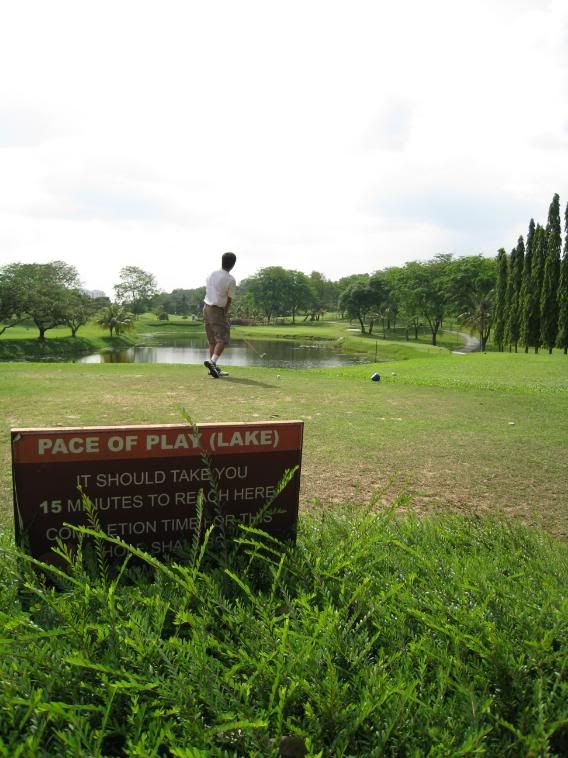 Fun Factor (3/5)
A few of our hackers were struggling with the course. Lost balls, OB rough took their toll on them and playing the Hill Nine was just a harrowing experience for a lot of us. It's simply because if you miss the ball right, for instance, you need to trek up this mountain to get to your ball. We're not exactly the specimen of athleticism in our hey days, and right now, we're likely a good competitor for the Madagascar Molass (again, we have no idea what's a molass, but they sound really slow). In fact, one from my group ended up just puffing cigarettes one after another and refuse to speak to anyone, smoke coming out his ears and mouth. When we made the turn, our game also made the turn, (at least mine did), and on the easier Lake Nine, I scored 5 over 41. This included a missed 3 footer for bogey on the par 5 12th, after a great flop from 30 meters on the other tee box. My game came back in time and I managed to play to my handicap with an 88. It was a great feeling, especially for me, to come back after my first experience and win the battle with the course.
If I sound like I am marketing myself, that's because I am. I don't usually have good games so when I do, I'd like to blow my own trumpet a bit since I know it's not going to last long…at least to the next game, when I would probably blow up with a 100 and chew on my putter grip again. Ah, how success so quickly leads to failure. Why do we even try??!
While the others might not have had so much success with the course, we're willing to give it a 3, as it does have quite a fair bit of character.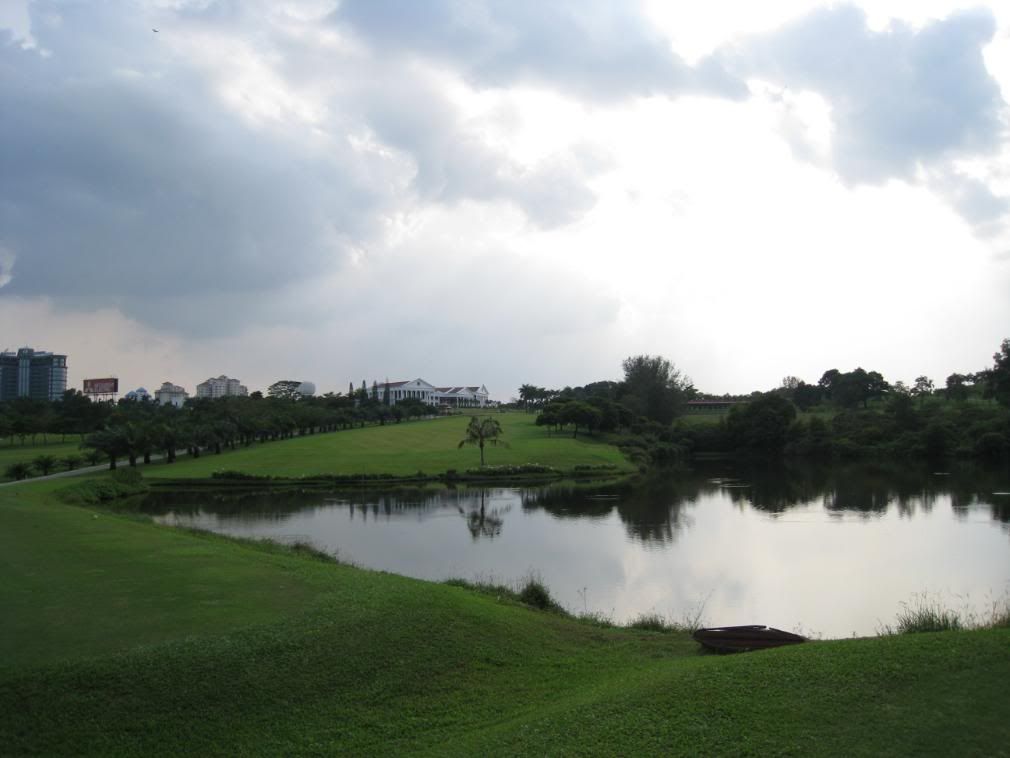 Conclusion
KGPA has definitely moved up the ranks in our estimation. We came in here expecting a B-Grade course and we just chose it for the convenience. Fortunately, it was a lot better than what we expected and when I tapped in for Par on the last hole, we all looked at each other and nodded as if to indicate that we will be seeing this course again. While touted as the toughest course in Malaysia, I frankly found that it's definitely negotiable by the longer hitter. In fact, I prefer this than constipated courses like Nilai Springs, Monterez and the stupid nameless Course in Seremban 3. KGPA is a pleasant surprise!
The good: Great location; course is full of character; well maintained greens and fairways; challenging rough; aesthetics, while lacking is made up with good features and design of holes.
The bad: Expensive, and probably not worth that much; service of caddy, while good, is offset by the facilities and not so masterful instructor; could be a tad bit difficult for the hacker.
The skinny: 25 of 40 divots (62.5%). KGPA is a go; but we caught it in great weather, so all things might change if the ground turns soggy. Don't come running to Gilagolf with pitchforks if KGPA destroys your manhood as it once did mine!!
KGPA Score Card
KGPA Information
Address:
Bukit Kiara, Off Jalan Damansara
Peti Surat 1139, Jalan Pantai Baru,
59200 Kuala Lumpur.
Contact: +603-79573344
Fax: +603-79577821
Website: http://www.kgpagolf.com/