Introduction
Meru Valley is a course we sort of stumbled upon. We were so disillusioned with Clearwater that we decided to have another round in Ipoh area in another course. We almost ended up in Kinta Golf Course, but thank God they were closed for maintenance. Asking some locals, including the local police, they pointed us to Meru Valley Golf Course. We thought, why not? Let's just get rid of the Clearwater aftertaste, right?
Travel (2/5)
Frankly, since we were driving around I can't say for sure. It's about half hour away from Clearwater, take the trunk road to Pusing and head towards Jelapang. It's a slight challenge since we need to take trunk roads and not as easily accessible as Clearwater. There will eventually be signs pointing to the golf course. Ask around, people are helpful in this area.
Price (3/5)
It's about 70 RM on weekdays for green fees, about 50 RM for buggy. For some reason, when I asked whether Rahman Putra was affliated, the receptionist said no, but she would give me a cheaper price since I was from Rahman Putra. I don't know what that is all about, but I thought it was a good deal.
First thoughts
There's 27 holes, and we played 3rd nine and 1st nine. As a rule, try to avoid playing 3rd nines. It's always lousier than 1st and 2nd nine. It didn't occur to me till I was standing over the tee on the 19th hole.
Playing at Meru was like coming home. It was like Bangi all over again. Nice and broad fairways, accessible greens, open concept for our borrow fairway strategy.
The 3rd nine was not so good, flat boring greens, recently sanded, boring hole layouts, not much doglegs, not much features. But it's the 3rd nine. It's like the disappointing child in every family who prefers to spend time goofing around golf courses and writing pointless reviews.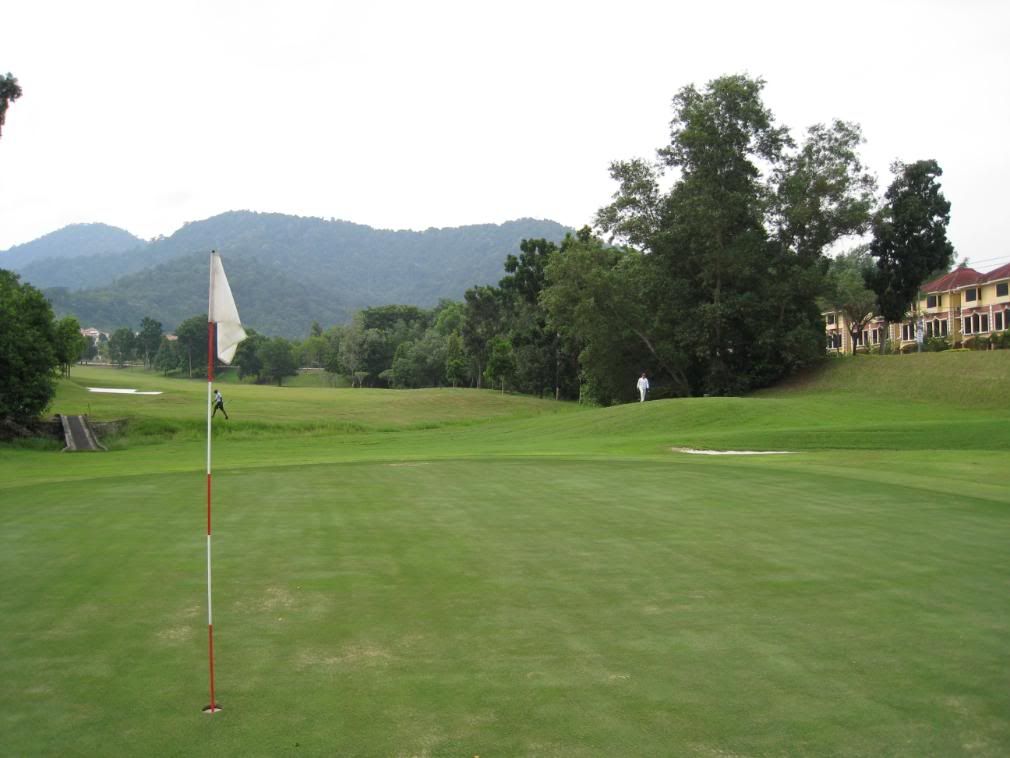 Once we made the turn, Meru turned on her beauty.
Set in a valley, the mountains looming in the background, framing perfect greens, that checked our ball and spun it. Rolling fairways made one of my drives roll almost 280 metres down.
Especially as the sun was setting beyond the hills and long shadows stretched the valley, it more than compensated for the lack of beauty in Clearwater.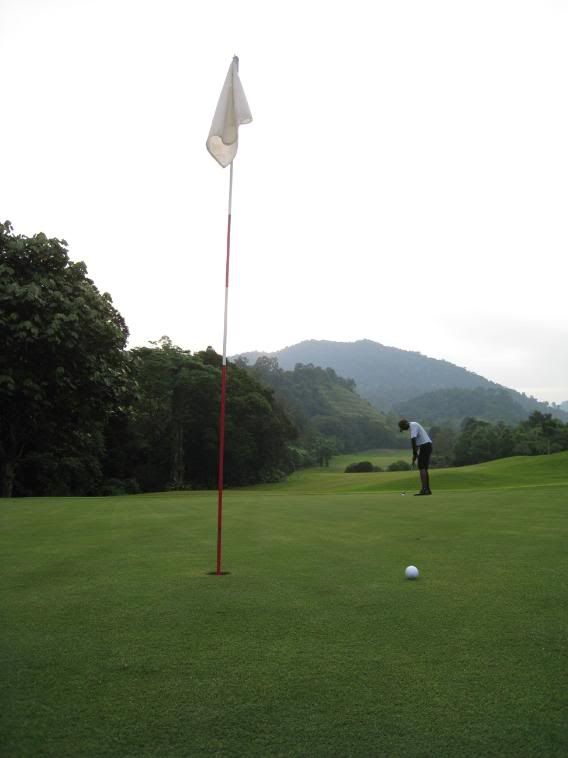 Service (2/5)
The service gets 2/5 divots. I liked the nice lady at the counter who gave me a discount. But other than that, the service kind of sucked. First the guy who was supposed to take our bags from the car trunk just sat there picking his nose and watching us take out our bags on our own. Then the changing room personnel insisted on taking our 10RM deposit when they gave us their towels. What, we don't have towels at home? And some of the lockers couldn't open…or at least, weren't idiot proof for a guy like me. Get to the course!
Fairways (3/5)
This gets 3/5 divots. Even the 3rd nine fairways were well kept. There were minimal bald spots, and once playing on the 1st nine, it had a huge amount of roll to it. It's undulating, but it offers a lot of challenges. Forget about the 3rd nine. Get your money's worth and go for 1st and 2nd. Hold them hostages if they insist on you teeing up on the third.
Greens (5/5)
I'm going to discount the sandy greens on the 3rd nine and judge solely on the 1st nine. Wow. This is the kind of greens I want to take home and sleep on. One approach shot spun so much it was dancing around the cup like a drunk Oompah Loompah. It made us look good because we were bombing putts in, and getting our fist pumps all ready for any 5-10 feet par save putts.
Rough (3/5)
The rough sits down pretty well but you can still hit it , unlike the pitbull grass in Clearwater. And you can afford to fly the ball all over since you just shout fore and hit it from the next fairway. There's not much penalty in whacking the ball into the rough.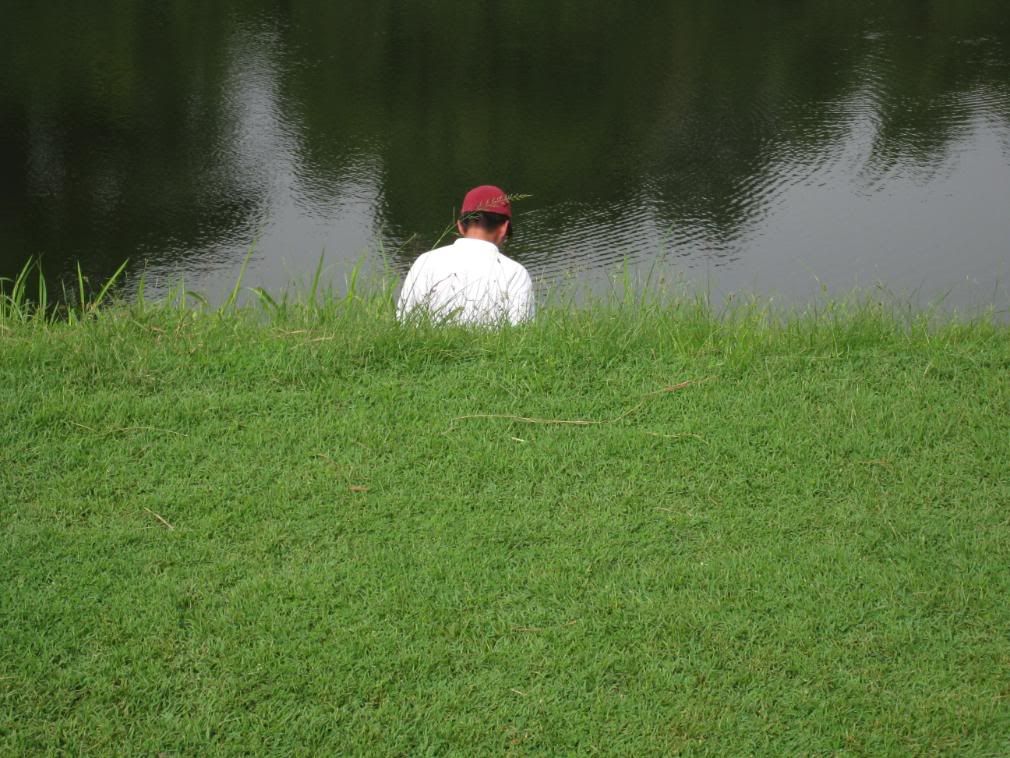 Aesthetics (4/5)
The first hole treats us to a beautiful scene of mountains beyond, cascading down into the valley. It's on an elevated tee, so you can actually see the entire course. Except for the humidity, I can almost imagine Julie Andrews springing around the corner singing before we crack her head with our tee shot. Don't boom your tee shot too hard though, because it funnels down to a stream about 270 – 280 m away.
The fourth hole is an absolute cracker. It's like Augusta 12th, water fronting the green, just about 130 metres from elevated tee box. I hit a PW and pushed it slightly right, and it went into the water. My drop shot also went in and I signed off for a triple, and destroyed a round of 9 over after 12 holes at that point.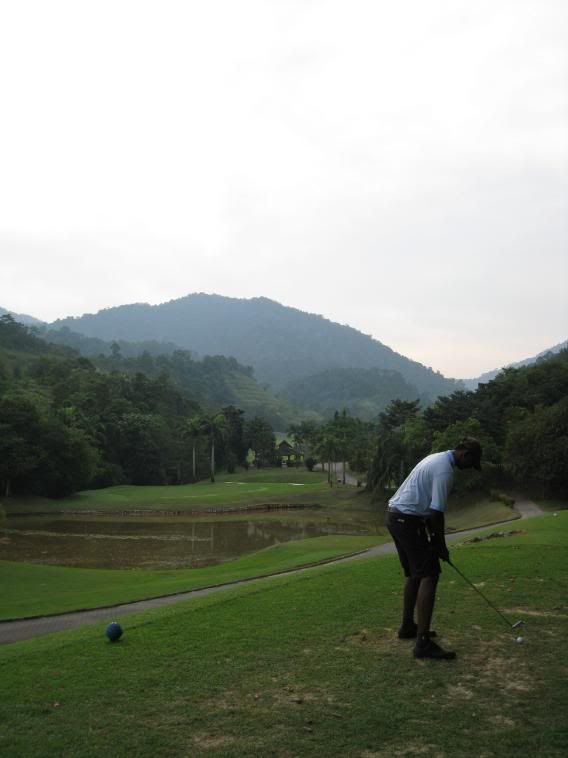 The signature hole is the 6th. There's an opening in the foliage for us to peek through to see the par 3 green guarded by water in the front.
The course plays much shorter than Clearwater, mainly due to it being a resort course, and not a course intent on beating the barnacles out of the players. It's a nice course for our self esteem and the greens are absolutely a delight to putt on. This, plus the fact that the course is really a beautiful course, gets it 4 of 5 divots.
Fun Factor (4/5)
It's really hard to maintain your spirits when you've trudged through 34 holes of golf in a day. But I must say, Meru really gave our spirits a lift. Perhaps the scenery made us more alive, or simply we were playing better, or maybe it was just shorter and easier to handle, but at the end of the 18th hole, we were talking about coming back again. The only let down was the Mickey Mouse 3rd nine that was just an insult to our already embarrassing skills.
Conclusion
We traveled north to play Clearwater but ended up enjoying Meru a lot more. Perhaps Clearwater and our high expectations did not coincide, whereas we didn't have any expectations heading to Meru. Heck, if you gave us a course filled with cows and we had to hit over a chicken coop to the green, we wouldn't know better. But the main thing was, it played a lot easier for hackers like us. Some people might find it not as challenging, but if we put head to head, I'd say the holes in Meru are more memorable, the greens in much better condition, the scenery a lot more beautiful and the experience more exhilarating. The shorter course made it easier for us to putt for pars, instead of saving bogeys. I know you're saying, just improve your golf, instead of blaming the course: but here's our skills, here's how we experience the courses, and we say Meru is a better course than Clearwater.
Plus, we might catch Julie Andrews prancing around the hills and take a shot at her.
The good: Superb scenery, magnificent greens on the 1st nine, undulating fairways provide a good challenge, elevated tees provide a great view of the holes, lots of memorable holes, drivable par 4s and eagle-able par 5s.
The bad: Crappy service, a disastrous 3rd nine (please avoid it at all cost!!), short holes might not be challenging to some, rough is a little mickey mouse as in not penalizing enough, parallel fairways makes it easy to get hit by stray balls. And Meru folks never apologise for a wayward shot, nor shout fore.
The skinny: 26 of 40 divots (65%). A little inflated since we had no expectations. But we had heaps of fun.
Meru Valley Scorecard