Introduction
Two main reasons why we joined AGN was the fact that we could play on Impian Golf and Country Club and Palm Garden. Well, OK, throw in Staffield and you got a heck of a deal: 3 premium courses for an attractive package. My previous encounter with Impian had been a positive one; and I couldn't wait to get back to the course. I just recall that it was a beautiful course with superb greens that made your ball stick like glue.
It was in the middle of rainy season when we revisited Impian and it would be a true test on how the course hold up against megatonnes of water deposited into the Klang Valley over the period of a few weeks.
Travel (3/5)
Travel wasn't very near, but it wasn't difficult to figure out where the course was. Simply get to the north south highway heading to Seremban. Turn off at Kajang will probably be the safest bet. After the toll, the road forks out to three roads: on the right, it heads to Cyberjaya (NO), the middle goes to Bandar Baru Bangi (NO) and the left goes to Kajang. Take the Kajang fork and once you're there, you can see plenty of signs pointing to Saujana Impian. There's where you are headed. It's a township with plenty of signs, not only on the boards, but on the road. Any township with directions on the road is going to be important. So unless you are riding a blind elephant, you ain't going to miss it. It's not very deep in but still the distance makes Impian less appealing in terms of travel time. An update: Just keep following the green Saujana Impian signboards. Don't ever turn off at the Saujana Impian 'turnoff'. Don't ask. It's one of those Malaysian things where the sign board makers are basically semi literate chimpanzees.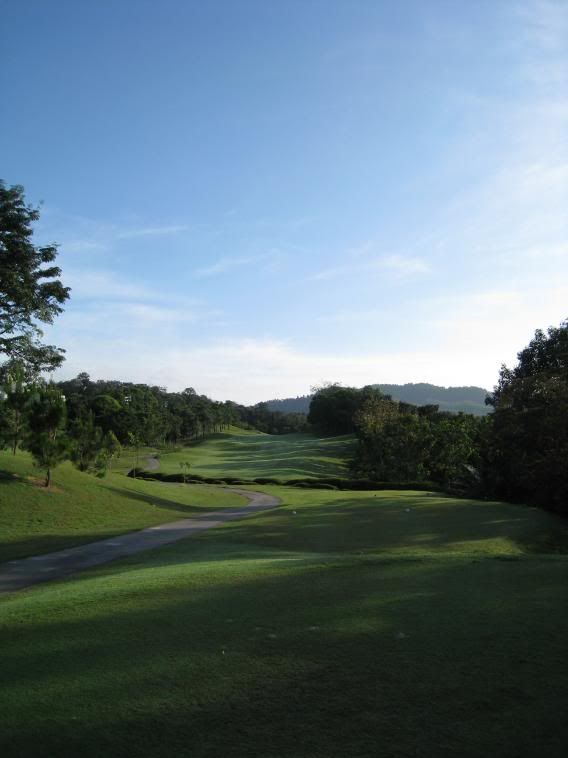 Price (2/5)
Ah, the beauty of AGN Cards. With the card, we ended paying only RM90 for the game on a weekday. Yes, it's quite pricey, but for a premium course, its actually cheap, and that's inclusive of the food vouchers and the compulsory caddy (more on that later) Non AGN members have to fork out RM140, and that's for a weekday! So unless you have an AGN card, it's just a tad bit expensive to play, and with RM140 weekday, you can look at other courses that are nearer, possibly with better experience.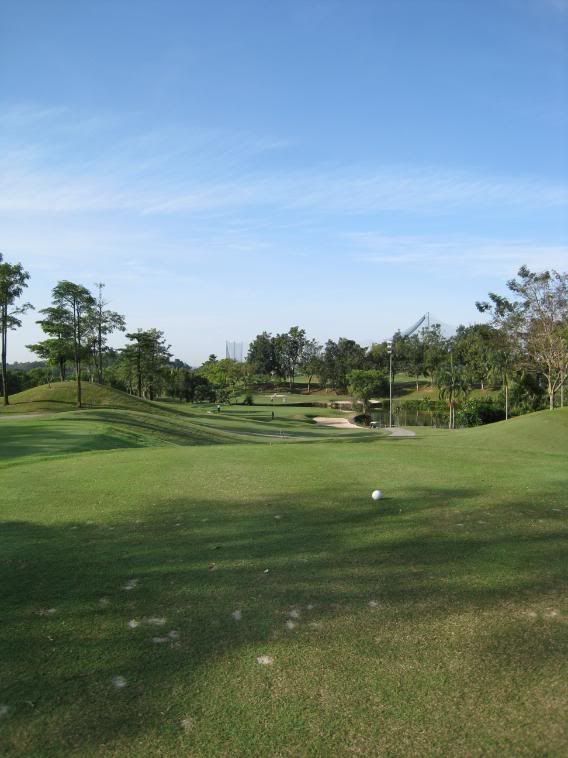 First thoughts
As mentioned, Impian left a lasting impression on me the last time I played there. I shot an 84 with 5 pars and 2 birdies, 9 birdies and only one double and one triple. It's actually a darn good score, considering how wild I am off the tee and how crappy a putter I am. But the greens in Impian are the ones that are famous, and the previous time I played, the greens were truly an awesome sight to behold. It was like carpet; but fast, yet soft enough to hold the ball.
A wild first tee off started our round on a soggy morning and with rain slightly falling, we began our Impian experience.
Service (2/5)
Impian doesn't score that well in this regard. For a course and for this kind of money, the facilities and equipments and maintenance are pretty good. But the caddy truly sucks. I don't know if it's fair to judge the club service by the caddy, but hey, it's unforgivable. We got this lanky chap, young fellow, and us being cheapskates only decided to have one caddy per flight. Well, we are all paying for him, so he is OUR caddy right?
In our flight, we usually play with a friend of mine we refer to as 'Dato', in other words, a title given to someone of significance in Malaysia. It's like 'Sir' as in Sir Anthony Hopkins or 'Lord' as in Lord Jeffery Archer or 'Baron' as in Sascha Baron Cohen. When you call someone 'Dato', it's someone that's more important socially than the normal golfing scum who likes to write reviews and take pictures.
As soon as we called him by his title, you can literally see the caddy's eyes light up and he completely attached himself to my friend. So much so that when there are two balls on the green, he would pick up my friend's ball and wipe it and leave ours there, muddied, rejected and alone. When we teed off, we were left to find our own balls while they happily moved on. I understand that yes, it's tough to caddy for 4 people at one, but hey, punk, we're all pitching in to pay for your miserable service, so at least, help out the others abit. When we asked him where our balls went, he would give a nonchalant response. At one hole, an easy dogleg right, I hit a flush shot that rounded the bend, and the caddy assured me it was ok. Well, we couldn't find the darn ball and I ended up escaping with a bogey with 4 on and 1 putt.
Now, shouldn't caddies be moving ahead of us at the bend to make sure they can view the landing area? What kind of idiot did we pay for?
It came to a point where we had to request Dato to get his caddy to help us look and clean our darn balls. Seriously, we've been discriminated at work enough, you know, without having the caddy play favouritism. What are we, cattle class citizens?
Oh, and caddies who smoke immediately gets the ban where I used to play. This one goes around with a ciggy in his mouth.

Fairways (3/5)
It's slightly unfair to judge the course at this juncture, during the rainy season, but we don't have much of a choice in giving out the fairways ratings for Impian: it's pretty normal. Not exceptionally good, drainage was passable but still patches of water could be discerned. The fairways of Impian is a mixture of narrow ones with OB stakes and broader ones, with doglegs and elevation to confuse you even more.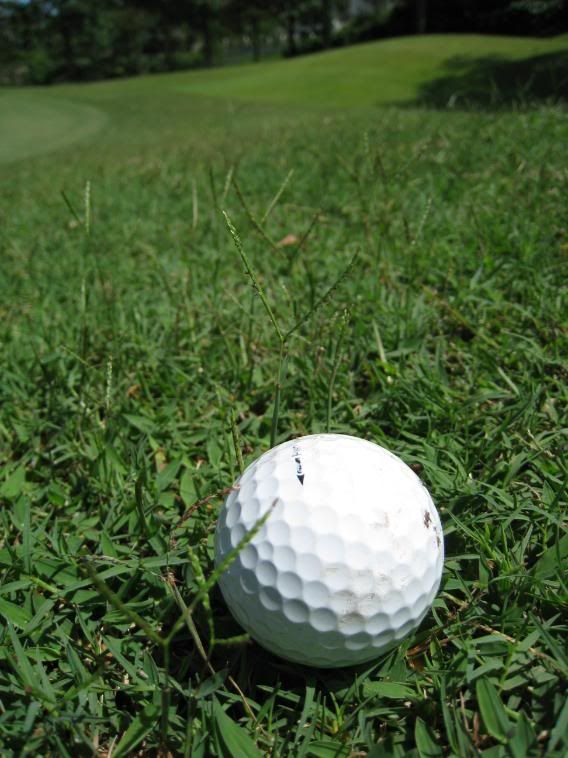 Greens (5/5)
I really expected the greens to be in superb condition for some reason. Perhaps it was a little too much expectation, too much rain. Don't get me wrong, the greens were a million times better than say Tuanku Jaafar or other B-grade courses, but in terms of a premium course with the greens as its main selling point? It's like a movie starring Tom Cruise and you find that he really wasn't that involved in the character. He's still good, he's still Tom, but he's not up to par. Your expectations are naturally higher than if you watch a show with Dolph Lundgren playing the role of Romeo in a Romeo and Juliet B-flick remake. I mean we all know how Lundgren is Oscar material right? So, the greens were like Tom Cruise not on his best day.
It still gets a 4 because it was slick like glass. We three putted so many times I lost count. The breaks were deceiving and subtle. Many straight putts verred away at the last moment…and kept going and going and going. Tricky but on this occasion, too many pitchmarks. It looked like it was halfway undergoing maintenance.
Update: I played Impian again and this time, the greens were back to it's excellent best. Although most of the other parts of the course aren't spectacular, I must say, Impian greens are probably the best I've played on. Shots were back spinning, checking on the green, and the putts rolled true. This is what I remember from Impian! Upgrade to a 5!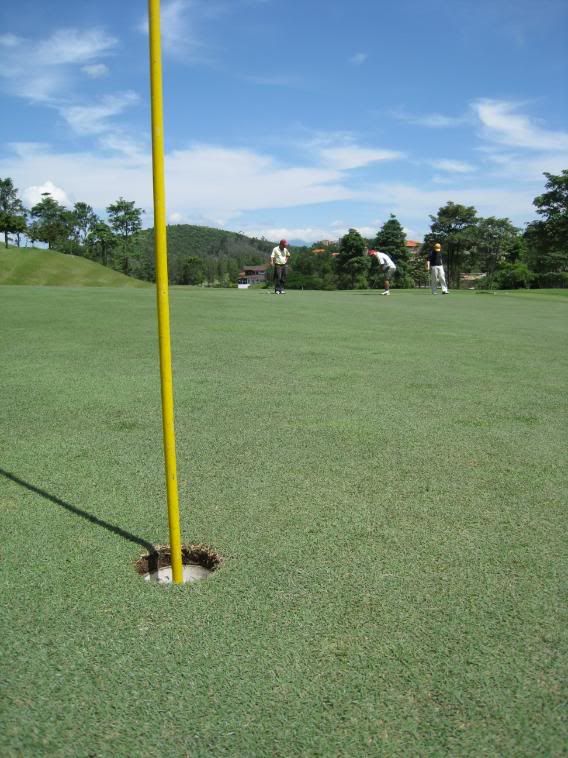 Rough (3/5)
Impian rough was pretty normal; except on some holes, wayward balls were lost in a pile of leaves but I think most courses are facing this problem due to the season. We could still get out of the rough well enough. Bermuda grass are a lot easier to play on compared to my normal cowgrass experience in Rahman Putra, so on occasions, it did sit up nicely (only for me to skull the shot into oblivion).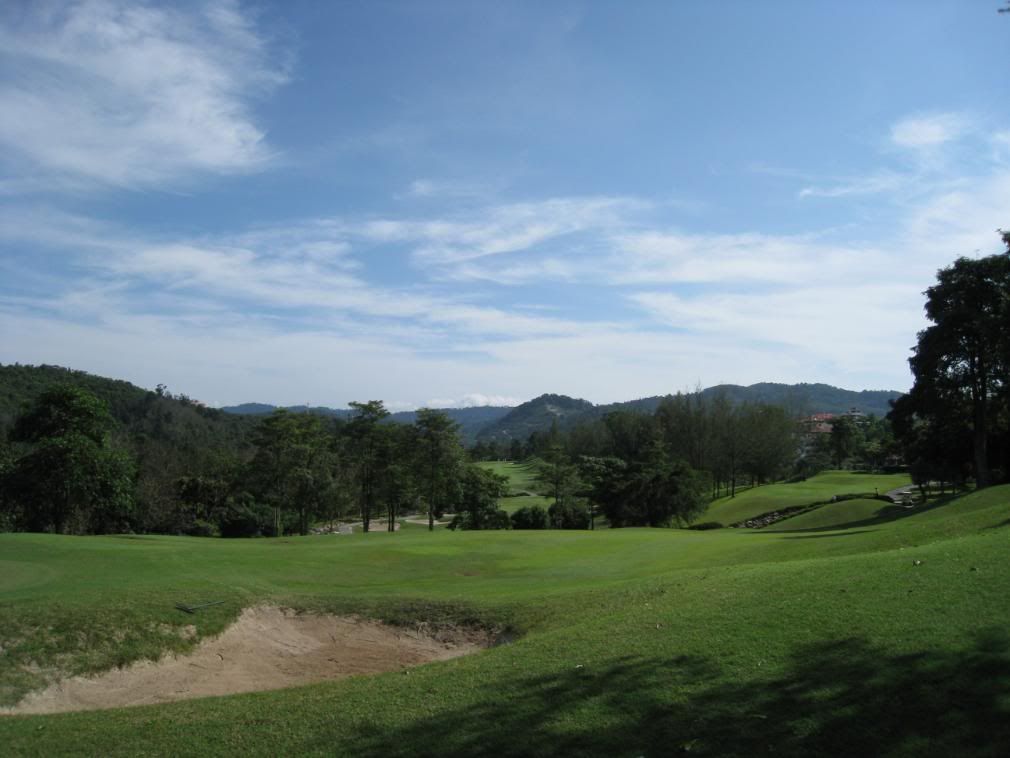 Aesthetics (5/5)
Aside from the greens, the main reason why many people play in Impian is the beauty of it. And on this occasion, it certainly more than lived up to its name. Who can forget the treacherous par 3 12th, with carry over water? And then the stretch of holes starting from 15th to the 17th, based around the lake in Impian with the par 5 17th reachable for eagle. The course looks wide open and in some vantage points, you could see the vibrant colours of different trees and plants, and animals breaking out into songs while a rainbow shines overhead. Ok, that's a little extreme but if you want a course that's pretty looking, then Impian is the one for you. It's not just all beauty either because the course packs a punch too and doesn't play that easy. It's a little beast if you can't fix your wayward shots or putt like a nut. But it's a pretty looking beast at least.
Tom Cruise, while not performing, is still quite a good looking chap. And this is what Impian is. While the greens and fairways are clearly far from their best days, the aesthetics remain one of the best in the Klang Valley.
Of course, an idiot as I am, I forgot to bring our Gilagolf official camera and ended up using a phone camera for the shots, which basically sucks. It's ironic that on one of the prettiest courses we play, we forget to bring a proper camera. It's like taking a photo with Catherine Zeta Jones and finding out that you only have a stupid phone camera to capture the immortal moment. ARGH!
I hope to update these pictures one day if we play again, but for now, grainy shots is what you have. Trust me, it looks a lot better than it does in these pictures.
I played Impian again and updated with proper pictures! Shot 90 on a day where I struggled with my putts.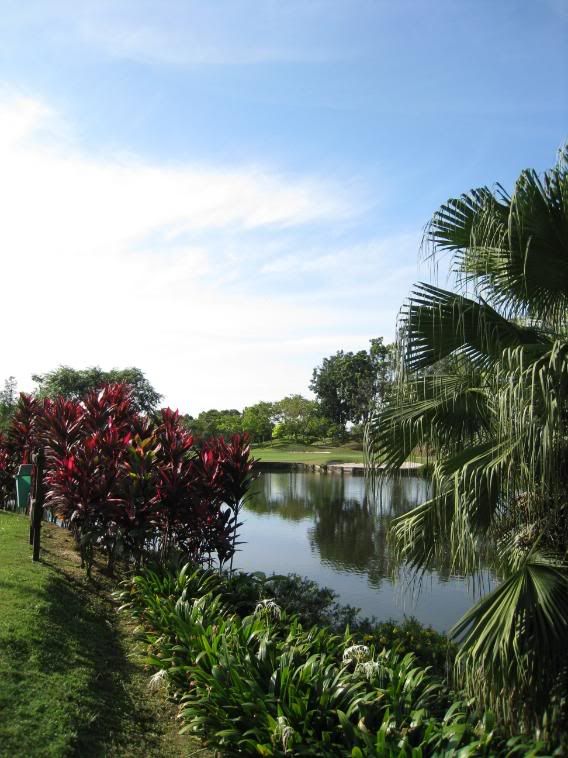 Fun Factor (4/5)
We definitely found the course fun and entertaining. It offered some good challenges, some selection off the tee to keep it on the fairway. The rough wasn't punishable, true, but due to the course designs, some wayward shots were blocked entrance into the green and we had to punch out for a three on or four on or 5,6,7 on or whatever. It's a smart course that deserves some thinking, unlike Tuanku Jaafar or Bukit Kemuning where you can just blast your balls to smithereens and not worry too much about being OB or blocked. Of course, the great looking course contributed to our fun factor. Unfortunately I forgot to bring my camera and had to rely on a phone camera for the shots, so I think most likely we will be revisiting this course again, and perhaps review the review if the course plays better.
The only downside was the caddy, whom we wanted to throw into the lake, cigarettes and all. The worse of it was we still had to tip him. In reference to the stupidity of tipping caddy, I think this one should pay me back for not finding my balls and making us feel like cattle class citizens. In fact, he should grab himself and jump into the lake directly.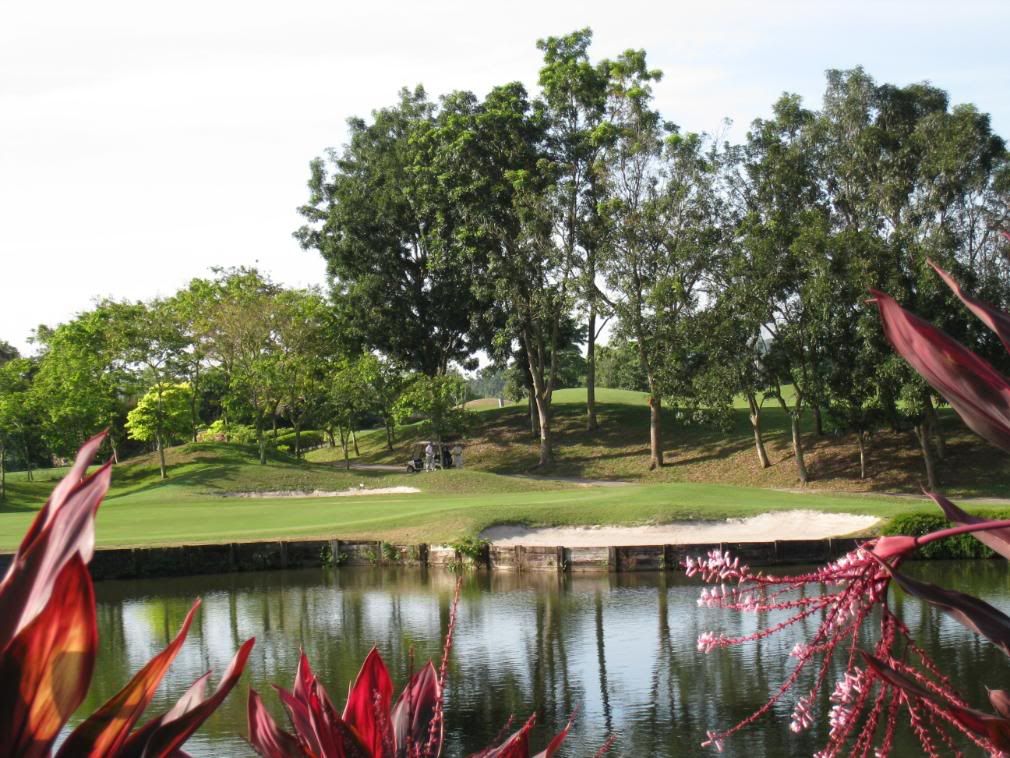 Conclusion
Impian was a good experience. Not great. Honestly we expected slightly more and we were ready to award it an upper tier golf course review. But somehow, likely due to the weather and the fact we had the worst caddy in the world, it falls back into the middle-uppper strata courses in the company of Meru, Tiara, Bangi and KGNS. It certainly wasn't as bad a letdown as Clearwater was, but still, we all thought it could be played better.
The good: One of the best looking course in the Klang Valley; challenging holes that are not just long, but requires smart shots off the tee; good greens that will improve to become even better once the weather gets better.
The bad: Worst caddy in the world is here; high price, traveling is quite long; fairways were not up to par.
The skinny: 27 of 40 divots (67.5%). It's one of those courses where you know it can be better than it is, and deserves better than rated middle-upper echelon. We will definitely return again to play on better conditions (and with a better camera), so Impian is recommended if you're willing to fork our some $$ or join AGN.
Impian Score Card
Impian Information
Address:
Bt. 14, Jalan Cheras,
43000 Kajang, Selangor
Contact:+603-87344197
Fax: +603-87348133
Website: http://www.igcc.com.my